Some companies prefer to find a physical conference space for face-to-face meetings rather than using a video-based alternative like WebEx. However, did you know that 40% of employees waste 30 minutes every day just trying to find that meeting room?
With the help of virtual meetings from WebEx, you can hold collaborative meetings via mobile devices, Macs, or Windows desktops with ease of use, unlike offline meetings. We've put together a Webex review covering features, pricing, plans, and support so that you can get a feel for what WebEx offers before you add this tool to your company's VoIP phone system.
The History of WebEx
WebEx was first founded in 1995 by Subrah Iyar and Min Zhu. Former Zoom President Dave Berman also served as President of Worldwide Sales and Services at WebEx, even helping it go public.
Zoom founder Eric Yuan was an engineer at WebEx before going on to launch his multibillion-dollar company. With so many all-stars working within the company, it should come as no surprise that it would become both successful and influential.
12 years after its founding, WebEx was acquired by Cisco for $3.2 billion despite only having $380 million in sales in what most described as a strategic move against Microsoft and an effort to compete with SharePoint.
This year, they even launched a Webex Cloud Calling solution to the likes of Zoom Phone and RingCentral MVP.
What is Cisco WebEx?
Cisco WebEx is a cloud-based suite of productivity tools that keeps teams connected. Including WebEx Teams, WebEx Meetings, and WebEx Devices, this suite merges the web conferencing platform and the Spark team collaboration tool from Cisco.
With video meetings, file sharing, and team messaging, the suite allows for unified communications for any business from SMBs to enterprise-wide needs. With WebEx, all meetings within a company can be supported by either Cisco WebEx Meetings or WebEx Teams apps. The product also supports deployments of WebEx Hybrid Services.
What Does WebEx Have to Offer?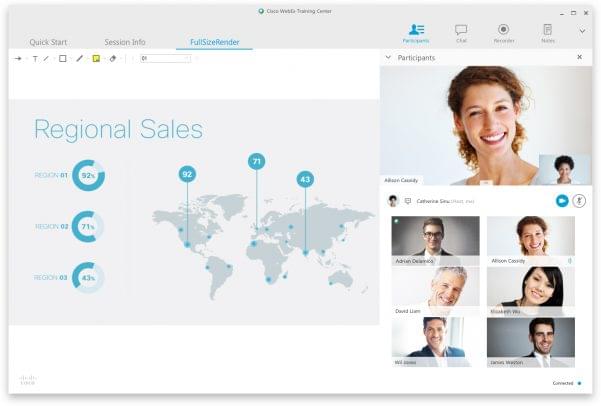 WebEx has a wide array of offers available to users. So many that it can get overwhelming for beginners. Here are the key offerings to offer a clearer idea of the value WebEx provides.
Video Conferencing
WebEx Meetings is the core offering of the company and has been a top video conferencing pick for years. Beyond the HD video, screen sharing, and meeting recording, you'll also find that it's very easy to participate in — or even host — conferences while on the go the WebEx app.
Webinars
WebEx Events lets you host webinars with up to 3,000 attendees. Essential features such as polling, Q&As, and text chat are fully supported by the software — allowing you to make the most out of every session. The webinar tools include whiteboarding, content sharing, and the ability to share screens to keep everyone on the same page.
Check out our latest guide on how to create a webinar if you want to get the most out of WebEx's webinar features.
Training
WebEx Training makes it easier than ever to educate from across the globe. Presenters can share presentations, instruct through a digital whiteboard, and even record sessions to build up a library of resources. It also has eCommerce functionality so you can charge for your training.
Remote Support
WebEx Support is one of the most robust remote assistance solutions on the market as it helps you lower operating costs, resolve problems faster, and provide real-time service to anyone in the world. WebEx allows you to offer support to any customer with an internet connection no matter the time zone via chat or their video conferencing service.
Collaboration
WebEx Teams may not be as popular as some of the other collaboration apps like Basecamp or Trello, but it's still a viable choice. You can easily schedule meetings, hold online meetings via chat, use whiteboards, and share files in this sole software. There's no better user interface around to allow you to join meetings in the click of a button.
Cloud Calling
WebEx Calling provides the key features that you'd expect to see in an effective cloud-based solution. Holding, dialing, resuming, forwarding, transferring, and do-not-disturb mode are all supported by the software. You can also make use of the virtual receptionist who'll greet callers.
Mobile Capabilities of WebEx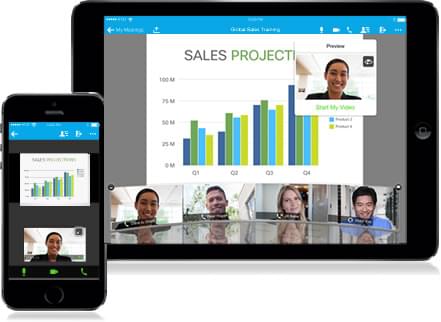 A great thing about WebEx is the fact that it's just as easy to use while on the go due to the mobile apps that are available on both the App Store and Google Play. The iOS version has over 50,000 ratings and supports Siri.
The Android version, however, is significantly more popular with over 200,000 ratings. It averages out at 4.4 stars versus 4.3 on iOS. Regardless of which operating system your phone uses, the smartphone apps of WebEx ensure that you'll never be late to a meeting even if you're out.
One of the cool WebEx features of their mobile apps is the ability to use them with smartwatches like the Apple Watch. If participating in a high-quality video conference call through a device on your wrist isn't James Bond-worthy then we don't know what is.
WebEx Plans and Pricing
Like any decision, you need to factor in price when picking between software. WebEx has been known to be affordable for quite some time. Delving deeper will help you make the right choice on which plan is right for your business.
There are four separate plans that you can choose from if you decide to go with WebEx. This section is going to outline all the key details of each one so that you can make an informed decision on which one is the best fit for you.
Free
One of the main benefits of using WebEx is the fact that it comes with a full-fledged free plan. Let us clarify once again that it's totally free, not just a trial that you can use for a limited amount of time.
Without paying a single dime, you'll be able to host up to 50 participants during your video calls without sacrificing video quality. You'll also get 1 GB of cloud storage while on the free plan which is quite a lot of space that other providers would normally reserve for premium members on top-shelf tiers.
The only limitation that you'll face when using the free plan is the fact that your meetings have a 40-minute cap. That shouldn't be too much of a problem though if you normally run pretty brief conferences.
Starter
"Starter" is the cheapest paid plan and is a great tool for running a small business or a compact team. It will run you $15/month for each user but there are quite a few benefits unique to the plan that makes the cost worthwhile. It can be easily deployed regardless of company size as a precursor to a more robust plan.
First of all, you won't have to worry about long meetings hitting the cap anymore since your new limit will be set at 24 hours. That's practically unlimited since it's exceptionally rare for a video conference to run that long.
Your cloud storage will also receive a nice upgrade, having its capacity boosted five-fold to an even roomier 5 GB. You'll also be able to generate transcriptions as you record meetings which makes it easier to reflect on all the topics covered during a specific conference.
Lastly, by upgrading to this plan, you'll unlock integrations and plug-ins thus gaining access to all the apps that can be used with WebEx. WebEx is made to work well with Microsoft Teams, integrating with Microsoft Outlook, Powerpoint, Skype and other productivity tools implemented on-site or remotely.
Plus
Most mid-sized teams go for the "Plus" tier of WebEx since it doubles the participant capacity from 50 to 100, making it easier to keep everyone in the loop with a single conference rather than having to go over the same topics multiple times due to user-limit constraints.
If you choose this plan then you'll also be able to set up custom URLs that make it easier for team members to connect to a conference.
24/7 customer support is available to users on this tier which can come in handy if you run into a problems as you host meetings. It's a bit pricier at $20/month for each user but the cost is justifiable if your team requires the extra horsepower.
Business
"Business" is the most expensive tier that WebEx users can pick. While it's not ideal for all company sizes, there are certain situations where the premium features and add-ons that it comes with can be very useful. Let us start with the price: $30/month for each user.
There's also a minimum of five licenses per month. If you don't meet the criteria then you won't be able to use the plan. This is because it was designed specifically for larger teams.
The scale is the main appeal of this tier seeing as you'll be able to host conferences with up to 200 participants and receive a storage capacity of 10 GB. You'll also get access to various branding functionalities that are exclusive to users on this tier.
Regardless of which plan you intend to go for, we highly advise that you start with the 30-day free trial so that you can gauge the functionality of WebEx before spending your hard-earned cash. Due diligence is the key to succeeding in any venture, and the same holds here.
How Good is WebEx Customer Support?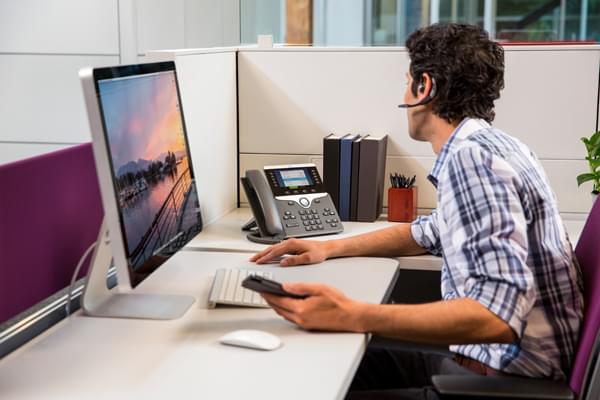 As you may already know, live chat is an essential part of any support department. Studies show that the satisfaction rate is 29% higher with live chats versus phone support. We were happy to see that WebEx had this feature available on their site.
Sadly, there were no agents available that could speak to us or comment on the capabilities of their support department. After a few minutes of waiting, a message popped up informing us of the lack of availability and closing the ticket.
It may just be bad timing though. We can't rule out the possibility that they were simply swamped with tickets at the most inopportune moment. If you want immediate support then we'd recommend you call their hotline at 1-866 229-3239.
Another option that gets around the live chat support issue is their help center that features articles created by the WebEx support team. These articles can help you with various problems from troubleshooting to logging in.
If self-service is your preferred form of support then you'll love WebEx. However, if you'd rather speak to a representative then either wait for a time when the live chat is available or voice your concerns through the phone.
Cisco WebEx Improves Business Communications and Customer Service
As you can see, there are quite a few benefits to using WebEx. For one, you'll save a lot of time since hunting for a good meeting spot will be a thing of the past. Another benefit is the ability to instruct people who live in a different continent — either for compensation or orientation.
Lastly, you'll be able to host conferences with your team members whether you're on the bus, offshore, or at home through the user-friendly mobile apps that support both iOS and Android operating systems.
Feel free to check out our list of free video conferencing software as well as our complete buyer's guide of all web conferencing software, for more insight on the benefits of going digital and in-depth comparisons on some of the top options currently on the market.