Avaya and RingCentral are two of the most well-known names in the cloud business communications space, both with over 20 years of experience and an impressive array of products to choose from. 
Avaya OneCloud and RingCentral MVP are the providers' available Unified Communications tools, allowing businesses to access additional cloud communication channels like SMS texting, team chat messaging, and video calling directly within their VoIP phone system interface. 
UCaaS streamlines internal communication by eliminating app switching, and, thanks to included team collaboration features, boosts productivity. Even better, small business owners report operating costs savings of 30-50% after switching to UCaaS.  
In order to reap these benefits and others, like simple third-party software integrations and improved team flexibility, choosing the right platform is key. This direct comparison of Avaya vs RingCentral UCaaS cloud solutions examines features, pricing, the overall user experience, and more.
Avaya vs RingCentral: At a Glance
Comparing Avaya vs RingCentral UCaaS solutions may seem counterintuitive at first, given that the companies formed a partnership in 2020 to help premise-based Avaya users transition to the cloud. This partnership also led to the creation of Avaya Cloud Office, a public cloud phone app built using RingCentral's technology as a foundation. 
Cloud Office is just one part of Avaya OneCloud UCaaS offering, so while there are some commonalities between Ayava and RingCentral, their bundled Unified Communications solutions are quite different. 
To illustrate these differences, we've created the below summary table of Avaya OneCloud UCaaS and RingCentral MVP.
Avaya

RingCentral MVP
Pricing

Cloud Office: 4 Paid Plans for $19.99-$52.99/user per month for 1-20 users

4 Paid Plans for $19.99-$49.99/user per month for 1-20 users

Integrations

100+ integrations

300+ integrations

Video Conferencing

Standard plan or higher

Standard plan or higher

Uptime

99.999% SLA

99.999% SLA

Support

24/7 on all plans

24/7 (Standard plan or higher)

Encryption

End-to-end encryption

End-to-end encryption

Compatible Hardware

Avaya

Yealink, 

Cisco, 

Poly, 

Unify

Best For

Enterprise companies looking for a bespoke implementation and extensive first-party hardware options.

Businesses who want an all-in-one platform that can scale affordably, offer a breadth of integrations and offer more native features than most competitors.
How We Compared Avaya vs RingCentral 
We used the criteria below to compare Avaya to RingCentral:
Calling Features: We looked at the telephony features of each provider to determine which platform had better functionality
Auto-Attendant: We set up and tested the auto-attendants in both solutions to see which one got the most done with the least amount of setup time
Analytics: We compared the analytics dashboards and report templates from each provider to see which platform provided more insights
Integrations: We browsed through the integration gallery of each platform to see which solution had the best compatibility with third-party tools
Scalability: We calculated the costs of every plan to see which of the two providers would be more cost-effective to scale your business with 
Call Quality: We reviewed uptime SLAs and customer reviews to see which platform had superior calling quality
Security: We looked at the security protocols of both solutions to see which company your data would be safest with
Hardware: We checked the hardware compatibility of both providers to see which option would offer the most freedom in terms of desk phones and other equipment
Cross-Platform Compatibility: We compared cross-platform compatibility and the user experience for mobile apps to see which provider was the ideal choice for smartphone users
Ease of Use: We compared the account setup and implementation flow for both solutions to see which platform was easier to use from the get-go
Customer Support: We compared the customer satisfaction from both support teams to see which provider was quicker at resolving issues
Pricing: We looked a the subscription plans of each provider to evaluate both the overall cost as well as the value for the service
Avaya vs RingCentral: Direct Comparison
We've compared top Avaya and RingCentral features, declaring a winner for each category.
Call Management Features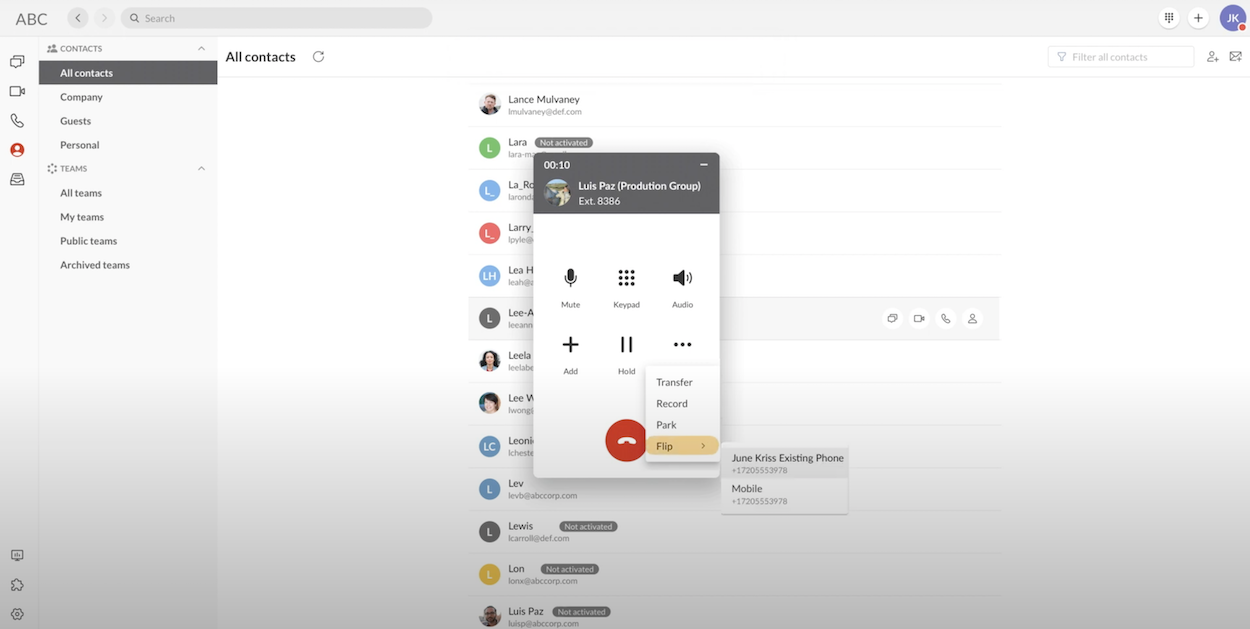 Depending on the plan you choose, Avaya customers benefit from a variety of call management features like: 
Avaya UCaaS platform customers can also make unlimited calls within the United States and Canada.
RingCentral also has its fair share of call management features, but there are five that stand out:
Answering rules: Inbound call routing strategies by

 time, data, or caller ID
Call screening:

In addition to standard screening, RingCentral offers unique audio and virtual call center queues to let you know when a call forwarded to your smartphone is coming from your business number
Call log management:

All inbound or outbound call/fax reports on your RingCentral account can be easily accessed and customized to suit your specific needs.
Advanced call forwarding: Call forwarding to any landline, smartphone, or ring group (simultaneous and sequential ring groups available)
Smartphone calling features: U

se your company number to make calls through your smartphone through either 3G, VoIP, or WiFi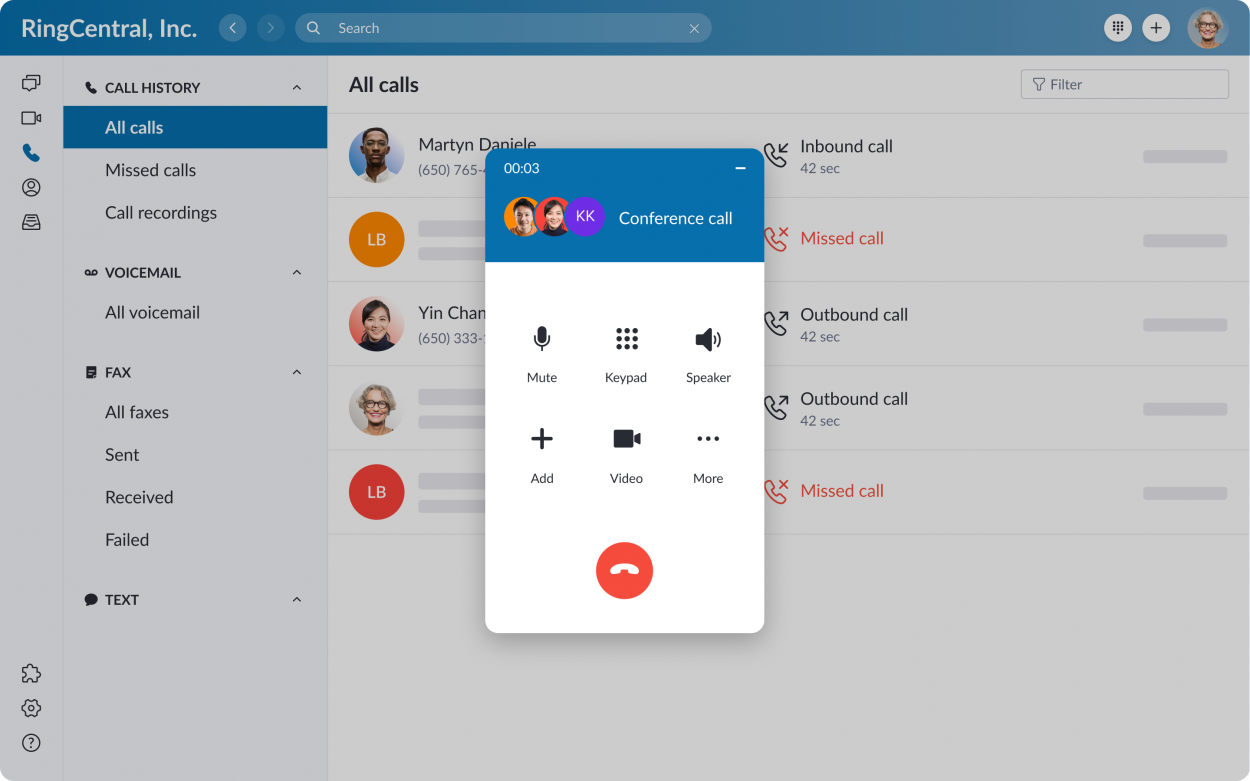 Users can also create local, toll-free, and vanity numbers for your RingCentral account based on their needs. Lastly, visual call delegation makes it easy for assistants to manage calls on behalf of executives during high-volume periods.
Winner: It's a tie, since both platforms have a diverse set of calling features and the buying decision can go either way depending on which features you need.
Analytics
Avaya documentation doesn't dive too deep into their analytics features, but certain features from RingCentral do carry over. We'd recommend that Avaya Cloud Office customers get the Shadow All In One Analytics integration to improve the analytics experience.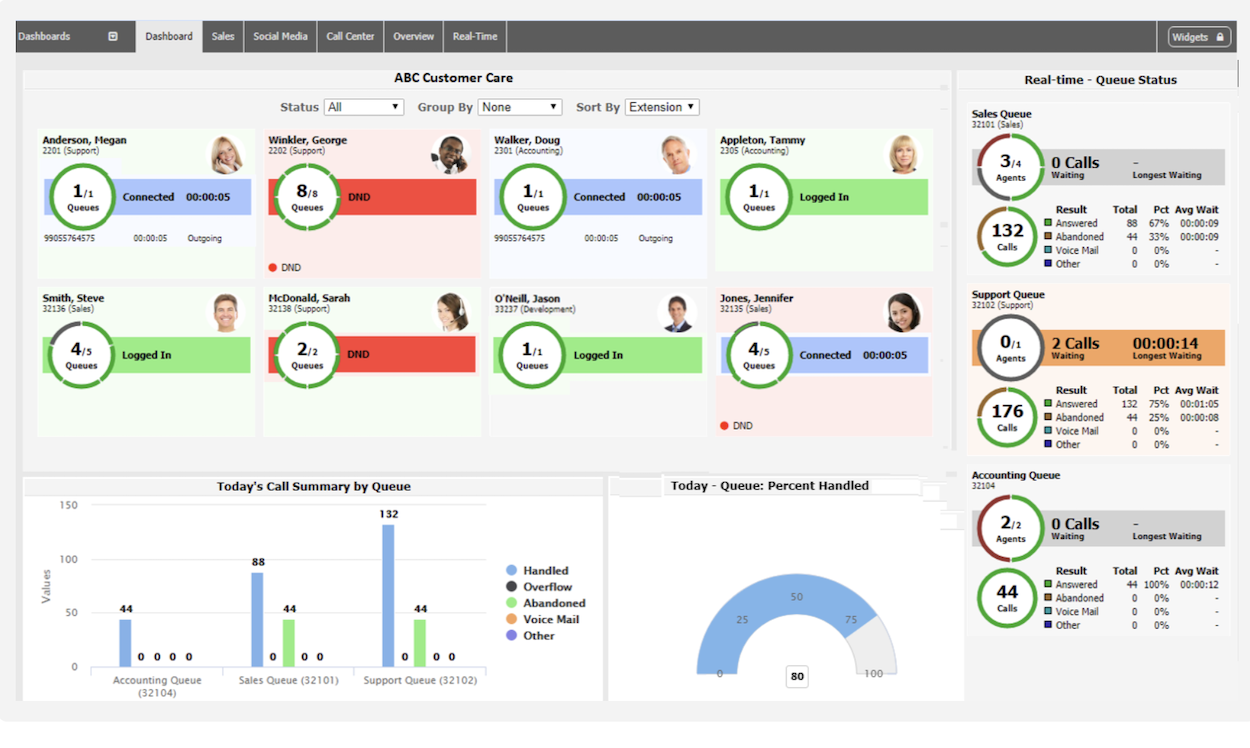 This makes it easy to measure the performance of each agent and visualize data in real-time. You can use historical data to create trend lines, use the live wallboard, or customize your own dashboard.
You can also generate cradle-to-grave reports that highlight missed calls, long durations, and excessive costs — or summarize IVR routing performance. You can then pinpoint this activity on an agent, extension, mailbox, hunt group, or corporate level.
There are hundreds of pre-made report templates to choose from depending on the KPIs that matter most for your business. Overall, Shadow certainly helps fill in some of the gaps in Avaya's analytics infrastructure.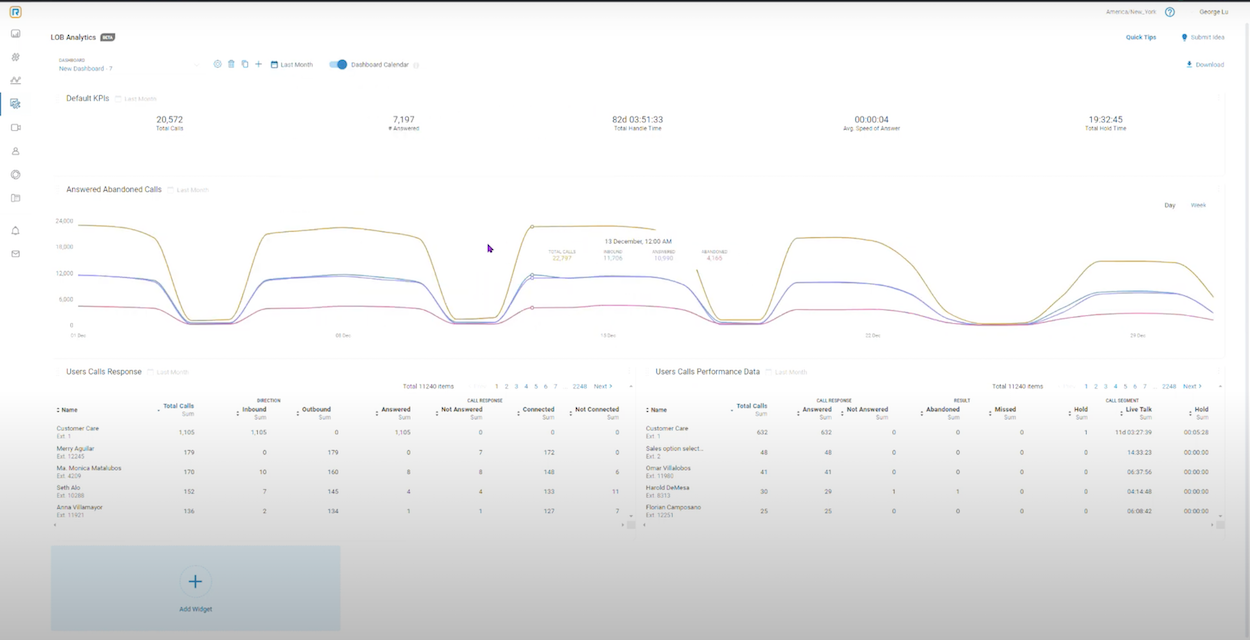 If you don't want to rely on a third-party integration then you might prefer RingCentral's native analytics capabilities. You can access 30+ prebuilt KPIs (key performance indicators) or enable real-time notifications to help you proactively deal with possible issues.
Admins can also look at the platform adoption analytics for each department so you know which teams in your company are getting the most value out of RingCentral. A few specific metrics that you can track with RingCentral include:
Average handle time (AHT):

The average amount of time between an agent first accepting the call and the customer hanging up.

Average time in queue:

How much time customers spend in the call queue before connecting to an agent.

Call hold time:

The amount of time callers are left on hold.

First-call resolution (FCR):

The percentage of tickets that are solved on the first call without a necessary follow-up.

Call abandonment rates:

The ratio of callers who disconnect before they're able to connect to an agent.

Escalation rate:

The percentage of calls that are escalated to a supervisor or manager.

Customer satisfaction (CSAT):

The overarching satisfaction level of customers during and after a call with an agent.
Winner: RingCentral gets the win due to its robust native analytics and clean UI for real-time reporting, but those who don't mind using third-party integrations can still benefit from Avaya.
Integrations
According to the RingCentral website, a total of 145 integrations from the RingCentral App Gallery can be used with Avaya. These include Google Workspace, Microsoft Teams, Zoho Desk, and Okta.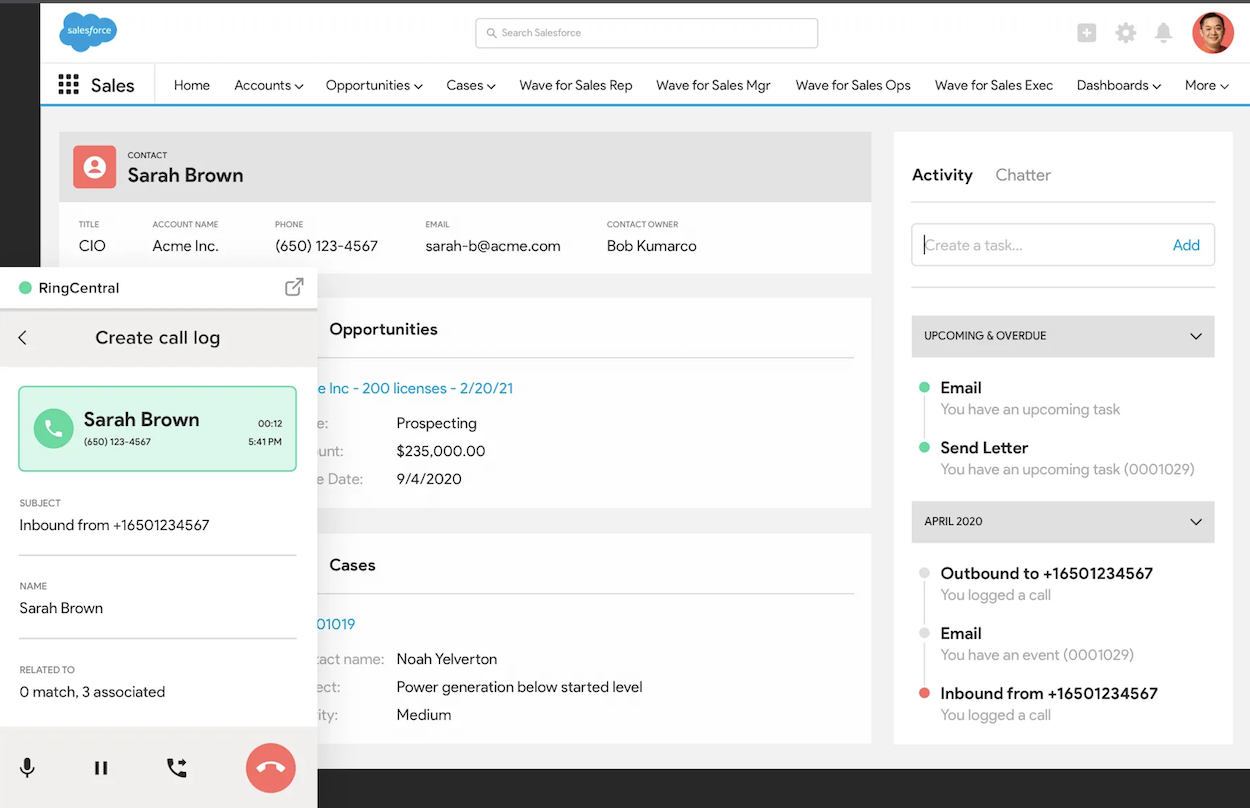 On the CRM software side, Avaya's integration compatibility includes HubSpot, Salesforce, Copper, Bullhorn, SugarCRM, amoCRM, Redtail CRM, 1CRM, FIVE CRM, and quite a few others so you shouldn't have to worry about integrating your sales process with Avaya.
Avaya OneCloud doesn't beat RingCentral when it comes to the raw number of third-party apps though since  RingCentral App Gallery has over 300 integrations to choose from. This means RingCentral customers are paying less while getting a larger catalog of apps to choose from.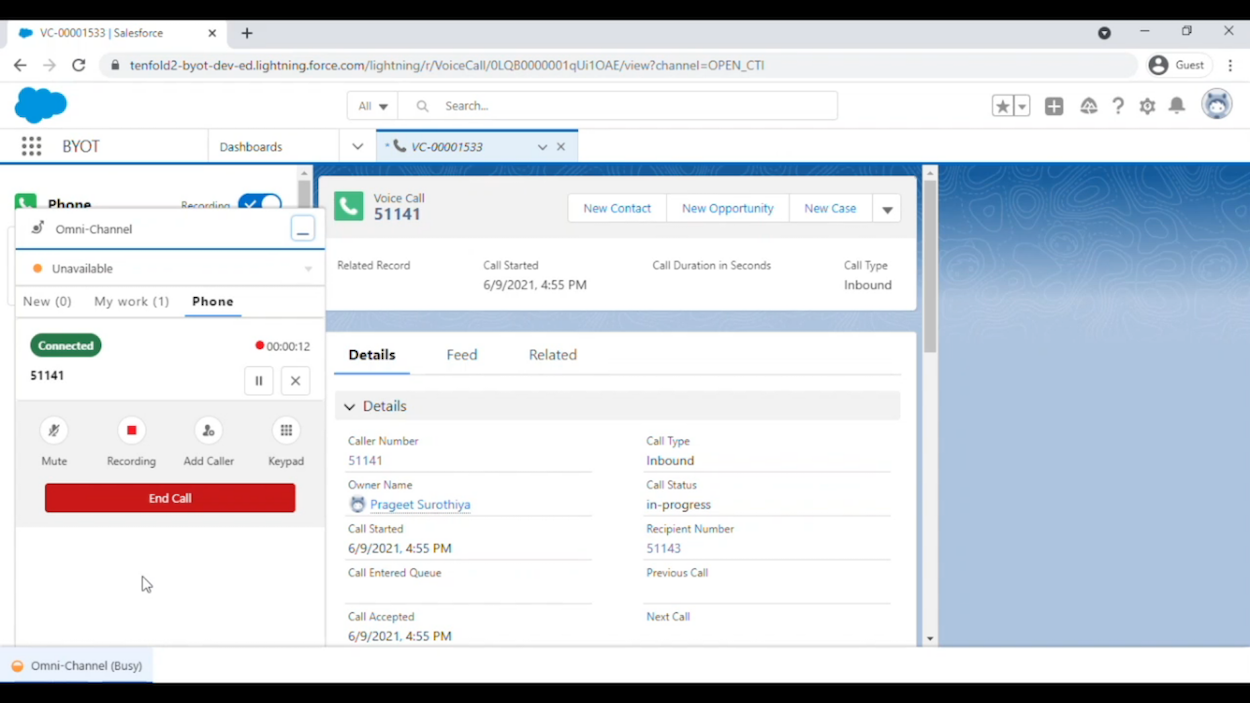 Winner: RingCentral is the clear winner with 300+ prebuilt integrations and APIs/SDKs that let you build your own apps.
Scalability
Seeing as RingCentral offers larger discounts on their annual plan (33% compared to Avaya's 13%) it'll be easier for companies with hundreds of subscriptions to cut down on their costs just by switching billing terms.
The bulk pricing on RingCentral is also a lot more appealing than Avaya's. The Ultimate plan on RingCentral MVP only costs $32.24/month for each user when teams of 100 users or more bill annually.
In contrast, the same plan costs $42.99/month for each user with Avaya even for teams with 100 users who bill annually as well. Avaya's lower discount scheme makes it harder to reap the benefits of bulk pricing and annual billing as you scale your company up.
Winner: RingCentral gets the win for offering better bulk pricing and annual discounts which makes scaling a lot more cost-effective.
Call Quality
Avaya offers HD audio quality on all its plans which means calls should be crisp and clear as long as you have a fast connection. When testing the solution with slower internet speeds, there were occasions where the voice would start to cut out or get choppy.
RingCentral is known for its impeccable call quality but a few proactive measures can improve its consistency as well. Using a DSL or fiber-optic connection with at least 90Kbps and using one of RingCentral's recommended routers can drastically improve the user experience. 
Winner: It's a tie, since both providers offer excellent call quality and the calling experience will also be impacted by the hardware/connection available at your workplace.
Security
Those who are familiar with RingCentral will likely know that they have long stood at the top when it comes to VoIP security. With its SOC 2+ report, SOC 3 report, C5 attestation, and HITRUST certification, the platform holds the unmatched trust of auditors.
Avaya does have a native SSO solution so they are putting some effort into security. They also offer packages like Avaya OneCloud Private and Avaya OneCloud for Governments but we honestly think that airtight security should be a given for modern UCaaS, not an add-on.
Winner: RingCentral is victorious on the security front due to its remarkable two-decade track record and impeccable reputation amongst third-party auditors.
Hardware
Before partnering up with RingCentral to introduce OneCloud, Avaya was already known as the industry-leading equipment vendor when it came to VoIP and UCaaS technology. Whether it's all-in-one huddle rooms like the CU360 or audio conference units that you'd find in the B-Series, Avaya's hardware compatibility is second to none.
While RingCentral has expansive compatibility with dozens of desk phones from ALE, Avaya, Cisco, Mitel, Polycom, Unify, and Yealink, it simply can't compete with Avaya's hardware options considering telecommunications equipment is where the latter got its start. Avaya also integrates with virtual assistants like Alexa which is a nice bonus.
Winner: Avaya gets the victory for its diverse hardware catalog but those simply looking for desk phone compatibility would be well-served with RingCentral too.
Cross-Platform Compatibility
The Avaya Cloud Office app for iOS and Android has a clean, intuitive UI that is consistent with the interface on the desktop version.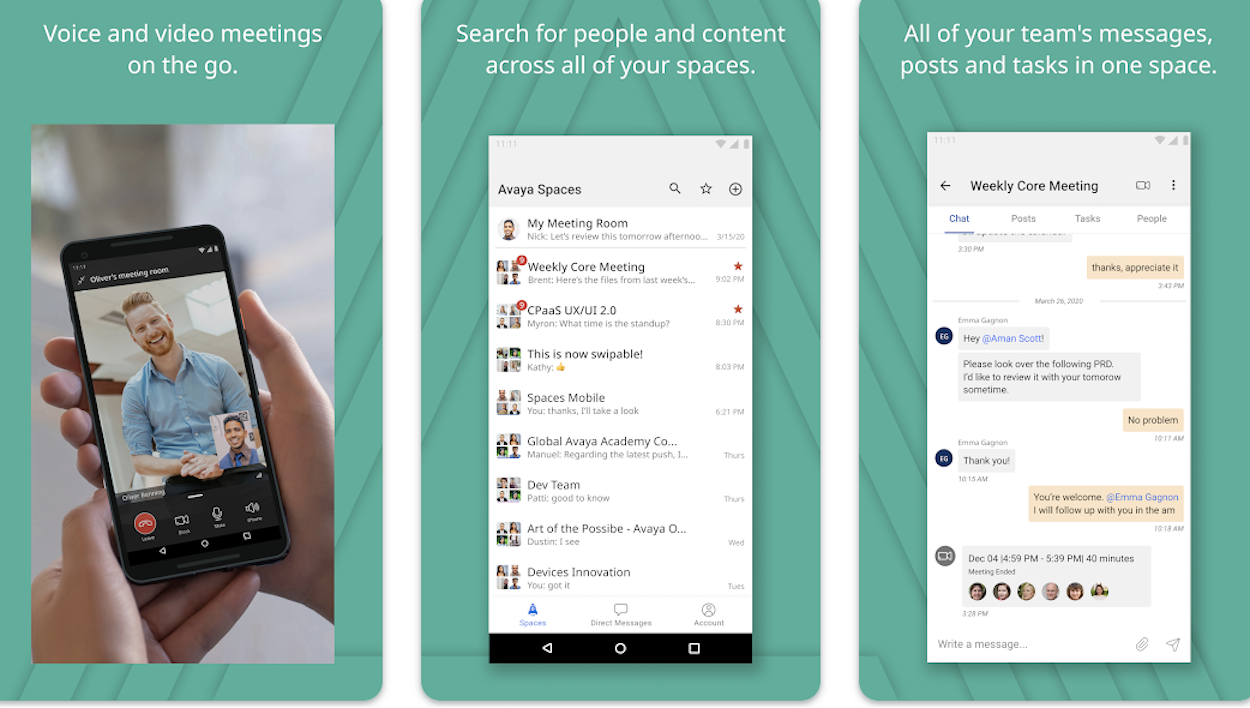 You'll also be able to use all the core features of Avaya's platform like file sharing, task management, and video conferencing which means you'll be able to get the same value while on the go.
On the other hand, RingCentral is considered one of the prime examples of communications solutions on mobile done right.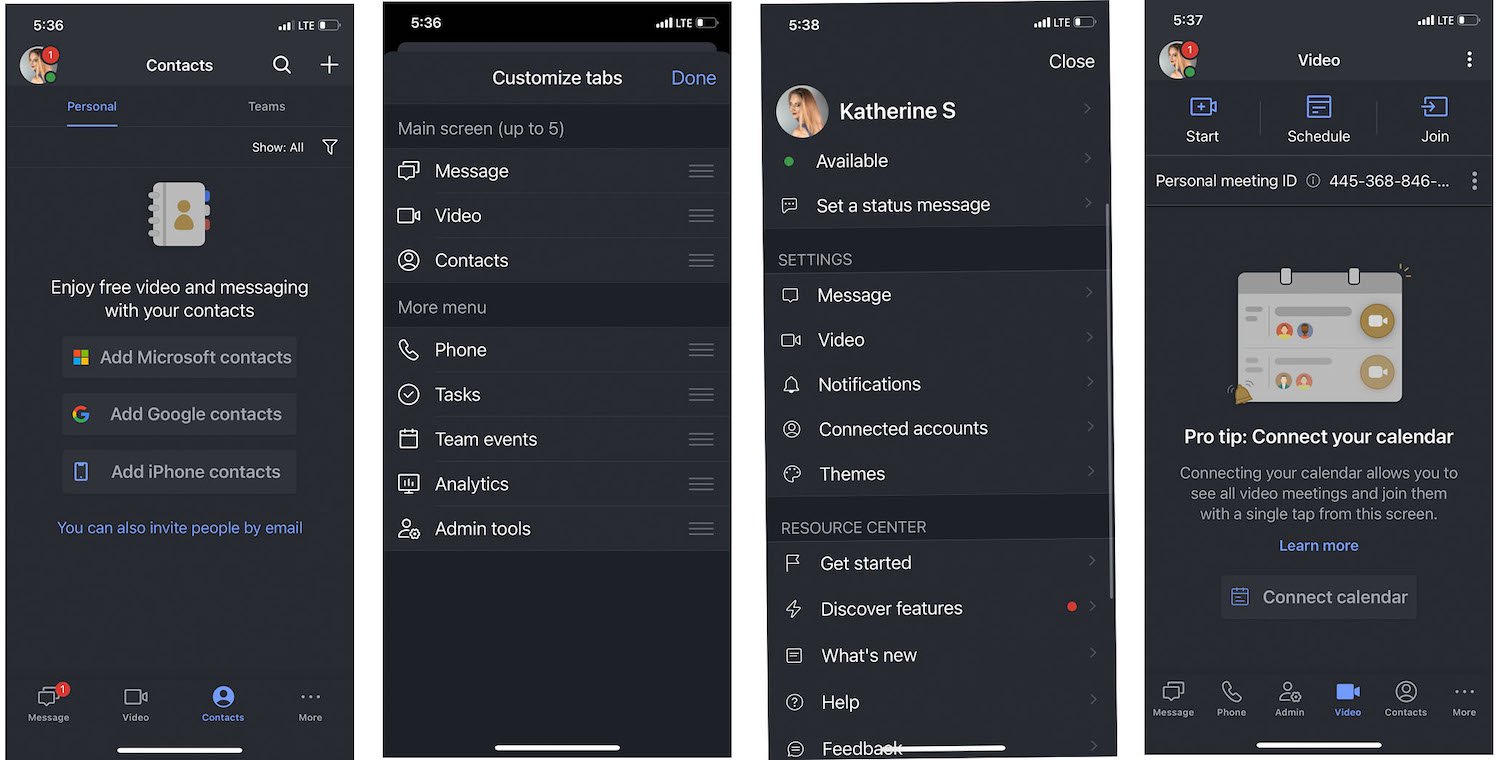 Their apps are fast, reliable, and feature a modern UI that makes the solution incredibly easy to use.
Winner: the mobile experience is a tie with both platforms offering a modern and intuitive app that's consistent with the value you'd find on their desktop software.
Ease of Use

Avaya may take a bit longer to implement in your company compared to RingCentral but, once it's there, you're sure to have a positive experience thanks to its user-friendly features and helpful support representatives.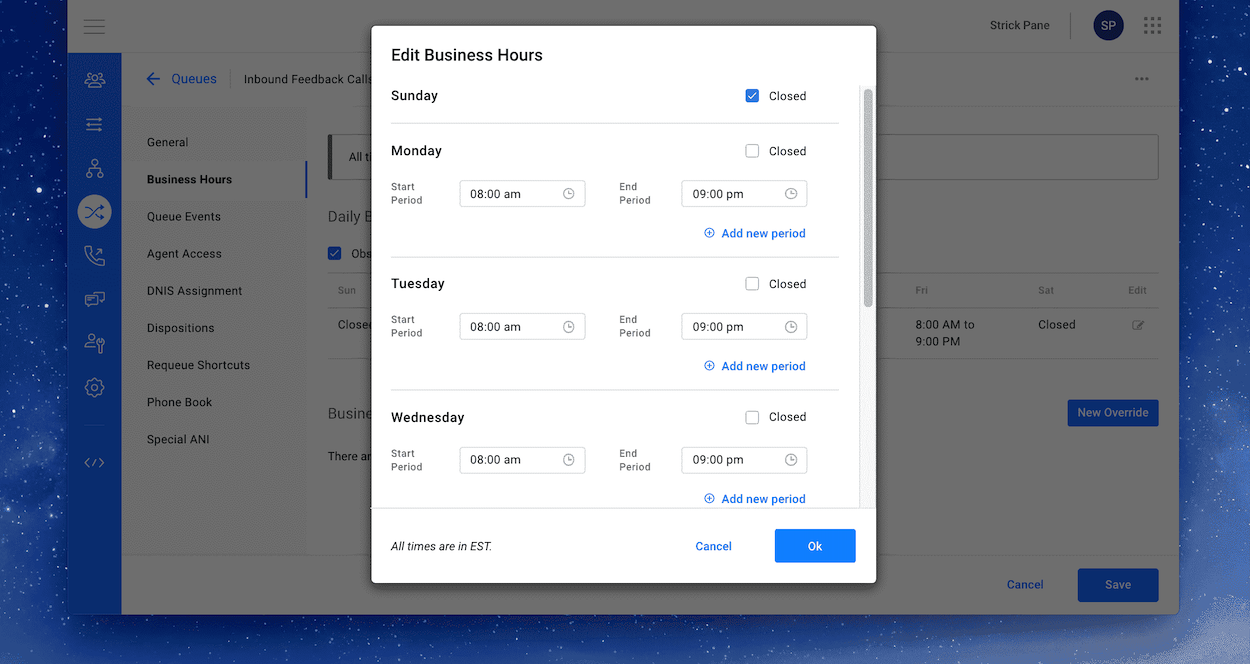 Similarly, RingCentral offers a solid experience and covers all its bases thanks to the extensive gallery of native features on the platform. The user experience always feels intuitive regardless of which platform you're on.
Winner: another tie as both platforms are very easy to use, just note the difference in setup time before making your final decision.
Customer Support
| | | |
| --- | --- | --- |
| | Avaya Support Channels | RingCentral Support Channels |
| Live Chat | Yes (customers only) | Yes |
| Email | No | No |
| Phone | Yes | Yes |
| Knowledge Base | Yes | Yes |
When it comes to customer service and support, Avaya and RingCentral match up pretty evenly in terms of channel coverage. That being said, Avaya only lets paying customers access their live chat while RingCentral's world-class support team is available to anyone.
Avaya also has a pretty stressful verification process for those who want support which further adds to the inaccessibility of their support team. It's a shame as well since user reviews from enterprise customers speak highly of the support quality.
Winner: RingCentral gets a clear win for offering live chat to non-customers.
Avaya vs RingCentral: Pricing and Plans
Seeing as Avaya OneCloud is essentially a white label of RingCentral software, it should come as no surprise that the pricing is nearly identical.
While Avaya's pricing across the four plans is fairly close to RingCentral, getting your UCaaS solution straight from the source could help you save a few dollars per user every month.
It's also worth noting that the annual discounts are more appealing with RingCentral versus Avaya. When you switch to annual billing, RingCentral offers discounts of up to 33% percent whereas Avaya only goes as high as 13%.
Avaya Pricing

Avaya has four plans to choose from: Essentials, Standard, Premium, and Ultimate. The Essentials plan, coming in at $22.99/month for each user, is accessible to teams with 20 members or less and offers unlimited calls within the United States + Canada.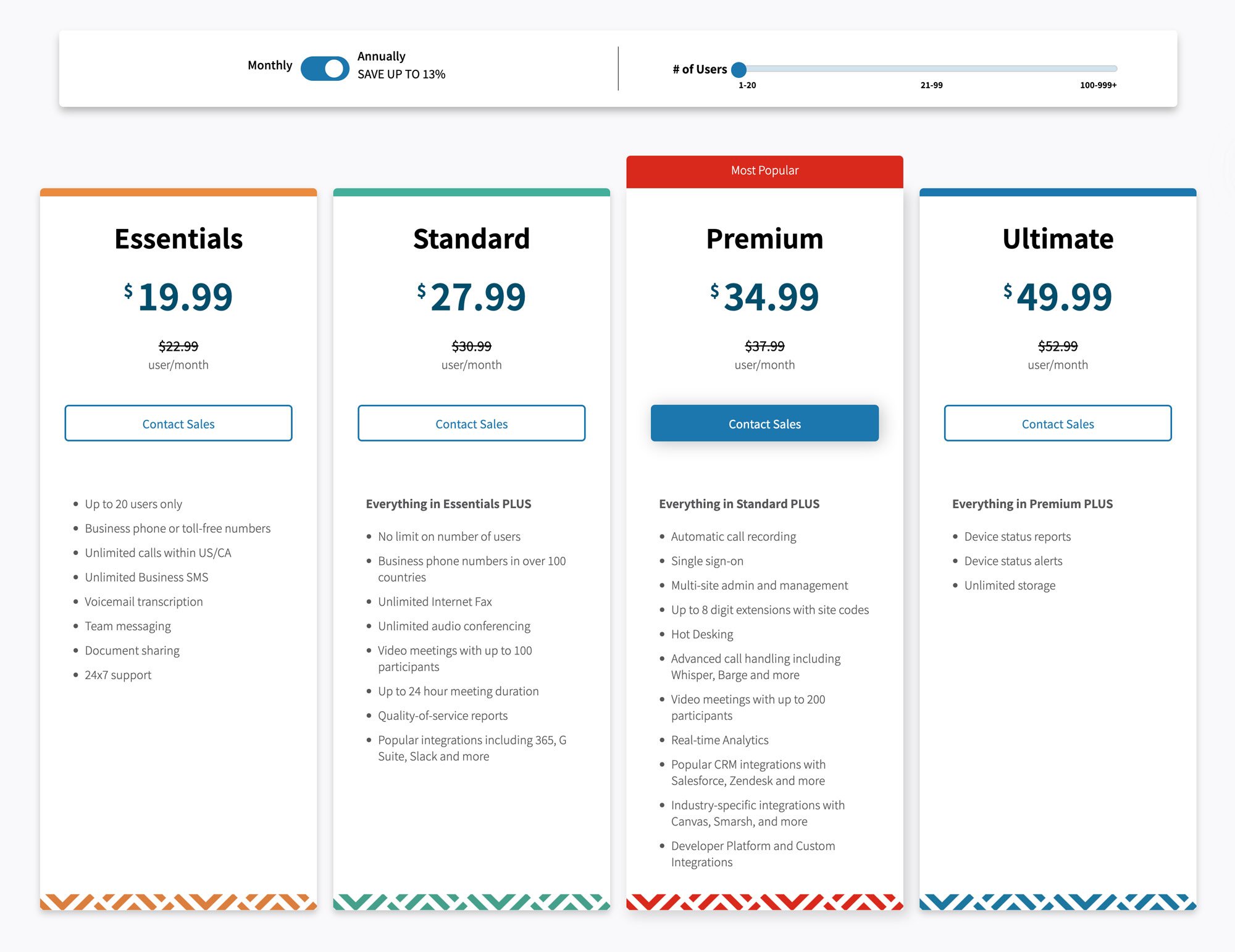 You'll also notice that, unlike its RingCentral counterpart, the Avaya OneCloud Essentials tier does include 24/7 support. This means that SMBs who want better access to support representatives but don't want to pay for anything above the entry-level plan may favor Avaya.
As for the rest of the plans, they're essentially an exact copy of RingCentral's feature list while being a bit more expensive than the subscriptions of their counterpart. All-in-all, the main benefit of Avaya's UCaaS pricing would be offering better support at a lower entry price.
It's worth noting that Avaya has separate pricing for their CCaaS suite ranging from $48/month to $125/month across the three paid plans. There's also a "Create Your Own" tier where you can tell the sales team exactly which features you need and get a custom quote.
RingCentral Pricing
RingCentral's pricing is made up of four paid plans: Essentials, Standard, Premium, and Ultimate. There's no freemium tier available for the platform but you will be able to avail a 15-day free trial before you commit to paying for the service.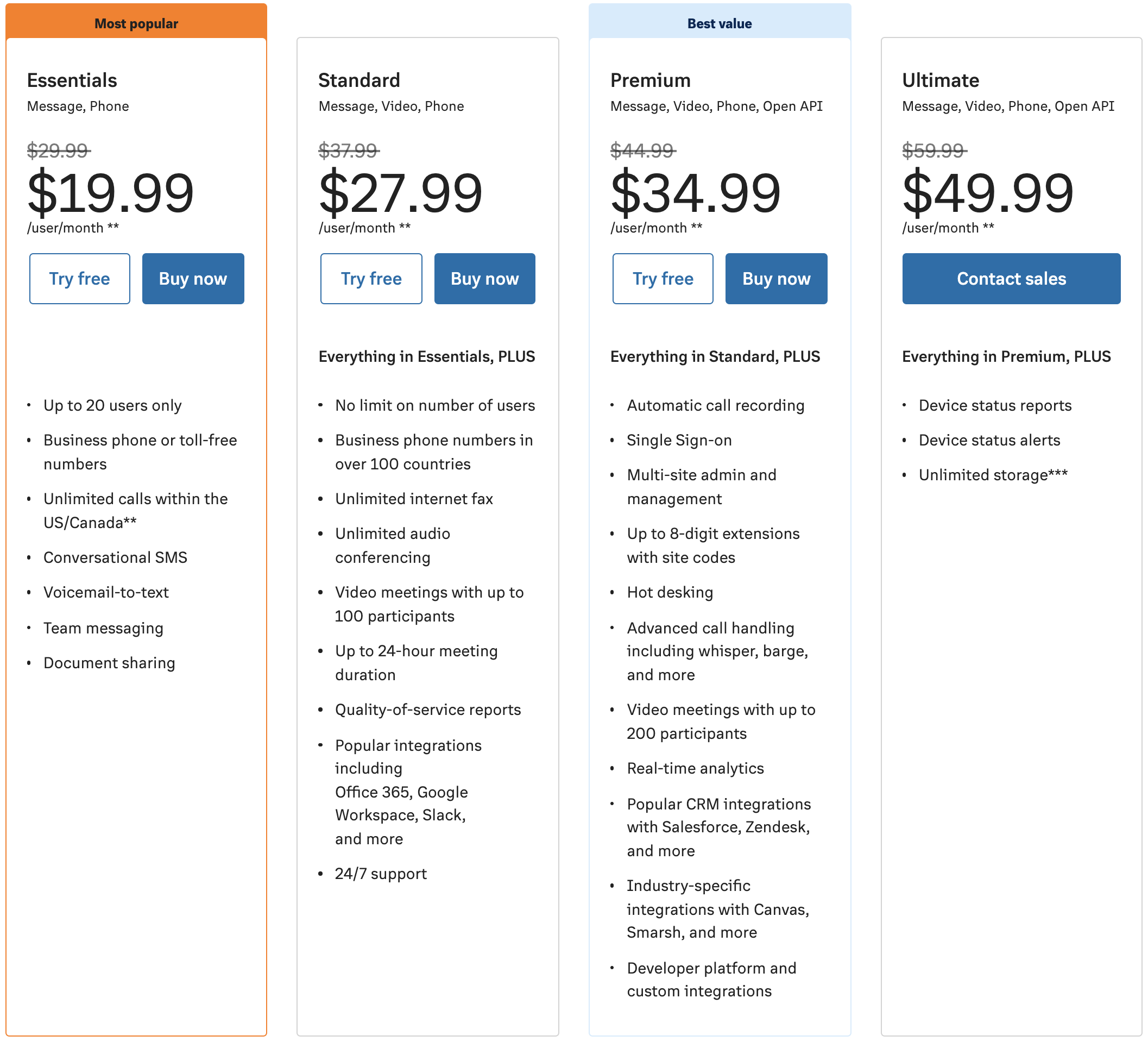 The Essentials plan comes in at $19.99/month per user which is already a fairly accessible entry price. A yearly subscription would drop that price down even further to $14.99/month which makes it cheaper than most of the competition.
That being said, the main drawback of the otherwise attractive Essentials plan is the fact that it doesn't include video conferencing, third-party integrations, or 24/7 support from the RingCentral team.
This makes it feel more like a business softphone solution rather than the full-blown UCaaS suite that most prospects expect when signing up for a RingCentral account. To get the best value out of the platform, we'd highly recommend going for the Standard plan instead.
It costs $27.99/month for each user. Included in the plan are unlimited internet faxing, video conferencing for up to 100 participants, integration compatibility, and 24/7 access to one of the most trusted support teams in the industry.
Avaya Pros and Cons
Below, we've outlined the top Avaya pros and cons.
Pro #1: Meeting Quality
OneCloud customers have been raving about the excellent audio and video quality during meetings. This is one area of the UCaaS experience that Avaya has truly outdone itself in and will make its solution a lot more attractive to remote or hybrid teams.
Pro #2: Worldwide Consultants
There are over 3,000 certified consultants across the globe that can help implement, streamline, and troubleshoot Avaya's UCaaS solutions as needed. This ensures that companies won't have to worry about their overseas branches not getting the support they'll need to overcome issues.
Pro #3: ACO Rooms
Avaya Cloud Office Rooms are powered by the CU-360 conferencing system with the goal of helping customers the same level of seamless collaboration you'd expect in person while having the convenience of a remote setting — while only costing $49/month for each room.
Avaya Cons
The biggest qualm we have with Avaya is the difficulty that customers might face when trying to reach out to support. The contact page is fairly cluttered and live chat support is only available to paying users.
That in itself is fine but you'll need to register for Avaya SSO as a means of proving your status. Considering cheaper access to support was one of the few edges that Avaya has over RingCentral, it's disappointing to see that accessing representatives is such a hassle.
RingCentral Pros and Cons
Below, we've outlined the top pros and cons of the RingCentral communications platform.
Pro #1: Team Collaboration
RingCentral has native team collaboration features including team segmentation, task management, and integration support for project management software. Asana is the most popular project management integration for RingCentral but there are others to choose from as well.
Pro #2: Security
As we mentioned, RingCentral is one of the most trusted platforms when it comes to security. After all, they have Tier 1 data centers, biometrics, failover protocols, and 24/7 monitoring to ensure that your sensitive data is always safe.
Pro #3: Multi-Platform Accessibility
For people who want to do their best work while on the go, RingCentral has long been the go-to service provider. Their highly-acclaimed mobile apps, consistent design across all platforms, and wealth of features make it the perfect UCaaS solution to carry in your pocket.
RingCentral Cons
Cons for RingCentral are few and far between. That said, certain customers have complained about sluggish cancellation processes and unclear invoices which could suggest that the billing department isn't on the same level as the development team.
Which Provider is Right for Your Business?
The below tables offer insight into who should or shouldn't consider each platform.
| | |
| --- | --- |
| Avaya Is Best For | Avaya Is Not Right For |
| Businesses that want a hands-off implementation process | Teams who want to get a platform up and running quickly on their own |
| Existing Avaya customers looking for a UCaaS add-on | High-growth companies looking for a solution that can affordably scale alongside them |
| Teams who want native SSO functionality | Users who don't want to jump through hoops just to reach a live chat support agent |
| Enterprise companies who want a highly-personalized experience | SMBs that want a simple, affordable communications solution |
| | |
| --- | --- |
| RingCentral Is Best For | RingCentral Is Not Right For |
| Companies looking for a feature-rich platform | Companies that want a simple solution |
| SMBs seeking a cost-effective, scalable solution   | Individuals looking for an affordable solo subscription |
| Businesses needing access to a large array of third-party integrations | Businesses who see integrations as an added hassle |
| Users who want high-quality live chat support | Users who prefer receiving support via email |
Avaya vs RingCentral: Which is the Winner?
That said, if you already have an Avaya contract and are trying to choose between OneCloud and RingCentral MVP, you'd likely be best off going with the former. After all, OneCloud is optimized to work with existing Avaya hardware.
It also reduces the friction since you won't have to set up an account with an entirely new company but can instead add the cloud-hosted software plan to your existing contract and get things set up that much faster.
For more information, check out our overview pages of the top Business VoIP providers and contact center software. 
RingCentral vs Avaya FAQs
Below, we've answered some of the top FAQs about RingCentral and Avaya.
RingCentral is a separate platform and company that has partnered with Avaya to help provide UCaaS software to Avaya's existing hardware customers. As such, many features from RingCentral products have been applied to Avaya devices around the world.
Avaya Cloud Office is a full-suite cloud phone system and collaboration platform, enabling companies to take their communications to the next level. File sharing, task management, virtual meetings, and access to over 100 integrations are all included in ACO.
RingCentral was founded by Vlad Shmunis and Vlad Vendrow. Investors include Sequoia Capital, Khosla Ventures, Scale Venture Partners, Hermes Growth Partners, DAG Ventures, Doug Leone, David Weiden, Rob Theis, and Bobby Yerramilli-Rao. The company later had its IPO in 2013.