It almost goes without saying that Business VoIP has hit the mainstream. For example, Future Market Insights predicts that the business VoIP market will be a $86.20 billion industry by 2020.
This market will serve approximately 204.8 billion people. And of course, one of the major selling points for switching over to a cloud phone solution is a significantly reduced business phone bill. Some estimates even state that businesses save anywhere from 50 to 75 percent on communications expenses when switching to VoIP.
Yet of course, there is always even more room to save capital. Most VoIP services, especially those meant for enterprise-level clients, come with a monthly service fee or a subscription cost. Believe it or not, some providers even offer VoIP for free.
But don't rush into dropping your current plan right away. Although these solutions do not cost anything upfront, they do come with a variety of trade-offs. Your business has to decide whether paying for VoIP service is worth the expense, or if the cost savings are worth passing over certain features.
What Do You Mean, Free Business VoIP?
Yes there are free business VoIP solutions available on the market. While most providers, are more than willing to offer trial packages with limited features to get new prospects hooked cloud telephony, a few specific vendors have decided to try something a little different.
In most cases, a free business VoIP package means that a company will set you up with free service and a free single phone number. This may actually be enough for some micro businesses and startups that are just looking to test out the service, or just costs as much as possible. After all, how can you really beat a free phone number with a free phone line, and the ability to make and place calls anywhere you are with a smartphone?
This is of course an immediate advantage for small teams specifically, offering the potential to try out or take advantage of the service at no cost. But of course, not everything in life is completely free — not even Business VoIP. While your team might not have to directly pay, you might be left wishing you did.
But Wait, What's The Catch?
The business VoIP option is usually not enough for small businesses with multiple departments and anything above that scale. One phone line is usually not enough for a business that needs separate lines of communication to sales, customer service, the executive suite and other departments.
Free service is usually limited by minutes as well. Business VoIP functions on the same per minute use metric of most communications packages. If you are using a free service, you can expect that your minutes will be limited to a point that is virtually unusable for a business of any scale.
Other services offer free plans that provide users with adequate minutes, but on a lower speed tier. After you use up your "intro minutes," you may still be able to use the service, but on the equivalent of a 2G network rather than a 4G or a 5G speed, something VoIP will soon take advantage of. This may be enough for some companies, but for most businesses, it will be a severe limitation.
Free VoIP options can also lacks some basic general functions such as the ability to call 911, as they're not covered by NENA. Although this may not seem like a huge inconvenience, it will definitely show itself as such in the case of a drastic emergency.
Certain free plans may also limit your ability to SMS text. This is becoming a bigger issue with every new business generation. More people than ever are conducting business over text and the myriad of other services that come with robust VoIP plans. Texting is considered to be more streamlined and effective for people on the go. If you do not have it, then you may be missing out on business without even knowing it.
Keep in mind that any service provider offering a free plan will knowingly keep you away from services that will benefit you. There is no way that business VoIP companies would be able to survive without paid customers, and the band with that you are taking up is costing them money. There is no such thing as a free lunch, although you may be able to get a snack every once in a while.
The Best Available Options
Although there are fewer options for free VoIP than for paid service, there are definitely some viable providers and platforms to consider. Here we will go over four of the best reviewed free plans that you can implement without too much upfront hassle.
| | | | | |
| --- | --- | --- | --- | --- |
| | | | | |
| Standard Dialing/Phone Calls | Yes | Yes | No: SIP to SIP | Yes |
| Inbound Calling Limits | Unlimited | No |  Unlimited SIP to SIP | Unlimited |
| Outbound Calling Limits | 100/mo | No | Unlimited SIP to SIP | Unlimited |
| Phone Numbers Provided | 1 | 1 | 1 | 1 |
| Lines/Extensions/Users Available | 5 | 12 | 100 Users, Unlimited Extensions | 1 |
| SMS Limit | 100 SMS outbound | No | N/A | No |
| Conferencing | Yes | Yes | No | No |
| HD Video Calling | Yes | Yes | Yes | No |
| Virtual Receptionist | Yes | Yes | No | No |
| Smartphone App | Yes | Yes | Yes | No |
| CRM Integrations | Yes | Yes | Yes | No |
Dialpad was founded by the original creators of Google Voice, making a free solution almost a given. The company began offering a free version of their plan in 2017, and it has been very successful for Dialpad and the small businesses that have used it.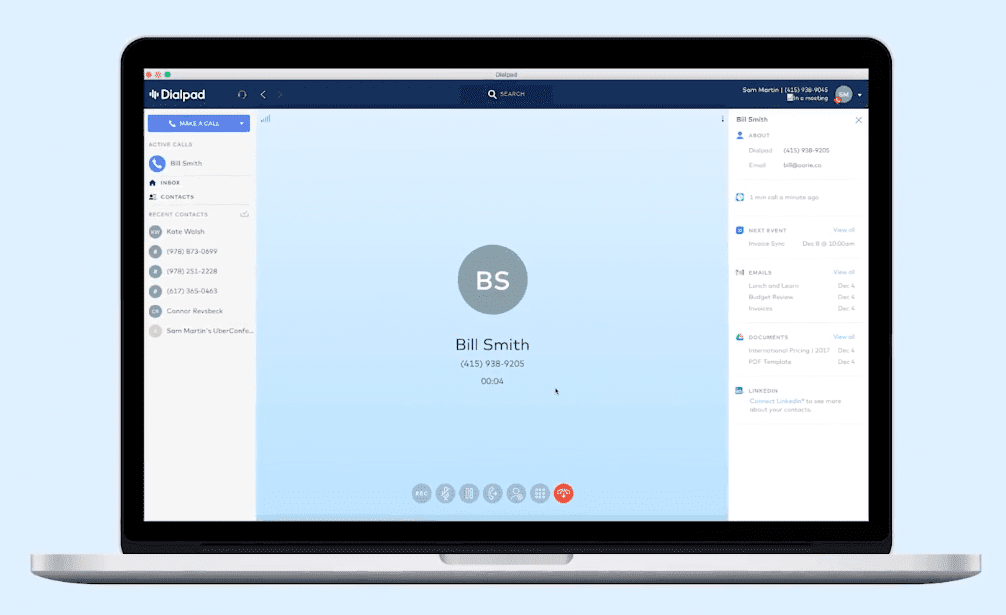 With the free version on the Dialpad pricing structure, you get a lot of collaboration services that will drastically improve your ability to communicate with your team. High definition video calls, unlimited interdepartmental messaging and UberConference are built into the service. This makes Dialpad perfect for teams who work remotely or who are otherwise always on the go.
Aside from five extensions on your free business line, you also get a virtual receptionist, and updated voicemail package and all of the basic features that you would expect from a traditional communications line, including transfer, hold, add and mute capabilities.
However, you should not look to Dialpad for a business that is looking to scale:
The single line can be somewhat of a nuisance if you are upgrading your sales funnel.
Teams have limitations on the amount of bandwidth they can utilize on video calls
Bitrix24 is particularly unique because the solution is capable of playing a double role as your internal virtual PBX system as well as your single touchpoint contact center. You can take both outbound and inbound calls using the free service.
With Bitrix, you do not even have to connect an outside CRM platform – it comes with one built-in. You can also take advantage of WebRTC and mobile app functionality. With room for up to 12 users, this is a VoIP system that can actually scale with you for a few seasons.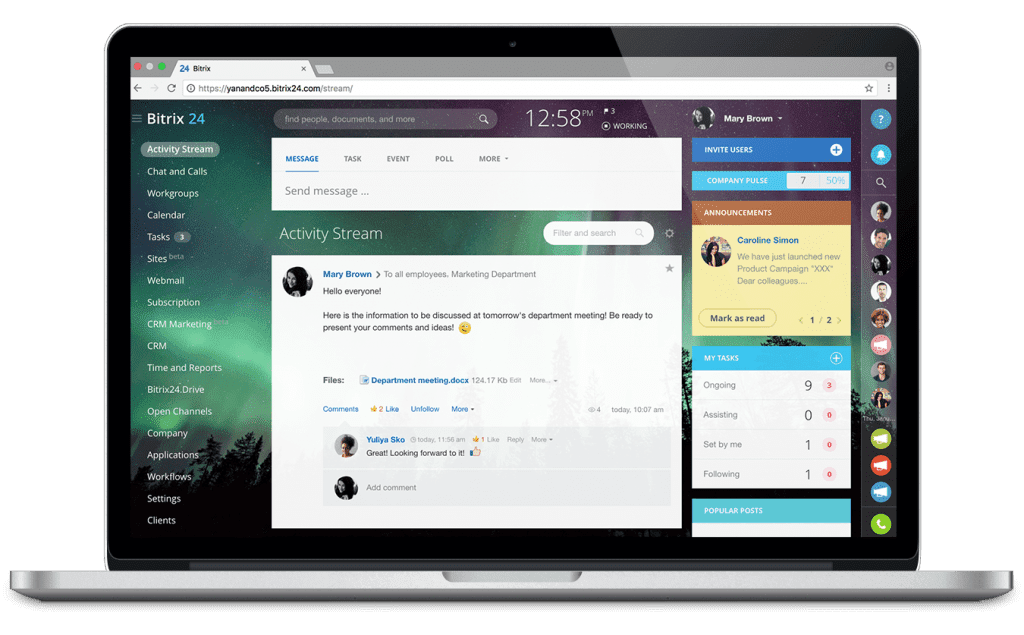 Teams also gain a fairly robust system of features on the call platform including queuing, transfers, waiting and forwarding. You can also use softphones, and you can maintain business hours and organize your communications using the extensions that are built-in.
Bitrix also provides more than just calling, with a complete Unified Communications platform, s, with group chat, IM, HD video calls and conferencing and screen sharing options.
While Bitrix is a bit of a jack of all trades,it does leave a little to be desired:
The CRM platform is good for getting started, but isn't the strongest option we have seen, and the free option lacks some functionality.
Teams should also watch out how many outbound calls they make. Although the platform to make these calls is free, and inbound calls are completely free, outbound calls actually have a cost of one cent per minute.
Teams are limited to 5GB of data storage — this is a strong limitation being placed on the CRM aspect of Bitrix 24.
While the main focus of OnSIP is understandably cloud SIP trunking, their OnSIP free offering is mainly a SIP to SIP communication platform. Whether you are on mobile or desktop, teams get a free softphone application to place and receive calls from any location.
Organizations can of course use OnSIP with any SIP application, and can continue to use a current SIP address for free video and voice calls. SIP to SIP calls are also completely free — but teams cannot dial direct phone numbers.

Despite that, OnSIP Free providers organizations with up to 100 users with unlimited extensions, custom web call links and HTML buttons, as well as numerous integrations like Slack and Zendesk. In fact, OnSIP Free is almost a complete UC platform with web based voice, video and messaging.
OnSIP is a great option even when for virtual SIP trunking specifically, but does have one major, obvious drawback for most organizations:
OnSIP is focused really on SIP trunking specifically, and users cannot dial phone numbers — this requires a specific gateway found on paid plans
Users therefore cannot use OnSIP free for SMS messaging
Perhaps the best known free business VoIP program, Google Voice is an updated version of Google Talk. Voice has many more features and smoother service than Talk did, and it is easier to set up as well. Unlike Talk, and most Google projects for that matter, Google has been keeping Voice up-to-date, although who knows if they will keep it alive for much longer.
Either way, Google Voice is leading the charge in business VoIP because of its instant connectivity to the rest of Google services. If you have a Google Voice account, then your business is automatically hooked into everything else that you already do with Google.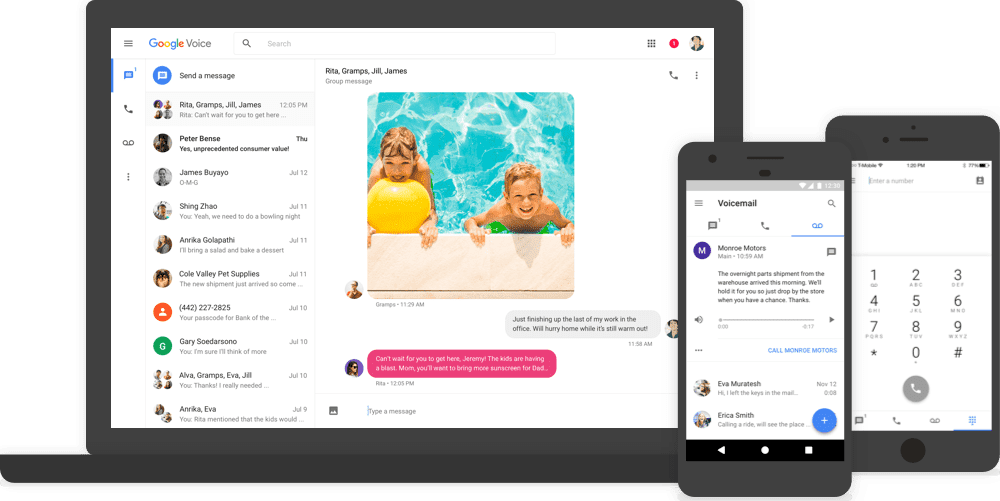 Voice is simply just another Google App that your account has access to, adding to the simplicity. There isn't any other accounts users need to create or sign up for, but the biggest drawback might be the need for a working phone number to get started.
Once users link their phone to their google account, they can then receive calls on both devices, however, essentially providing find me, follow me functionality.
While generally a really great option, Google Voice of course does have its own set of drawbacks:
Users do need another phone in order to get started.
Calls and SMS messages are limited to business inside of the United States, although this may change in the near future.
Phone numbers are generally recycled, and it is possible that your business will receive wrong calls destined for someone else.
The Bottom Line
If you are running a small business and you are looking to get into business VoIP, a free program is a good way to start. You will soon become hooked on the updated ways in which you can communicate with your audience, vendors and suppliers.
However, do not expect a free program to give you all of the bells and whistles. In order to take full advantage of VoIP, you will definitely have to pay the piper. Use the free programs to learn as much as you can about voice over protocol.
You may even compare two or more services against each other using their free programs. When you are ready, take the full dive into business VoIP with a paid service from your chosen provider. Your customers, employees and suppliers will thank you.