Business communications are truly entering into a new golden age with the rise of VoIP, and other digital tools that enable teams to get more done, faster. Unified Communications and Collaboration is a term you have probably heard floating around a few times. But what exactly is UC&C? This can be a bit of a difficult question to ask, with so many different definitions and explanations around the web.
Many are quick to claim these team collaboration solutions as the latest revolution in business communications, but that doesn't exactly tell the whole story. What is Unified Communications, what is collaboration? How do the two interact, and why should your business bother be investing in another costly solution? Do the benefits outweigh the investment, and what are the potential pitfalls or roadblocks? It can be difficult to find answers to these questions, but that's exactly why we are here to help.
So come join us on a journey of Unified Communications and Collaboration, as we make sense of this new paradigm of unified business communications.
What is Unified Communications?
Unified Communications, as a broad term, encompasses a wide array of tools and solutions that a business needs to effectively communicate and collaborate, combined within one single unified application. The concept is overall about connecting previously independent tools into this one singular platform with the main goal of improving collaboration. In the end, adopting Unified Communications can and should provide a boost to overall productivity with quicker conversations, decisions and resolutions.
Unified Communications – Business applications that combine multiple channels of real-time communications in to one single, shared platform.
Now, there isn't one exact example of what constitutes a Unified Communications solution, but rather, there are many different elements and aspects that go into UC platforms. Generally, most UC solutions will include the same features, but may provide a different focus on those features. For example, a Unified Communications solution from a Business VoIP provider will offer strong telephony functionality, with messaging, texting, and video conferencing added on.
On the other hand, a video conferencing provider will offer a platform that places a stronger emphasis on the video, with messaging on the side — a good example of this would be Microsoft's Skype for Business. Another real-world example of a focused solution would be Cisco's Spark, which places an emphasis on both video as well as digital white boarding capabilities for real-time collaboration.
Unified Communications solutions generally include the follow functionality:
Cloud Phone Systems with advanced call controls
Instant messaging that is persistent across all devices
Presence indicators to see who is available or away
Online conferencing including video and audio
Mobile platforms with the same user experience on both smart phones and desktop computers
Desktop clients or lightweight web-based portals
Collaboration features
Not only do these features need to be combined into one application, but there needs to be a key focus placed on the User Experience — everything needs to be intuitive and easy to use, or else no one will want to bother. Transitioning from one method of communication to another should be a simple one-click process, apps should be easy to navigate, and information should be easy to digest. The marriage of these different functionalities under one roof is what makes UC applications so strong.
What is Collaboration?
Now, before we dive further into the world of Unified Communications, it's important to address another closely related concept – Collaboration. While Unified Communications and Collaboration go hand in hand, there is a distinction to be made between the two solutions. Unified Communications places a strong focus on providing new ways for teams to connect and communicate, with audio and video conferencing, persistent instant messaging and presence indicators.
Collaboration, on the other hand, is all about enabling teams to effectively work together on a single goal. These collaboration tools will generally include communication features or may integrate with existing UC solutions to include those functions. Collaboration tools will generally include some of the follow features and functions:
Real-time audio and video conferencing
Enhanced call control capabilities
File sharing and editing
Virtual white boards
So, as you can see, there is a bit of an overlap between a UC and Collaboration platform. We can go back to a previous UC example to help illustrate how closely the two intersect. Cisco Spark is both a UC and Collaboration platform, with important communication tools like persistent messaging, presence and video conferencing, but also with collaboration functionality including file sharing and editing and real-time digital white boarding.
The two concepts differ slightly, but are generally combined under the same umbrella of UC&C. You can check out our guide to learn more about the different kinds of communication solutions for your business.
How Does UC&C Work?
Unified Communications and Collaboration solutions are unique in that they place a focus on real-time communication. A good way to recognize the difference between legacy and Unified Communications is look at the contrasts between texting and email. Texting is real-time, and generally flows quickly like an in-person conversation.
However, email is more closely affiliated with standard mail, in which the recipient will read and respond to the message at their own convenience, and real-time responses are not expected or standard. Most people will only check their email a few times a day, at specific intervals, yet they would respond to text messages as soon as they receive them.
Unified Communications aims to introduce real-time conversations into our daily work lives, enabling users to collaborate and share information in a much more effective manner. This is achieved through reducing the friction associated with slower, synchronous communication, like the email example. Simply replace email with persistent, real-time messaging to speed up communication and decision making.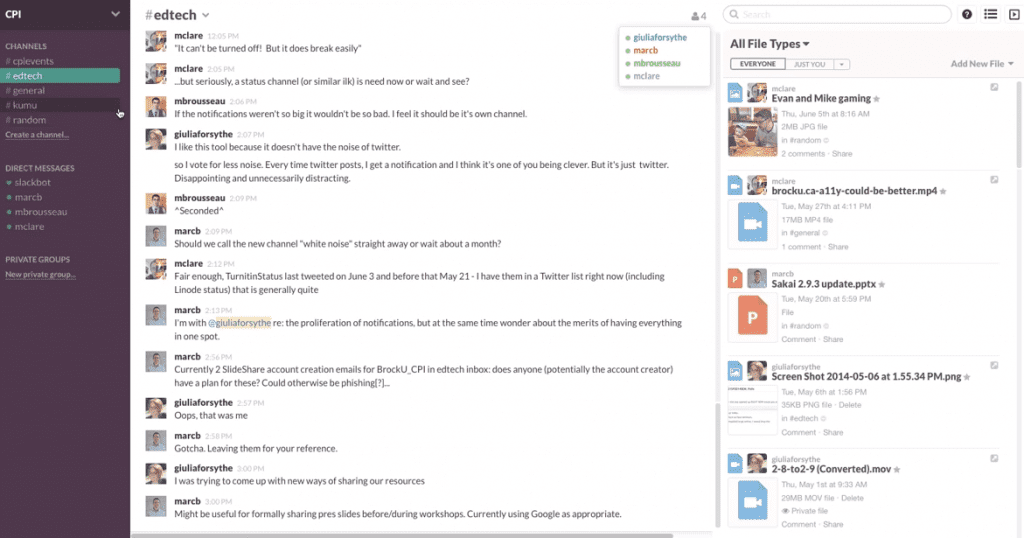 UC solutions are built on top of a platform, for example a web conferencing tool would be built on top of an IP telephony platform; extending features beyond just basic calling capabilities by including video conferencing, or even the ability to send files to other users during calls. Building off of this, UC solutions generally make it easy for users to switch from one form of communication to another.
Users may start conversing via real-time instant messaging, but something is lost in communication and a complex explanation requires a more personal voice conversation. One user will just click a button to initiate a video call right from the same application they were using to message each other, imitating a voice or even video conference.
On-Premise vs Cloud Hosted Solutions
Business communication solutions have previously required costly on-premise hardware and installations. We're just now truly seeing a digital transformation occurring, with both providers and end users moving towards cloud telephony solutions like Business VoIP and SIP Trunking. Unified Communications is very closely associated with this digital transformation and is at the heart of the future of business communications. However, on-premise UC solutions do still exist.
With on premise solutions, businesses not only have to invest capital into the physical hardware and implementation process, but also into Information Technology employees to maintain the solution. If any issues do arise, for example servers receive a heavy volume of traffic or even go down, an in-house IT department is required to handle these situations. There aren't all downsides, generally On-Premise solutions can provide greater control and customize over the solution. On the other hand, Cloud solutions remove all of this burden from the end user and place it instead on the provider of the solution.
This digital transformation has led to the creation of a new category of business solutions, generally labeled as "as a Service" solutions — examples are Unified Communications as a Service or Contact Center as a Service, a new branch for Call Center Software. No longer does a business have to purchase costly hardware and infrastructure and pay for in-house IT teams. Instead, entire Business Communication solutions can be provided "as a service," and are delivered via the cloud. As opposed to a fix cost of hardware and implementation, Cloud services are charged on a reoccurring, generally monthly basis. These solutions don't always require contracts, unlike their On-Premise counterparts.
There isn't an exact answer to the On-Premise vs Cloud Hosted debate, each has its own benefits and drawbacks, as you can see:
On-Premise Solutions
Cloud Delivered Solutions

Solutions require generally costly physical hardware to be installed on site, with a complicated implementation process
Requires an in-house IT department to maintain and update the solution
Any issues that arise need to be handled in-house
IT departments might require special training or assistance learning new solutions
Solutions can be configured to a business' needs, and can provide enhanced customization of capabilities
Potential cost savings by avoiding reoccurring cost
Providers generally require a contract for their service
Without the flexibility to expand or even shrink as necessary without more hardware, costs can be hard to plan around

No hardware or implementation requirements, simple setup with web-based solutions
No in-house IT department required to handle maintenance or updating
Updates, issues and conflicts are handled and resolved by the provider of the service
Online guides and tutorials supplied by providers can be used to familiarize users with the platforms
Sometimes more limited in customization and configuration with predefined capabilities
Reoccurring costs can increase overall investment, but are easier to plan around
Flexibility thanks to the easy web-based delivery.
However, it is important to note that most solutions are moving towards the cloud. Major providers previously focused on legacy and On-Premise offerings, like Mitel and Avaya, are both shifting to a Cloud focused model, as the market and technologies evolve.
Why should your business care about UC&C?
One easy way to sum up the benefits of UC&C would be to simply state that the solutions can drastically boost employee efficiency and productivity. By enabling users to collaborate in real-time, projects can be completed much faster when teams can get the information and answers they need right away. But, that really is just scratching the surface of what a true UC&C platform can do for your business. Unified Communications can do much more than simply streamline your team's productivity.
1. Improved efficiency and productivity
Well I already mentioned this as a major benefit, so it makes sense to start here. As I already explained, through real-time communication, employees can always stay in touch, and instantly receive the information they need. Let's sale one team is working on a project but requires data from another team — instead of shooting over an email and waiting hours for a response, because who knows when that person will check their email, the user can instead check the current presence status of other users, locate one that is currently online, and immediately engage them in a text-based conversation.
If things get more complicated, they can escalate to a video conference with the click of a button or share a file and collaborate on that same file together, in real-time. UC&C places everything you would need to effectively communicate, right at your fingertips.
2. Potentially Reduced Costs
Now, Unified Communications solutions generally do require an investment from your organization — while free solutions do exist, they won't always cut it for larger teams that require extra headroom. However, since UC&C solutions are generally cloud based, pricing follows a standard subscription model most of the time, enabling businesses to only pay for what they need.
This, along with the combination of multiple services and features from one provider, can generally lead to cost savings for most businesses. For example, your Cloud PBX provider might also offer a UC solution, and can package the two together. Cloud-hosted UC solutions also remove the need for in-house IT staff, reducing the overhead even further.
3. Embrace Mobility
Mobility is no longer just another business trend we might see in the future, its exactly how we live our lives every day. We all have cell phones, tablets and mobile computers, enabling us to always stay connected even when we're on the go. Unified Communications solutions enable us to leverage this always connected culture with mobile or web-based applications.
As long as you have an internet connection and a mobile device, you can still gain access to your entire UC&C platform, generally with the same features you would expect from your desktop computer experience. So, even if you have to run to that important meeting on the other side of town, your team can still contact you in an instant.
4. Organizational Agility
Unified Communications enables teams to always stay connected, even when they are travelling or on the move. Faster conversations that happen in real-time means decisions and conclusions can be reach much more quickly and effectively. Persistent communications across all devices means that the important details are always at your fingertips, and the ability to escalate an interaction into a personalized video or audio conference at the touch of a button enables what can be called organizational agility.
Simply put, Unified Communications provides a massive boost to the flexibility of your business. Teams are able to communicate in a much more efficient manner, instantly getting answers to questions. Resources can be shared in a matter of seconds, and personalized online meetings mean decisions can be made even from across the country.
5. Provide better customer service
For businesses that are providing products or services of their own, customer service and support is generally an integral aspect of their offerings. Clients need a way to get in touch just in case something goes wrong, or if they need assistance with a previous or future purchase.  A business outfitted with a Unified Communications solutions can provide a smooth customer service thanks to the increased agility. For example, an agent assisting a client might run into an issue they are unfamiliar with.
Instead of placing the caller on hold, then attempting to call a supervisor, the agent can look to see who is active at their computer and send a quick message on their UC client asking for assistance. Improved agility enables your team to provide a quicker, simpler customer experience.
6. Infrastructure Reliability
Since the heavy lifting and hosting of a UC&C solution is handled via the Service Provider, and delivered through the Cloud, your business can generally gain peace of mind knowing that infrastructure reliability should be at its highest. Service providers generally advertise a guaranteed up-time percentage, ensuring your business that services will be running 99.99% of the time.
Most providers will also engage businesses in a Service Level Agreement, something everyone needs to consider, to ensure that service stays at an agreed upon level, and if any issues do occur this agreement will hold the provider responsible. By removing the burden of infrastructure from your business, the services can be handled by the providers better equipped to ensure reliability.
7. Increased Security
At this point it is becoming increasingly difficult to find a Business Communications solution that does not include security in its list of major features. Slack, for example, at one point was criticized for its lack of security but has since added an entire security team to their roster and has since been providing new developments.
Cisco Spark, as another example, is built with intense encryption included from the ground-up, even going so far as to encrypt each and every line you draw with the white boarding functionality. UC&C applications help ensure that your business' communications are secure and protected, even from the provider's themselves.
8. User Friendly Solutions
As I mentioned already, User Experience is an absolute key aspect of any UC&C solution. If a tool is too complicated to use, no one will use it — simple as that. That's why UC&C providers place such a large focus on the User Experience of their solutions. These tools need to not only combine multiple functionalities into one platform, but they need to do so in a way that is simple, engaging and intuitive.
So, it's safe to say that the vast majority of UC&C solutions are user friendly. Teams will want to adopt these new platforms, as they free workers from the annoyances of email, empowering them to communicate in new ways, faster than ever. This can also help your business defeat shadow IT, by getting everyone on-board with an agreed upon platform.
Potential Drawbacks to Be Mindful of
Now, no solution is created perfectly, as we all know. While UC&C solutions do a great job of fostering stronger communication and collaboration, and reduce the headache of maintain your own services, they are still some clear downsides to these tools. Now, this isn't to say UC&C is the way to go, because it really nice — solutions are cost effective, simple to setup, simple to use, and easy to plan around. But there are definitely some downsides and pitfalls that every business should be aware of if they want to get the most out of their investment.
1. Overall Cost
Depending on exactly what your business needs, adopting a UC&C solution could possible provide a cost decrease, but generally this isn't the case. Instead of paying a single one-time cost and installation charge, your business now has to pay a reoccurring monthly or annual subscription, sometimes entering in a contract with your service provider.
This reoccurring cost can weigh down on smaller teams, and can sometimes be difficult to plan around, as your investment might go up or down depending on company growth. This simply might not be very compelling for your business, who would rather make a one-time, larger investment.
2. Employee Resistance to Change
UC&C solutions are generally on the user-friendly side, with an easy to understand layout, and simple functionality. However, that doesn't mean everyone will be onboard with these new tools. Some teams might prefer to use email, or simply want to stay with whatever they are familiar with.
Introducing a new tool like a UC&C solution could be met with resistance from existing employees. Proper training and education will be necessary to get everyone on board, using the solution to its fullest.
3. Lack of in-house IT
While also a major benefit of cloud delivered UC&C solutions, the lack of an in-house IT department can also be considered a bit of a downside. Since the entire service and infrastructure is handled by the service provider, when any issues do arise, they are completely out of your hands.
Therefore, customer service is such an integral aspect of any UC&C platform. Without an in-house IT team, your business is at the mercy of the provider, and cannot always handle issues or speed bumps themselves.
4. Interoperability Issues
At this point, UC&C solutions do a fairly great job of integrating with existing business tools and solutions. Thanks to  communication APIs, it's easier than ever to integrate UC with, say, workforce optimization tools. However, not every single solution will play nicely with your existing business operations and solutions.
Before you buy, make sure you ask the provider about existing integrations, or how complex it might be to build integrations. A potential lack of interoperability with current solutions could be a deal breaker for some.
5. Less Configuration and Customization
Generally, when installing an on-premise solution, your business will work with the service provider to create a totally unique solution that fits your business to a T. However, with cloud delivered tools, your business simply has to settle for whatever is available. Now, that's not to say that cloud UC&C solutions are without customization, quite the opposite in fact.
Many of these tools enable users to customize dashboards or layouts, and many providers will enable your business to customize plans and features. However, customization is not the standard, and will have many more limitations on what's possible when compared to a completely unique and tailored solution.
Is UC&C Right for Your Business?
Of course, we can't exactly answer this question for you. The decision to adopt a cloud delivered UC&C solution is not a light one and will require a lot of extra homework. Before jumping into the investment, your business should take a good, long, hard look at how teams currently communicate, the cost associated with existing solutions, and the potential benefits that a new solution might bring. Just because UC&C is the latest trend, and these solutions seem compelling, doesn't mean that your business is ready for a digital transformation.
Generally, UC&C can be a good fit for just about any business. We are quick to recommend UC&C solutions over legacy communication tools like basic phone calls and email, simply because of everything these platforms will bring to the table. However, jumping into a new solution without the right education could end up a recipe for disaster. The last thing you want to do is set out to improve business communications, but end up with a messy, complicated system that no one wants to even bother to learn to use.
Just like any other investment, you want to take the time to research and understand exactly what a UC&C solution will bring to the table, how your business is currently working, and look to discover if there are any ways to improve. Unified Communications and Collaboration solutions can absolutely revolutionize the way your business interacts, but it has to be ready for the digital transformation.