A PBX, or Private Branch Exchange, is a telephone system providing businesses with an internal, internet-powered phone network.
Designed to replace traditional landlines, PBX phone systems can be operated using any internet ready device–softphones and IP phones, Android and iOS devices, and web apps.
PBX systems include and facilitate inbound/outbound voice calling alongside advanced features like SMS texting, CRM integration, reporting and analytics, video conferencing, and more.
Though PBX provides robust call center functionality, it can be expensive.
The free and open-source PBX software solutions reviewed below keep costs down without compromising capabilities.
Compare
top PBX providers
The Best Free and Open-Source PBX Software
The top open source PBX providers are:
Asterisk
Asterisk is one of the most established and popular open source IP PBX systems in the business telecom space.
Companies can create and deploy a variety of communication services including Voice over Internet Protocol (VoIP), Interactive Voice Response (IVR), and Automatic Call Distribution (ACD). The Asterisk platform supports several other interfaces, including Switchvox, FreePBX and FreeSwitch.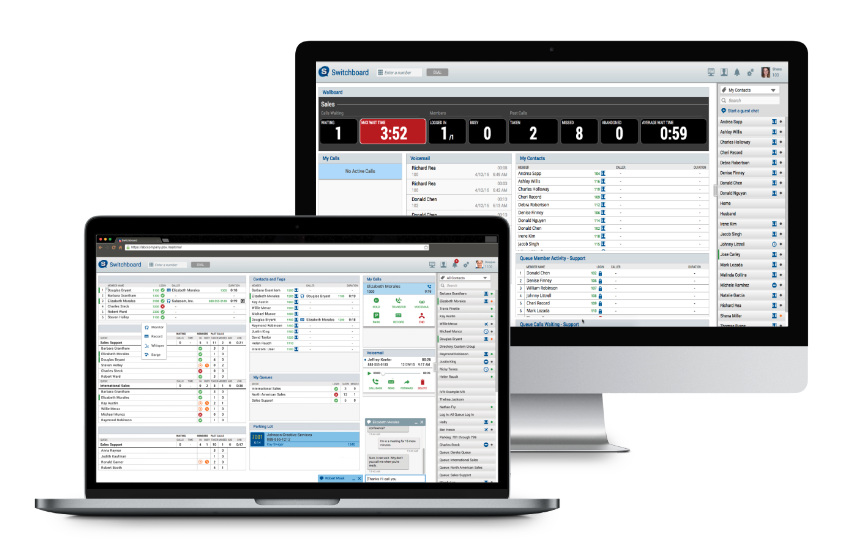 Key Features
Standout Asterisk feature are:
IVR: Asterisk's IVR platform includes features such as digit collection, database and web service access, calendar integration, and speech recognition and analysis. An audio playback and recording application allows users to record custom prompts and greetings. IVR applications can be built using the Dialplan language or through the Asterisk Gateway interface and can integrate with other external systems.
Reporting: The Asterisk system logs and reports specific events that occur on calls and individual channels. Admins can control which applications are tracked such as transfers, answers, and hangups. The events and their details are provided in a machine readable format with CSV output. Modules are available to output through other back-end interfaces such as RADIUS and SQLite.
SMS/Text Messaging: Asterisk's SMS feature enables users to send and receive text messages over the PSTN. The application handles text messages from cell phones and message centers using ETSI ES 201 912 protocol and 1 FSK messaging for analog calls. It is compatible with BT Text service in the UK and works on ISDN and PSTN lines.
Typical applications include:
Connection to a message center to send text messages
Connection to an POTS line with an SMS capable phone to send messages
Acceptance of calls from the message center (based on CLI)
Storage of received messages
Acceptance of calls from a POTS line with an SMS capable phone
Pros & Cons
Below are the advantages and disadvantages to using Asterisk
| | |
| --- | --- |
| What users like about Asterisk | What users dislike about Asterisk |
| Active community offering online support | Can be complex to set up and configure, requiring some technical knowledge |
| Flexible system that integrates easily with many popular third party applications | Lack of collaboration tools such as video conferencing |
| Reliable platform with many telephony features including IVR. hunt groups, etc. | Lack of high-quality codecs |
Best for
Asterisk is best for small businesses and SMBs that need a custom VoIP phone system with a focus on voice and texting functionality. Due to the complexity of Asterisk's platform, it is best for companies with a full-time developer or IT staff to build, update and maintain the PBX system.
SIP Foundry
SIP Foundry is a communications solution optimized for hybrid cloud hosting and Delivery as a Service. Its enterprise-grade platform includes video conferencing, IM/Chat, and unified messaging. SIP Foundry works with any device or application following SIP and XMPP standards.
REST APIs allow integration of features, including presence and calling, directly into other Web applications.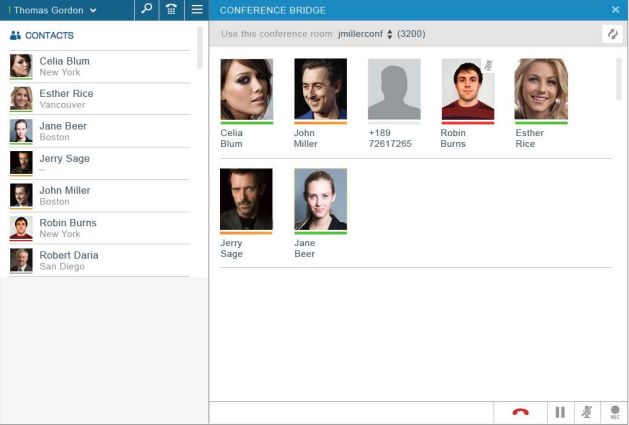 Key Features
Standout SIP Foundry features include:
Conferencing: SIP Foundry's conferencing feature allows users to set up private 1:1 meeting rooms and common rooms for specific purposes. Participants can access the conference call on a browser, tablet, smartphone, or mac/PC laptop using a bridge extension or DID number. The web-app can be used to auto record the meeting.
Video: Admins can enable video chat through the SIP Foundry conferencing platform. Enabling this feature allows conferencing participants to connect with video endpoints.
Call Queueing: Call Foundry supports several ACD servers with unlimited queues per server. In each call queue, users can customize agent wrap up time, a welcome message, maximum call wait time, and overflow condition. Historic reporting with agent, call, and queue statistics is also included.
Moderator controls include: 
Disable all audio to and from participant
Allow participant to re enable audio
Mute/Unmute participant
Disconnect participant
Invite new participant during meeting
Configurable call routing schemes include: 
Ring all
Circular (round robin)
Linear (fixed)
Longest idle
Pros & Cons
The advantages and disadvantages to using SIP Foundry include:
| | |
| --- | --- |
| What Users Like About SIP Foundry | What Users Dislike About SIP Foundry |
| Web-based administration and full scale automation for quick deployment | Customer support is difficult to reach without purchasing a customer support plan |
| Highly secure platform with global resiliency and load sharing | Optimal functionality requires more powerful and more expensive hardware than competitors |
| UCCS architecture with mongoDB allows the platform to scale linearly and easily | Complex and time-consuming Installation process |
Best for
With its wide variety of features and high level of security, SIP Foundry is best for large organizations and enterprises, especially those in the education and government sectors.
CallHippo
CallHippo is a cloud based business phone system that offers a free and open source version for small and mid-size companies. The open source PBX plan includes essential features such as call forwarding and SMS. Users can add on advanced features like dynamic number insertion, analytics, and voicemail transcription.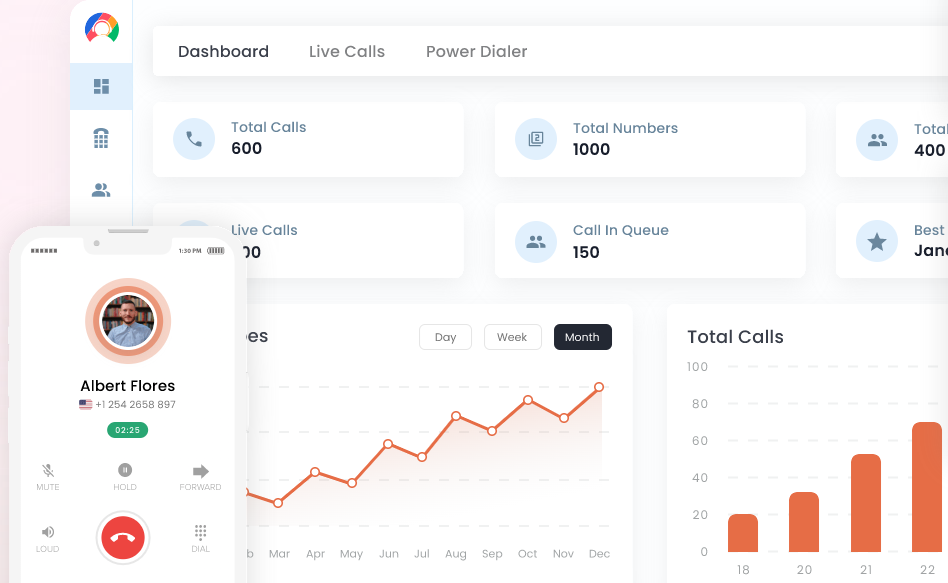 Key Features
Standout CallHippo features include:
Click to Dial: CallHippo's click-to-call feature enables companies to install a website button that customers click to initiate an outbound call to your business. The feature can be integrated with various communication channels, including voice, text messaging, and video calling.
Smart Switch: Smart Switch lets CallHippo users toggle between telephony platforms directly from the dial pad interface. If an agent is having an issue with call quality, they can quickly switch to an alternative network before the next call. Users cannot switch networks during a call.
Call Forwarding:  CallHippo's call forwarding feature automatically directs calls to preset numbers. Users can forward calls to any number and any device in the world without informing the caller that their call is being transferred. Calls are forwarded based on conditional and unconditional forwarding options such as "unanswered", "busy", and "after work hours". Smart extension menus can also be integrated.
Pros & Cons
The advantages and disadvantages to using CallHippo include:
| | |
| --- | --- |
| What Users Like About CallHippo | What Users Dislike About CallHippo |
| Easy to use and install with an intuitive user interface | Paid plans are expensive compared to competitors |
| Option to purchase add-ons and bundled plans when it's time to scale | Lack of features compared to competitors |
| 24/7 live chat support | Frequent call quality issues |
Best for
CallHippo is best for small businesses needing a straightforward business telephone system without an overwhelming number of features.
Its platform is user friendly and does not require an IT professional to install, meaning CallHippo is ideal for teams without a developer on staff. 
OpenPBX by Voicetronix
OpenPBX is a PBX software platform designed to operate with Voicetronix telephony hardware.
Users build their own phone system using commodity PC servers running Linux and analogue telephone handsets. Features include a highly configurable multi-level auto attendant.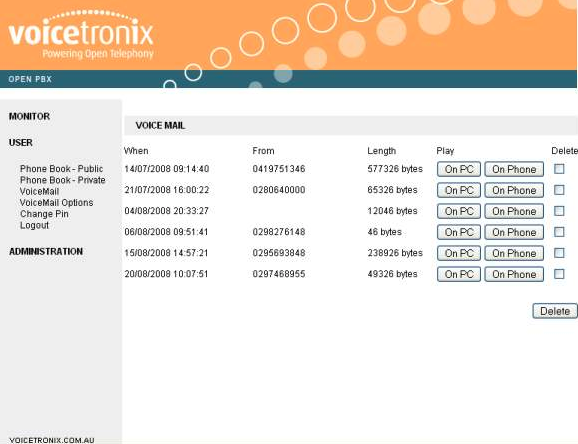 Key Features
Standout OpenPBX features include:
Auto Attendant: OpenPBX's hierarchical (multi-level) auto attendant feature enables users to build an automated answering service to direct incoming calls according to the customer's IVR menu selections. Users can build multiple menus and set business hours such as weekend, after hours and holidays.
Hunt Groups: OpenPBX's call hunt groups groups multiple extensions together (for example, all sales rep extensions could be put into a "sales group"). Incoming calls forwarded to a particular hunt group are sent to the first available agent in that group. OpenPBX allows for unlimited hunt groups and extensions.
Call Parking: OpenPBX's call parking feature lets users place calls on hold on one handset and recall them from another handset at a different location. Transfers can be blind (without speaking to the new agent first) or warm (call is announced to the new agent before the transfer). Users can also forward a call to a voicemail box.
Pros & Cons
The advantages and disadvantages to using OpenPBX include:
| | |
| --- | --- |
| What Users Like About OpenPBX | What Users Dislike About OpenPBX |
| Code is very compact, only 1000 lines of Perl code are required for the basic PBX functionality | Users must purchase hardware from Voicetronix |
| Easily extendable and customizable using code | Digital handsets are not supported, the hybrid system is meant to work with analog handsets |
| Voicetronix hardware allows OpenPBX to scale from 4 trunk lines and 4 stations to 60 trunk lines and 60 stations using multiple PC servers | Lack of advanced features such as video conferencing |
Best for
OpenPBX is best for SMBs that wish to use analog handsets with their PBX software. OpenPBX does not include any advanced features such as SMS, so it is best for companies that communicate primarily via voice. 
OpenSIPS
OpenSIPS is an Open Source PBX server including application level functionality like voice, video, team chat messaging, and user presence.
It's fast, reliable, and offers a customizable routing engine.
OpenSIPS can handle over 5000 call setups per second. On systems with 4GB memory, OpenSIPS can serve a population of over 300,000 online subscribers.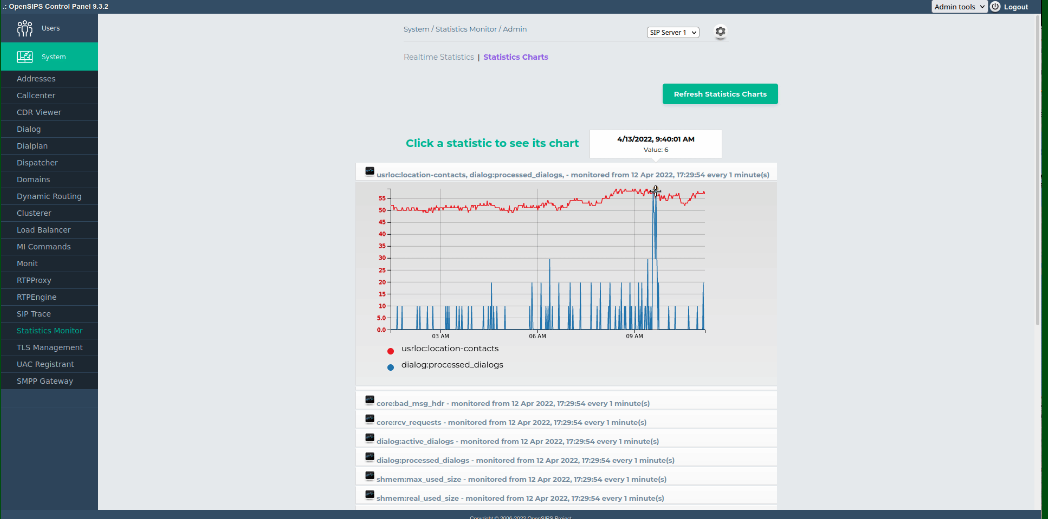 Key Features
Standout OpenSIPS features include:
Call Routing: OpenSIPS users build call flows using a custom scripting language that is similar to the C language. Each type of route (branch, failure, error, etc.) is triggered by a certain event and allows users to process a certain type of message (request or reply). The dynamic routing module will send calls to the best destination/gateway based on pre-established criteria. For example, least cost routing (LCR) automatically selects the least expensive carrier for outbound calls. Time-based routing sends calls to a specific destination according to the time of day or day of the week.
IM Server: OpenSIPS includes an MSRP Gateway that connects with an IMS network. With MSRP support, instant messaging support can be implemented in advanced services (such as chats and call centers) and unified with voice and audio components.
SMS Gateway: OpenSIPS SMS gateway makes SMS communication possible. The gateway provides facilities like SMS confirmation–a confirmation to the SIP user of whether or not an outbound message reached its destination as an SMS or multi-part message. Errors that occur because of an invalid number, overlong message, or internal modem malfunction are reported back to the SIP user with an explanation regarding the error.
Pros & Cons
The advantages and disadvantages to using OpenSIPS include:
| | |
| --- | --- |
| What Users Like About OpenSIPS | What Users Dislike About OpenSIPS |
| Plug-and-play module interface to add new extensions | Requires knowledge of Linux, SIP, and programming logic to successfully configure |
| Flexible custom scripting language | Custom coding language means a higher learning curve |
| Superior recorded webinar tutorials and user guides | Limited feature compared to competitors |
Best for
OpenSIPS is best for SMBs that have capable IT personnel on staff experienced in SIP, Linux, and programming. OpenSIPs is best for companies that do not require advanced communication features and channels such as video conferencing.
Kamailio
Kamailio is an open source SIP server able to handle thousands of call setups per second. Kamailio can be used to build VoIP and Unified Communications (UC) platforms with user presence, WebRTC, instant messaging, and more.
Kamailio's platform is highly secure thanks to IP and Network authentication, TLS support, and SIP user authentication.
Key Features
Key Kamailio's features include:
Presence: Kamailio's presence module is used to handle SIP event notification. It uses database storage and memory caching to manage PUBLISH and SUBSCRIBE messages and generate NOTIFY messages. Users can register events from other Kamailio modules.
Instant Messaging: Kamilio's instant messaging module follows the architecture of IRC channels and enables users to send commands embedded in the MESSAGE body. Users must define a URI corresponding to a conferencing manager. Once a new conference room is created, users can send commands directly to conferece's URI.
Pros & Cons
The advantages and disadvantages to using Kamailio include:
| | |
| --- | --- |
| What Users Like About Kamailio | What Users Dislike About Kamailio |
| Plug-and-play module interface enables users to add new extensions | Complicated to set up and use |
| Flexible least cost routing and routing failover | Lack of advanced features |
| Over 150 modules are included in the Kamailio source tree | Requires extensive programming knowledge to use |
Best for
Kamailio is best for small teams that need a custom solution and have an experienced programmer who can build it.
3CX
3CX is an all-in-one communications system for Linux offering live chat, video conferencing and telephony services for up to 10 users at no cost.
3CX takes just minutes to install and does not require programming knowledge. Users simply download the ISO and run the PBX system on a new or existing server. 3CX customers choose their preferred SIP Trunks and devices. 3CX also supports several other software-based PBX systems including elastix.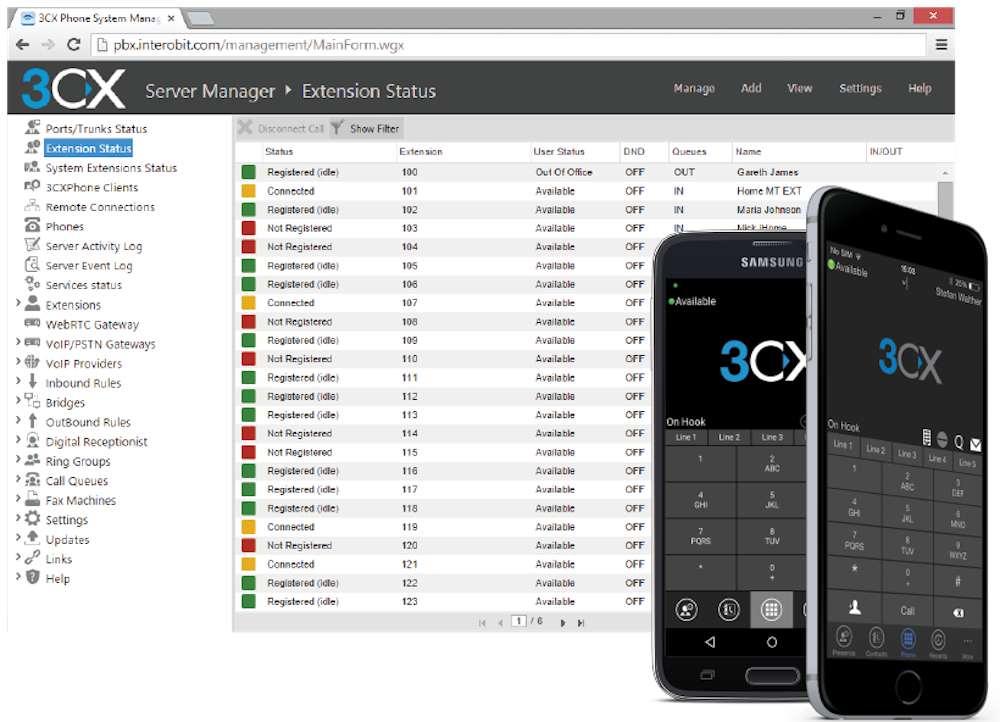 Key Features
Key 3CX open source platform features include:
Live Chat: 3CX's live chat feature enables users to share customer queries and history with other team members to resolve issues faster. WhatsApp, Facebook and SMS messages are also handled from the same interface.
Auto Attendant: 3CX's free version allows for only one auto attendant, however, users can add as many levels as they like. For example, callers are given 9 menu options, if they press 1 they are taken to another menu (level) with another 9 options. 3CX allows users to add custom greetings to the auto attendant along with a dial by name directory.
Video Conferencing: 3CX's video conferencing platform uses Google WebRTC to offer secure HD video functionality. Participants can join video calls by calling in, or clicking a personalized link on their browser, no downloads are required. Video meetings on the free version can host up to 25 participants.
Video features include: 
Virtual backgrounds
Streaming on YouTube
Screen sharing
Whiteboard
Remote screen control
In meeting chat
Polling
Pros & Cons
The advantages and disadvantages to using 3CX include:
| | |
| --- | --- |
| What Users Like About 3CX | What Users Dislike About 3CX |
| Easy to set up and use | 10 user limit on the free version |
| Advanced features such as live chat and video conferencing | Free version is limited in features (does not include call recording, IVR, SMS/MMS, etc.) |
| No credit card required to download the free version and users can easily scale to a paid version as their business grows | No live customer support for users of the free version |
Best for
3CX's free version limits users to just 10 so it is only suitable for startups and very small teams. 
Fortunately, an IT department is not required to install this open source PBX system. Advanced team collaboration features such as video conferencing make this a great choice for remote teams. 
Which Open Source PBX Platform Is Right For You?
The best PBX solution for your business depends on company size, required features, and your team's programming knowledge or on-site developers.
Because all of the above listed platforms are open source and free, budget is not a factor.
Here are some suggestions for organizations of various sizes and industries:
Best for large businesses and enterprises: SIP Foundry
Best for SMBs: Asterisk
Best for startups and small businesses: CallHippo
Best for small remote teams: 3CX
Best for those in the education/government sector: SIP Foundry
FAQs
Open source PBX is a business phone system that is free for anyone to use and uses the internet to connect voice calls along with other communication channels such as texting and fax. 

VoIP (voice over internet protocol) is the process of converting voice to data packets so they can be transferred over the internet while PBX (private branch exchange) is a private telephone network for businesses. 

The types of PBX are cloud hosted (a business phone system is based in the cloud and maintained by a third party provider), on-premises (maintenance of the PBX system is managed by the company), and PBX SIP trunking (existing landlines are converted to cloud-based phone system).