Business phone numbers give new companies a professional image while providing key features like voicemail, call forwarding, and SMS texting.
Small businesses have the added challenge of keeping communication costs down while working to improve the customer experience and streamline operations.
Grasshopper and Nextiva are two affordable, user-friendly VoIP phone system providers catering to small businesses.
Not sure which one you should choose? Here's a look at how the Grasshopper vs Nextiva compare regarding pricing plans, features, pros, cons, and more.
Business phone systems starting at
$10/mo
Jump to ↓
Nextiva vs Grasshopper at a Glance
Grasshopper is built for small companies and is limited in both features and the number of users supported.
Here are some quick facts about Grasshopper:
Offers one of the lowest prices in the VoIP space
Charges a flat monthly rate without per-user fees
All plans Includes a local, vanity, or toll-free number
Offers primarily voice calling, faxing, and SMS texting capabilities
International calling available as an add-on
Nextiva is more expensive than Grasshopper, but still offers affordable pricing.
Here are some quick facts about Nextiva:
Plans include voice calling,  video conferencing, and team collaboration tools
Pre-built CRM integrations with Zendesk, HubSpot, Salesforce, and more
99.999% uptime and security features like SSO, HIPAA compliant voice/video, e911
Nextiva
Grasshopper
Pricing
3 plans from $21.95 to $35.95/user/month (for 5-19 users)
3 plans from $28-$80/month annually (no per-user fee)
Key Features

Call pop
Drag-and-drop call flow editor
Calendar and meeting scheduling
Team collaboration rooms

Business texting
Call forwarding
Custom greetings
Extensions
Reporting

Available Communication Channels

Voice
Fax
Chat
SMS/MMS
Video

Integrations
19 integrations, including:

Salesforce
Microsoft Dynamics 365
Zendesk
ServiceNow
HubSpot
Zapier

Google Voice, Outlook, and Skype
Customer Support Options
24/7 email, chat, and phone support, plus a knowledge base
24/7 phone, email, Twitter, Facebook, and live chat support, and a knowledge base
Best For
Companies seeking basic video, phone, and calling on a budget with room to scale
Startups, solopreneurs, and small companies with under 10 employees
What is Nextiva?
Nextiva is a business communication platform combining voice, collaboration, and customer management in one unified platform. 
Top Nextiva features include call recording, video conferencing, team chat, and CTI screen pops (call pops) with CRM system integration.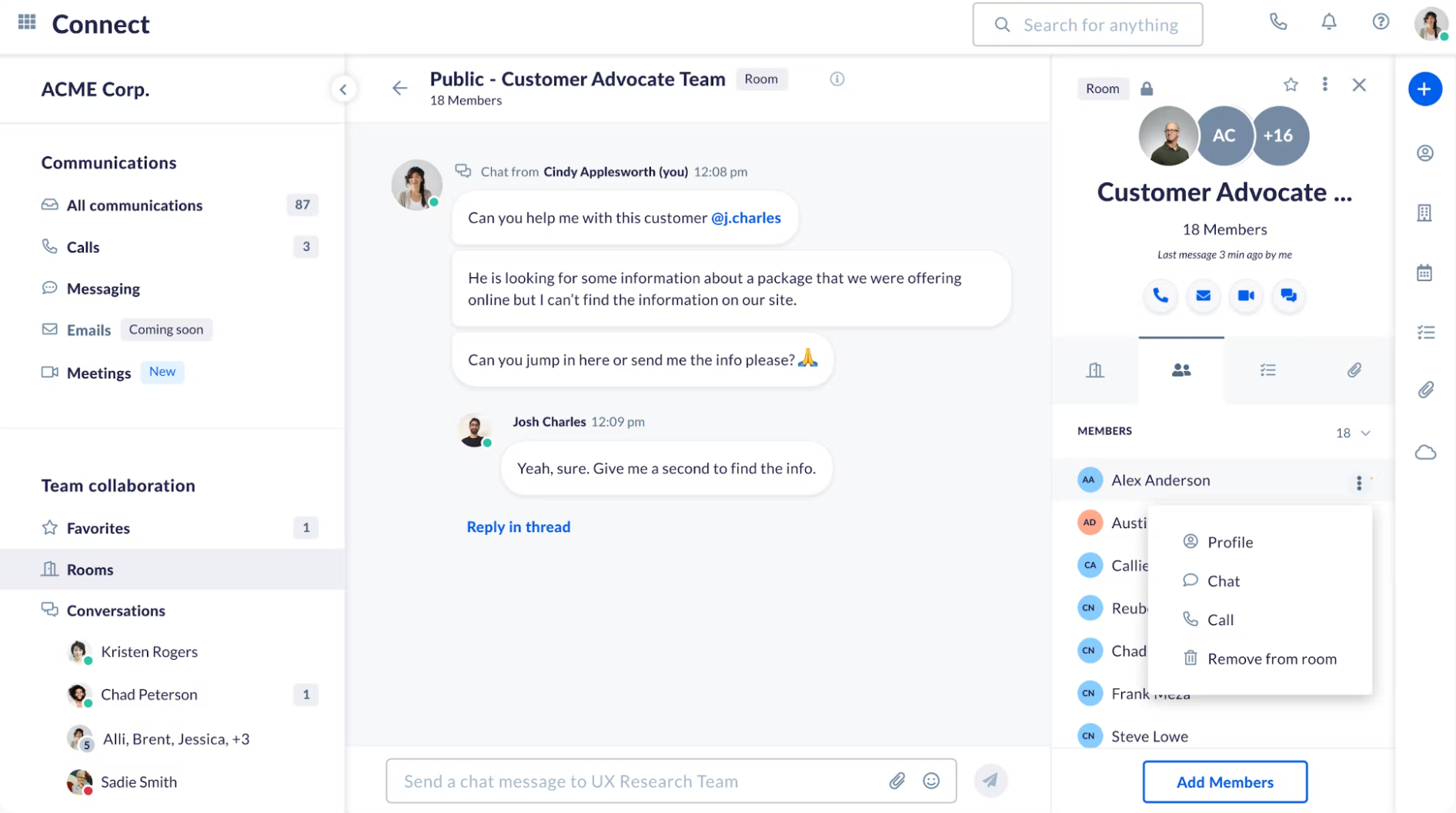 In addition to its Business Communications suite, the service provider offers a Contact Center as a Service (CCaaS) solution with advanced call routing, analytics, and Workforce Optimization tools.
According to user reviews, the virtual phone system is known for its attentive customer support team and its easy to use, reliable platform.
Nextiva is best for small to mid-size businesses prioritizing scalability, agent optimization, and advanced analytics.  
What is Grasshopper?
Grasshopper is a business phone service that provides essential voice calling features for an affordable price.
Key features include call forwarding, voicemail transcription, online faxing, and caller ID.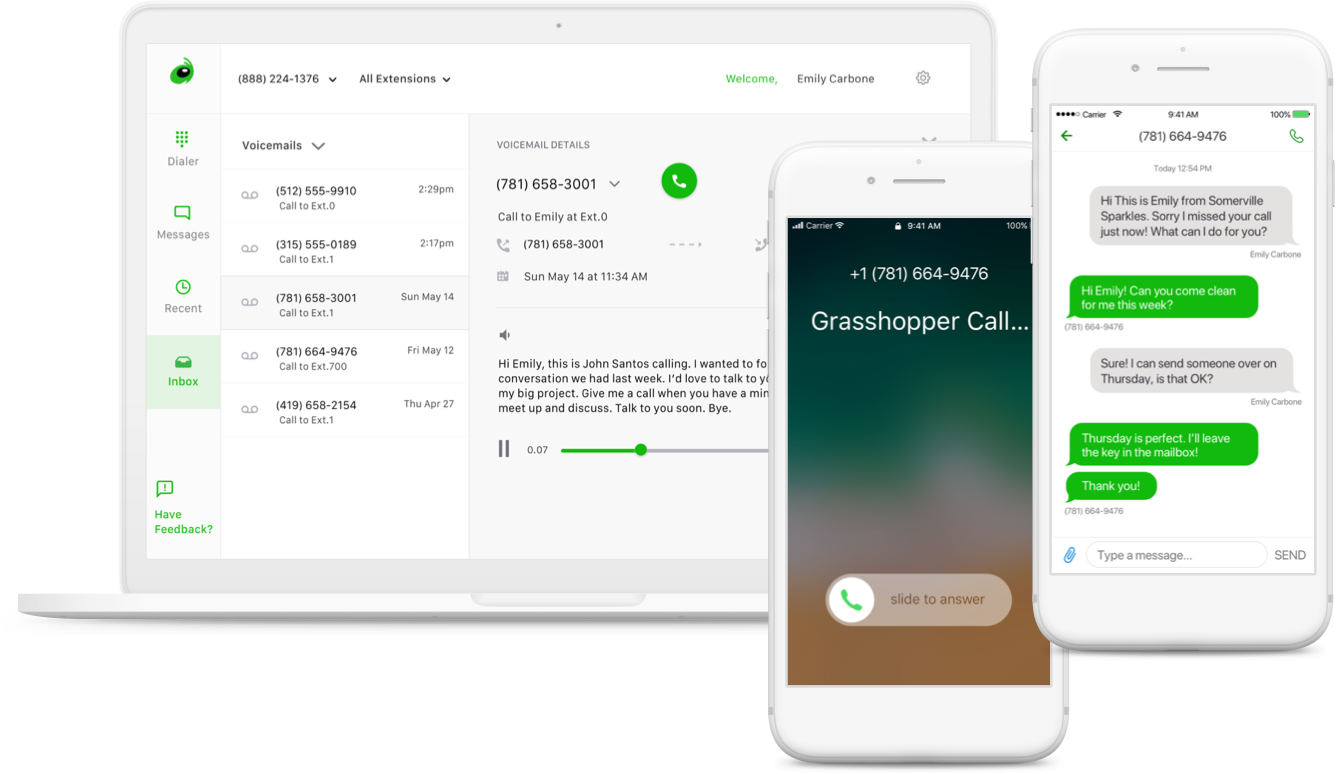 Commended for its high call quality and ease of use, Grasshopper is best for companies on a shoestring budget needing a business phone number to build brand recognition and consumer trust. 
Many Grasshopper users conduct most of their business in person and don't want an advanced VoIP platform.
Grasshopper vs Nextiva: Feature Comparison
Voice Calling
All Nextiva plans include unlimited cloud-based PBX calling in the United States and Canada.
Users can make and receive phone calls using the NextivaONE desktop softphone application, the mobile app for Android and iphones, or IP phones.
Nextiva boasts a 99.999% uptime and includes an auto attendant in all plans. Professional and Enterprise plans include a multi-level auto attendant.
1,500-12,500 toll-free monthly minutes are included in every Nextiva plan, and international calling is available at competitive per-minute rates.
Nextiva voice calling features include: 
Call recording (Enterprise plan only)
Conference calling (Professional and Enterprise plans)
Voicemail to Email
Voicemail to SMS (Professional and Enterprise plans)
Free number porting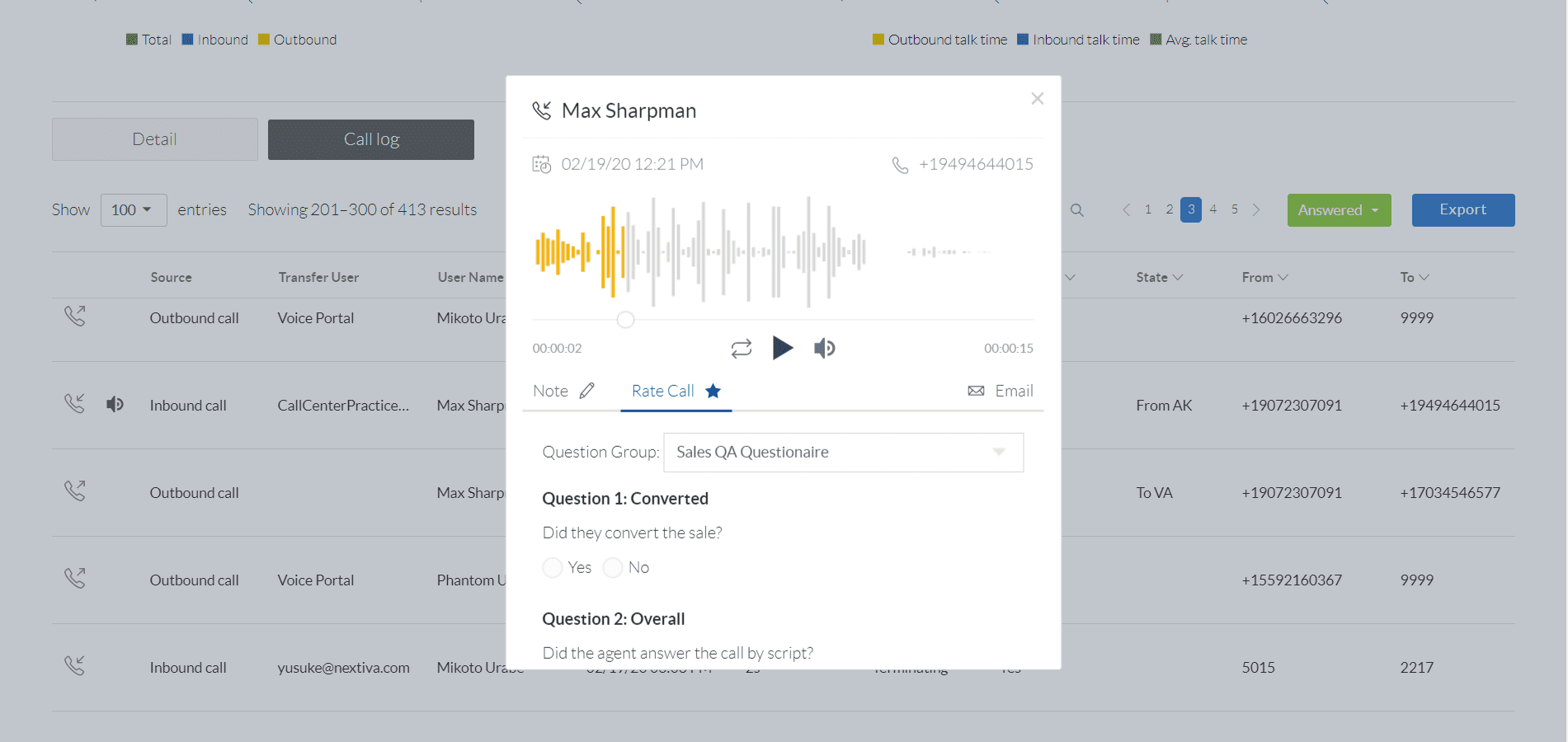 Grasshopper enables users to select a local, toll-free or vanity number or port their current virtual number. However, toll-free minutes are not included in any Grasshopper plan.
All Grasshopper VoIP service plans include basic voice functionality such as custom greetings, voicemail transcription, and call forwarding. Inbound calls can be forwarded to any existing number, and international calling plans are available as an add on.
Grasshopper voice features include: 
Caller ID
Call block
Simultaneous call handling (forwards callers to the next available forwarding number)
Call blasting (rings all forwarding numbers simultaneously)
Business hours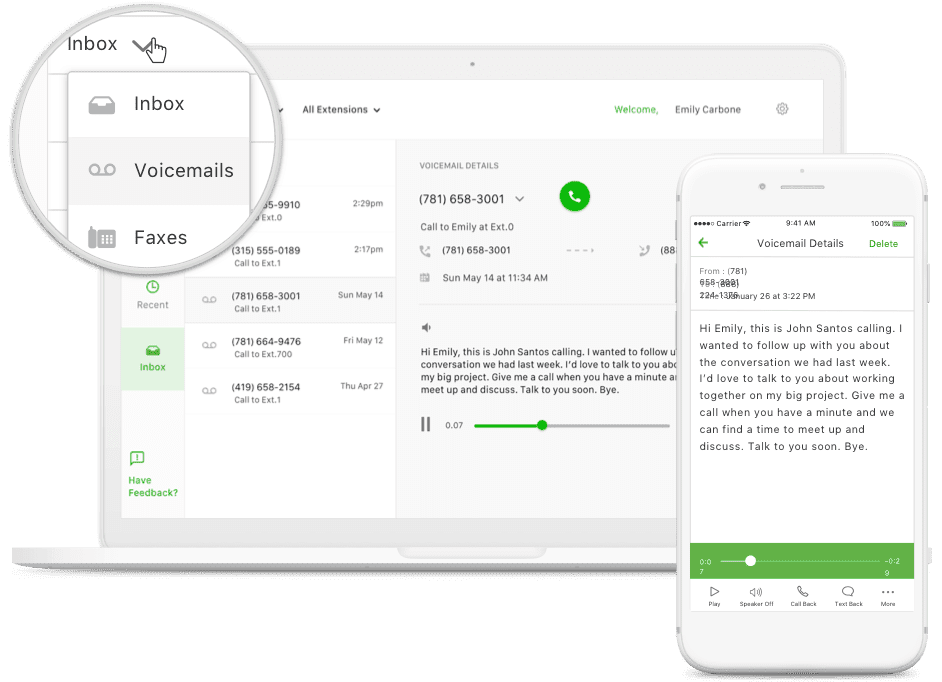 Text/SMS
Nextiva's business text messaging feature allows users to send a message to an individual, teammate, or multiple recipients as a group SMS message.
Users can also send emojis, images (JPG, PNG, BMP, and GIF images under 2 MB), video (h264, mp4, m4v), and audio files (.mp3, .wav, .mp4). Messages over 160 characters are split into multiple messages on the recipient's side. Nextiva has end-to-end encryption for SMS and MMS.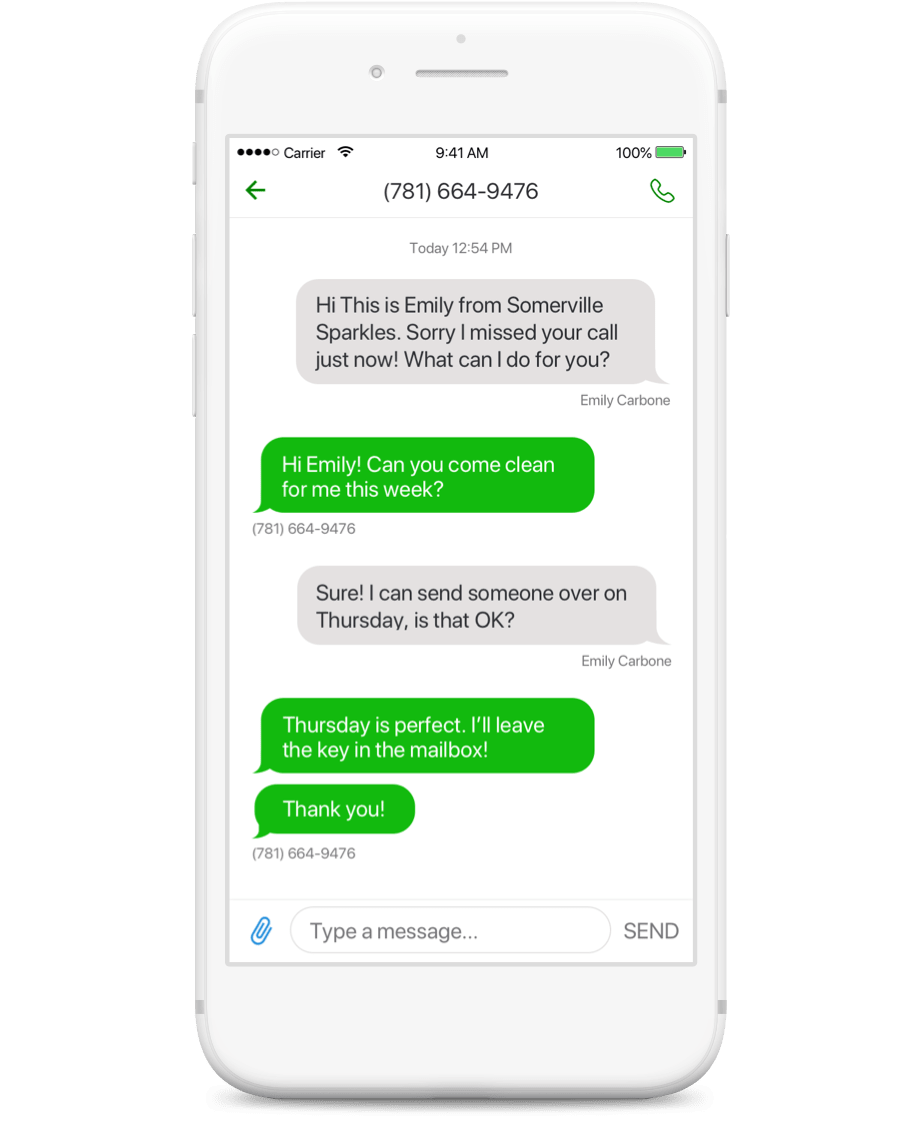 Grasshopper allows users to send and respond to text messages using the same recognizable number they take business calls on. The instant response feature enables users to respond to missed calls automatically with an SMS text message. The caller can then respond to the company's text message with their call back information.
Reporting and Analytics
Nextiva's reporting and analytics feature keeps track of call history for 90 days and enables users to monitor phone system KPIs such as talk time.
Nextiva users can filter data and customize how data is displayed by choosing a time frame (minutes, days, weeks, etc.) and a chart type (column, table, pie, etc.). Reports can be exported in CSV, PDF, PNG, JPG, or SVG file.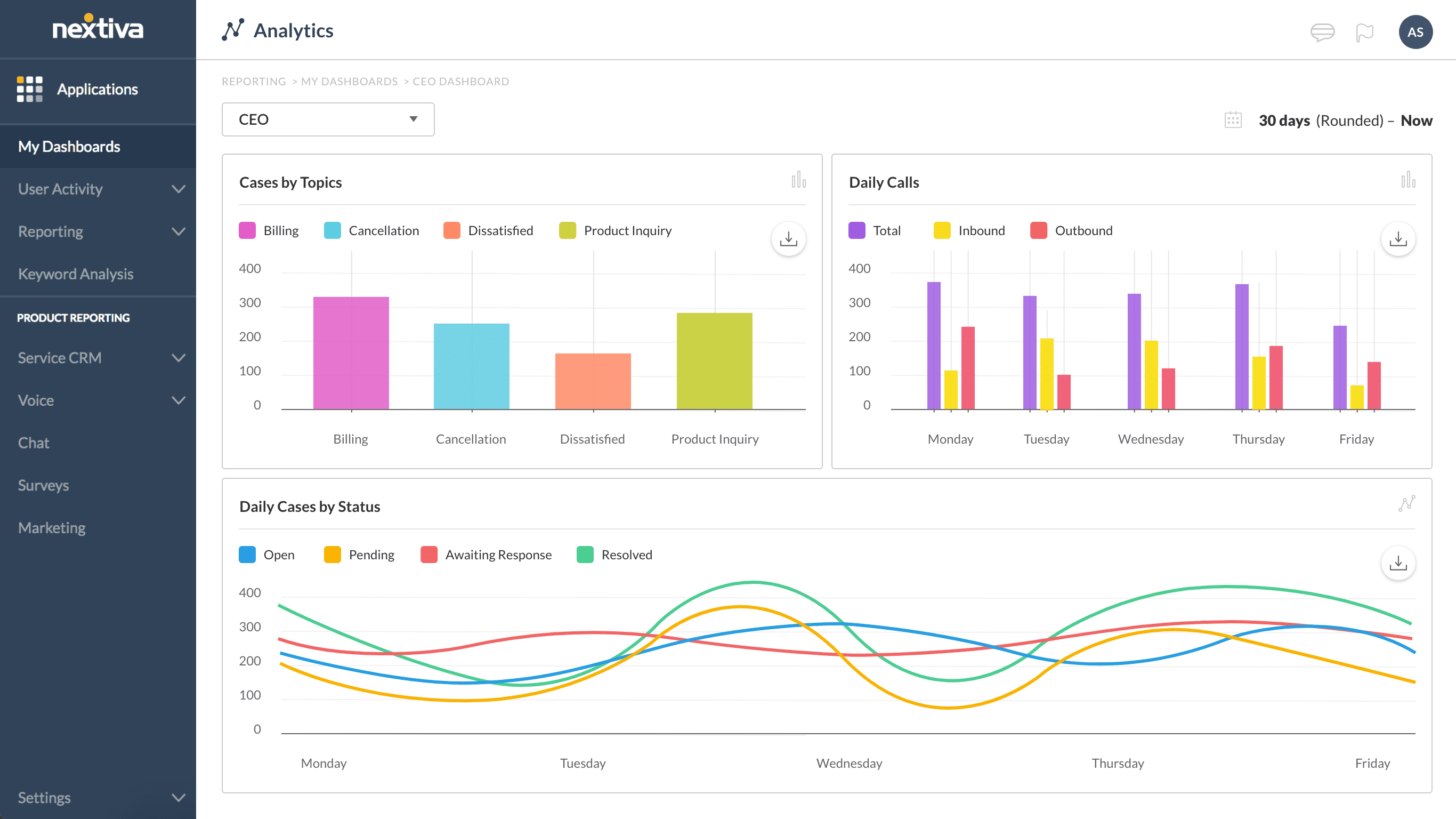 Nextiva also offers Voice Analytics, an add-on that provides advanced features such as real-time wallboards, gamification, and insights from beyond 90 days.
Grasshopper has three different types of reports: Usage, Detail, and Activity. 
Grasshopper's "usage reports" displays metrics such as average call length. "Detail reports" offer information about calls such as caller IDs, extensions, and destination numbers. In the "detail reports", users can customize the time period. Finally, "activity reports" display an overview of calls by type, such as voicemails, hang-ups, and faxes.
Mobile App
Nextiva's mobile app features include: 
Inbound/outbound calling
Video chat
Team presence/status updates
Call transfer (warm and cold)
SMS texting
Access/import contacts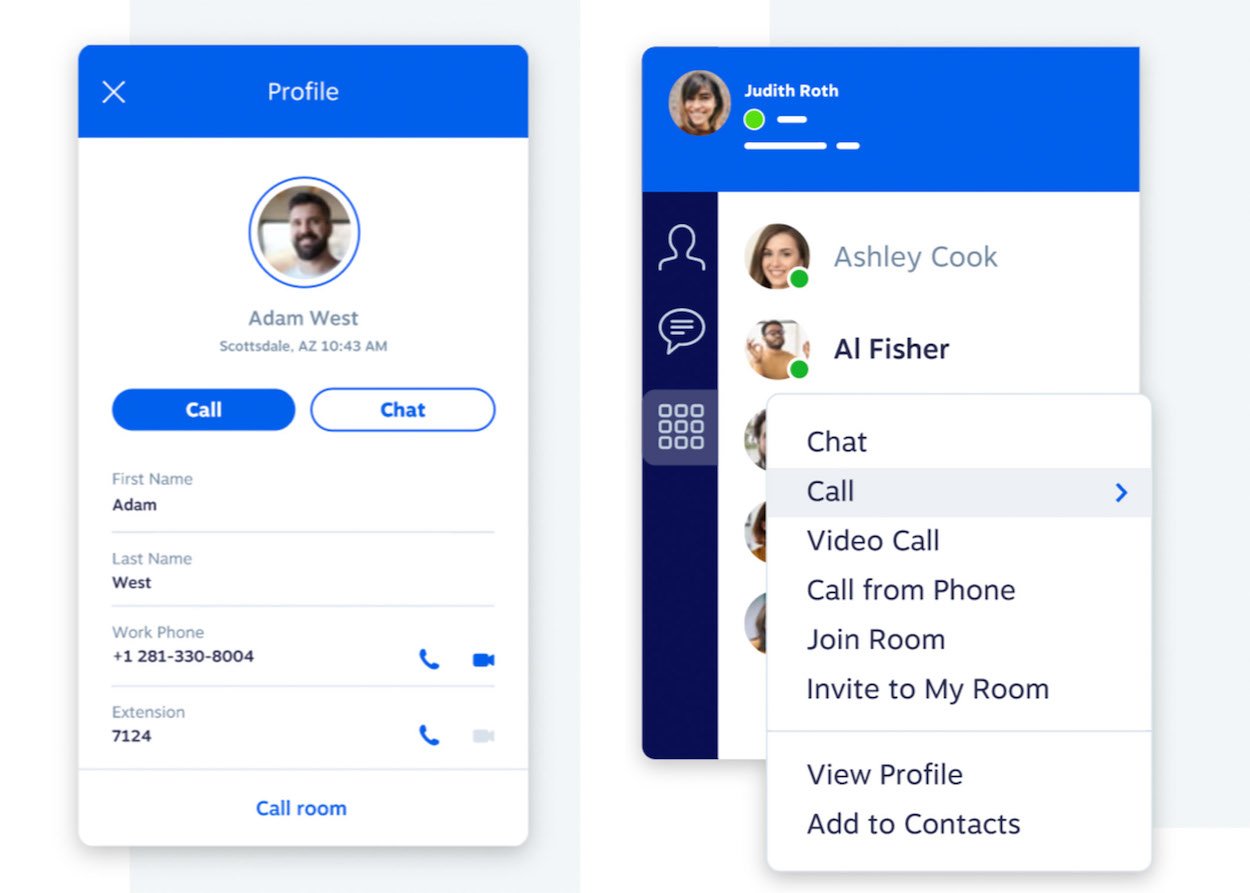 Grasshopper's mobile app features include: 
Make/receive voice calls
SMS texting
View call logs/call history
Access voicemail transcriptions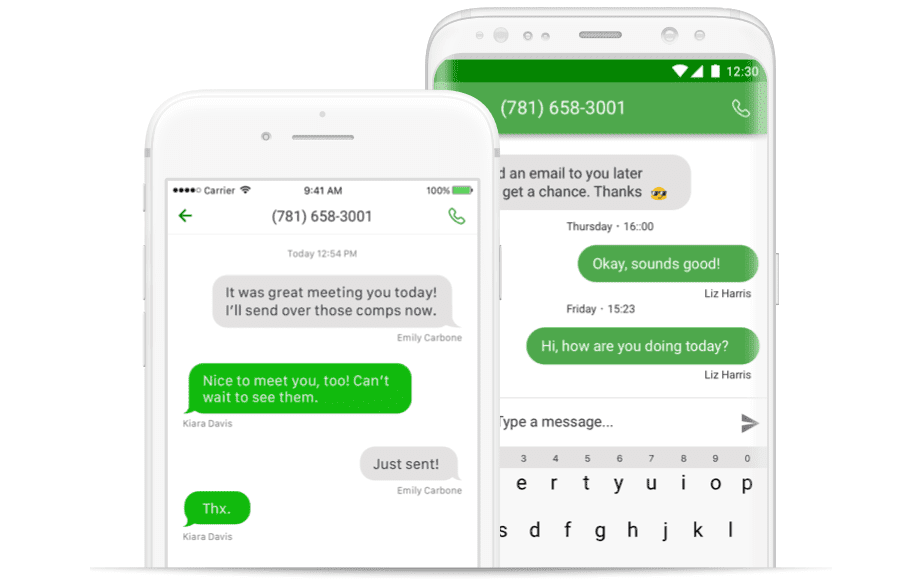 Call Forwarding
Nextiva's call forwarding and auto attendant feature enables users to define when incoming calls need to be forwarded and to which extension or phone number. Nextiva allows users to set business hours, upload custom greetings and set up IVR menus for customers ("press 1 for sales, 2 for customer service", etc.)
Nextiva call forwarding options include:   
Call forward always
Call forward selective (forward only user-specified incoming calls)
Call forward when busy
Call forward when unanswered
Call forward when unreachable
Location forwarding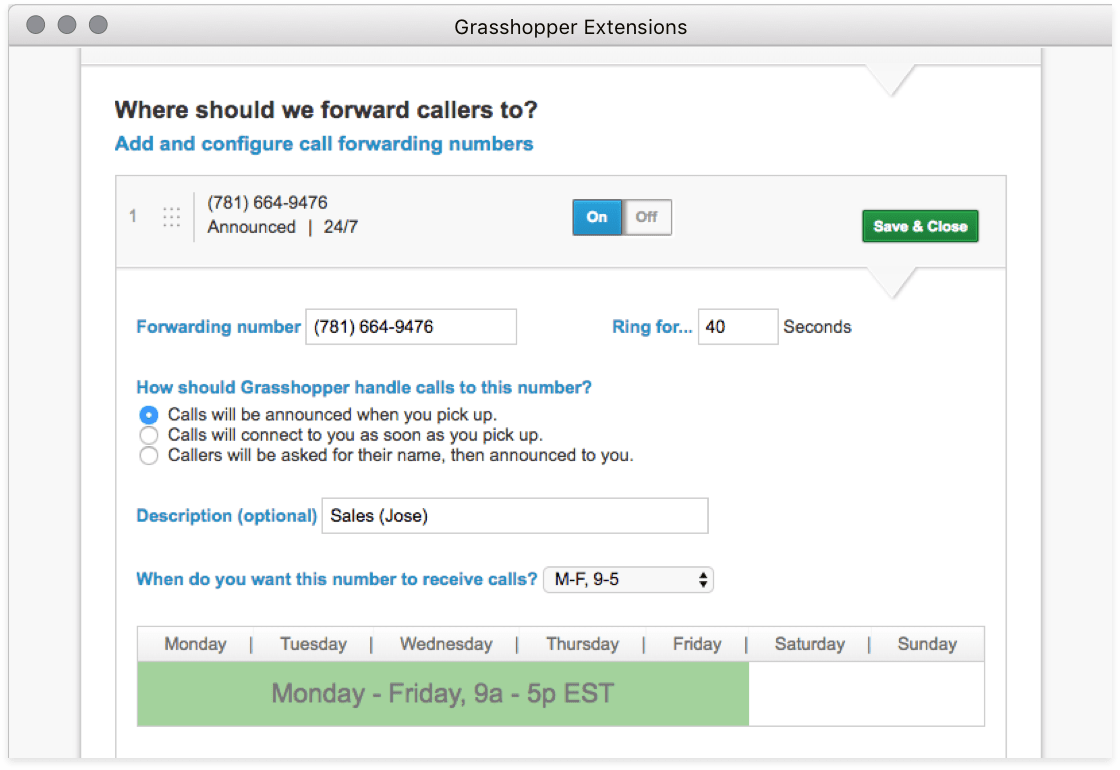 Grasshopper enables users to forward inbound calls to any extension, phone number, or list of numbers.
There are many ways to customize call forwarding with Grasshopper. Users can set business hours, choose whether a call will be announced or connected immediately, or whether callers will be asked to give their name.
Users also select what order forwarding numbers will be dialed in or whether they will all ring simultaneously. A custom phone greeting can be recorded and played automatically when a customer calls.
Nextiva vs Grasshopper: Pricing Comparison
Nextiva offers three plans for small businesses with less than 20 users. Prices range from $21.95 to $37.95 per month, per user. For companies with 20+ employees, prices range from $17.95-$32.95/user/mo. Depending on the plan and number of users. Each plan includes a vanity, toll-free, or local number:
Essential Plan ($23.95/user/mo. for 1-4 users; $21.95/user/mo. for 5-19 users): Includes voice, team chat, and video calling for 100 participants–but not SMS. The Essentials Plan also includes basic auto attendants, 3 collaborative team rooms, and the NextivaONE mobile app.
Professional Plan ($27.95/user/mo. for 1-4 users; $25.95/user/mo. for 5-19 users.): Includes desktop-and mobile-based SMS, conference calling with up to 40 participants, a multi-level auto attendant, and screen sharing.
Enterprise Plan ($37.95/user/mo. for 1-4 users; $35.95/user/mo. for 5-19 users): Expands video-meeting capacity to 200 participants, supports unlimited users on conference calls, and adds voicemail transcription. The Enterprise plan also includes unlimited call and video recording.
Grasshopperoffers three plans, ranging from $28-$80 per month. There are no per user fees but the phone numbers are limited in each plan. All features (business texting, call forwarding, reporting, etc.) are included in each plan. Additional phone numbers and extensions can be added to any plan.
Solo Plan ($28 per month, annually): Includes 1 phone number and 3 extensions
Partner Plan ($46 per month, annually):  Includes 3 phone lines and 6 extensions
Small Business Plan ($80 per month, annually):  Includes 5 phone numbers and unlimited extensions
Nextiva Pros & Cons
Here are some of the advantages and disadvantages of Nextiva's business communications platform.
Nextiva Pros:
Call pops: Customer profile pop-ups are a convenient way for agents to prepare for an inbound call
Ease of use: NextivaONE is intuitive to use across all devices
Collaboration rooms: With one-click video and call conferencing, plus file sharing, Nextiva collaboration rooms are a powerful feature for remote teams
Nextiva Cons:
No SMS on Essential plan: Many competitors offer SMS in their lowest-tier plan
Only 3 concurrent chat rooms: While collaboration rooms are highly useful, NextivaONE limits teams to 3 rooms at once
Limited video collaboration: Nextiva does not offer the same breadth of video collaboration features as some competitors
Grasshopper Pros & Cons
Here are some of the advantages and disadvantages of Grasshopper's business phone system.
Grasshopper Pros:
Unlimited Users: Flat monthly rates allow companies to have unlimited users with no per user fees
Low Prices: The small business plan comes out to just $16 per month per number and includes unlimited extensions-one of the lowest business phone prices available
Customer Support: All Grasshopper users have access to 24/7 live support via phone, email, Twitter, Facebook and live chat
Grasshopper Cons:
No Guaranteed Uptime: Many competitors offer an uptime SLA
No Video Conferencing: Video meetings are a feature offered by most Grasshopper alternatives
No IVR: Although Grasshopper includes some basic call handling functionality–call forwarding and business hours–it does not offer IVR or auto attendant which many competitors do
Who Nextiva is Best For
Nextiva is best for:
Teams needing toll-free calling: All plans include an extra toll-free DID number plus up 12,500 monthly minutes
Small to medium-sized teams: Maximum of 3 collaboration rooms puts a cap on how much Enterprise-size teams can collaborate with NextivaONE
Teams looking for a budget option: Nextiva's Essential plan offers a great deal at just $18.95 monthly per user
Who Grasshopper is Best For
Grasshopper is best for:
Solopreneurs: Basic Grasshopper voice capabilities give solopreneurs a professional image without including unnecessary features that drive up the price
Small businesses with under 10 employees: Bundled plans include a  maximum of 5 phone numbers, ideal for companies with few employees and departments
Startups needing international voice functionality: Offers international calling plans to many countries at competitive rates
Grasshopper and Nextiva Alternatives
The below business VoIP providers are the top Nextiva and Grasshopper competitors:
Provider
Pricing
Top Features
Best For
Phone.com
3 paid plans from $12.74-$27.19/user/month
– Mix-and-match pricing

– 24/7 customer support on all plans

– Unlimited video meeting duration on all plans

Teams looking for a VoIP system with flexible pricing options, a robust set of call management features, and add-on productivity tools
RingCentral MVP
3 paid plans from $20-$35/user/month

Unlimited domestic calling
IVR
Business analytics
HD video conferencing in all plans

SMBs that need a high level of reliability and security
Google Voice
3 paid plans from $10-$30/user/month

Voicemail transcription
Call forwarding
Multi-level auto attendant
Call recording

Startups and small businesses that need an affordable solution mainly focused on voice functionality
GoTo Connect
2 plans from $24.00 and $29.00/user.month, plus add-ons
-Unlimited auto attendants, call routing and queues

– Video meetings up to 250 participants

Team messaging

Teams that need a combination of communication and collaboration tools and those already using other GoTo products
Ooma Office
3 plans from $19.95-$29.95/user/month
– Ooma Meetings video conferencing

– Call Leaderboard

– Dynamic Caller ID

SMBs with international customers needing advanced call management features but not team collaboration tools