As remote and blended workforces become increasingly common, there is no shortage of business applications designed to keep team collaboration and day-to-day workflows consistent.
Video conferencing applications like Zoom, Slack for instant chat messaging, and HelloFax for virtual faxing are no longer seen as optional business software, but rather as remote work essentials.
But while these tools are helpful, making employees hop back and forth between a dozen platforms is pretty inefficient.
That's where Unified Communications solutions like 3CX come in.
Unified Communications (UCaaS) software streamlines all internal and external business communications into a single platform.
Let's take a look at key 3CX features, available pricing and plans,  pros and cons, and a few alternative platforms.
Table of Contents
What is 3CX?
3CX is a cloud-based or on-premise PBX business communications solution redesigned for the remote workplace.
Its flexible approach to unified communications does come with a complicated setup compared to other popular cloud-hosted PBX systems, but with features like VoIP phone calls, video conferencing, and live website chat, it's well worth it.
3CX also offers Facebook Messenger and SMS texting integrations, robust mobile applications, and compatibility with third-party tools like Microsoft Teams.
Users can manage inbound and outbound calls directly from their web browsers or via the 3CX App for Windows, Linux, and mobile apps for iOS and Android. . 3CX is also compatible with IP phones from providers like Yealink and Grandstream.
Users making the switch to 3CX can save up to 80% of their current telecommunications costs.
3CX Phone System Features
All 3CX features stick to a consistent theme: mobility.
The platform makes it extremely easy for employees to stay in touch with each other and customers regardless of their location or device.
Here are some key features:
Video Conferencing
3CX offers unlimited enterprise-level video conferencing for 25-250 participants, with a strong emphasis on usability and security.
Users don't need to download any apps, install any extensions, or log in to a separate platform. Just schedule an ad-hoc meeting in seconds, or schedule a future meeting and send out invitations.
All conferences are in HD and are fully integrated with the 3CX web client and mobile apps, ensuring your team can join the meeting no matter where they are.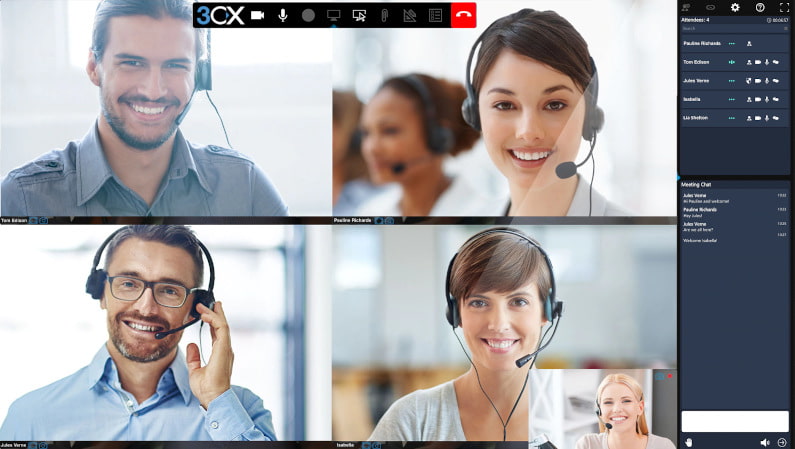 Dial-in access is available, and attendees don't need to create an account to join –  a nice plus. Participants can view up to 16 simultaneous screen streams and 50 simultaneous audio-only streams.
Numerous in-meeting team collaboration tools and advanced features are also available, including:
Whiteboarding
Participant polling and Q&As
File sharing
Screen sharing and remote screen control
Personalized Click2Meet Meeting URL
Noise suppression and echo cancellation
Live Chat
The 3CX live chat function lets agents provide real-time advice and support to business website visitors as they browse through products or services.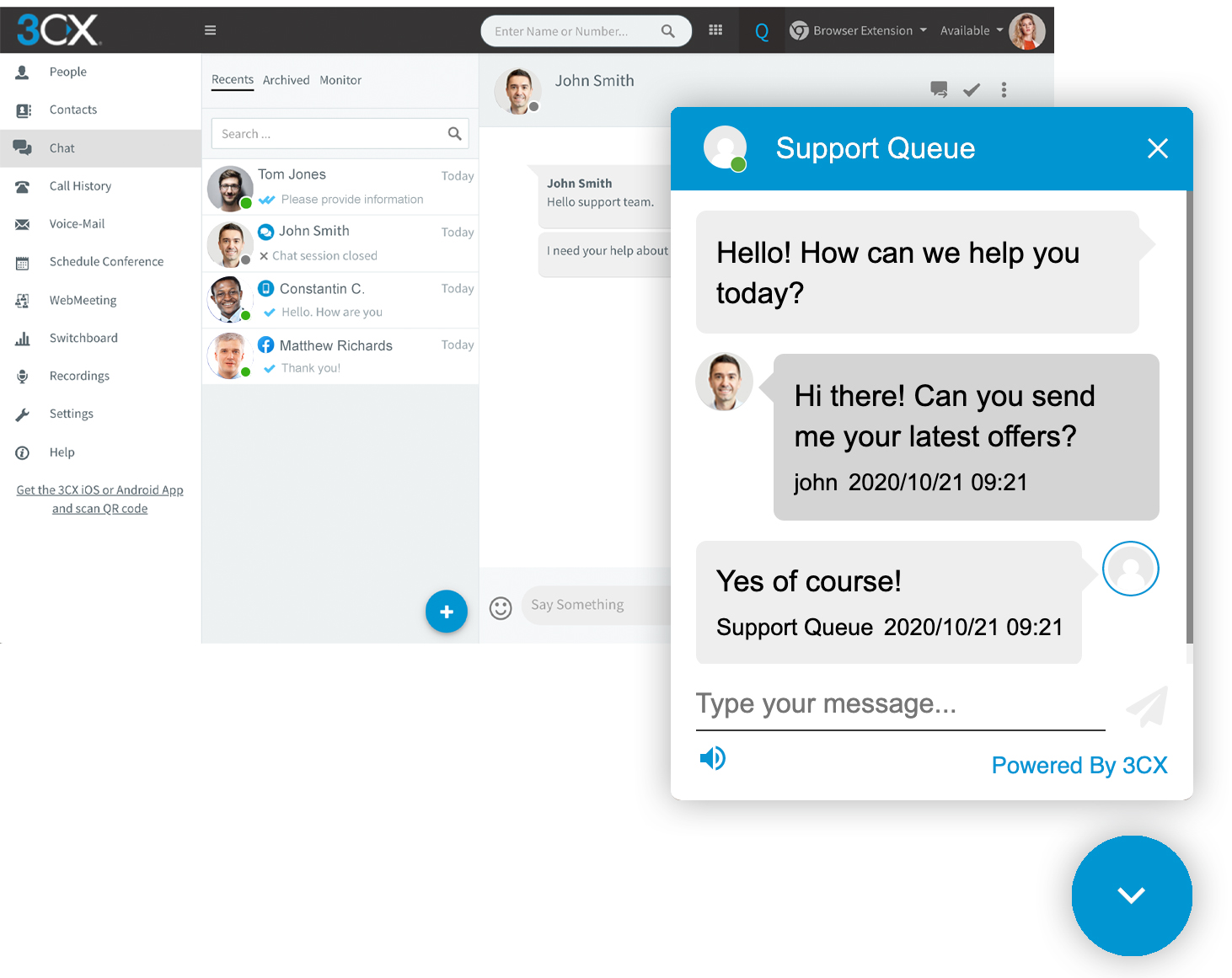 Since 3CX integrates with popular CRM systems like Salesforce and HubSpot, it's easy to convert visitors into leads.
One-click video or voice calling lets agents instantly transition from chatting to face-to-face, real-time communication. This saves customers time and eliminates the need for them to navigate a complicated IVR menu. Plus, customers are much more likely to inquire about a product or service when getting more information is that easy.  Team members have a single dashboard for every live chat with real-time syncing, making it easy to keep track of customer conversations and access key support or sales internal documents when needed.
3CX live chats are available for websites made with WordPress, Wix, Drupal, Weebly, and Joomla. A Facebook messaging integration is also available if you want to connect with your social media followers through 3CX.
Call Management
3CX has handy call management features like call blasting, hunt groups, estimated wait times, automatic callbacks, priority queuing, and more. It also shines when it comes to customizable call routing. You can choose between:
Round robin routing
First-available routing
Shortest talk time routing
Longest idle time routing
Skill-based routing
This makes it possible to optimize the employee productivity without sacrificing customer satisfaction or increasing wait times. Real-time push notifications will alert users whenever a new voice message comes in, preventing forgotten follow-ups.
Call Forwarding
Call forwarding directs inbound calls to business telephone numbers to additional agent phone numbers, including an agent's cell phone, home phone, or another private phone number.
These calls can also be forwarded to other office extensions and departments to increase the chance for first-call resolution by increasing the chance of connecting a caller to a live agent.
Business SMS
Having employees use consumer apps like WhatsApp or Viber to chat with customers makes it difficult to monitor performance, presents numerous security risks, and can come off as unprofessional.
Fortunately, the 3CX mobile app for both iOS and Android devices lets users send/receive SMS texts with their designated business phone number (protecting the privacy of their personal number.) There's also a queue system for all incoming messages so multiple agents can access them.
This speeds up the support process even if one agent is unavailable, increasing customer satisfaction levels.
Messages from live website chats or Facebook Messenger are located within the same interface as SMS conversations, so agents can track all essential messages across channels.
Remote Collaboration
3CX is a very agile solution with an ideal app for remote collaboration.
Users can connect on any device or browser without needing to download an app.
The Click2Call Chrome extension lets you make or transfer calls from anywhere on your browser via a click-to-call automatic dialer.
Apple's Siri also works with 3CX, providing a highly mobile, hands-free experience. The remote configuration process is easier than the initial deployment of your 3CX system, since all you have to do is scan a QR code.
Deployment Options
3CX customers have a choice between hosted or on-premise PBX.
The debate between on-premise vs cloud is one that will likely continue for years, so choose the option that's best for your workforce and specific industry.
On-premise deployment gives admins full control over the system, reduces monthly costs, and lets in-house IT teams create their own integrations. On the other hand, a cloud-hosted solution is easier to maintain, quicker to set up, and more flexible.
While the choice between hosted and on-premise system deployment is a bonus, hopefully 3CX will soon offer hybrid deployments.
Integrations
3CX offers numerous integrations, especially when it comes to CRM tools.
Popular 3CX third-party integrations include:
Hubspot
1 CRM
amoCRM
Zoho CRM
Bitrix24
Freshdesk
Freshsales
Office 365
Microsoft Dynamics
Zendesk
3CX Pricing and Plans
3CX takes a different approach to pricing than other providers, as they price tiers according to the maximum number of simultaneous calls available – not by the number of users.
To ensure you have the best information, we reached out to their service partner for further clarifications on their unique pricing model.
3CX also has a "free plan" for teams of 12 or less to make up to 4 simultaneous calls for one year. This plan also lets up to 25 video participants meet for an unliumited amount of time. However, note that only the license is free for the first year – after that, the so-called "free" plan comes with a $100.00 annual hosting fee.
Teams of over 12 must choose between the paid Standard, Pro, or Enterprise Plans, but bigger teams enjoy lower rates when scaling up their plans to add more users or a higher simultaneous call limit. Paid users can have up to 250 participants attend a video conference.
3CX's pricing model is certainly confusing, but it does offer a cost-effective solution in the long term.
The below table outlines the prices for up to 15 users (8 simultaneous calls.)
| | | | |
| --- | --- | --- | --- |
| | Standard | Pro | Enterprise |
| Pricing | $0.97/user/month | $1.47/user/month | $1.81/user/month |
| Video Conferencing | 25 participants | 100 participants | 250 participants |
| Auto-Attendant | Yes | Yes | Yes |
| Call Queues | No | Yes | Yes |
| Call Reporting | No | Yes | Yes |
| Call Recording | No | Yes | Yes |
| Start/Stop Recording Rights | No | No | Yes |
| Skill-Based Routing | No | No | Yes |
| CRM Integrations | No | Yes | Yes |
| Office 365 Integration | No | Yes | Yes |
| Microsoft Teams Integration | No | No | Yes |
| In-Built Failover | No | No | Yes |
3CX Phone System Pros & Cons
Based on available features, customer reviews, and our own research, the table below shows the top 3CX pros and cons to help you get a better understanding of overall user experience.
3CX Pros
3CX Cons
–  Plug-and-play auto-provisioning with phones from Fanvil, Yealink, and Grandstream.

– Compatible with Android, iOS, and Windows desktop/mobile devices, plus browser-based Web Client

Direct customer support will cost your company $75 for every ticket. (There is a knowledge base as a cheaper alternative.)

– One-year free trial of Standard Plan for teams of 12 or less

– One-year free trial for up to four simultaneous calls on Pro and Enterprise Plans

A local integrator will be needed during the SIP trunk setup due to its complexity. (This is true for all SIP solutions, not just 3CX.)

– Robust third-party integrations included in plans, such as Salesforce, Zoho, Zendesk, HubSpot, and mor

The mobile apps have outdated, dull interfaces that lack functionality when compared to the PC version
Who Is 3CX For?
3CX is right for remote companies with moderate to high daily call volumes.
It's a good combination of team collaboration and external communication, with unlimited access to all integrations at no added cost.
Given that 3CX is an open platform, users can choose their own cloud provider, hardware, and even use their own SIP trunk.
Plus, users have full control over how to deploy 3CX  as they can choose between on-premise or cloud-hosted options.
Overall, 3CX is just as appealing to a startup as it is to enterprise-level companies. Startups can keep their capital burn rates low with the free year of 3CX, while larger businesses will benefit from the high level of customization and control the platform offers.
3CX Phone System Alternatives
If you're considering subscribing to 3CX or are already a customer but aren't happy with the service, here are a few alternatives for you to consider: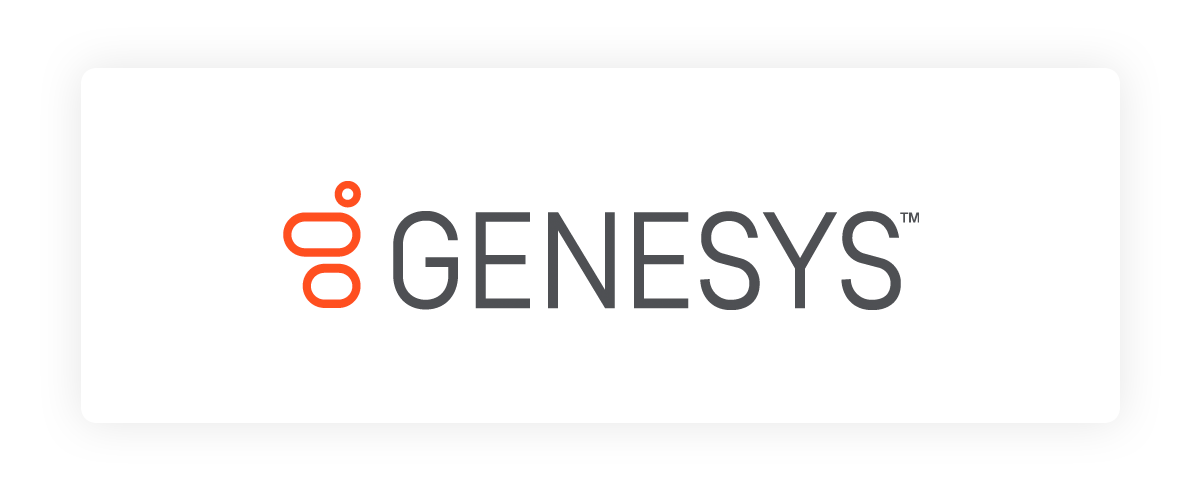 Genesys is a comprehensive cloud call center solution that brings multiple tools to the table, such as IVR,  live chat, and even voice bots. Its workforce engagement increases agent productivity and boosts sales.
Most users recoup their initial investment in less than three months. Their service comes in three plans: CX 1 ($75), CX 2 ($110), and CX 3 ($140). Custom pricing is also available with the Choice and DX plans.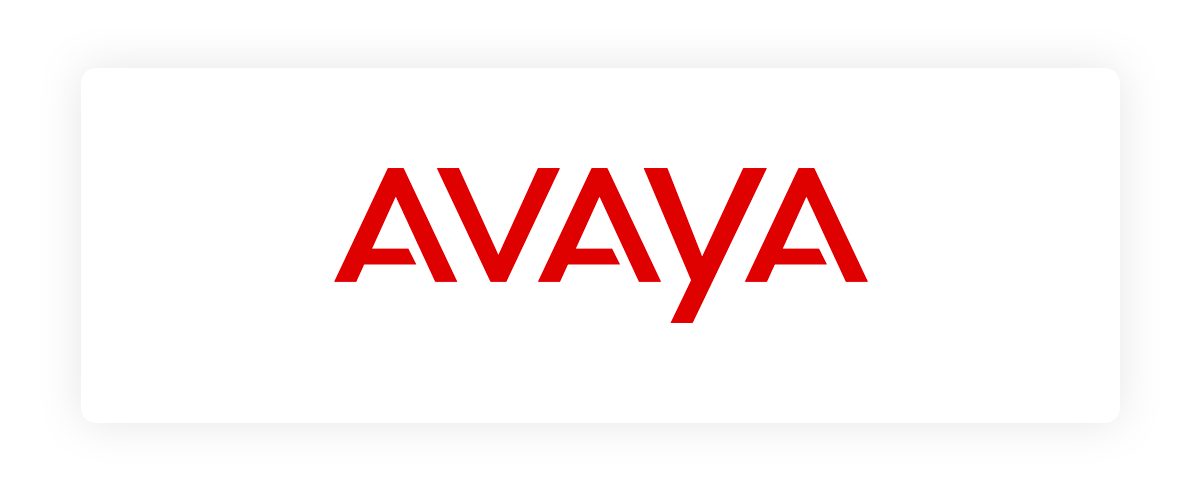 While Avaya is primarily known as a hardware provider, they have recently partnered with RingCentral to offer cloud-hosted software to customers.
Outside of the usual RingCentral benefits, Avaya has a few unique advantages, like always-on conference rooms and smart device support.
This means personal assistants like Alexa are available during remote meetings. Their service comes in four plans: Essentials ($33), Standard ($43), Premium ($48), and Ultimate ($63).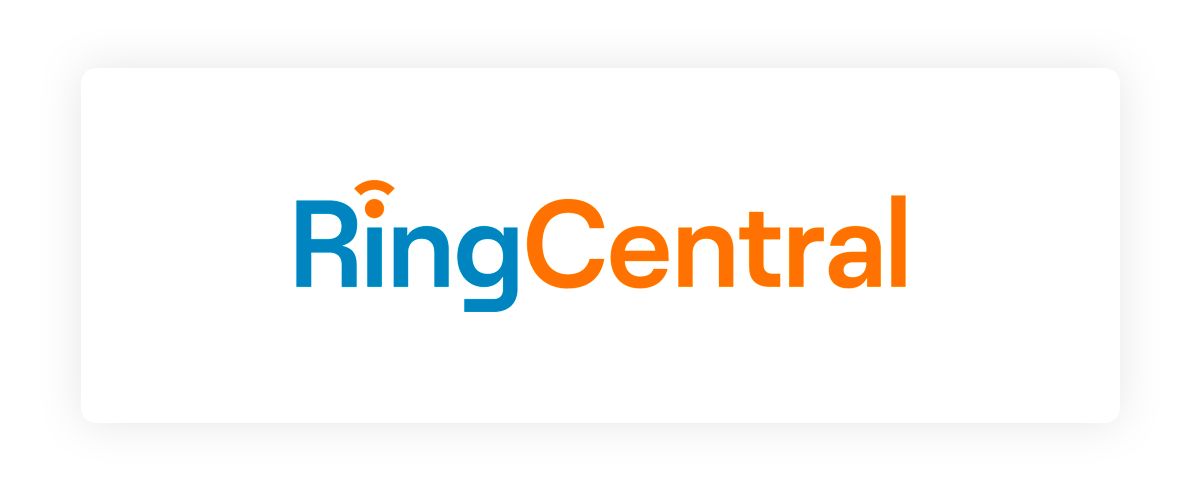 Named as a leader in unified communications, RingCentral's spot on the Gartner® Magic Quadrant™ isn't its only achievement over the past two decades.
Its two million users get a well-rounded platform with a good mix of native functionality and integration support.
Top features include cutting-edge conferencing quality, native task management functionality, and integrations for the most popular tools like Salesforce, Microsoft Teams, Google Workspace, MailChimp, Asana, Office 365, and more.
Their service comes in four plans: Essentials ($29.99), Standard ($37.99), Premium ($44.99), and Ultimate ($59.99).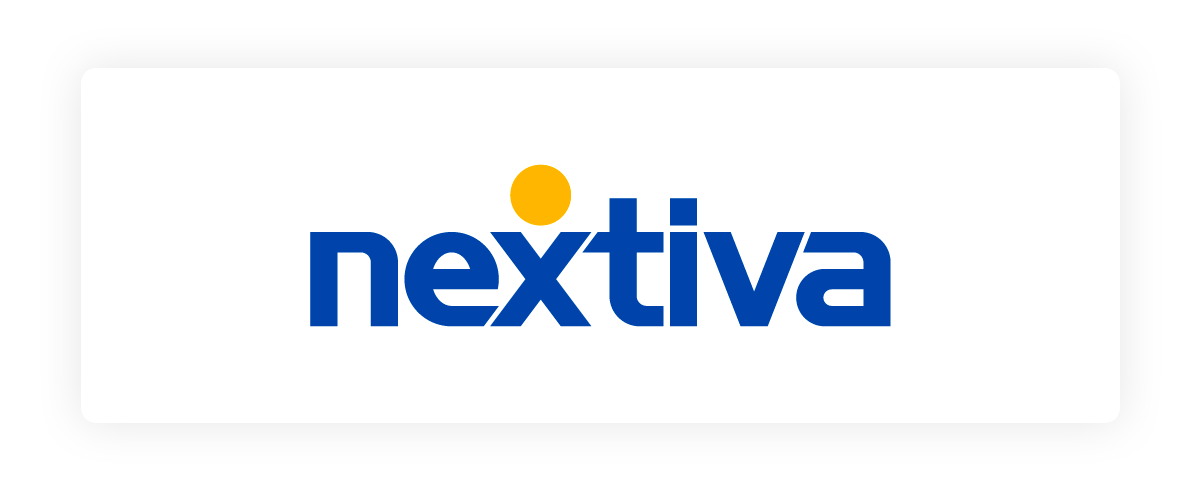 With an award-winning customer support team and over 100,000 customers, it's not hard to see why Nextiva is a popular choice for SMBs.
Voice calling, web conferencing, team chats, and online faxing are unified and accessible within a single platform.
Subscribers also get up to 12,500 toll-free minutes each month depending on their chosen plan , as well as a wide array of integrations.
Their service comes in three plans: Essential ($29.95), Professional ($33.95), and Enterprise ($43.95).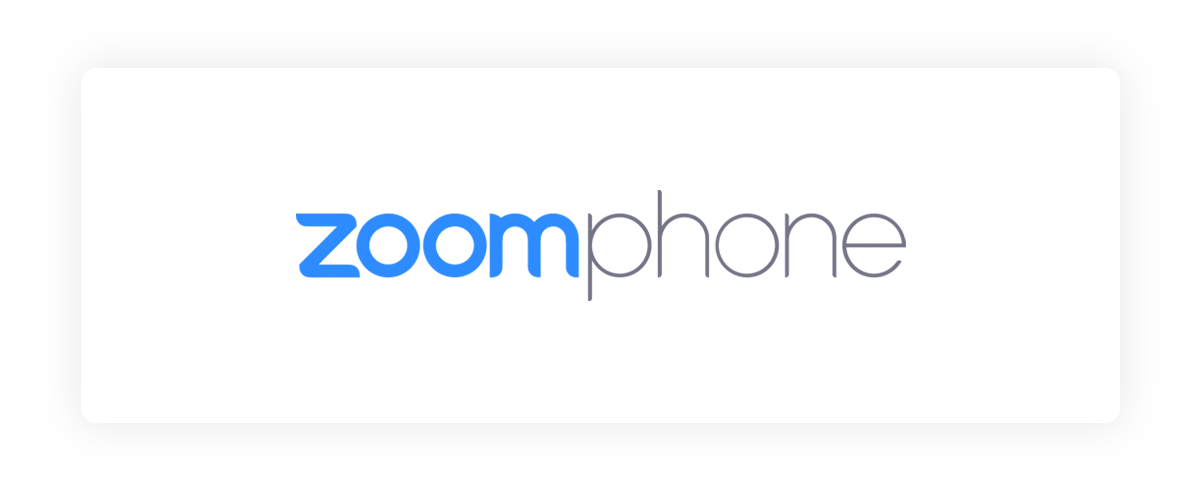 Since the onset of the pandemic, Zoom has grown to the point of hosting 300 million daily participants. Beyond raw market share, the conferencing solution has handy features like breakout sessions, polling, recording, and meetings with up to 1,000 participants.
When it comes to integrations, Zoom Phone is truly the apex predator, with its App Gallery offering over 1,000 tools. Their service comes in four plans: Basic (free), Pro ($14.99), Business ($19.99), and Enterprise ($19.99).
Note: Users must pay an additional $60/year for the Large Meetings add-on to host 500-1,000 participants. A 40-minute time limit is also imposed for those on the Basic plan, but upgrading to Pro or higher increases the limit all the way up to 30 hours.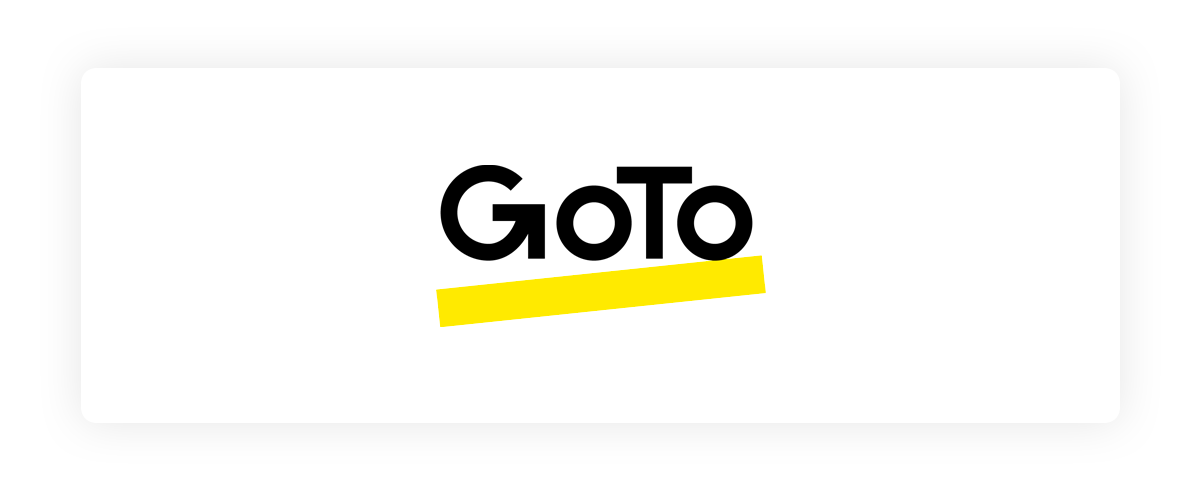 GoTo Connect is a great choice for companies with existing VoIP hardware.
The solution supports over 180 desk phone models, and users get the benefit of HD GoTo Meeting video conferencing without the need for a separate GoTo Meeting plan.
GoTo Connect also has key integrations with Google Workspace, Microsoft Teams, Slack, Salesforce, HubSpot, Calendly, and more. Their service comes in three plans: Basic ($24), Standard ($29), and Premium ($39).
Choosing The Right Unified Communications Provider
3CX is a flexible and compelling Unified Communications solution for remote and blended teams.
Whether you choose on-premise or hosted deployment, you'll find that this easy-to-use solution is well worth the sometimes complex SIP setup process.
That said, there's nothing wrong with going with one of the alternatives we've covered if 3CX doesn't fit your budget, lacks the features you need, or doesn't have the ideal UI for your team.
To learn more about other unified communications platforms and business phone systems, check out our interactive UC comparison table.
3CX FAQs
Below, we've answered some of the most common questions about 3CX.
The 3CX phone system uses SIP (Session Initiation Protocol) to facilitate VoIP calls. It can either be deployed on-premise or through cloud hosting by 3CX/local partners. The per-user cost decreases as you buy more licenses.

3CX is free for one year, then you have to pay for your subscription. Having 12 full months to test out the software should be more than enough time to determine whether or not it's worth paying for.

Yes, a strong Internet connection is required to use the 3CX platform and linked devices. 
While the company hasn't set a minimum speed, bandwidth usage increases with every user you add. So, large companies should be prepared to install gigabit fiber optic connections as needed.
Simply connect the phone, and it will send a multicast message that 3CX automatically picks up. You can then find the device under "Phones" in the management console and assign an extension to it.
Manual configuration isn't advised, since it just increases the likelihood of errors. That said, you can safely edit the display language and timezone without any issues. Be sure to use supported models if you want to avoid potential problems.