Despite the fact that Avaya was sailing along in very rough seas at the end of last year, the provider has still emerged on the other end of the new year. Of course we all know at this point the giant has filed for  Chapter 11 bankruptcy protection, but that hasn't stopped Avaya from continuing to roll out new products and services.  This time, Avaya caught up with the recent UC trends of 2017 and has expanded their cloud-based Zang platform with new Office and Spaces apps, evolving their existing communications development platform to also include UC, telephony and team collaboration solutions.
However, the breakdown isn't exactly that simple – Avaya solutions exist, and Zang represents an SMB focused deployment with robust and complicated features, at an easier to swallow price point. Currently, Zang Office is available for download but requires a full account to access, meanwhile Zang Spaces – which we're a bit more curious the check out – is in Beta mode, available for anyone to test and play with. So we did just that.
What Is Zang?
So the first question many of us will probably have is probably: what exactly is Zang? Why does it exist, what is Avaya's idea behind the entire thing? Since they already have fully capable solutions that are powerful enough for the Enterprise, it might seem odd that Avaya went out of their way to introduce a new cloud-based platform. Especially when the existing products from Avaya, such as IP Office, are essentially in the cloud.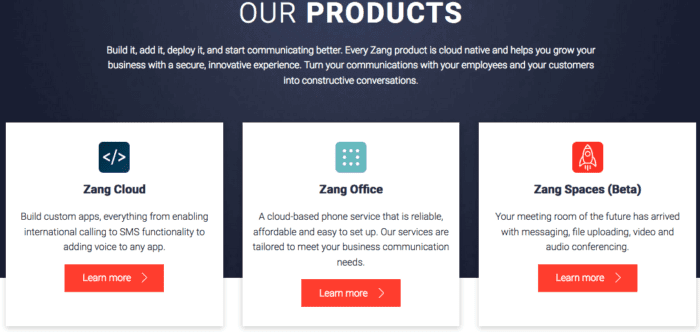 The main difference however, is that Zang is completely, 100% cloud based, developed in and for the cloud from the ground up. Meanwhile, Powered by Avaya solutions are technically "based" in the cloud, they are not completely true cloud offerings -customers will never notice the difference and so the solutions are essentially cloud based in use. But when it comes to partner or reseller, they need to deploy and maintain each individual IP office instances per customer simply because the solution is not a true multi-tenant one.
So at the end of the day, Zang allows Avaya to offer a completely hassle free cloud based platform, without any extra lifting on the resellers end to ensure the system is maintained and even running. This also allows Zang, and Avaya, to branch into the SMB market offering a very similar solution at a much cheaper cost, with everything completely already in the cloud.
But What's New?
The Zang platform itself is not incredibly new ,and we have heard of Zang Office some time ago, but just now Avaya is pushing the new Office and Spaces app into the mainstream. From the beginning, the Zang platform is a communications platform-as-a-service and an application development environment with embedded communications.
I know that all sounds like a mouth full, but it really isn't too complicated – Zang is essentially a communications platform you subscribe to use, which offers an environment for developers to create their own solutions or integrations. The best part of all is that Zang has communication and persistent chat room functions built in it already. Zang will let developers build "smart apps" that redefine how teams will collaborate and share information, or even develop their own workflow automation to help reduce workload and repetitive tasks.
But what's really new to Zang is the expansion of the platform to include two more applications:
Zang Office: Cloud-based phone service

Zang Office is the company's SMB focused cloud-based business phone service. Completely cloud based and hosted, Office brings features like a modern interactive voice response (IVR), voicemail and voicemail transcription, landline-to-mobile transfer, caller ID, and extension dialing from any device.

Zang Spaces: Meeting spaces, conversation, collaboration

Zang Spaces, on the other hand, is a team collaboration and messaging tool. Cloud-based persistent chat, voice, video, task management, and file sharing are all stuffed into one application that can even be accessed through your web browser. This should all sound familiar.
Zang Spaces
So we were really curious to take a close hands-on look at Zang Spaces specifically: anytime a new UC or collaboration app pops up on the market, its always interesting to look at what's going on under the hood. When comparing solutions, we focus on some specific, crucial elements – generally, between the design, simple user experience elements and overall features packed into one application. This helps us narrow down our comparison and attempt to offer as close to an apples-to-apples rundown as possible.
For Zang Spaces, as I mentioned above, the features aren't necessarily anything incredibly new, like Cisco adding whiteboarding to Spark, there isn't something we haven't seen here before. But as with all innovation, that isn't the only measure worth testing – innovation isn't necessarily doing something completely new, but rather executing an idea better. So with all that said, lets take a close look at what Zang Spaces lets us do. Essentially, Zang is a team collaboration, task management and video conferencing tool all rolled into one after all.
Design
Currently we are accessing Zang Spaces in its beta trial form, through a web browser. Presumably the desktop app will look exactly the same, as these  apps tend to carry over as close as possible from platform to platform. Everything is pretty standard, with your personal information (Name, email, picture,) settings, guide and help sections located top left. Below that, users have their selection between Dashboard for quick access to their homepage, New Space to start a new discussion or Tell a Friend to invite a new user. Below is the search box, all your recent Spaces, and your contact list.

I actually enjoy this approach, Zang keeps all the important stuff together in one location – you don't even have to dig into the menu to find your settings. Sure they could have done a cleaner, more tucked away approach, but this isn't ugly or overwhelming so I won't knock points off. Also an improvement over Amazon's new Chime app that we looked at last week, which just felt far too skimpy and missing important features like a contact list. But beyond the side panel, the center is where your content lies: starting with your Dashboard that houses all your important information right off the bat.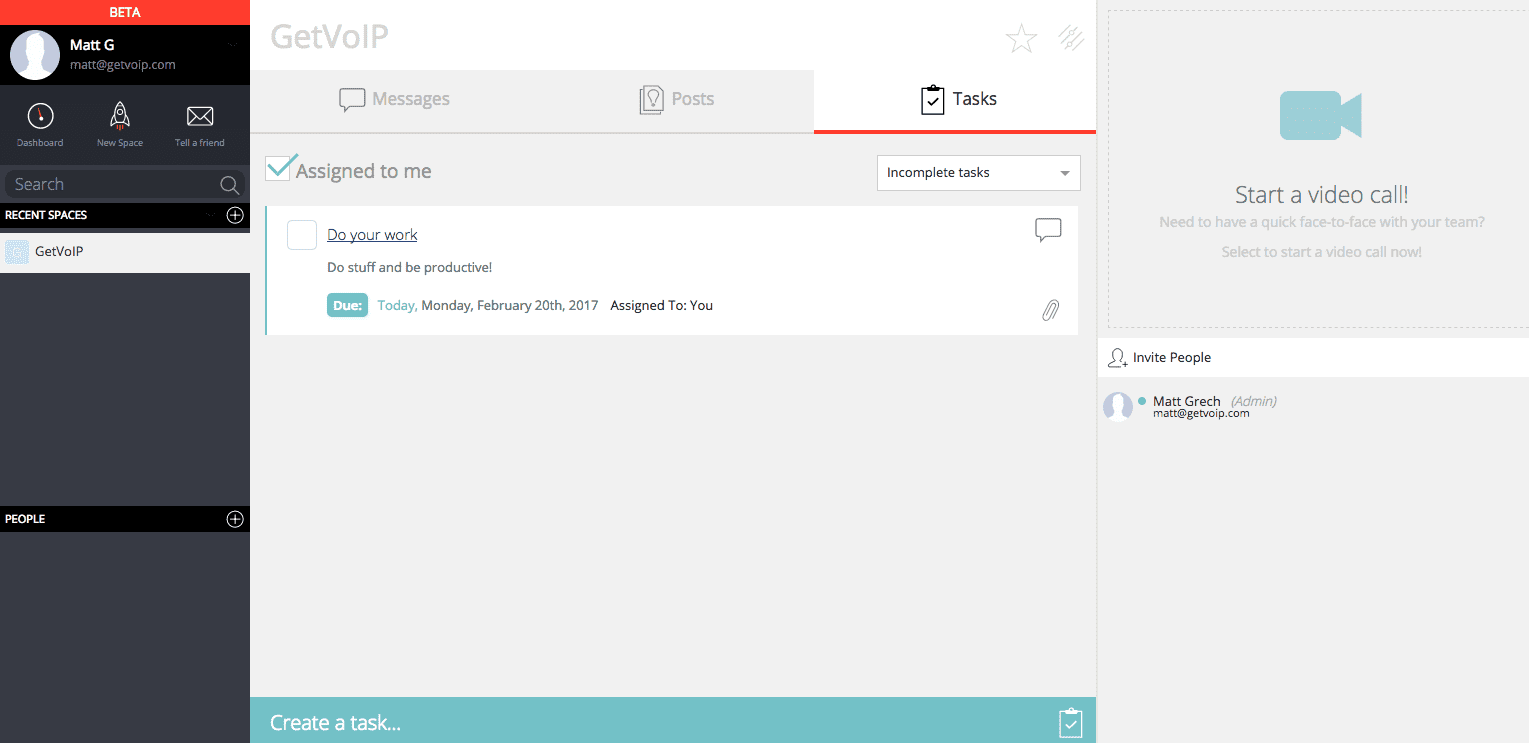 From your Dashboard you can access recent spaces, tasks, posts or even updates, this offers a great "at a glance" panel to find out what's going on and what's new since you last logged in. We've seen this before in some other alternatives, and it's a take I personally like a lot, one dedicated homepage to keep you in the loop at all times, and provide quick context.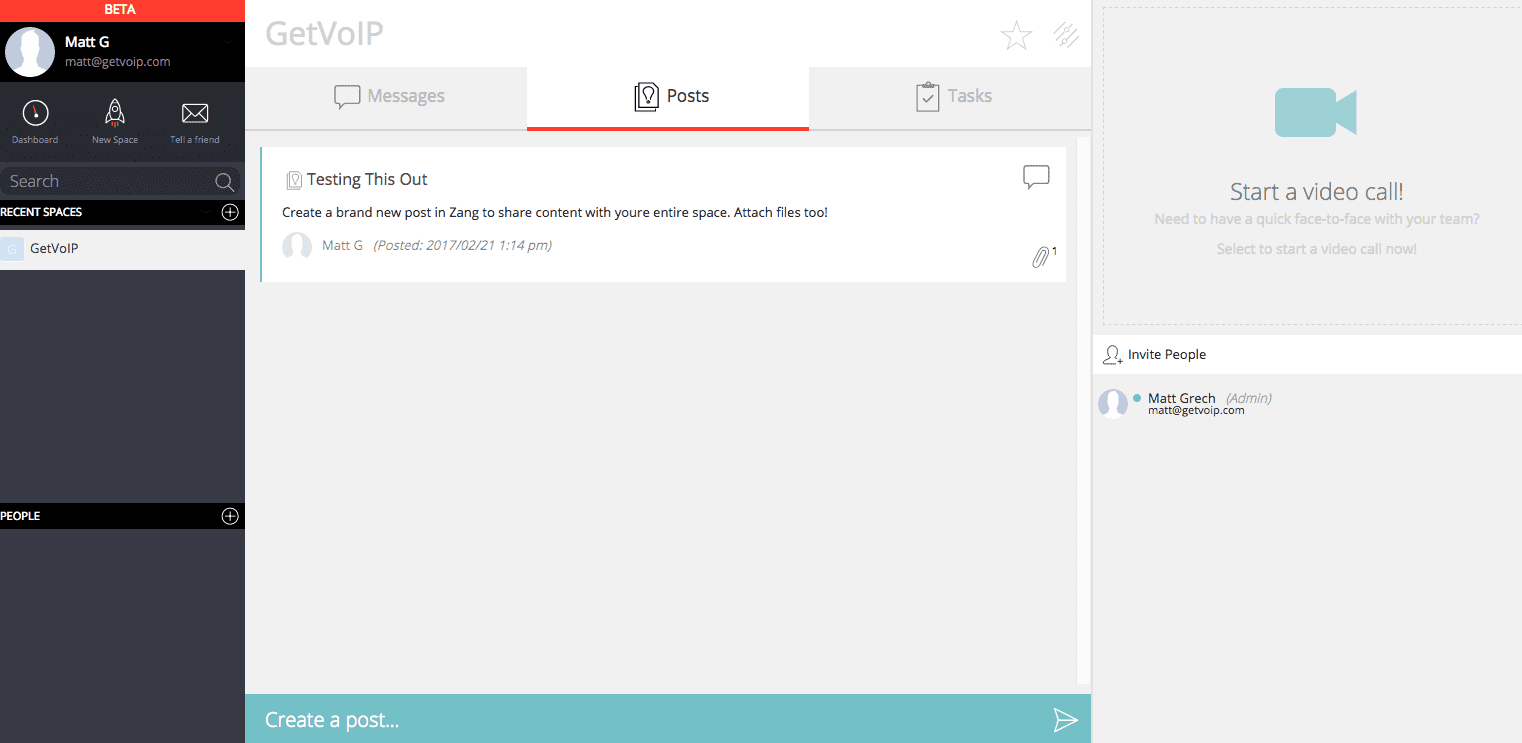 Beyond that, Zang's appearance only changes when you click on a specific space, which then gives you the option to jump between the same Dashboard sections of Messages, Posts and Tasks – each are pretty self-explanatory, and a nice feature is that all new posts or tasks will be listed in your Messages.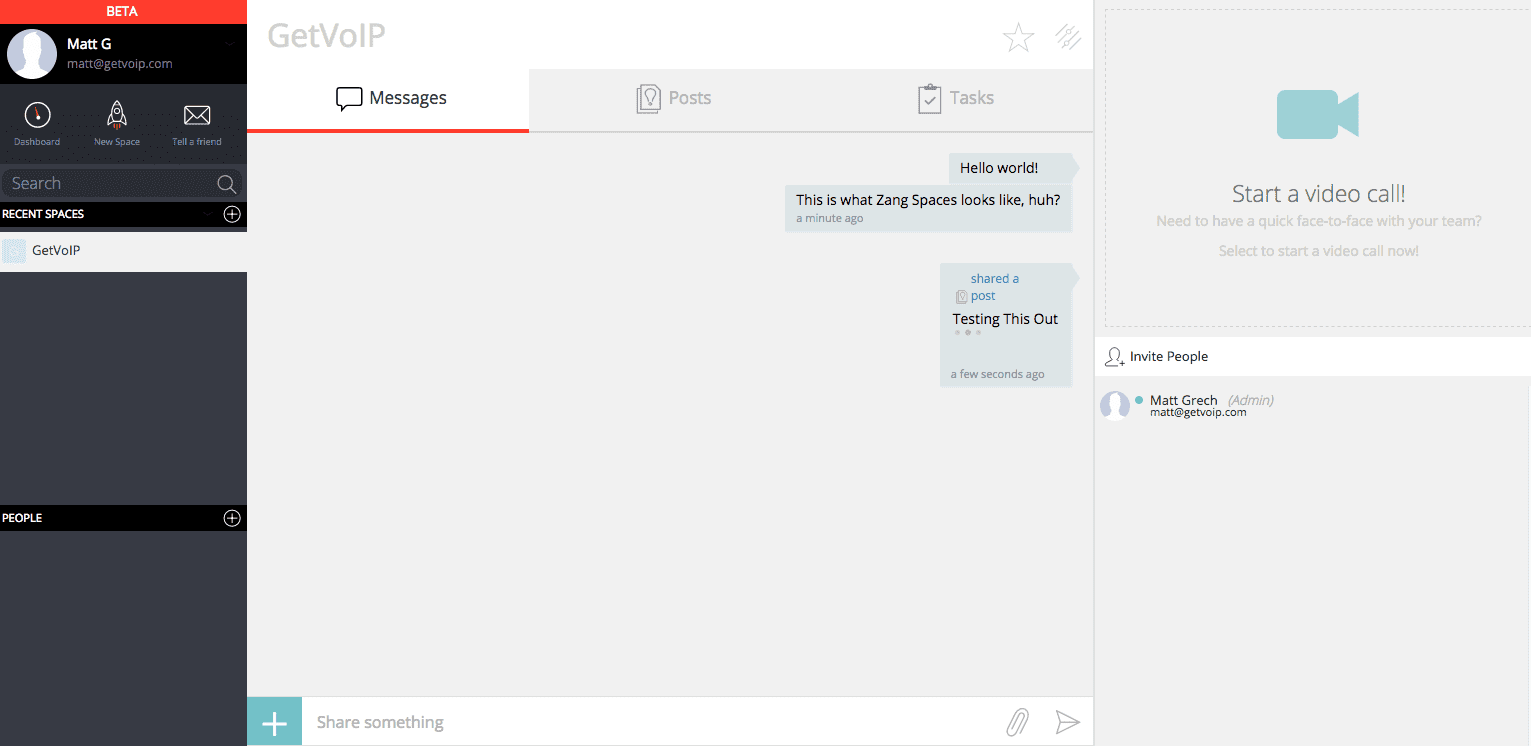 Beyond that, each Space also has its own video call controls on the top right, as well as a quick attendance list and "invite people" button right below. Overall the app feels organized and silo'd with specific sections dedicated to specific functions and content streams. Contrasting color is always a great way to break up sections and help your eyes navigate the platform. You could argue that the app feels cluttered, a lot squished into one screen and I think certain elements like title sand icons might be larger than they need to be – but I'm not confused, overwhelmed, lost or blatantly unable to find any functions.
Experience and Features
So I unfortunately do not have any extended time, or anyone else on my team in Zang, to really have a chance to play hands on for more than just a day. So while an entire user experience rundown will have to wait for a head to head, I can offer my initial insight: and it really isn't bad. Chime felt hollow, it felt like sections were missing, it felt stripped down and let to a less than satisfying experience. Zang feels filled, alive and border line cluttered – not to the point where this is distracting, but rather to the point where the entire platform feels like it's neat and tight.
Inviting users, starting new spaces, initiating calls, dragging and dropping files are all done with very few clicks, obviously labeled functions and buttons, and just don't require users to jump through hoops. A contact list for both your overall team and individual spaces is a great example of the necessary features, and tight organization, without cramming too much into one space. I also enjoy the overall Dashboard as I said before for that "at a glance" information, a great way to help users find what they need instantly, cutting down on wasted time. Jumping off this, as I also explained, all of your content in a space is reported in your Messages – so even if you forgot to look at the Tasks tab, you'll see all the new tasks added in Messages as they pop up.
While video calls will be the real kicker, overall I enjoy the way Zang Spaces looks and feels. I'd also be curious to get my hands on the actual desktop app, and not so much the web browser to see if scaling and sizing changes at all.
Zang Office
If Zang Spaces is the brand's new collaboration and even video conferencing app, then what exactly does Zang Offices do? I briefly noted that Office is the Zang VoIP suite – Zang Office brings the same cloud calling functions and features to users in an easy to manage, web based portal or desktop app. The entire platform is secure and robust, but also incredibly straightforward with features like an IVR, voicemail transcription, hunt groups, conference calling, ring anywhere, and all the great features we've come to expect with a VoIP solution.
Everything is setup visually, and even available on iOS or Android. Overall, Zang Office seems to be a pretty standard cloud based solution, comparable to some other soft phones apps I had a chance to go hands-on with, like when I compared RingCentral and 8×8 . And the end of the day, a web portal and smartphone app is nice, but what matters most to users is the pricing, and exactly what features you get for the money. Thankfully, Zang manages to keep the entire package affordable:
Basic – $7.97 per month
Company main number with local number portability
Virtual receptionist
Huntgroups
Voicemail
Call hold, transfer and forward
Call pickup
Call and Personal Park
Caller ID
Extension Dialing
Do Not Disturb
E911
Detailed call records
Standard – $10.97 per month
All Basic features, plus
Direct phone number support
Softphone desktop and mobile apps
Support for optional add-ons like fax-to-email, hot desking, find me and follow me
Power – $15.97 per month
All Standard features, plus all standard "add-ons," including
Conferencing
Voicemail/Fax to email
Customized caller line identification
Find me, follow me
Unfortunately I did not have the opportunity to go hands on with Zang as you one would need a full-fledged account to log in, Avaya has shared a good bit of information on the platform itself. Essentially, the "user-friendly web interface" is designed for administrators to easily manage users, provisioning, phone configurations, call logs, answering machines, just about any little detail of your phone system directly from the same web-based app.
Bottom Line
Zang is an interesting move by Avaya, branching off into the lower SMB market. The distinction I made previously is a bit of an important one, and explains why Zang fits in where it does: Avaya's other solutions still require some form of heavy lifting from a reseller, and while they live in the could, the entire platform isn't completely handled in the cloud. At the end of the day, an Enterprise is going to most likely want something on-premise and in house, anyway.
But Zang allows Avaya to repackage their solution, and reduce any heavy lifting on any end at all. The completely cloud based solution offers that flexibility, simplicity and availability users at that end of the market outright demand at this point, and for very good reason. Zang Spaces is another solid take on the ever common and popular UC or collaboration apps that can't stop showing up on the market this year. It might not prove to be the most adopted solution, but will stand as a solid option for those already involved, or considering, the Zang platform.