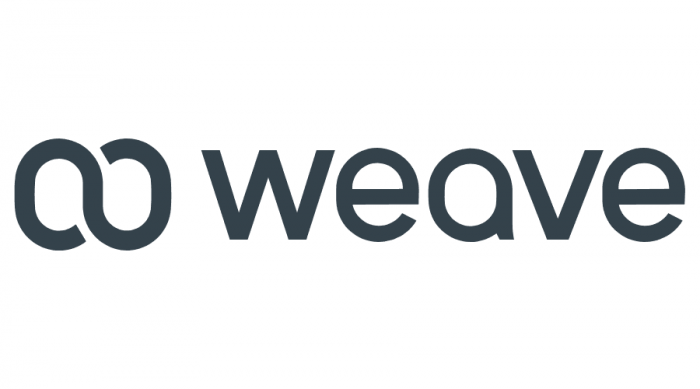 Weave
Building relationships with new customers while keeping current clients happy is a daunting task for businesses, especially considering the...
Provider Overview
Building relationships with new customers while keeping current clients happy is a daunting task for businesses, especially considering the high level of personalization and efficiency modern consumers expect.
Highly regulated industries like healthcare and finance face the additional challenge of meeting not only customer demands, but also strict, industry-specific compliance standards.
Weave is a unified communications provider designed to increase customer communication and engagement, boost sales, and streamline internal business processes–while remaining in regulatory compliance.
What is Weave?
Weave is a business VoIP solution for professional service providers that combines industry-specific marketing tools with business communication capabilities across voice, text, and fax channels.
Designed for small and medium-sized businesses in highly regulated and/or appointment-based industries, Weave ensures users meet compliance requirements without sacrificing opportunities for growth, convenience, or personalized customer connections.
Weave offers equal benefits to businesses and clients/patients alike.
Features like appointment reminders, insurance verification, and contactless payment processing ensure service providers receive prompt payment and decrease appointment no-shows. Online scheduling, pre-appointment digital forms, and two-way texting improve customer experience and satisfaction.
Review and reputation management features, bulk email/SMS marketing, and multi-location team communication and collaboration increase customer retention rates and cut down on internal miscommunications.
Weave users include dentists, veterinarians, medical doctors, hair and nail salons, accountants, HVAC and plumbing professionals, and more.
Weave Phone System Overview
Weave's phone system gives users access to communication and marketing tools on the Weave app for smartphones, desk phones, and desktop computers via the softphone interface.
Weave includes five Yealink IP phones in all plans.
While Weave lacks video conferencing, virtual assistants, and call monitoring capabilities, it does offer team chat, call queuing, and industry-specific third-party system compatibility in a user-friendly interface.
Native proactive engagement capabilities remind patients when they're due for another appointment or follow-up, while HIPAA compliant communication ensures patients and medical professionals can communicate securely across channels.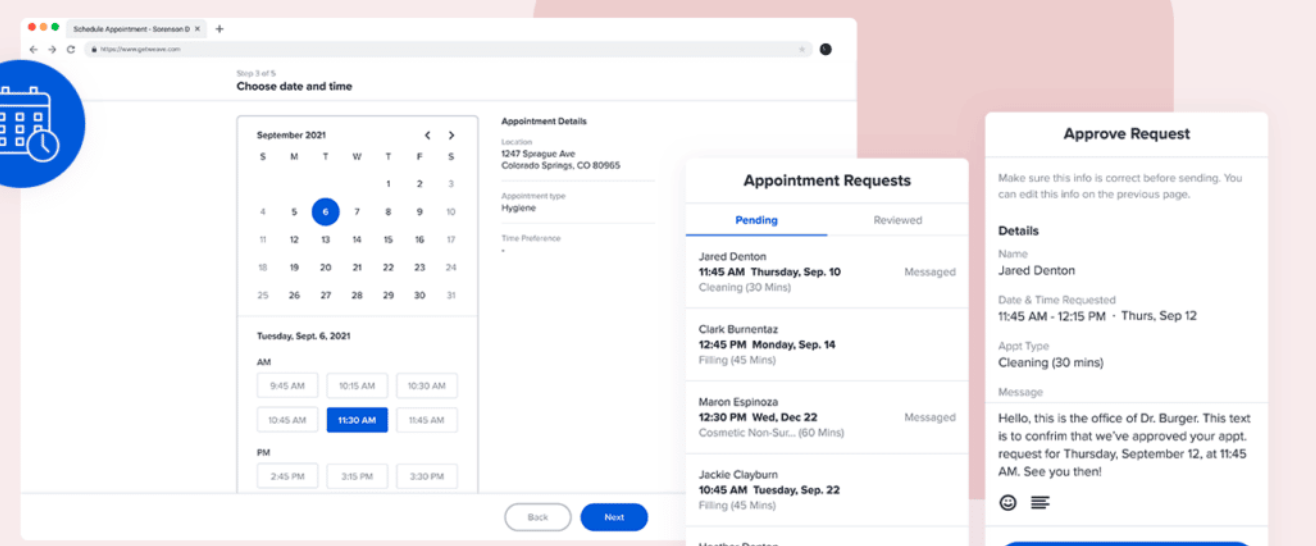 Additional VoIP features include: 
Unlimited long distance calls
Unlimited rollover lines
Call forwarding, call merge, call hold, call park, call transfer (blind or warm)
Call recording
IVR Phone Tree with custom greetings, basic call routing, business hour rules, and call groups
Caller ID
Visual Voicemail
Call reporting and analytics
eFax
IVR Phone Tree
E911 (emergency calls)
Call Pop containing upcoming appointments or follow-up scheduling reminders, customer profiles, overdue balances, pending tasks, agent notes, caller name, etc.
Weave Key Features
Weave's communication system includes many features common to UCaaS platforms, as well as marketing and automation features designed for professional service providers.
Weave Text Messaging 
Weave Text Messaging allows for one-on-one, real-time communication between a customer and agent. Users can initiate a business texting conversation directly from their dashboard, add emojis, and send images.
In order to send group texts, users must create lists or use the bulk texting feature. When users receive an incoming message from a customer, they can reply to it, ignore it, or add a custom message tag for text sorting and filtering.
Customers can also use the text from a phone tree feature to send your business a text message instead of facing long hold times and call queues during voice calls.
If a customer call goes unanswered, or if the customer left a voicemail, the Missed Call Text feature  automatically sends customers a custom or template-based text message letting them know their call was received. Missed Call Text also digitally deflects voice calls, suggesting the customer send your agent a text message instead.
Weave also offers an embeddable Text Connect widget that lets customers send your business a text message directly from your company website or social media page.
Note that the widget does not provide real-time, two-way chat messaging. Instead, it displays a ticketing form template where customers provide their name, telephone number, and a brief description of their issue.
When the customer clicks "send," assigned team members instantly receive a real-time notification of the customer's text message and can immediately initiate a two-way text conversation with the customer.
As of this writing, users can only choose between two Text Connect message templates: During Business Hours and After Business Hours.
Additional Weave text messaging capabilities include:
Export text message conversations
Edit or remove message tags
Create and send text message canned responses via custom text templates
Block texting number
Delete conversations
Mark messages as unread or read
Archive messages
Weave Email
Weave's email feature makes it easy to find and draft messages to patients. Users create the email directly from the Weave dashboard and can search and select the recipient from a patient/contact list. Users can also choose a template from the library or insert an image from a library of free images. The messages are then sent through the default email service such as Outlook, Gmail, Yahoo, etc.
Bulk Email and Text Marketing 
In addition to one-on-one text messaging and email, Weave offers bulk marketing messages via email and SMS.
Email Marketing 
Weave's Email Marketing feature set lets users create, monitor, and manage mass email marketing campaigns. Businesses can create completely new marketing emails from scratch, or use pre-existing email campaign templates that can be customized with images, logos, banners, and buttons. The Rich Text Editor makes adding links, bulleted lists, emojis, and other formatting options simple.
All email campaigns and templates can be edited, deleted, previewed, and reused. All uploaded images are stored in the Gallery for future campaigns.
Users can segment customers and manage campaigns with unlimited contact filters like:
Type of appointment
Insurance provider
Location
Date of last visit
Scheduled customers
New patients
Emails can be sent as bulk messages to all recipients simultaneously, or admins can limit the number of daily outbound marketing messages to prevent overwhelming contact volumes.
Additional email marketing features include:
Email previews
Upload custom email lists from CSV file
Scheduled send times
Test emails
Save email drafts
Add campaign recipients from uploaded contact list
Campaign analytics (number of unsubscribes, number of recipients, number of opened campaign emails, number of clicks, date sent)
SMS/Text Marketing
Weave users can create bulk messages to send to many patients or customers at once. Weave users can choose the date and time that the messages will be sent and can either send the entire bulk at once or send a set amount of messages per day, selecting which days of the week the messages will be sent on.
Tags can be used to auto fill information such as the first and last names of recipients. There is a character limit of 133 and a recipient limit of 1000 per bulk message.
Bulk message limits vary by plan: 500/month in the Essential Plan, 1500/month in the Pro Plan, and 3000/month in the Elite Plan
Users and patients can manage what type of text communication they receive using a toggle action. Customers can also unsubscribe from text messages using a reply such as STOP, UNSUBSCRIBE, etc. to Weave outgoing text messages, or by clicking on a text preferences link that users can choose to automatically insert into messages.
Recipients can choose to receive or not receive the following in text communication preferences:
Manual messages
Payment reminders
Appointment reminders
Review requests
Product ready for pickup
Birthday
Missed call
Save the date
Bulk messages
Recall (reminders to schedule an appointment)
List App
The List App feature allows users to quickly view tasks organized into lists such as follow-ups, quick fills, overdue patients, collections, and birthdays.
From the list app users, click on an icon to take action. For contacts on the follow-up list, users can choose to mark the follow up as complete, delete/edit the item, or send a payment reminder.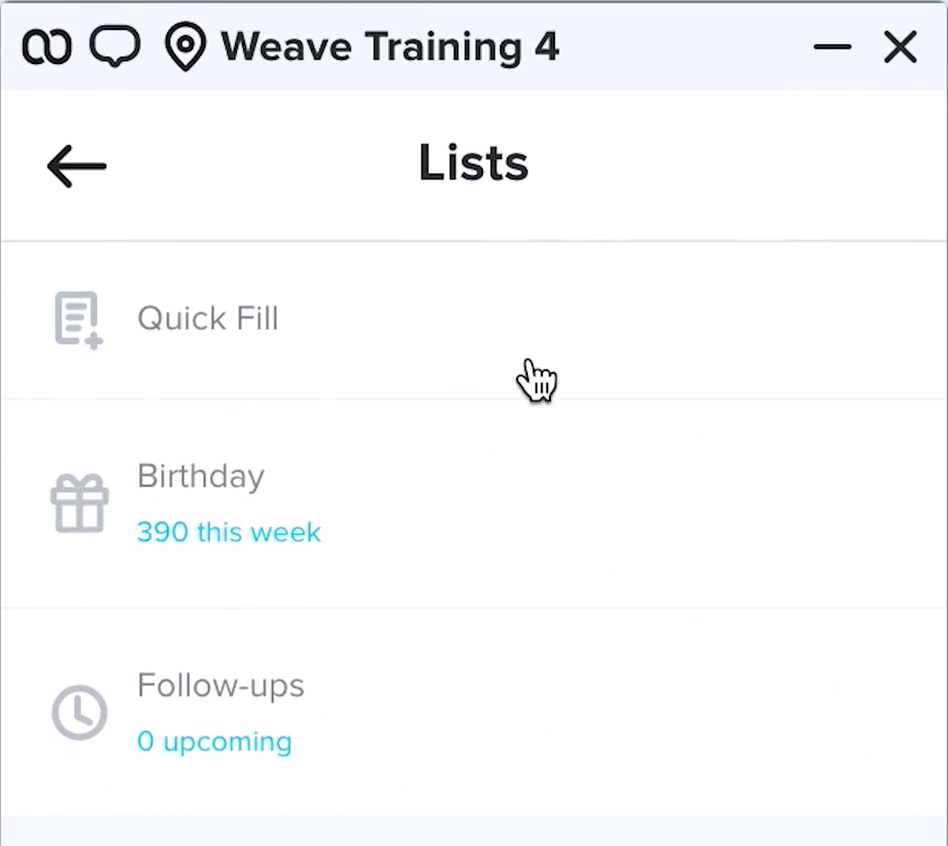 Contacts on the quick fill list can be sent a quick fill message. Users can also choose to include an available appointment time to the message. The first open slot will automatically populate here but can be changed.
For contacts on the overdue patients and birthday lists, users can click on a name and choose to call, text or email the contact with a recall reminder or birthday greeting, respectively. Those on the collections list can additionally be sent a "text to pay" request.
Appointment Scheduling 
Weave's schedule feature allows users to manage the practice's calendar.
When a patient responds to an automated appointment reminder with a cancel or reschedule request, users are alerted on the Weave schedule app. Users can view the patient's response and respond with a call, text or email directly from the app.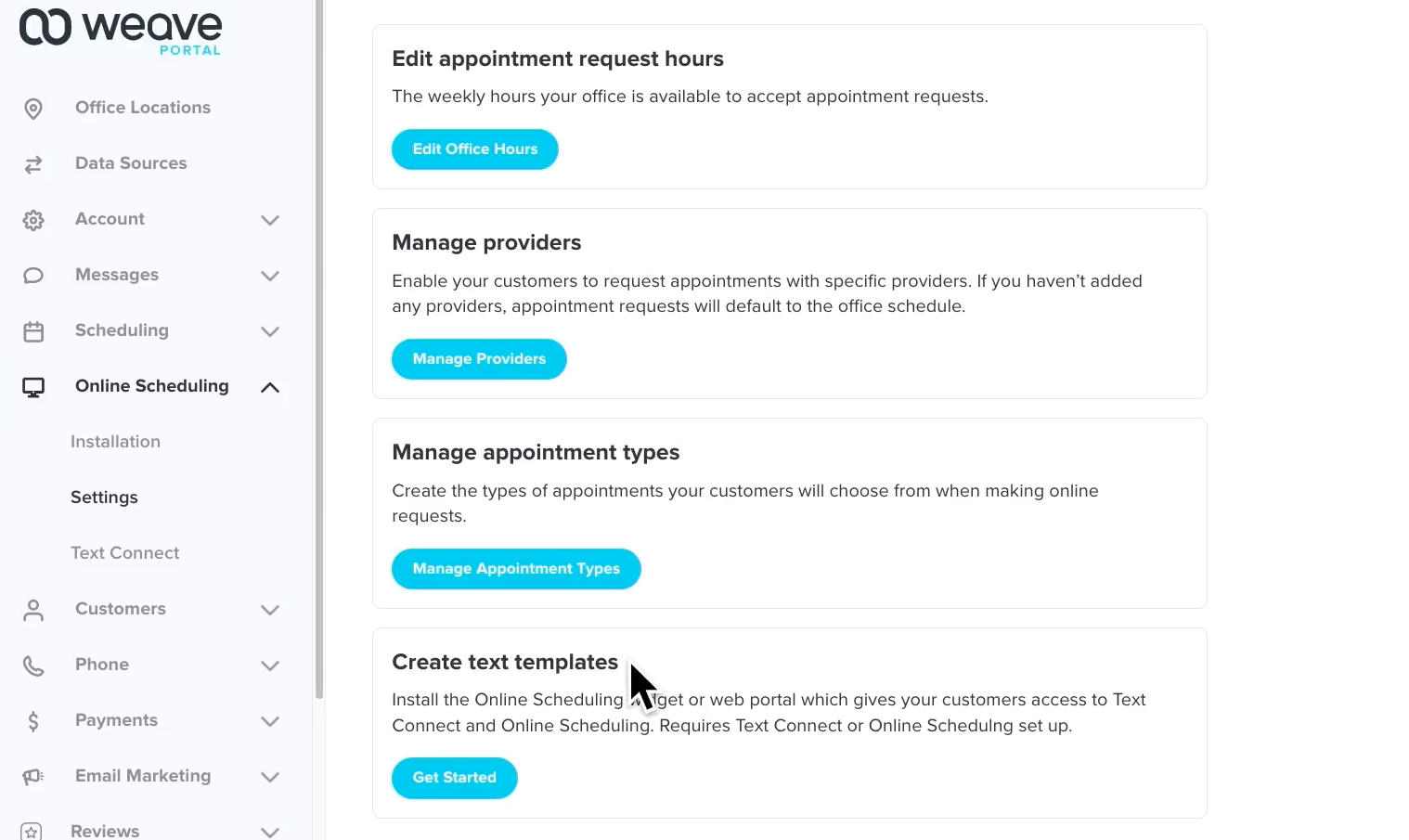 Schedule messaging allows users to create templates and send text blasts out to all the patients that have scheduled appointments that day. This is useful for sending same-day appointment reminders and informing patients of an emergency closure.
Online scheduling allows patients to schedule their own appointments using a web portal. Weave uses calendar sync to automatically display open times directly from the management system. Weave users can edit appointment request hours, set appointment request minimums, and add providers (with their specific availability) and provider photos within the scheduling app.
Digital Forms
Forms are built and then sent out from the forms dashboard. Weave includes a number of customizable form templates including patient registration, dental history, and ADA child health/dental history.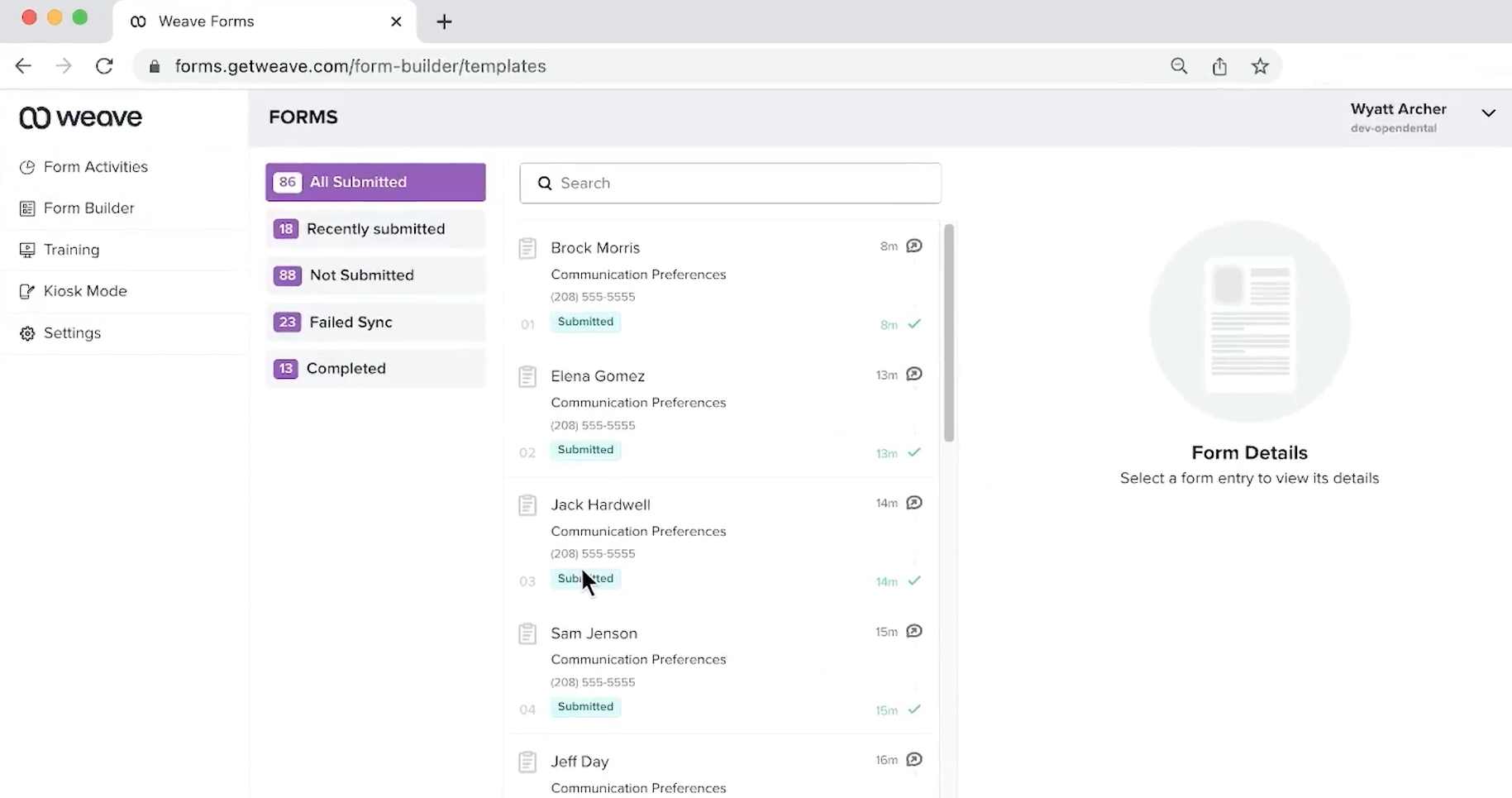 Kiosk mode allows patients to quickly scan a QR code with their smartphone camera and then start filling out forms. Forms can also be sent out via text or email from the Weave dashboard.
Forms will be auto populated with patient information from the practice's management system. Forms can be branded with a logo or watermark.
Team Chat
Weave's team chat platform is made for internal communications, eliminating the need for third-party tools like Slack.
Every employee named as a Weave user is automatically set up as a team chat member. Users can send 1:1 and group messages. Regardless of each user's role, private chat messages cannot be accessed by anyone outside of the conversation.
Users can set a status in team chat and schedule the estimated length of their chosen status to eliminate communication silos and delays.
Additional Weave Team Chat features include:
Emojis
Message push notifications
Show unread messages
Leave or delete groups
Add user profile photo
Review message history
Payments
Weave's platform includes payments processing functionality that enables users to collect payments from clients via payment terminals, text to pay, or manual card entry.
WisePOS or Verifone payment terminals may be used. Payment terminals are physical, portable devices that can be used to accept payments anywhere there is wifi. Wifi must use WPA/WPA 2 personal encryption and be password protected.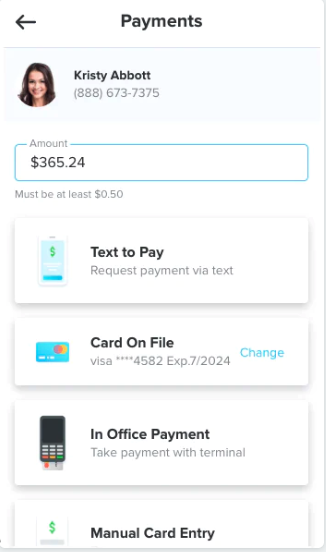 The text to pay allows Weave users to text a secure, unique link to customers that they can click on to make a payment. Invoices can be attached to the text message.
Weave includes the ability to automatically write back payments and refunds to the system's ledger whenever they are processed through Weave Payments.
Other payment processing features include:
Buy Now, Pay-over-time Through Sunbit
Online bill pay
Card on file
Payment and invoice history
Payout transaction list
Refund payments
Insurance Verification
Weave's insurance verification enables users to verify a patient's insurance either automatically or on the spot. At this time the insurance verification feature is only available for dental offices.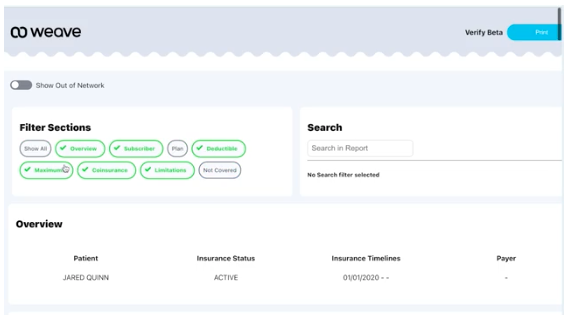 For on the spot verification, Weave users enter patient insurance information either manually or via an integrated practice management software. When all the necessary insurance information is entered, Weave users click the "verify" button to view one of four possible eligibility statuses: active, inactive, failed or investigate.
Users can view, sort, and search any patient's insurance details. Users can also generate PDF reports for anyone that doesn't have access to the Weave dashboard.
Automatic verifications are run 24 hours before a patient's upcoming appointment. Weave users can view insurance status directly in the scheduling app and re-run verifications for individual patients if necessary.
Reviews
Weave reviews is a feature that allows users to text customers a link they can follow to leave a review on Google or Facebook. Alternatively, users can automate review requests to go out after appointments.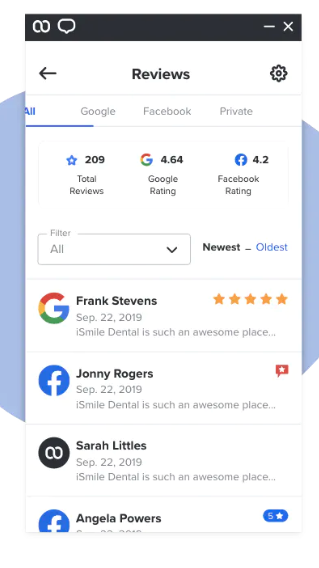 Real-time monitoring and notifications alert Weave users any time a new review is received. Users can then contact the reviewer or respond to the review in-app and address any concerns.
Call Analytics
Weave's call analytics app allows users to quickly view a number of phone call metrics. Many of the metrics are displayed in easy to read charts and graphs. The date range is customizable.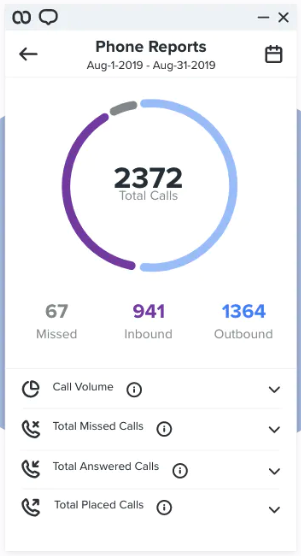 Users can also view the effectiveness of auto recall in analytics. Automated recall reminders is a patient communication feature that sends automatic reminders to patients to schedule an appointment. In the analytics app, users can view statistics or generate lists of patients who have been sent reminders, scheduled appointments, etc. Users can also receive alerts for any patients that have outdated contact information.
Weave call analytics displays the following calling metrics:
Total calls
Total placed calls
Total missed/answered calls
Call tracking (which phone number was dialed)
Call volume
Call source (current customer or not)
Weave Pricing & Plans
Weave offers three different pricing plans. All plans come with five free Yealink VoIP phone rentals.
Additional phones can be rented with a $4 service charge per phone. All plans are month to month, and there are no contracts, no usage fees, or per-user fees. All plans are flat monthly rates. There is also a one-time implementation fee of $500. Here is a breakdown of Weave pricing.
Essentials
Pro
Elite
$279/month
$349/month
Contact Weave

Bulk texting (500 per month)
Appointment reminders
eFax
Call POP
Text to pay
Weave mobile app

Bulk texting (1500 per month)
Missed call texting
ASAP/QuickFill
Email marketing
Reviews
Recall

Bulk texting (3000 per month)
Online scheduling
Digital forms
Insurance verification
How is Weave Different from Other Communication Platforms?
Weave stands out from competitors mainly because of its affordable, flat rate month-to-month pricing and its industry specific features. Most phone systems require companies to utilize integrations or APIs for niche processes such as eyewear ready notifications, but Weave includes this tool and others like it out of the box.
The downside to this is that Weave is lacking in some UC features that many competitors offer, such as video conferencing and advanced analytics.
Additional Weave pros and cons are shown in the table below.
| | |
| --- | --- |
| Weave Pros | Weave Cons |
| All plans include free VoIP phones, at least 500 bulk texts/month, multiple payment options, and two-way SMS | Limited native voice features and no video conferencing capabilities are especially puzzling given the rise of telemedicine and remote care, SMS-first approach to business communication automatically rules Weave out for many |
| Excellent built-in security features including HIPAA and TCPA compliance, automated cloud SQL backups, vendor risk management, a Bug Bounty Program, and multi-factor authentication | No information on customer support options and guaranteed uptime on Weave's website, online knowledge base is incomplete/difficult to navigate, potential users must sign up for a 30-minute presentation to access detailed feature information |
| Integrates with highly specific industry software and management systems like CurveDental, EyefinityEPM, ProVet, MindBody, and Nextech | Newer company still clearly in a growth phase, many features are still in beta and being built/added to the platform each month, few genuine customer reviews, key information about features and lack of functionality hidden on separate help portal |
Is Weave Right for You?
Weave was made for small offices and SMBs that provide professional services. Especially those that are looking to conduct more customer outreach and improve the overall customer experience. Weave's lack of advanced features and an uptime guarantee make it unsuitable for large enterprises.
Weave caters to service providers in the following industries:
Accounting
Audiology
Dental
Electrical
HVAC
Medical
Ophthalmology
Optometry
Pest Control
Veterinary
Physical Therapy
Plumbing
Podiatry
Salons
Weave is a great choice for small businesses and startups thanks to its minimalist, user-friendly interface, and lack of necessary onboarding and IT support.  Weave also offers some of the most affordable prices in the VoIP software space, and is therefore a great option for small offices that need to cut costs and engage in mass marketing campaigns without sacrificing customer service.
Share Your
Feedback
What Do You Think of Weave?