In May 2022, Zoom (set out) on a new journey: one that was a long time in the making. It said it would acquire Solvvy – looking to advance its conversational AI (artificial intelligence), automation, and CX (customer service) capabilities. The fruits of the acquisition are already being seen with Zoom enhancing its long-anticipated CCaaS offering. 
And Solvvy seemed like the right candidate for the job, as its scalable self-service functionalities are sought after in today's customer service climate when customers demand more than ever before.  
Hence: the reason for the purchase by Zoom of Solvvy back in May 2022. Not to mention, Solvvy is leveraged by some of the world's biggest brands like – HelloFresh, Vimeo, Under Armour, Stash, and Zwift – helping these firms realize customer success in various forms. Now, Zoom owns that business.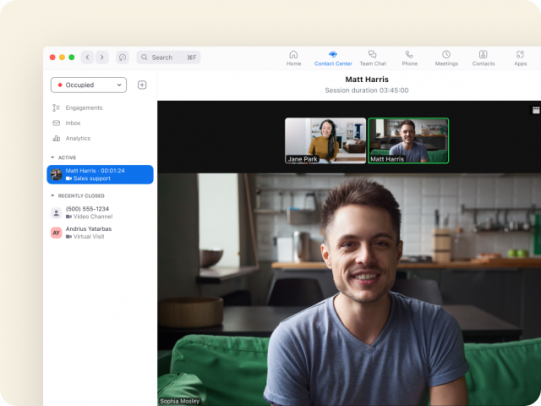 Solvvy was further recognized by analysts at Gartner as a "Cool Vendor," in addition to being recognized by G2 Momentum Leader and Top Software 2022 award winner. 
If you recall, Zoom announced it would enter the CCaaS game at Zoomtopia 2022, which most largely saw as no surprise as the collaboration and video conferencing giant spread the paint thick on the walls for years – prior. So, in February 2022, Zoom finally did it – it entered the CCaaS market.
There is a lot to uncover regarding Zoom's fresh: feature-rich chatbot, poised to give other popular chatbots a run for their money, all powered by (formerly) Solvvy technology.
Introducing the Zoom Virtual Agent, Now in GA
The Zoom Virtual Agent is just that – a sophisticated intelligent virtual agent designed to deliver support 24/7. According to Zoom, it is ready to do so, extending fairly-rapid personalized help – with the intent of enhancing productivity in the contact center. 
And there's the most 'obvious' appeal; enhancing customer experience.
Zoom's chatbot leverages machine learning to guide users to answers fast and reduce call wait times, call volumes, and diminish agent queues. This goes for simple and even some of the more complex requests. Thanks to natural language processing: the chatbot can detect why a customer is contacting them and provide the most accurate retort accordingly. 
On top of that, on the contact center backend – management and agents can expect analytics that drive action: (the kind) that go beyond basic reporting; to enhance internal processes so things can run more smoothly internally. 
Of course, there are integrations to popular CRM (customer relationship management systems) like ServiceNow and Zendesk. Such tools help to drive even further insights. And it is available for purchase as a standalone product or for integration with aforementioned (CRM) tools, an advantage for companies looking to pick and choose ala carte services as they wish.
Customer Context is Essential to Chatbot Success
The fact (of the matter) is that self-service is not always appropriate, and if a chatbot extends a poor experience, customers get frustrated. 
Do not (take it) from me, though, as countless studies reflect that (very) notion. According to the 2022 Zendesk Customer Experience Trends report, "more than 60% of customers will defect after a bad experience, 22% more than in 2021."
Further Zendesk research found that both elements: speed and convenience, are still top customer priorities. That same report goes on to state; that these two elements are no longer sufficient anymore: at least. 
"Customers also want empathetic agents, permanent support, and personalized conversation experiences: whether they are talking to a human or a chatbot," the report further noted. 
When deploying a chatbot, the AI-powered tool must be intelligent enough to understand context and intent. If that is the case, and it is in the case of the Zoom bot – it will immediately route to a live agent for a more sound customer experience. 
That same Zendesk customer trends report unearthed five customer trends; companies of any size, ones offering customer service of any kind – should consider. Not only is it a priority, but action is also required in most (if not all) cases to impact the quality of CX. According to Zendesk: 
Consumer well-being and insights have started to reshape CX.
CX teams are breaking down silos as more of them merge.
AI experiences are "more and more fluid and evolving."
Customers want grander levels of personalization.
Conversation experiences enable consumers.
2011 Zoom Wouldn't Recognize Today's Zoom
Zoom has come a long way since its introduction to the world in 2011. It now spans education, financial services, health care, manufacturing, retail, global services, and even marketing. That looks vastly different than it did 12 years ago: and Zoom's founder, along with its team of developers, seems to have a mission of transforming a company that once had a single purpose – video conferencing. 
Its latest release, Zoom places it in another league, potentially one even its founder Eric. S Yuan would not even be able to identify back then if you told him, "this will be Zoom in 2023." 
The evolution of Zoom has been seemingly swift, and some might say unexpected: but with its clever marketing, along with the timing of the pandemic – its success is not a surprise to anyone who has followed the company: and the trajectory Zoom's been on since its inception. 
That is made clear by offerings like Zoom Phone, which some might call a predecessor to its CCaaS offering. It, combined with many other aspects of Zoom's portfolio (work to) complete its CCaaS ambitions, which now include a notable and intuitive chatbot experience. 
The overarching theme, it seems, of Zoom; is enhancing processes formerly known as arduous and time-consuming to free up folks to do the things that are more important to them. After all, people are spending a lot of time on customer service calls – something that doesn't seem to quite jive with life, as the pandemic shifted most people's priorities; in a significant way. 
Zoom did work to connect millions of people during this time – but many realized that working all the time and from an office was not their vibe. As such, it seems that Zoom continues to serve its purpose – connecting remote workers, families, and countless others – on their time and on their terms, not that of employers.