Zoom Video Communiactions, Inc, is now on day two, the final day of its annual Zoomtopoia event, a time it uses to showcase its latest innovations – which includes a new email and calendar integration, now in beta. 
The company that most folks once previously only know for video, hopes to turn that train of thought on its head and has introduced new additions to its omnichannel CCaaS offering, which includes conversational AI experiences – which it introduced back in February 2022. 
To showcase how busy the Silicon Valley-based tech giant has been over the past year, according to a statement, the team launched more than 1,500 features and enhancements to the Zoom platform this year. Zeus Kerravala, the Principal Analyst at ZK Research, highlights how drastic the shift in work styles has been for all involved.
He noted that the past few years were; 'riddled with uncertainty surrounding the future of work.' How will folks work? Where will that be? It seems, at least according to data, that most want options. It comes down to the fact that some employees want to work remotely, and some want to come into an office sometimes. 
Researchers at McKinsey offer evidence to support the claim, finding that 35% of workers say: that they can work from home full-time. Twenty-three percent of American workers said: they can work from home from one to four days a week. A mere 13 percent of employed respondents articulated: they can work remotely, at least some of the time but opt not to. 
With so much to consider regarding the future of work: Zoom set out this Zoomtipia to go all out. And its latest round of updates is (not only) expansive but should extend near-countless benefits in our newfound reality of hybrid work. 
Zoom Mail and Calendar, Now in Beta
With the intro of the Zoom Mail and Calendar Clients, users can now leverage the Zoom platform to access email and calendars. Zoom says: it will integrate with "popular email and calendar services," lending more convenient access to critical communications and their schedule.
With IT spending in some areas increasing and decreasing in others – Zoom is rolling out an offering for firms without dedicated IT teams focused on privacy and security, as the two often fall through the cracks and can expose organizations to the threat of intrusion. 
The video conferencing giant also launched Zoom-hosted email and calendar service options, which can be directly integrated into the Zoom platform. Zoom Mail Service, as they call it: is an end-to-end encrypted offering designed to emails sent directly between active Zoom Mail Service users.
Zoom Mail, Calendar Clients, and Zoom Mail and Calendar Services will soon launch in beta. 
Introducing Zoom Spots & Zoom Virtual Agent
Seemingly in line with various hybrid workplace trends that attempt to replicate the office in a hybrid environment – Zoom introduced Zoom Spots – a virtual co-working space. Available in early 2023, Zoom Spots is a video-enabled space. It is a continuous presence, meaning it is always there, as needed. 
More virtual news, this time, in the form of Zoom Virtual Agent, which Zoom markets as "an intelligent conversational AI and chatbot solution that leverages natural language processing and machine learning to understand and quickly resolve customer issues." 
All this sounds relatively standard, as this is the function of a virtual agent. So, while not quite so innovative, the feature seems to have been introduced out of necessity. Others, namely some Zoom competitors, already offer fairly robust, similar offerings.
It comes, of course, with the promise of delivering 24/7 support and omnichannel capabilities are equally prevalent as a perk. Bots can be massively helpful to organizations, helping reduce call volumes and the burden human agents feel and boosting many other enterprise-level metrics. 
Available in: early 2024, Zoom Virtual Agent can be fully integrated with the Zoom Contact Center experience and Zoom says it will likewise make its virtual agent accessible as a standalone product. 
Zoom One Updates & the Intro of IQ Virtual Coach
Zoom, in more recent months, has tried to dispel the myth that its platform is solely for video communications, introducing a CCaaS platform and over 1,500 other features geared toward its mission. 
It, therefore, outlined the idea of continuous collaboration across Zoom One, a connected workstream across Zoom One. Since the rebranding of its all-in-one communication and collaboration offering, it wanted to emphasize that the platform is actually quite robust than most might initially assume.
As it stands: Zoom One brings together team chat, phone, whiteboard, Meetings, and more, enabling individuals and teams to do their best work. It will take on a new set of capabilities, integrating with team chat and in-meeting chat, which, according to Zoom, "Creates an always-on functionality so users can flow between team chat and meetings to reduce silos."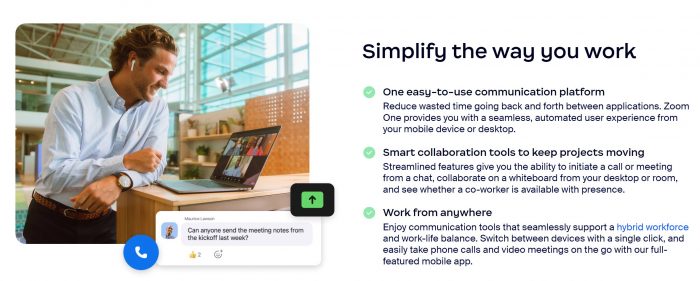 I hear productivity vibes here, as the overarching goal of Zoom One is to "keep projects moving and to assist workers in continuing the conversation after meetings," Zoom wrote in a statement. Zoom furthermore said that it plans to soon introduce, as a part of Zoom IQ for Sales, Zoom IQ Virtual Coach. 
It notes that the offering will simulate a "variety of selling situations to give sellers a practice environment to hone their pitch, obtain feedback, and receive real-time content tips during calls with prospects."
Zoom Adds Developer Tools, Extend App Availability
Developers who leverage the Zoom platform within their organizations will soon find it simpler to provision and manage apps that work with Zoom. According to Zoom, developers can do so by enabling admin-authorized installed apps. 
"This will allow Zoom account admins to pre-install apps for an organization at the account, group, or user level. Additionally, developers will soon be able to monetize their apps on the Zoom App Marketplace," the company said in a statement. 
Zoom Apps are Zooom's in-product apps that integrate into the Zoom Meeting and Webinar experience. It expands upon native platform features like Team Chat, Zoom Rooms, etc. Essentially, the offering enables developers to plug apps into nearly any workflow. 
Now, Zoom contends that it will also enable developers to build their integration once and extend it across the entire Zoom product line. Zoom further introduced that it will introduce Essential Apps, which will feature relevant and 'hot' apps for increased distribution of Zoom Apps. 
Essential Apps, according to Zoom, will be available via Zoom Meetings paid plans and Zoom Apps with select app developers.
Takeaways from Zoomtopia 2022
The biggest takeaway from the event seems to be Zoom's increasing focus on making the developer experience a smoother ride for those dealing with a new set of difficulties. Now, while this is not really news, it is a rather clear indicator of how far Zoom's technology has evolved during the pandemic.
Today, leveraging Zoom APIs, SDKs, tools, etc., they can initiate video-based chats in most situations. And what appears (to really) be a (real) game-changer is that this capability is available in the contact center environment – making a solid case for the more enhanced CX in complex troubleshooting situations.
The use cases are seemingly endless.
Showcasing the true might of its technology, the entire Zooomtopia event; was powered by the Zoom Events platform itself, which extended a hybrid experience to all attendees. Though Zoomtopia 2022 ends today, it is available on-demand following the free event. 
Stay tuned for the latest UCC headlines, trends, and analyses here on GetVoIP News.