CPaaS (Communications Platform as a Service) provider, Twilio recently released Twilio Flex Conversations, a single API for SMS, chat, and WhatsApp on the Flex platform. It recently rolled out in public beta; at last week's Enterprise Connect 2022 – and will soon enable users to, according to Twilio: 
"Easily orchestrate digital channel experiences that support their vision for differentiation while driving deeper personalization and happier customers."
According to Twilio's 2021 State of Customer Engagement Report, customer demands are (not only) rising, but brands have become savvier. The report notes that brands in all industries across the globe have worked to enhance digital customer engagement to retain more loyal customers. Growth is another motivating factor, and Twilio further notes in the report:
"To build customer loyalty and grow their business – last year 62% of U.S. companies noted they planned to increase their investment in customer engagement."
Twilio Flex Conversations is built on Twilio Flex technology, a cloud contact center: 
Disparate systems are not a thing of the past, according to Twilio, which they should be. The popular CPaaS provider wrote in a blog post about the reality of most so-called modern contact centers, writing: "They still have patchwork point solutions for different channels, resulting in inconsistent experiences for customers."
The key for Twilio is unlocking what it calls "relevant customer data," which it says 'does exist.' It is often locked away in fragmented and rather siloed applications. Let's explore more of the implications of Twilio's new contact center API it hopes will revolutionize the way customers engage with brands via digital channels.
What Exactly is Twilio Flex Conversations? 
In essence: if a customer begins a conversation in a web-based chat, contact center agents can follow up via a customer's preferred contact method. That could be SMS or even WhatsApp. 
Via the Twilio Flex App, agents gain a visual into all aspects of a customer, with context, across all channels. Twilio said it would soon expand the kind of channels it is available for, adding support for Facebook Messenger and Google Business Messages. 
Much like Bandwidth did with its Pindrop integration, Twilio hopes to nix a common occurrence within the contact center environment: customers repeating themselves. 
Twilio Flex Conversations, like most Twilio offerings, comes with deep integrations with CRM systems. And the company says that leveraging both: Twilio Flex and its customers managed to capture, synthesize, and activate real-time customer data from no shortage of back-end applications.
"This can result in more deeply personalized interactions with customers, greater customer loyalty, and ultimately more growth and customer retention due to exceptional customer experiences."
New and Improved User Interface
In addition to the new contact center API, Twilio also rolled out an updated version of its Flex UI, a 'user interface' the company says got optimized for accessibility for visually impaired support agents. The updated UI features improved screen reader functionalities, button labels, and keyboard navigation.
Twilio also adjusted colors, fonts, and margins to better meet accessibility standards.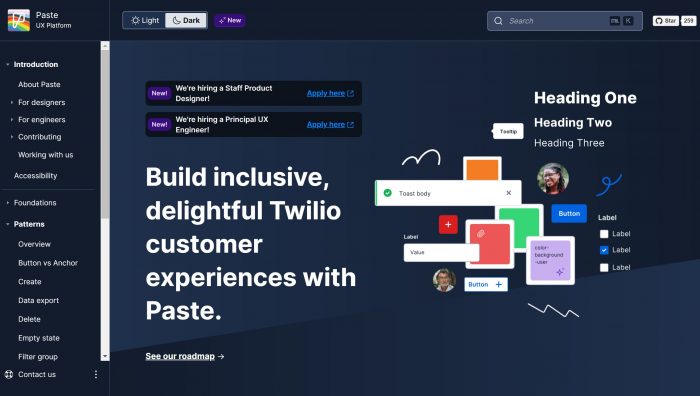 Twilo Flex even includes PASTE support, which users can find within the Flex UI toolkit. According to Twilio: "PASTE is the design system Twilio created to support its efforts to create consistent, inclusive, and delightful experiences."
Twilio also announced that Flex customers and partners can leverage the same component library as Twilio's developers. The move will ensure that partners adhere to consistent branding and styling guidelines without breaking the bank with resources or knowledge. Most importantly, saving folks money. 
True Omnichannel is Hard to Come By
Twilio wrote in a blog post that many contact center providers claim to be omnichannel. They say when it comes to performing the duties of an omnichannel contact center – they often fail at doing so – adding: 
"True omnichannel customer experience is substantially more difficult." 
As one report notes, only 24.5% of companies claim to offer "good or complete consistency" across customer contact points. "That makes the success stories stand out," Twilio wrote. 
How Are Customers Leveraging the Technology? 
One such success story is Vacasa, an international vacation rental management company. It provides property management services for over 30,000 vacation rentals in North and South America. 
"Vacasa, like many companies, was using an array of siloed communications channels: 8×8, Five9, Aircall, and RingCentral. It had three different teams working with customers to support different needs." 
This: the CPaaS provider notes; did not cut it. Agents needed to access customer data to automate complex tasks.
"For example, they wanted the capability to send an automated email to a customer with smart lock entry codes the morning that customer was checking in, or deliver an alert for guests to download a special app for one-touch access to Wi-Fi."
According to Twilio, Vacasa found that it could not achieve this by leveraging its existing contact center infrastructure. Following the implementation of Twilio Flex for the guest, homeowner, and sales team experience – the company saw a 3-10x increase in guest bookings. 
Other companies, including Yelp, Stripe, Electrolux, and Align Technology, leverage Twilio Flex to build and customize unique customer experiences. And over the past year, the number of active agents using Flex-based contact centers grew by more than 90%.
The offering, once available generally, will extend a usage-based pricing structure, similar to most SaaS models. The approach often gives customers a lot of wiggle room when it comes to paying for service – as customers only get charged for what they use.
Not being tied into a long-term contract can free up customers from thinking about things like overages to deal with actual problems facing the modern contact center. Twilio said that it plans to extend HIPAA-complaint offerings in the future – as well.
Check Out Our Enterprise Connect 2022 Coverage
Of course, this is one of the countless stories to come out of Enterprise Connect 2022, an event we covered extensively last week. If you want to know what you missed at this year's event, you can read our full news summary, and stay up to date with the latest industry news and headlines.