Last month I sat down with Head of Zoom Rooms, Jeff Smith, to discuss the solution's capabilities more in-depth. I had previously written about the Zoom Features that 'Boost' Productivity and wanted to build on that notion, as I realize there is a lot of value in what Zoom is doing to enable the future of hybrid work. 
Smith shed a ton of light on some of the intent behind many Zoom Rooms features, an offering that enables HD video collaboration in any space, be it a home office; or a hybrid meeting. That could even be a classroom. The express goal of the solution – to facilitate real-time in-person and remote participant interactions.
It is the sort of meeting room solution that makes it simpler to do things like starting a meeting at the press of a button, finding the most optimal times to book a room, and sharing files, links, content, etc. 
Smith said that it is the new and asynchronous nature of communication created during the COVID-19 era that prompted the UCaaS vendor to need to solve some of the world's newfound problems associated with being in multiple timezones and locations. 
The Basics of Zoom Whiteboard 
Features like the Zoom Whiteboard have become: "much, much, more central to the way that we collaborate," Smith noted. And the whiteboards of today are way more advanced than we could have ever guessed. If you take a look at what Zoom's whiteboard technology can do, I think you'd find yourself pleasantly surprised. 
"Whiteboard becomes that space where all of the content of our communication can be linked and visualized – everything from a brainstorm session at the beginning of that workflow."
So how does one get companies to adopt this technology? That question – one of many potential barriers to penetration, another being: How do you make said technology consumable? With a billion untapped use cases for Zoom Rooms technology, Smith and I went down that wormhole. 
"The first thing that we look at when we developed our whiteboard technology is are there any specific and pragmatic use cases where I can use this tool on my team?"
There are many implications of the technology, HR training, general employee training, new hire orientation for virtual employees, internal collaboration on meetings, and even the kind where you meet with external attendees for brainstorming and mapping sessions. There is even a use case if you need to chat with your sales team and visualize/chart to increase understanding.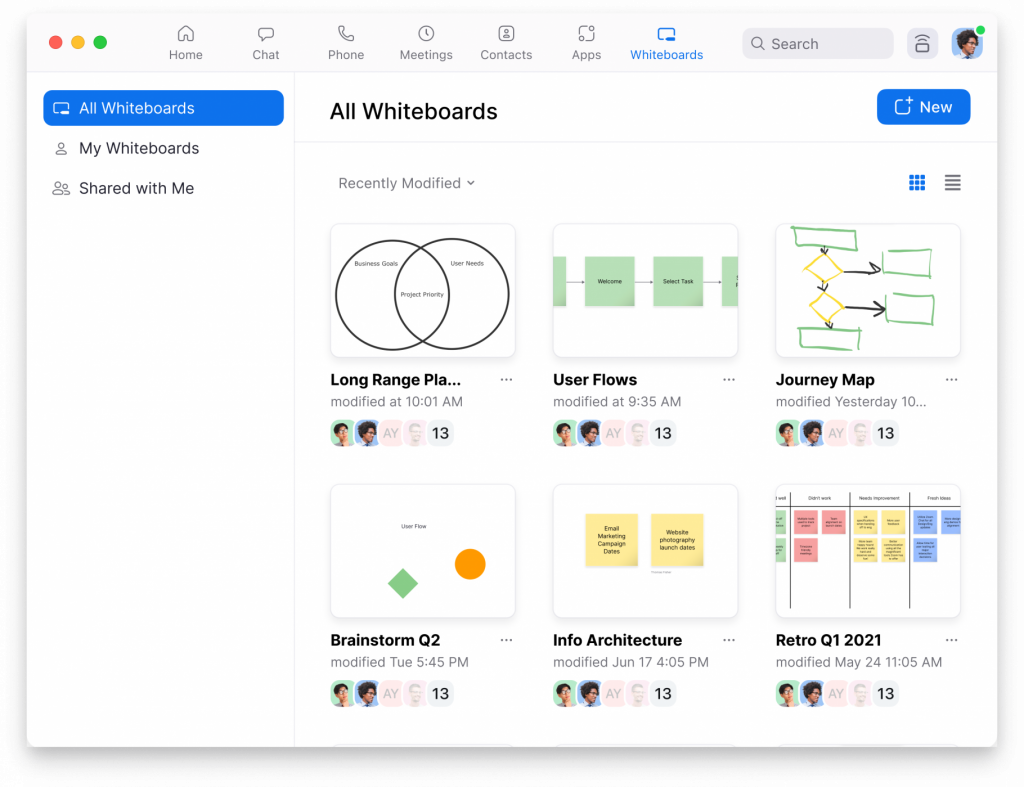 Every Zoom user gains access to these basic functionalities free for forty minutes. If you want more than that, you will have to cough up some dough and become a paid subscriber. Once you do this – you'll gain full functionality. Unpaid Zoom Whiteboard users do have some other restrictions, in addition to that 40-minute time limit. 
"We understand that it is not going to be leveraged by everybody, but I think a significant amount of people who understand the implications of the technology and they will implement it in their stacks."
The Deal set to make Zoom Whiteboard Futuristic
Set for availability in early 2022, Facebook and Zoom announced that they would team up at Zoomtopia 2021. But to understand the duo's relationship: you must first know a bit of background. 
Facebook made what many call the "surprise launch" of a new app called Horizon Workrooms toward the end of August 2021. The app extends a virtual collaboration by bringing VR (virtual reality) users and video chat participants together, leading the social media giant deeper into the collaboration market.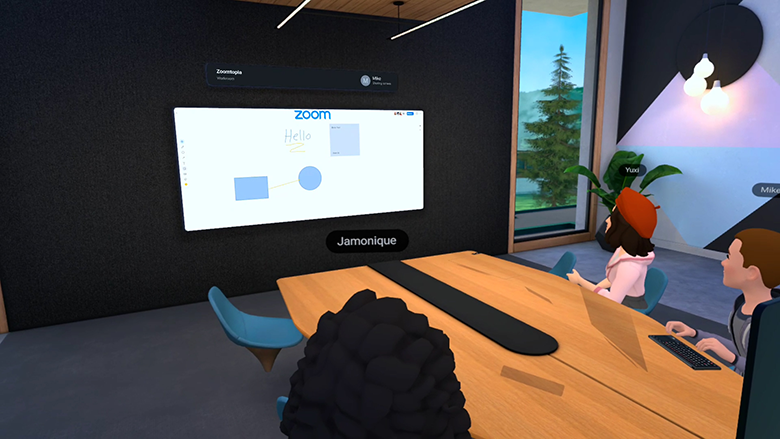 The pair's objective – to allow users to access Zoom whiteboards and Zoom Meetings from within virtual workroom environments leveraging Horizon Workrooms available on Facebook's Oculus Quest. Here is what I learned. For starters, Zoom isn't looking to waste time or to get into VR for no reason, with Smith adding: 
"Zoom isn't just looking to get into VR; but we want to solve real-world problems. What if I don't have a large screen? What if I can't visualize the content on the whiteboard."
This is where VR comes in for Zoom and becomes a tool that can help users visualize large amounts of content without the use of a large screen. "It is a simple problem that we're trying to solve, and it happened to coincide in a timely way with Oculus and its development of Horizon Workrooms," Smith summed up. 
Hotdesking of the Future 
Another issue Zoom's looking to resolve, finding the optimal place to sit in the office. Available later this year, a new hotdesking feature will let employees reserve desks and other areas in their offices with the help of an interactive map. 
Zoom's aim, to better understand your communication history, who you meet with, and how often you meet to pull this off. The analysis attempts to answer: Who do you chat with a lot? How deep are those engagements that you have with those people? It can then make suggestions on where you should sit via the Zoom client and based on other factors, too. 
Users even have a visual map of their seating options and know who else is in that shared space, room, or vicinity.
"If I'm going to be in our San Jose offices, and haven't been to San Jose before; I can gain a sense of what the layout of the space is like and even take a tour through that building."
The same goes for booking a conference room. Experience-wise, it is sort of like a virtual reception or kiosk for Zoom Rooms, where users can make reservations. It can also tell you when someone is in the lobby and can lead them to you without having to leave the space you've already set up in.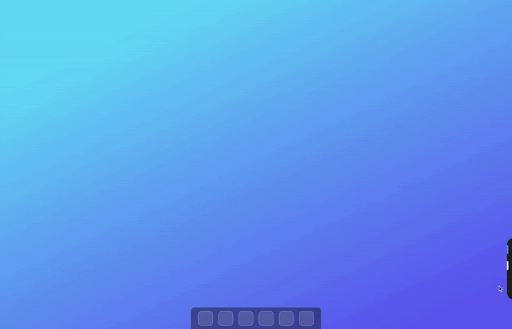 Zoom users simply undergo a quick authentication to bring their personal Zoom experience to any Zoom Rooms or Zoom Phone appliance via a QR code. The experience does require Zoom to leverage customer data, but users can opt-in or out as they see fit. I am told that no private conversation data are used. 
Zoom hopes to eliminate that generic feeling associated with hotdesking. If you have to move around, your experience should be the same at every workstation – Zoom's philosophy.