The contact center industry holds an incredible amount of promise in the form of revenue for anyone with a differentiator. According to Grand View Research, the global contact center market will reach $100 billion by the year 2028. They also think that it could grow at a compound annual growth rate (CAGR) of 21.1% between 2021 and 2028, hinting at a lot of room for competition and the potential for decent profit margins.
→  The State of the Contact Center [Explained in 33 Stats]
Enter one of the most ubiquitous and one of the highest-grossing companies on the planet – Amazon, more specifically, AWS, or Amazon Web Services. Amazon Web Services provides on-demand cloud computing platforms and APIs on a pay-as-you-go basis.
Though we do not often think of Amazon as one of the leaders in the contact center space, if you look at what they are doing over at AWS – you will quickly spot where the real focus is for AWS. No, not just data centers, but in communications APIs for artificial intelligence, and yes – even a full-fledged CCaaS offering – Amazon Connect.
I sat down with Pasquale DeMaio, Head of Amazon Connect, to chat about what sets its offering apart from the competition. He shared that with Amazon Connect – users gain access to many game-changing functionalities out of the box.
"In many instances, anyone can set up a contact center in a matter of a few clicks."
He noted that it is the kind of appeal that impacts businesses like many airlines that DeMaio said; had to upscale due to higher than usual volumes of calls, messages, emails, Tweets, etc., over the past year and a half or so. It seems that the pandemic created the perfect storm for a pop-up-style contact center in many ways.
An Amazon Connect Customer Case Study
DeMaio told me about one of its customers – the Rhode Island Department of Labor. The government body would receive, during a "normal" week – 1,500 calls. At some point during the pandemic, he shared, "They got overwhelmed with calls, over 1.5 million in a week." Agents could not handle the skyrocketing call volume, which is where Connect shined.
Via rapid deployment of bots, IVR, call routing, callback, and other call center technology – Amazon Connect helped onboard new agents and manage the newfound uptick in calls. Today, thousands of enterprises use Amazon Connect, with DeMaio further sharing a breakdown of those organizations. Many are contact centers between ten and 100 users, with a sizable amount sitting above 10,000 users.
Capital One and Intuit have signed deals with AWS to outfit its contact center employees with Connect technology. In March/April 2020 DeMaio said AWS set up over 5,000 contact centers on Amazon Connect. I could not pry out more information regarding user count/seat numbers – as these are not data AWS track/give out.
Democratizing & Simplifying the Contact Center with Machine Learning
AWS has made a "huge" investment in machine learning, which you can see in offerings like Contact Lens for Amazon Connect. It can provide real-time insights so agents/management can improve customer experiences based on real-time customer feedback.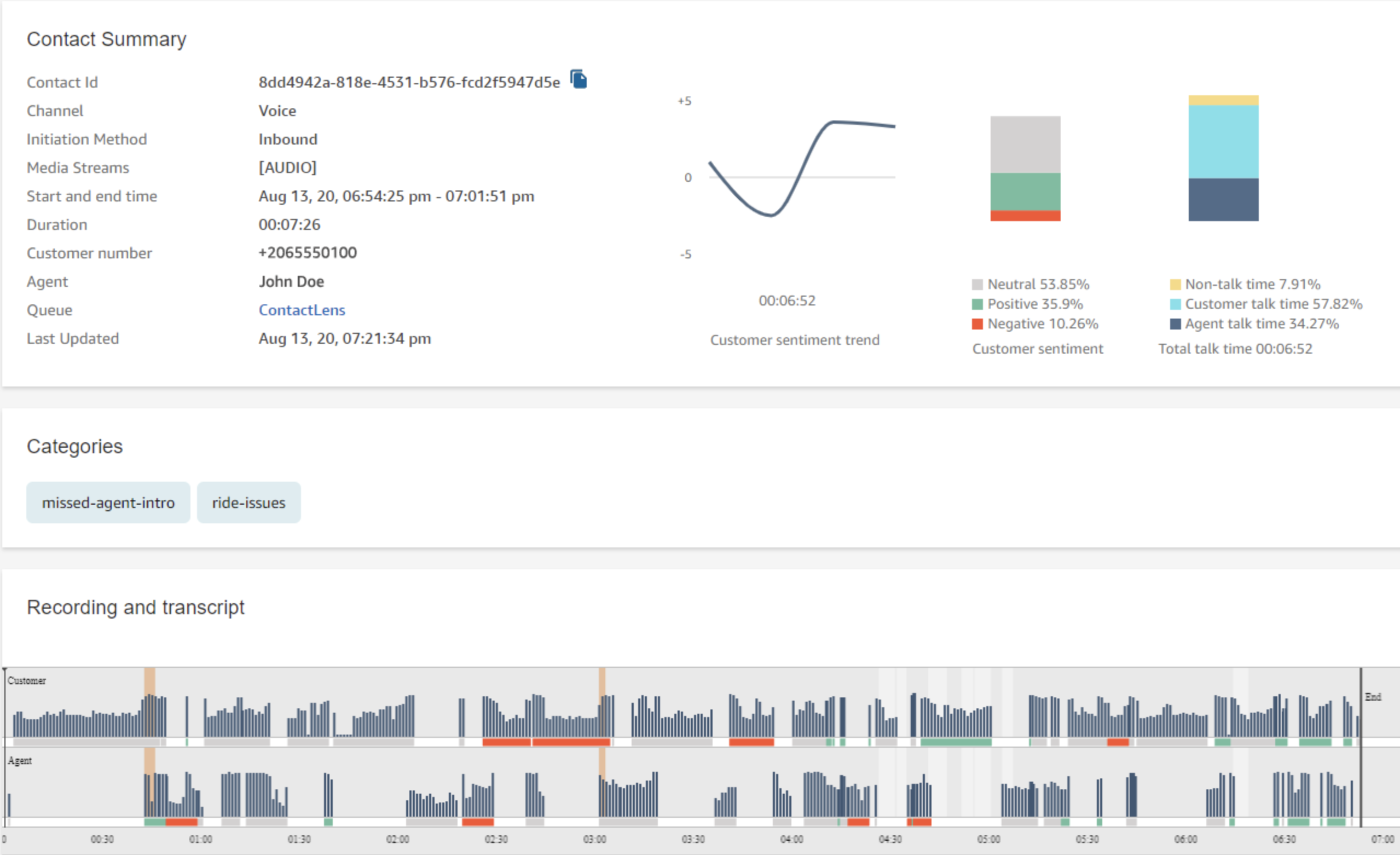 Contact Lens is so intelligent – it can interpret customer sentiment based on pitch/tone during a call and offer real-time insights/ways to enhance the customer experience. AWS showcases one of its countless artificial intelligence applications with its text-to-speech engine, natural language understanding technology, and more. It is all more or less similar to Amazon Alexa in functionality. Now imagine giving this kind of power to customers.
"The same technology applies to their contact center – resetting passwords or checking balance no longer requires an agent."
Solving another fundamental issue of identity theft and fraud, Connect has biometric authenticating capabilities. It essentially lets you know if the customer is who they claim to be on the other line. This can lead to better and faster resolutions.
"Automation has a bad name historically, but now you have this great experience where you can authenticate and predict why someone is calling."
Not to Forget the Self-Service/Provisioning
Self-service is one of the final elements that help AWS democratize the contact center through Amazon Connect. As with many other comparable UC/UCaaS systems, admins can configure systems, push out updates, and do pretty much anything else they might need to do to keep things firing on all cylinders.
It essentially provides businesses of all sizes with access to enterprise-grade contact center solutions at an affordable price. With some sound advice on building out a comprehensive contact center, DeMaio summarized:
"You can get things up and running in five minutes, but you are constantly making adjustments to "delight customers." This is something you want to do overtime, but first, take care of immediate needs like simply having the ability to answer calls."
Five Years of Amazon Connect
Five years after being generally available – the CCaaS offering is still relatively invisible to the mainstream, yet it seems to be helping the companies that leverage its robust ML features stay ahead of the curve. With the attraction of paying per seat, and the ability to scale up and down as needed, it is easy to see why a growing number of contact centers migrate over to the cloud contact center services of Amazon Connect.
A Forrester research report, conducted on the total economic impact of Amazon Connect and found that the three-year financial impact of Amazon Connect is fairly sizable. According to the report, it helps customers significantly with cost savings, increased revenue, and improved agent productivity. Some of the study's key results conclude that customers who use Amazon Connect experience:
A reduction in cloud technology costs – $4.3 million
Subscription cost savings – 31%
Agent labor savings stemming from reduced call volumes – $4.6 million
Increased operating income to the tune of $2.6 million
Enhanced customer experiences
Return on investment (ROI) – 241%
As the CCaaS market grows in value and so do the number of offerings out there; Who will come out on top? There are many good call center software offerings out there – but what will determine success or lack thereof? It will likely come down to those who have the willingness to innovate (non-stop). That is to say – staying on the bleeding and not cutting edge of the development spectrum.