Virtual learning environments skyrocketed during the COVID-19 pandemic–but even with schools back in session, educators continue to rely on SaaS applications to enhance remote, hybrid, and on-campus classrooms.
VoIP phone systems for schools offer much more than just voice telephony–and infinitely more than traditional phone systems.
In this post, we'll walk you through the most important school phone system features, their benefits and popular use cases in the education sector, and the providers offering them. We'll also cover the corresponding VoIP equipment and hardware that takes all types of educational institutions and experiences to the next level.
Jump to ↓
Essential VoIP Features For Schools
The best VoIP phone systems for schools and educators are packed with features designed to enhance on-campus and remote learning experiences, increase student engagement, and support classroom management.
School phone systems should also facilitate effective communication between teachers and parents, foster student-to-student collaboration in and outside of class, and streamline homework assignments and grading processes.
Finally, VoIP (Voice over Internet Protocol) and UCaaS platforms should prioritize functionality and features focused on student safety and accessibility.
The top 10 VoIP features for schools and educational facilities are: 
1. Video Conferencing with Breakout Rooms
Remote, on-campus, and hybrid students all benefit from the virtual classroom experience online video conferencing creates.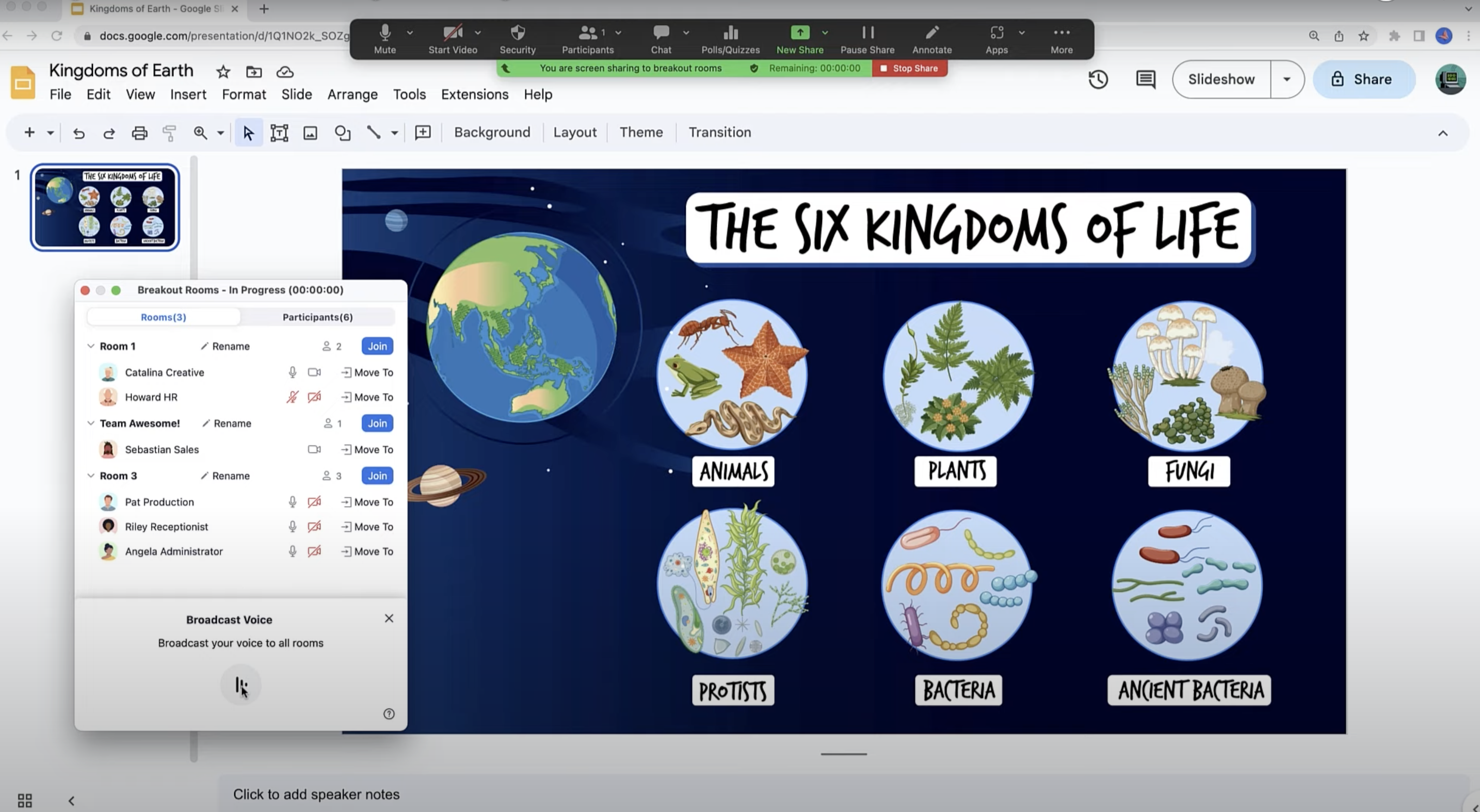 During a video conference, teachers can make and share slide presentations, adjust screen views to monitor students, take classroom polls, use screen sharing to explain complex topics, share files, access the collaborative digital whiteboard, and allow for in-class chat messaging.
Other key web conferencing features for schools include on-screen emoji reactions for nonverbal feedback, virtual hand raising, custom backgrounds, file or screen sharing annotation, meeting recording, and third-party integrations to access additional educational tools during class.
Breakout Rooms let teachers break students up into virtual small groups during an active class section, ideal for brainstorming and group project work. Teachers can randomize or pre-assign these groups, drop in on student breakout sessions, and return all breakout groups to the larger classroom video conference.
Aside from virtually recreating the in-class experience, common video conferencing use cases for educators include:
Parent-teacher conferences
Extra-help sessions and tutoring
Faculty, staff members, PTA, school districts, and school board meetings
School assemblies
Monitored remote testing environments
Some extracurricular/after-school activities like quizbowl, virtual study hall, etc.
Virtual science fairs, job fairs, and school tours
2. Virtual Whiteboards
Online whiteboarding provides a virtual space for students and teachers to draw, take notes, brainstorm, share and pin files and links, use digital laser pointers, and collaborate in real-time using color-coded pen tools.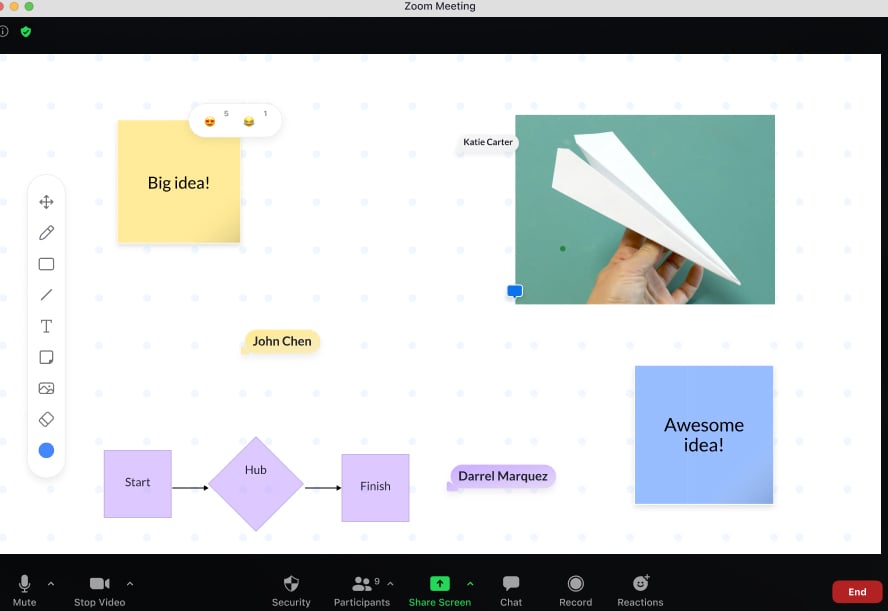 Digital whiteboards take traditional classroom whiteboards to the next level, allowing educators to share, edit, and download whiteboards, view board history, add sticky notes, and share interactive content with students.
These whiteboards aren't just an excellent teaching aid–they also increase student engagement, provide complete copies of classroom notes for absent students, and allow students, parents, and other education professionals like superintendents and principals to review classroom activity.
3. Third-Party Integration
Even with the advanced features PBX phone systems provide, schools still use a variety of additional education applications and classroom-specific software.
When evaluating VoIP platforms, ensure they integrate with industry-specific education software like Blackboard, Canvas, Nearpod, ClassDojo, Dyknow, Scribble Together, Teachforce, ClassBug, Wooclap, and Toddle.
Third-party integrations allow teachers and students to access all educational applications in one place, eliminating distracting app switching and simplifying the school administration process.
These applications can help with quizzes and tests, homework assignments, attendance taking, classroom management, teacher-parent communication, lesson planning, and more.
4. File Sharing and Virtual Faxing 
File sharing allows students/teachers to digitally share classroom assignments, permission forms, homework, report cards, or anything else with each other–no email required.
Files can be shared directly in video calls, via chat messaging or user dashboards, or to the school's online portal.
Because all files are stored in the user's searchable file repository, replacing lost homework, reviewing/sharing class notes, teacher or peer editing, and submitting assignments is easy.
Virtual faxing sends/receives faxes online as opposed to via machine. Within the education sector, virtual faxing is ideal for collecting electronic signatures, filling out forms, and submitting papers/assignments.
5. Conference Calling
Much like video calling, audio conference calling provides an opportunity for students, faculty, parents, and other staff in the education system to connect in real time.
Because VoIP providers offer free unlimited domestic calling on any device with an Internet connection, participants can connect on the go, on smartphones or desktop computers, and speak for as long as is needed.
Popular use cases for conferencing calling in education include audio-only classes, parent-teacher conferences, and faculty meetings.
6. IVR and Call Routing
IVR (Interactive Voice Response) is a virtual receptionist using pre-recorded call menus, touch-tone responses, and voice recognition to direct incoming calls to the correct person/department.
Admins can choose from a variety of call routing strategies to streamline the day-to-day call forwarding process, including skills-based, language-based, and relationship-based routing.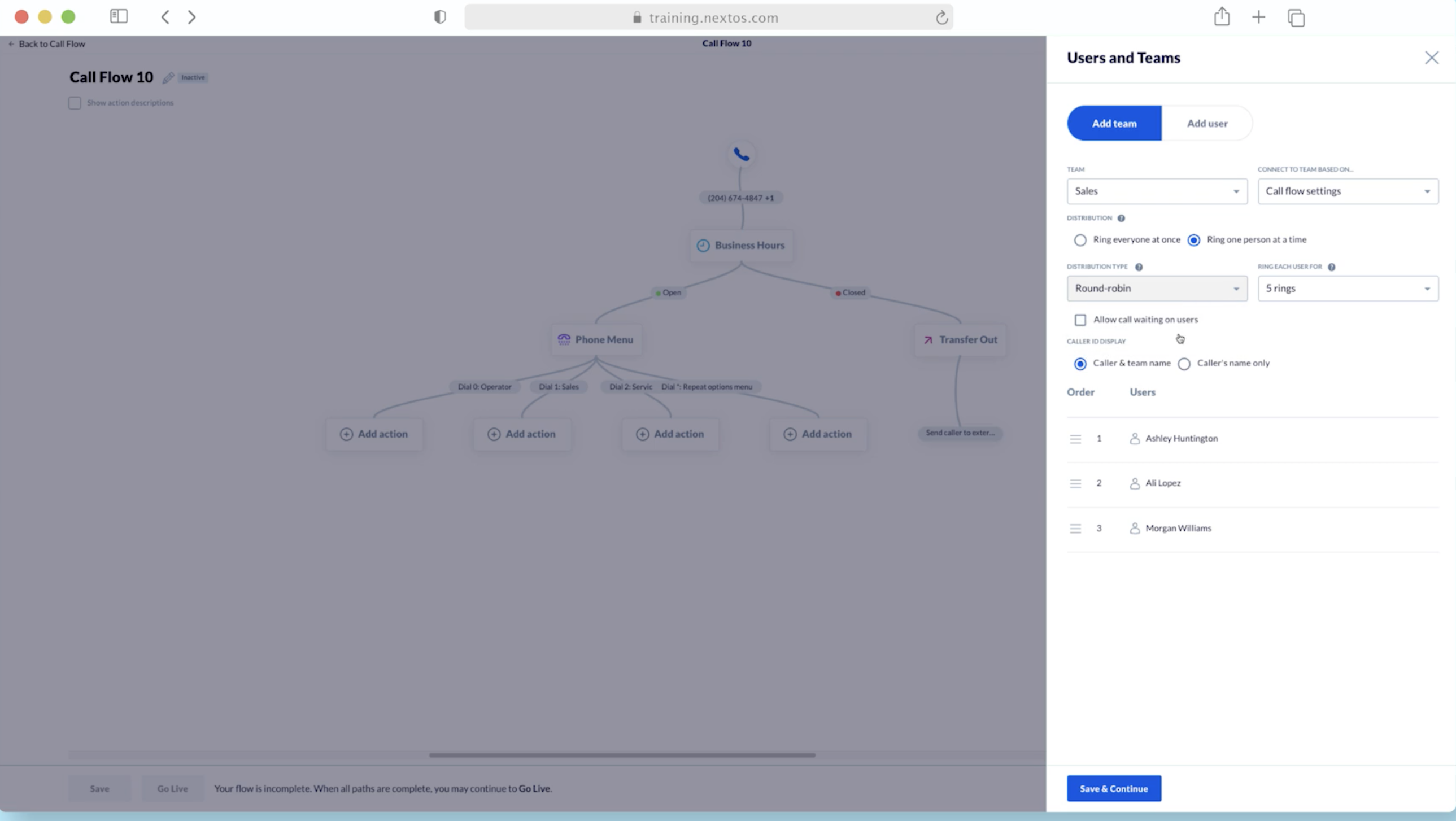 This saves on communication costs, provides quick and easy student support, and keeps admin staff free.
Popular IVR and call routing use cases for education include:
Class enrollment
Collecting student contact information and other data
Student/teacher polling
Outbound IVR for automated emergency situations,  school closure
Accessing test score updates, grades, attendance records, etc.
Calling out sick
Scheduling appointments (student healthcare, school tours, faculty meetings, parent-teacher conferences, etc.)
7. Mobile App Access
Like it or not, students today are notoriously attached to their smartphones.
The right school VoIP service leverages the popularity of cell phones, laptops, and tablets to connect with students via mobile app versions of VoIP phone systems and classroom software.
Students can attend virtual classes or field trips, work on assignments, collaborate via whiteboards, study for tests, message other classmates, and access all their saved notes/files directly in the smartphone app. Remote students can choose their ideal learning environment and feel more connected to their virtual classmates–essential for strengthening student mental health.
Parents can use education apps for iOS and Android devices to exchange text messages and emails, request report cards or photos of in-class activities, and more.
Admins and professors can upload grades/attendance sheets from anywhere, edit homework assignments on the go, and create lesson plans on their preferred devices. This saves time, prevents teacher burnout, and improves collaboration and communication between school employees.
8. Accessibility Features
Especially for educators, choosing a phone system with built-in accessibility features is non-negotiable.
Video meeting accessibility features like live meeting captioning, screen reader alerts, real-time translations, and audio/screen recording with transcriptions allow all students to equally participate and thrive in a classroom experience.
For school telephone systems, multilingual IVR, phone call recording and transcription, and voicemail-to-email create an equitable experience.
9. E911 and Emergency Services
Unfortunately, even the most secure campuses sometimes fall victim to violence, security threats, natural disasters, or other emergencies.
Enhanced911 (E911) links a school's physical address/location to its VoIP phone system and phone numbers, so 911 dispatchers know exactly where to go in the event of an emergency.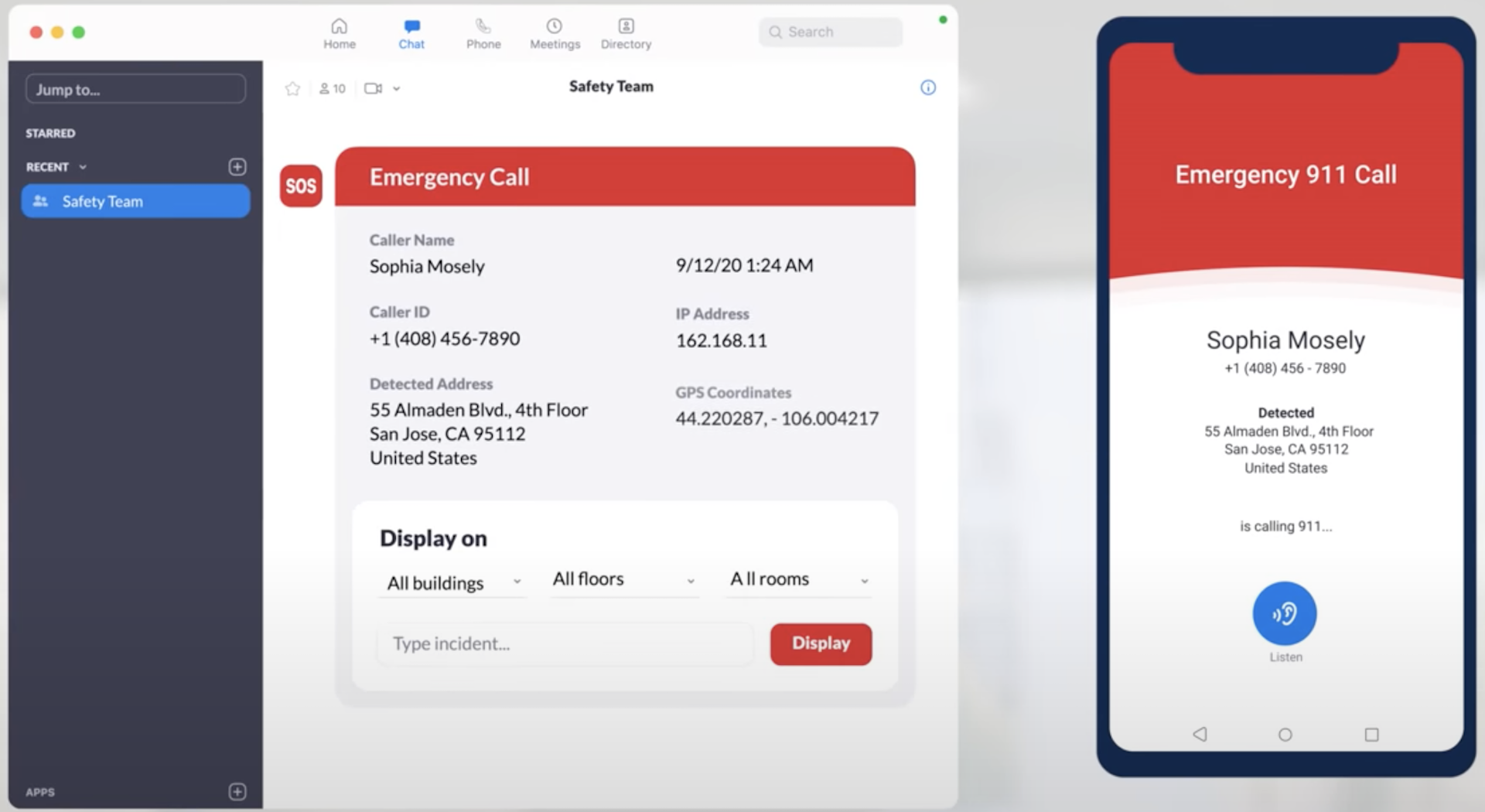 School VoIP phone service can also send automated outbound text message alerts to everyone on campus–and their emergency contacts–during a crisis.
These emergency safety features offer educators, students, and families peace of mind, protection, and preparedness. They also provide all those impacted with access to the same information in real time, cutting down on chaos and ensuring students follow only trustworthy instructions.
10. Security and Provider Support
School VoIP service security features can prevent student cheating, keep the admissions process fair, protect student and teacher privacy, and cut down on classroom disruptions.
VoIP security features for the education sector should include:
Password-protected audio/video meetings, virtual waiting rooms, meeting locks
Add/remove, mute/unmute, enable/disable screen sharing for video conferences
Caller ID/phone number blocking
End-to-end encryption, 24/7/365 network monitoring
SSO, multi-factor authentication, login monitoring/suspicious activity alerts
Excellent provider support and network reliability are equally essential, and should include: 
Minimum 99.9% uptime guarantee, international points of presence, network redundancy
24/7 support across multiple channels (email, phone, live chat, online ticket portal, etc.)
Employee and student software training (live/on-demand webinars, tutorials, online knowledge database, etc.)
VoIP Equipment and Hardware For Schools
VoIP equipment is just as important in a learning environment as an effective phone system.
Below, we'll outline key school VoIP hardware, corresponding features, and top hardware as a service provider and models.
VoIP Phones
IP hard phones entirely outperform traditional landlines, offering HD voice, built-in video conferencing monitors, LED color touch tone screens, handsets, Bluetooth and USB ports, WiFi connectivity, Heads-Up Display (HUD), and more. VoIP phones can be used individually as desk phones or as conference phones.
Popular VoIP phones for schools include:
Cisco IP Phone 8865: Desk phone with wideband audio codec, 720 HD built-in video, 5 programmable lines, expansion modules
Poly Trio C60: Smart conference phone with noise cancellation and voice activity detection, 5-inch color LCD touchscreen, on-screen virtual keyboard, one-touch meetings
Yealink T46U:  Desk phone with dual USB ports, 10-way conferencing, 4.3-inch color screen, 60 programmable keys, Smart Noise Filtering/Acoustic Shield
Speakers and Microphones
Classrooms benefit from speakers/microphones with built-in intercom systems for emergency alerts and multi-directional microphones.
Popular VoIP speakers and microphones for schools include: 
Grandstream GSC3510: Microphone and speaker with 2-way intercom, 3 directional microphone, push-to-talk, HD acoustic chamber and echo cancellation
Algo 8190 Classroom Speaker: Speaker with embedded microphone designed for schools, includes digital clock display, LED visual alert/strobe light, call button, wideband codec
Shure Stem Classroom Conferencing Kit: 10-item audio optimization kit for schools with 100 built-in microphones, Google/Zoom compatible speakers, device hub to connect up to 10 audio endpoints
VoIP Webcams
Classroom webcams with HD video simplify virtual classroom monitoring and management and ensure students can clearly see notes and other key on-screen information.
Popular VoIP webcams include:
Logitech C922 Pro Stream Webcam: 1080p, autofocus, built-in omnidirectional microphones, swivel mount table tripod, Advanced Capture Software for video sharing
Logitech Brio 4K Webcam: Compatible with Zoom, Microsoft Teams, Google, Macbook, PC, 4K HD and 5x HD zoom, RightLight auto light adjustments, 3 field of view presets, 90fps
Razer Kiyo 1080p Webcam: Adjustable brightness ring, built-in microphone, autofocus
Custom Conference Rooms
Custom Conference Room Hardware as a Service creates bespoke smart classrooms ideal for remote or on-campus learning. All hardware is available for rent or purchase directly from the provider, which also manages the installation and setup process. VoIP conference room hardware includes interactive whiteboards, digital signage and kiosks, webcams and microphones, built-in room speakers and video monitors, and more.
Zoom Rooms are by far the best conference rooms, and can be customized with the Workspace Designer tool to include:
In-room meeting controls
Interactive whiteboard displays with screen/content annotation
Scheduling display monitors with room reservations, school-wide broadcasts, digital signage for E911, wireless display sharing, and meetings
3 premade custom classroom layouts to choose from
The Best VoIP Phone Systems For Schools 
Zoom, Nextiva, and RingCentral are our picks for the top 3 school cloud-based VoIP phone service providers.
They all offer unlimited voice calling, text messaging, video conferencing, and advanced collaboration tools that serve as engaging and effective learning aids.
Zoom
Zoom easily offers the best VoIP phone system and virtual classroom environment for fully remote, on-campus, and hybrid schools.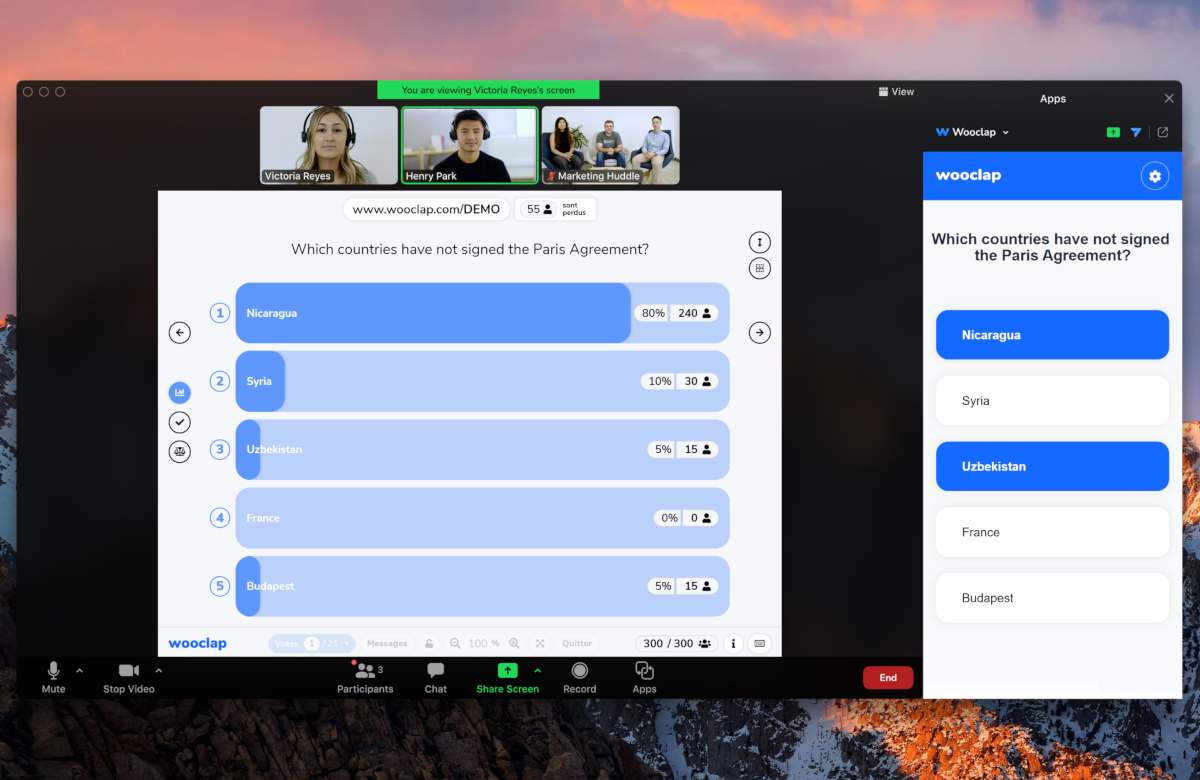 It offers a cloud-based virtual phone system, video conferencing platform, collaboration suite, high-level third-party integrations, chat messaging and email, and even customized classrooms and hardware via Zoom Rooms.
Zoom is ideal for colleges or K-12 schools with a large student body, online learning institutions that want to closely replicate the in-class experience, and educators ready to upgrade to an advanced business phone system to automate administrative tasks and emergency alerts.
Key Features
Zoom Meetings: 30-hour video conferencing with up to 10000 attendees, breakout rooms, screen sharing with co-annotation and remote control, waiting rooms and host controls, in-meeting/persistent team chat, file sharing, interactive whiteboarding, automated captions, live meeting translation, emoji reactions, in-meeting quizzes and polls, participant avatars, live streaming, filters, custom views, etc.
Zoom Phone: Unlimited inbound/metered outbound voice calls, call recording, real-time emergency response center alerts, call prak, DID, toll-free numbers, extensions for phone lines, hot desking, desktop/mobile call flip, voicemail transcription, unlimited IVR and auto attendants, ACD and call queuing, call barge/monitor/whisper, business hour routing and advanced routing strategies, Dial by Name Directory, intercom and paging, etc.
Third-Party Integrations: In-meeting and in-dashboard integration with Live Coursera, WooClap, Kahoot!, Scribble Together, Mentimeter, Moodle, Attendance Taker, Schoox, STAR Balance, Equal Time, and more
Pricing
Zoom is one of the rare phone solutions offering discount pricing for educators, as well as packages specifically designed for campus-based and virtual schools.
Zoom for Educators plans include:
Zoom Meetings ($1800/account): Includes unlimited video meetings for 300 participants, breakout rooms, remote screen control and screen share, meeting recording+transcription, SSO, chat messaging, whiteboard and file sharing, etc.
Zoom Webinar ($3400/year/user): Ideal for large schools/universities, includes video meetings for up to 1,000 participants, meeting/class registration and polling, orientations, online course broadcasting, alumni engagement, etc.
Zoom Phone ($180/year/user): Includes Zoom Phone, Zoom Meetings, team collaboration tools, SMS/chat messaging, audio conferencing, plus Nomadic E911 with emergency alerts
Zoom Rooms ($499/year/user): Custom-designed physical classrooms with interactive hardware like whiteboards with co-annotation, web cameras, and speakers, unlimited digital signage and scheduling displays, and more
In addition to the above plans, Zoom users can add on:
Audio Conferencing ($1200/year)
Additional Cloud Storage (from $120/year)
Large Meetings (from $600/year for 500-1,000 participants)
RingCentral
RingCentral offers a complete school communication system combining unified communications, a cloud phone system, video conferencing, virtual faxing, SMS, and collaboration tools into a unified platform.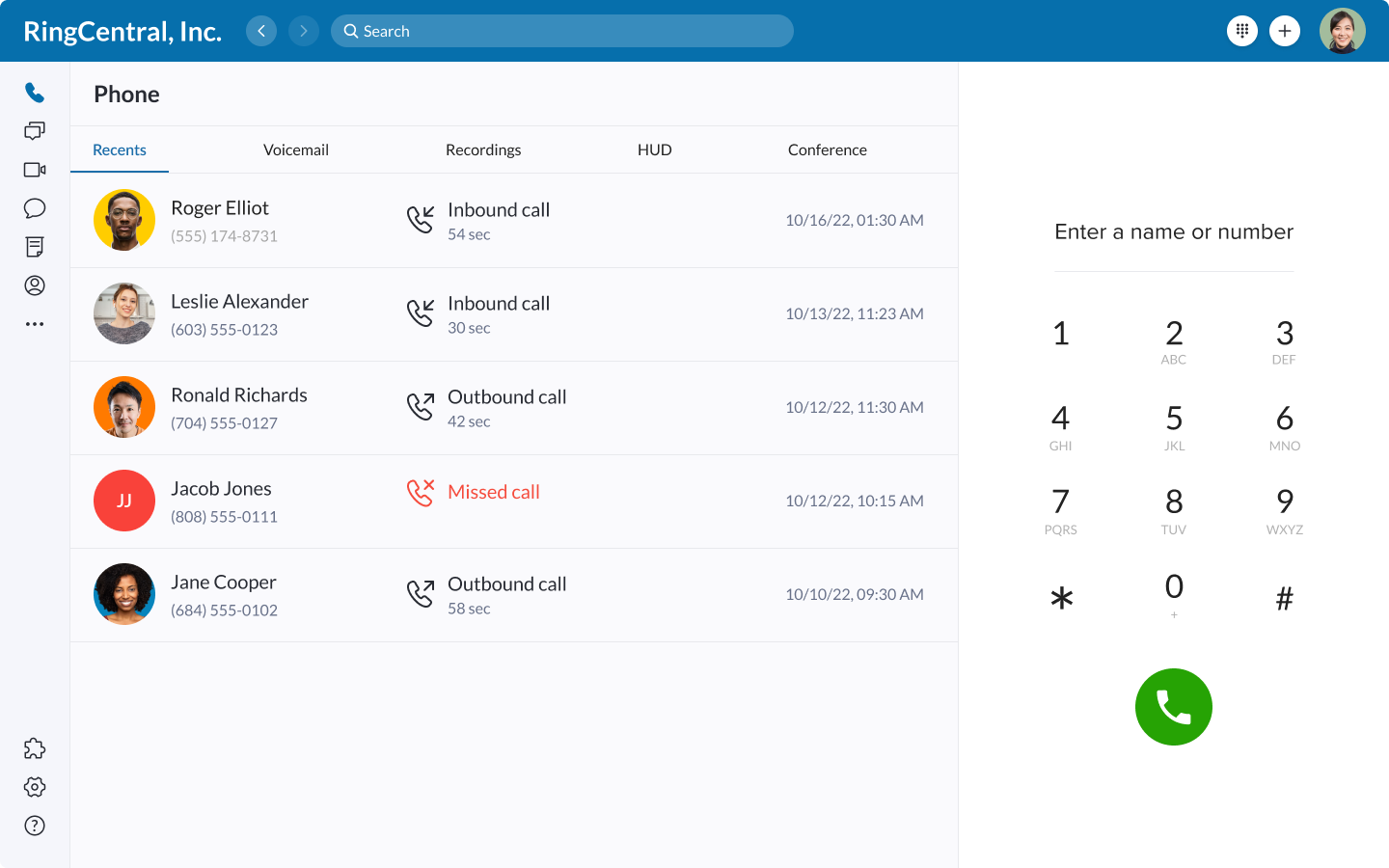 It's also known for its AI-powered features, which include automatic noise cancellation, live meeting transcriptions and closed captioning, and post-meeting summaries. This makes RingCentral an equally good fit for online classes and school administration teams, especially those with a high daily call volume.
RingCentral is ideal for contacting alumni, fundraising campaigns, and virtual learning environments with a fully remote, geographically diverse faculty/staff.
Key Features
RingCentral's top features for schools are:
Enhanced Business SMS: Two-way SMS/MMS messaging ideal for sending campus-wide alerts/updates and alumni engagement, includes campaign management features,  pre-built SMS integrations, and campaign analytics
Multilevel IVR and Advanced Call Routing: Up to 250 call menus/submenus, location-specific IVR menus, Dial by Name/DID, graphical call flow editor, call forwarding, ring groups, business hour routing, longest idle routing, simultaneous ring, fixed order routing, Caller ID-based routing
AI Meeting Inights: Uses Conversational Intelligence to automatically create a post-meeting recap including full transcripts with speaker differentiation, video highlight reels, time-stamped sharable URLS, written meeting summaries, keywords, action item suggestions, etc.
Pricing
RingCentral offers 3 Intelligent Phone System plans:
Core Plan ($20/user/month): Includes unlimited cloud calling, 100 toll-free minutes/month, Enhanced Business SMS, voicemail transcription and voicemail-to-email, multi-level IVR, Caller ID, on-demand call recording, user extensions, unlimited audio conferencing, 100 video meeting participants with whiteboard and breakout rooms, team chat, AI meetings insights/transcriptions, collaborative notetaking, unlimited video recording
Advanced Plan ($25/user/month): Adds 1000 toll-free minutes/month, adnvacnced call queueing and call routing, unlimited virtual faxing, automatic/on-demand call recording, advanced call monitoring with barge/whisper, hot desking
Ultra Plan ($35/user/month): Adds 10,000 toll-free minutes/month, 200 video call participants, unlimited file, message, and recording storage, advanced analytics
Nextiva
Nextiva is a VoIP phone and UCaaS platform that combines voice and video calling, team collaboration tools, SMS, and chat messaging within the unified NextivaONE app for desktop and mobile.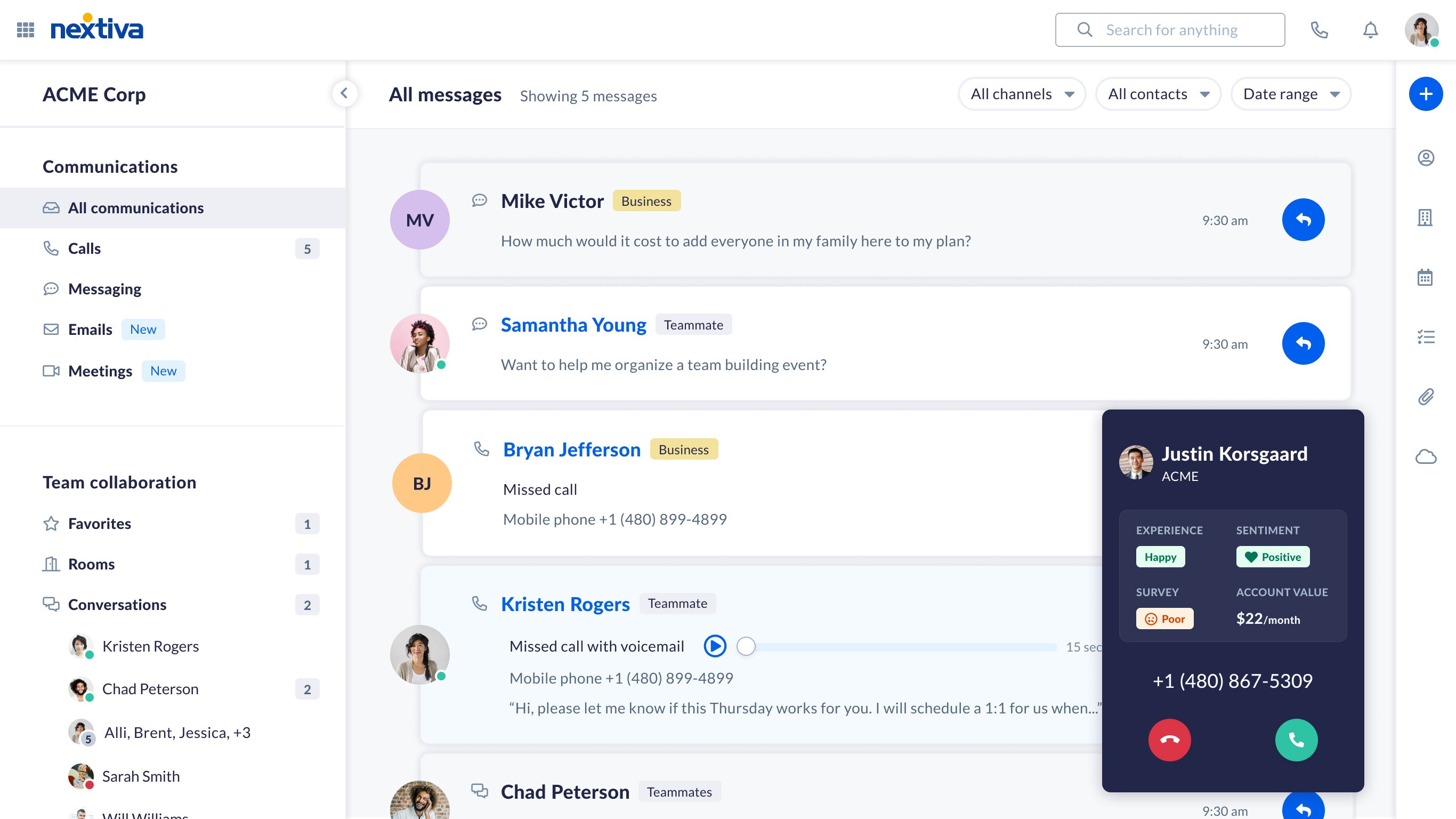 Ideal for small school administration offices, online tutoring sessions, or certification courses, Nextiva provides educators and staff with a basic, easy-to-use virtual phone system.
Students will benefit from classwide chat messaging with file sharing, unlimited virtual faxing, and click-to-call video conferencing. Education administrators can use Nextiva IVR (with an optional Conversational AI add-on) to automate tuition payments and student data collection, efficiently route inbound calls, and more.
Key Features
Nextiva's key school VoIP solutions features are:
VoIP Calling: Free local and toll-free phone number, IVR auto attendant with advanced call routing and call forwarding, extension dialing, call queueing, call transfer, Priority Alerts for calls, CRM call pops, Caller ID, voicemail forwarding, and Conversational AI with custom pricing
Video Conferencing: Desktop or mobile devices no-download HD video conferencing, on-demand and scheduled video calls, unlimited number of 45-minute meetings, in-meeting chat, 2 active collaboration rooms, calendar integrations, file sharing and screen sharing, live streaming
Team Collaboration: In-meeting and persistent chat messaging with threaded reply, user tagging, calendar integrations, screen and file sharing, group and private chats, third-party integrations, group channels, 1:1 messaging
Pricing
Nextiva offers 3 hosted VoIP Business Communication plans:
Essential Plan ($18.95/user/month): Includes unlimited local/toll-free voice calling, basic auto attendants, call groups, hold music, unlimited virtual faxing, mobile app, 45-minute video calls with meeting recording,  team chat and collaboration tools, voicemail to email, MS Outlook/Google Contact integrations, 24/7 support
Professional Plan ($22.95/user/month): Adds unlimited audio conferencing for 40 participants, multi-level auto attendants, 1000 SMS/MMS messages per user, CRM integrations, voicemail to SMS
Enterprise Plan ($32.95/user/month): Adds call recording, voicemail transcription, unlimited conference calling, 2000 SMS/MMS messages per user, advanced integrations, SSO
How To Choose A School VoIP Phone System 
When choosing a SIP or VoIP phone system for schools, consider:
Scalability: Can your phone system evolve with your school, allowing you to purchase individual features, scale up to a higher bundled tier, or add more users?
Compatibility: Is the provider compatible with your most important education applications and existing hardware, or will you have to create an entirely new infrastructure?
Reliability: How long does it take the provider to respond to and resolve a service outage, security issue, or other software malfunction? Is support offered on multiple channels? Is 24/7/365 support available?
Ease of Use: Will teachers, students, and admins be able to quickly learn to use the software? Is the software too complicated for younger students? How much time amnd money will it take to train faculty, staff, and students?
Cost and Value: Does the provider offer a discount for educators and students? How long is the free trial? Are bulk pricing and volume discounts available?