Poor communications cost companies billions. While you are able to curtail this somewhat by increasing employee engagement, taking a look at your communications system is also a smart step.
Communications were once restricted to two copper wire-based networks, ISDN and PSTN. The ISDN-based exchanges use primary rate interface (PRI) connections to handle high video conferencing, but they can't scale for business traffic. PSTN-based exchanges are public telephone networks that use old telephone lines for communications and aren't built for high-speed internet and business communications.
Business VoIP, or voice over internet protocol, has become a core technology for modern corporate communications because it can scale to meet the traffic needs of all that video, voice, and data. In order to add file sharing, chat, and video conferencing features, businesses need the protocol of SIP calling and SIP trunk.
Jump to ↓
What is SIP Calling?
SIP calling connects offices and their customers without using traditional phone systems. Session Initiation Protocol (SIP) allows organizations to rely less on hardware solutions like PRI and PSTN. Using less hardware and switching to an internet-based way of communicating will help to reduce costs and keep business running smoothly.
When SIP calling is being used for a meeting or other communications, it uses a SIP trunk, which is a virtual connection. With SIP, making local, long-distance, and even international calls using the internet is possible. This protocol will connect you and the other meeting participants to a single channel and it will close the connection when the conversation is complete.
SIP calling allows for multiple communication sessions at once without any restrictions. SIP calling is designed to be used to call others and send virtually any kind of non-voice communication across the internet. It's used to share files, organize conferences, and chat, making it an ideal calling solution for small businesses and startups.
What is a SIP Phone System?
SIP phone systems require IP desk phones and handsets that connect to the internet to reach PSTN networks. SIP calling requires a SIP handset, but these handsets won't require a connection to a computer; they can be wired directly to a modem. Voice over IP calling, on the other hand, will require that the VoIP phone be connected to an active computer with an internet connection. SIP is used in VoIP calling since it's the protocol that opens and closes the connection.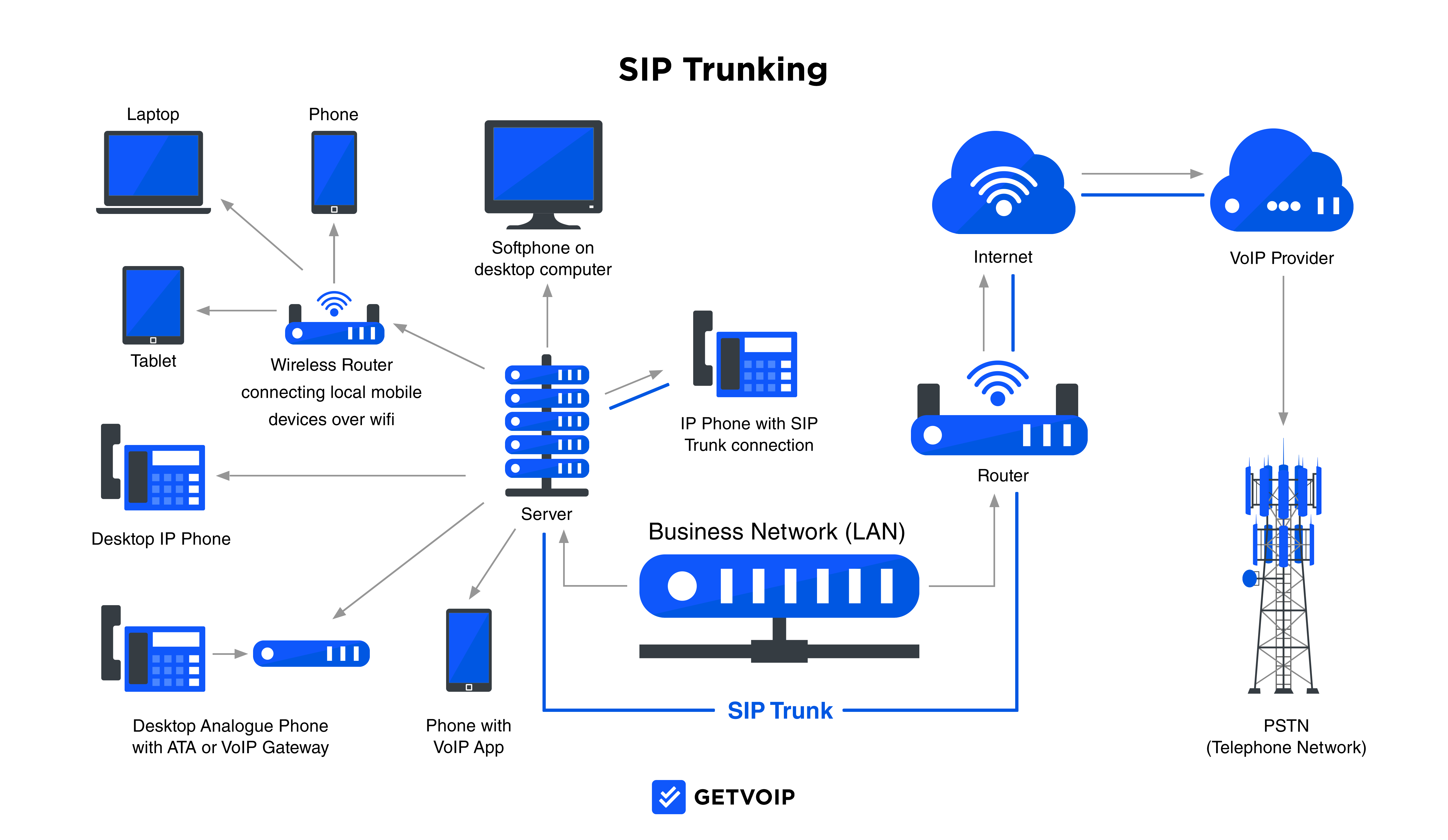 In some regards, SIP office phone systems are very similar to standard phone lines; they just require a wired connection to work. You can even wire a SIP device into a computer that isn't turned on and still make and receive calls. Calling this way also grants basic features like caller ID and voicemail, and if you don't have physical SIP phones and handsets, there are plenty of softphone solutions to use.
What's Required for SIP Calling?
SIP calling uses a complex internet protocol to initiate and terminate SIP sessions at the appropriate time. Let's take a look at some of these baseline technologies to get a better idea of how SIP calling works.
SIP Addresses
Since SIP calling is designed to allow information to travel from one location to another, you will have to have a SIP address or an endpoint so that the message has a destination. A SIP address can be linked to a specific individual or to a computer application that makes and receives calls like you would find in a call center. Once the call is established, the protocol will also let you know if another party enters the connection during the session, and end the call by cutting off the connection to the address.
SIP Codecs
SIP packets are coded so that they are sent over the net as audio signals. There are a few different SIP codecs, but the most common are G.711 and G.729.
G.711 is an uncompressed codec that is used for digital voice data. The quality of the codecs will be better than other options thanks to the lack of compression. It will also take up a lot of bandwidth, so you may not be able to use this codec with simultaneous SIP calls.  G.729 is used when the voice data is compressed. The quality of this message will be diminished slightly, but there's a smaller bandwidth requirement.
SIP Protocols
After the files have been encoded into packets using G.711 or G.729, they are sent using two protocols: RTP and RTCP. RTP is the real-time transit protocol that sends the data using a specialized application layer specifically for audio and video data. Since this is highly specialized for these types of calls, calling and video conferencing are clear and jitter-free.
The second protocol is an extension of the first. RTCP is the RTP transport protocol, and it's designed to provide information about the data packets being sent. The data includes packet counts, round-trip time, and the degree of jitter. Effectively, RTCP works as a quality of service (QoS) feedback technology during SIP calls.
How Does SIP Calling Enable Unified Communications?
SIP calling is a technology that can be used in the contact center or for communications between colleagues. Here are a few of the benefits of SIP calling.
Scale Your Business as Needed
To increase scalability on a PRI configuration, you will need more lines, but PRI is only available in clusters of 23. This adds an additional 22 lines for calling and conferencing that you might not need. You will not need to purchase excess lines before you need them with SIP calling because of the option of purchasing a single line at a time from a SIP provider.
If you have a business that is located at two different addresses, you can have both buildings on the same network. This means that you will only need to use the internet to be interconnected, even if the offices are located geographically far apart. Because of this, the system will be able to be upgraded while adding new features simultaneously.
Budget-friendly Cost Savings
With SIP calling, a company can save on local and long-distance calls alone, but if international calls are made frequently, the amount that a business can save will increase drastically.
For international telephone calls, SIP calling saves your business 90% or more because these calls are often much cheaper than on a traditional phone plan. Some services also have free international calling. Your business will also be able to save money by eliminating excess hardware, multiple networks, and maintenance and installation costs. Trunks only require an IP-enabled PBX SIP server or a VoIP gateway that connects your traditional PBX to the cloud.
Easy Team Collaboration
SIP trunks transmit both voice and data, so you'll be able to incorporate it into a variety of inter-company uses like unified communications. This ties in voice calling, file sharing, instant messaging, and video calls into your company's communications toolkit. VoIP service providers use SIP as a protocol in business phone plans since VoIP calls only work with voice data packets, the core of SIP calling.
Better Call Routing
SIP calling makes it easy to route to mobile phones or other workstations. This will make you more available for customers/coworkers to contact during times when you are out of the office. Call routing keeps from your phone to another employee's extension or smartphone.
SIP Calling Vs. Other Communication Systems
When SIP calling is compared to other communications technologies, you'll see just how much cloud-based contact can save.
SIP Calling vs ISDN Calling
Integrated services digital network is a set of standards that provides voice and data transmission over traditional copper phone lines. Unlike standard analog PSTN, ISDN connections are digital. Both PRI branches, which are commercial, and BRI branches, which are for private homes and small businesses, are two types of ISDN. PRI connections like these are made up of branches that each allow a data transfer rate of 64kbps.
This transfer rate is stable, but with modern connections, it's more than a bit slow. Still, ISDN connections are less prone to packet loss than some other technologies. If you're going to be hosting video conferences, your feeds will experience minimum acceptable jitter and latency.
ISDN connections don't have a single point of service; carriers will require you to pay for both voice and data separately. Also, that limit of 23 branches per trunk really makes ISDN a less scalable solution compared to SIP for calling. 64kbps is also a very low transfer rate compared to modern internet-based service provider technologies like SIP and VoIP, which go as fast as your connection allows.
SIP Calling vs Wi-Fi Calling
Since SIP is based on a protocol that opens and closes connections, Wi-Fi calling is something that you can complete on a SIP trunk. SIP works in conjunction with IP multimedia subset (IMS) technology to allow phones to make calls outside of their carrier network. Android and iOS phones that support Wi-Fi calling will require SIP/IMS technology to tunnel the call through the internet and connect with traditional telephone systems.
Unlike ISDN vs SIP, there's no clear winner in the SIP calling vs Wi-Fi calling debate; Wi-FI depends on the protocol to connect your calls via internet telephony.
SIP Calling Offers Growth With Unified Communications
It's time to stop wasting money on technology that won't scale well with your business as it grows. SIP calling helps reduce unnecessary spending and has better integration with unified communications. SIP calling improves the collaboration efforts of globally-disparate offices and will work well in call center environments.
SIP helps provide a solution to many of the issues a business might have with their communications profile. It also delivers a strong framework for a new business to establish internet-based communications. Since Wi-Fi calling uses SIP to connect devices to PSTN and mobile networks, this technology also becomes very integral to offices that are moving towards a mobile-first way of doing business or are using social distancing to avoid employee illness.
Trying to understand SIP trunking and VoIP? We have guides and resources throughout that help demystify making calls over the internet for your business.