RingCentral and Vonage are two of the most popular Unified Communications as a Service (UCaaS) providers, but they are very different platforms.
Both RingCentral MVP and Vonage Business Communications (VBC)  offer essential business communication and collaboration tools like video meetings, team messaging, call recording, SMS/MMS, and analytics.
In this provider head-to-head, we'll compare Vonage vs RingCentral pricing, features, customer support, and the average user experience so you can find out which one will work best for your business needs.
RingCentral vs Vonage: Overview
This table provides a quick comparison of RingCentral and Vonage.
RingCentral
Vonage
Pricing
$19.99-$59.99/user/mo
$14.99-$39.99/user/mo
Key Features
HD Video Meetings

Real-Time Analytics

Enhanced Business SMS

Team Collaboration

Call Recording

Virtual Receptionist

Integrations
200+ integrations including Salesforce, Gong, Zoho, Zendesk, Hubspot, Marketo and Slack
14 free integrations including GSuite, Teams and Hubspot and 10 paid integrations including Salesforce, Bullhorn and Apptivo
Compatible Phones
Poly, Unify, Cisco, Yealink, Avaya, Polycom
Grandstream, Panasonic, Polycom, Yealink, Cisco
Customer Support Options
Live Chat, Self-Service, and Phone Support
Phone and Self-Service
Best For
Large Businesses and Enterprises
Startups and SMBs
RingCentral vs Vonage: Feature Comparison
Here, we evaluate the quality of available RingCentral and Vonage UCaaS features, declaring a winner for each functionality.
Voice Calling
Both RingCentral and Vonage offer reliable, unlimited HD voice calls in the U.S. and Canada with 99.999% uptime*, business phone numbers, and call management features.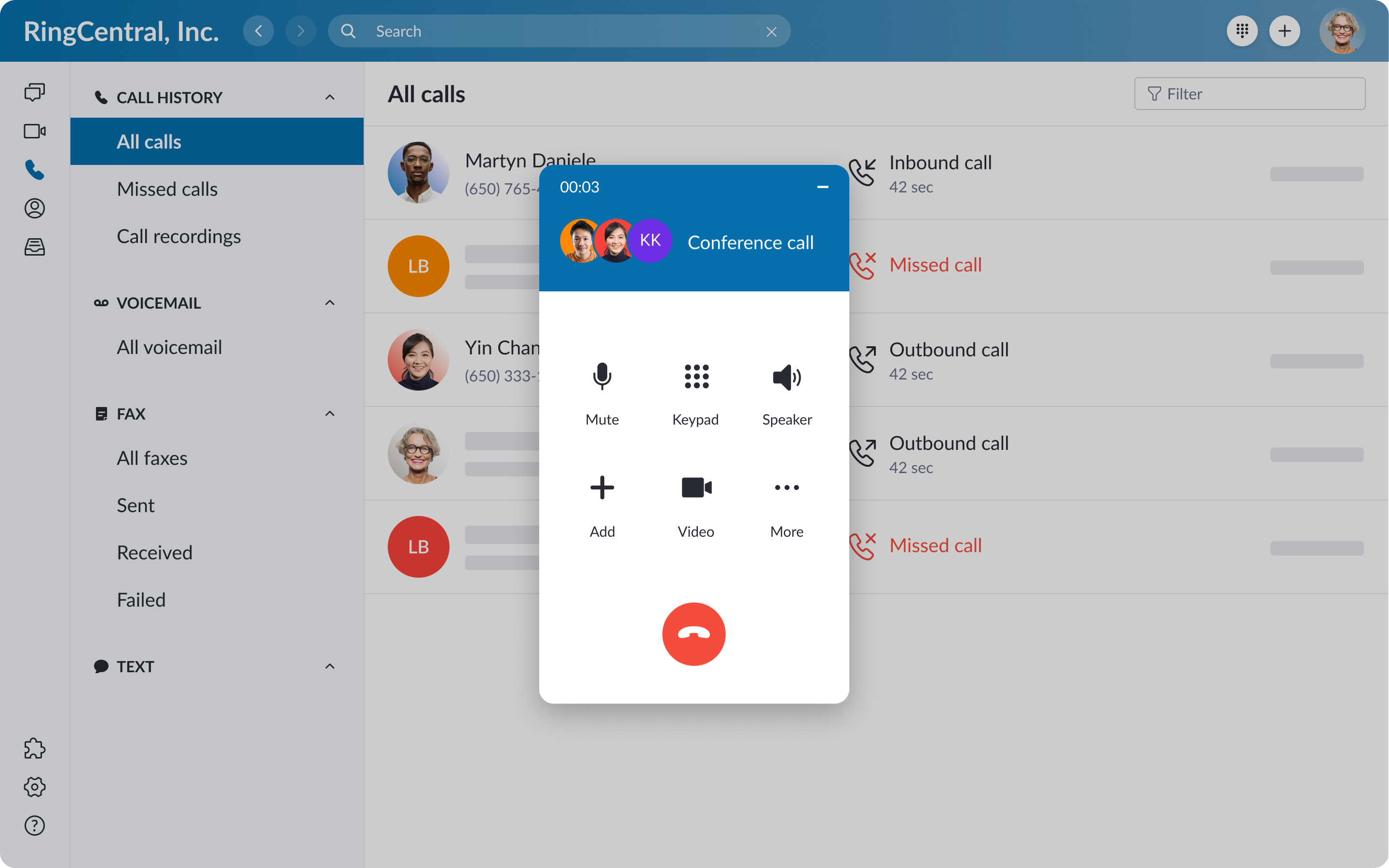 *99.999% uptime reliability based on Vonage's average up-time from Jul'21 – Feb'22
The difference, however, is that while RingCentral includes advanced call management features like Call Queues and Automatic Call Recording in its bundled business phone system plans, Vonage offers them as paid add-ons only.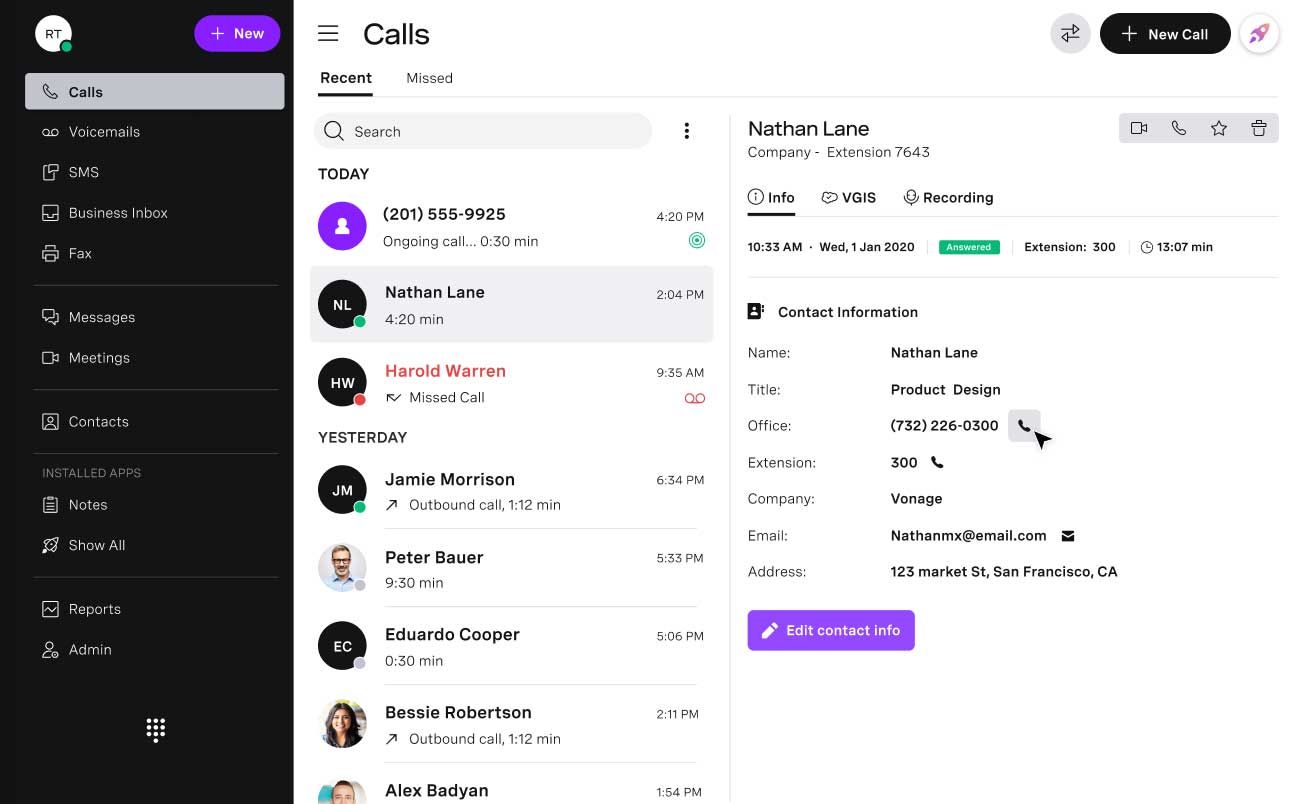 Vonage focuses on user-friendly phone system features geared towards startups and SMBs, while some of RingCentral's calling features are more complex and most beneficial to companies with dedicated IT departments.
Types of Phone Numbers
In all RingCentral plans, every user has a dedicated local, toll-free, or international phone number, with bundled toll-free minutes included in all RingCentral VoIP service plans.
While toll-free numbers are not included in any Vonage plans, Vonage users may add on a toll-free number with separate bundled minutes, or purchase an unlimited toll-free number for a flat rate of $39.99/month.
International and local numbers are included in both RingCentral and Vonage plans, and both providers offer additional local and international numbers as paid add-ons.
Call Management Features
All Vonage and RingCentral plans include essential business VoIP call management features like:
User Presence
Call Forwarding
Call Flip
Call Logs
Voicemail-to-Email
Additionally, RingCentral offers Visual Voicemail in all plans, while this feature is only available in Vonage's highest-priced tier. Both VoIP providers include Multi-Level Auto Attendant in mid-range plans.
When it comes to call queues, call recording, and advanced analytics, Vonage and RingCentral differ.
RingCentral includes call queuing in all its plans, while real-time analytics are limited to Premium and Ultimate pricing tiers.
Vonage offers call queuing as a paid add-on only. While this may be prohibitive to some companies, it prevents small businesses from paying for features they don't need.
Real-time analytics are only offered on Vonage's Contact Center platform, which is a shame as they include cutting-edge AI-based analytics like speech and sentiment analysis. However, the Vonage Contact Center platform can be added on and integrated with VBC if advanced analytics are needed.
On-demand call recording and recording storage within a knowledge base is included in RingCentral's midrange Standard plan and Vonage's top-tier Advanced plan. Automatic Call Recording (based on rules set by the company) is included only in RingCentral's highest-priced plans (Premium and Ultimate) and is offered as a paid add-on to any Vonage plan.
Winner: Vonage
While both platforms provide solid voice functionality and advanced calling features, Vonage offers more flexibility and customization.
Video Calling
RingCentral Video Meetings allow for up to 100 video participants and unlimited minutes in the Standard plan and up to 200 video participants in the Premium and Ultimate plans. If larger meetings are needed, licenses for up to 500 video participants can be purchased and a RingCentral Webinar upgrade will enable meetings of up to 10,000. Video meetings are unavailable in the Essentials Plan.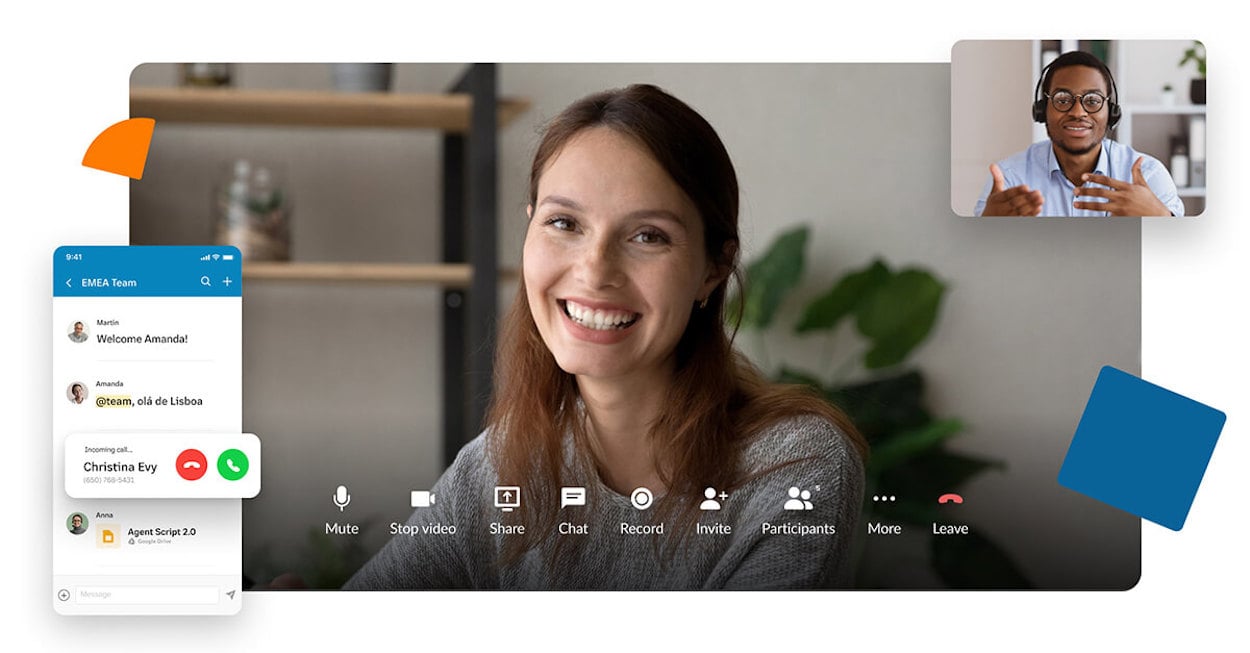 RingCentral's video conferencing platform includes a plethora of features including:
Advanced Meeting Insights such as Meeting Summaries, Video Highlights and a list of AI-generated Keywords
Live Transcription
Presentation Mode
Auto-Follow (enables the camera to follow you and keep your video centered when you move around)
Breakout Rooms
In-Meeting Chat
Meeting Recording
Team Huddle (a persistent audio/video meeting where participants can come and go)
End-to-End Encryption
Virtual Hand Raising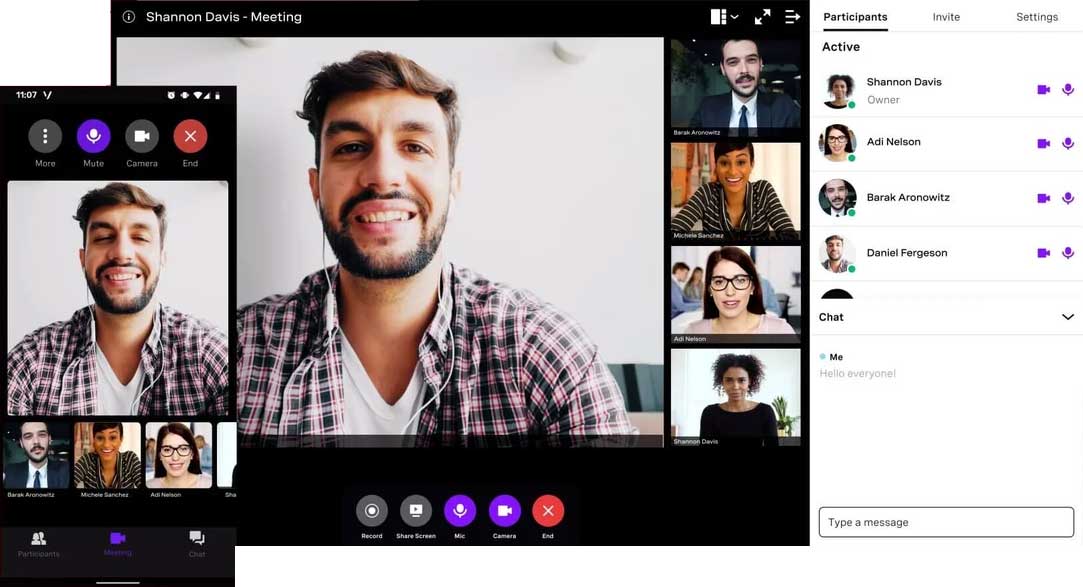 Vonage has a more modest video conferencing platform, allowing for 25 video participants and up to 100 audio-only participants with unlimited minutes. However, unlike RingCentral Video Meetings, Vonage Meetings are included in every VBC plan.
Vonage Meetings does not include many of the advanced features that RingCentral has such as Breakout Rooms nor does it offer End-to-End Encryption or HIPAA compliance. Vonage Meetings do include Speaker View, In-Meeting Chat, Whiteboarding, Screen Sharing, and Recording.
Winner: RingCentral
With the added security of E2EE and HIPAA compliance, along with more advanced features and a higher video participant capacity, RingCentral is the clear winner here.
Auto Attendant
An Auto Attendant is a call feature that acts as a virtual front desk receptionist, answering, forwarding, and directing phone calls without the need for a human agent.
All RingCentral and Vonage plans include an Auto Attendant feature, while mid-range and high-level plans include Multi-Level Auto Attendants. Multi-Level Auto Attendants allow admins to build separate IVR sub-menus, each with their own DID (Direct Inward Dialing) number independent of the main company phone number.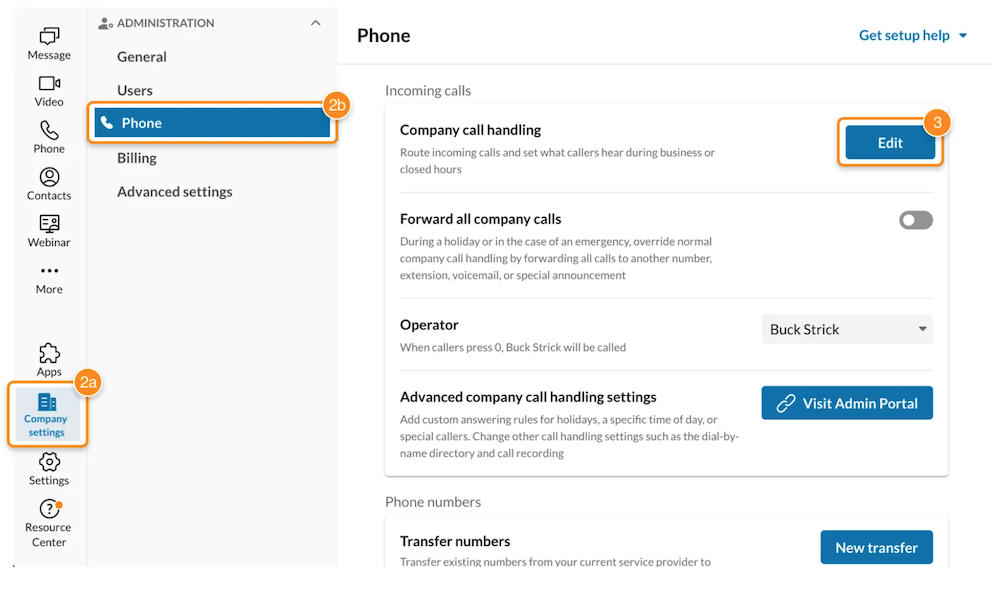 With RingCentral's Auto Attendant, users can record a custom greeting or choose from a list of professionally recorded greetings. Callers can be routed by dial-by-name, specific employee extension, or department extension. Calls can also be routed to outside lines or straight to voicemail.
Rules can be set to route calls based on call date, business hours, or Caller ID information. Advanced call routing strategies such as skills-based (assigned to an agent with the most relevant skills), fixed order (assigned to the first available agent on a list), talk-time (assigned to the agent with the least customer time), time-based (assigned based on agent working hours), and rotary (all agents take turns) are available only on RingCentral's Contact Center platform.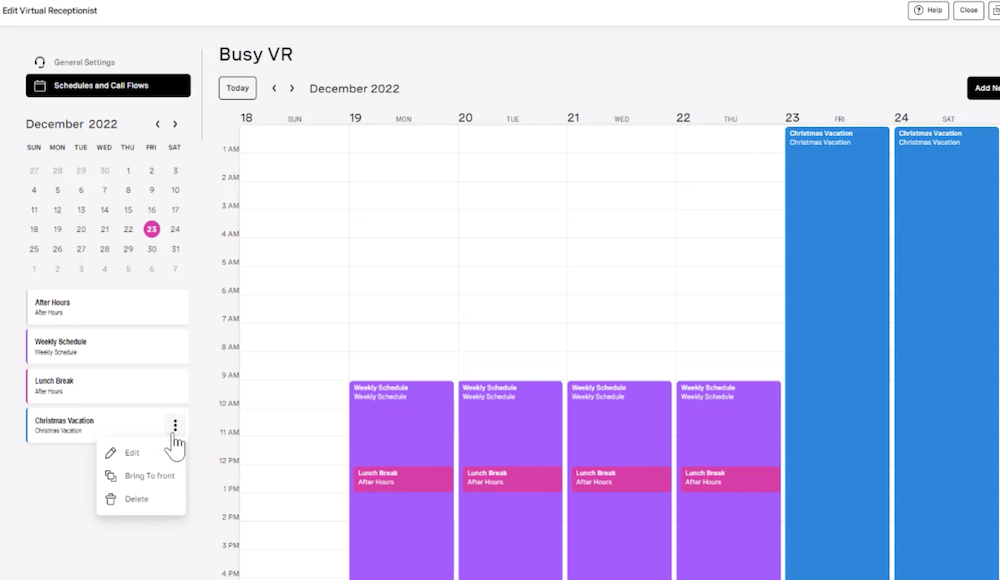 Vonage's Auto Attendant (called Virtual Receptionist) is nearly identical to RingCentral's.
Forwarding options include extensions, dial-by-name, dial-an-extension, and voicemail. Calls can be forwarded to a number outside of the company account for an added fee. Admins can choose whether the Auto Attendant will try to ring a live operator before playing menu options, and at what times it will do so. Different menus can be created for business hours, lunch hours, weekends, holidays, after-hours, and emergencies.
Winner: Draw
Both providers offer a powerful Auto Attendant feature. While Vonage's Auto Attendant offers an option to try a live operator before playing the IVR menu, RingCentral includes the ability to set a rule based on Caller ID information and does not charge a fee to forward calls to an outside number.
Analytics & Reporting
RingCentral analytics provide historical data on metrics such as:
Call quality
Agent activity
Average speed of answer
Inbound/Outbound Call Volume
Total Calls
Average Calls per day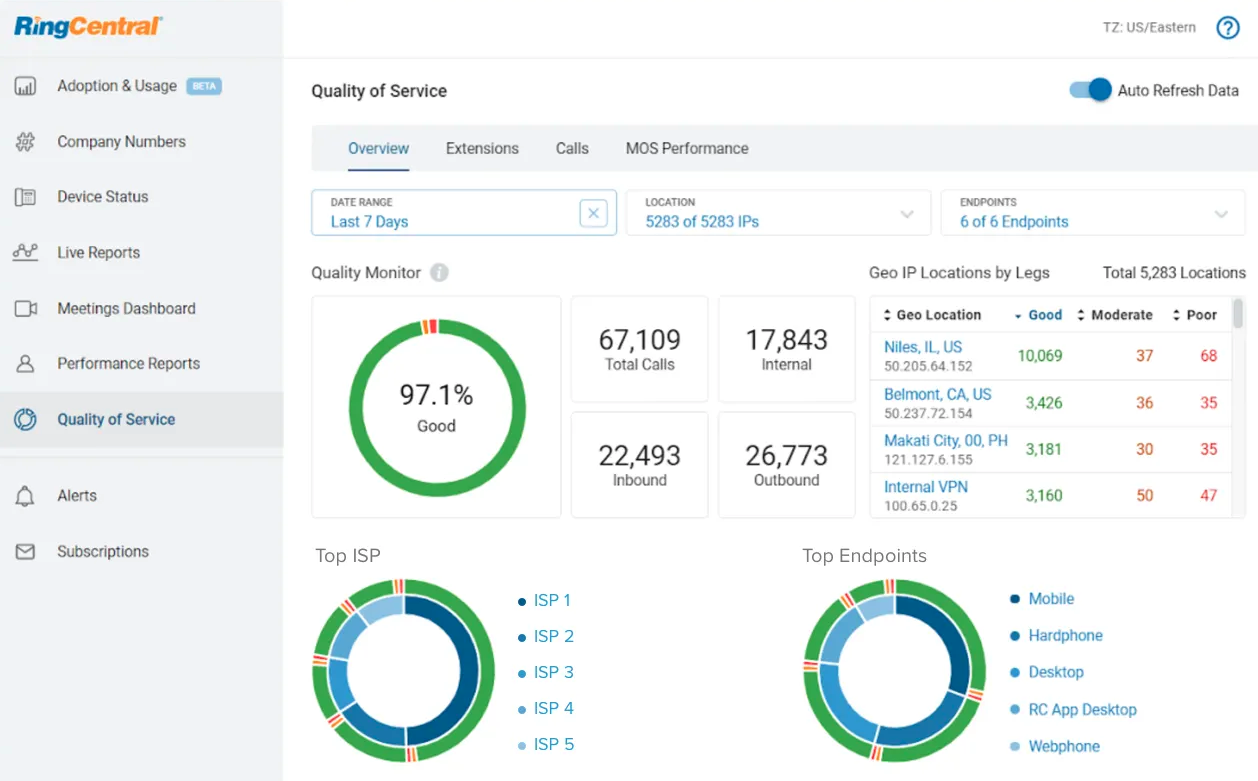 Users can customize what data is included in reports as well as specify data ranges, departments, and individual agents.  Alternatively, supervisors can choose from a list of pre-built KPI and report templates. All RingCentral reports can be automatically scheduled at preset intervals, and admins can set up real-time email notifications when a new report is sent out.
Real-Time Analytics (or Live Reports) are available in RingCentral's Premium and Ultimate plans. Live Reports use data visualization techniques like graphs and charts to display a snapshot of live call data for metrics like queue statuses and agent activity. Real-time snapshots are available for 24 hours.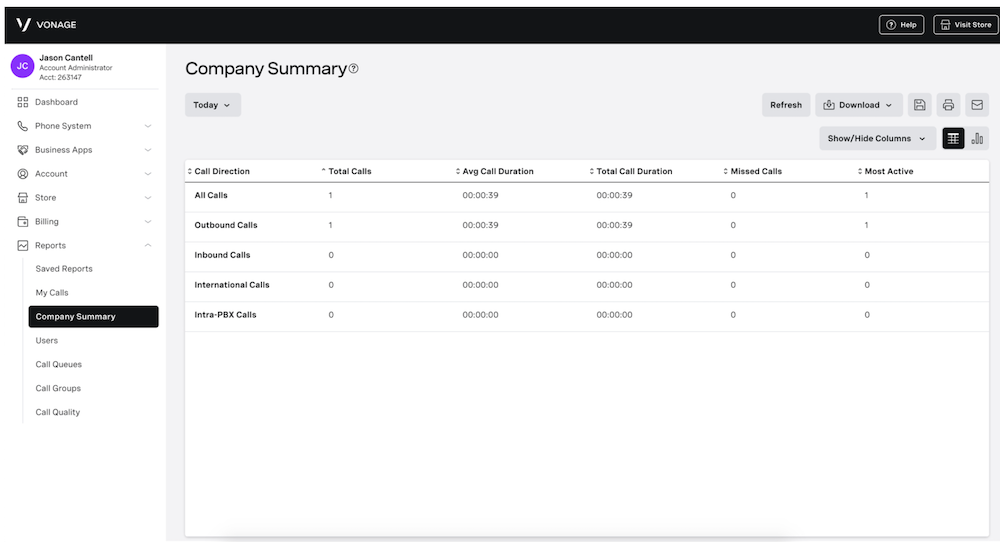 The Vonage communications platform provides historical analytics in a "Company Summary" which gives an overview of call activity from the past 3 months. Admins can look into data from the past 18 months and data can be filtered by custom date ranges, extension, agent, or ring group.
Data includes:
Average Call Duration
Total Call Duration
Missed Calls
Answered Calls
Total Calls
Call Quality
Winner: RingCentral
Although Vonage has developed some powerful AI analytics tools, they are not available to VBC users. RingCentral comes out on top due to its customizable real-time insights.
Integrations
RingCentral is known for its vast integration ecosystem. It offers over 200 integrations, the most of any UCaaS provider. RingCentral's Standard plan includes basic integrations like Outlook, Microsoft 365, Google Workspace, and Slack, while the Premium and Ultimate Plans include CRM integrations such as Salesforce and Zendesk, industry-specific integrations such as Canvas and Smarsh, and custom APIs.
Vonage offers 14 free integrations including Clio, GSuite, Teams, and Slack, as well as 10 paid integrations including Bullhorn and Salesforce. For cloud applications that are not on Vonage's integration list, custom integrations can be built via Zapier for Vonage.
Winner: RingCentral
RingCentral is the winner here with 250+ out-of-the-box integrations.
Supported Hardware
While there are over well over 100 SIP-capable phone models compatible with Vonage, the provider has only extensively tested about 50 of them.
These are considered Vonage's preferred phones, and include models such as Grandstream's GXP 2170, Panasonic's TPA65, Polycom's VVX450, and Yealink's T57W.
Similarly, RingCentral lists about 60 phone models that are directly supported, including Poly's CCX 700, Cisco's CP8851, Yealink's W56P, Avaya's J179, Mitel's 6920, and Unify's CP700X
Winner: Vonage
Vonage has extensively tested its platform functionality with various phone models. While RingCentral notes compatibility with many hardware brands, it makes no mention of how compatibility is tested.
RingCentral vs Vonage: Pricing and Plans
Below is an overview of pricing and plans for each provider.
RingCentral Pricing
RingCentral pricing is structured into a traditional 4-tiered pricing model with bulk and annual discounts.
Every pricing tier includes unlimited calling, team messaging, SMS, basic analytics such as call logs, and toll-free minutes. This is a slightly different pricing structure from Vonage, which allows for more customization in each plan.
RingCentral's four-tiered pricing structure is outlined below.
Essentials Plan
Standard Plan
Premium Plan
Ultimate Plan
Annual Price

*Dependent on number of users

$19.99/user/mo
$22.99-$27.99/user/mo
$32.99-$34.99/user/mo
$42.99-$49.99/user/mo
Monthly Price

*Dependent on number of users

$29.99/user/mo
$32.99-$37.99/user/mo
$42.99-$44.99/user/mo
$52.99-$59.99/user/mo
Number of Users
Up to 20
No Limit
No Limit
No Limit
Integrations
None
Microsoft 365, Google Workspace, Slack, Citrix, VMware, and more
200+ integrations including Salesforce, Zendesk, Smarsh, Canvas and custom integrations
Same as Premium
Key Features

Unlimited Calling in the U.S. and Canada
Team Messaging
SMS

Unlimited Fax
Video Meetings (up to 100 participants)
Analytics Suite

Multi-Site Administration
Real-Time Analytics
Video Meetings (up to 200 participants)

Advanced Reporting
Unlimited Storage
Device Status Alerts
Single Sign-On
Vonage Pricing
At first glance, Vonage seems to follow the standard UCaaS tiered pricing model. However, closer inspection shows there isn't actually much of a difference between each plan's available features– nor is there a huge cost increase between pricing tiers.
This is because Vonage's advanced features, like Conference Bridge, Call Queues, Business Inbox, and Local/Toll-Free Phone Numbers, are available to all users as paid add-ons only.
The advantage to Vonage's pricing model is that businesses have the option to purchase only those features that they need, avoiding paying for tools they never use. For businesses that need many advanced features, however, the a-la-carte pricing adds up fast.
Below is an outline of Vonage pricing and plans.
Mobile Plan
Premium Plan
Advanced Plan
Annual Pricing (based on number of users)
$14.99-$19.99/user/mo
$24.99-$29.99/user/mo
$34.99-$39.99/user/mo
Number of Users
1-100 (Contact Vonage if more than 100 users needed)
1-100 (Contact Vonage if more than 100 users needed)
1-100 (Contact Vonage if more than 100 users needed)
Integrations
Access to Vonage App Center with over 20 third-party integrations
CRM Integrations including Salesforce, Bullhorn, Hubspot, G-Suite, Zoho, Zendesk, etc.
Same as Premium
Key Features

Desktop and Mobile App for iOS and Android devices
Unlimited Calls and SMS
Unlimited Team Messaging

Multi-Level Auto Attendant
IP Desk Phone Capability

Call Recording On-Demand (15 hours)
Call Group
Visual Voicemail
RingCentral vs Vonage: Pros & Cons
RingCentral and Vonage each have their own strengths and weaknesses. Find out what users like and dislike about each platform below.
| | |
| --- | --- |
| What Users Like About RingCentral | What Users Dislike About RingCentral |
| Highly secure with end-to-end encryption | Video Meetings are unavailable at the most economical (Essential) pricing plan |
| Many Advanced Reporting and Analytics tools available in the Standard plan and above | RingCentral's platform is complex, and its low ease of use means a steep learning curve |
| Robust, fully featured and secure video conferencing available in the Standard Plan and above | User reviews consistently mention customer Support agents often difficult to reach |
| | |
| --- | --- |
| What Users Like About Vonage | What Users Dislike About Vonage |
| Offers advanced features as add-ons which allows for flexibility, customization and easy scaling | Some features like Business SMS have limited functionality when compared with competitors |
| All plans include video conferencing | Video meetings are not HIPAA compliant, capped at 25 participants, and have limited features |
| One of the most affordable options in the UCaaS space with plans starting at $14.99/user/month | Customer Support agents can be difficult to reach |
RingCentral vs Vonage: Which Should You Choose?
Overall, comparing Vonage to RingCentral isn't quite apples to apples. RingCentral is made for larger businesses and enterprises needing high levels of call monitoring, automation, and collaboration, while Vonage caters to growing SMBs who may not need many advanced features and don't want to pay for them.
When it's time to scale, Vonage customers can add on a la carte advanced phone service features like call queuing and call recording, on an as-needed basis. As they scale further, they can add Vonage Contact Center to access more advanced tools like AI-powered speech analytics.
RingCentral, with its robust collaboration and call monitoring capabilities and high levels of security and reliability, offers the most value for large remote, hybrid, and/or international teams.
FAQs
Below, we've answered some of the most common FAQs about RingCentral vs Vonage.