Healthcare providers face unique challenges when searching for efficient and HIPAA-compliant unified communications platforms and medical office phone systems.
Digital healthcare experiences include telehealth video consultations, care provider meetings, care and prescription reminders, patient status notifications, medical device alerts, and more.
Consistent communication between patients and medical staff is key–and so is protecting patient privacy.
Read on to find out what a medical office phone system is, what features to look for, and how to choose the right option.
What is a Medical Office Phone System?
A medical office phone system is a HIPAA-compliant cloud communication platform designed for the healthcare industry.
It includes offering phone service, SMS/text messaging, third-party integrations with healthcare software and tools, and other features designed for medical professionals.
All healthcare business phone systems must be HIPAA and HITECH compliant, and should also offer a BAA (Business Associate Agreement).
How is a Phone System for Medical Offices Different?
Phone systems for medical offices are different from standard VoIP phone systems because they offer healthcare-focused features and capabilities standard providers usually do not, including:
Compliance and Security: HIPAA and HITECH compliance, BAA, high-level security features for PHI and ePHI compliance, end-to-end encryption, SSO, multi-factor authentication, GDPR compliance
Appointment Management Tools: Automated appointment scheduling and follow-up reminders via SMS, email, phone, etc.
Video Conferencing: HIPAA-compliant video conferencing for telehealth and remote provider collaboration, file sharing, chat messaging, etc.
Interactive Voice Response (IVR): For automated self-service, bill payment, PCI compliance for accepting patient payments via phone, diagnostics, prescription refills and requests,etc.
Forms: Pre-built templates and custom templates for patient forms, plus automated (IVR/IVA-based) patient data collection and updates
Medical Device Integrations: Integrations with iOT medical devices for remote patient monitoring, EHR integrations
Third-party Integrations: CRM platforms, health care call center software, and other medical software like Kareo, CareCloud, AdvancedMD, AthenaHealth, etc.
Mobile App (iOS and Android): For cell phone and tablet patient portal access, remote access to medical phone system, real-time push notifications, secure patient-provider in-app messaging, etc.
In addition to these unique features, medical phone systems include standard Voice Over Internet Protocol (VoIP) features with healthcare use cases, including call forwarding, analytics, and call routing with ring groups.
How to Choose a Phone System for a Medical Office
When selecting a medical phone system, security, reliability, and compliance must be a priority.
Beyond that, consider your business goals: streamlining billing operations, automating the appointment preparation and follow-up process, implementing patient self-service or telehealth options, etc.
Ensure the provider offers scalability, integrates with your preferred business applications and medical software, and includes custom data retention policies.
Each provider has its own set of strengths and weaknesses–so choose a solution that meets your business needs.
Below, we'll cover the top medical office phone systems, providing a quick overview of each platform.
Best Medical Office Phone Systems
The best phone systems for medical offices and healthcare providers are:
Nextiva
Nextiva is a unified communications as a service (UCaaS) platform that integrates phone service with messaging, video conferencing, and contact management.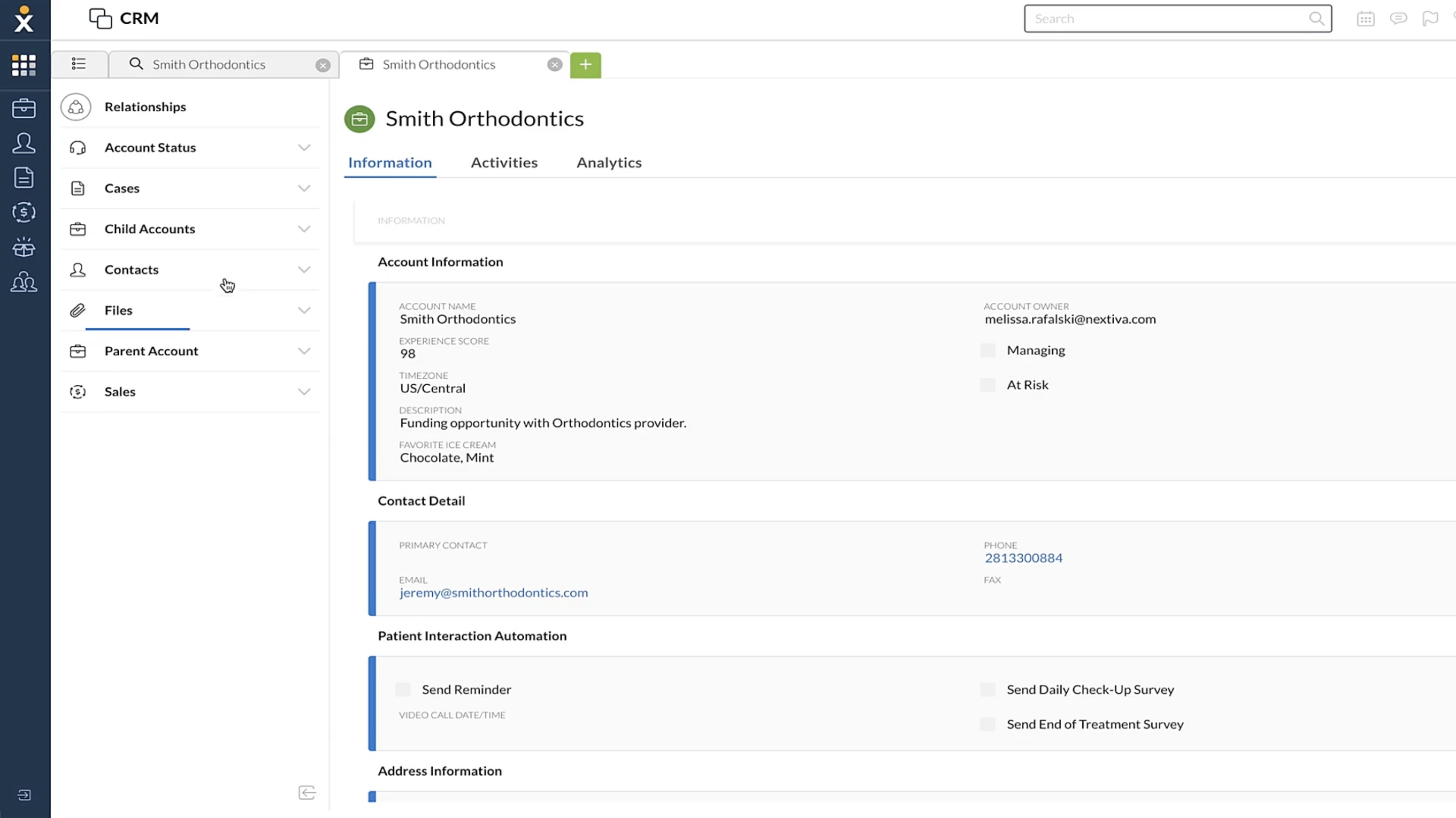 Nextiva offers an intuitive interface, competitive pricing, and several advanced features.
Nextiva's platform is popular with healthcare providers because it is secure and reliable with a 99.999% uptime guarantee, single sign on (SSO) and HIPAA compliance.
Key Features
Nextiva offers the following key features that are helpful for medical offices:
Voicemail to Email and SMS: All Nextiva users have access to voicemail-to-email notifications, which detail the missed call and include an audio file (MP3 or WAV) of the voice message. Professional plan users can receive this notification via SMS text message, and Enterprise users have access to voicemail transcriptions
Contact Management: Enables medical professionals to keep patient contact information organized and available when needed. Contacts can be imported from Office 365, Google Contacts, or added manually. Users can add notes, edit/archive contacts, and view contact details and conversation history, and customize caller ID
Multi-level Auto Attendant: Automated answering system directing patient calls across the office PBX system based on patient keypad input. Admins have the ability to create and record greetings, menus, and submenus. All Nextiva users have access to a basic auto attendant, while a multi-level auto attendant is only available on the Professional and Enterprise plans
Video Meetings: Secure and easy to use, includes screen sharing and in-meeting file-sharing/chat. Nextiva supports up to 25 active video participants and up to 250 audio participants. Video meetings are limited to 45 minutes in duration and are therefore only suitable for short telehealth meetings and checkups
Pricing & Plans
Nextiva offers three pricing plans with annual and volume discounts. The prices below are based on annual payments, with the lower price representing over 100 users and the high price representing 1-4 users.
Essential Plan ($17.95-$23.95 per user/month): Includes unlimited calling in the U.S. and Canada along with medical office friendly features such as voicemail-to-email notifications, auto attendant, integrations with MS Outlook and Google Contacts, and 24/7 live customer support
Professional Plan ($21.95-$27.95 per user/month): Adds on more advanced features such as voicemail-to-SMS notifications, SMS/MMS via desktop and mobile device, CRM integrations, and multi-level auto attendant
Enterprise Plan ($31.95-$37.95 per user/month): Adds on unlimited conference calling with unlimited participants and premium features such as call recording, voicemail transcription, and single sign-on
Reliability & Security
Nextiva security features include:
8 points of presence and carrier-grade data centers
Real-time network status updates
ISO/IEC 27001 certification
Transport Layer Security (TLS) and Secure Real-Time Transport Protocol (SRTP) encryption
HIPAA compliance
SOC 2 compliance
PCI compliance
Best for
Nextiva is best for small medical offices that need business phone features such as auto attendant and contact management, but are not seeking to implement full telehealth services. Nextiva does not offer any EMR integrations and is therefore not a good choice for large medical organizations.
RingCentral
RingCentral is an all-in-one communication solution that includes team messaging, video conferencing, phone calls, and contact center capabilities on its highly secure platform.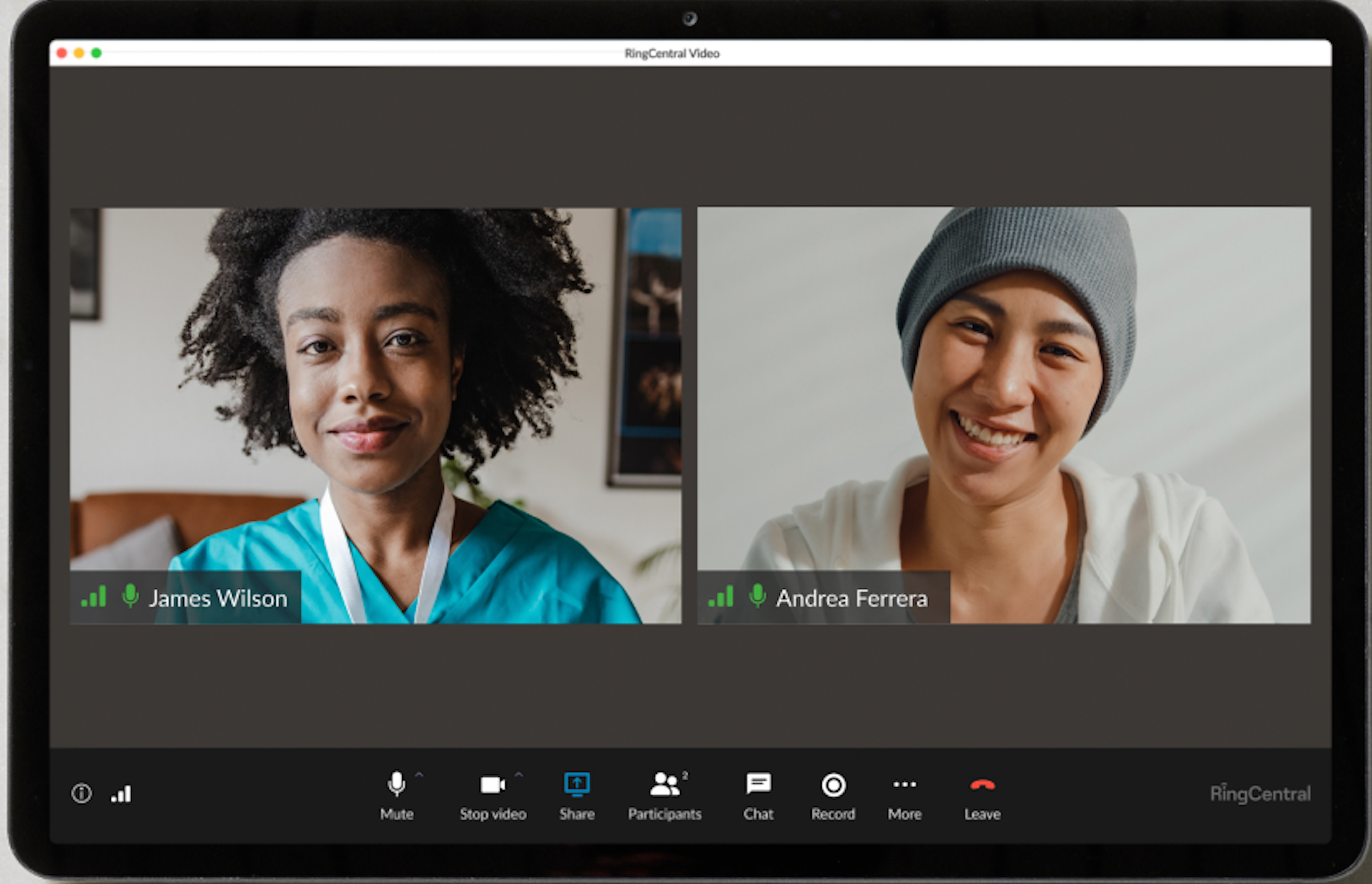 RingCentral is a great choice for healthcare providers because it integrates with many leading healthcare and EMR software apps, and is packed with advanced features such as appointment reminders that can help medical offices streamline operations and improve patient care.
Key Features
The RingCentral communication system offers the following features that are useful to medical offices:
SMS Appointment Reminders: Connects with the office and appointment calendar so healthcare professionals can send patients timed appointment reminders, automatic appointment confirmations, or instant cancellations
Video Conferencing: Teleconferencing for up to 200 participants with screen sharing and in-meeting public/private chat
Healthcare Integrations: With over 300 integrations, including Theta Lake, and Baritrax360,  RingCentral offers one of the most vast application ecosystems in the UCaaS space
Receptionist and Admin Console (Heads Up Display): HUD allows medical professionals to view up to 100 user extensions' real-time presence status and availability from desktop/mobile apps. This enables users to manage multiple incoming calls with the ability to answer, transfer, add users, or chat with a colleague directly
Pricing & Plans
RingCentral offers three pricing plans with annual discounts for its business communication product:
Core ($20/user/mo., annually, $30/user/mo., monthly): Includes unlimited domestic calling, IVR, visual voicemail, and receptionist console
Advanced ($25/user/mo., annually, $35/user/mo., monthly): Adds on extensions and individual phone lines (up to 8 digits), call monitoring, hot desking, and unlimited internet fax that doesn't require fax machines
Ultra ($35/user/mo., annually, $45/user/mo., monthly): Adds on unlimited storage for files, messages, and recordings, along with device analytics and alerts
Reliability & Security
RingCentral is one of the secure UCaaS platforms, with features like: 
Single sign-on (SSO) in all plans
End-to-end encryption for calls, video, and messaging
User access secured with SAML and OAuth
User roles and permissions
Meets several compliance standards including HIPAA, HITRUST, STIR/SHAKEN, SOC 2/3, etc.
AI-based spam blocking
99.999% uptime
Best for
RingCentral is best for large healthcare organizations with multiple offices and a high volume of patients.
RingCentral's highly secure video platform is suitable for facilities that wish to implement telehealth and its CCaaS solution is perfect for large facilities that need room to scale.
Zoom Phone
Zoom Phone is an affordable virtual phone system and part of Zoom's suite of cloud-based communication and collaboration products. Zoom's video conferencing platform is highly secure with both end-to-end encryption and HIPAA compliance and is ideal for healthcare organizations that are seeking to offer telehealth appointments.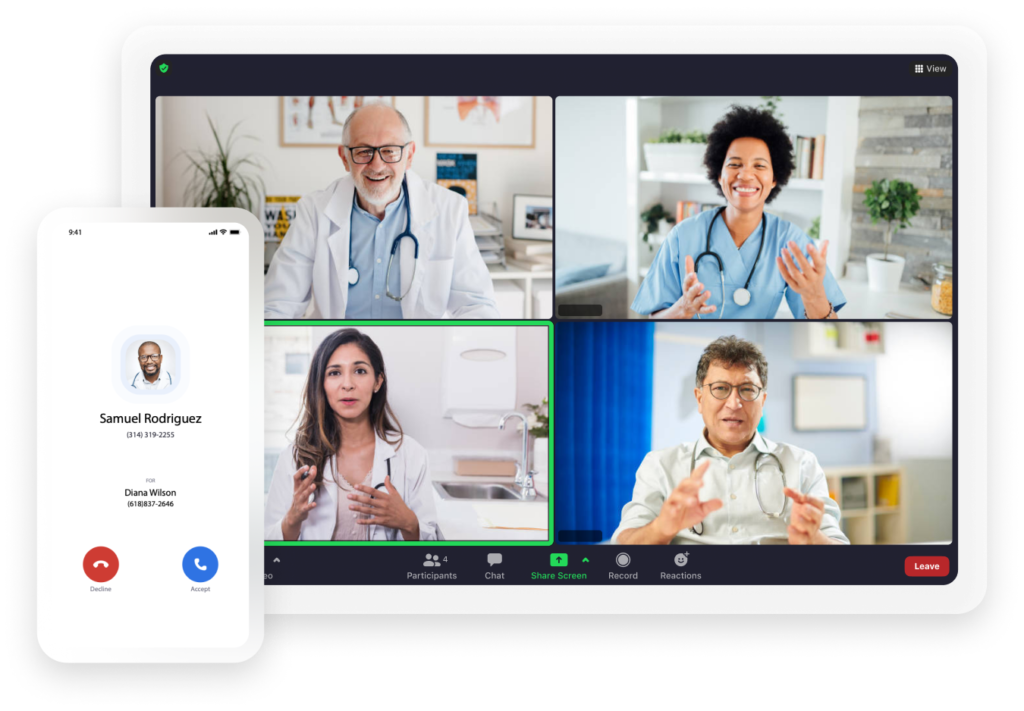 Zoom phone does not have as many advanced features as competitors but does offer medical office essentials like auto attendant, call park, and voicemail transcription.
Key Features
Zoom offers the following standout features that are useful to medical offices:
Auto Attendants: Automatically routes inbound calls to a user, call queue, common area phone, or voicemail. Users can add a personalized greeting, business hours, multiple levels, or a dial-by-name directory. Unlimited auto attendants are included in all plans and are ideal for collecting patient information and appointment scheduling
Zoom Rooms Kiosk Mode: A virtual receptionist feature installed onto a physical device (iPad, etc.) used in waiting rooms to greet customers and assist with check-in. A Zoom Room add-on starts at $499/year/room
Voice Call to Video Chat: Turn any voice call into a Zoom Meeting or Zoom Room, useful for implementing HIPAA-compliant telehealth
Voicemail Transcription: All Zoom users can access voicemail transcripts via the Android or IOS app, or via email
Pricing & Plans
Zoom Phone offers some of the best prices in the VoIP space–but additional products like Zoom Rooms or Zoom Meetings will need to be purchased if video conferencing services are needed.
Below is a breakdown of Zoom Phone plans:
Pro Plan ($8 per user/mo.): Includes unlimited inbound calls and metered outbound calls, IVR, and call recording
Metered Plan ($10 per user/mo.): Metered outgoing calls, SMS/MMS, and phone extensions
Unlimited Plan ($15 per user/mo.): Includes unlimited outbound and inbound calling in US/Canada with the option to add on unlimited calling to 19 countries
Select Plan ($20 per user/mo.): Includes unlimited calling in one of over 40 countries as well as a direct dial number
Reliability & Security
Zoom security and reliability features include:
HIPAA and HITRUST compliance
SOC 2 Type 2 compliance
ISO 27001 compliance
 256-bit AES-GCM encryption
Authentication methods such as SAML and OAuth
Best for
Zoom is best for small medical offices that wish to implement a telehealth option but don't need advanced phone features and are trying to cut costs. Due to its metered plan options, Zoom Phone would be an excellent choice for medical offices that rarely make outgoing calls.
Vonage
Vonage is a unified communication and collaboration provider that offers one of the most flexible and customizable platforms in the VoIP space.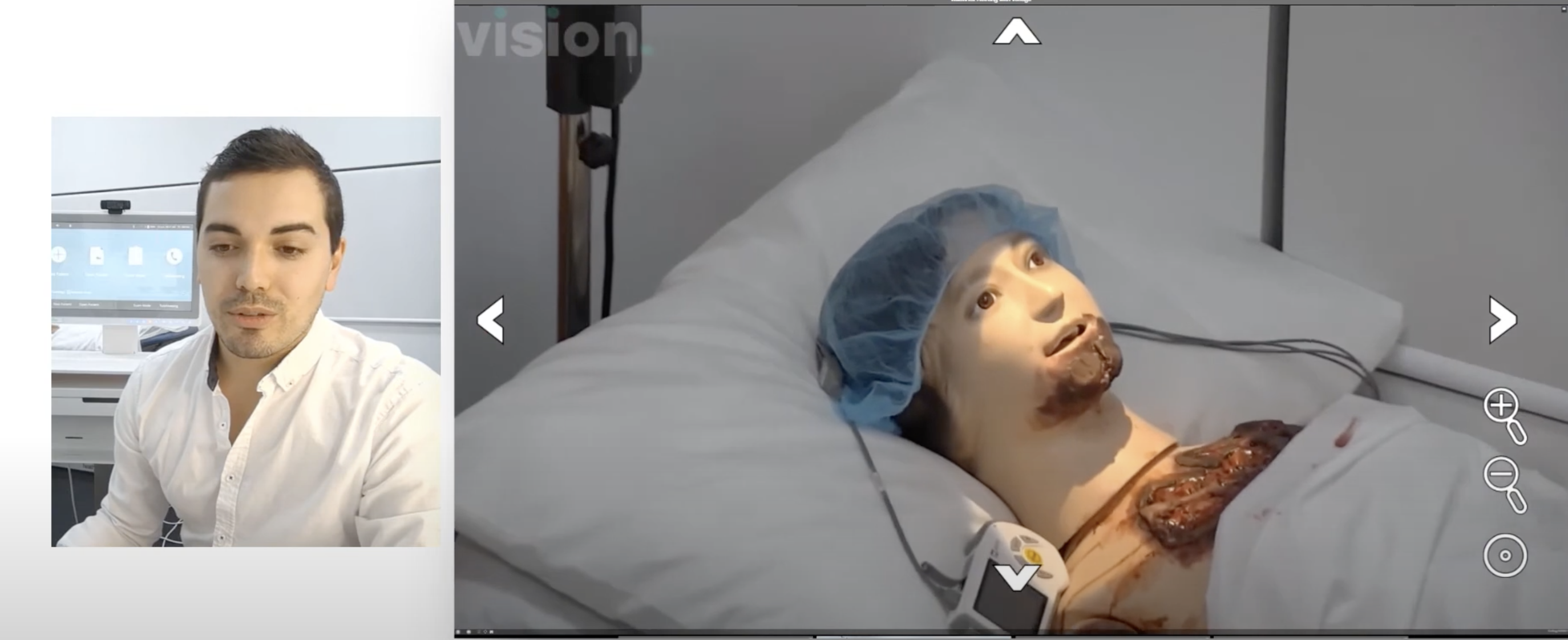 Vonage Business Communications (VBC) is an all-in-one solution that includes basic phone, messaging, and video functionality, and also allows users to add on more advanced phone features. Vonage users can also opt to build a completely custom solution using Vonage APIs.
Vonage is a popular choice for healthcare providers and staff members due to its HIPAA-compliant voice, video, and SMS functionality, as well as its many medical office related features such as SMS reminders, video conferencing, and multi-level auto attendant.
Key Features
Vonage offers the following key features that are helpful to medical offices:
Automated Messages: Vonage's business SMS feature allows users to create automation by setting a condition with a preset action, including click-through tracking and response-based automation. This can be used for appointment reminders, follow-ups, and more
Video Meetings: Available to all VBC users, desktop and mobile app video calls with blurred and virtual backgrounds, meeting recording, whiteboard, and in-meeting chat
Click to Dial: Browser-based plugin, that allows users to auto-dial any patient's phone number with one click. This reduces human dialing errors and ensures medical staff can contact patients quickly
Team Messaging: Enables hybrid healthcare workers to chat, share files, send and receive SMS texts and start or join voice and video calls from the Vonage Business Communications desktop and mobile apps
Pricing & Plans
Vonage's VBC platform comes in three bundled pricing packages with volume discounts:
Mobile Plan (starting at $14.99 per user/month): Includes unlimited voice calls, SMS, and team messaging along with 50 phone features.
Premium Plan (starting at $24.99 per user/month): Adds on unlimited video meetings for up to 100 participants, multi-level auto attendant, and IP desk phone capacity.
Advanced Plan (starting at $34.99 per user/month): Adds on on-demand call recording and visual voicemail.
Reliability & Security
Vonage's security and reliability features include:
99.999% uptime reliability
HIPAA compliance
HITRUST compliance
SOC 2 Type II compliance
GDPR compliance
Best for
Due to its reliability and competitive prices, Vonage is best for small and medium-sized medical offices that need video conferencing capabilities. Though its team collaboration features make Vonage a great choice for hybrid medical offices, its lack of end-to-end encryption means it's not suitable for large organizations.
Dialpad
Dialpad is a business communications platform that combines video conferencing, phone service and text messaging on one AI-powered platform.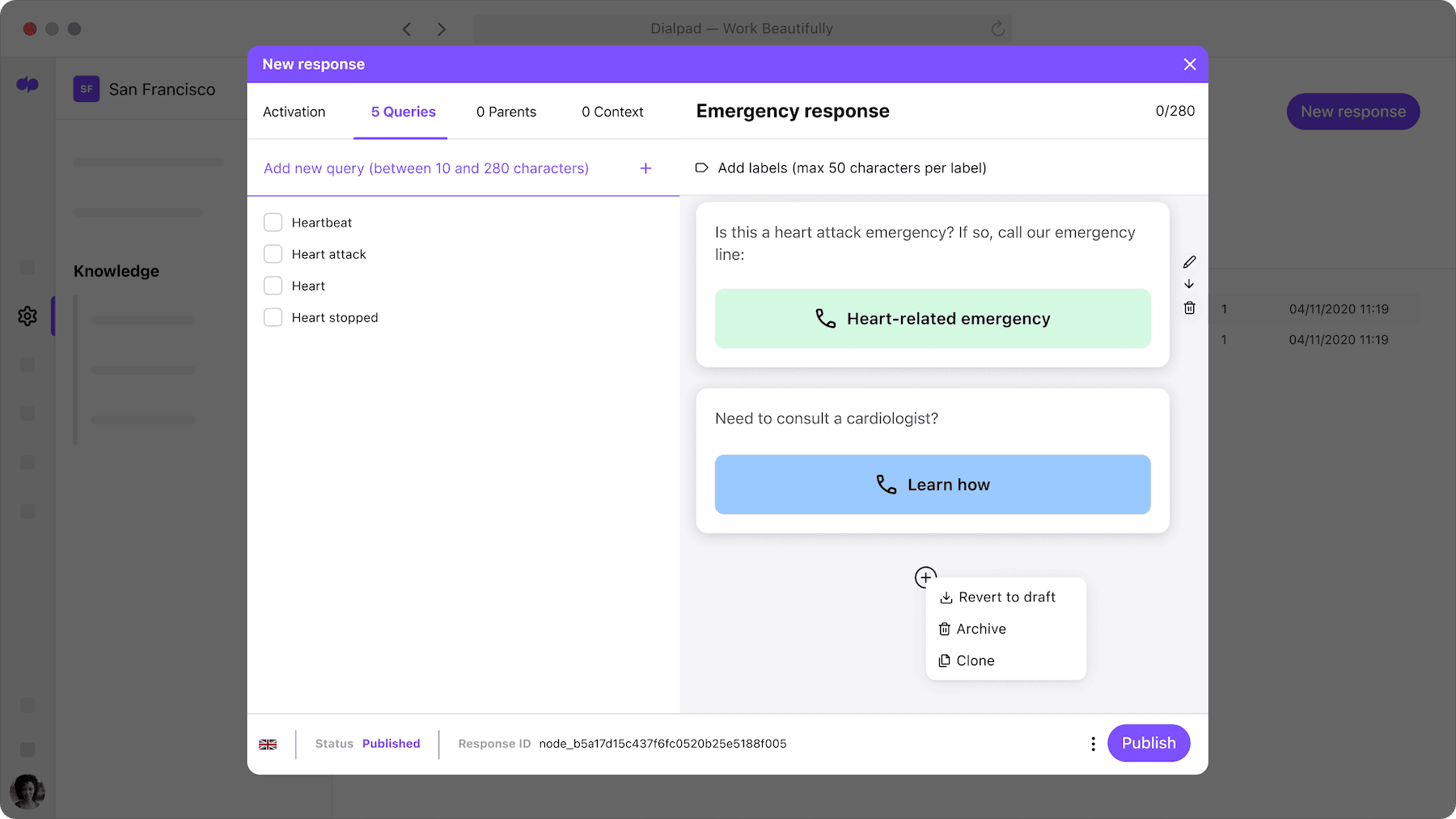 Many healthcare organizations, including Compass Medical, use Dialpad to streamline workflows and the patient journey while leveraging AI-powered insights to increase patient engagement.
Key Features
Dialpad offers the following key features that are helpful to medical offices:
Real-time Coaching: AI-powered live coaching provides real-time recommendations to medical office staff, letting them know if they're speaking too quickly, not quickly enough, using too many filler words, or not listening to what the patient is saying. This helps new team members get up to speed quickly and provide better assistance to patients
AI-powered CSAT: Dialpad automatically collects CSAT scores on every call based on sentiment analysis, natural language processing, and deep learning models that infer customer satisfaction and continue to improve over time with use
Telehealth: Dialpad's video conferencing platform allows patients to join virtual appointments by clicking a meeting link. Virtual waiting rooms enable medical practices to create a safe patient intake process, which patients can complete from a mobile phone or device while they are in the office or before joining a video meeting
Pricing & Plans
Dialpad offers three pricing plans with annual discounts for its business communications platform:
Standard Plan ($15 per user/month, paid annually): Includes unlimited calling and video meetings (up to 10 participants) along with AI-powered voicemail transcriptions and live speech coaching.
Pro Plan ($25 per user/month, paid annually): Adds on CRM integrations such as Salesforce along with hold queues.
Enterprise Plan: Adds on a dedicated account manager and a 100% uptime guarantee
Reliability & Security
Dialpad's security and reliability features include:
HIPAA/BAA-compliant platform
Enterprise-level encryption
Customizable data retention policies
100% uptime SLA for Enterprise plan users
Best for
Dialpad is best for small to medium-sized healthcare offices that wish to or already provide telehealth services, and that are looking for ways to improve the patient experience.
Dialpad does not offer any EHR integrations or medical-specific packages, so it is not suitable for large organizations and hospitals.
8×8
8×8 is a HIPAA-compliant SaaS provider that combines voice, video, chat, SMS and contact center on one cloud communications platform.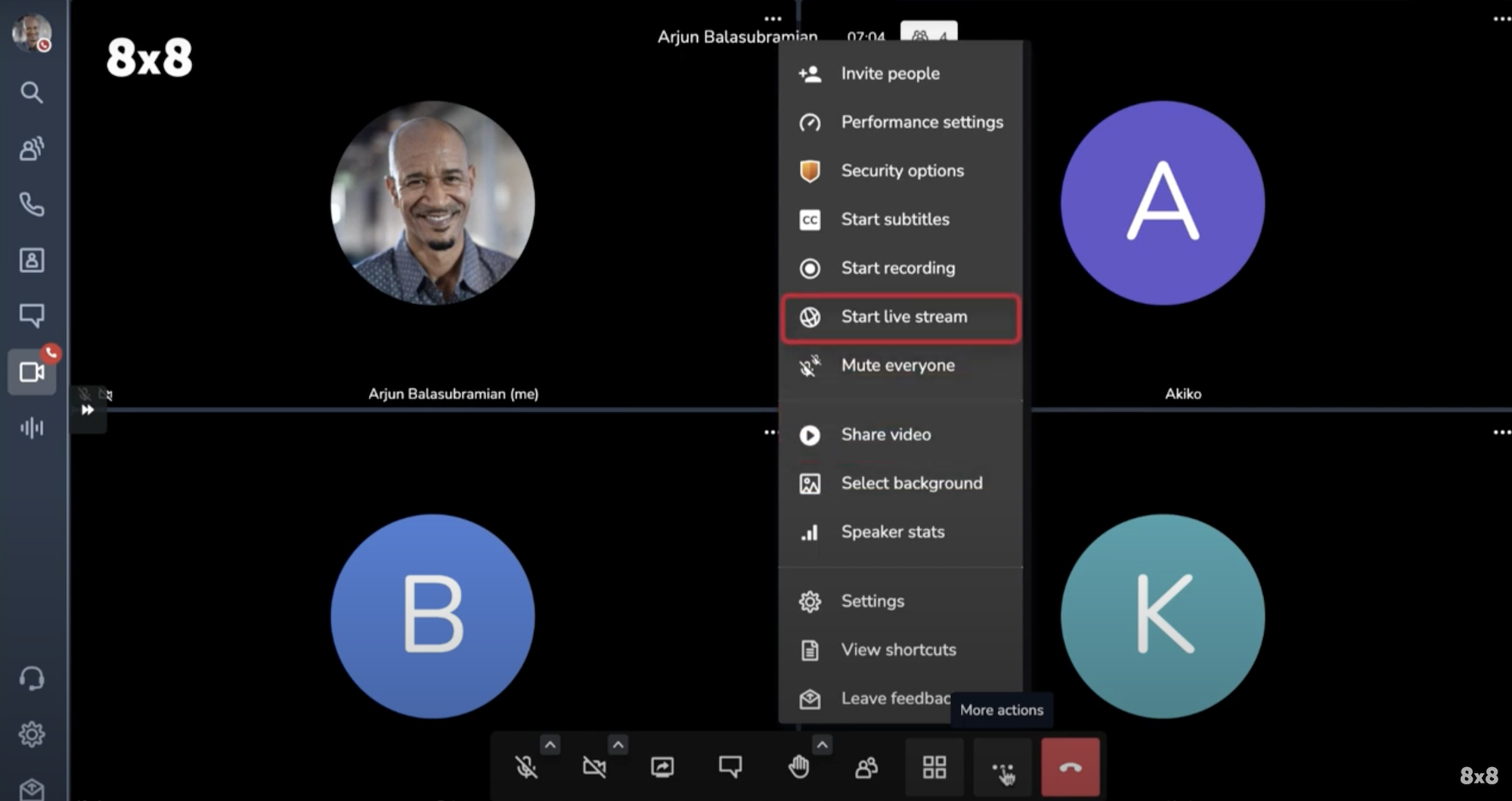 Healthcare providers, hospitals and nursing facilities use 8×8 to improve the patient experience with features like multi-level auto attendant, voicemail transcription, and interactive video meetings. 8×8's platform is highly secure and reliable with a 99.999% uptime.
Key Features
8×8 offers the following key features that are helpful to medical offices:
Find Me/Follow Me: Customizable feature using predetermined call transfer rules to redirect calls from a desk phone to any other device. This eliminates the need for doctors, nurses, and other healthcare professionals to share their personal contact information with patients
Frontdesk: Call handling tool made specifically for front desk receptionists with features like organization directory, agent presence updates, call hold, warm and cold call transfer, and team chat
Hot Desking: Allows employees to log into a shared phone that immediately behaves like their own extension. This is helpful for medical offices that have employees who need to travel to other offices or work a shift at a shared desk
Barge, Monitor, and Whisper: Ideal for training and performance monitoring, these features enable supervisors to listen in on calls (monitor) or offer guidance in real-time via one-way communication with the employee only (whisper), or convert the call into a three-way call (barge)
Pricing & Plans
8×8 does not publish its prices online but does offer 5 different pricing plans. X2 and X4 are business communications only while X6, X7, and X8 include CCaaS.
X2 Plan: Includes unlimited voice calling in 14 countries along with HD audio and video conferencing with screen sharing for up to 500 active participants and advanced features such as multi-level auto attendant and hot desking.
X4 Plan: Adds on call monitoring features such as barge and whisper and 8×8 Frontdesk.
X6 Plan: Adds on skills-based routing and post-call survey
X7 Plan: Adds on omnichannel routing and co-browsing.
X8 Plan: Adds on Auto dialer: preview, progressive, and predictive
Reliability & Security
8×8 security features include:
99.999% platform-wide uptime SLA
Enterprise-grade security
SSO on all plans
Fraud Detection
Secure Endpoint Provisioning
HIPAA compliant
Best for
8×8 is best for larger medical practices with multiple locations, hospitals, and residential care facilities.
Its platform is expensive compared with competitors but it offers a high level of security, reliability, and many advanced features for handling a high volume of calls. 8×8's video conferencing platform is robust and works well for telehealth, and it also offers landlines and compatible VoIP phones powered by an Internet connection.
GoTo Connect
GoTo Connect is a secure business communication platform that includes video meeting tools, a flexible phone system, messaging, and call center capability.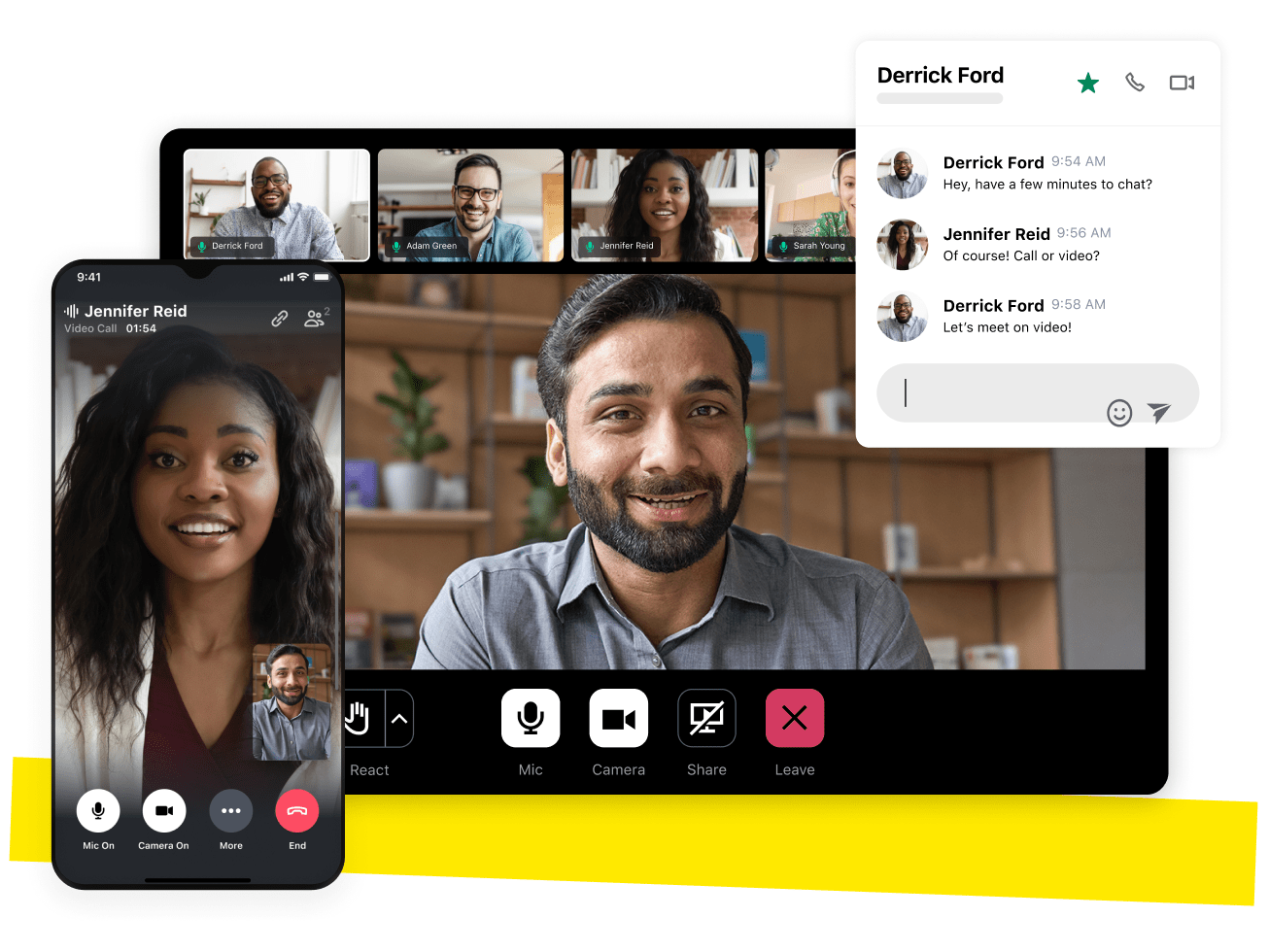 GoTo Connect offers affordable pricing as well as a robust video platform that allows up to 250 participants, more than many of its competitors. GoTo Connect also has some of the best rates for international calling.
Key Features
Healthcare Integrations: Integrates with several productivity tools and electronic health record systems including Curve, Outlook, Google and Epic
Paging: Allows users to quickly reach one or several colleagues by communicating over two-way speakerphone
Customizable Dial Plan: Allows users to build call flows, set business hours, and build auto-attendants using a drag-and-drop interface, creating a streamlined patient experience.
Pricing & Plans
GoTo Connect offers two pricing plans with volume and annual discounts:
Basic (starting at $22 per user/month, annually): Limited to 20 users, includes unlimited domestic calling, one auto attendant, video meetings with up to 4 participants, and team chat.
Standard (starting at $22 per user/month, annually): Includes unlimited auto attendants and call queues, up to 250 video participants, voicemail-to-email, hot desking, and paging
Reliability & Security
GoToConnect security features include:
AES 256-bit encrypted video conferencing and data at rest
HIPAA compliance with a signed Business Associate Agreement
One-time passwords and meeting lock
Enterprise-grade SSO
Risk-based authentication
SOC2 Type II, SOC3, BSI C5 compliant
Best for
GoTo Connect is a good option for large offices and organizations experiencing rapid growth and a high call volume. Because GoTo Connect is part of a large suite of communication products, it is easy to scale. GoTo Connect is also a good option for facilities with international locations.
Which Medical Office Phone System Is Right For Your Business?
Choosing a medical office phone system is a large investment and it's important to research providers while also considering your budget, location, and business goals.
Here are some general guidelines:
Multi-site Medical Offices: GoTo Connect and 8×8 are both good options for medical offices with multiple locations
Hospitals: RingCentral is a great choice for hospitals
Boutique Medical offices: Dialpad and Nextiva are affordable and high-quality platforms suitable for smaller teams
Solo Practitioners: Zoom Phone offers the best prices for solo practitioners