In the healthcare industry, providing timely and accurate support to patients, healthcare providers, and other stakeholders is of utmost importance. One way to achieve this is through call center software specifically designed for healthcare organizations.
Healthcare call center software can improve the patient experience by enabling quick access to information, efficient communication between healthcare professionals, and effective management of confidential health data. 
In this article, we will explore what healthcare call center software is, the key features to look for when selecting a solution, and top providers to consider.
What is Healthcare Call Center Software?
Healthcare call center software is a specialized type of Contact Center as a Service (CCaaS) software designed to facilitate communication between healthcare providers and patients. It typically includes features like automated call routing, queue management, call recording, and integration with Electronic Health Records (EHR) systems. As it is meant to be used in the management of patient records, healthcare CCaaS providers are HIPAA compliant.
Healthcare call center software helps healthcare organizations efficiently manage high call volumes, improves patient satisfaction by providing better communication across multiple channels, and makes scheduling doctors appointments and paying healthcare bills easier.
Essential Healthcare Call Center Features
To comply with the various regulations and restrictions of patient communications and record-keeping, there are a few important features to look for in a healthcare call center solution.
HIPAA Compliance
The Health Insurance Portability and Accountability Act of 1996 (HIPAA) ensures the confidentiality and protection of health information and private patient data. In regards to your contact center software, it also establishes security standards for the protection of patients' electronically stored information.
This could refer to both call records and notes, as well as any information shared between your contact center solution and your electronic medical electronic health record (EHR) or emergency medical services (EMS) software.
Omnichannel Communication
Omnichannel communication is a contact center software communication strategy with a singular, asynchornus interface combining all available voice and digital channels, including email, phone, website chat, video conferencing, and in-person interactions.
Omnichannel communication enables patients and healthcare professionals to interact with an organization via the channel of their choice, while ensuring that the communication is secure, consistent, and unified across all channels.
In an omnichannel communication approach, interactions are tracked and synchronized across all channels, allowing users to switch between channels without losing context or having to repeat themselves.
For example, a patient could use a mobile app or website to schedule an appointment with their doctor, receive a confirmation email, and then receive a reminder via text message a day before the appointment. During the appointment, the patient may receive educational materials or instructions via a patient portal or mobile app. After the appointment, the patient could receive follow-up care instructions or test results via email or text, and may have the option to communicate with their doctor or healthcare provider via a secure messaging platform.
The goal of omnichannel communication is to provide a seamless, personalized, and convenient customer experience, leading to fewer missed appointments, more effective care, and higher customer satisfaction levels.
Integration with Medical Record Systems
A medical records integration allows healthcare providers to synchronize their contact center software with their electronic medical records (EMR) system. This integration enables contact center agents to access patient records and information in real-time, providing conveneince, reducing human error, and ensuring key files are always on hand for appointments.
For example, when a patient calls the healthcare provider's contact center to schedule an appointment or ask a question about their health, the agent can access the patient's record through the EMR system to provide personalized assistance, answer patient questions and help the patient to schedule an appointment with the appropriate healthcare provider. The agent can also update the patient's record with any new information gathered during the call. A medical record systems integration can also provide automated notifications to healthcare staff, including reminders for upcoming appointments, patient requests, or changes to the patient's medical record.
Call Routing
Call routing is the process of directing incoming phone calls to the most appropriate agent or department within an organization. This is typically done using an automated system such as an Automatic Call Distributor (ACD) or Interactive Voice Response (IVR).
ACD automatically routes calls to the most appropriate professional based on various criteria, including laguage spoken, agent skills, caller location, existing customer relationships, or even the time of day. ACD helps  healthcare organizations prioritize more urgent calls and route patient calls to the most appropriate healthcare representative or department based on their needs.
This reduces wait times and improves patient satisfaction.
IVR (Interactive Voice Response) is an automated phone system that typically uses pre-recorded voice prompts to guide callers through a series of call menu options.
IVR lets healthcare organizations streamline patient interactions by providing self-service prompts for processes like appointment scheduling, medication refills, and billing inquiries. This reduces call volume, ensures bills are paid on time and in the correct amount, and improves patient outcomes.
IVR can also be used to collect patient information such as demographics, medical history, and the reason for calling. This information helps organizations better understand patient needs and provide more personalized care.
AI-Powered Automations
AI-powered automations are systems that use artificial intelligence (AI) and machine learning algorithms along with preset rules to automate repetitive tasks and processes, analyze data, identify patterns and trends, and make data-driven decisions.
In healthcare, AI-powered automations can be used for a wide range of tasks, from medical diagnosis to administrative tasks such as appointment scheduling and medical record keeping. 
For example, AI can be used to analyze medical images to help doctors diagnose conditions more accurately and quickly, or to monitor patients remotely via integrated medical devices and alert healthcare providers to any changes in their condition requiring attention.
AI-powered automations can provide treatment plans  informed by each individual's medical needs and personal preferences.  needs. By analyzing patient data, AI can identify the most effective treatments for each patient,provide recommendations to healthcare providers, and get patients on the road to recovery fast.
Best Healthcare Call Center Solutions
The systems listed below are all HIPAA compliant, offer many useful features for healthcare organizations and have received excellent customer reviews.
1. Five9
Five9's healthcare contact center system is a cloud-based solution that helps call center agents connect with patients from the office or remotely via HIPAA-compliant video, voice, SMS, chat, messaging apps, and email. Five9 is a reliable platform with a 99.999% uptime and offers all customers 24/7 live customer support.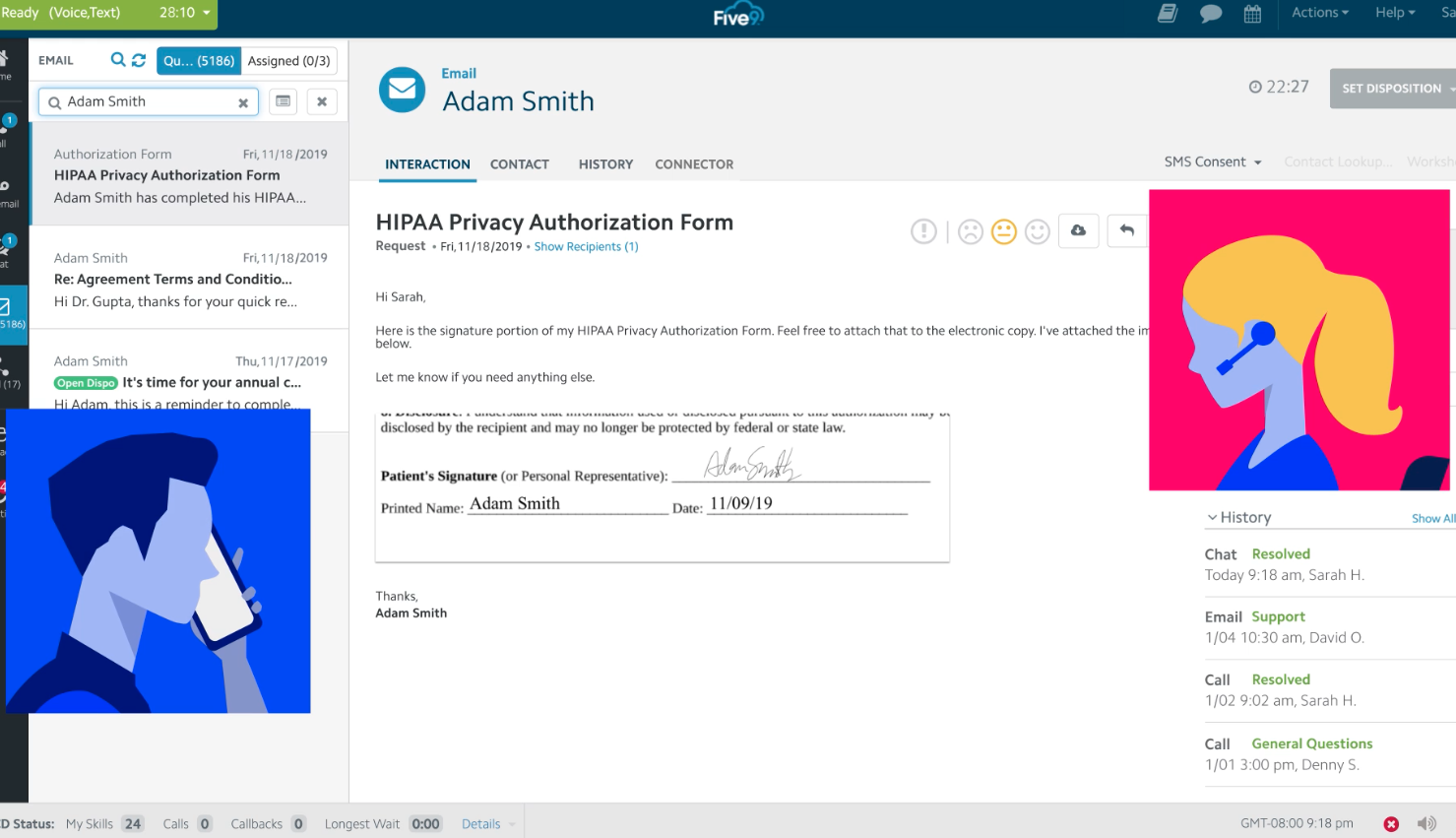 Standout Features
Standout features from Five9 that will be helpful to healthcare organizations include:
Intelligent Virtual Agent (IVA): Automates tasks like caller authentication and verification, routing calls to the appropriate clinician, scheduling appointments, processing prescription refills, and answering common patient questions
Proactive notifications: Lets admins  send appointment reminders via voice or SMS and offer automatic callbacks so patients don't have to wait on hold
Omnichannel capabilities: (For Premium plan users and up) Access a wide variety of communication channels like voice, email, SMS, webchat, video, and social messaging and access prior patient interaction history and notes across channels
HIPAA compliant video conferencing:  Enables patients to connect with healthcare professionals via an Apple or Android mobile video call, and includes features like  Video features include screen sharing, screen annotation, in-call photo and file sharing, and even barcode and ID scanning
Five9 Pricing
Five9 offers four different pricing plans, here is a breakdown.
Core
Premium
Optimum
Ultimate
Price
$149 per month
$169 per month
$199 per month
$229 per month
Key Features

Call recording
Real-time reporting
Blended inbound/outbound calling

Omnichannel support including chat and email
Essentials Quality Management (QM)

Workforce management
Enterprise Quality Management (QM)
Proactive workflow notifications

Full workflow automation platform
Interaction analytics
Five9 is Best For 
Based on the features needed, Five9 is an excellent choice for organizations of all sizes. Smaller organizations could benefit from basic features like omnichannel communication, while larger organizations and hospital call centers could use AI capabilities to streamline workflows and do a deeper dive into call quality data.
2. Talkdesk
Talkdesk's Healthcare Experience Cloud is a call center solution that caters to the healthcare industry. It comes with EHR systems already integrated into the platform along with pre-built provider-patient workflows, and AI tools trained specifically with healthcare expertise. Talkdesk's HIPAA-compliant software helps organizations securely connect with patients via voice, email, SMS, and self-service chatbots.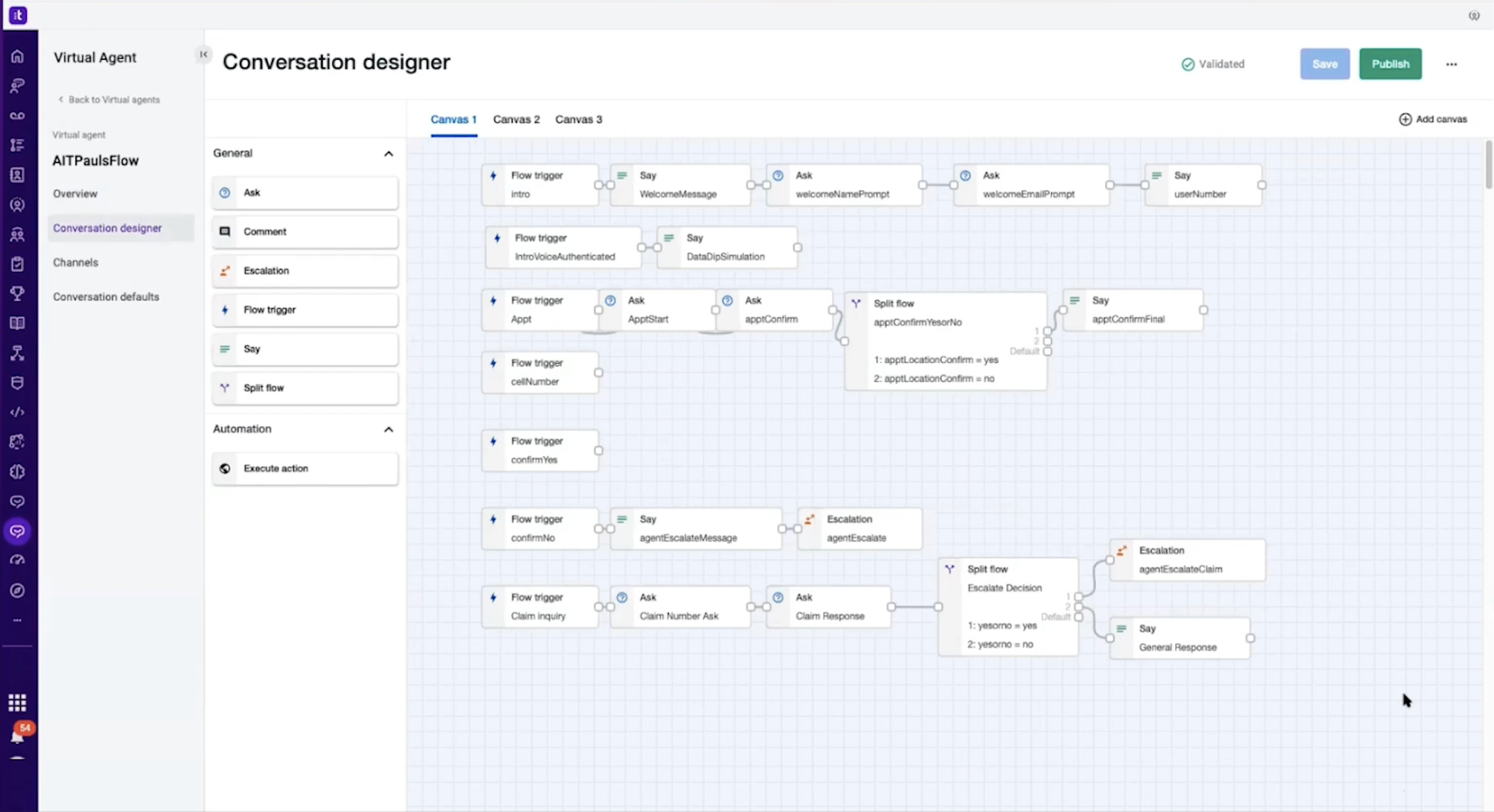 Standout Features
Standout features from Talkdesk that will be helpful to healthcare organizations include:
AI-powered self-service tools: Leverages speech-to-text and natural language processing (NLP) to enable healthcare organizations to build self-service conversational chatbots and content recommendations
EHR integrations: Integrates with leading EHR systems based on the HL7 FHIR standard (alongside specific EHR vendor APIs) to display patient data, flags, and appointment information in the Talkdesk Workspace
Reporting and analytics: Real-time dashboards, alerts, and custom reporting capabilities to track and analyze key performance indicators (KPIs). Also includes agent interaction recordings, transcriptions, and medical-grade speech-to-text that understands medical/pharmacuetical terms and makes relevant recommendations
Omnichannel capabilities: Enables live healthcare provider: patient communication across several digital channels (email, chat, SMS), while Studio and routing tools let admins build and optimize voice and digital communication flows
Talkdesk Pricing
Talkdesk offers three feature-bundled plans that range in price from $75-$125 per user/month. Its Healthcare Experience package is quote based, but is presumably at least $125 per user per month. It includes all features in the Elite (highest priced) plan as well as:
Unified desktop pre-integrated with EHR apps to display health information, past encounters, and previous inbound and outbound conversations across channels
Pre-built workflows to streamline patient access and manage appointments, billing, and payments
Ready-to-launch healthcare-trained AI bots for patient interaction
100% uptime SLA
Option to add-on two of the following: Workforce Management, Customer Experience Analytics, Agent Assist, Proactive Outbound Engagement
Talkdesk is Best For 
Talkdesk is best for large healthcare organizations with high call volume. The 100% uptime guarantee is ideal for call centers that need reliability. Omnichannel and self-service capabilities are helpful for companies that are looking to increase patient engagement and relieve pressure on agents by offering customers more ways to get answers.
3. NICE CXone
Nice CXone is a cloud-based customer experience platform developed by NICE inContact. It provides a suite of tools for managing and improving customer interactions across multiple channels, including voice, email, chat, and social media.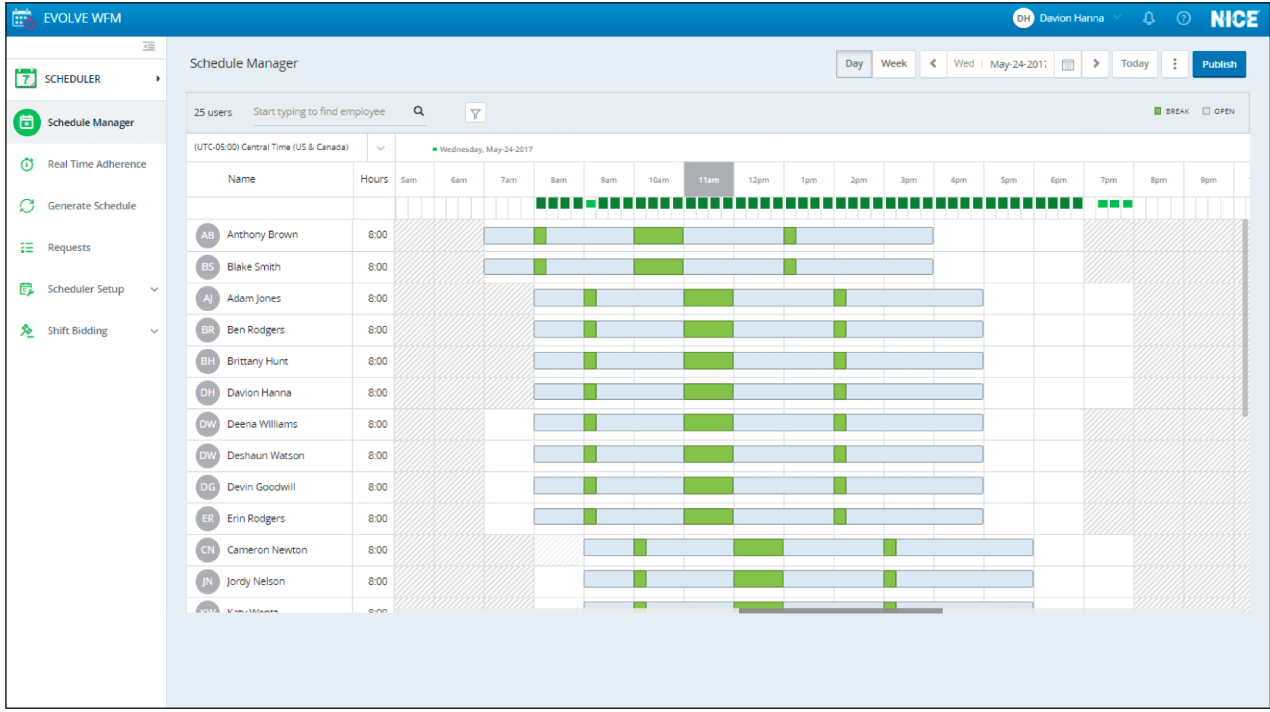 Nice CXone's flexible and HIPAA-compliant platform helps healthcare organizations use ACD to route patient calls more efficiently, provides workforce maanagemnet tools to ensure agents are available to handle patient requests, and identifies  areas for improvement with CXone's monitoring and analytics features.
Standout Features
Standout features from Nice CXone that will be helpful to healthcare organizations include:
AI routing: Instantly connects patients to the agent with the best predicted performance based on all available data sources including built-in A/B testing and pre-trained models built on an expansive set of holistic CX data
Screen pops: Displays CRM-integrated or other patient information on an agent's computer screen as soon as the agent connects with the patient on the phone
Self service tools: Buildable  conversational AI bots provide first touch customer resolutions along with smart knowledge management to make self-service answers easier for patients to find
Workforce management: Enables agent-initiated scheduling changes, peer trade requests, and real-time notifications alongside AI-based forecasting and suggested scheduling options by channel and other criteria
Nice CXone Pricing
Nice CXone offers 6 pricing plans that range from $71 to $209 monthly per user.
Digital Agent ($71 monthly): A digital-only contact center with multichannel routing
Voice Agent ($94 monthly): A voice-only contact center with self-service IVR and call routing
Omnichannel Agent ($110 monthly): A mixed contact center with omnichannel routing
Essential Suite ($135 monthly): Adds quality management workflows
Core Suite ($169 monthly): Adds workforce management tools like AI scheduling and forecasting
Complete Suite ($209 monthly): Adds AI omnichannel analytics
NICE CXone is Best For 
NICE CXone offers solutions for both healthcare providers and insurance contact centers. Overall, its AI capabilities and other advanced features make this system best for larger organizations and call centers looking to streamline the patient journey.
4. Genesys
Genesys is a cloud-based call center services provider that offers omnichannel customer engagement solutions for businesses of all sizes. It allows organizations to manage customer interactions across various channels such as voice, chat, email, social media, and SMS.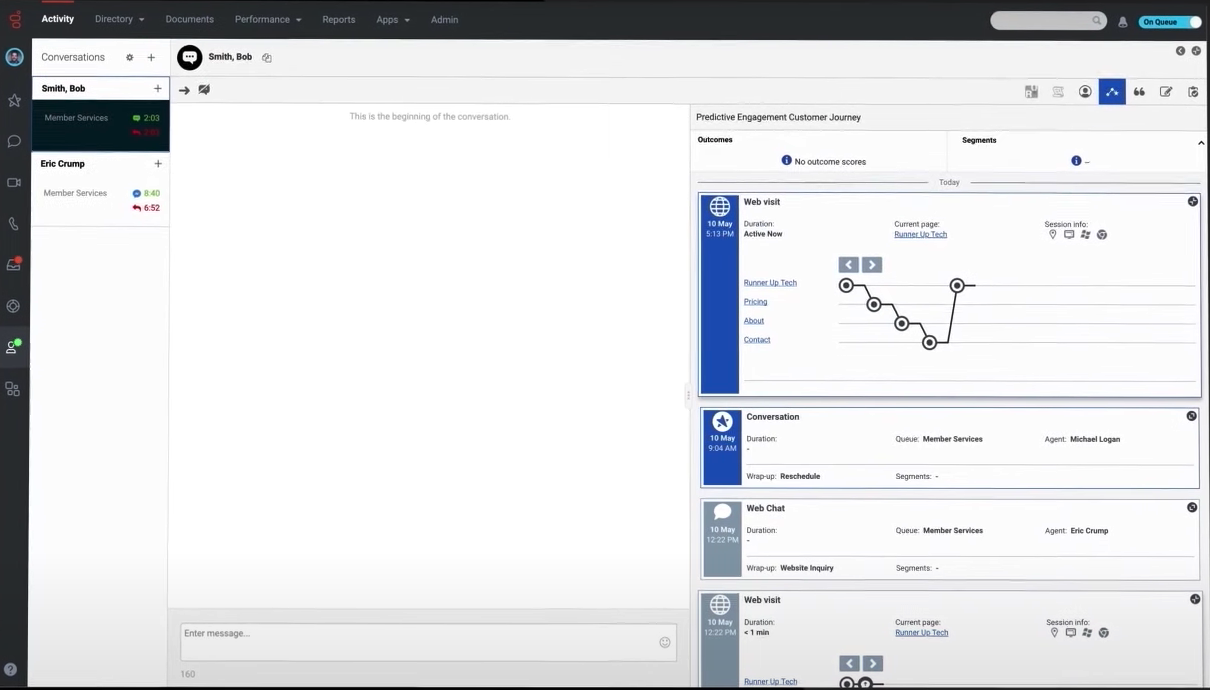 Genesys helps healthcare organizations manage high call volumes, reduce wait times, and improve patient satisfaction by providing intelligent routing, self-service options, and real-time reporting. It can also help healthcare organizations comply with regulations–including HIPAA–by providing secure messaging and data management functionality.
Standout Features
Some of Genesys' key features that are helpful to healthcare organizations include:
Health information technology (HIT) integrations: Genesys integrates with a number of healthcare applications including EHRConnect, Abridge, and Thrive
Agent assist: Reduces the time agents spend searching for answers by proactively providing live agents with personalized recommendations and guidance during liveinteractions
IVR: Lets users build multi-level interaction flows via a drag and drop interface, use predefined flows, enable speech recognition for menus, create touchscreen experiences with VIsual IVR, and develop omnichannel self-service bots.
Genesys Pricing
Genesys offers three versions of its cloud contact center platform. CX1, CX2 and CX3.
CX1 is a voice-only plan and costs $75 per month per user.
CX2 has a digital-only version for $90 per month per user and a combined digital and voice plan for $110 per user per month.
CX3 has a digital-only version that includes workforce engagement management (WEM) for $130 per user per month and a combined voice and digital platform with WEM for $150 per user per month.
Genesys is Best For
Genesys has some of the most affordable prices in the CCaaS space, it is therefore best for small healthcare organizations and contact centers that are looking to improve the customer experience with omnichannel service, IVR and self-service options. Although Genesys does not offer the same level of reliability as other competitors and is lacking some advanced features such as video chat, it is a solid HIPAA compliant platform with many essential healthcare features including EHR integrations, IVR, and omnichannel capabilities.
5. Bright Pattern
Bright Pattern's cloud-based HIPAA compliant contact center software provides a comprehensive solution for healthcare organizations looking to manage patient interactions across multiple channels and deliver exceptional customer experiences.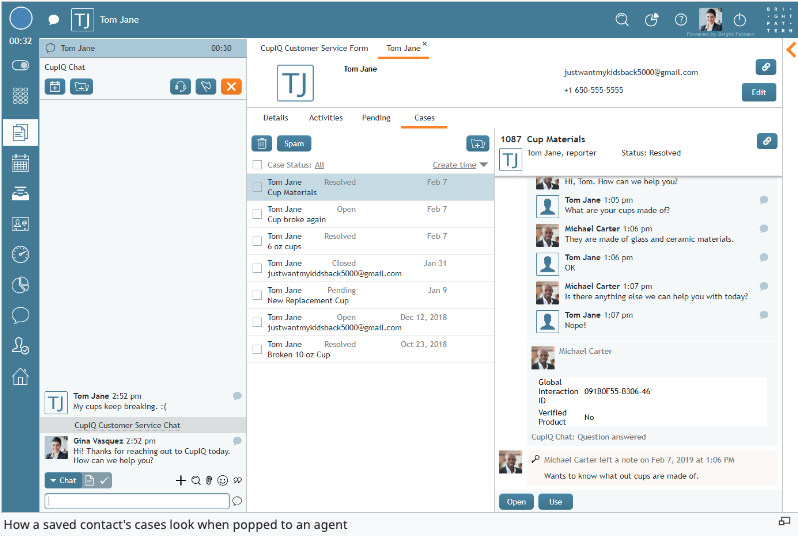 The platform's automatic call distribution and predictive dialer features can help route calls and handle patient inquiries more efficiently, while its omnichannel routing tools ensure that patient requests are handled in a timely manner across all channels.
Standout Features
Standout features from Bright Pattern that will be helpful to healthcare organizations include:
Built-in quality management: Automatically stores all chat session transcripts, patient emails, agent responses, and call and screen recordings for future review via keyword or agent name search
Drag and drop scenario builder: Intuitive, no-code interface lets admins define agent steps to follow during customer interactions, add prompts, receive pop-ups with case or contact information, and automatically reply to emails
Click-to-call and click-to-chat: Lets businesses add a clickable button on their website or app that initiates a live phone call or web chat with the healthcare  organization's customer service team or contact center
Bright Pattern Pricing
Like many other contact center software providers, Bright Pattern is quote based and does not publish pricing. It offers 4 different versions, however, a voice only platform with inbound and outbound calling including IVR, a digital only platform with SMS/MMS, web chat, video chat, email and social media messaging, an omni channel package that combines both voice and digital channels and a mobile version that includes voice, SMS/MMS, web chat and social media messaging capabilities.
Bright Pattern is Best For
Bright Pattern seems to specifically target health insurance companies as their ideal healthcare customer. However, their HIPAA compliance certifications and easy to use platform also make it a good fit for small and medium sized healthcare organizations.
6. Dialpad
Dialpad is a cloud-based communication platform that is a great choice for healthcare organizations due to its compliance with HIPAA, enterprise grade security (including SSO), integrations with a range of healthcare-related applications including EHRs and advanced features such as video meetings, built-in call analytics and the ability to automate SMS appointment reminders, follow-ups and voicemail drops.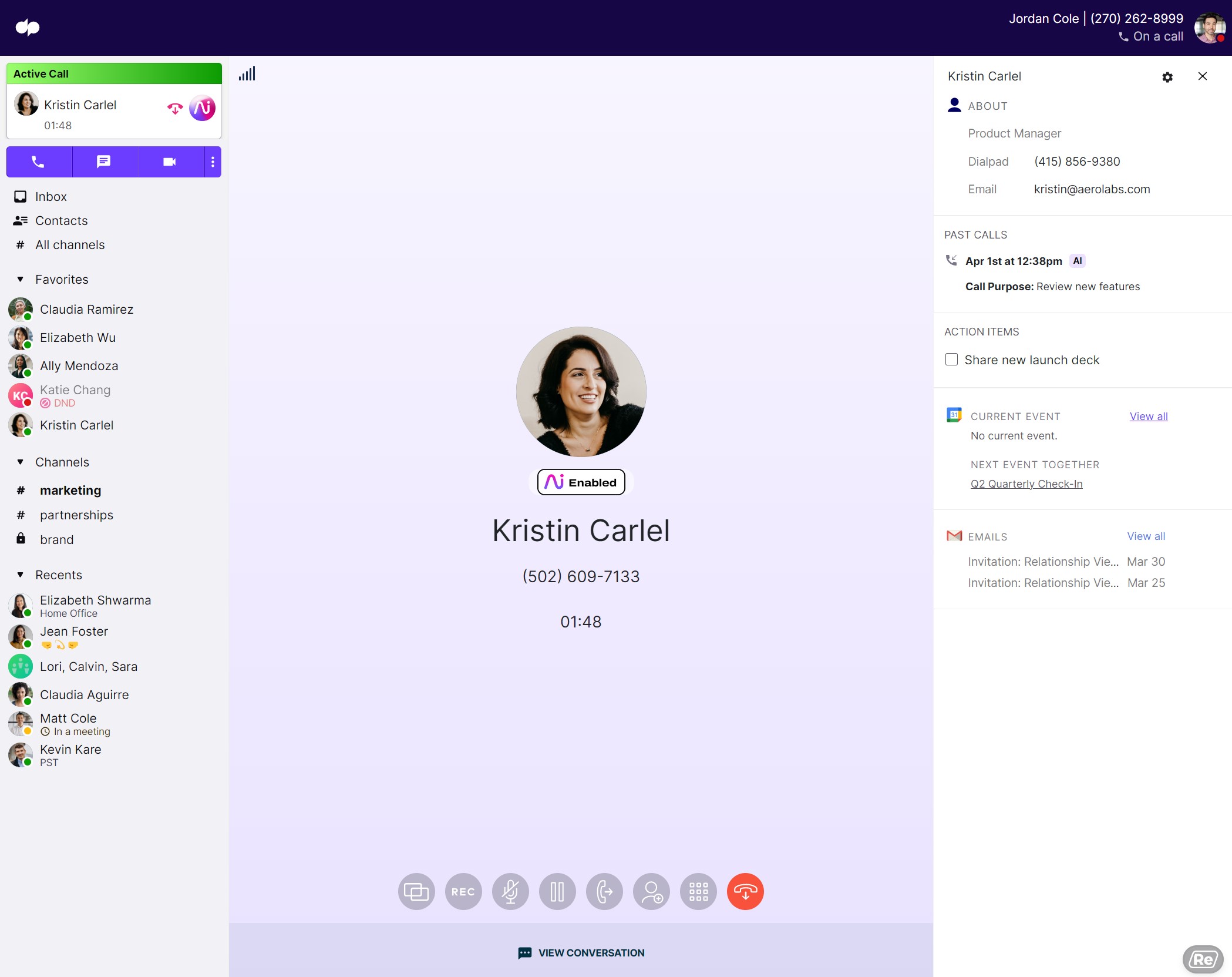 Standout Features
Dialpad's key features that will be helpful to healthcare organizations include:
Call summary: Provides admins with a concise overview of a conference call or video meeting including a searchable transcript, action items, and notes
Live speech coaching: Uses AI to provide agents with real-time recommendations, action item tracking, and sentiment analysis. This feature is helpful for improving patient care and the overall patient experience.
Flexible call routing: Using DTMF keys or voice prompts, users can direct patients to the right agents based on skill level, availability, or longest idle time. Patients can also opt for an automated callback to avoid hold time
Dialpad Pricing
Dialpad offers three AI contact center plans, which range from $80 to $150 monthly per user.
Essentials ($80 monthly): Voice-only contact center with IVR, call distribution, and call monitoring
Advanced ($115 monthly): Adds digital channels and virtual assistant
Premium ($170 monthly): Omnichannel support and AI customer satisfaction score
Dialpad is Best For
Dialpad is a solid option for medical call centers of all sizes. Smaller contact centers will benefit from Dialpad's Pro plan which includes many essential features but does not guarantee 100% uptime. Larger contact centers benefit from Dialpad's Enterprise plan which includes the ability to gather all contact center data, create custom reports and analyze the contact center in new ways using business intelligence (BI) along with a 100% uptime SLA, and unlimited custom call queues.
How To Find the Right Healthcare Call Center Software
Healthcare contact center software helps providers stay organized and communicate effectively with patients—from providing major test results to sending check-up reminders.
Choosing the right healthcare call center software, however, can be a challenging process.
Cost, required features, integration capabilities, security, ease of use, and customer support are all deciding factors, and each provider has its own strengths and weaknesses.
Large healthcare contact centers that require advanced automations and a high level of reliability would benefit from providers such as Talkdesk or Dialpad. For smaller healthcare call centers, Bright Pattern is a solid solution without a lot of extras. For call centers that need an EHR or CRM integration, Genesys and Five9 have the most options. For healthcare organizations looking to offer video appointments and telehealth services, Dialpad and Five9 are great choices.
By considering the above-listed factors, you can make an informed decision when choosing the right healthcare call center software for your organization.