Unwanted calls from telemarketers, illegal robocalls, spam calls, and call spoofers using falsified caller IDs continue to be a major issue–tricking people into giving away private information and resulting in over 56 million Americans losing money.
While provider authentication protocols like STIR/SHAKEN have cut down on spam calls, the problem is far from resolved. As of this writing, 5.5 million Robocalls are made per hour.
The good news is that you can protect yourself – with the help of features and tools from your VoIP provider, third-party applications, your smartphone, and even the FTC.
In this article, learn how to block robocalls and spam calls on a variety of devices, get tips on how to identify spam calls, and understand how to register your phone number with the Do Not Call Registry.
Jump to ↓
Register Your Phone Number with the National Do Not Call Registry
The first step to blocking spam calls and robocalls is to register your phone number with the National Do Not Call Registry, more commonly known as the Do Not Call List.
At www.donotcall.gov, the Federal Trade Commission's (FTC) National Do Not Call Registry website, you can report unwanted calls and exempt your own smartphone, landline, and VoIP phone numbers from telemarketing calls.
To register by phone, call 1-888-382-1222 (voice) or 1-866-290-4263 (teletype). You must call the registry from the number you'd like to add. Registration only expires if you change telephone numbers, and you can check the status of your registration at any time on the DNC website or by calling the phone numbers listed above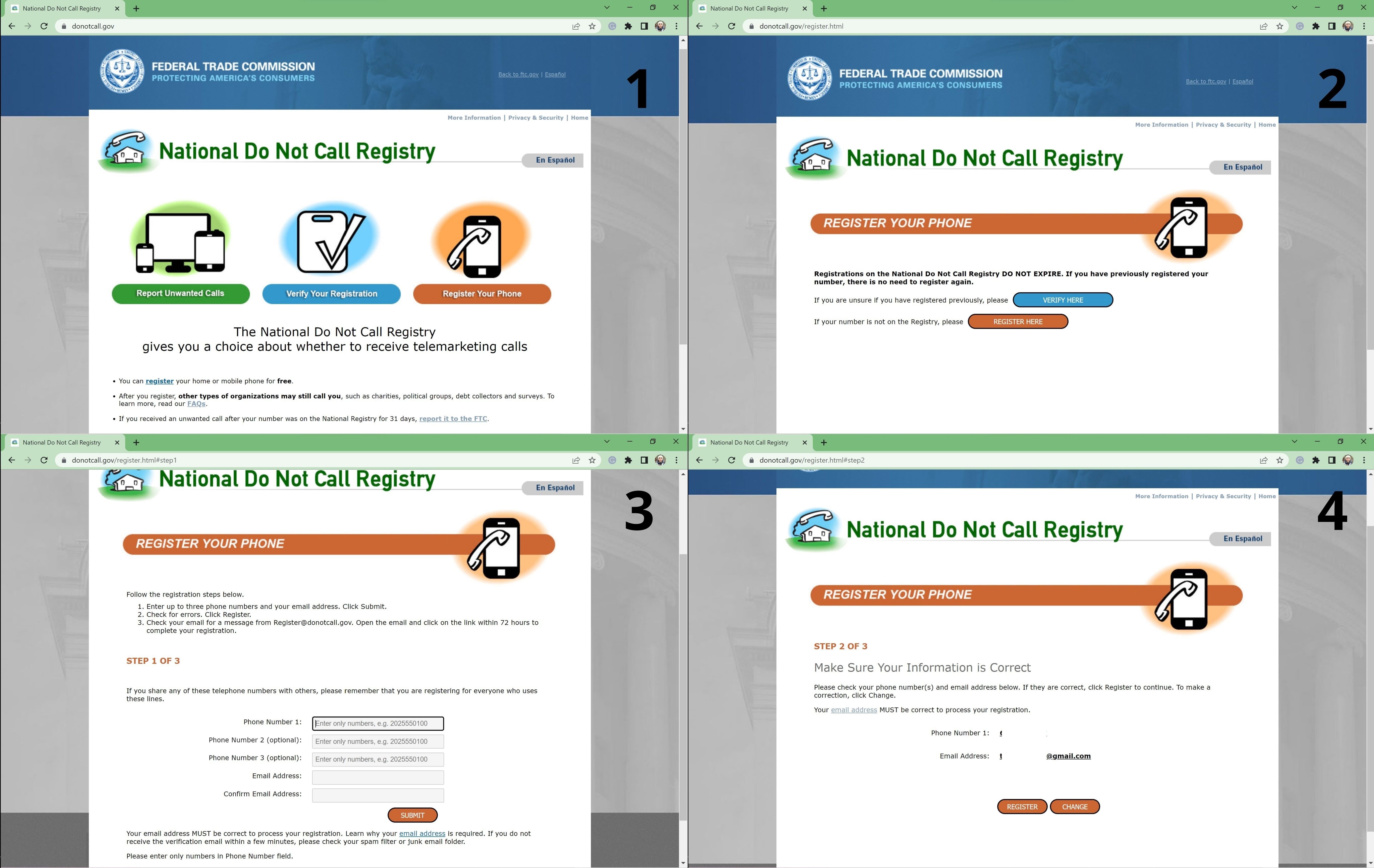 By law, sales and telemarketing companies cannot contact phone numbers on the Do Not Call Registry by call or by text, and those that do can face fines of up to $11,000 per call.
While the DNC list protects customers from legal telemarketers and sales calls of any kind, it cannot block all unwanted calls from reaching your phone.
Adding your number to the DNC registry does not stop scam calls, spoofed calls with falsified caller IDs, or other illegal phone calls. Additionally, registered numbers may continue to receive calls from nonprofits/charities, political campaigns, debt collectors, phone surveys, and some businesses you have "opted in" to receive communications from. Although your phone number will appear in the DNC registry within 24 hours, note that it can take up to 31 days for all telemarketing calls to that registered number to stop. This is because telemarketers are legally required to update their own Do Not Call lists every 31 days.
If you continue to receive calls from telemarketers 31 days post-registry, you should report these callers to the FTC. We'll cover how to do that later in this post.
How to Block Robocalls on iPhone
On an iPhone, there are three main ways to block spam calls or robocalls:
The Silence Unknown Callers function
Individually block numbers that repeatedly spam call you
Download a third-party call-blocking app
Option 1: Silence Unknown Callers
With iOS 13 or later, the Silence Unknown Callers capability silences all calls from unknown numbers: numbers that you've never interacted with or aren't saved in your contacts.
To enable Silence Unknown Callers on iPhone:
1. Click Settings on the homepage
2. Click Phone
3. Tap Silence Unknown Callers and enable the feature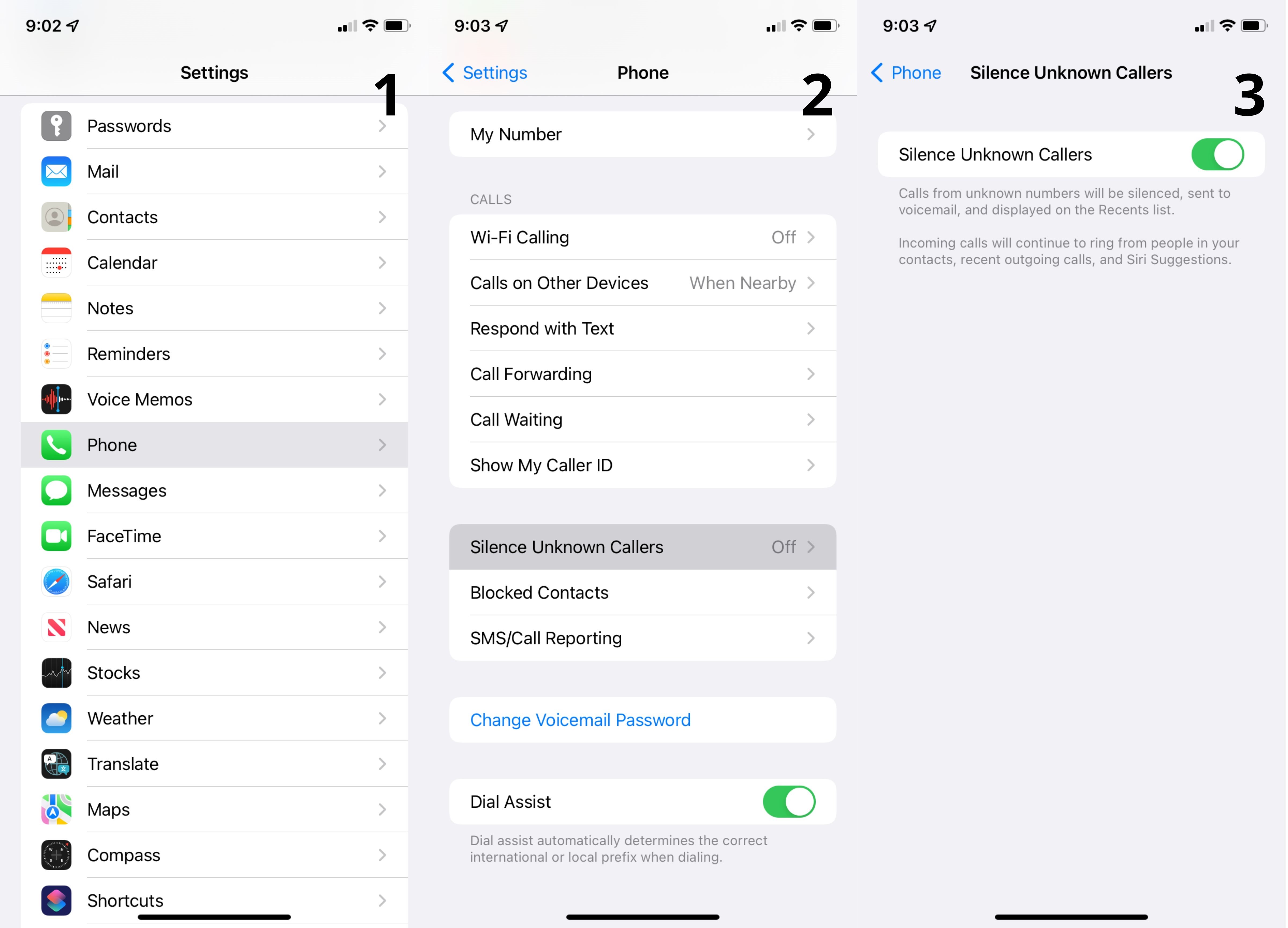 With this feature enabled, you will still receive incoming calls from any saved contacts, any previous interactions you've had, or any Siri-recommended contacts, such as phone numbers from your emails, apps, or text conversations.
However, any unfamiliar or spam-tagged numbers will be automatically silenced. They will still show up in your missed calls or voicemail, so if a call is accidentally silenced, you can identify the caller and call them back.
Before enabling this option, be sure to obtain and save numbers from new contacts who might reach out to you, so they do not get inadvertently silenced. Alternatively, if expecting a call from a new number (such as an employer or new acquaintance), you can easily disable this feature for a select time period.
Option 2: Manually Block Spam Numbers, One-by-One
If you receive spam calls from one or a handful of the same numbers, you can block these numbers individually.
The iPhone's automatic Incoming-Caller-ID feature catches and labels many "Spam Risk" calls, so when you see this ID during an incoming call, you can immediately reject it, find it in your call log, and block it. You can block these and any other numbers by using the following steps:
To block individual numbers on iPhone:
1. Open the Phone menu at the bottom of the screen
2. Find the number you want to block and click the 🛈 icon
3. Select Block this Caller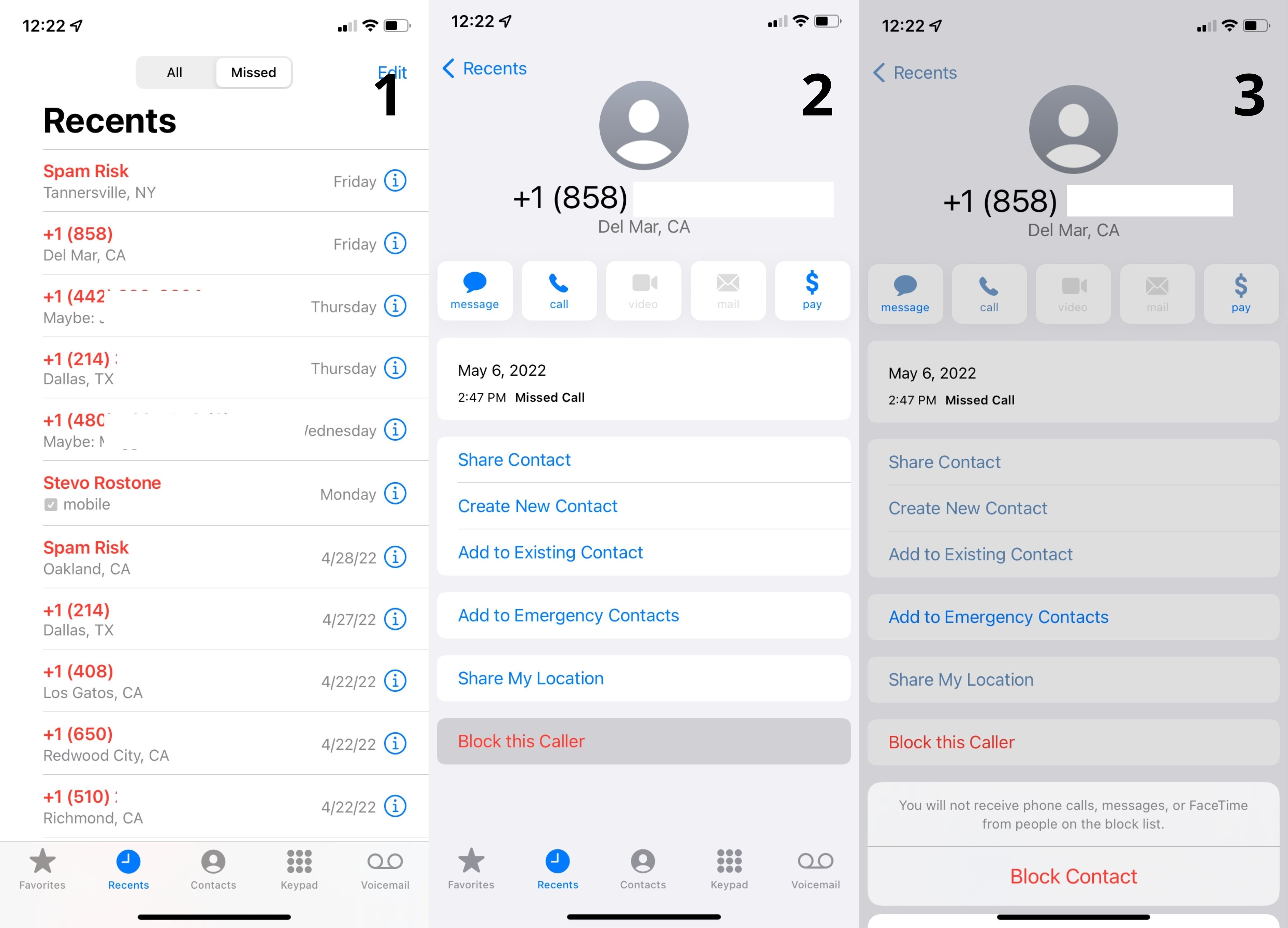 After this, the blocked number can no longer reach you by call or text and you can unlock numbers at any time. However, this method does not stop new numbers from spam calling you, so it might not fully stop the problem.
Option 3: Install a Call Blocking App For Smartphones
Check out the Call-Blocking Apps for Smartphones section of this post for more information about how to use an app to block spam calls.
How to Block Robocalls on Android
Blocking spam calls on an Android involves similar options to those of an iPhone:
Filter spam calls
Block spam numbers individually
Use a third-party call blocking app
Option 1: Filter Spam Calls
Similar to the iPhone's Silence Unknown Callers setting, the Android's Filter Spam Calls setting automatically blocks all calls that the network categorizes as "spam".
To enable Filter Spam Calls on Android:
1. Open Phone on the homepage
2. Select More Options→Settings→Spam and Call Screen
3. Click Filter Spam Calls to silence all calls identified as "spam"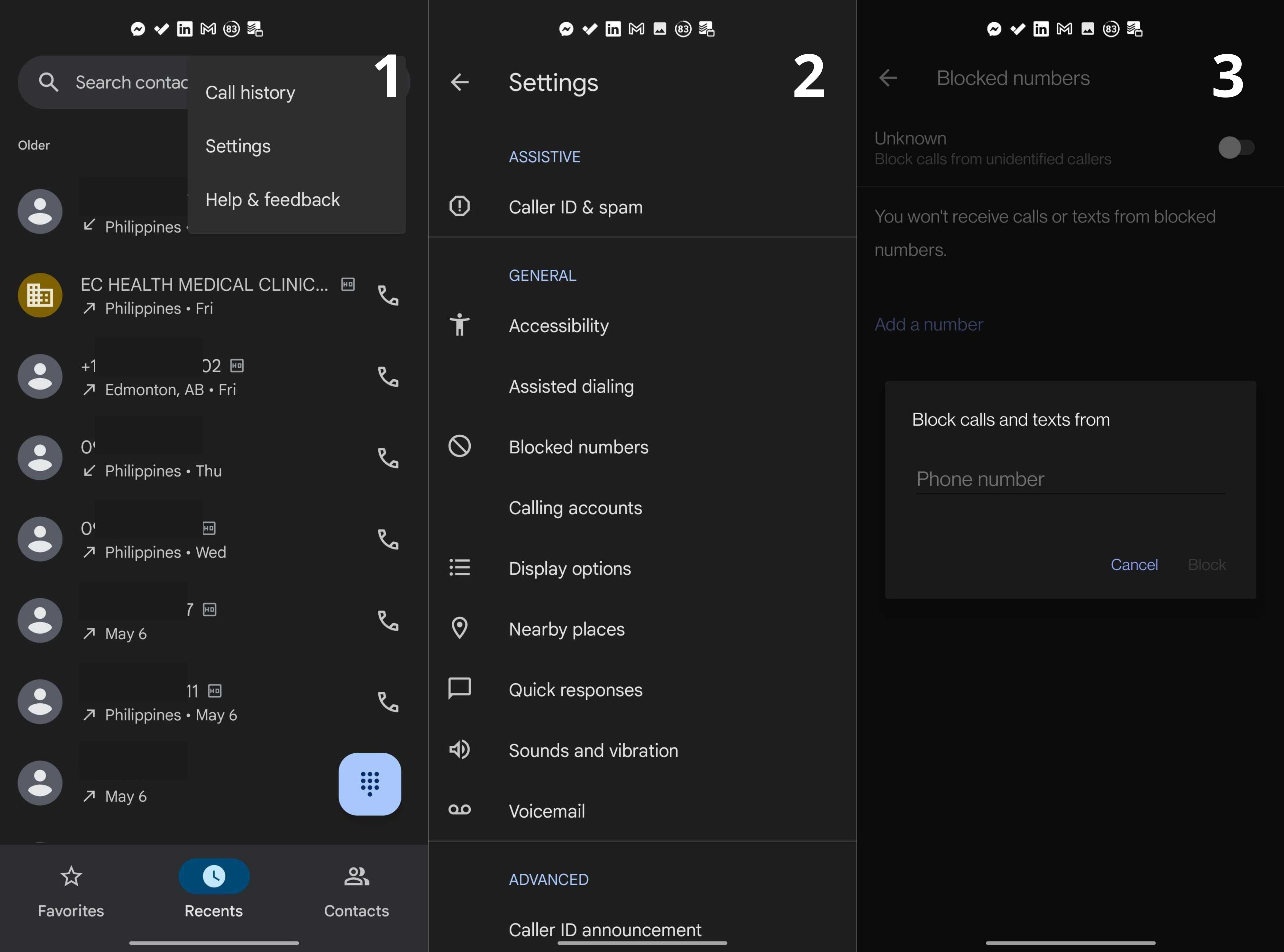 Option 2: Block individual spam numbers one-by-one
An Android allows you to block individual numbers directly from your call history.
To block individual numbers:
1. Open Phone on the homepage
2. Within Recents, long-tap the number you'd like to block
3. Tap Block among the pop-up options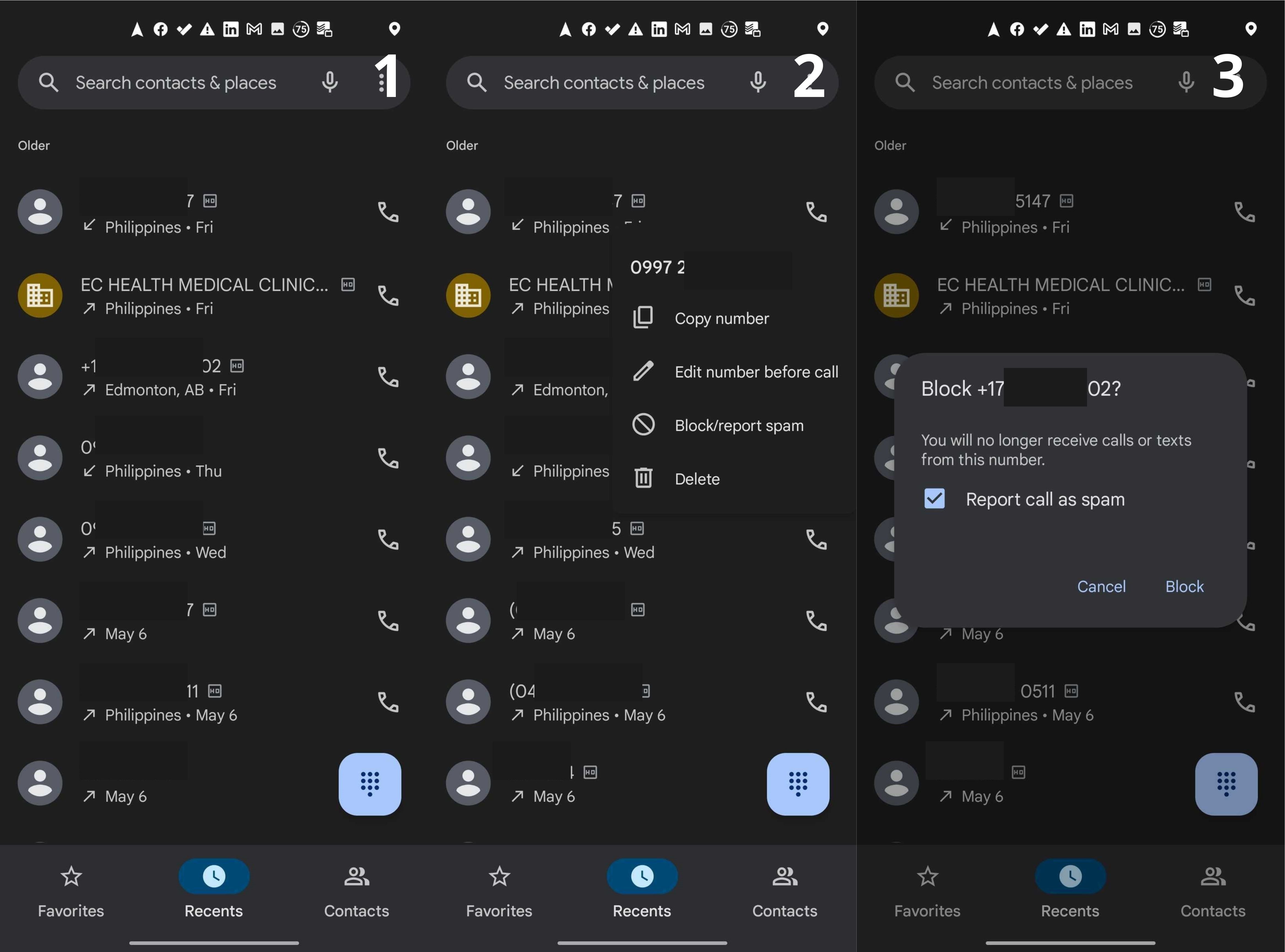 While easy to do, this method only stops one spam number at a time. The other options are more general preventative measures.
Option 3: Install a Call-Blocking App For Smartphones
The Call-Blocking Apps for Smartphones section of this post will outline the best apps for blocking spam calls.
How to Block Robocalls on Landline
Most traditional landlines today have Caller ID automatically enabled, indicating if an incoming call is a known number, a business, an unfamiliar number, or an anonymous number. Still, landline users may want to have more control over blocking anonymous calls or particular numbers.
Landline users have three primary options for blocking robocalls and spam calls:
1. Use *60 or *77 star codes
2. Install a call-blocking device
3. Consult with your provider about call-blocking services
Option 1: Use the *60 or *77 Star Codes
Landline users can take advantage of a variety of star codes, which are numbers involving the * key that enable you to control a variety of call settings.
By dialing *77 and navigating the automated menu, landline users enable call-blocking for all anonymous calls.
Dialing *60 allows users to block up to 12 user-entered phone numbers at once, taken either from the recent calls list or typed in manually.
To block particular numbers on landline using *60:
1. Dial *60 on a landline phone and hear the guide menu
2. To block the most recent call, input #01# on the keypad
3. To block a select number, dial #, followed by the 10-digit number, followed by #
Option 2: Install a Call-Blocking Device
Call-blocking devices, such as the V5000 by CPR, seen below, instantly block thousands of known spam numbers by connecting directly to your phone and service landline.
These devices come loaded with thousands of pre-programmed known spam numbers, and users can add over one thousand customized numbers or block select area codes. When one of the device's listed numbers attempts to call, the call-blocking device intercepts and stops the call from ever reaching the phone.
If an unwanted number still manages to make it through, pressing the "block now" button immediately blocks the number and adds it to the blocked list.
Option 3: Consult with Your Provider about Call-Blocking Resources
Your landline carrier or provider might offer additional call-labeling or call-blocking features, that you can enable on your line or devices. Give them a call to see what they offer.
How to Block Robocalls on VoIP Phones
Here, we've listed the best options and tools to block spam calls on a home or enterprise VoIP network.
Option 1: Customize Call Screening, Blocking, and Anonymous Call Rejection Settings
Call screening and call blocking capabilities, featured in nearly all standard VoIP plans, allow you to customize which types of calls or numbers you want to filter, and how you want to respond to them. Anonymous Call Rejection, a helpful setting within Call Blocking, allows you to block all calls with an anonymous Caller ID.
You can customize Call Screening and Call Blocking for each individual agent and phone number within your VoIP plan.
To set up Call Screening or Blocking on your VoIP Phone:
1. Open Settings (may be called Features) within the administrator dashboard
2. Select Call Handling and Voicemail (might be called Routing or Call Screening)
3. Click Call Blocking
4. Within Call Blocking, customize the tags that you'd like to reject:
a. All anonymous calls
b. Callers not in the contact list
c. Callers with a high spam score
d. Certain phone numbers
e. Certain area codes
5. Within Call Blocking, customize the way you'd like to respond to these calls:
a. Deliver an away message
b. Ring silently
c. Send to voicemail and spam folder
d. Send to voicemail with transcription
e. Block entirely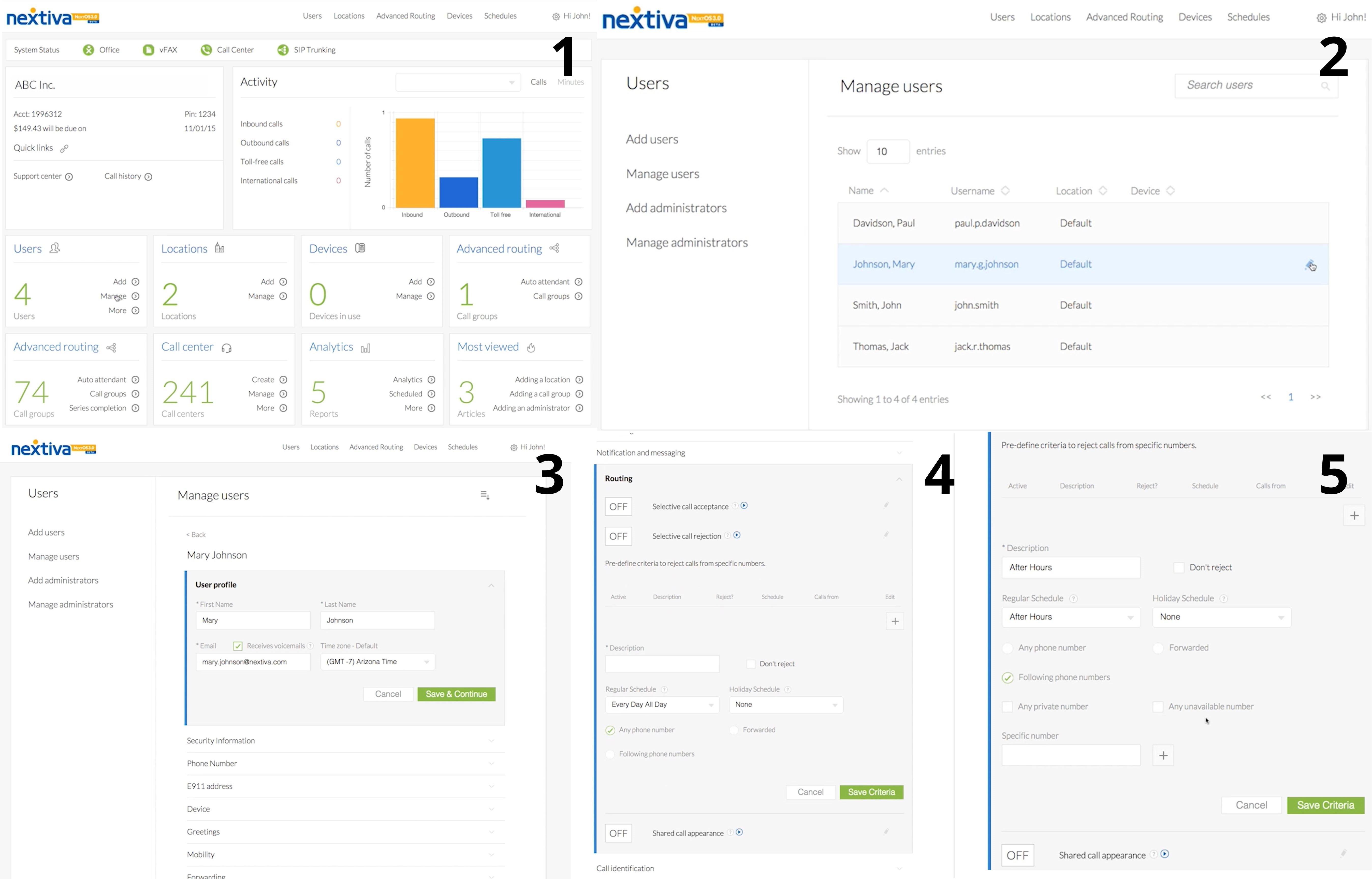 Option 2: Use an IVR or Auto Attendant Feature
Nearly all VoIP plans today offer an IVR (Interactive Voice Response) or auto attendant feature, which uses AI to route customers via a navigation menu, receiving customer inputs through dial-tone frequencies or speech recognition.
Since robocalls cannot press buttons or speak based on a menu's options, IVR and auto attendant features filter out real callers from robocalls.
While each VoIP provider's interface is slightly different, the process generally looks as follows:
To configure IVR in VoIP
1. Open Settings in the administrator dashboard
2. Click Call Workflows
3. Select Basic IVR
4. Follow the guided directions to set up your IVR call flow, including:
a. Caller navigation options
b. The attendant's speech and voice settings
Option 3: Block Numbers Individually
Similar to blocking individual numbers on a mobile device, you can block numbers on a VoIP phone, whether it's a mobile softphone or a desktop-enabled hardphone.
To block individual numbers on VoIP:
1. Open the Call Log (on headphones this will be on your desktop)
2. Click the 🛈 icon for the phone number you'd like to block
3. On the caller's ID page, select Block Caller
Call Blocking Apps for Smartphones
Many third-party mobile device apps provide strong tools for blocking spam calls and spam texts.
These spam-blocking apps instantaneously check your phone's incoming numbers against an always-growing database with millions of known spam numbers. If the number comes up clean, it's good to go. If the number turns out to be a known spam number, the app will catch it, and you can choose how you want to respond.
Each of the apps listed below features STIR/SHAKEN authentication, which verifies incoming Caller ID information to make sure that the displayed Caller ID is legitimate.
Below, we've outlined five of the top spam-blocking apps available in app stores.
Hiya
Hiya is a call blocker, fraud detection, and phone number lookup app that offers both a free and a paid version. When a new number calls you, Hiya automatically searches the number to provide you information about the caller–the name of the business, friend, organization, or spam number calling you.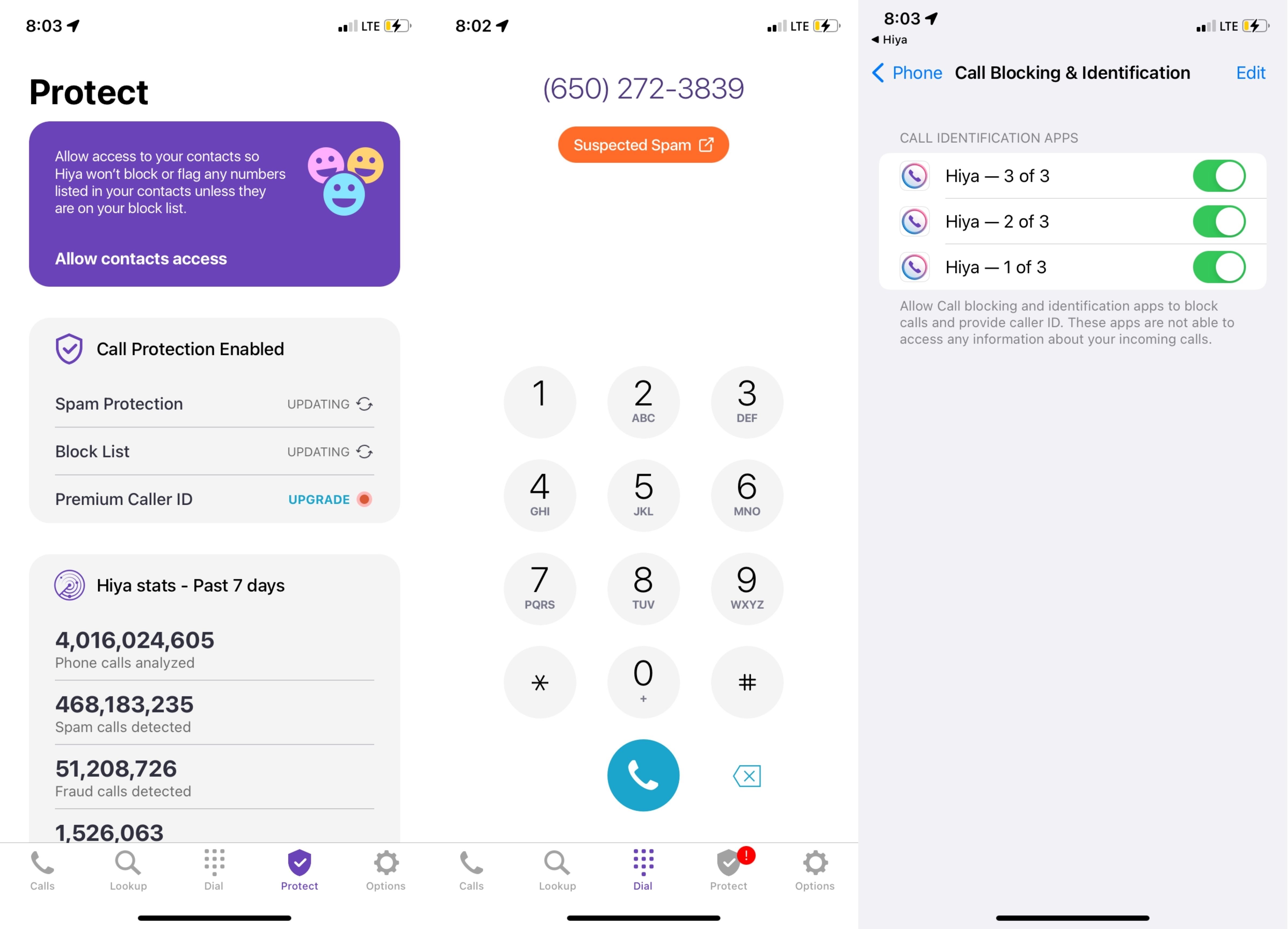 Standout features:
Caller ID gives a name to unknown callers: whether they're businesses, friends, or robots
Manage contacts lets you add names or addresses from Hiya into your phone book
YouMail
YouMail is a free spam blocker, robocall blocker, and visual voicemail app with an evergrowing database containing millions of known robocall numbers, which it references to protect you from spam calls.
Within the YouMail interface, you have the option to route blocked calls straight to visual voicemail, with transcription. The app also provides statistics about how many spam calls it has filtered.
Illegal attacks stopped by YouMail help power law enforcement efforts against those calls, backed by reports from the whole YouMail community.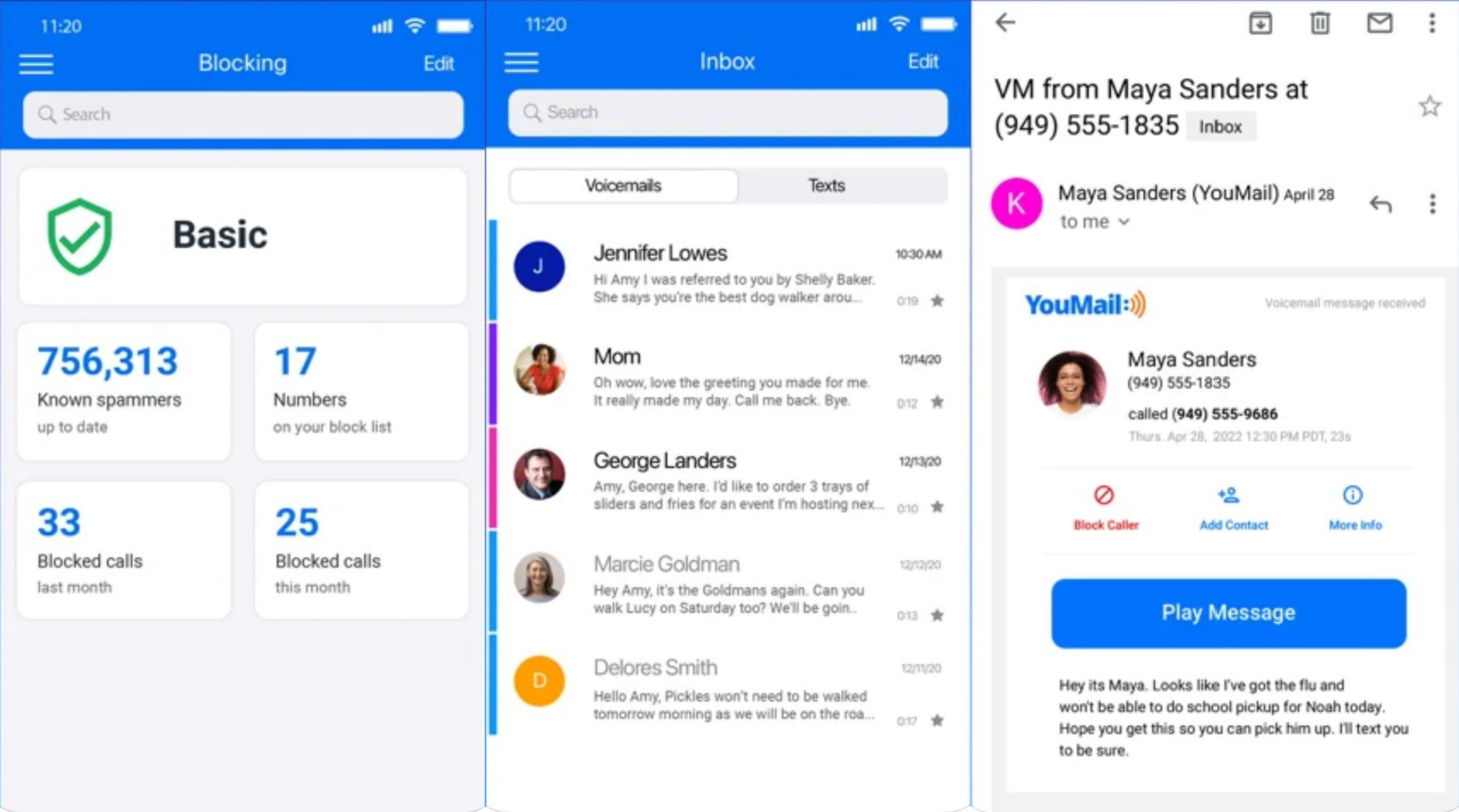 Standout features:
Optional "Number Disconnected" tones get you taken off spam call lists
Voicemail-based fingerprinting enables fast spam blocking
Call blocker updates hourly with new known spam numbers
Personal blacklist lets you block any number
NoMoRobo
While NoMorobo costs $1.99 per month, it does more than just block robocalls: this app also blocks telemarketers and spam texts, using a bank of over 3.2 million known robocall numbers with thousands more added daily, to keep your phone protected and peaceful.
NomoRobo gives you the option to block or simply tag robocalls, and it also blocks invasive trackers and web ads.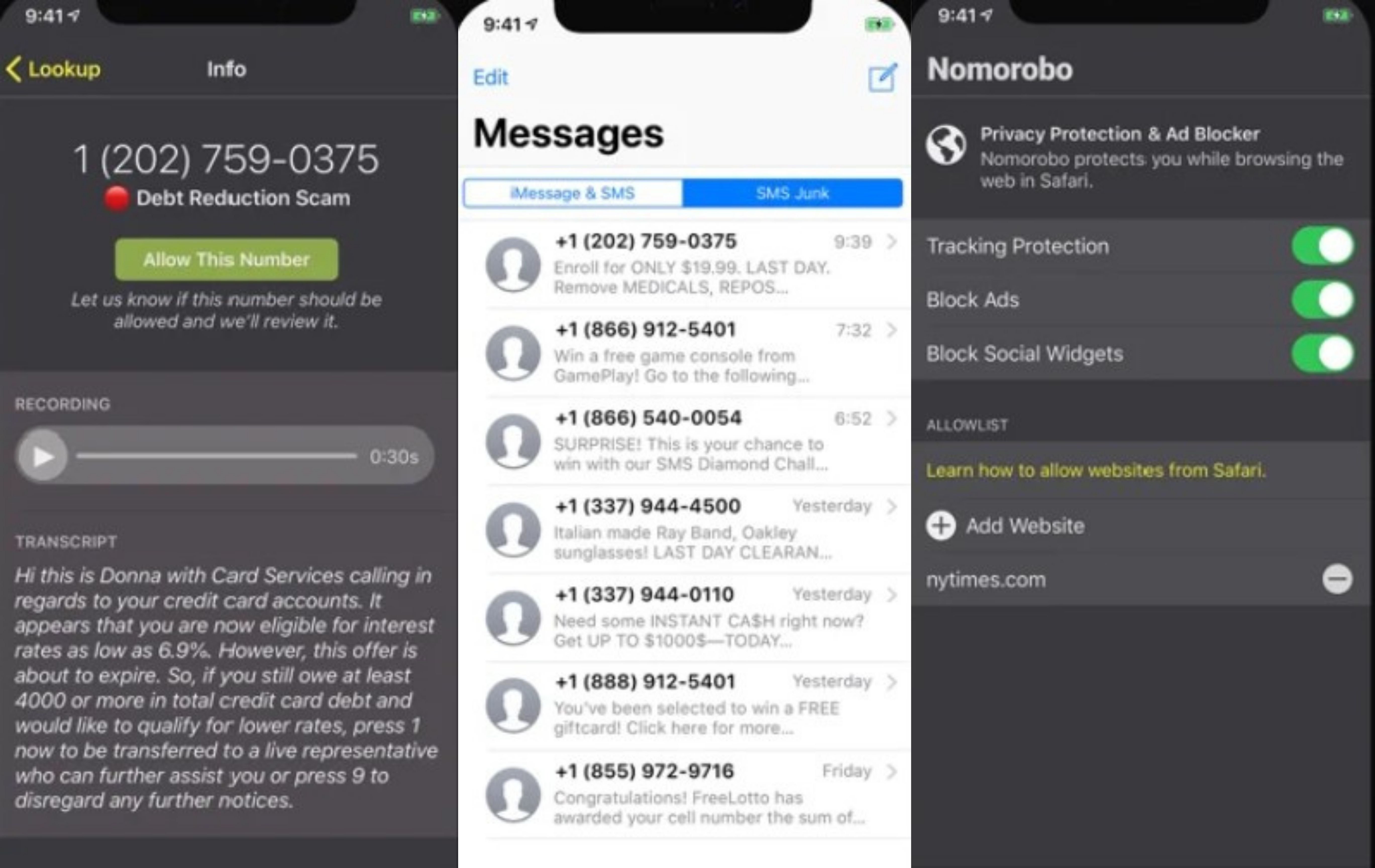 Standout features:
NoMoRobo database lets you listen to thousands of robocalls, to identify commonalities
Important and useful robocalls–like school closings or weather updates–still get through
TrueCaller
Truecaller, a free app that identifies and blocks spam calls and SMS texts, also functions as a dialer that allows you to call and chat with friends directly from the app.
You can search unknown numbers on Truecaller's 300-million-user-supported database to find information about unknown numbers.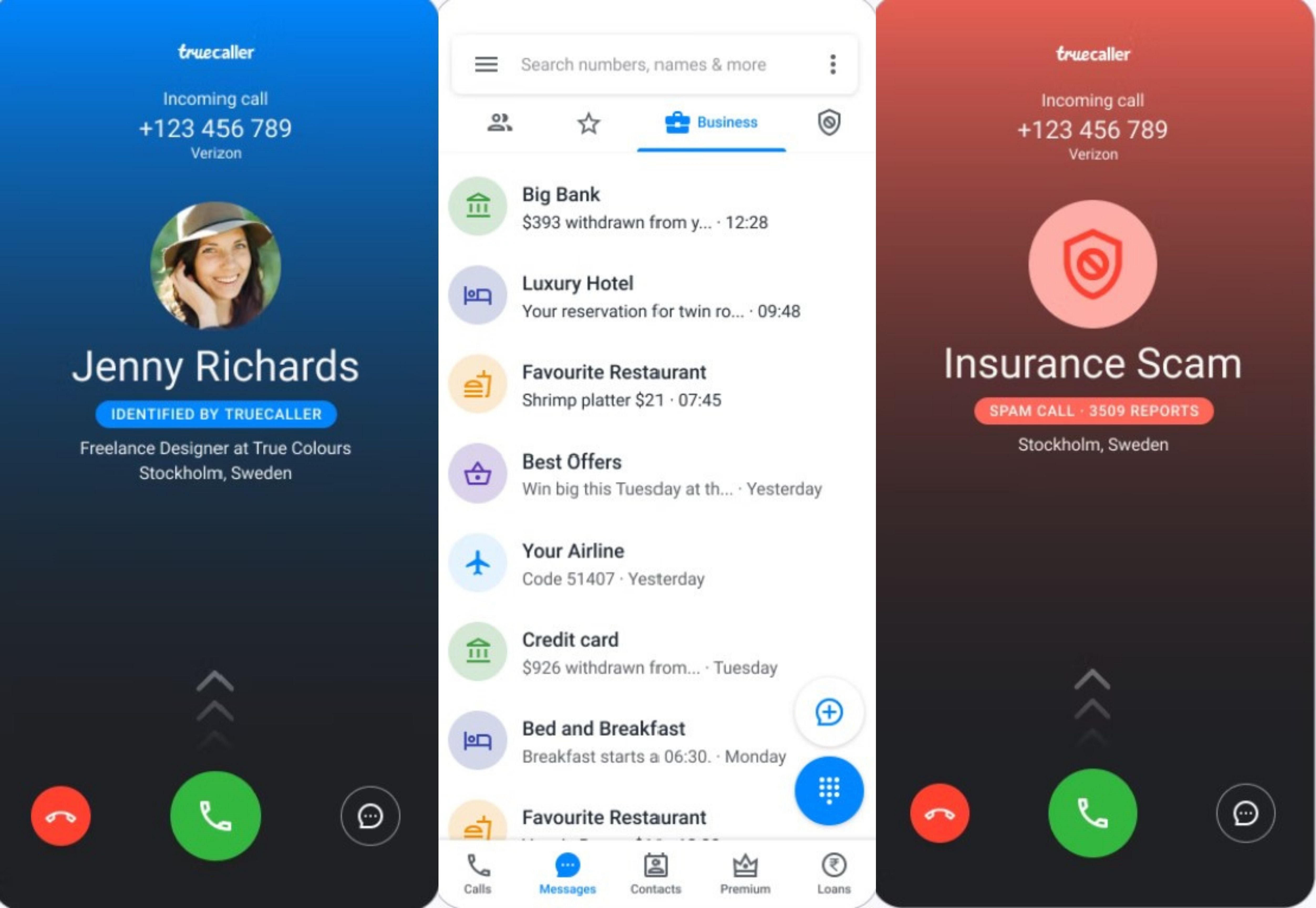 Standout features:
Number lookup to find contact info for unknown numbers
Dialer and smart messaging within the TrueCaller app
Call Control
Call Control is a free spam call and SMS blocker, which draws from its community blocklist of over 3 million numbers as well as your personally created blocklists to filter all sorts of flagged calls: Potential Spam, Spam Likely, Scam Likely, and Potential Fraud.
Call Control also offers spam ID and lookup, where you can learn more about a scammer's number, such as the type of scam, activity level, location, and the number of complaints they've received.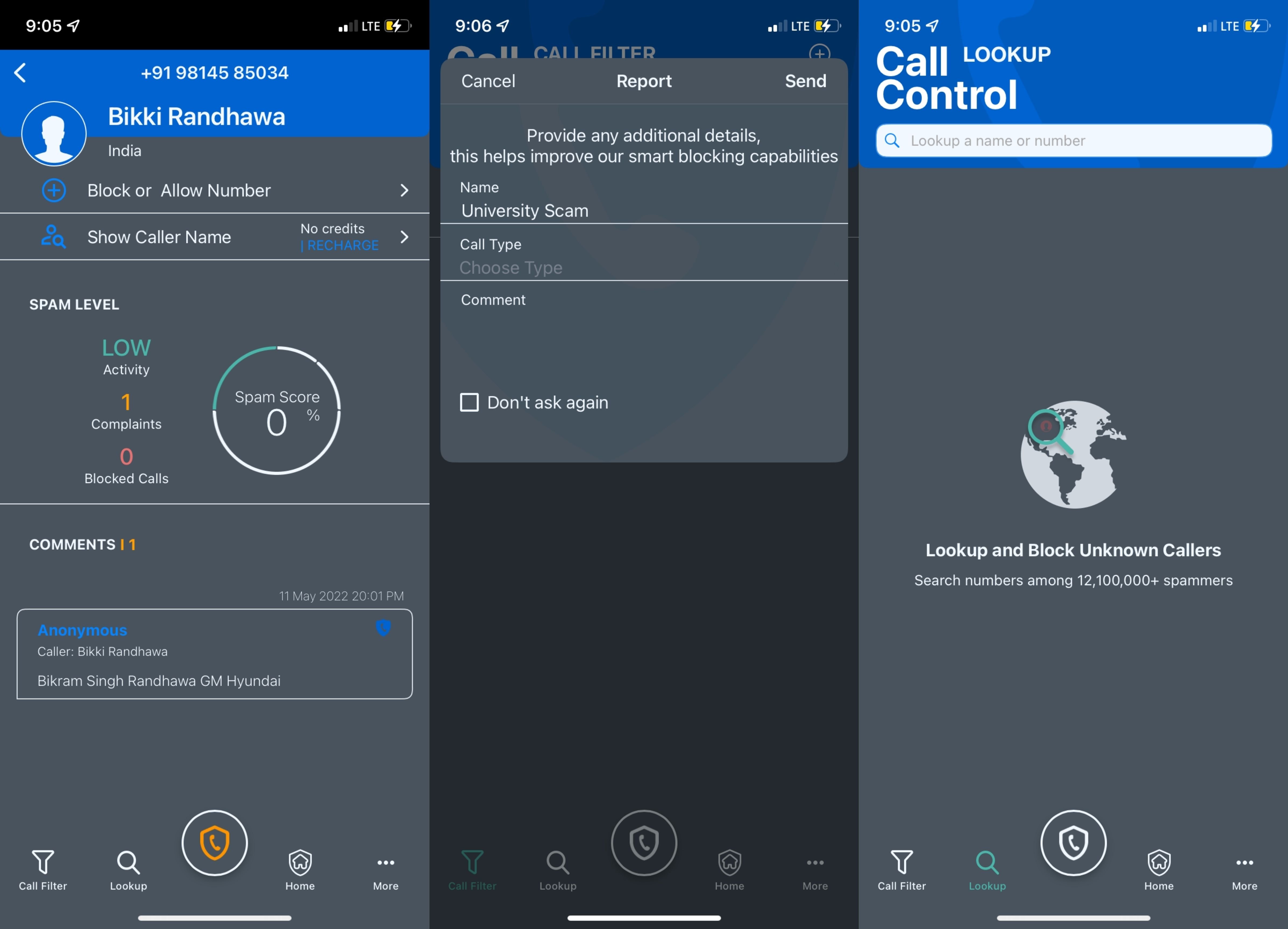 Standout features:
Personal blocklist
Spam number ID and lookup
Other Call Blocking Tools and Resources
In addition to the above call-blocking apps, most mobile or phone providers offer a call-blocking app free with each phone plan. Below, we've outlined some of the most common and highly-rated provider apps and services.
AT&T Call Protect
All AT&T customers can utilize the AT&T Call Protect mobile app that comes free with every AT&T plan, along with the option for a $3.99/month/line advanced plan.
Bolstered by AT&T's ActiveArmor, Call Protect blocks fraud and spam-risk calls, and it notifies you about nuisance calls such as telemarketing, along with customized controls over how you want to respond to them.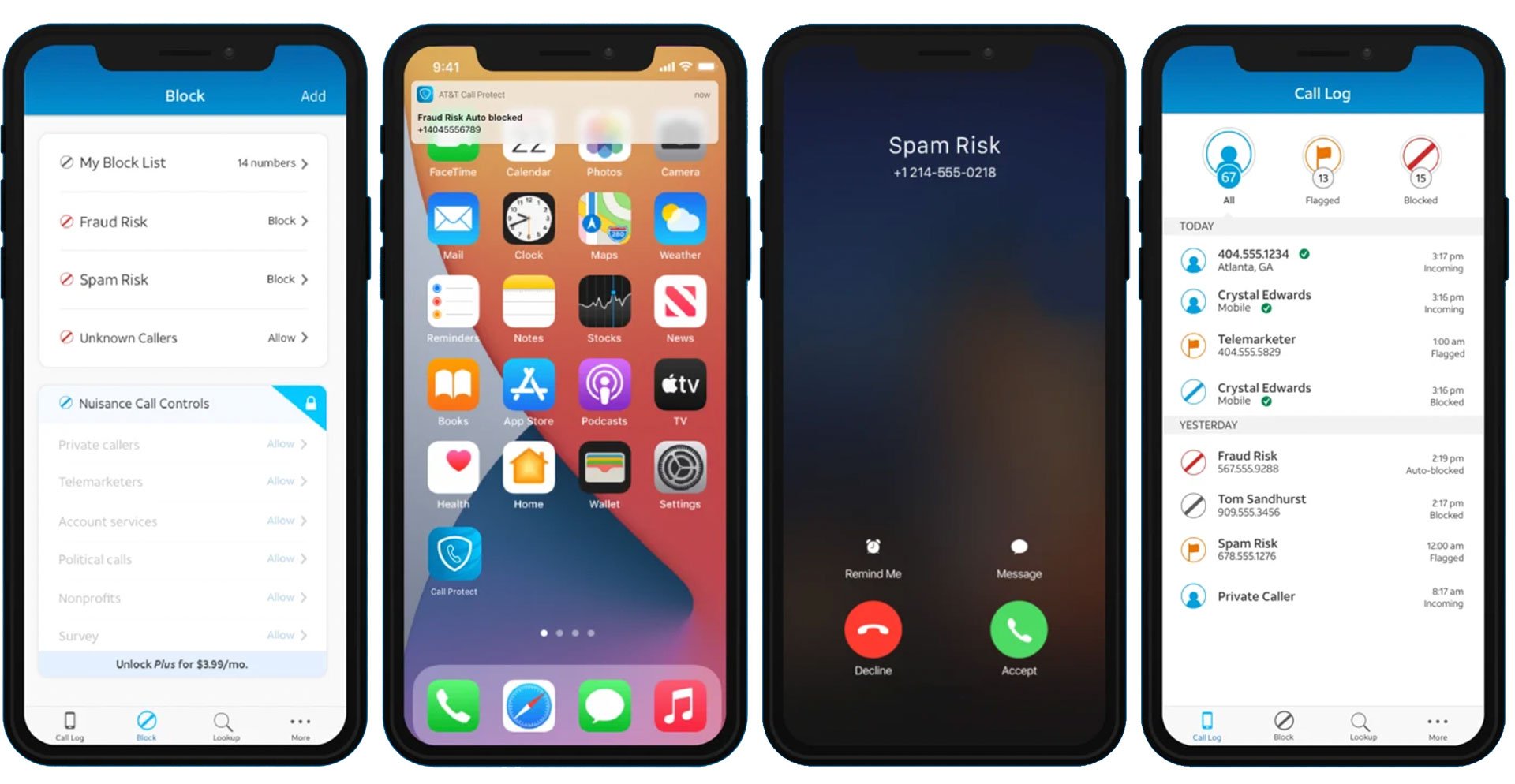 Standout features:
Breach reports
Personal block list
Safe browsing (advanced feature)
Public WiFi protection (advanced feature)
T-Mobile Scam Shield
All T-Mobile customers can take advantage of Scam Shield, a multi-feature user protection mobile app that comes in a free or $4 monthly premium version.
Scam Shield utilizes T-Mobile's AI-supercharged network, updated every six minutes, to analyze each call that reaches your device. Features like Scam ID, Scam Block, and Scam Counter filter bad actors before their calls reach your phone.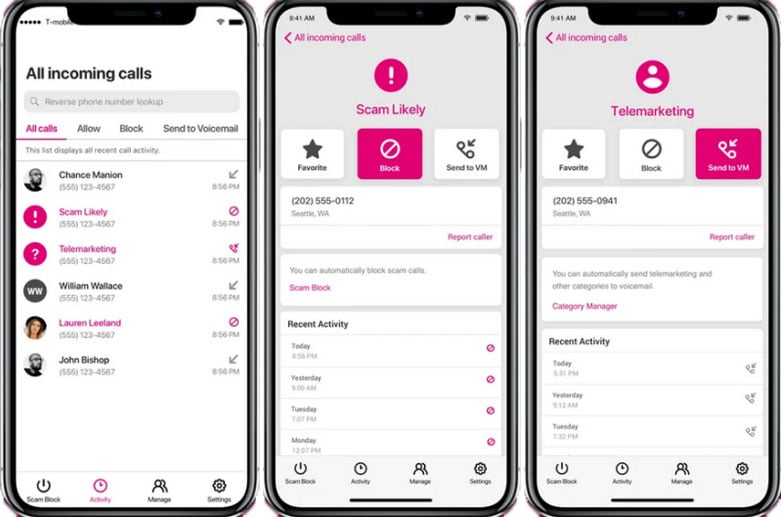 Standout features:
Extra PROXY number to use when you want to keep your real number private
Caller ID
Scam Reporting, which makes it easy to report scam numbers
Verizon Call Filter
Call Filter, Verizon's call-protection app, is free for all Verizon customers, who can also upgrade to Call Filter Plus at $2.99 per line. With all the basic protection features a user could want in a call-protection app, Call Filter offers spam detection, spam filtering, customized allowed numbers, and easy spam reporting.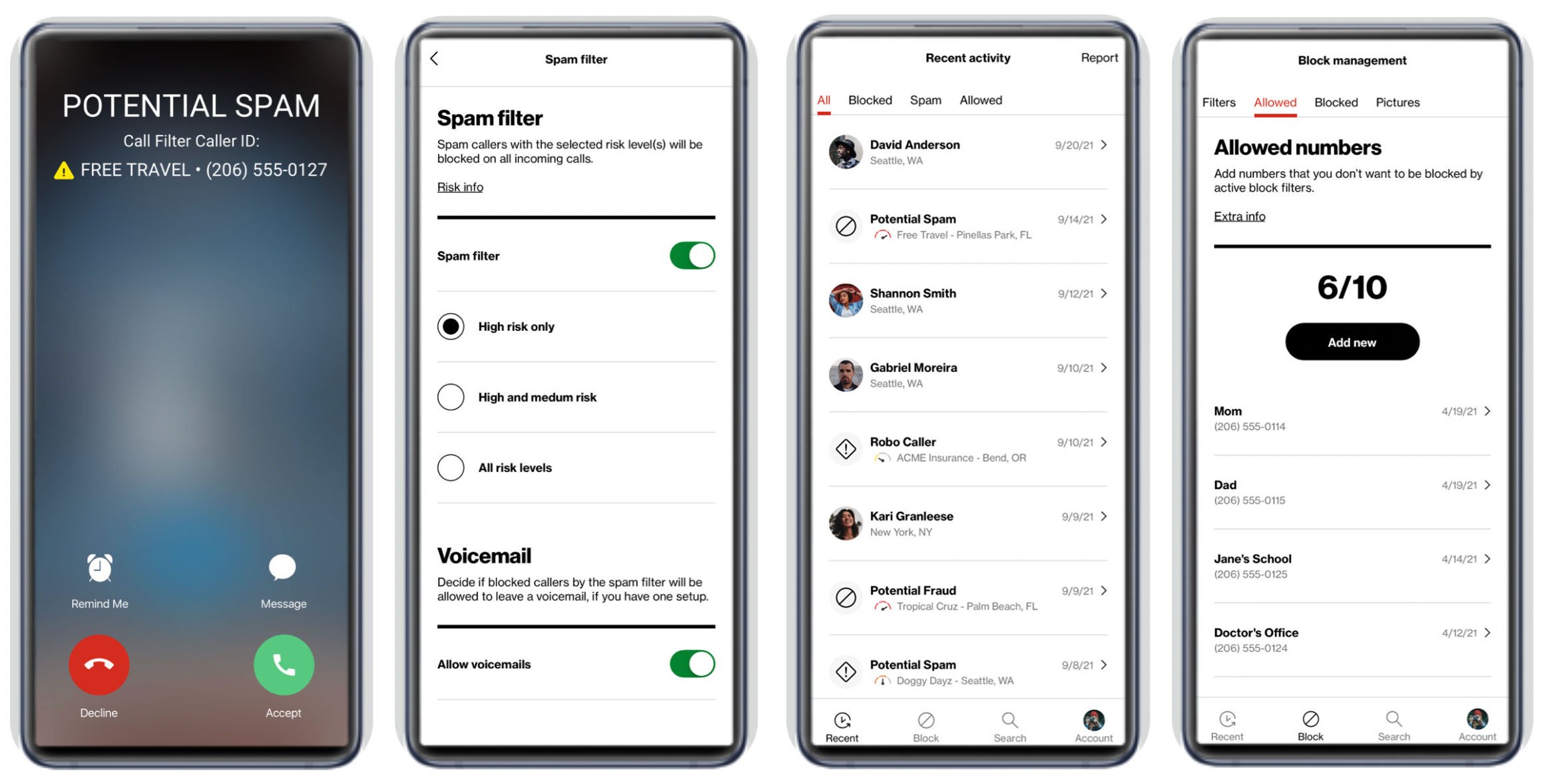 Effectiveness of Various Call Blocking Tools
These strategies, practices, and apps work well–however, no single strategy provides 100% protection, and they work even better in tandem.
Below, we've ranked the above tool categories by effectiveness. We recommend using one tool or service from each category.
Most Effective: Call-Blocking Apps
Third-party and provider-offered call-blocking apps come supported either by a phone provider's network of AI technology or by a community-created database of spam numbers. Additionally, most call-blocking apps today utilize STIR/SHAKEN authentication technology to verify incoming Caller ID.
Since these apps provide a variety of spam-focused features and strong response customization, we recommend downloading one app from those listed above as the most effective preventative tool.
Second-Most Effective: Enabling Anonymous Call Rejection on Your Device
While enabling Block Anonymous Calls on your mobile device or VoIP service does not stop all spammers, like spoofers who call with fake, non-anonymous numbers, it's an easy-to-implement strategy that helps eliminate some spam calls.
Third-Most Effective: Block Spam Numbers Individually
Finding unwanted numbers individually in your call log, then blocking them, works very well for that one number. However, the problem with spam calls is that they never end–they come from all over the place. In addition to the above strategies, we recommend individually blocking any spam number that contacts you.
Basic Protection: Registering on the FTC's Do Not Call Registry
This preventative technique is extremely effective against legal telemarketing calls, which is why we recommend that you register every one of your phone numbers on the Do Not Call Registry.
However, since this method only blocks legal telemarketing calls, it proves ineffective against illegal spam calls and spoofing calls using fake numbers.
Tips for Interacting with Unfamiliar Numbers
Below, we've outlined general tips for interacting with unfamiliar or suspicious numbers.
Be sure to share this information with any especially vulnerable people you know, particularly the elderly, who are popular targets for scammers.
1. Don't answer calls from unknown numbers
If your mobile, VoIP, or landline caller ID receives a call from an unfamiliar or unknown (no caller ID shown) number, do not answer the call. Instead, let the call go to voicemail and use the voicemail message to identify the caller before calling back.
In most cases, spam calls will not leave a voicemail.
2. Remember that even local numbers might be "spoofing"
Spoofing is when a caller pretends to be a trusted source, in order to gain personal information or money.
Spam callers can use local area codes to give the impression of familiarity even when calling from anywhere in the world. They also can lie about information, like their company or reason for calling. Always proceed with caution when interacting with new or unknown numbers.
3. If prompted to press any buttons, just hang up
This is a common trick that scammers use to determine trusting targets. Even pressing "1" to allegedly "be removed from a call list" confirms to scammers that there is someone on the other end of the line.
4. Never answer any questions or give out personal information to questionable numbers
If you are uncertain about the caller's identity and suspect it might be a scam or that they might be spoofing, just hang up.
Answering any questions increases your risk – even if you just answer "yes." In general, only give out account numbers or other personal information if you are the one making the call to a business – because that way, you can be sure it's really them you're talking to.
Never give out your social security number over the phone, especially if the person on the other end of the line is claiming to be from the IRS. The IRS asks for such information by mail, never via phone call or SMS text message. Another red flag to watch for is if the caller starts pressuring you immediately and aggressively for personal or financial information – often threatening you with legal action and fines if you refuse to give them the details they want.
How to Report Unwanted Calls
Below, we've outlined the best ways to report spam numbers that try to reach out to you.
Report Online to the FTC's Do Not Call Registry, by Website or Phone
The best place to report a spa-calling number is on the FTC's Do Not Call Registry Reporting Page: https://www.donotcall.gov/report.html.
To report a spam number online at FTC's Do Not Call Registry.
1. Visit the National Do Not Call Registry website: www.donotcall.gov
2. Click Report Unwanted Calls and continue to step one
3. Provider spam-caller information for Step 1
4. Provide further information for Step 2
5. Submit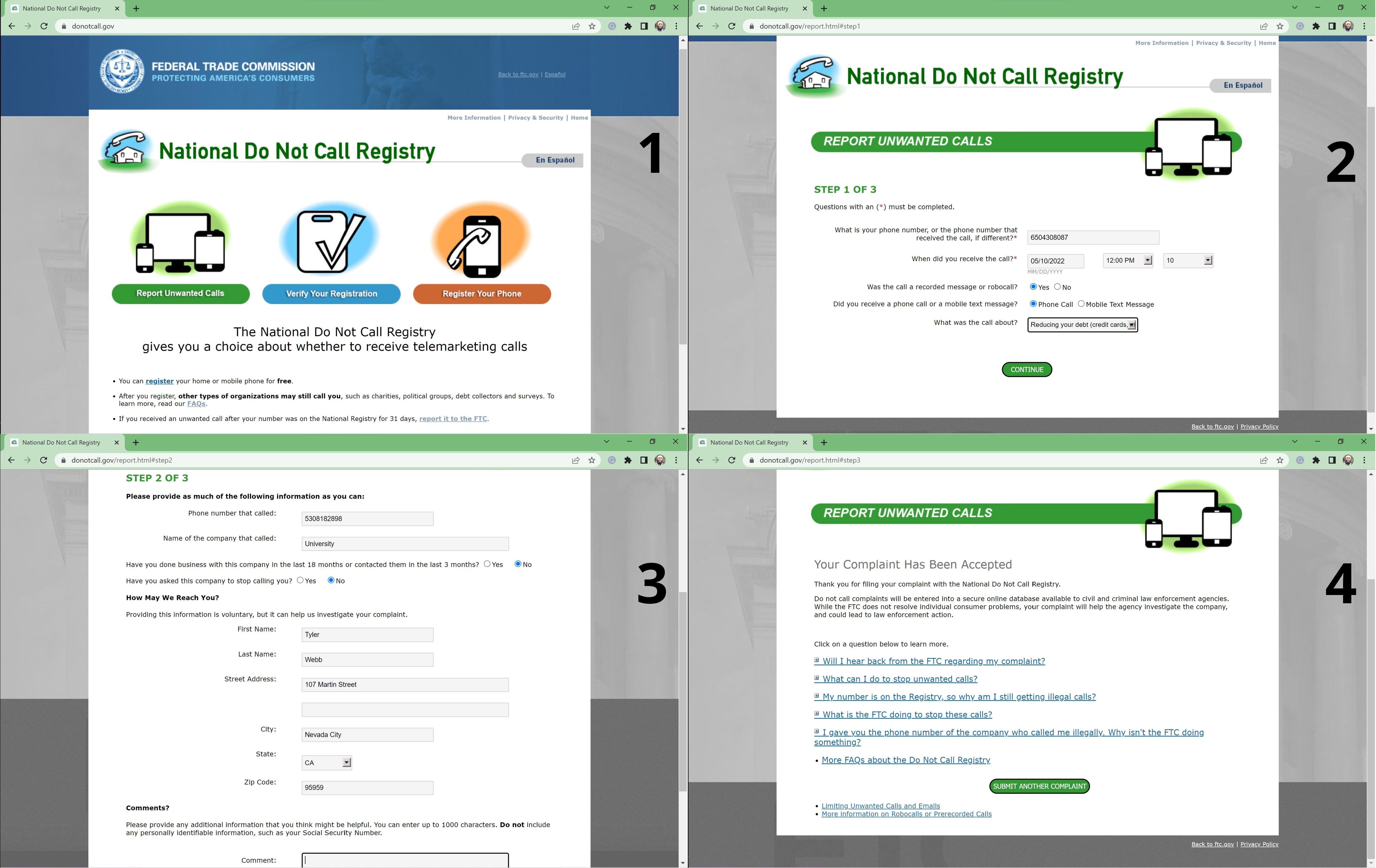 Alternatively, you can report spam numbers to the Do Not Call Registry by phone.
To report a spam number via phone to the FTC's Do Not Call Registry
1. Call 1-877-382-4357 (voice) or 1-866-653-4261 (TTY)
2. Press one to report fraud or suspicious activities to the FTC
3. Press three to report "other suspicious activities"
4. At this point, you will be connected with a consumer counselor, with whom you can share the spam-call information
Report the Spam Number Using Your App
Most call-blocking apps, and all those mentioned in this article, make it easy to report spam calls with just a few clicks.
To report a spam number via mobile app:
1. Use the Call Log or Number Lookup feature to find the spam number
2. Click on the number itself or 🛈 icon beside it, to open the number's profile
3. Select Report, Report Spam, or Report Number
Protect Yourself and Your Company from Spam Callers
Despite recent innovations in spam-blocking technology, such as STIR/SHAKEN authentication and community-created blocklists, robocalls and spam calls continue to threaten the peace and privacy of phone users.
Thankfully, a handful of built-in protection tools and call-blocking apps can filter a large number of spam callers, without compromising legitimate calls.
If you haven't already, consider using a security-focused VoIP provider, mobile provider, or mobile app today.
FAQs For Blocking Spam Calls and Robocalls
Below, we've answered some of the most commonly asked questions about blocking spam calls and robocalls.
You cannot guarantee the blockage of every robocall, but taking steps like using a third-party app, silencing anonymous calls, and registering on the Do Not Call Registry, prevents a large number of robocalls.
Yes. Many third-party and provider-offered call blocking apps are free.
You can block individual robocall numbers by finding the number in your Call Log, tapping on the number or the 🛈 icon next to it, and selecting Block Caller.
If you do answer a robocall, the best thing to do is hang up immediately without answering any questions or pressing any buttons. If you receive an unexpected call from an unknown number, the best strategy is to let it go to voicemail.