According to the Federal Communications Commission, international robocalls are increasing in volume. This prompted the governing body in 2022 to adopt a set of new rules, looking to mitigate the risk of these calls that originate overseas – from entering American phone networks. And according to the FCC: 
"The new rules on gateway providers – the on-ramps for international call traffic – institute stringent compliance requirements to ensure that these providers comply with STIR/SHAKEN caller ID authentication protocols." 
The Commission furthermore noted that it requires all providers to take additional measures to validate the identity of all the traffic they route. STIR/SHAKEN, as you may have heard of before, is an industry-standard caller ID authentication technology. The FCC requires – that all service providers adhere to this set of protocols to shield customers from the threat of robocalls.
Even since the introduction of the "do not call" list in 2003, scammers have found more creative measures to bypass an effort at combating; potentially costly calls. The state of robocalls, therefore, looks a lot different in 2023 than it did in 2022, and here's how.
What Non-Compliance Looks Like in 2023
The Industry Traceback Group found that 65% of the voice service providers identified as transmitting illegal robocalls were either foreign-based or gateway providers. 
And the FCC says that provider non-compliance could imply 'serious' consequences and result in being removed from the Robocall Mitigation Database. It could also mean they lose their ability to operate as a provider.
It Appears Some Measures Are Working
According to a bi-annual October 2022 report, robocalls were down eight percent in 2022. TNS, the report's authors – note that the decline – was primarily fueled by STIR/SHAKEN and regulatory enforcement. "In the first half of 2022 compared to the same period last year (from 37.9 billion down to 34.9 billion)" it wrote in a statement. 
However, scammers and spammers continue to launch robocall campaigns from smaller carrier networks – and have added robot texts to their arsenal – to evade detection. This outlines that there is still work to do, as the also report unearthed many other alarming statistics that seemingly paint a photograph showcasing the severity of robocalls and their impact on Americans. 
Overall, in 2022, Americans received 34.9 billion unwanted robocalls over the first half of the year, but only eight percent of this volume originated from the top-seven US carriers (AT&T, Lumen, Charter, Comcast, T-Mobile, UScellular, and Verizon). 
The report further found an overall lack of customer trust in voice calling, citing three-quarters of Americans who never answer calls on their wireless device – if they do not know the number. 
"And yet, 78% of survey respondents say they are more willing to answer the phone if the caller ID displays the logo and name of an organization they recognize," the report notes. 
Calls that originate via VoIP have begun to decrease as a portion of high-risk calls, with forty-one percent of all high-risk calls and 81% of what it calls "nuisance calls" in the first half of 2022, are up from 73% last year. "This represents the two largest sources of unwanted calls, with high-risk calls seeing a steep drop from 68% in 2021," also according to the TNS report. 
Wireless Callers: Most Targeted by Spam Calls 
The same report found that unwanted robocalls to wireless devices increased from 21% last year to 23% for the first half of 2022. 
And it found that unwanted robocalls to wired devices decreased fairly drastically – from 48% to 30% during the same timeframe. It is also fair to mention that 'snowshoe' spamming is on the rise – a more creative method – but still similar to a sort of spray and pray.
The relatively contemporary spamming technique can evade detection by leveraging seemingly endless IP addresses to spread out a spam load. This makes it overall more taxing to identify the source of spam. 
And TNS notes that customer complaints regarding unsolicited robo texts have tripled since 2019, thanks to text-enabled ten-digit telephone numbers – the kind easily obtained through web-based services or pre-paid SIM cards. 
"Nearly half of the robo text scams during the first half of 2022 originated from bad actors using snowshoe messaging techniques, where the sender spreads their attack across multiple telephone numbers."
What to Do if I'm Scammed by a RoboCall?
Paired with various government-sponsored mitigation efforts: there are several apps and other tools; which attempt to warn those most susceptible to fall victim to scam calls and texts about the scam level involved in calls/texts they receive. 
According to TrueCaller – an app that helps its users reduce their risk of scams, as many as 68 million Americans, or 26%, report having lost money from phone scams. And as many as 1 in 3 Americans, or 33%, report falling victim to phone scams – while twenty percent report having fallen victim more than once.
TrueCaller in its report, noted after being scammed, folks did take measures to ensure it did not happen again. Most people downloaded a spam blocker/caller ID app, while others canceled credit card(s), charged, checked phone bills, and contacted mobile carriers.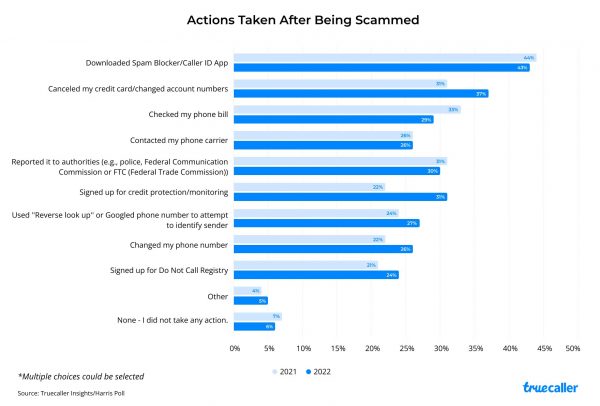 There is plenty more one can do: such as reporting that number to the Federal Trade Commission FTC (and) placing yourself on the "do not call" list. These measures, while simple, may help to reduce your risk of being contacted again.
While they do not 100 percent reduce that risk, the chances of being contacted by the same bad actor after doing so – are far slimmer. Most importantly, don't give scammers the satisfaction – ensure you hang up or don't even answer these kinds of calls, something that becomes simpler with the aid of some of the below apps. 
Finally, other apps, similar to TureCaller can do wonders; and can alarm you of the probability of a scam. Whosecall, Hiya, Call Control, Eyecon, Drupe, and Should I Answer: all attempt to pull off this feat; and are mostly free. For more advanced features in the apps you likely need a subscription – but for simple spam identification, well, those are primarily free capabilities. 
With scammers becoming more creative: it's best to stop it before it becomes a possibility (of being) scammed. So downloading such an app can do wonders, especially if you have elderly parents or (if you have) family members who merely feel more susceptible to getting scammed; become solid tools in a toolbox designed for combating robocalls.