Although RingCentral and Google Voice are both top business communications providers, their popular Google Voice and RingCentral MVP platforms are quite different from one another.
RingCentral continues to offer innovative cloud-based software that evolves alongside business needs. Their feature-rich RingCentral MVP UCaaS solution is no exception, combining business text messaging, VoIP telephony, and video communication within one seamless interface.
Google's business phone system, Google Voice, is designed to work alongside other Google Workspace applications to create a basic unified business communications solution that includes team collaboration, video meeting, and voice calling functionality.
In this head-to-head of Google Voice vs. RingCentral MVP, we'll compare key features, pricing, hardware compatibility, and more to help you decide which tool works best for your business.
Jump to ↓
Google Voice vs RingCentral: Overview
Google Voice »
RingCentral »
Pricing
$10-$30 per user/mo
$19.99-$59.99 per user/mo
Key Features

SIP Link
Ring Groups
Ad-hoc Call Recording

Business numbers in 100+ countries
Video Conferencing
Team messaging

Integrations
Other Google apps such as Meet, Drive, Gmail, etc.
200+ integrations with third-party applications
Compatible Phones
Poly
Poly, Yealink, Cisco, Avaya
Customer Support Options
24/7 phone, email and chat support for all plans
24/7 phone, email and chat  support for Standard plan and up
Best for
Startups, Small businesses, SMBs
Large businesses, enterprises, contact centers
Google Voice vs RingCentral: Feature Comparison
In this section, we'll compare different features of both VoIP providers and declare a winner at the end of each subsection.
Voice Calling
Google Voice integrates seamlessly with additional Google Workspace tools (Google Docs, Google Meet, Google Sheets, etc.) to create a complete UCaaS solution. Note that Google Voice users must have a Google Workspace plan to access Google Voice as a part of a unified communications tool.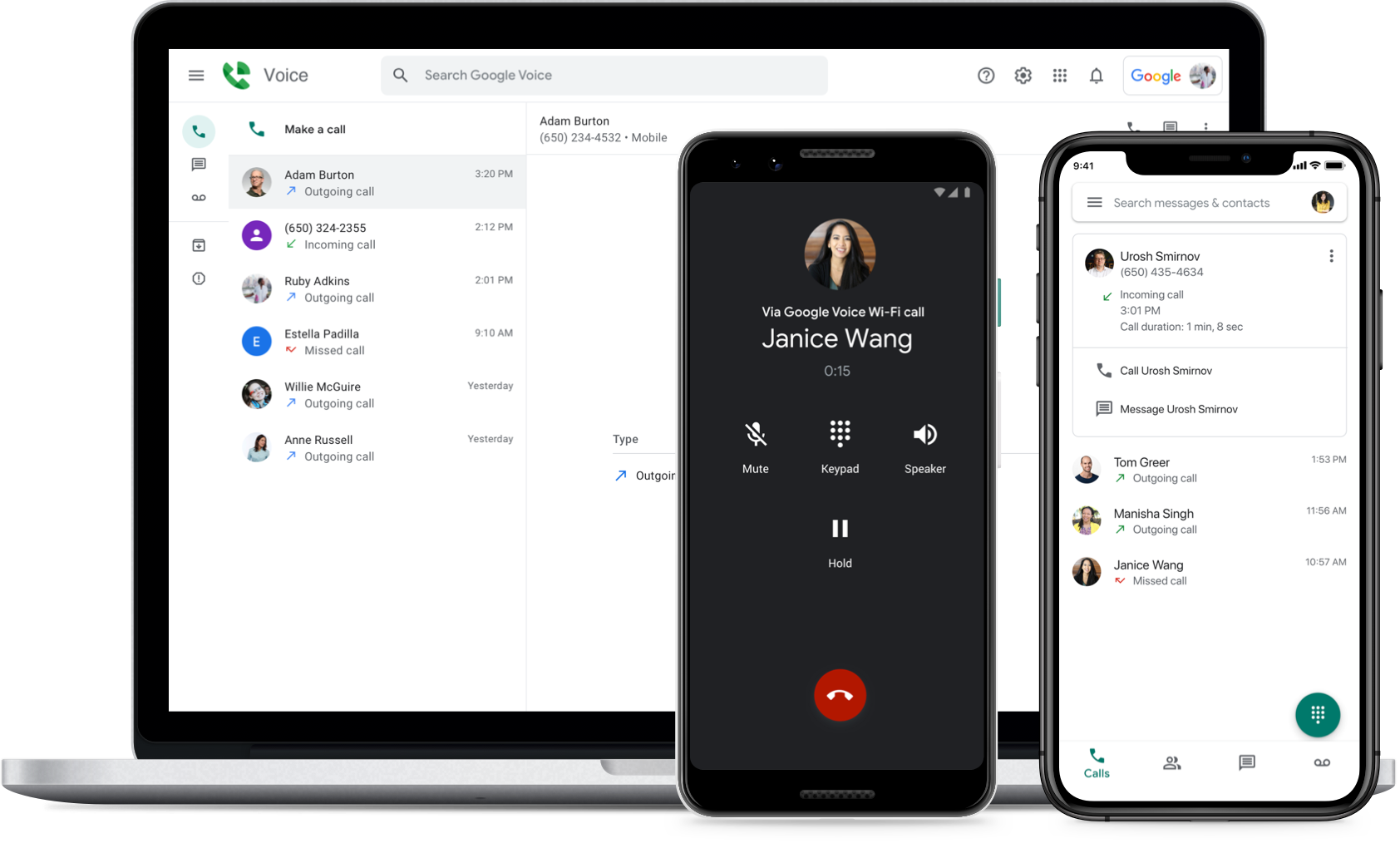 Users can make and receive phone calls, set up admin preferences, check voicemail messages, and more directly within the Workspace admin console. Landline customers connect using the Link feature to Google Voice via certified Session Border Controllers (SBCs.)
Google AI blocks spam calls and transcribes voicemails automatically. The Starter plan includes a Google Voice local number from any domestic location, while Premier users can also choose an international number from 100+ countries.
Additional Google Voice calling features include:
Unlimited calling in the US & Canada
International calling within most European countries at per-minute rates
Mobile Apps: Android & IOS
Voicemail Transcription
Unlimited Texting (all plans)
Ring Groups
Web Application
Call forwarding
eDiscovery for calls, texts and voicemail records
Desk phone and ATA support
Ad-hoc user call recording
RingCentral offers a robust cloud VoIP service accessible from any location and using any Internet-connected device, including phones, tablets, compatible desk phones, and desktop/laptop computers via the softphone interface.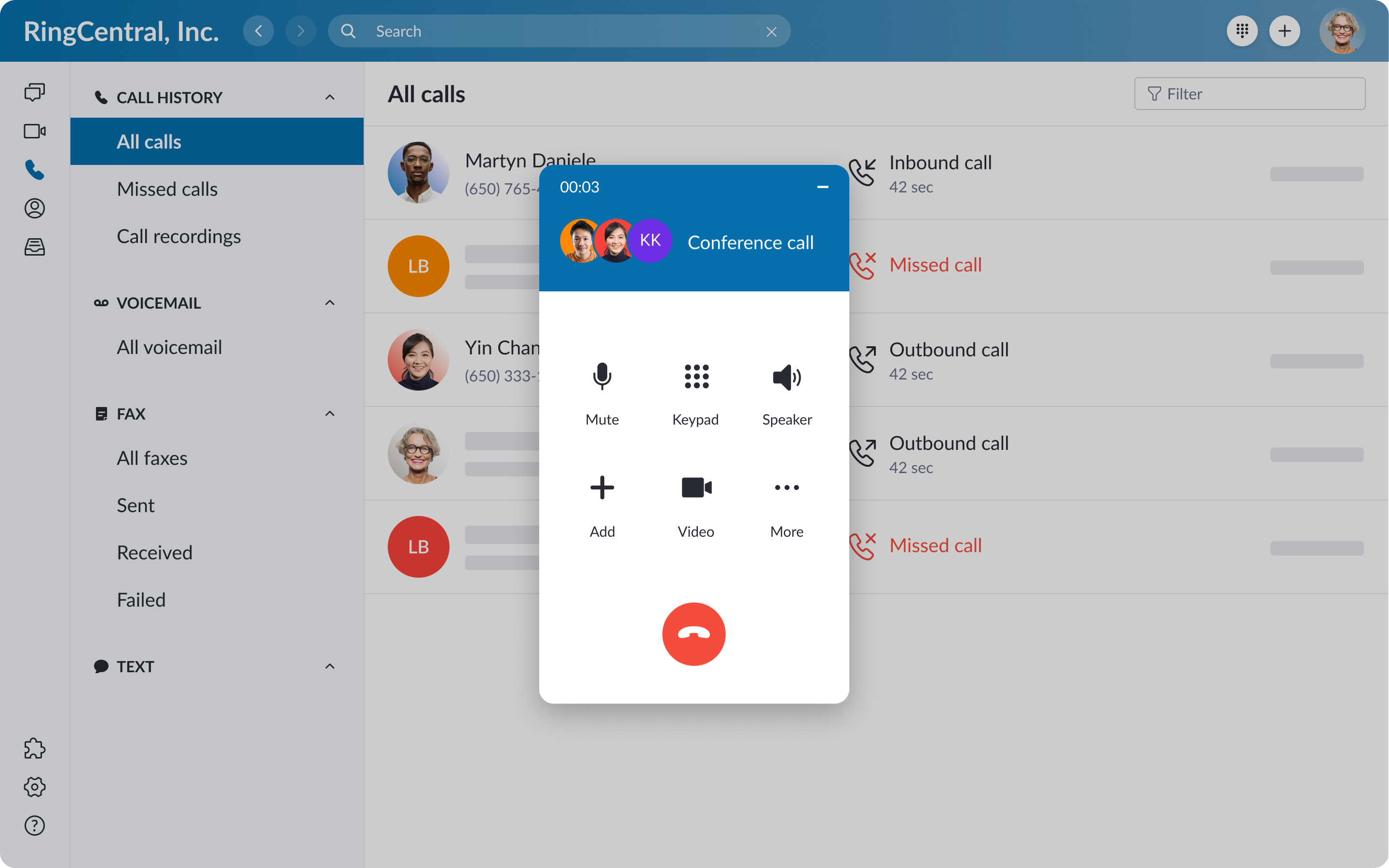 Users can switch devices or numbers mid-call using RingCentral's Call Flip feature, and secure business phone lines can be set up on employee's personal devices.
Companies can keep their existing phone numbers thanks to number porting, or choose new local, international, or toll-free numbers. RingCentral offers full phone service in 45+ countries, and inbound virtual numbers in 105+ countries.
RingCentral's HD voice service is highly reliable, with a fully redundant distributed network and a 99.999% uptime. RingCentral's platform is also highly secure, thanks to features like Single sign-on (SSO), AI-based spam blocking, RoboCall mitigation using STIR/SHAKEN standards, and number masking.
RingCentral includes a plethora of advanced phone features including: 
Voicemail-to-text or voicemail-to-email
Visual Voicemail
Mobile Apps for IOS and Android
Toll-Free minutes on all plans
Call Log Reports
Unlimited Audio Conferencing
Hot Desking
Advanced Call Handling including Whisper, Barge and Takeover
Winner: RingCentral
With its many advanced features, 99.999% uptime and commitment to security, RingCentral is the winner here.
Video Calling
All Google Voice business users have access to Google Meet, part of the Google Workspace ecosystem.
Google Meet is a secure, enterprise-grade video conferencing solution with encryption in-transit. It is compliant with a number of industry standards, including GDPR, HIPAA, and SOC 1/2/3. It also includes anti-abuse features like meeting PINs, mute/remove participants, and more.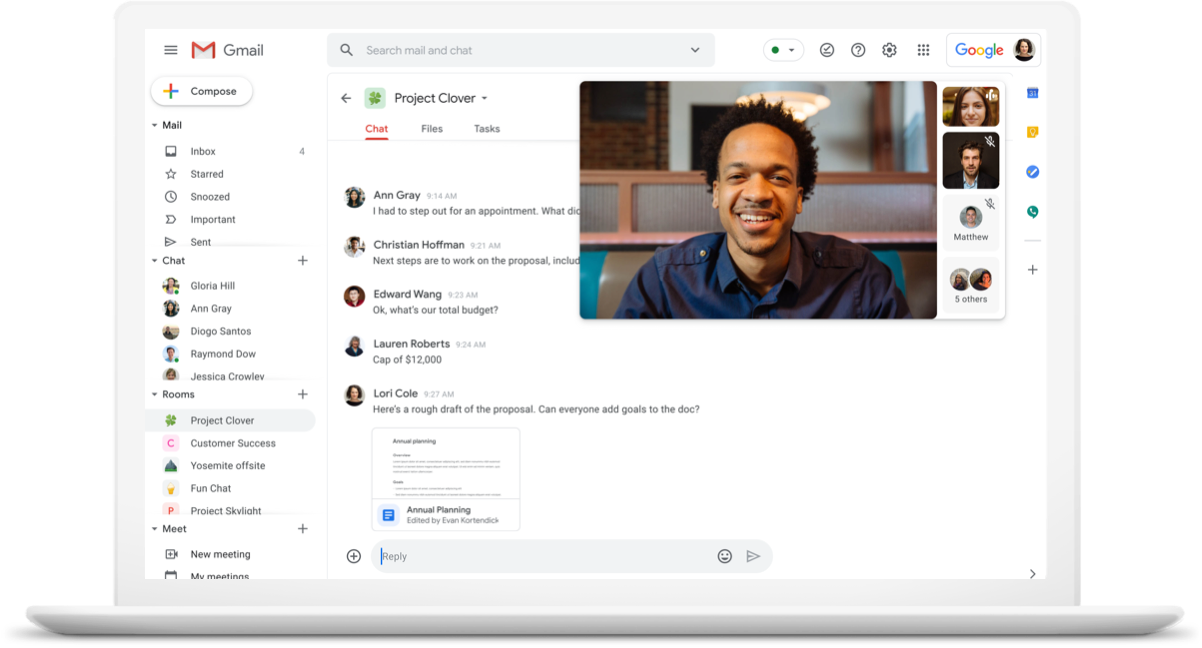 Google Meet participant limits range from 100 to 500 depending on which Google Workspace plan is purchased.
Users can host an unlimited number of monthly meetings with a duration of up to 24 hours each. Meeting attendees can join a video conference via a one-click shareable link, using dial-in access, via meeting invitation, or directly within Google Calendar. Admins can easily schedule repeat meetings, send out automatic join links, and set meeting reminders within Google Calendar or Google Meet.
Other Google Meet video features include:
Live Captions
Low-Light Mode
Digital Whiteboard
Noise Cancellation
Hand-raising
Breakout Rooms
Record Meeting and save to Drive
Polls
Q&A
Co-hosts
Moderation Controls
In-Domain Live Streaming
Attendance Tracking
U.S. or International dial-in numbers
RingCentral's video platform enables users to host secure, professional meetings that participants can join from any device with or without the RingCentral app.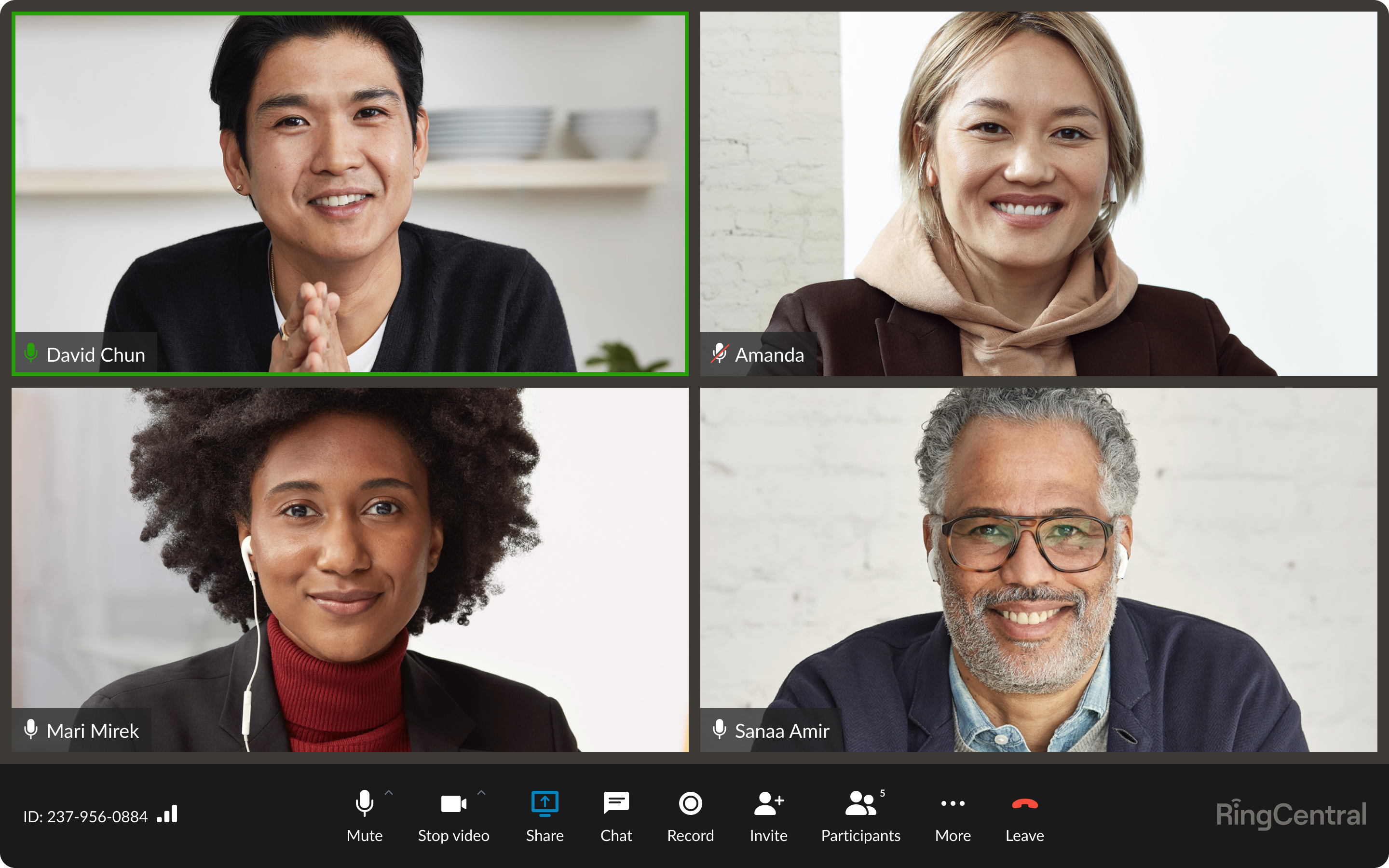 RingCentral meetings include many advanced features, including several AI-powered tools such as live transcription, noise reduction, and meeting insights. It comes at a cost, however, as RingCentral only includes video conferencing for Standard plan users and above. Participants are capped at 100 in the Standard plan and at 200 in the Premium and Ultimate plans. A license for additional participants can be purchased as an add-on.
Some other RingCentral video features to note include:
Presentation Mode (keeps a picture of the presenter on the screen while screen sharing)
Auto follow (lets the camera follow the presenter)
Screen Sharing
Annotations
In-Meeting Chat
Recording
Whiteboard
Breakout Rooms
Participant Reactions
Team Huddle (a persistent meeting that can be kept open 24/7)
Dynamic end-to-end encryption
Winner: Draw
With dynamic end-to-end encryption and access to more advanced features, RingCentral's video platform is superior to Google's in many ways, however, video is not included in all RingCentral plans like it is with Google Voice. That, along with RingCentral's higher price point and lower participant limit even things out. Google Meet is a solid video platform and an excellent choice for smaller teams that don't need all of the bells and whistles.
Auto Attendant
Google Voice Standard and Premier plan users can set up an unlimited number of auto attendants (Google's auto attendant feature is also known as IVR.)  Users simply sign on to the Google Admin console and design a customized call flow using an intuitive interface. Welcome messages can be added by using text-to-speech (with options for language, voice type and speed) or by adding a pre-recorded welcome message. Users then add custom menu prompts and corresponding call flow actions like call routing, playing a special message that callers can't skip, disconnecting, or forwarding to voicemail.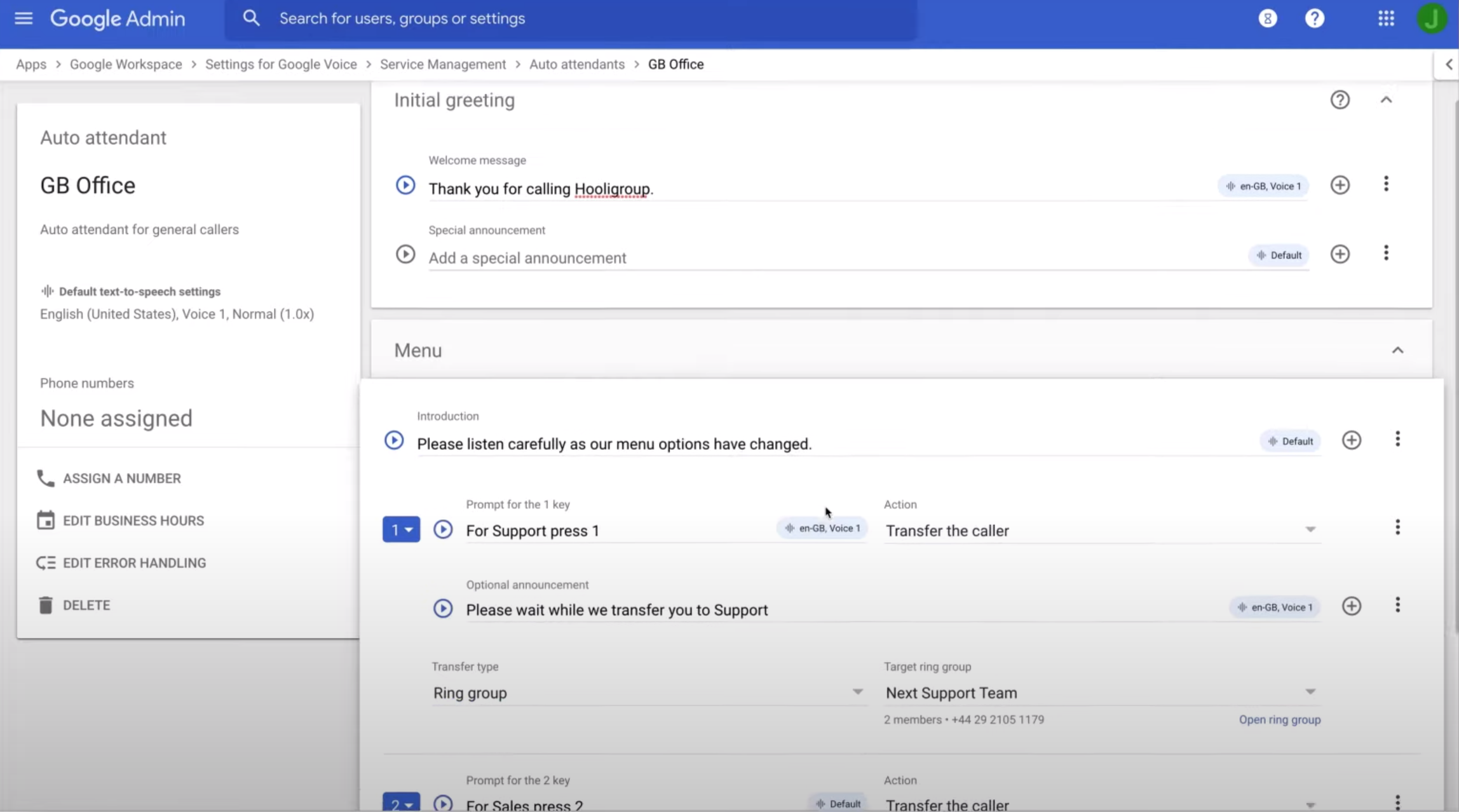 RingCentral's multi-level auto attendant works similarly to Google's, but with a few more options.  Users can attach a dial-by-name directory to the IVR tree, transfer to an outside line, and a visual IVR editor with a graphical interface. RingCentral users can create up to 250 auto-attendant/IVR menus including submenus. Note that multi-level auto attendant is only available to Standard Plan users and higher.
Winner: Draw
This category is also a draw because although RingCentral offers a slightly more advanced auto attendant, it costs more than Google Voice and limits the number of auto attendants. 
Analytics & Reporting
Google Voice analytics are limited and only available for Premier plan users and Google Workspace Enterprise, Education Standard and Education Plus users. For these customers, Google Voice integrates with Google BigQuery, a cloud-based analytics tool that runs queries on historical data and generates reports. Using BigQuery, users can analyze team members' activity across all Google Workspace platforms and combine activity reports. BigQuery will also generate custom reports and dashboards, aggregate usage data across apps and perform advanced searches on activity. Google Voice does not offer real-time analytics.
Google Voice users with non-premier plans can access voice logs and other activity logs across Google Workspace and conduct searches with multiple filters.
RingCentral includes real-time analytics in its Premier and Ultimate plans. Ultimate plan users also have access to device status reports and alerts. Call log reports, including date, time and duration of calls are included in all RingCentral plans.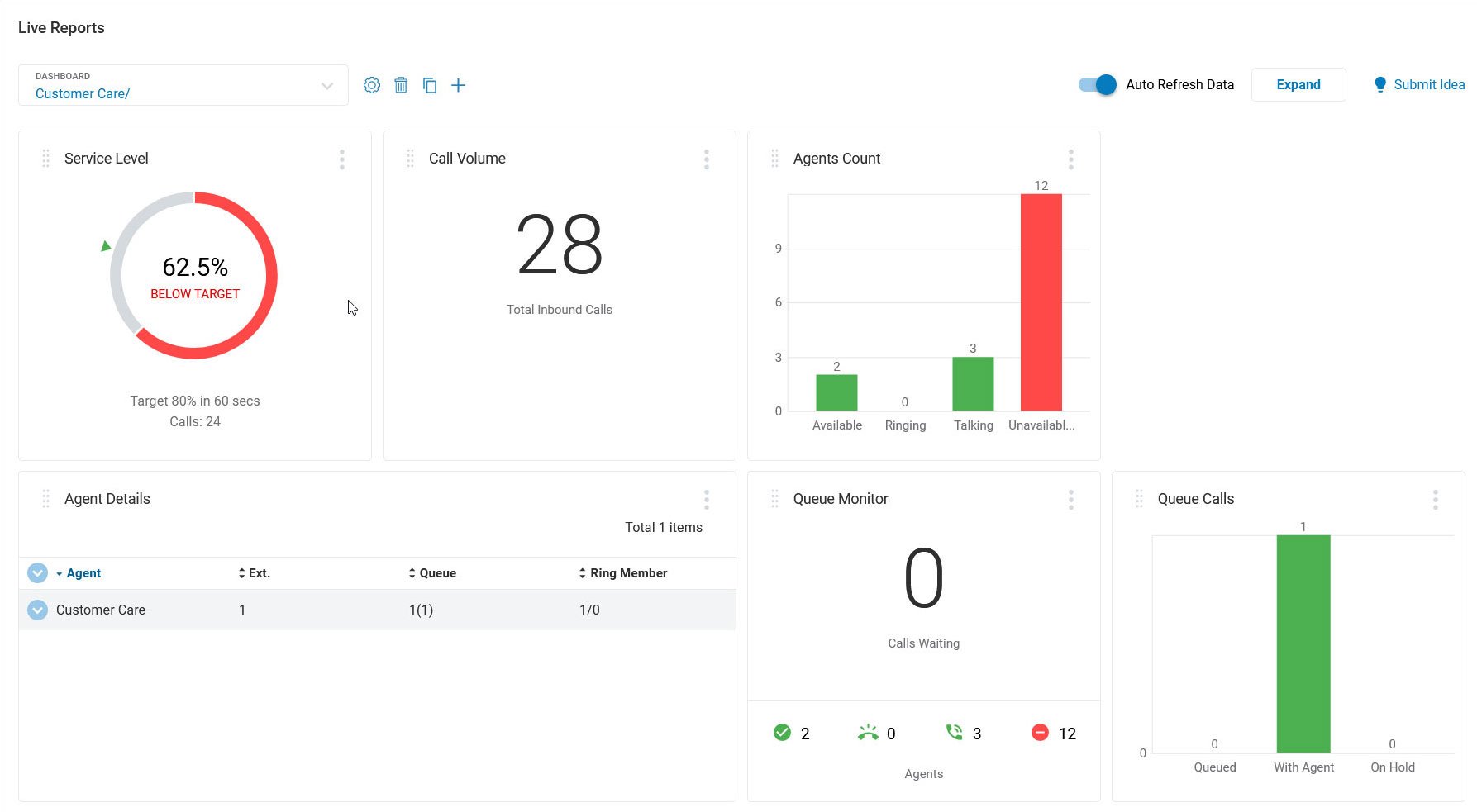 RingCentral's real-time analytics enables users to generate customized dashboards and reports with over 30 metrics to choose from including talk time, after hours time and call volume. Multiple analytics dashboards can be created, shared and collaborated on. Aggregated data is available for 24 hours.
Winner: RingCentral
With real-time analytics, custom dashboards and alerts, RingCentral is the winner here.
Integrations
Google Voice only integrates with other Google platforms like Google Workspace, which is required for the purchase of a Google Voice plan. Google Workspace includes platforms such as Gmail, Google Drive, Chat Team Messaging and Google Meet.
On the other end of the spectrum, RingCentral has one of the most robust integration ecosystems in the UCaaS space. RingCentral integrates with over 200 third-party apps including Salesforce, Hubspot, Microsoft Teams, Slack, Zendesk and many others.
Winner: RingCentral
RingCentral is the clear winner here.
Supported Hardware
Google Voice is meant to be used with internet-enabled devices such as smartphones, laptops and softphones. When it comes to desktop phones, Google Voice has limited compatibility and only lists the following Poly models as options:
Poly EDGE B10, B20, and B30
Poly OBi 300 and 302
Poly VVX 150, 250, 350, and 450 OBi Edition
Additionally, Google Voice's voicemail system and contact directory are not supported on Poly VVX OBi Edition phones.
RingCentral, alternatively, directly supports about 60 different IP phone models from brands such as Poly, Cisco, Yealink, Avaya, Mitel and Unify.
Winner: RingCentral
RingCentral has far better hardware compatibility.
Google Voice vs RingCentral: Pricing and Plans
Google Voice is, without a doubt, the economical option as can be seen in the following section. Google Voice does have limitations, however, mainly when it comes to advanced features, integrations, and hardware. Read on to compare pricing options for RingCentral and Google Voice.
Google Voice Pricing
Google Voice has a traditional three-tiered pricing structure. It should be noted, however, that a subscription to Google Workspace is required for any Google Voice plan. Google Workspace plans range in price from $6-$18 per user/mo. The Google Voice plan prices listed below are in addition to a Google Workspace subscription. Here is a breakdown of Google Voice plans:
Starter
Standard
Premier
Price
$10  per user/mo
$20  per user/mo
$30 per user/mo
Users
Up to 10
Unlimited
Unlimited
Main Features

Voicemail Transcription
SLA
Usage and Activity Reporting

SIP Link
Multi-Level Auto Attendant
Ring Groups

Advanced Reporting (Big Query)
Automatic Call Recording
Unlimited International Locations
RingCentral Pricing
RingCentral's pricing structure is more complex with four tiers, volume and annual discounts and optional add-ons. Here is an overview:
Essentials
Standard
Premium
Ultimate
Price
$19.99-$29.99 per user/mo
$27.99-$37.99 per user/mo
$34.99-$44.99 per user/mo
$49.99-$59.99 per user/mo
Users
Up to 20
Unlimited
Unlimited
Unlimited
Main Features

Enhanced Business SMS
Document Sharing
Team Messaging

Video Meetings up to 100 participants
Quality of Service Reports
Unlimited Audio Conferencing

Single Sign-On
Hot Desking
Automatic Call Recording

Device Status Reports and Alerts
Unlimited Storage
Google Voice vs RingCentral: Pros & Cons
Here is a look at the pros and cons of RingCentral:
| | |
| --- | --- |
| What Users Like | What Users Dislike |
| Huge selection of integrations | Expensive compared to competitors |
| High level of security and reliability | Video conferencing is not included in the Essentials plan |
| Many advanced features such as call whisper, real-time analytics, etc. | 24/7 support is not available for Essentials plan users |
Here is a look at the pros and cons of Google Voice:
| | |
| --- | --- |
| What Users Like | What Users Dislike |
| Affordable Pricing and ease of use | Only integrates with other Google Apps |
| SLA for all customers | Limited hardware compatibility |
| 24/7 live support included for all plans | Advanced analytics only included with the Premier plan |
Google Voice vs RingCentral: Which Should You Choose?
Google Voice and RingCentral are both extremely reliable unified communications platforms but they serve different purposes. For small teams and business owners that are already comfortable using Google apps such as Sheets and Drive, Google Voice is a low-cost solution that can take communication to the next level. Remote and international teams especially will benefit greatly from tools such as Google Meet.
For large businesses, enterprises and call centers that need analytics, advanced call handling options and a CRM integration, RingCentral is an excellent choice. Although RingCentral comes with a higher price tag, it has consistently proven itself to be a leader in the UC space thanks to its highly secure, user-friendly and reliable platform packed with innovative features.
FAQs
Google Voice starts at $10 per user, per month. 

Yes, Google Voice allows users to pick their own number from any area code. 
The main disadvantages to Google Voice are a lack of third-party integrations, limited analytics, limited advanced features, and limited hardware compatibility. 

No RingCentral does not have a free plan but they do offer a 14 day free trial. 

RingCentral plans range from $19.99 per user/mo to $59.99 per user/mo depending on which plan you select, how many users you have and whether you are paying monthly or annually.