With all of the options available to agents to communicate with customers and leads, cold calling can seem like an obsolete technique.
However, contrary to what you might have heard, this outreach method is still a valid way to get in touch with leads. When combined with prospecting and research, sales reps can use cold calls to get in touch with qualified leads who are actually interested in their product or service.
If you've decided this outreach strategy will work for your business, you'll want to make sure your agents have all the tools they need to be successful. That's where cold calling software comes in.
Read on to find out what this type of software is, whether it's even legal, which features you should look for in a system, and some suggestions for cold calling systems you should look into.
Compare call center software from
top providers
What Is Cold Calling Software?
Cold calling software is the type of software that enables your sales team to make cold calls efficiently, manage leads, and measure sales activity relative to call performance.
It's often one use case of a larger suite of call center technologies used in outbound contact centers. However, features designed to make life easy for your sales agents, such as CRM integration and auto dialing capabilities, differentiate it from general communications software for mixed communication models.
Popular Cold Calling Software Features
If you want to use this type of software as a helpful tool for your team, you should look for several major features. Ultimately, each of these features should make contacting leads easier and more efficient for your team.
Automated Dialing
Auto dialer software can help your team run through their call lists quickly and efficiently. There are several types of apps in this field that can help you reach your prospects. Look for terms like power, predictive, or progressive dialer when evaluating your software options.
At the very least, your software should have a click-to-dial feature so your team members don't have to waste time manually punching in phone numbers.
Another pro tip: consider a cold calling system that also offers answering machine detection so your reps can leave pre-recorded voicemails.
Integration With Your CRM
Since cold calling systems are meant to help your sales reps be more successful, it's important that it plays well with your other sales tools. Integrating with your CRM is, therefore, crucial for sales success.
Considering the best time to call a lead is within the first 50 minutes after they've shown an interest in your product, your systems should work together to make sure you call them as soon as possible. Integration with your CRM can help you track when leads come into your system and send their information to your sales reps so you're more likely to lock them down as customers.
Call Recording
The ability to record calls is important for any sales team. You can use recorded calls to train new team members, verify information about a prospect, and ensure quality calls from your team. Finally, if you're ever questioned about your TCPA compliance, you can use your call records to help back you up legally. You can also use call recording software for this purpose.
Access To Call Analytics
Diving into call analytics is important if you want to understand the efficiency and efficacy of your sales team. While you can connect sales activity to your leads through CRM metrics, call analytics can help you evaluate the overall success of these types of phone calls.
Coupled with call recordings, you can evaluate the success of your scripts or your different team members' techniques for selling to leads.
Appointment Setting Capabilities or Calendar Integration
Calendar integration or appointment setting features aren't a must-have for this type of tool. However, it's another time-saving measure to help convert your leads to customers. Especially if your team relies on lead qualifiers before they get passed off to your sales professionals, the ability to set appointments for team members helps create a smooth experience for your team and for customers when scheduling follow-up calls.
Best Cold Calling Software
Now that you have an idea of what you're looking for in a system, you're probably ready to dive into your search for the one that's right for you. Below are a few of the most popular systems.
1. Myphoner
Myphoner helps sales professionals track and organize leads by allowing you to create list segments within your system. To contact leads at the best possible time, it creates intelligent queues for agents so they have the best chance of getting in touch with the people on their lists.
To ensure that you're not spamming leads by contacting them multiple times, it also deduplicates the contacts in your system. This prevents two different agents from calling a lead with the same sales pitch. And to make sure your reps always have the most up-to-date information on prospects, Myphoner also integrates with your CRM to create thorough customer profiles and contact records.
See call analytics in Myphoner
Pricing
Myphoner starts at $16.00 per seat per month. However, access to more advanced features, such as inbound call handling, is only available in their "Plus Plan," which starts at $25 per seat per month.
Who should look into Myphoner?
Of those that listed their pricing, Myphoner was by far the most affordable system. Even their second-tier "Plus Plan," which includes more advanced features than their starter package, was less expensive than the start costs of most other systems on our list. Small teams who need powerful software on a budget should look into Myphoner for its cost-effective feature offerings.
2. Gong
Gong is a call software that uses conversational intelligence to record, transcribe, and analyze customer interactions. Focused especially on sales, the Gong app integrates across customer touchpoints–voice, video meetings, SMS, email, contacts, engagement software, and CRM systems–to record, transcribe, and extract data. Using advanced AI that understands and speaks over 70 languages, Gong analyzes these customer interactions for key topics, questions discussed, action items, and relationship details.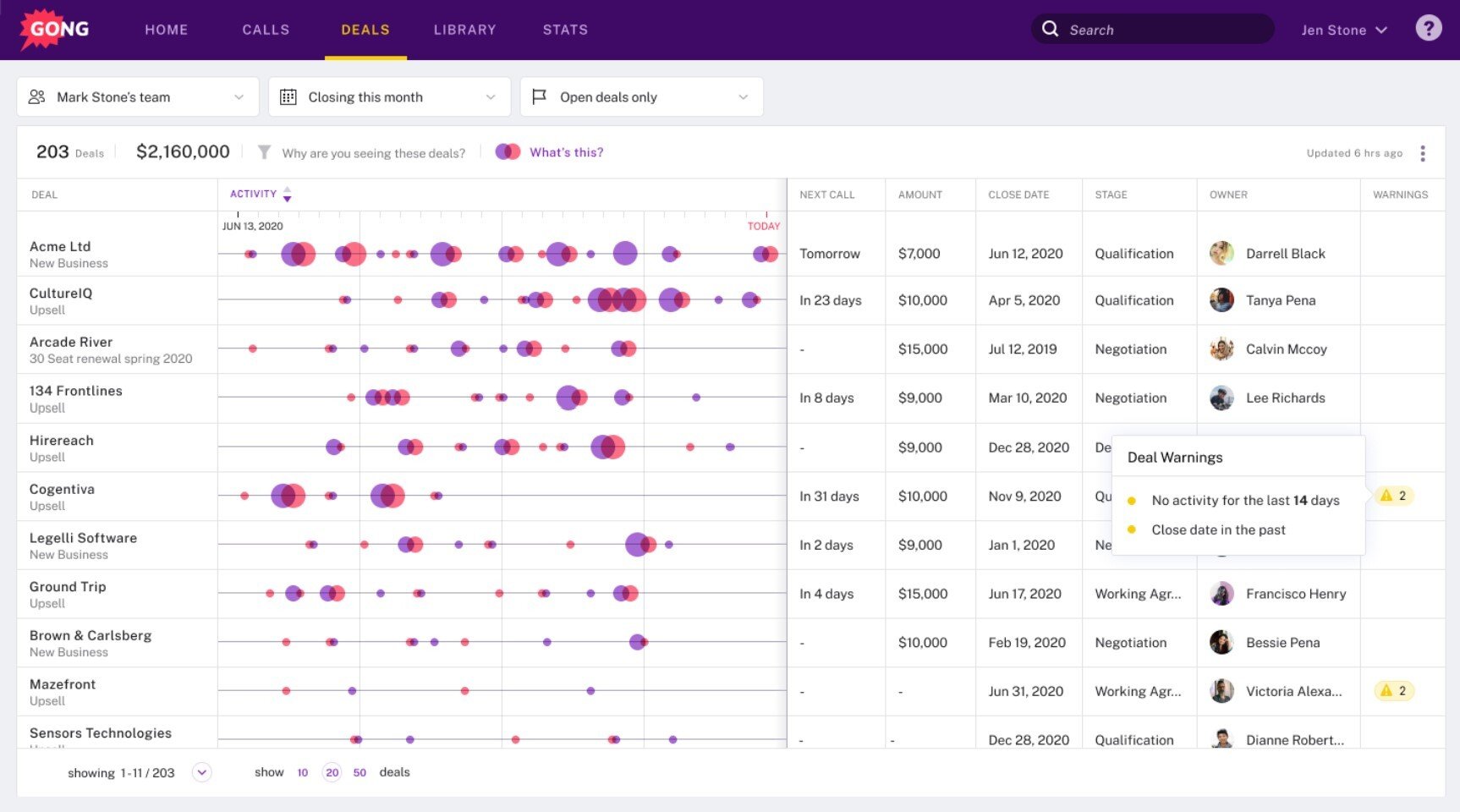 Gong identifies to-do lists and risks, making recommendations to improve coaching, supervision, and agent feedback. The Gong app dashboard–available on browser, desktop, and mobile–tracks and organizes customer deals, win/loss ratio, lead-nurturing stages, and each deal or prospect's activity timeline.
Pricing
A pricier option than most competitors, Gong charges an initial $5000 base price in addition to a monthly subscription starting at $100 per user. Your monthly subscription will be cheaper with more active seats. Gong offers multiple license types, each with distinct feature options.
Who should look into Gong?
Gong works best for sales-focused teams with a mix of leads and prospects at different stages of the conversion pipeline. By empowering overwhelmed supervisors with the data to give more actionable feedback, Gong works especially well for sales teams whose agents largely outnumber their supervisors.
3. VanillaSoft
VanillaSoft helps teams manage high volumes of leads. Using its lead scoring features, you can create custom formulas to evaluate leads as they come in, ensuring your agents speak to the highest priority leads first. Its easy-to-read dashboards help you track your team's performance at a glance, measuring both call activity and sales success.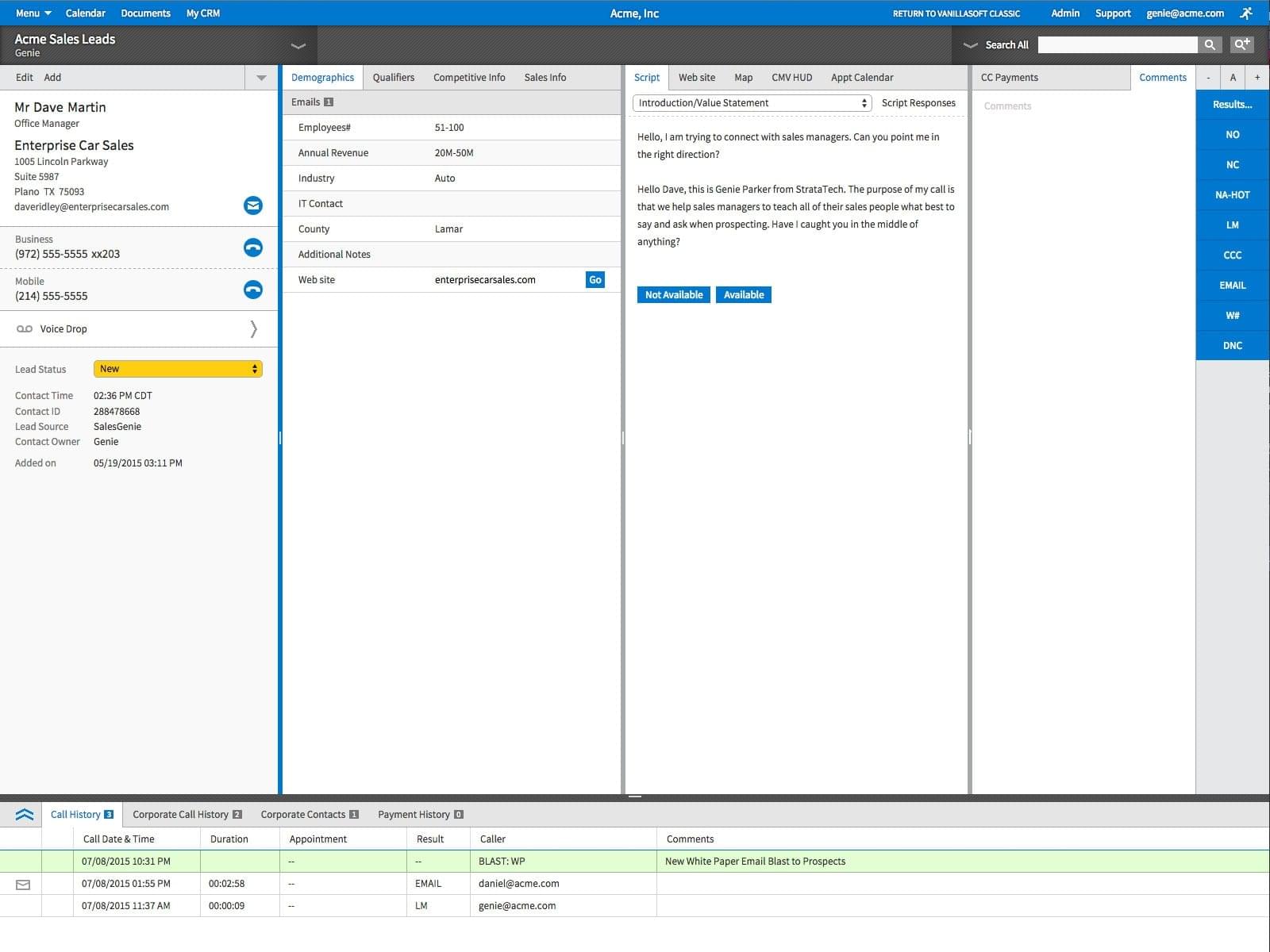 VanillaSoft offers both progressive and preview dialing options. These autodialing features allow your team to view contact information without having to look it up. They'll also avoid calling manually with click-to-call features. VanillaSoft also offers multiple industry-specific solutions, including insurance, fundraising, and higher education.
Pricing
VanillaSoft's basic sales engagement platform starts at $80 per user per month and increases for additional features. Its free trial offers access for up to six users and includes access to all features.
Who should look into VanillaSoft?
VanillaSoft's starting price is fairly steep compared to the other systems on our list. However, its system has a built-in CRM specifically made for teams who call large volumes of leads and customers. So in the end, you might save money by avoiding investing in two separate systems. Teams who can afford the higher startup costs of VanillaSoft and who are willing to migrate their sales data to its native CRM should look into this system to meet their outreach needs. And if you work with lead qualifiers who pass on leads and prospects to the right salesperson, VanillaSoft's appointment setting features might save your team time in the long run.
4. Toky
Toky's cloud-based system integrates with many tools you already use to provide real-time updates and information to customer profiles. Its call-forwarding feature allows agents to take calls on the go so they never miss an opportunity to get in touch with a lead. And its power dialer gives you the ability to create workflows around call campaigns to help agents reach the right lead at the right time.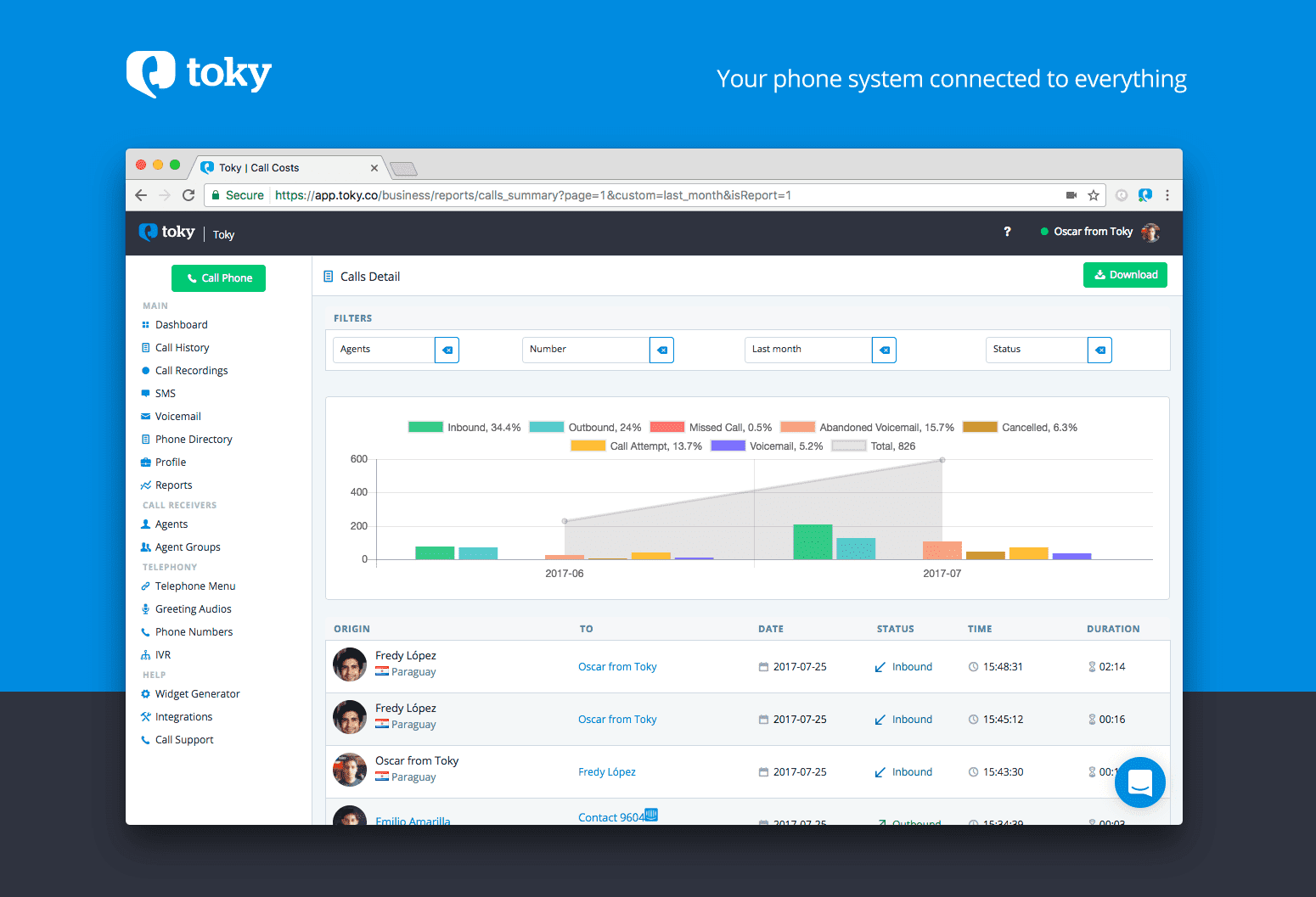 In addition to segmenting your leads based on campaigns, you can also group your agents to make call handling more efficient. Finally, Toky allows you to monitor agent calls in real-time, which will help with agent training and sticking to call scripts.
Pricing
Toky starts at $20 per agent per month. With its starter plan, you'll be charged for various a la carte features, such as the power dialer and call recordings, based on how often you use them. With higher-cost plans, usage of these features is included in the base price of the system.

Who should look into Toky?
Small teams—or teams of one—might want to look into Toky since it doesn't require an agent minimum to get started with its basic plan. Its starting cost is on the lower end compared to the other systems on this list. However, its volume-based pricing for certain advanced features on its starter plan might bump up the cost for smaller teams.Toky's ability to integrate with many popular business solutions, such as Hubspot, Salesforce, and Slack, might be its biggest selling point. If you want software that plays nice with all your other tools, Toky might be worth a look.
5. RingCentral
RingCentral is a big name in communications software, so it's probably no surprise to you that it's ended up on our list of top systems. Its Engage Voice solution, which is specifically built for outbound sales and service, offers different types of calls, including manual, preview, progressive, and predictive. You can customize the types of calls available to your agents based on the types of campaigns they're working on.
Create customized scripts with RingCentral.
You can further customize both the agent and lead experience by creating call scripts tailored to each lead. With access to its integration marketplace and its API, you can connect RingCentral to the systems you already use.
Pricing
RingCentral doesn't list its pricing on its site. However, given its standing in the communications market and its wide range of features, we estimate that its cost will be on the higher end compared to other systems of this list. It offers various packages that include different features to serve businesses with a variety of needs.

Who should look into RingCentral?
RingCentral is definitely a known entity in the communications market. With over 400,000 customers around the world, those who want to work with a proven system with international reach should look into RingCentral. Although we can't say what the exact cost of RingCentral would be for your business, its feature set is likely a better fit for larger businesses and teams who need to customize campaigns for many different lead types. You can look into more of RingCentral's other offerings to estimate what your organization's costs might be.
6. Aircall
Aircall markets itself as a system that's "best friends with your CRM." Through its various integrations with other systems, you can create automated workflows and log calls. Making these processes less manual helps your agents get through call lists more quickly while still recording all necessary lead information. Aircall's power dialing and click-to-dial features will also help reps get in touch with contacts more efficiently.
Track sales performance against call volume in Aircall
Aircall's analytics will help you see exactly how much their time-saving features contribute to your team's selling success. You can track team trends, as well as look more granularly into individual performance to see where there's still room for improvement.
Pricing
Aircall starts at $30 per user per month, with a minimum of three users. All plans include unlimited calls within the United States and Canada. However, if you want access to Aircall's more advanced features, you'll have to look into the second-tier "Professional" plan, which starts at $50 per user per month and also requires a minimum of three users.
Who should look into Aircall?
With Aircall's emphasis on automated workflows and its middle-of-the-road pricing, small and medium teams who are looking to make calls more efficiently might want to consider Aircall. Its inclusion of unlimited calls within the U.S. and Canada in all of its plans might also be an incentive for American and Canadian companies looking to save money on calling costs.
The Legal Side Of Cold Calling
In the United States, the Telephone Consumer Protection Act (TCPA) governs outbound calls to third-party generated leads. Under the TCPA, the use of autodialers to make calls to cell phones is prohibited unless the caller has obtained written consent from the recipient of the call.
Furthermore, it's illegal for those selling goods or services to contact numbers on the FTC's Do-Not-Call Registry. Below is a shortlist of people who can call numbers on the Do-Not-Call list:
Political organizations
Charities
Telephone surveyors
Companies that have an existing business relationship with a consumer.
Those who purposely call a number on the Do-Not-Call list could be subject to very large fines (up to $43,280 per violation). So while there is a "safe harbor" to protect businesses who accidentally contact numbers on the registry, it's in your best interest to invest in a system that's TCPA compliant.
Outside of the U.S., several other countries have DNC lists, including Australia, the United Kingdom, New Zealand, India, and Singapore. However, the consequences of violating them vary by country. For more specific information, this useful infographic outlines telemarketing laws in several major countries and regions.
Find The Cold Calling Solution That's Right For You
Cold calling software can help you better engage leads, increase sales, and help you stay compliant with various rules regarding telemarketing in different countries. The suite of tools it offers will save your agents time, meaning they'll spend more time making quality calls to your leads.
If you want to find a system that works for you, check out some more of your options in our call center software directory. Look for systems that specialize in outbound calls and offer the essential features discussed in this guide.
Cold Calling FAQs