Given that making the switch from POTS to VoIP telephony providers can save your small business over 80% in annual costs, it's no wonder that less than ¼ of companies still use a standard telephone system in their office.
Vonage and RingCentral are two of the most popular VoIP business phone system solutions — but which one is right for your business?
Our head-to-head comparison of Vonage vs RingCentral will help you to better understand which provider offers the most useful features, best plans and pricing, overall user experience, and easiest installation and setup process.
Table of Contents
Quick Overview: Vonage vs RingCentral
| | | |
| --- | --- | --- |
| Provider | | |
| Pricing and Plans | 4 Paid Plans from $19.99/user per month to $49.99/user per month | 3 Paid Plans from $14.99/line per month to $34.99/line per month |
| Unlimited Voice Calls in the US and Canada | ✓ | ✓ |
| International Calling | Charged based country's specific rate per minute | ✓ |
| Local, Toll-Free, and International Phone Numbers | ✓ | ✓ |
| Audio Conferencing | Unlimited for up to 1,000 attendees  | Unlimited for up to 30 attendees |
| Compatible Phones | Yealink, Polycom, Cisco, Unify | Yealink, Polycom, Panasonic, Grandstream |
| Video Calling | Yes, for up to 200 participants | Yes, for up to 100 audio-only participants and up to 16 video and audio participants  |
| Maximum Video Meeting Duration | 24 hours | Unlisted |
| Team Chat Messaging | Internal/external teams, screen sharing, notifications, file sharing, searchable chat history, live collaboration, task management, switch to phone call | Internal/external teams, file and screen sharing, notifications, up to 12 months of stored message history, view other participants status and contact information |
| Virtual Faxing | Unlimited  | Paid add-on |
| SMS Text Messaging | Unlimited SMS and MMS up to 1,000 characters, including international texting | SMS only, no MMS |
| File Sharing | Unlimited jpg/jpeg, png, png, svg, mp4, mov, mp3, zip, html, txt sharing | Unlimited jpg/jpeg, png, png, svg, mp4, mov, mp3, zip, html, txt sharing |
| Call Recording | On-demand and Automatic with unlimited storage | Paid add-on, between 15-500 hours |
| CRM and Business Tool Third-Party Integrations | Salesforce, Zendesk, Canvas, Smarsh, Office 365, G Suite, Google Workspace, Slack, and more | Salesforce, Office 365, G Suite, Zendesk, Microsoft Teams, Slack, Zapier, Zoho CRM, and more |
| Top Features | RingOut one-click calling, Call Delegation, advanced analytics and reporting | Conversation Analyzer, advanced call recording options,  |
| What Needs Improvement | Challenging multi-level IVR setup, online faxing  | Limited features are available without opting for paid add-ons |
| Best For | SMBs of under 100 mainly remote employees that primarily communicate via phone, especially popular in the education, sports, and tech industries | Companies of fewer than 50 employees or blended teams that have more basic business phone and communications needs, or those that are willing to pay for features on an individual basis for a more customized solution. Especially popular in the healthcare, finance, and manufacturing industries |
What is Vonage?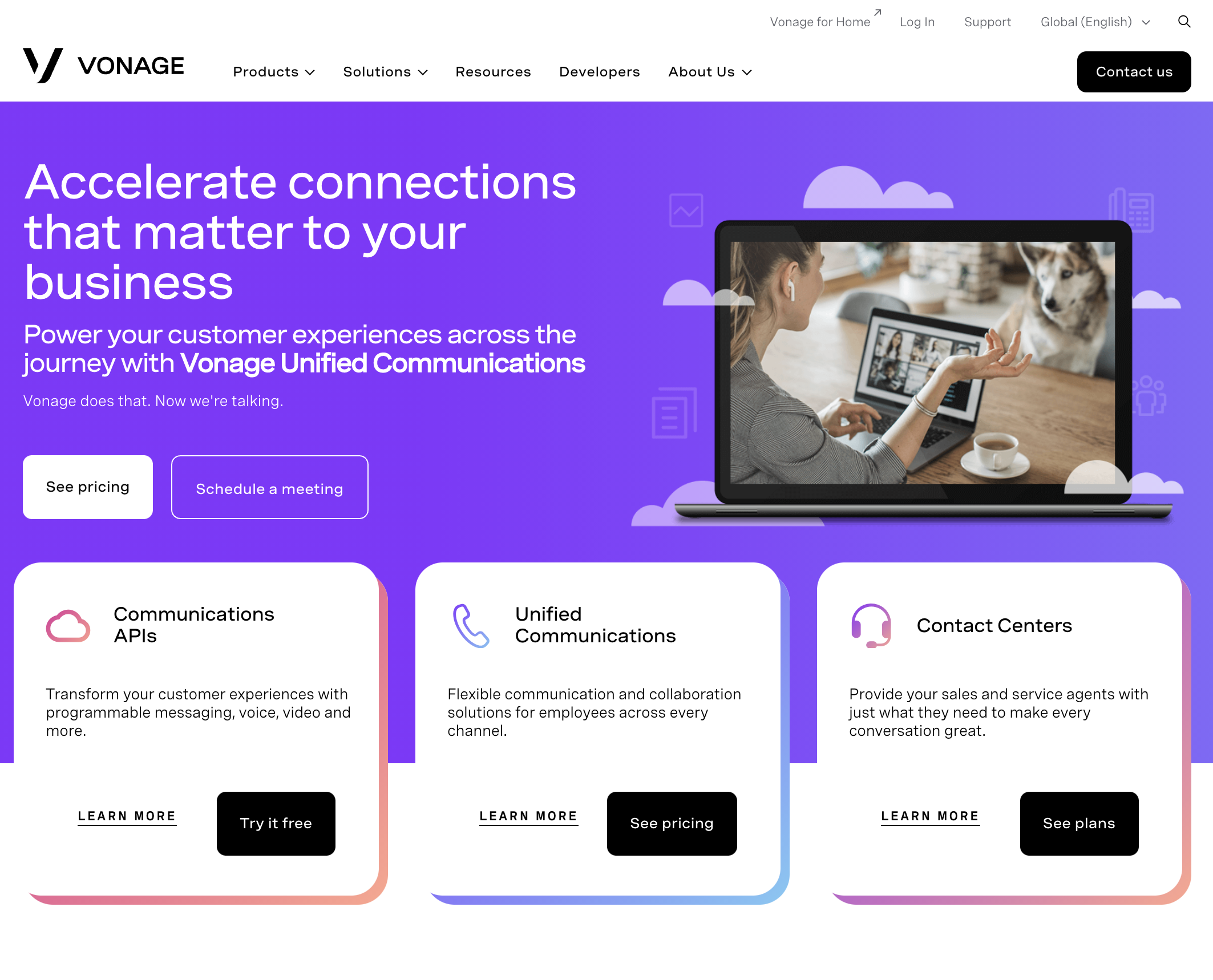 Vonage is a cloud-based unified communications provider that offers voice calls, SMS messaging, video meetings, online faxing, chat messaging, CPaaS, and social media messages as a part of its Vonage Business Communications (VBC) solution.
Vonage is accessible from the desktop app and mobile devices, and users can make and receive calls with many standard IP office phones or via compatible Vonage telephones.
Integrations with third-party software and business tools are available via the Vonage App Center. Vonage also provides communications APIs that let users create a custom business communications solution. However, most users opt for the simpler UCaaS VBC platform, which includes over 50 phone features
Though basic call management and communication features are available with paid plans, many users find they need to purchase add-ons for a more robust business phone system.
Vonage prioritizes an easy-to-use interface and high-quality essential audio and video calling features. Though Vonage customers may occasionally collaborate on files, the majority of their collaboration needs can be taken care of in a team chat or face-to-face for blended teams.
What is RingCentral?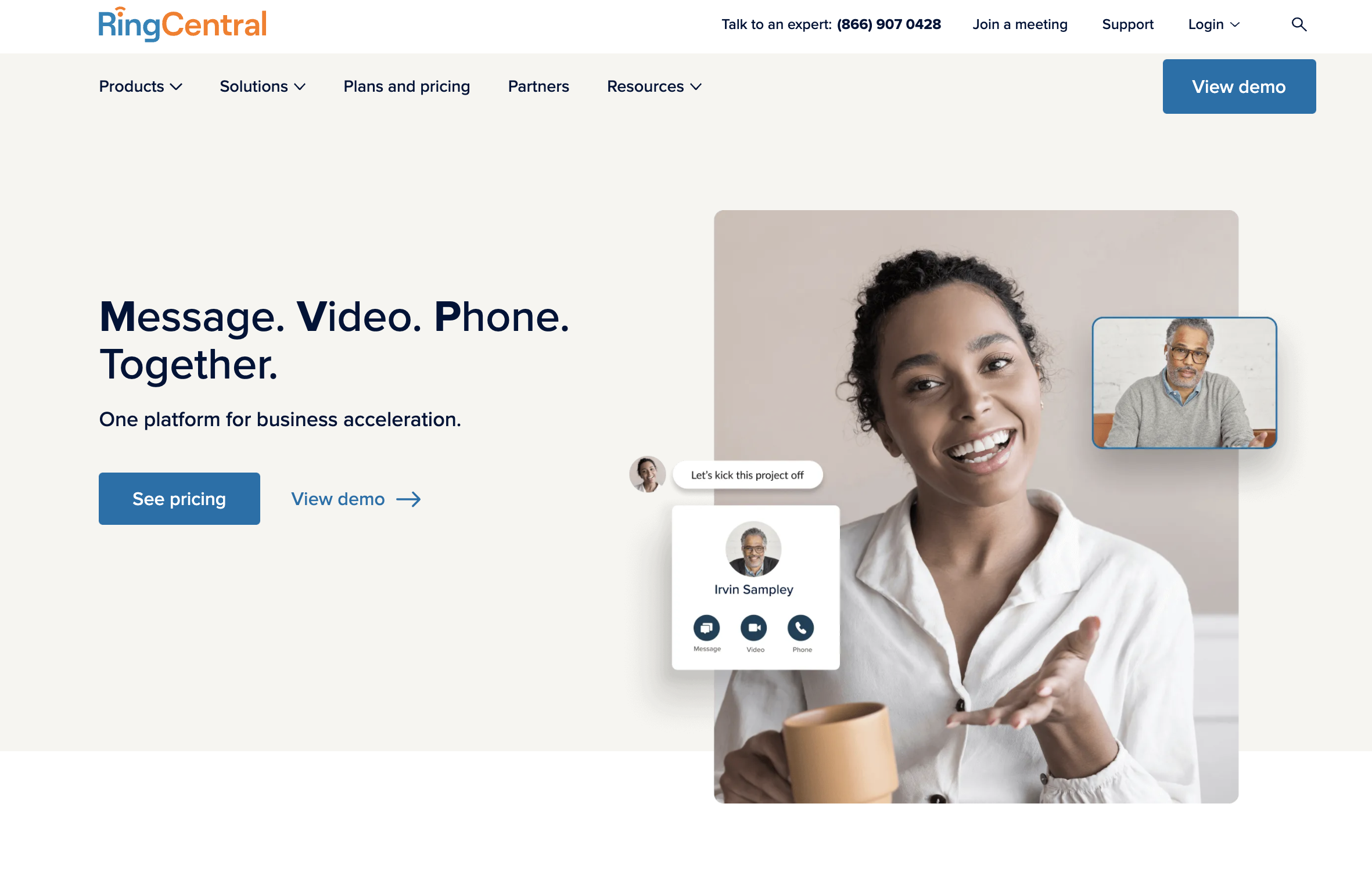 RingCentral is a small business VoIP phone system that manages voice calls, team chat messaging, audio and video conferencing, and more in a truly single unified communications app.
Additional phone functionalities include SMS text messaging, online faxing, and advanced call management and routing capabilities via cloud PBX.
Users can make and receive calls using the RingCentral App via traditional IP phones, analog phones with an adapter, desktop and laptop computers, and on iOS and Android mobile devices.
VoIP calling capabilities are included with the purchase of any RingCentral Office plan, which combines voice, video, and messaging features. Users can create their own integrations and functionalities via RingCentral's Open API platform, or select from numerous pre-configured third-party integrations in the App Gallery.
RingCentral prioritizes communications flexibility and real-time team collaboration and is designed to be used not simply as a replacement for standard PSTN phones, but rather as a comprehensive business communication solution.
Comparing Features in RingCentral and Vonage
Below, view a head-to-head comparison of the essential VoIP features both RingCentral and Vonage provide.
They include:
Types of VoIP Phone Numbers
Advanced Call Management Features
Audio Conference Calling
Voicemail
Call Recording
Video Calling and Team Chat Messaging
Analytics and reporting
Third-Party Integrations
Types of Phone Numbers
RingCentral offers local telephone numbers in over 200 area codes to provide your small business with a local presence.
Users can also select toll-free numbers, allowing customers to call your business without a charge. Available number prefixes include 800, 888, 877 ,866, 855, and 844. Toll-free vanity numbers are also available for more instantaneous recognition.
International numbers are available in over 100 countries.
Number extensions for individual employees or entire departments are also available, and more can be added or removed at any time.
Vonage offers local telephone numbers in a variety of locations, and allows users to add as many different local numbers/area codes to their account as they wish.
Additionally, Vonage "quarantines," tests, and screens their phone numbers before listing them for purchase to ensure that there is no cross-talk from prior owner numbers.
International phone numbers are available in 85 countries.
Vonage also offers toll-free phone numbers with 888, 877, and 866 area codes in the United States, Canada, and Puerto Rico that support up to 50 SMS messages per second. Additionally, users can purchase customized dedicated short codes, so customers will know exactly who those texts are coming from.
Winner: Draw, as Vonage has limited toll-free numbers available but does a better job of testing numbers; whereas RingCentral has more toll-free number options but makes no mention of extensively testing their phone numbers.
Advanced Call Management Features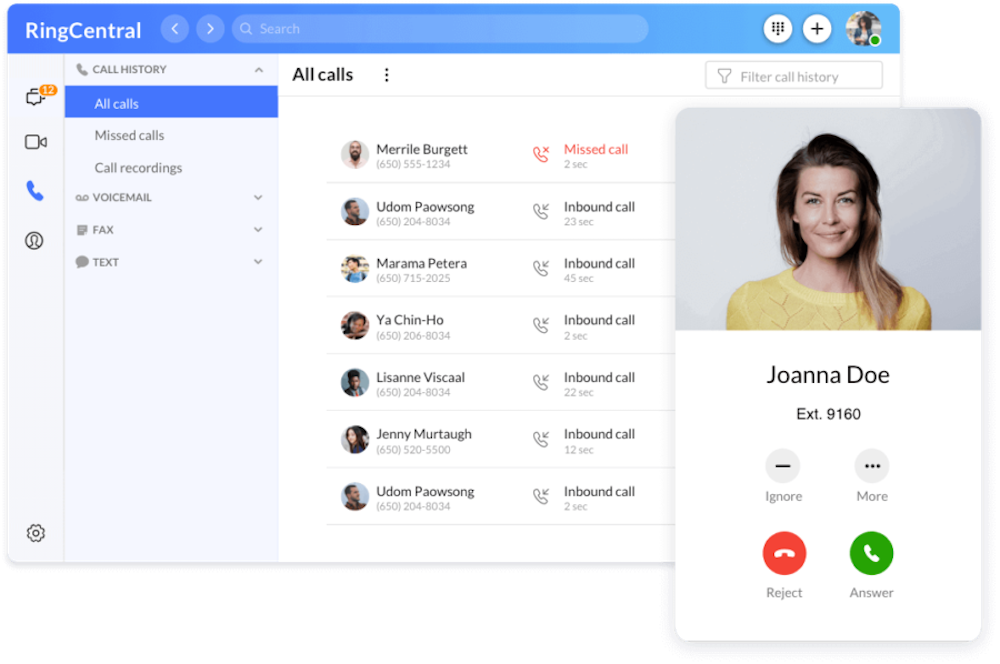 RingCentral has numerous advanced call management capabilities designed to increase first call resolution rates, offer greater employee flexibility, and improve customer satisfaction rates.
Call presence lets admins and other agents view each other's availability status across devices. Status options like "on a call," "available," "on hold," or "call ringing" ensure calls are transferred to an available agent and cut down on customer hold times.
Call delegation makes it easier for agents to place and manage numerous calls on behalf of managers and executives. Up to ten agents can share a single line to an executive, call ownership is labeled, and assistants can quickly transition a call into an audio conference on behalf of an executive.
RingOut lets RingCentral users make outbound calls on any device with Internet access. Just click on any account contact information, name, phone number, message, call log, or even webpage or Word document to place a call.
Multi-level IVR and auto-attendant features make it easy to setup call flow patterns, ensure a higher level of customer self-service, and connect callers to agents that are the most qualified to assist them by asking a series of questions. Users can also make one-click calls in Outlook or Gmail and display their RingCentral business phone number as their caller ID contact information, regardless of where they're actually calling from.
Users can create up to 250 call menus and submenus per account, set up direct inward dialing (DID) menus for each IVR menus, upload telephone prompts, and customize call routing patterns.
Additional features include:
Call parking to hold calls to answer them from an additional desk phone in the system
Call flip to switch between devices while on a call
Call forwarding to send calls to multiple phone numbers/agents from a single inbound phone call
Intercom to make company-wide announcements via desk phones
Up to 8 lines and 16 desk phones per shared lines and ring groups
Cloud PBX
Call monitoring (call barge, whisper, coaching, etc.)
Custom voicemail and hold greetings/music
Dial-by-name directory
Hot desking to log in to shared phones
Caller ID
Call screening and call blocking
Directory listings to publish your company's contact information in local and national business directories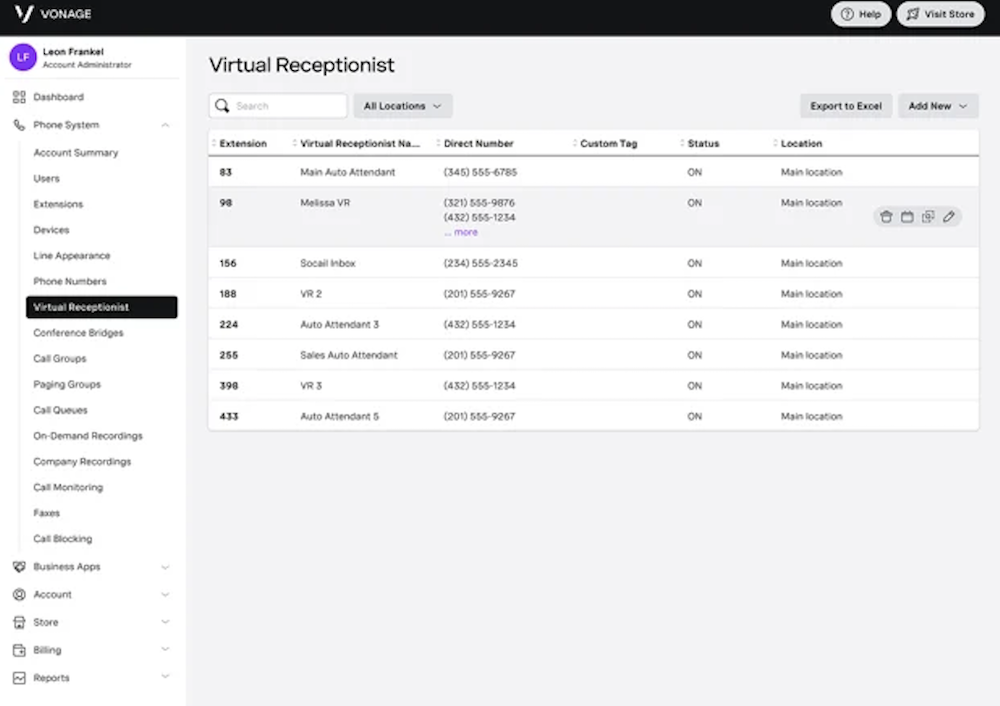 Vonage offers over 50 call management features as a part of their business communication system.
Features are focused mainly on facilitating better mobile and in-house telephone communications increasing collaboration/productivity and improving the overall customer experience.
Communication features designed to enhance agent flexibility include call flip to switch between devices during a phone call, a mobile app for Android and Apple, and desktop computer softphone access. Additionally, users can have their voicemails sent to email addresses, view all business SMS and team chat messages in a single interface, and set up call routing and find-me, follow-me call forwarding.
Call Announce plays an audible message to the agent, which contains valuable customer information obtained from the Vonage IVR system before the call is transferred to better prepare the team member for the call. Users learn the reason for the call, related call tags, basic customer contact information, and more. This way, agents can decide whether or not to take the call based on their familiarity with the call subject matter.
Voyage also allows up to 3 devices to be connected to a singular extension for better first call resolution rates.
Additional features include:
Advanced IVR and virtual receptionist
Simultaneous ringing on multiple phone numbers
Ring groups
Do Not Disturb
Call paging (broadcast messaging
Call monitoring, call barge, whisper
Call screening
Spam shield
Busy lamp field
Automatic emergency call rerouting
Call hold, call park, call queue, call waiting, call screening, and caller ID
Click-to-call
Shared line appearance
Call blocking
Directory Assistance
Winner: Draw, as the better option will depend on the specific features that match a company's unique business needs.
Audio Conference Calling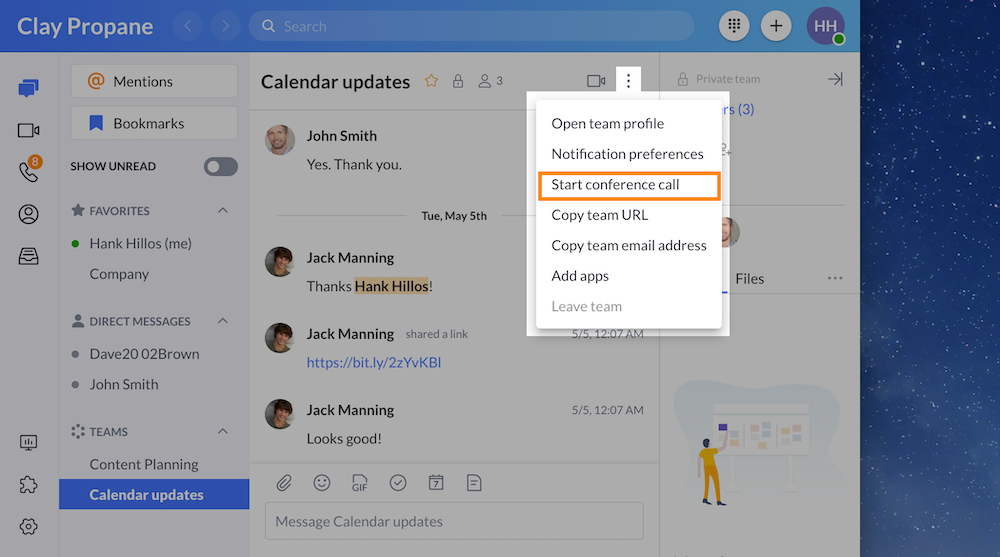 RingCentral provides a dedicated dial-in audio conference call phone number and gives each user their own unique host or participant code, allowing for multiple users to have simultaneous conference calls without interference.
RingCentral users and nonusers can join a call of up to 1,000 participants. These conference calls are primarily designed for spontaneous calls as opposed to scheduled conference calls (though a scheduling option is available.)
One-click access from a text message containing the invite link prevents attendees from needing to enter an access code. Attendees can also join via email invitations, via local and international number dial-in, using the "call me" feature, and on both desktop computer and mobile devices.
Host controls include call recording, muting or blocking participants, the ability to flip the call to another device, and more.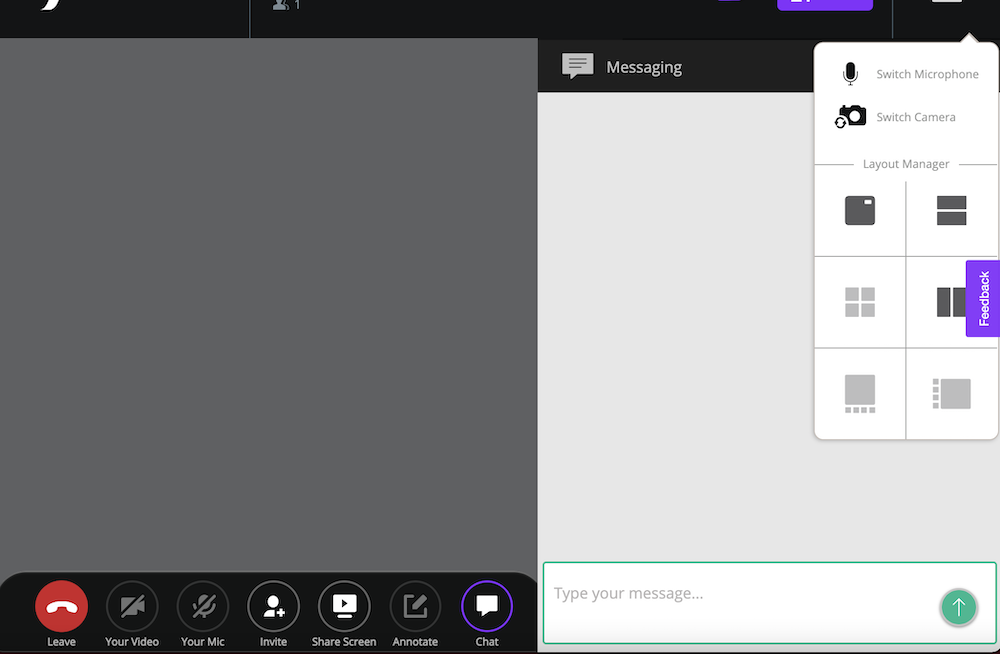 The Vonage Conference Bridge allows for audio-only conference calls of up to 30 participants. Those outside the organization can join a Vonage call by dialing the direct inward dial (DID) number and entering the password/PIN number.
As a response to the 2020 COVID-19 pandemic, Vonage now offers free audio conference calls (along with video conferences) for a maximum of 90 days, available by clicking this link. Not, however, that it does not support dial-in access and can host only up to 16 audio/video participants.
In order to create a conference call (audio-only) of up to 100 participants, you'll need to host the conference in Vonage Meetings, the video calling dashboard of the Vonage Business phone system.
Vonage Call Conference allows a meeting for 3-5 parties via the mobile app or by pressing a button on a compatible Vonage desk phone. Users do not need to hang up the call and start a new one to enable three-way calling.
Winner: RingCentral. Though it's nice to have the free option with Vonage, the limited participant number and the lack of key features like "Call Me" and dedicated conference call phone numbers per user makes RingCentral the winner.
Voicemail

RingCentral virtual voicemail provides voice inboxes for every extension and every department (AKA, both individual and shared voice mailboxes.)
Voicemail-to-email allows users to listen to their voice messages through audio files sent to their email addresses, or to read voicemail transcriptions in the email body.
Users can quickly scan through numerous voice messages through the visual voicemail tool, which provides a single list of unopened voice messages sorted by caller ID, length, or date/time left. From there, users can prioritize which messages to listen to or read automatic transcripts of in full.
Users receive notifications of new voicemails to ensure they don't miss any messages and record their own voicemail greetings for a personal touch.
Users can listen to voice messages in the RingCentral mobile application, their email inbox, the softphone interface, on standard desktop and VoIP phones, or in the online portal.
RingCentral stores up to 200 combined voice messages and fax messages for 30 days.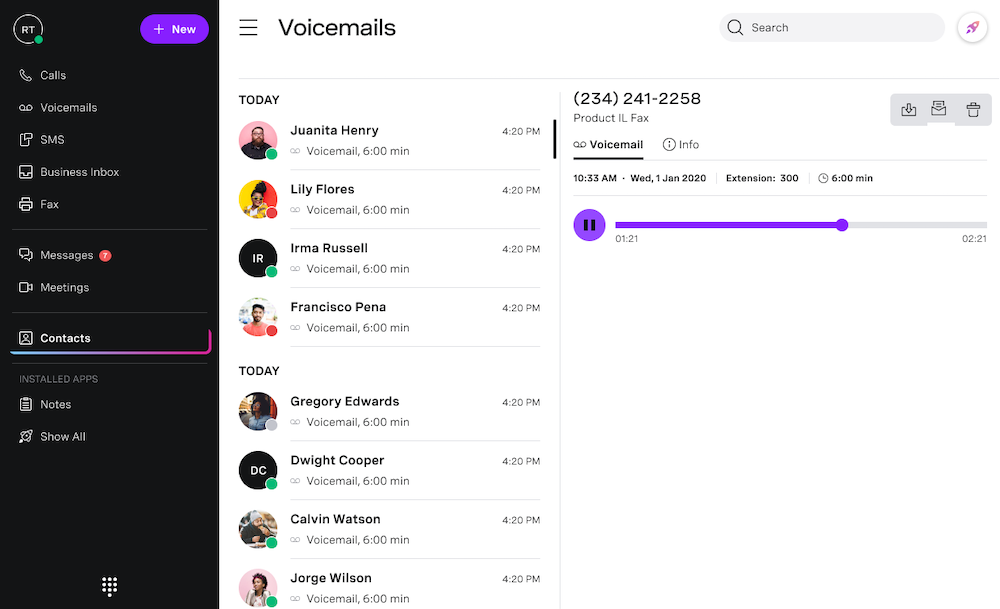 Vonage Visual Voicemail is a paid add-on that instantly transcribes voice messages into texts, then delivers the transcriptions to your preferred email. The transcription is in the body of the email as opposed to an attachment, and the caller's phone number and attached audio file are also sent in the email.
Each individual user/extension can have a unique voice mailbox. However, note that virtual voicemail is not available for call groups.
Users can also forward voice messages from their email addresses, and opt to lock voicemail access with a PIN. Users can also specify a ring count (AKA, the number of rings) before a caller is sent to the voice mailbox.
Vonage users can record their own greetings or voicemail messages or select from a variety of pre-recorded options.
Winner: RingCentral, as it allows for shared mailboxes and lets users see detailed information about all their current voicemails.
Call Recording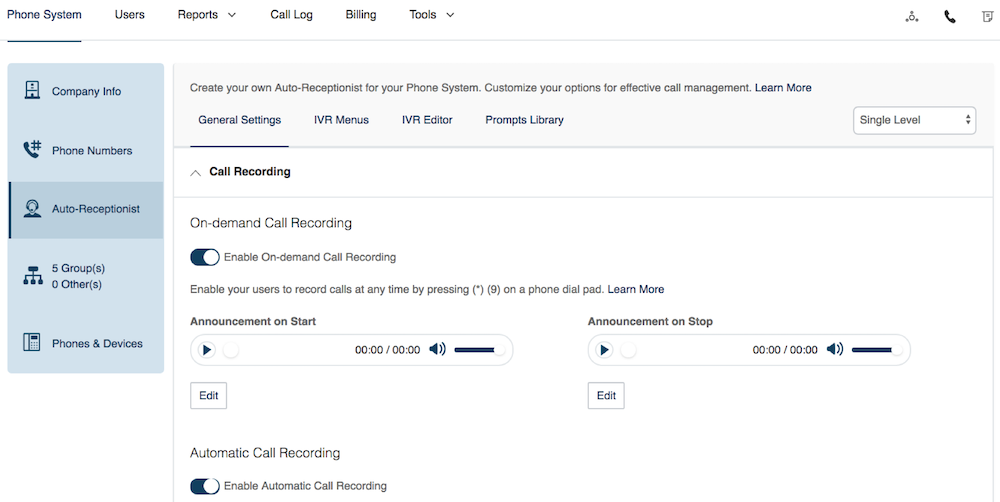 RingCentral offers automatic and on-demand call recordings for inbound and outbound phone calls, conference calls, and video calls.
Users can save up to 1000,000 recordings per account, access recordings they can playback or download for 90 days, and download multiple recordings if needed.
RingCentral takes extra care when it comes to call recording laws and privacy rights, sending an automatic email to call participants altering them that they will be recorded. The app can also play default or customized audio messages over phone calls to inform callers of recordings.
Note that admins can manage access to recordings, as well as send the recordings out to meeting participants once a call has ended.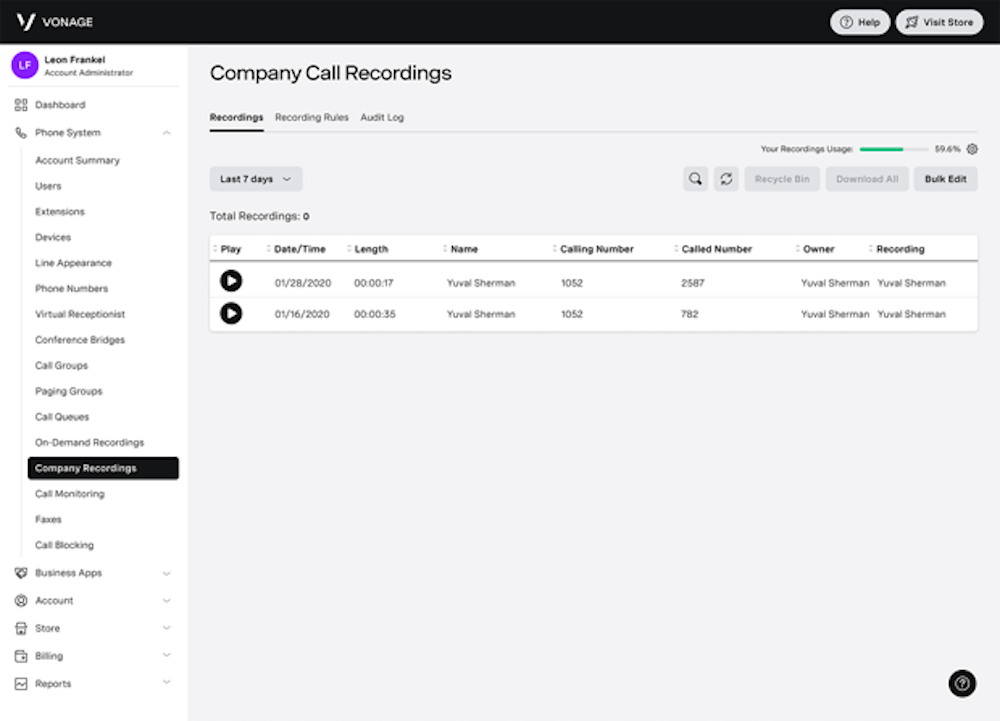 Vonage offers two types of call recording: company-wide and on-demand.
The company-wide option lets admins set specific recording rules for their entire office, including options like password-protected recordings, sharing recordings, or setting up an automated recording. Recordings can be played back in the Admin Portal, downloaded, or played directly in call log reports.
Admins can opt to record calls from specific phone numbers, outbound calls only or inbound calls only, or even calls made by specific agents or departments.
The last 7 days of recordings are automatically displayed by default, and users can also search for specific recordings via a search bar.
On-demand recording only records calls that admins set to be recorded. Every extension has 15 hours of recording time, and after a recording is completed, admins can email the recordings to participants and then automatically delete them, freeing up more space.
Winner: Vonage has more advanced recording options, including both on-demand and automatic, and allows for a higher level of recording rules and customization.
Video Calling and Team Chat Messaging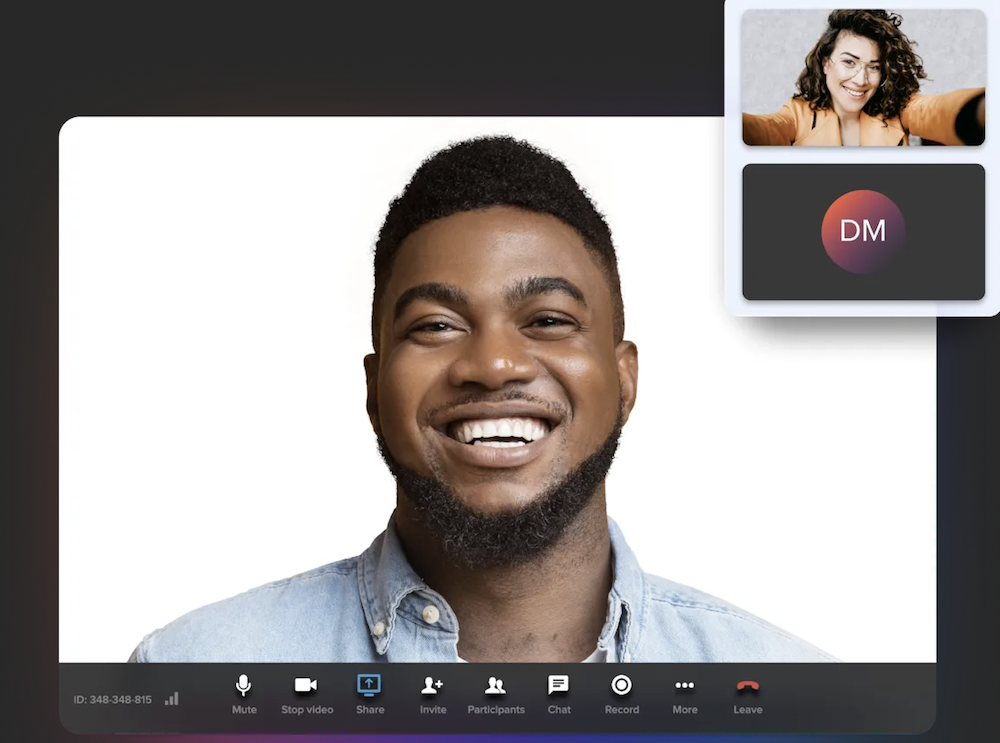 RingCentral Meetings lets users hold HD video calls for up to 200 attendees (though additional licenses for larger meetings of up to 500 people can be purchased for an additional fee.)
Note that attendees do not have to download the RingCentral Meeting app to join the call — they can join directly from their Internet browser instead.
Real-time public and private team chat messaging is also accessible during (and outside of) video calls.
In addition to sharing entire desktops or single applications during video calls, users can share presentations and files from local storage our cloud storage tools like Google Drive, DropBox, OneDrive, and Box.
Note that RingCentral Video, a free video calling service, is available as a standalone product.
A RingCentral webinar upgrade is available for up to 10,000 attendees.
Additional RingCentral video calling and team chat capabilities include:
On-demand/automatic meeting recordings
Searchable chat records
Breakout sessions
Join/schedule RingCentral meetings directly in Outlook
Speaker spotlight
HIghlighting and markup presentation tools
Remote desktop control
Shared file annotation
Task management
Drag-and-drop sharing
Meeting recaps
Compatible RingCentral Rooms conference room hardware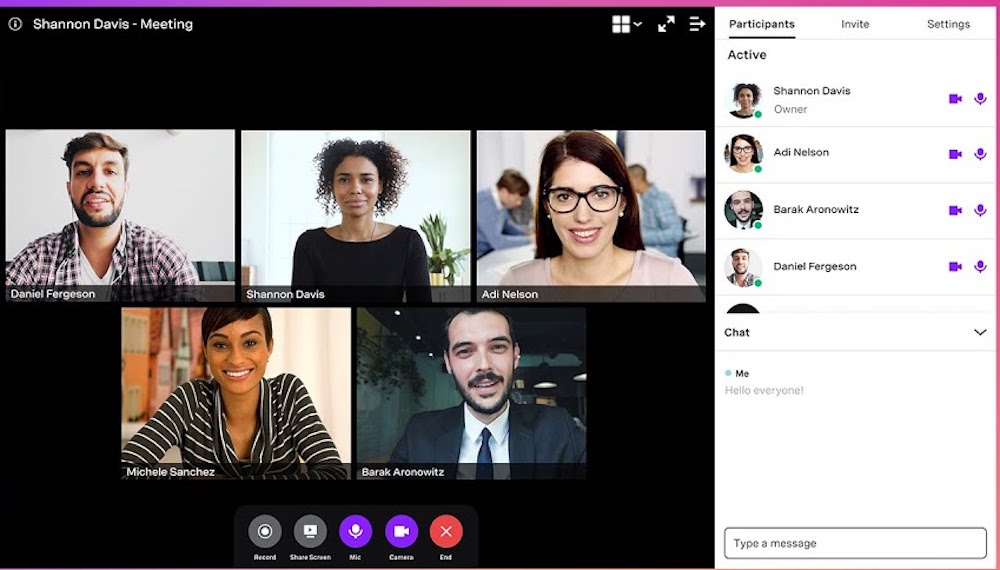 Vonage Meetings is a free video conference and collaboration tool compatible with Vonage desktop and mobile apps. Both Vonage users and non-users can attend these meetings.
It also includes team chat messaging, which can be utilized as a standalone tool or as a part of a video meeting.
Up to 16 users from 60 countries can meet simultaneously, and audio-only conferencing within Vonage Meetings is available for up to 100 attendees.
Users can record and save up to 15 hours of meetings, and schedule meetings directly in Google Calendar or Microsoft Outlook. Meetings provides each user with their own unique Meeting ID, or lets them select randomly generated temporary IDs for one-off meetings.
Meetings can be started with a single click from a chat conversation or phone call, or they can be pre-scheduled, with email invitations containing meeting links and passwords. There are numerous meeting views to choose from, including active speaker, gallery view, and a view of the main speaker with other attendees in thumbnail images.
Vonage Meetings is designed as a video-first interface that also shows additional communication channels (softphone, SMS messages, etc.) simultaneously on a user's screen during a video meeting.
Additional team chat and video meeting capabilities in Vonage include:
Desktop or application screen sharing
Participant Status
File sharing
Dial-in meeting access
Host controls
Saved chat history
Meeting histories
Join the meeting via web browser, no-download option
Meeting locks
Winner: RingCentral, given that it has advanced features like breakout rooms and task management.
Analytics and Reporting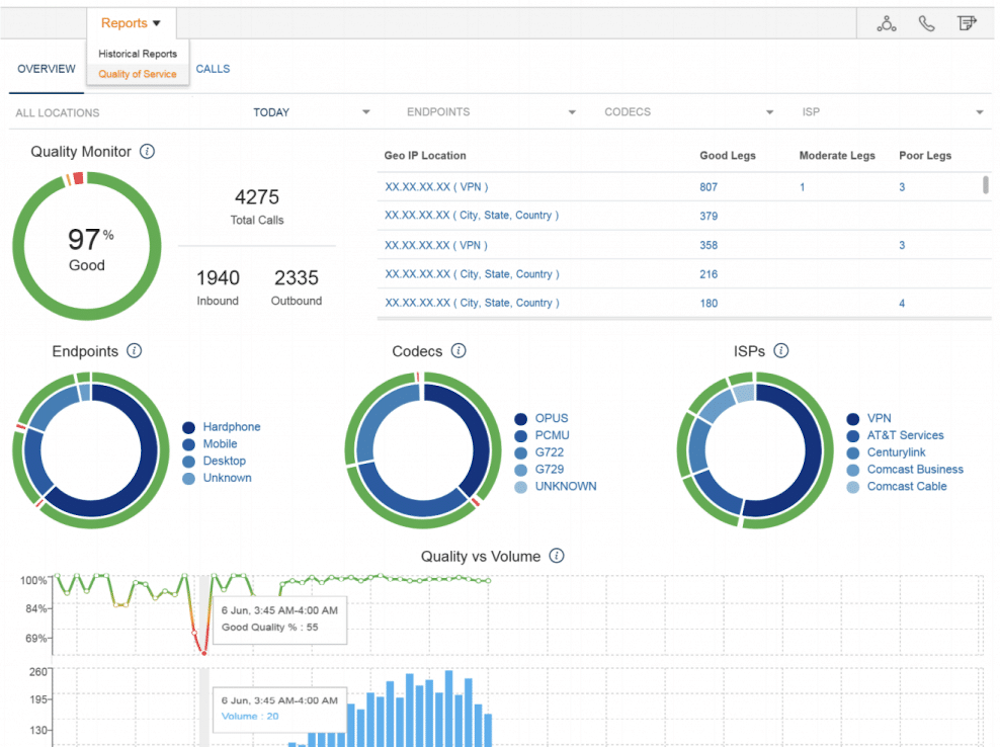 RingCentral analytics provides KPIs and call data on a weekly, daily, and monthly basis, or collects data from a customized date range.
Live and historical reports are available, and users can set up automatic reporting emails and alerts. Over 30 pre-built KPI and report templates are available.
RingCentral Analytics data includes:
Adoption/usage of RingCentral features and platform
Call quality reports
CSAT reporting
Agent activity
Call logs
Average speed of answer, first call resolution rate, average call volume, call queue details
Call results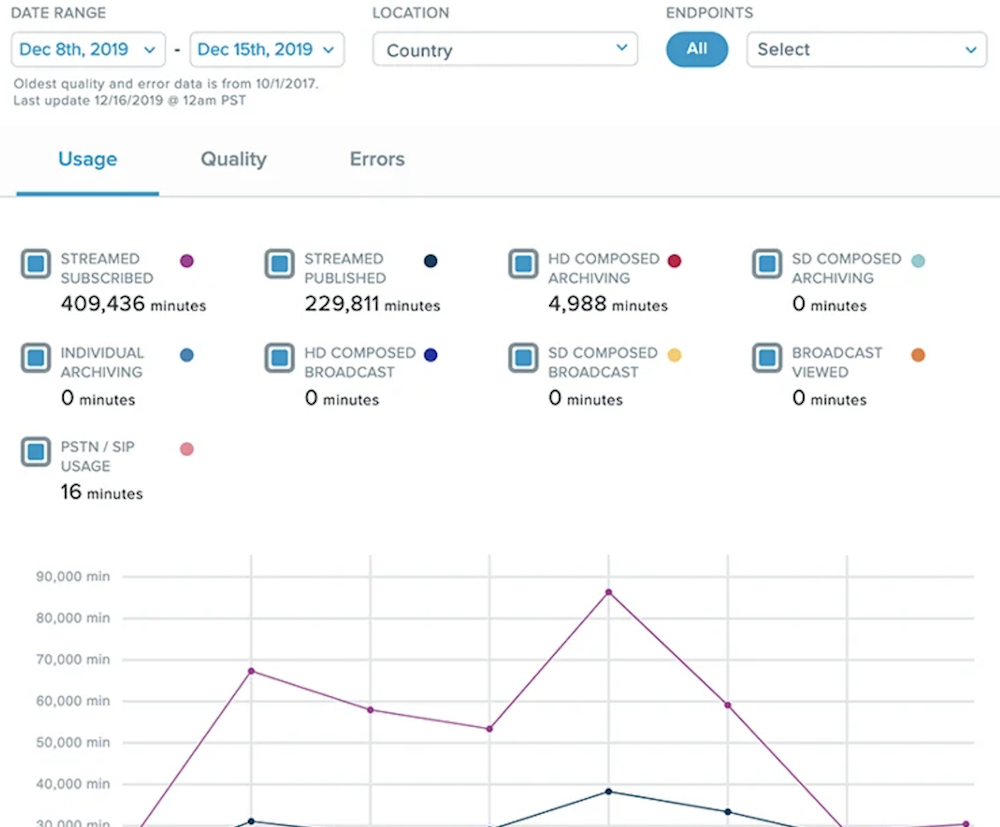 Vonage analytics provide a bird-eye view of overall business activity as well as more specific insights into agent and caller behavior.
The Company Summary provides an overview of call activity, displaying 3 months of data simultaneously and allowing admins to look into data from the past 18 months. From the Company Summary, managers can review more specific data through analytics filters and custom date ranges, which include insight into:
Activity by extension, agent, ring groups, etc
Call disposition and direction
Call duration
Total number of calls
Number of calls that were answered, missed, or went to voicemail
Most active and least active agents/groups
Call logs
Users can subscribe and save specific reports, as well as share these reports with others.
The top Vonage analytics tool, however, is its Conversation Analyzer, which uses speech analytics to provide greater insight into common problem areas, overall quality of service, customer disposition and satisfaction, and more.
The Conversation Analyzer automatically transcribes recordings, which admins can then search by keyword or date range. It also tags conversations, helps to spotlight call trends, sends out alerts, and integrates with your CRM to provide additional insight into customer interactions.
Winner: Vonage's Conversation Analyzer, alongside the fact that it provides real-time call transcriptions and customizable analytics, makes it the clear winner here.
Third-Party Integrations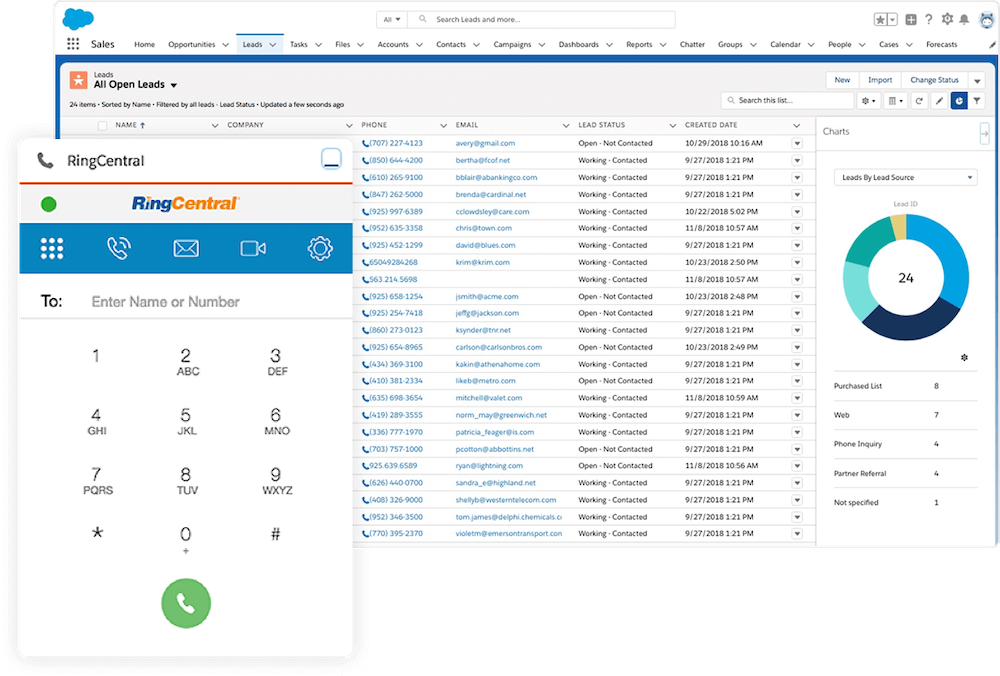 Key RingCentral third-party integrations include:
Salesforce
Microsoft Teams
Zoho CRM
Zendesk
Zapier
Slack
Trello
GSuite
Microsoft 365
Asana
Mailchimp
Key Vonage Business Communications third-party integrations include: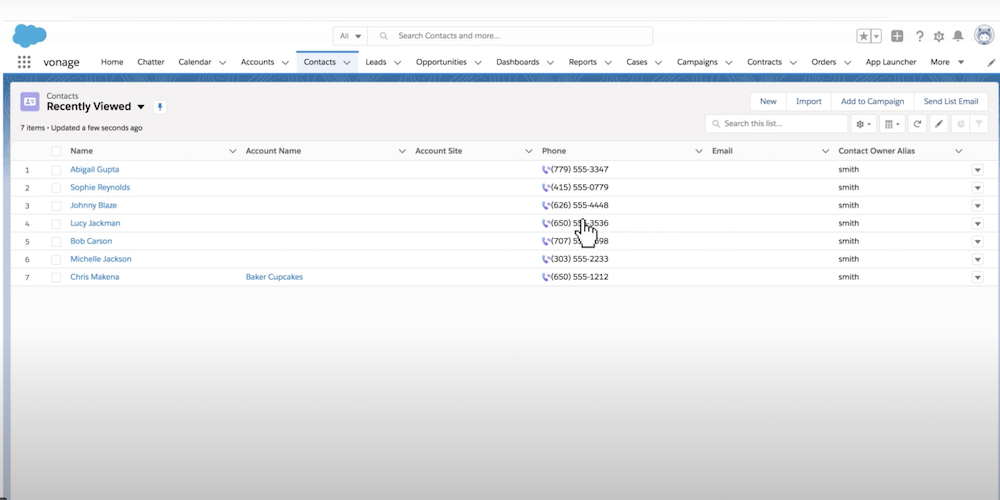 Office 365
G Suite
Salesforce
Microsoft Dynamics
Zoho CRM
Slack
Oracle
Zapier
Microsoft Teams
Sugar CRM
HubSpot
Zendesk
Clio
Winner: Draw, as both solutions offer a variety of third-party integrations and customizable APIs.
Vonage vs RingCentral: Setup and Onboarding
Vonage lets users decide if they want to set up their online accounts on their own or if they'd like to schedule a call with a service representative to walk them through the process.
During the installation, the Super User (generally the company owner) chooses new or transfers existing phone numbers, adds users and assigns user types, sets up extensions, and configures the IVR system.
Available user types include the single Super User, multiple Account Administrators, Billing, Call Queue, and Reports Administrators, and the End Users (sales and phone support agents, for example.
As soon as the initial setup is finished, the Super User can immediately activate their Vonage account or delay activation for up to 45 days.
Vonage provides several fee-based onboarding options for new customers in addition to the support forums on its website. Users can receive 3-5 days of onsite installation support, user training, and voice/data provisioning. Specific onboarding training packages a customized 90-minute webinar on selected topics, handset and phone installation, network infrastructure analysis, and customized video training support packages. A more complete list of available Vonage onboarding packages is available here.
In terms of VoIP equipment, you'll need high-speed Internet, hard phones that connect to the system with an Ethernet cable, and preferably Linksys or Netgear Routers. Note that Wi-Fi is generally not recommended for use with VoIP phones. Preferred compatible Vonage hard phones include devices from Yealink, Polycom, Panasonic, and Grandsteam. A full list of compatible devices is available on the Vonage support site.
RingCentral has several specific onboarding instructions, available here, depending on the number of users in your system (from 2 users to over 100.) The setup and installation process is so simple that most users choose to do it on their own.
Each RingCentral account holder has access to a free success team, which includes an Implementation Advisor and Account Executive. Your Implementation Advisor offers up to 3 hour-long phone training sessions to walk you through the installation, number transfer/creation process, and teaches agents how to use features.
Available RingCentral user types include one Super Admin to assign and change user permissions, a Phone System Admin, Billing and User Admins, Manager (responsible for reporting) and Standard International users (agents/employees with international dialing capabilities.)
Note that, depending on the number of users and features selected, the RingCentral installation and onboarding process can take up to 30 days.
Additional installation and customer training support include its online learning center with public access to videos and how-to guides, an online knowledge base and user forum, product demos, and on-demand and live training webinars that are constantly being updated. Users also have access to the RingCentral University, which offers free webinars, videos, and courses on how to use RingCentral. Paid courses on specific features or custom training are also available.
Basic RingCentral equipment and system requirements include high-speed Internet, (84 KB per concurrent call) a router, and at least Windows 7 or Mac OS X 10.10 Yosemite operating systems. RingCentral sells several compatible desk phones, which include models from Yealink, Polycom, Cisco, and Unify.
Winner: RingCentral offers more in-depth free resources, including a customer success team, than Vonage does. Plus, RingCentral's paid training courses are vastly cheaper than Vonage's.
Vonage vs RingCentral Pricing and Plans
RingCentral Office provides four paid plans that can be paid for on a monthly or annual basis (with the annual payment option saving users 33%.)
A 30-day free trial is available for up to 5 users and two desktop phones and includes 50 minutes of domestic call time per user.
All RingCentral Office plans include:
A dedicated business phone number/user
Unlimited calls in the United States and Canada
Unlimited business SMS
HD voice
Voicemail-to-text and voicemail-to-email
Team chat messaging, document sharing, task assignment, and calendar sharing
Call management and phone service administration features like call routing/forwarding/transfer, answering rules, call screening, call logs, call flip, call park, and call presence
Desk phone and conference phone rental options
The pricing model below shows the costs and additional features of each RingCentral Office plan for 2-10 users, the most common size of businesses using RingCentral.
| | | | | |
| --- | --- | --- | --- | --- |
| Plan | Essentials Plan | Standard Plan | Premium Plan | Ultimate Plan |
| Pricing | $19.99/user per month | $27.99/user per month | $34.99/user per month | $49.99/user per month |
| Maximum Number of Users | 10 | Unlimited  | Unlimited | Unlimited |
| Inbound Toll-Free Minutes | 100 | 1,000 | 2,500 | 10,000 |
| Unlimited Online Faxing and Unlimited Audio Conferencing  | X | ✓ | ✓ | ✓ |
| Video Meetings | X | For up to 100 attendees per meeting | For up to 200 attendees per meeting | For up to 200 attendees per meeting  |
| Advanced Third-Party Integrations | X | X | ✓ | ✓ |
| Multi-Level IVR | X | ✓ | ✓ | ✓ |
| Call Recording | X | On-demand | Automatic | Automatic |
| Single Sign-On (SSO) | X | X | ✓ | ✓ |
| 24/7 customer support | X | ✓ | ✓ | ✓ |
| Hot Desking | X | X | ✓ | ✓ |
| Advanced Call Handling (Call Whisper, Call Barge, etc.) | X | X | ✓ | ✓ |
| Real-Time Analytics | X | X | ✓ | ✓ |
| Unlimited Storage | X | X | X | ✓ |
| Device Status Reports and Alerts | X | X | X | ✓ |
Paid RingCentral additions include:
Additional toll-free or local numbers from $4.99/user per month
Additional international numbers from $5.99/user per month
Additional vanity numbers for a $30.00 one-time fee
Additional international toll-free numbers from $14.99/user per month plus a one-time $25.00 fee
High-volume SMS texting from $.007/message sent/received
RingCentral Rooms license for $49.00/user per month or $468.00/year
Vonage offers three paid plans payable on a monthly basis. While no free plan, each paid plan offers a free 14-day trial. Note that a minimum of a one-year contract is required with each Vonage business phone plan.
As with RingCentral, Vonage offers scalable pricing tiers for 1 user up to 1,000 users. (The higher the number of users, the higher the discount you receive.)
All Vonage plans include:
Number porting
Unlimited calling in the United States and Canada
Unlimited team messaging
File sharing
Vonage App Center (limited third-party integrations)
Mobile application for iOS and Android devices
VonageFlow for integrating voice, SMS, and team messaging in one seamless platform
The below table shows the pricing model for between 1 to 26 users.
| | | | |
| --- | --- | --- | --- |
| Plan | Mobile Plan | Premium Plan | Advanced Plan |
| Pricing | $14.99/line per month | $24.99/line per month | $34.99/line per month |
| Multi-Level Auto-Attendant  | X | ✓ | ✓ |
| CRM Integration | X | ✓ | ✓ |
| Video Conferencing | X | Unlimited meeting for up to 100 participants  | Unlimited meeting for up to 100 participants |
| IP Desk Phone Compatibility | X | ✓ | ✓ |
| On-Demand Call Recording | X | X | Included, no add-on purchase required |
| Visual Voicemail | X | X | Included, no add-on purchase required |
| Call Group | X | X | Included, no add-on purchase required |
Unlike RingCentral, Vonage is far less transparent with the pricing of their add-on features. The cost of add-ons for essential features, such as call monitoring and call recording, is nearly impossible to find.
The pricing of add-on services we were able to locate include:
Call Recording: $49.99 for 500 hours per month (company-wide) or $4.99/month per extension for 15 hours of recording (Per extension)
Call Monitoring: $49.99 per month
Call Queuing: $250.00/month per call queue with unlimited usage, or $14.99/month per call queue with 3 cents/minute wait time
Call Groups: $4.99/month per call group (Up to 28 groups)
Visual Voicemail: $4.99/month per extension
Virtual Faxing: $9.99/month per line
Toll-free number: $4.99/number (no usage included)
Winner: RingCentral, given that, unlike Vonage, key features are including with the pricing of your business phone system as opposed to requiring users to purchase expensive add-ons.
Vonage vs Ringcentral User Experience
The tables below outline the top pros and cons for each provider based on user reviews.
| | |
| --- | --- |
| RingCentral Pros | RingCentral Cons |
| Dedicated success managers and extensive free training webinars simplify the onboarding process  | The setup process can take up to 30 days |
| Advanced in-meeting team collaboration features including co-annotation, screen sharing and remote control, and task management | No native real-time transcription capabilities |
| Highly detailed and customizable live and historical analytics, including device usage and overall customer satisfaction analysis | Small meeting attendee capacity (200 participants) without paid add-on  |
| High-performance levels and uptime thanks to multiple server locations | Inconsistent interface and experience across desktop and mobile applications |
| | |
| --- | --- |
| Vonage Pros | Vonage Cons |
| The ability to add select features a-la-carte, one at a time for scalability means it's ideal for newer SMBs | Key business phone features require a paid add-on, lack of overall pricing transparency  |
| High-quality, intuitive interface leads to overall ease of use | Customer service is difficult to get a hold of, online chat is the main option to discuss billing issues |
| Superior analytics, especially the NLP and speech analytics tool Conversation Analyzer | Lack of MMS in business text messaging  |
| Advanced call recording options provide detailed insight into meetings and calls  | Limited to 30 attendees on voice-only conference calls  |
RingCentral vs Vonage: The Verdict
Though there isn't a clear "winner" between Vonage and RingCentral VoIP, you'll find that each software is better suited for businesses of a certain size, type, target market/industry, and level of daily communication.
Read on to see which companies will benefit most from RingCentral, and which ones will be better served by Vonage.
Who Should Use RingCentral?
RingCentral is ideal for small businesses of under 100 employees that have a high average daily call volume and a majority remote team.
It's also a good fit for companies with a large international client base, those that prefer audio conference calls to video meetings, as well as businesses with a need for daily team collaboration that doesn't always require a meeting (issues are primarily resolved in chat messaging.)
It's popular among online colleges and universities that are temporarily providing remote learning, retail companies that have recently experienced a business downturn and want to use analytics to understand what went wrong, and even tech companies that need to be able to customize their communication apps through APIs and advanced integrations.
Who Should Use Vonage?
Vonage is best for small businesses or startups of roughly 50 or fewer employees.
Vonage users are highly concerned with phone system scalability. Though right now, they only need more basic business telephony capabilities, as their small business grows, they'd like to be able to add more advanced features like call recording, call monitoring, and call queuing.
These companies would prefer to have the option to select to features a la carte, as opposed to going with an all-in-one phone solution that may mean they end up paying for features they don't really need.
Note that Vonage phone systems are ideal for in-office or blended companies, but likely not for entirely remote teams.
SMBs within the financial industry, manufacturing world, or healthcare seem to gravitate towards Vonage.
Additional VoIP Providers
Though this breakdown of Vonage vs RingCentral has provided you with a solid foundation of what each platform offers, you may also be curious to explore how each tool stacks up against additional business VoIP service.
Our comparison piece on RingCentral vs 8×8 and Vonage vs Nextiva offer additional perspectives to help you finalize your decision.
You can also check out our interactive table of the top business VoIP providers to explore other phone and call center solutions like Nextiva, Dialpad, Zoom, and Webex.