Talkdesk Callbar is a softphone application that allows users to make and receive calls from desktop computers or mobile devices within the Talkdesk Cloud Contact Center.
Since its creation in 2011, Talkdesk has become a top alternative to other cloud-based call center software like Five9, Genesys, and NICEinContact.
Available via Windows, Mac, and Linux browsers as well as a Chrome Extension, it's now a Gartner Magic Quadrant leader within the CCaaS space.
Here, we'll outline the features that help to make Talkdesk Callbar a user-friendly favorite of companies like IBM, Bombas, and Accenture.
Table of Contents
Top Talkdesk Callbar Features for Call Center Agents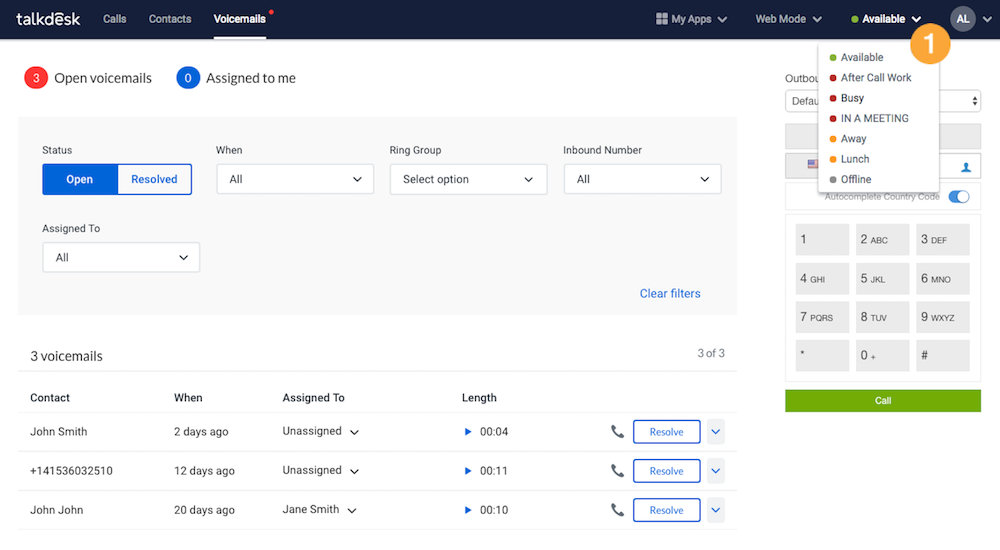 The Talkdesk Callbar improves overall customer experience by allowing users to:
Make/receive calls via the Callbar softphone or within an integrated app interface
Create a favorites list of external contacts
View available internal agents via company address book
Transfer calls to individual agents or ring groups (Warm transfers or blind transfers)
Change agent status to available, on a call, away, offline, or admin-modified statuses
Put callers on hold
Redial or mute callers
Access Caller ID
Add notes to a caller's activity history
Record calls
Park calls
Connect to an external device
Rate call quality
Make conference calls/remove call attendees
Create new/update existing contacts
Use the click-to-call extension app in Google Chrome
A Closer Look at Talkdesk Callbar's Features & Benefits
In addition to the features listed above, Talkdesk's constant accessibility, advanced call recording, and inbound calling capabilities, and integrations with third-party CRM software offer numerous benefits.
Constant Accessibility
One of the most convenient aspects of the Callbar is that it's accessible not only via the web application but also anywhere on your desktop computer and mobile device.
This means that there's no need to switch tabs, close active applications/software, or open a new file to access the softphone. The Callbar is also accessible while using the main Talkdesk application, and doesn't require users to have an open Internet browser to make and receive calls.
The Callbar window can be minimized or hidden when not using Talkdesk, but call center agents will still receive a desktop notification for an incoming call.
The softphone interface also works with the integrated apps below, allowing agents to work across multiple applications simultaneously.
Seamless Integrations
Because the Callbar integrates with essential business communication and CRM tools, there's no need to close out of applications like Salesforce or Zendesk when using the softphone app.
Instead, agents can make and receive calls on the softphone or access client information directly within an external app's interface.
To access client information while on a call, agents simply can click the integrated application badge within the softphone interface. This instantly displays the contact's profile and information within the integrated CRM system.
These integrations reduce resolution time, help agents to be better prepared for calls, and prevent customers from having to repeat themselves.
Additionally, agents can use the Callbar's single-click call feature by clicking the contact's name within Salesforce or Zendesk. Once a user clicks on the client's name, the softphone interface pops up and the automatic dialer makes outbound calls to customers.
In addition to top software like Salesforce, Zendesk, and Freshdesk, Talkdesk integrates with:
Azorus
Freshservice
Intercom
OnePageCRM
SugarCRM
Bigcommerce
Groove
Kustomer
Pipedrive
UserVoice
bpmonline
Help Scout
LiveChat
Radius
Contactually
Highrise
Microsoft Dynamics
Zoho CRM
Infusionsoft
Nimble
Shopify
360-Degree Contact View
In addition to integration with CRM software, Talkdesk's native 360-degree contact view makes it easy for agents to access customer information while on a call.
As soon as an inbound call comes in, a CTI screen pop displays all of the customer's history and past agent notes written within the Talkdesk app.
This allows for a more personalized call without requiring agents to rely on more detailed client information stored within integrated CRM tools.
Because Talkdesk notes and other essential customer data are automatically synched, customers won't have to keep repeating themselves every time they're connected to a different support agent.
Data shown on the screen pops include how long the caller has been a customer, the plan or product they currently own, and the date of their latest payment.
Advanced Call Recording Features
Talkdesk's call recording features are perhaps its biggest selling points, as well as what differentiates it from competitors.
It offers encrypted audio and screen recordings, as well as synched playback that lets agents review calls and any shared screens exactly as they happened in real-time.
The top call recording feature is the ability to pause the recording at any point during a call and pick it back up again with the click of a button. This means agents can better protect sensitive client information as well as more personal conversations.
Flexible recording storage options make it much easier to ensure that calls are in compliance with industry regulations and TCPA requirements. Admins can set the length of recording retention and opt to store calls on the Talkdesk cloud or their own cloud storage app.
Visualized waveform playback makes identifying long pauses or excessive cross-talk possible without the need to play a recording in its entirety. Speech Analytics lets admins better study recordings according to keywords, topics, and customer sentiment.
These features make it easier for admins to identify which call recordings need to be reviewed as well as where specific agents need further training.
Note that call recording must be enabled by an admin before use.
Advanced Inbound Call Features
While agents can opt to manage inbound calls via integrated applications, the Talkdesk Callbar includes excellent standalone incoming call features.
Clicking on the inbound caller's phone number will immediately copy the number to an agent's clipboard. The Caller Snapshot button displays the caller's ring groups, phone number, and wait time.
The Callbar's Note button allows agents to specify the call disposition/type and take typed notes during the call. After the call has ended, these notes are automatically added to the contact profile.
Keyboard shortcuts for ending, muting, transferring, and holding phone calls save even more time.
Talkdesk Callbar Pricing
Users need to have a Talkdesk account in order to access the Callbar tool.
Talkdesk pricing starts at $65/month per user but is quote-based depending on factors like the number of users and specific features. You won't need to purchase any new hardware to operate Callbar, which allows for some cost savings.
A free trial is also available.
Note that all users and admins within an account can subscribe to one plan only. Each plan comes with a USA/Canada phone number, with international numbers in 40+ countries also available for purchase. Users can also port in any existing business or vanity phone numbers to Talkdesk. All calls are charged on a per-minute basis.
Below, we've outlined the features included with Talkdesk's three main plans.
| | | | |
| --- | --- | --- | --- |
| Feature | Professional Plan | Professional Plus Plan | Enterprise Plan |
| ACD | ✓ | ✓ | ✓ |
| IVR | ✓ | ✓ | ✓ |
| Live Dashboards | ✓ | ✓ | ✓ |
| 60+ Integrations | ✓ | ✓ | ✓ |
| Sentiment Analysis | ✓ | ✓ | ✓ |
| 50+AppConnect Partners | ✓ | ✓ | ✓ |
| Mobile Agent for Android/iOS | X | ✓ | ✓ |
| Real-Time/Historical Reporting | X | ✓ | ✓ |
| CSAT SMS Surveys | X | ✓ | ✓ |
| 100% Uptime SLA | X | X | ✓ |
| Customizable Dashboards/Reports | X | X | ✓ |
| Complete API and SDK Access | X | X | ✓ |
Available add-on features include:
Omnichannel communication with SMS texting, social media like LinkedIn and Facebook, chatbots, etc.
AI and machine learning speech analytics
Workforce and Quality Management
Customer knowledge base
Local presence phone number
Guardian security management tool
Screen recording
Proxy communications layer
PCI-compliant credit card transactions
Salesforce Smart SMS mass text messaging
Callbar User Experience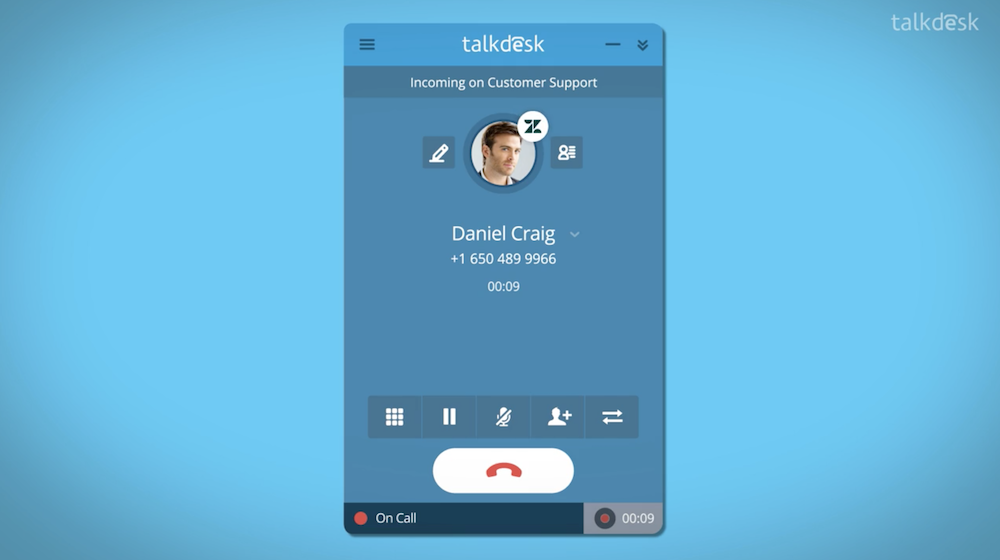 Callbar has received consistently positive reviews from cloud contact center agents and administrators thanks to its easy installation process, overall ease of use, scalability, and time-saving features.
However, inconsistent call quality and frequent complaints regarding customer support mean some may think twice about using it.
Below, we've outlined the top pros and cons of Callbar from user reviews.
| | |
| --- | --- |
| Callbar Pros | Callbar Cons |
| The familiar and intuitive interface requires very little agent training | Frequent dropped calls when using the mobile application  |
| Seamless app integrations save time and allow agents to work within their preferred business communication tools | Incompatible with Google Voice |
| Agent availability statuses improve internal communication  | Long Talkdesk support ticket resolution times |
| Call recording features make it easier to identify consistent customer support issues  | Lack of search bar in call history data, filters only  |
| Agent ring groups increase customer talk time and speed up the support resolution process  | Audio quality needs improvement  |
| Frequent software updates improve the overall user experience without disrupting service  | Reporting features lack key KPIs |
How to Install and Use Talkdesk Callbar
Here, we'll outline the installation processes for Talkdesk Callbar on:
Mac OS
Windows OS
Google Chrome Extension
We'll also tell you how to complete essential functions within the softphone interface.
Installing the Callbar App for Mac OS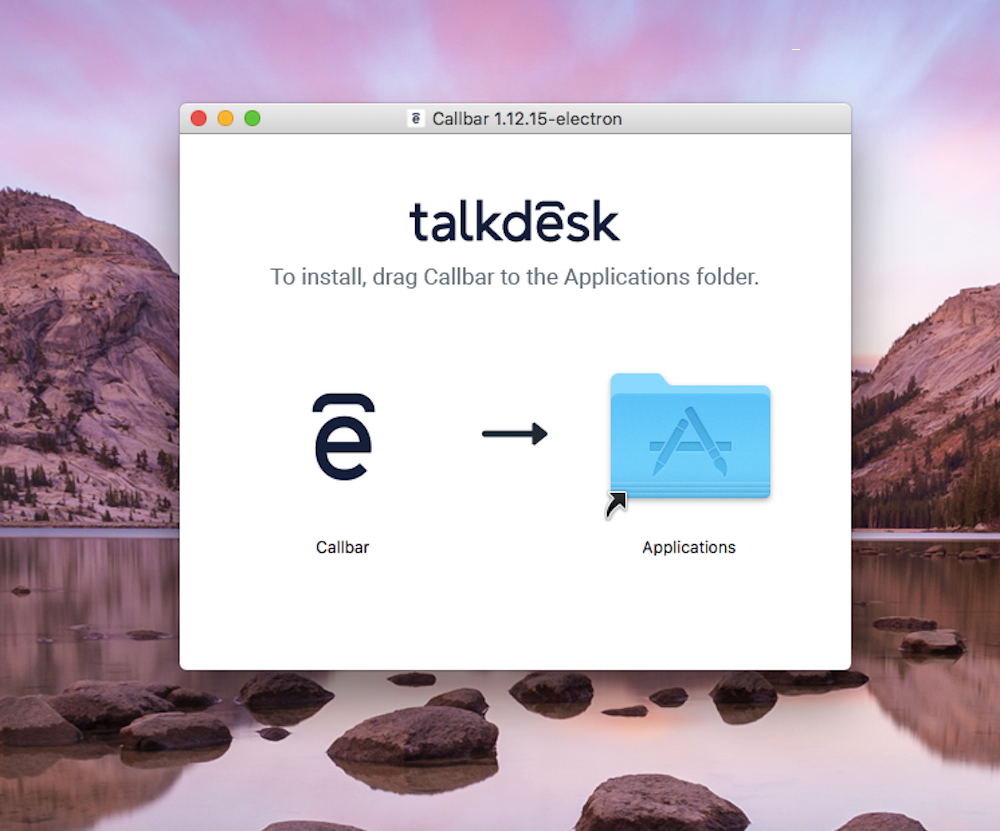 To start the download process on a Mac computer, click this link and double click to open the app once the download has finished. (Ensure that your security settings let you install apps from identified developers.)
Then, click and drag the Callbar app icon to the "Applications" folder, and then click the Callbar icon in the Applications folder to login and open the app.
Installing The Callbar App for Windows OS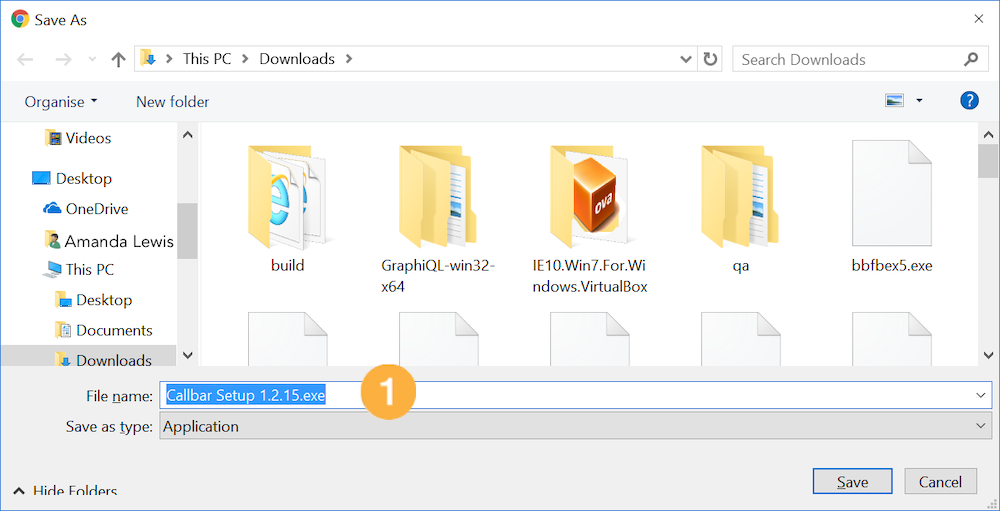 To install the app for Windows, click this link and then save the installation file.
Then, click the file, hit "More Info" and "Run Anyway" if a security message pops up, and the installation process will automatically begin. Once the process is finished, the app will automatically open and users can log in to their accounts.
Installing The Callbar Google Chrome App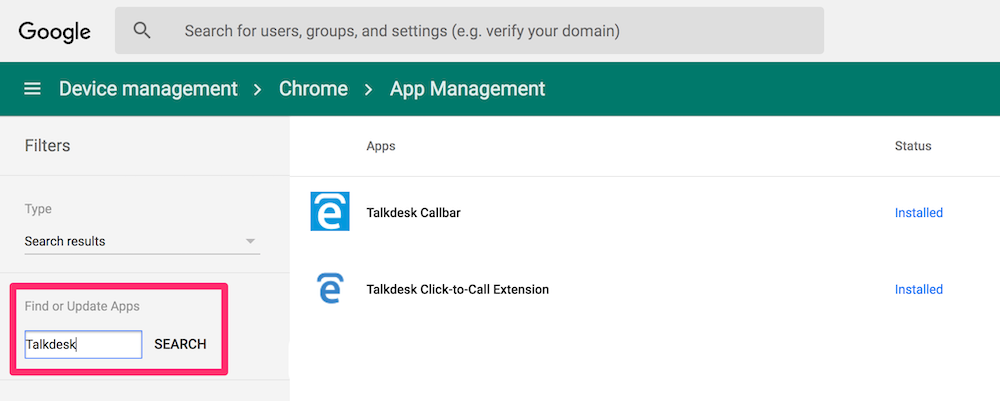 To download the Callbar Google Chrome Extension as opposed to the main web application, you'll need to be using the Chrome OS (available via the Chrome web store.)
If your business uses Google G Suite, you can opt to have the Chrome app automatically installed by setting a policy.
First, create a new organizational unit made up of everyone who will use Talkdesk in your office and move these users to the Talkdesk unit. Next, click "Device Management->Chrome->App Management, enter "Talkdesk" in the search bar, and click "Return."
Then, click on the Callbar Chrome App, select "User Settings," and select the Organization Unit that you would like to be able to use Talkdesk. Toggle the "Force Installation" bar on the lefthand side of the screen to "On." This will automatically start the installation process, and all agents can then sign in to Callbar.
As with the standard Callbar App, users will make and receive calls via the softphone interface on the Chrome extension. Should users wish to view an incoming caller's profile in Salesforce or other integrated CRM tools, they only need to click on the integration badge as the call rings. To view caller profiles and make outgoing calls via the Callbar app, users should just click on the contact's name in the CRM software interface.
How to Perform Essential Talkdesk Callbar Functions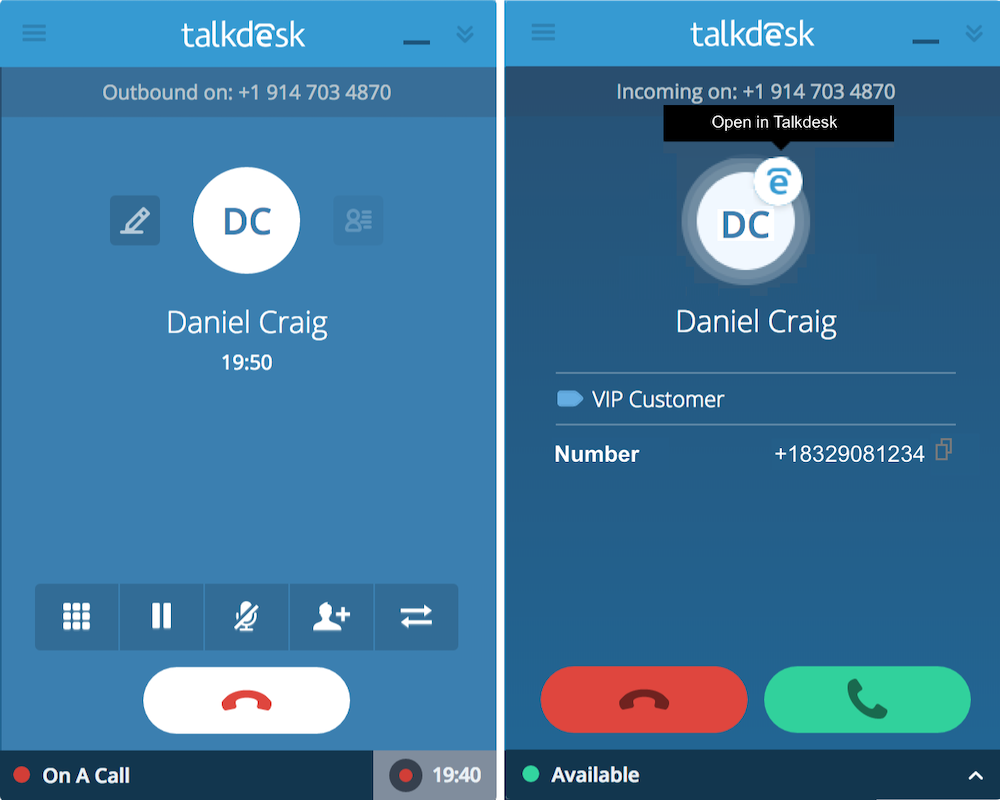 Here, we'll tell you how to make and receive calls, set agent status, and mute/hold calls.
To make a call, type in or copy-paste the phone number into the softphone dialing pad interface. Then, hit the "Call" button. Calls can also be made by clicking on a contact's phone number within the Address Book. Users can star their favorite contacts for faster access in the future.
Outbound calls will display the caller's name and number, the name and number of the agent making the call, and, if integrated, the information in CRM software.
Incoming calls will display the contact information of both parties and any integrated CRM software data, as well as any ring groups the call is associated with.
Note that agent status is automatically updated when a user answers or makes a call, or if an automated away status after a set number of inactive minutes is enabled. To set your status as "Offline," simply log out of the Talkdesk app. You can manually select other status updates by clicking the status bar at the bottom of the softphone interface.
To put a call on hold, press the "Hold" button. This also automates a timer so you can keep track of how long each caller has been kept on hold. Clicking the mute button will put a caller on mute, meaning that you'll be able to hear the caller, but the caller won't be able to hear you.
For additional instructions on how to perform basic and more advanced functionalities in the app, click here.
Talkdesk Callbar Alternatives and FAQs
Top Talkdesk alternatives include some of the VoIP call center software providers we've reviewed in this table, like Twilio, Five9, and Dialpad.
Note that call center software will include softphone capabilities with the purchase of their software. Below, we've outlined some of the most common Frequently Asked Questions regarding Talkdesk.
Frequently asked questions
The Talkdesk Callbar is not available as a standalone product. It is included in your chosen Talkdesk contact center software plan. All Talkdesk plans begin at $65.00/user per month, and increase depending on add-on features shown in the pricing section of this piece.
The Callbar CTI Connector links to Zendesk and Salesforce to your Talkdesk account. This way, when you click on a contact in your Callbar app, relevant client information will pop up within your preferred CRM system.
If all available agents are busy, the call is transferred to the waiting queue. If that call isn't answered within the admin's set waiting time limit, it will either be sent to voicemail or forwarded to an agent's backup phone number (personal cell phone number, home office phone number, etc.)
Agents can access customer training via courses from the Talkdesk Academy, which contains videos, quizzes, and PDF files that make it easy to learn how the software works. Talkdesk also has a robust online knowledge base for more immediate questions.