Open-source IP PBX and unified communications solutions offer customization, scalability, and cost-savings than most traditional hosted PBX platforms.
IP PBX relies more on software than hardware, allows users an unlimited number of extensions, and needs only a single network to transmit voice, data, video, and more.
If you're in market for an open source PBX system, you've likely noticed that 3CX and FreePBX are consistently mentioned as two of the top options.
Below is a head-to-head comparison of the top features of these two heavy-hitters, along with a detailed analysis of their available pricing and plans.
Table of Contents:
What is 3CX?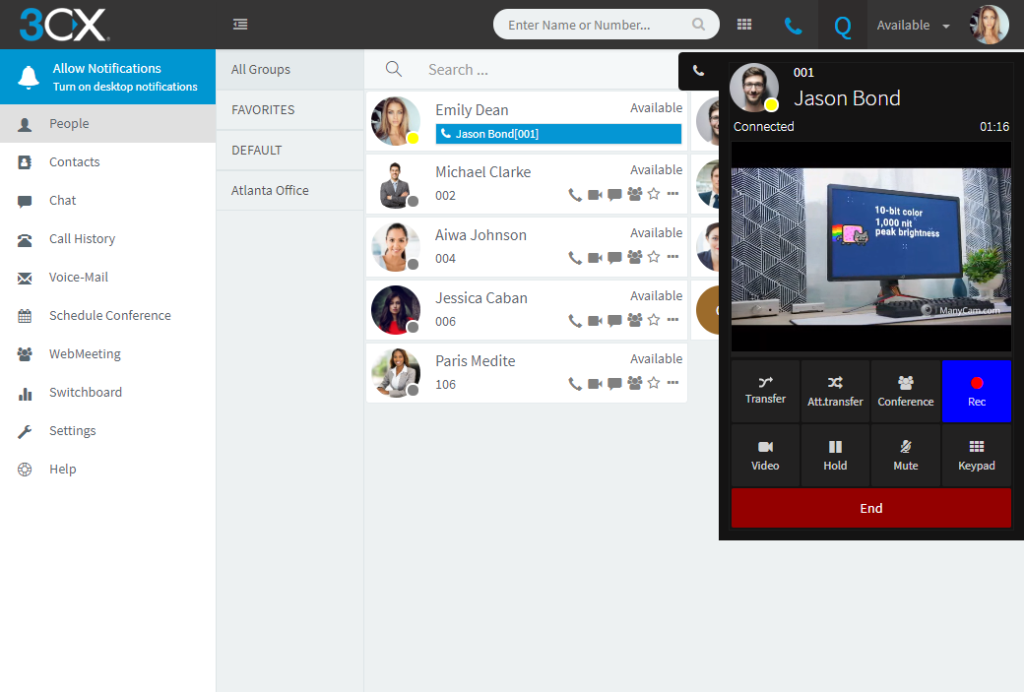 3CX is an open-source IP PBX (Private Branch Exchange) tool with over 250,000 customers worldwide. Top clients include Remax, Hugo Boss, McDonald's, and Carlsberg.
Because it's an open platform, users aren't required to choose from specific SIP trunks, hosts, IP phones, and phone numbers. Instead, you can build your own Unified Communications (UC) platform from the ground up.
Communication is possible on desktop computers in the 3CX app, in your preferred web browser, or on iOS and Android devices.
What is FreePBX?
FreePBX is an open-source IP PBX management tool by Sangoma Technologies that lets users customize their business phone system and through built-in features and added modules.
As of this writing, it has over 2 million installations worldwide.
It comes with some basic built-in features, but is primarily a highly customizable PBX platform allowing you to pick and choose the specific capabilities that suit your business needs.
A Feature Comparison of 3CX vs FreePBX
Since both 3CX and FreePBX are open-source platforms, our detailed comparison looks at the most popular business communications features.
These are:
PBX solutions
Contact center and call management tools
Video conferencing
CRM integrations
PBX Solutions
Users can install FreePBX manually, but most people install it using the FreePBX Distro, which includes the Linux OS, Asterisk communications platform, and the FreePBX GUI.
FreePBX offers fewer built-in features than 3CX, but comes with a set of standard features users can then build off of. This prevents you from paying for features you don't need, but still gives you the option to add them in the future.
While compatible with top SIP trunking providers and hardware providers like Yealink, Digium, Cisco, and Polycom, you can also purchase Certified Sangoma Hardware. This includes phone systems that support up to 350 simultaneous calls and multiple phone lines, Sangoma IP phones, and SIPStation SIP trunking that's already built into the FreePBX user interface. If desired, FreePBX can host your system on their server.
Users can then rely on the developer community or their own applications to modify FreePBX in endless ways.
Note that, while FreePBX itself is free, the commercial add-ons and modules that power the majority of advanced features are not. Users that will need multiple add-on packages should opt for PBXact, which includes most commercial modules (pricing is not listed on the website.)
Softphone capabilities are available for smartphones and other mobile devices via FreePBX's paid Zulu integration.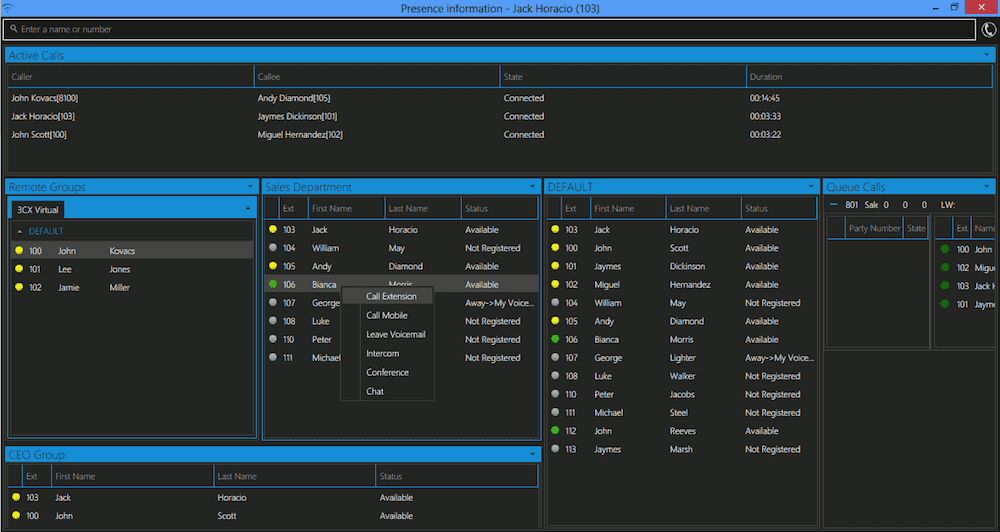 3CX allows you to choose from on-premise hosting with Windows and Linux, cloud hosting from 3CX or your existing Google, Amazon, or Azure accounts, or affordable hosted PBX devices from Raspberry Pi. Plug-and-play PBX is available with 3CX's supported SIP trunk providers, which include Ahoy Telecom, Flowroute, CenturyLink, and SIP.US.
3CX offers mobility and flexibility, a simple setup and management process, and up to an 80% cost savings when switching from traditional business phones.
As with FreePBX, 3CX also has softphone capabilities for desktop and laptop computers along with Android cell phones and Apple iOS iPhones. 3PBX phone systems also offer PSTN gateways.
Top features include:
Call management
Video conferencing
Live website chat
CRM integrations
Winner: Draw, as much will depend on the specific hardware you already have and your preference regarding hosting options.
Contact Center and Call Management Features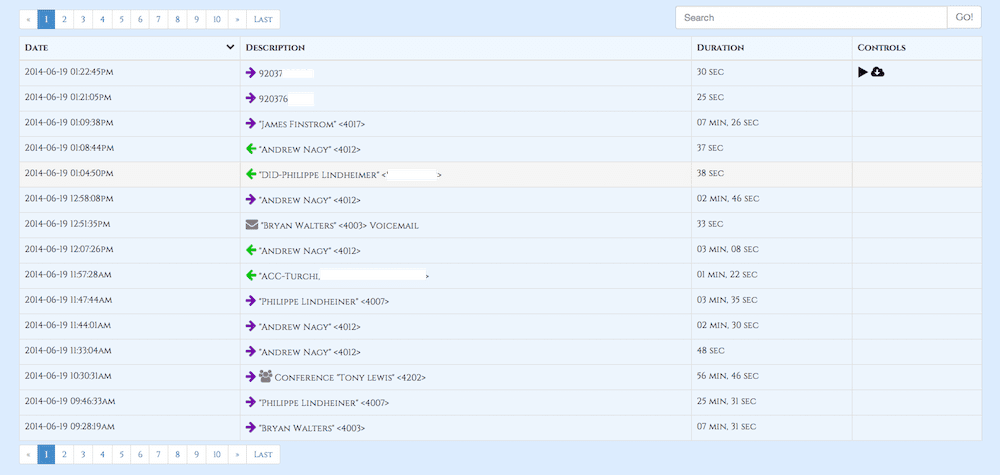 FreePBX has a built-in base of completely free contact center and call management features in addition to add-on modules for call centers or companies with additional call control needs. Note that toll-free numbers and local DID numbers are available from SIPStation, and users have the option to port in current phone numbers or even obtain new virtual phone numbers.
Built-in features include:
Basic Calling queues and ring groups
Unlimited extensions
Voicemail blasting
Voicemail to email
Call history
Calendar with third-party integrations
Call waiting, transfer, caller ID, and blocking
Call recording
Do Not Disturb
Three-way audio conference calling
Wakeup calls and announcements
Find me/follow me
Text-to-speech
Fax-to-Email
More advanced paid contact center and call control features are available in the Sangoma commercial models, especially when it comes to call reporting and analytics. Some of the most popular add-on call management features include:
Ability to modify outbound Caller ID
Visual voicemail
Call forwarding
Call accounting tool for allocating costs of inbound/outbound calls to specific trunks, users, or departments
Contact list management
Web callbacks and appointment scheduling
Queue and voicemail reports
Outbound call limiting and extension routing
Call parking
Agent presence and live agent activity reports
Call recording storage and downloading
Greater admin control over outbound call routes, feature codes, ring groups, and queues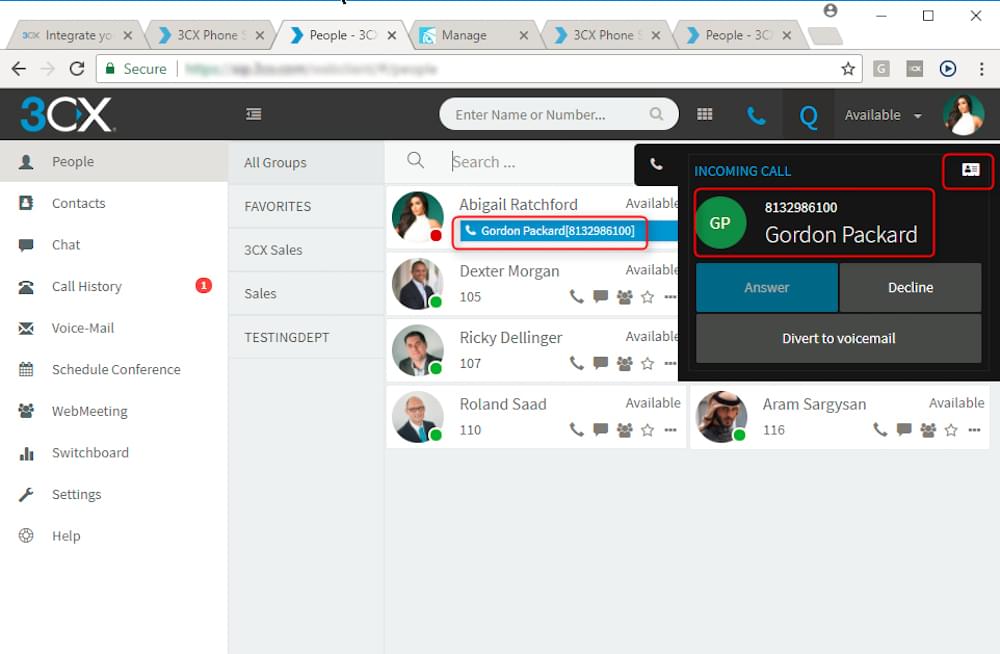 3CX contact center and call management features are:
Unlimited extensions
Call recording and searchable transcripts
IVR and auto-attendant
Office 365 integration
Call flow designer
Call forwarding/routing
Fax server and fax to email
Agent status
Internal instant messaging
Call parking
Voicemail to email and voicemail transcription
Predictive dialer
Text to speech
Voicemail to email
Ring groups
Audio conferencing
Call reporting and analytics (talk time, user activity reports, call distribution, average wait time, etc.)
Real-time agent monitoring
Callback scheduling
Round robin and skills-based call routing
Call listen, barge, and whisper features
Caller ID
Call hold, transfer, mute
Wakeup and reminder calls
Unlike FreePBX, any additional 3CX calling features are available via third-party developers or integrations only — there is no package of additional features made specifically for 3CX.
Winner: Because of the lack of additional calling features created for and by 3CX, we declare FreePBX the winner of this round. Remember though that while the basic calling features in FreePBX are free, all add-ons are available via paid plans only.
Video Conferencing 
3CX offers integrated app-free, browser-based video conferencing for an unlimited amount of users.
Anyone outside of your company won't have to create an account in order to attend a web conferencing call, as they can access it via a one-click link. Its pricing isn't based on the number of users, but instead on the maximum number of participants required. The included video conferencing tool allows for up to 250 participants per meeting and it's free. Private one-on-one meetings are also available.
Accessible via desktop or mobile devices, top features of 3CX video calling include:
Screen sharing, screenshots, and file sharing (including PDFs)
Whiteboard tool
Remote control
Outlook calendar integration
Attendee control including the waiting room, pass presenter, mute, remove
Polling, hand raising, and question tools
Reaction buttons (agree/disagree, link/dislike)
Meeting reports
In-meeting chat tool
FreePBX does not come with integrated video conferencing, but it can be enabled on a hard phone via the Video codec.
The majority of users, however, rely on a bridge from the free open-source video calling tools Jitsi or Zulu for video calling in FreePBX.
Recently, Sangoma launched Sangoma Meet, which is a free desktop and mobile video conferencing tool designed to integrate with FreePBX. With a maximum of 50 participants, it's accessible via the Sangoma Meet app or in your web browser.
Top features include:
Screen sharing
Automatic password protection
Host controls like mute/unmute, remove a participant
Private and group chat messaging
Audio-only participants
Emoji reactions
Note that Sangoma Meet is still in development, so expect more features in the near future.
Winner: Based on the fact that video conferencing is built-in, the plethora of ready-to-go features, and the 250 attendee maximum for free users, 3CX easily has a better web conferencing capability.
CRM Integrations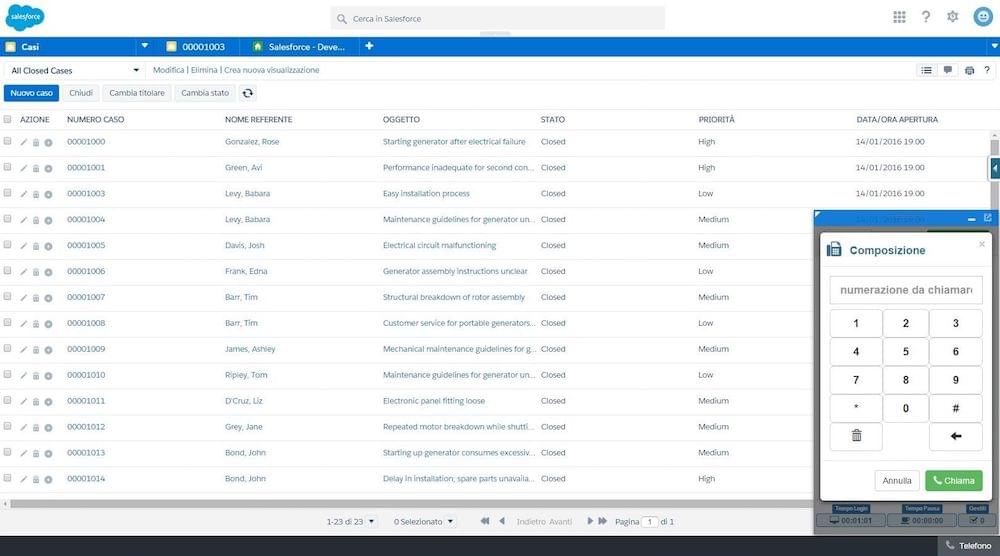 3CX CRM integrations allow you to offer a higher level of customer service while unifying essential customer information into a single omnichannel platform. ERP and Accounting System integrations are also available.
Automatic call logging and contact synching, customer screen pops, and click-to-call functionality are some of the top features.
Top integrations include:
Microsoft 365
Salesforce
Zoho
Microsoft Dynamics
Bitrix 24
Zendesk
Freshdesk
Note that if your preferred CRM platform is not on the above integration list, a DIY 3CX API is available to connect the two.
The CRM Link Module is the only FreePBX certified integration tool allowing users to link their platform of choice.
Call history, call recordings, voicemails, and caller details are automatically sent to your CRM tool. The downside here is that click-to-call and inbound call-popups are only available when combined with the Zulu UC desktop integration, which means another extra step.
FreePBX's supported CRMs include:
SugarCRM
Zoho
Salesforce
SuiteCRM
Connectwise
As with 3CX, users can rely on APIs to connect additional CRM platforms.
Winner: 3CX has more native CRM integrations than FreePBX, so it's the clear winner here.
3CX vs FreePBX Pricing
3CX has a basic forever free plan that allows for a maximum of 32 users and 8 simultaneous calls. Some more advanced plans are free for up to one year, and all plans are available on an annual basis.
The pricing structure is based on the number of users and simultaneous calls you need to be able to make. Teams can make up to 1,024 simultaneous calls and have up to 4,096 3CX users.
The biggest factors influencing the price are the number of users and simultaneous calling capabilities, alongside available features
The below table outlines the three available 3CX pricing and plans, with the most popular number of users/SC capabilities displayed.
| | | | |
| --- | --- | --- | --- |
| Features | Standard | Pro | Enterprise |
| Pricing | Free | $1477.00/year | $6990.00/year |
| Number of Users | Maximum of 32 | Maximum of 128 | Maximum of 512 |
| Number of Simultaneous Calls | Maximum of 8 | Maximum of 32 | Maximum of 128 |
| Unlimited Extensions | ✓ | ✓ | ✓ |
| Mobile applications | ✓ | ✓ | ✓ |
| Choose Own SIP Trunk | ✓ | ✓ | ✓ |
| Call Routing, Forwarding, Transferring | ✓ | ✓ | ✓ |
| Voicemail | ✓ | ✓ | ✓ |
| Voicemail Transcription  | X | ✓ | ✓ |
| Voicemail to Email | ✓ | ✓ | ✓ |
| Maximum Web Conference Attendees | 25 | 100 | 250 |
| Live Website Chat and Talk | ✓ | ✓ | ✓ |
| CRM Integrations | X | ✓ | ✓ |
| Real-time Call Monitoring and Statistics  | X | ✓ | ✓ |
| Call Recording Transcription | X | ✓ | ✓ |
| Call Barge, Monitor, Whisper | X | ✓ | ✓ |
By contrast, FreePBX's pricing essentially depends on which modules and add-ons you choose to purchase. So, the free version of FreePBX refers only to the standard calling features mentioned earlier in this post.
Users can purchase add-ons in the FreePBX portal individually or in bundles (with bundles offering significant cost savings.) The real downside to FreePBX pricing is that licenses can only be purchased in 1-year or 25-year increments, for roughly double the price. For many, that might not be an issue, but for smaller or newer businesses, it could be a deterrent.
Below, we've outlined the four available bundles.
Features
Starter Bundle
Advanced Bundle
Call Center Bundle
Everything Bundle

Price

$149/1 year

$299/25 years

$499/1year

$999/25 years

$999/1 year

$1999/25 years

$1,499/1 year

$2,999/25 years

Audio Conferencing Management 

✓

X

X

✓

Extension Routing

✓

X

X

✓

Faxing Capabilities 

✓

X

X

✓

Advanced  Systems Admin Tools

✓

X

X

✓

Caller ID Management 

X

✓

✓

✓

Voicemail Notifications and Reports

X

✓

X

✓

CRM Integrations

X

✓

✓

✓

Appointment Reminders

X

✓

X

✓

Web Callbacks

X

✓

✓

✓

Outbound Call Limits

X

X

✓

✓

Advanced Call Queuing and Monitoring

X

X

✓

✓

Xact Dialer

X

X

✓

✓

Call Parking

X

✓

X

✓
3CX User Experience
3CX is an excellent solution for those who are seeking more beginner-friendly PBX tools and VoIP solutions.
Though advanced feature-rich customization is certainly possible, it requires less of a DIY approach than FreePBX does. with less of a DIY approach. Those who have little experience creating their own systems, but would like to learn how to without compromising the basic functionality of their phone system, get the most out of 3CX.
Still, it does have its drawbacks.
Below are the top 3CX pros and cons based on reviews from real users.
| | |
| --- | --- |
| Pros | Cons |
| Essential communication tools are built-in | Technical support not included, carries a $75 per ticket charge |
| Intuitive and accessible for users that aren't hyper-knowledgeable about tech/app development  | CRM integrations only available on more expensive plans |
| Comes with a live website chat support feature | No native GSuite integration |
| Zero admin model  | Call flow capabilities need improvement  |
| HIgh level of configuration flexibility  | No SMS communication capabilities  |
FreePBX User Experience
As with the majority of open-source software, the overall consensus from current FreePBX users is that your experience with the tool will heavily depend on your comfort level with managing installations, add-ons, and modules yourself.
The good news is that FreePBX in particular has a large and ever-evolving user community and wiki, so both troubleshooting and teaching yourself how the system works is easier than you might think.
FreePBX users overwhelmingly rave about the tool and the features it provides for such a low cost — many even say it's one of the best business decisions they've ever made.
However, it's certainly not perfect.
Below are the top pros and cons based on research and user feedback.
| | |
| --- | --- |
| Pros | Cons |
| High level of customization | Outdated and time-consuming installation process |
| No extension and trunk limitations | Video calling and CRM integrations are not built-in |
| Certified PBXFree-optimized appliances available with a variety of user capacities  | The complex user interface is not intuitive  |
| Long-term licensing  | Advanced features require module purchase(s)  |
| Outstanding open source community and wiki | Some updates result in temporary call drop issues  |
Who Should Use FreePBX?
FreePBX is ideal for businesses that prioritize customization and cost-savings above all else in the search for business communications.
It's important to note, however, that users without a fairly extensive base knowledge of SIP Trunking and PBX technology, coding, and application development will likely struggle with FreePBX. Expect to spend lots of time sorting through the community-developed wikis and DIY add-ons if you want to make the best use of this tool (or pay more for pre-configured modules.)
It's less "beginner-friendly" than 3CX, but allows for more features, upgrades, and detailed customization.
FreePBX is best suited for:
Users who want a completely customized Unified Communications platform
Users who have the knowledge to properly install and configure modules/add-ons
Businesses of any size that already have business communications hardware or endpoints
Companies that need PBX solutions with unlimited users, IVRs, queues, and more
Application developers and resellers
Small businesses that have more basic communication needs
Who Should Use 3CX?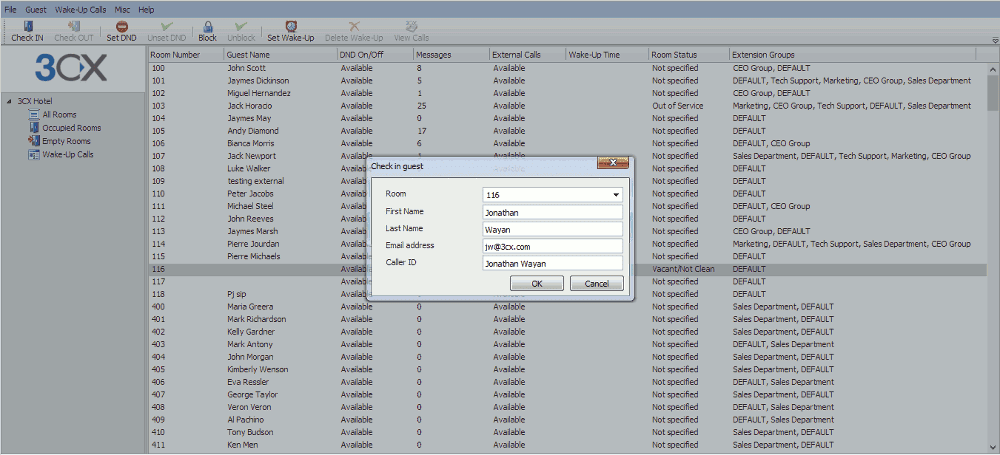 3CX is the right choice for companies of any size that want to customize their business phone system, but don't want to start from almost complete scratch as FreePBX users do.
It's also a good fit for businesses that are interested in business communications solutions that will help to increase conversions in addition to providing a high level of customer service.
One of 3CX's most unique features is that it comes with a WordPress chat plugin allowing agents to chat with website visitors in real-time. (If your company doesn't have a website chat, the add-on is also available for any CMS or custom-built websites.)
This allows for better product recommendations, faster buying cycles, and a lower website bounce rate. If customers need more assistance than chat support alone can offer, users can upgrade the website chat to a telephone call at any time.
3CX is also right for:
Startups or any new business requiring scalable business communications solutions
Admins and managers that need a PBX solution with built-in features, plug-and-go ready
Hotels and hospitality management professionals (3CX has a special Hotel PBX system available)
Companies with a high volume of remote workers
Businesses with clients that contact them across multiple channels, necessitating a Unified Communications solution
Curious About Other VoIP Providers?
VoIP telephony cuts down on your phone bill, gives employees and clients more flexibility, and enables omnichannel communication.
Looking for a business telephone system that doesn't require the same level of DIY work as 3CX and FreePBX?
Our comparison table of the top business VoIP providers shows features, pricing, available plans, and user reviews that will help you to make the best choice.