If you're a business owner or systems/IT administrator who hasn't switched your organization to a unified communication solution, you're behind the curve. But before you make a purchase, you need to make an educated decision by learning more about top unified communication providers.
In this head-to-head showdown, we'll break down everything you need to know about RingCentral and 8×8. 
Here are the sections we'll cover:
What is RingCentral?
RingCentral is often regarded as one of the top cloud communications platforms for just about any business — the solution has been named a Gartner UCaaS Magic Quadrant Leader for 7 years running. The UCaaS giant keeps its strong reputation as it easily brings together employees and customers.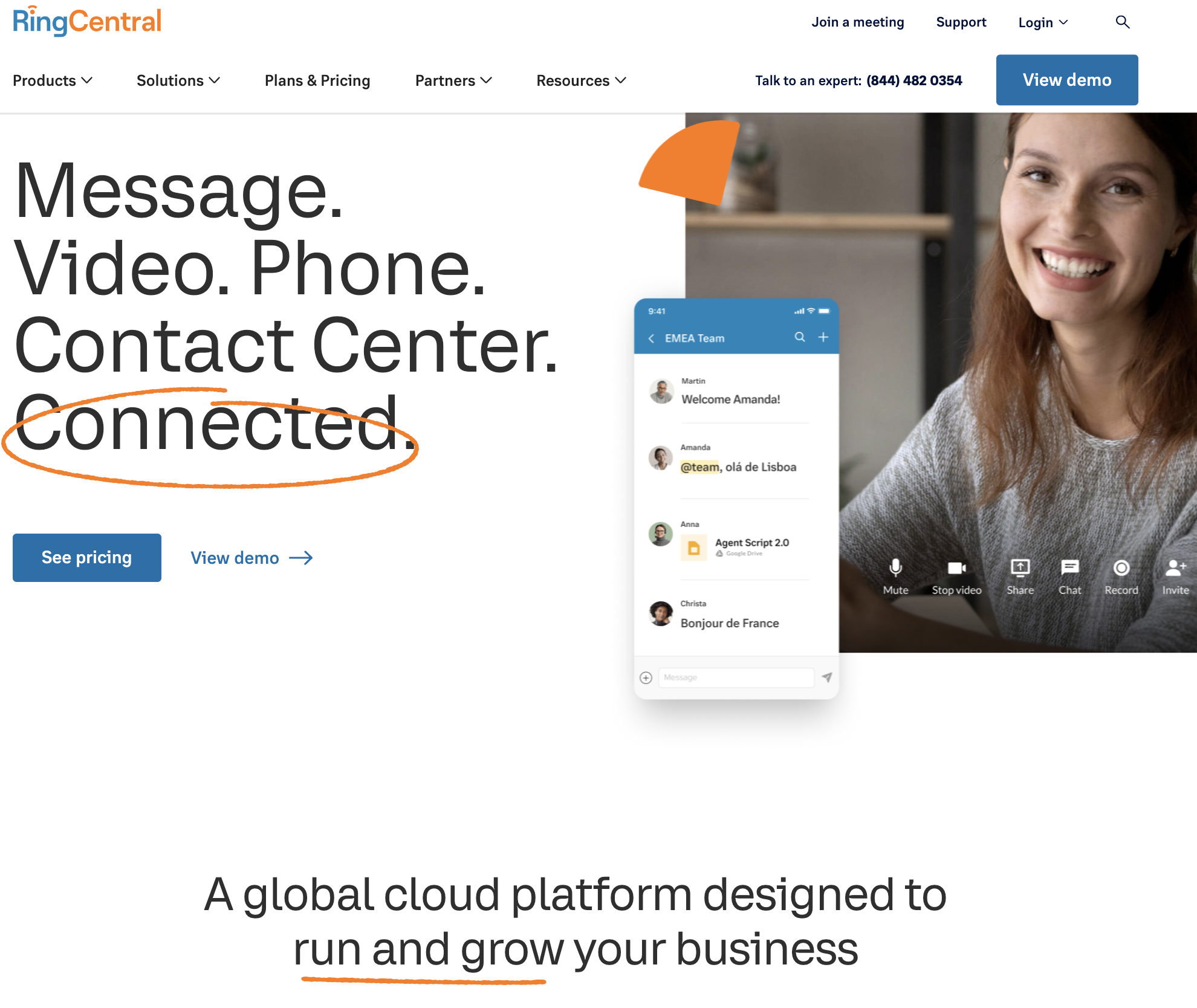 RingCentral offers a unified multichannel communications platform to bring users together with their colleagues and customers. RingCentral MVP offers one unified solution for team chatting, phone and video. In addition, RingCentral offers a customer engagement product to support and engage customers with an omnichannel cloud contact center. 
Top RingCentral features include:
Business and toll-free numbers

Unlimited business SMS messages

Voicemail-to-text

Team messaging

Document sharing

Inbound and outbound contact center

Digital engagement
What is 8×8?
Although they can be purchased as separate products, 8×8 provides a unified platform called 8×8 X series that combines cloud phone, video collaboration, with team chat. 8×8 offers a separate omnichannel contact center product, just as RingCentral does.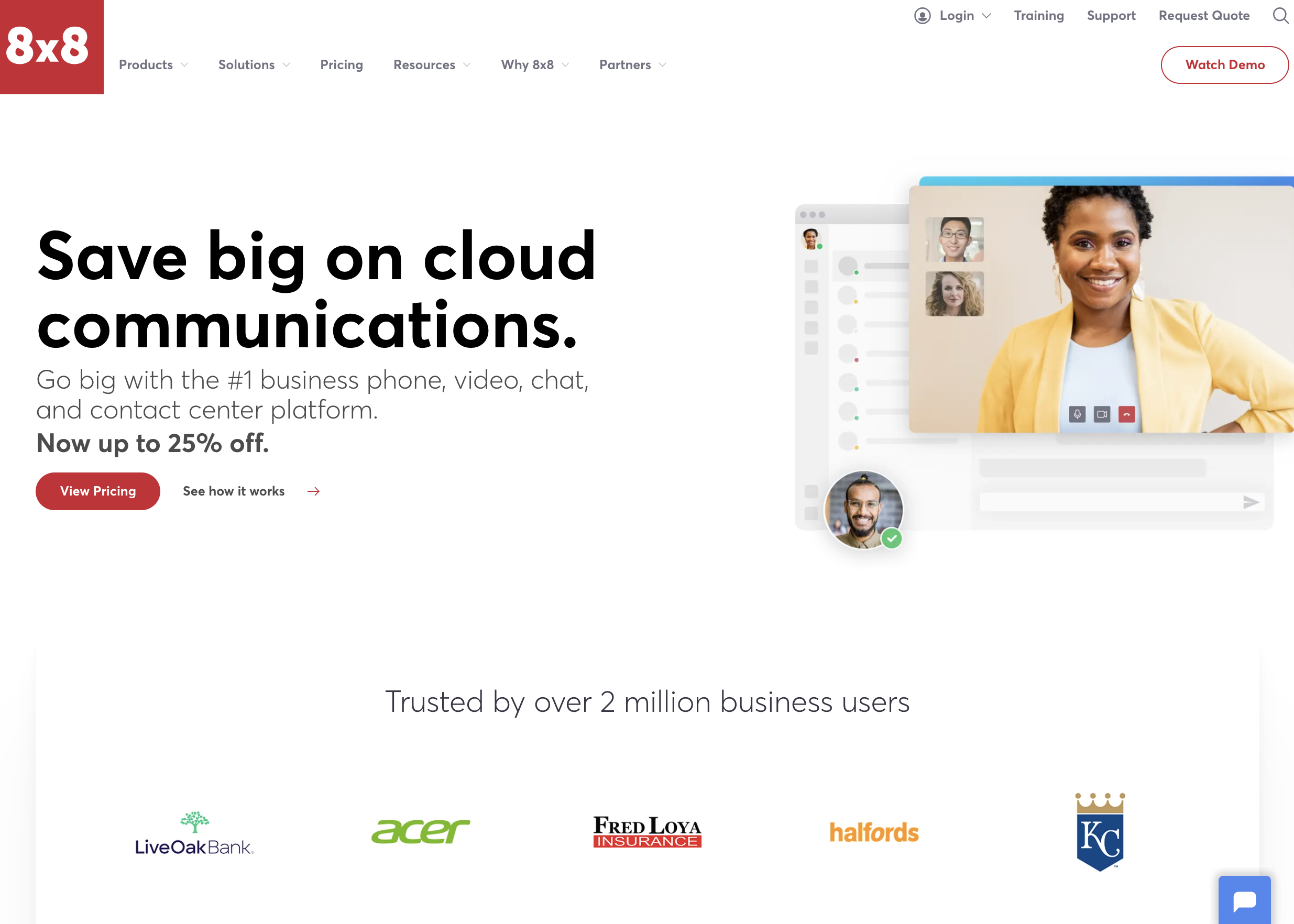 The solution is configurable to give you the exact features your business needs for your specific use. 8×8's wide breadth features can eliminate your business's organizational silos and encourage collaboration across contact center agents and various employees.
Top 8×8 features include:
Video conferencing

Team chat

Contact center
RingCentral vs 8×8: Feature Comparison
Examining the different features of the two different VoIP products is the easiest way to decide which is the best one for your business. Here's a side-by-side comparison of the top RingCentral vs 8×8 features, which include:
Cloud Phone System

Messaging

Video

Analytics and Reporting

Integrations
Cloud Phone System Features
RingCentral is designed for its users to make and receive phone calls with ease. The unified communication system provides a flexible, mobile and agile hosted phone system.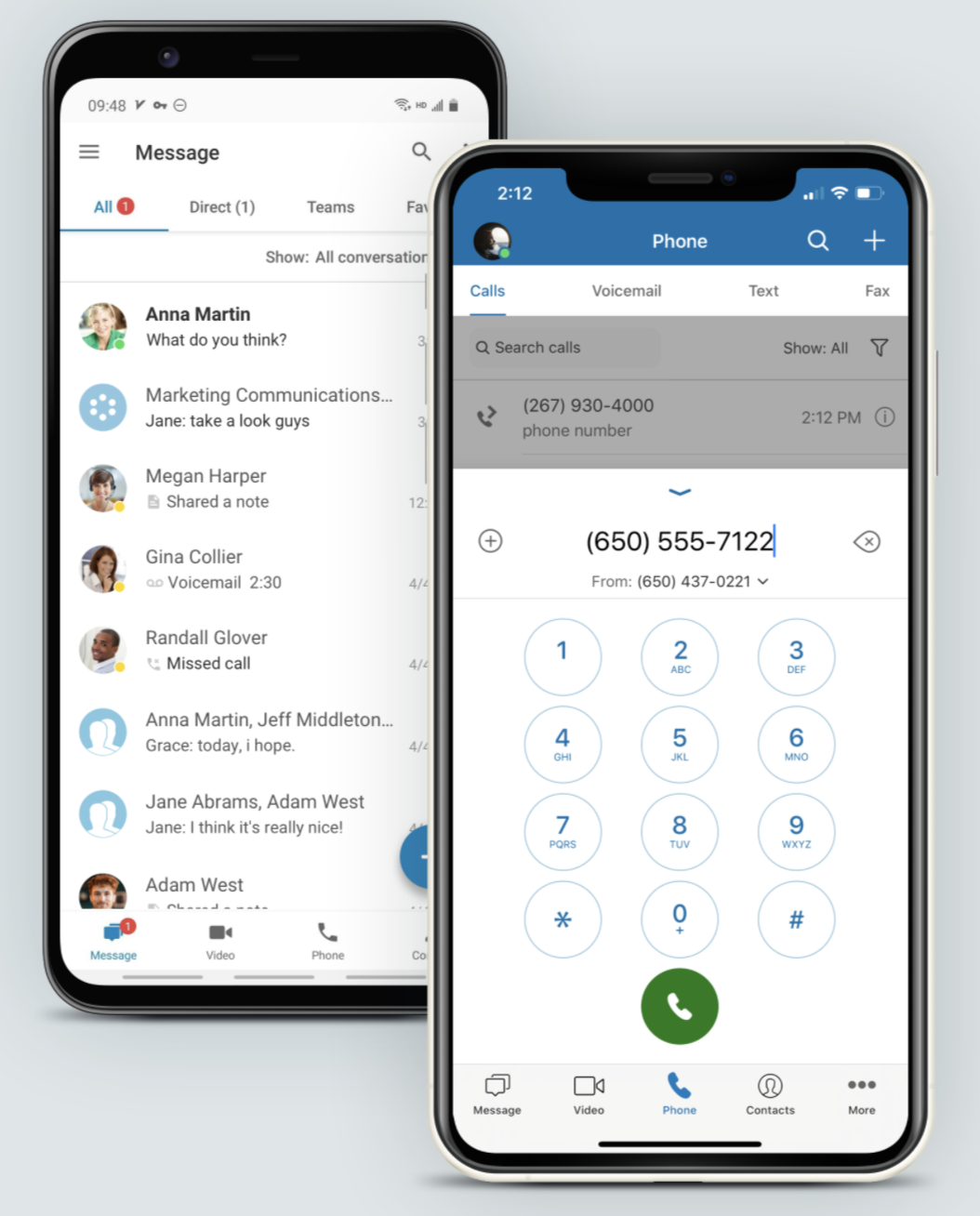 Users can select their phone numbers from a large selection of virtual phone numbers. RingCentral offers toll-free and vanity numbers. Users can add extensions to those numbers, so all employees are linked under the business's central line. 
RingCentral's various apps are available for computers, smartphones, and tablets. Users can easily connect all of those apps. RingCentral's visual voicemail allows anyone to manage voicemails through an online channel of choice, and the platform's patented RingOut feature enables users to send out calls from any phone or computer.  
Through RingCentral's call flip feature, users can easily transfer calls between a desk phone or a mobile phone using a mobile app. Ultimately, the way RingCentral's cloud phone system is designed allows its users to remain constantly and easily connected to colleagues and accessible to customers. 
Additional RingCentral cloud phone system features include:
Presence and head-up display

Call delegation

Call screening

Call forwarding

Call park

Intercom

Paging

Shared lines

Answering rules

Internet fax
8×8's PBX lets users connect their business and customers around the world with a reliable and quality cloud phone system. 8×8 provides an award-winning voice service for the remote workforce.
8×8 offers a flexible and integrated phone system. Users can take advantage of unlimited calling, SMS messaging and fax. Calls can be recorded, and voicemail transcripts can be sent to a user's desktop with visual voicemail.
Calls can also be managed and monitored. Incoming callers can be placed on hold until an agent or employee is freed up to take the call. Supervisors can manage any call for quality assurance and training, which is a nice tie-in to 8×8's contact center product. Any user can also handle calls in various ways, from caller ID, to call forwarding, 3-way calling, transferring and more. 8×8 goes above and beyond in offering a phone system that does more than make and receive calls.  
Additional 8×8 cloud phone system features include:
Personalized on-hold music

Role-based access controls

Directory assistance

Analytics

Call parking
Winner:
Thanks to its analytics and additional features like call handling, call management and core productivity, 8×8 boasts a superior business phone feature that allows users to do more than make and receive calls.
Team Chat Features
RingCentral offers an alternative to traditional business messaging. Instead of an inter-office messaging system, RingCentral provides users the ability to send SMS and MMS messages to colleagues and customers using a business dedicated phone number.
Using your business number, you can easily send text and multimedia messages to colleagues and customers alike. RingCentral enables messages to and from other numbers and local 10-digit numbers, as well as email addresses. Those messages can be ordinary text messages or multimedia messages that include images, files, links, videos, and multimedia files.
Messages can be sent across smartphones, tablets, and desktop phones. Users can receive push and email notifications of any incoming SMS or MMS message. You can even join conference calls from text messages.  
As RingCentral's team chat functionality is rooted in SMS and MMS messaging, users are able to send international messages. RingCentral supports messages to and from more than 20 countries including Canada, Germany, the United Kingdom, and more. This feature is ideal for companies scattered across the globe. 
8×8 connects teams instantly whether they are on the same phone system or an external chat application. The experience is seamless and unified across desktop and mobile apps. Speaking of which, there is both an iOS and Android app available, just like with the other provider. 
Message one-on-one or in group chats with 8×8. The platform provides the availability to message and share files with one coworker or your entire team through chat rooms. These messages allow users to share documents and files with one another.
When it comes to chat rooms, 8×8 allows its users to fine tune access to those messages. Group chats can be marked as public, private, or invite-only.
Winner:
RingCentral comes out on top with its chat and messaging capabilities, as they allow for SMS, MMS, screen share, screen recording, and one-click video conference launch right from the app.
Video Conferencing
RingCentral Video provides a reliable tool for remote or international companies to meet on a regular basis. Audio and video come through clearly in HD and with an industry-leading 99.999% SLA uptime.
There's no need to download any additional software to access RingCentral's videos, saving users a significant amount of time as they can sign onto meetings using any web browser. Users can simply join with the click of a meeting invite from any device, even flipping meetings between different devices, right from their browser. 
RingCentral Video provides a clean and easy-to-use interface. The tool provides the options to both share screens and record meetings easily on the same screen.
The platform offers robust security to ensure all data and information shared during the meetings is secure. RingCentral deploys network protections to monitor for anomalies such as service disruption, data breaches and fraud. All data in RingCentral Video is encrypted in transit and at rest. RingCentral's Video conference solution has been compared with the likes of Zoom. 
Additional RingCentral Video features include:
The dashboard of meeting usage

One-click scheduling

Personalized meeting rooms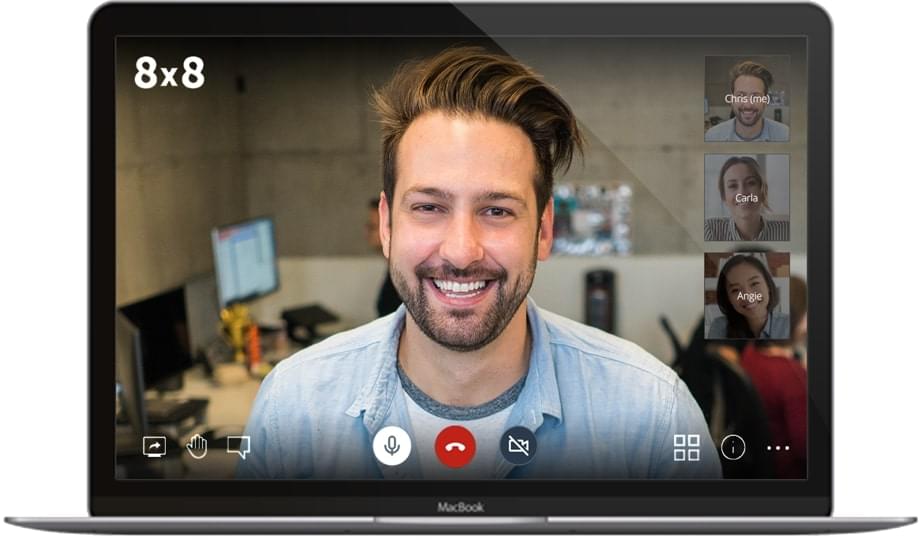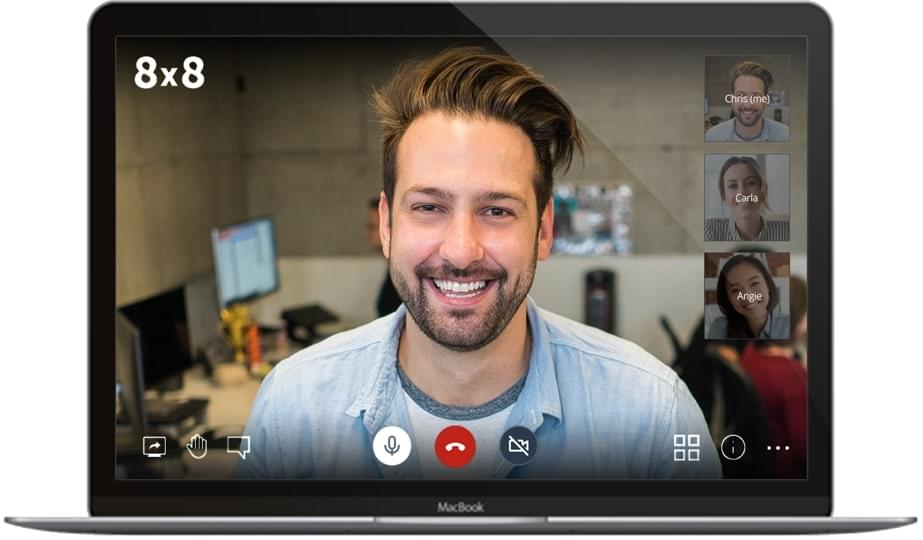 8×8 offers a video conferencing tool that is secure and easy-to-use. This solution is built specifically for businesses and offers unlimited meetings and minutes to its users.
The tool is designed for its users to collaborate together seamlessly. Thanks to integrations with Google and Microsoft calendar, scheduling video meetings is simple. Users can join HD video and audio meetings with just one click. 
8×8's video conferences are simple to use and perfect for small businesses. Up to 50 active participants can join, with no meeting or minute restrictions. Those meeting participants can join from within the meeting or dial-in from more than 50 countries. 
Additional 8×8 video features include:
Personal virtual spaces

Cloud recordings

Live streaming

Option for password-protected meetings
Winner:
RingCentral Video's added security, plus the fact that it allows for up to twice as many participants as 8×8, and runs off Zoom makes it the superior choice.
Analytics and Reporting
Out of RingCentral's four pricing plans, two offer real-time analytics to its users. Users can analyze and report on a number of unified communications metrics in RingCentral including:
Monitor video meeting quality

Track video conference adoption and usage

Ability to view overall system performance

Actionable contact center analytics to study incoming messages so you can better filter, categorize, and route incoming customer messages

Tracking for call center agent KPIs
8×8 offers three different pricing structures, and the more robust of the two include analytics features.
Those packages include analytics on your company summary dashboard, an extension summary, meeting analytics and supervisor analytics.
Users can analyze and report on a number of unified communication metrics in 8×8 including:
| | | |
| --- | --- | --- |
| KPIs/Data Provided | 8×8 | RingCentral |
| Video meeting usage and quality | Yes | Yes |
| Overall system performance | No | Yes |
| Customer experience | Yes | Yes |
| Overall performance reports on every feature | No | Yes |
| Meeting participation activity | Yes | Yes |
| Meeting dashboards | No | Yes |
Winner:
RingCentral offers reporting on more features than 8×8 does, making it the top choice.
Integrations
As RingCentral is widely recognized as a leader in the unified communications field, the platform integrates with an immense list of third-party software platforms. Since 8×8 does not integrate with nearly as many software products, the following chart compares how RingCentral integrates with all every third-party system that 8×8 integrates with.  
| | | |
| --- | --- | --- |
|   | 8×8 | RingCentral |
| Microsoft Teams | Yes             | Yes |
| G Suite | Yes | Yes |
| Bullhorn | Yes | Yes |
| Copper ERP | Yes | No |
| Slack | Yes | Yes |
| eAgent | Yes | Yes |
| Webex | Yes | Yes |
| Freshworks | Yes | Yes |
| GroupMe | Yes | No |
| Hubspot | Yes | Yes |
| Microsoft Azure Active Directory | Yes | Yes |
| Netsuite | Yes | Yes |
| Octa | Yes | Yes |
| Vitiger ERP Integration | Yes | No |
| Pipedrive ERP Integration | Yes | Yes |
| ServiceNow | Yes | Yes |
| SugarCRM | Yes | Yes |
| Telegram | Yes | Yes |
| Zendesk | Yes | Yes |
| Zoho Integration | Yes | Yes |
Winner:
RingCentral integrates with far more software products than 8×8, making it the clear winner. 
User Reviews + Experience
User reviews of both 8×8 and RingCentral highlight the consistent pros and cons of each tool. Take a look at our comparison below.
| | |
| --- | --- |
| RingCentral Pros | RingCentral Cons |
| Clean user interface | Unreliable call and meet |
| Diverse app integration | The platform is too expensive |
| A wide array of features | Customer support needs improvement |
| Ease of use | Difficult onboarding |
| The tool allows for flexibility | It takes a bit of time to master the platform overall |
| | |
| --- | --- |
| 8×8 Pros | 8×8 Cons |
| User friendly | Cancellation fees |
| Software is affordable | Reporting has room for improvement |
| Solid customer support  | Application sometimes lags |
| Flexible VoIP provider  | Phones are reliant on internet connection |
| Diverse and useful features | Virtual office cannot send and receive images |
» Read More RingCentral User Reviews
» Read More 8×8 User Reviews
Winner:
8×8 comes away as the winner. RingCentral has more negative reviews with recurring issues.
Pricing Structure
RingCentral, which includes the core features of messaging, video and phone, offers four different plans. The first of which is Essential, which just includes the message and phone feature. The second is the Standard plan, which offers messaging, video and phone. The third plan, which is RingCentral's most popular plan is Premium. That plan includes message, video, phone and an open platform. The final plan is the Ultimate option, which also offers message, video, phone and an open platform. 
The lowest end of the pricing structure is ideal for smaller businesses that only require basic features. The larger your company is, the more you should expect to spend. But with that bigger price tag comes more features. Below, you'll find a breakdown of what users get in each plan with annual pricing.
8×8 offers three different pricing plans for its all-in-one communication tool, which includes phone, team chat, video conferencing, security and analytics. The first of which is 8×8 Express, which is ideal for small businesses. The second is their all-in-one voice, video and chat product X2, which is good for midsize businesses. The final option is X4, which includes analytics for administrators and supervisors. You can also build your own bundle by entering the number of licenses you are interested in per tier to get a tailored quote.
Just as with RingCentral, the lower end of the pricing structure is better suited for small businesses. Larger businesses should consider the X2 or X4 plans. Below, you'll find a breakdown of what users get in each all-in-one plan.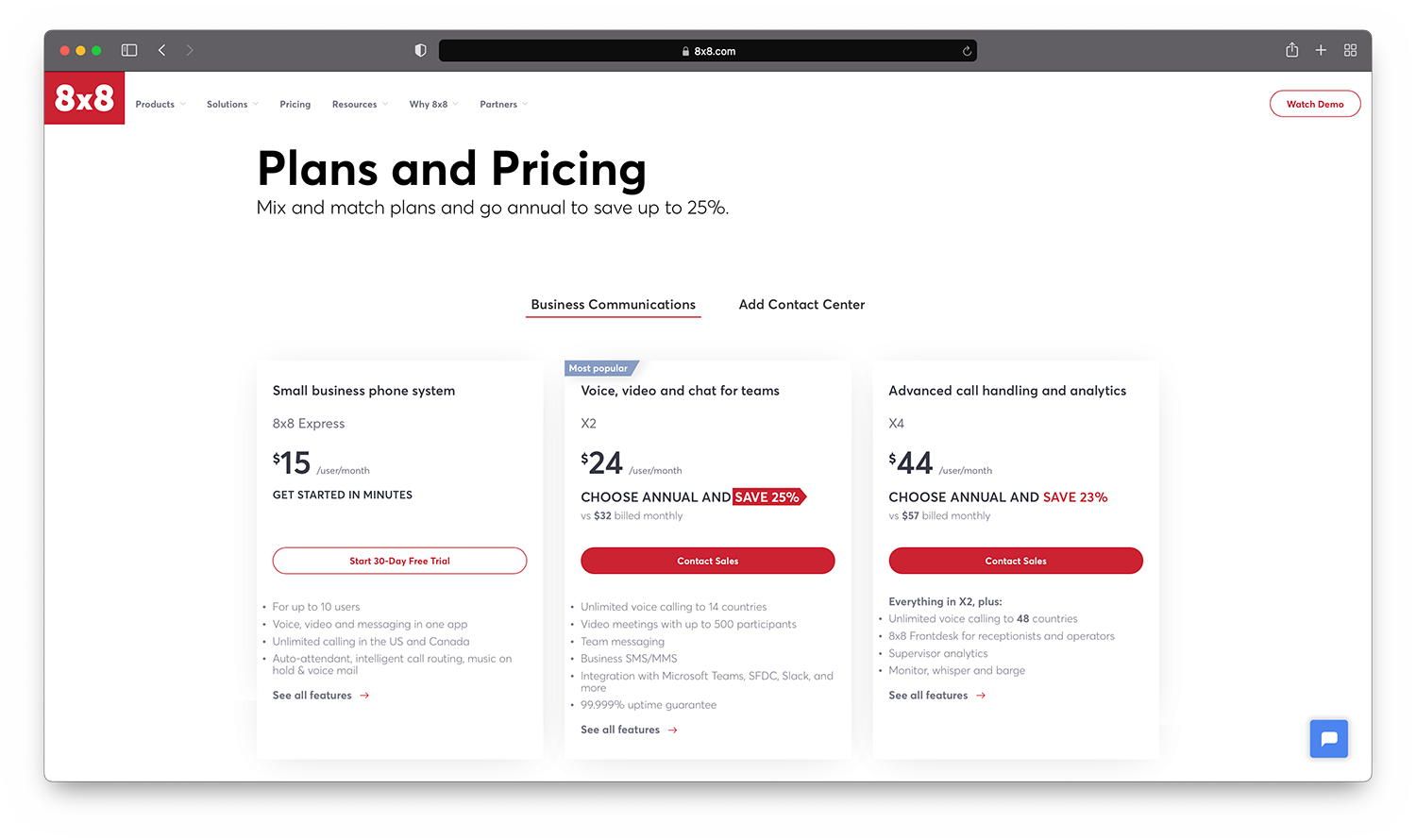 Winner:
8×8 comes out on top for voice, messaging and phone, as they offer more affordable plans with a wide range of features. The winner for contact center pricing is unknown, as RingCentral does not publicly share pricing for its contact center tool.
8×8 vs RingCentral: There is Clear Winner
When it comes to deciding between 8×8 and RingCentral, specific use cases and your business's size may influence your decision. Each tool comes with a wide array of features and plans for businesses of any size.
RingCentral is best for:
Midsize and enterprise

businesses that are entirely remote

Companies with a desire for in-depth analysis

Companies that rely heavily on team messaging

Companies looking to integrate their unified communications tool with a wide array of third-party platforms 
8×8 is best for:
Small businesses with a more limited budget

Companies that have a more prominent need for video and phone

Companies that rely heavily on customer support