Communication software provide companies with an all-in-one package of essential communication tools like video conferencing, VoIP phone numbers, SMS messaging, MMS, APIs, and more.
You may have initially considered working with a UCaaS provider, but now, you've now realized that a "one-size-fits-all" approach to internal and external communication isn't right for your business.
Instead, you need a customizable communications platform that will improve the applications you've already created and come to rely on.
Communications Platform as a Service (CPaaS) providers offer exactly that.
What is CPaaS?
CPaaS is a customizable cloud based communication platform that allows users to build and add real-time communication capabilities to their existing apps and programs via APIs and software development kits (SDKs), without needing to build infrastructures for each communication function.
Users can pick and choose from popular API's to integrate into one platform, over IP networks, including:
Communication services like chatbots and instant messaging
VoIP phone system
Task and marketing automation
Social media integration
Reminder notifications and confirmations
Appointment scheduling/reservations
User authentication
Sentiment analysis
Customer experience follow-up
Forms/surveys
Call recording
Call logs
Customer engagement analytics
Meeting recording
Think of CPaaS solutions as a blank slate for your business's communication needs that prevents you from having to purchase additional hardware or manage software backend. It also makes omnichannel communication possible, so customers can communicate with your company on the platform and device of their choosing, including mobile apps.
Since APIs can integrate with social media platforms, customers and employees can also communicate through WhatsApp, Viber, Facebook, Instagram, and more.
In addition to standard customer support and communications features, CPaaS providers also have a bustling user and development community. This allows users to share best practices, apps and codes they've created to work with the platform, and answer each other's questions in a more informal way.
Most providers adopt a "pay as you go" pricing model, meaning that it is not only affordable but also scalable as you only pay for the features you currently need.
CPaaS vs. UCaaS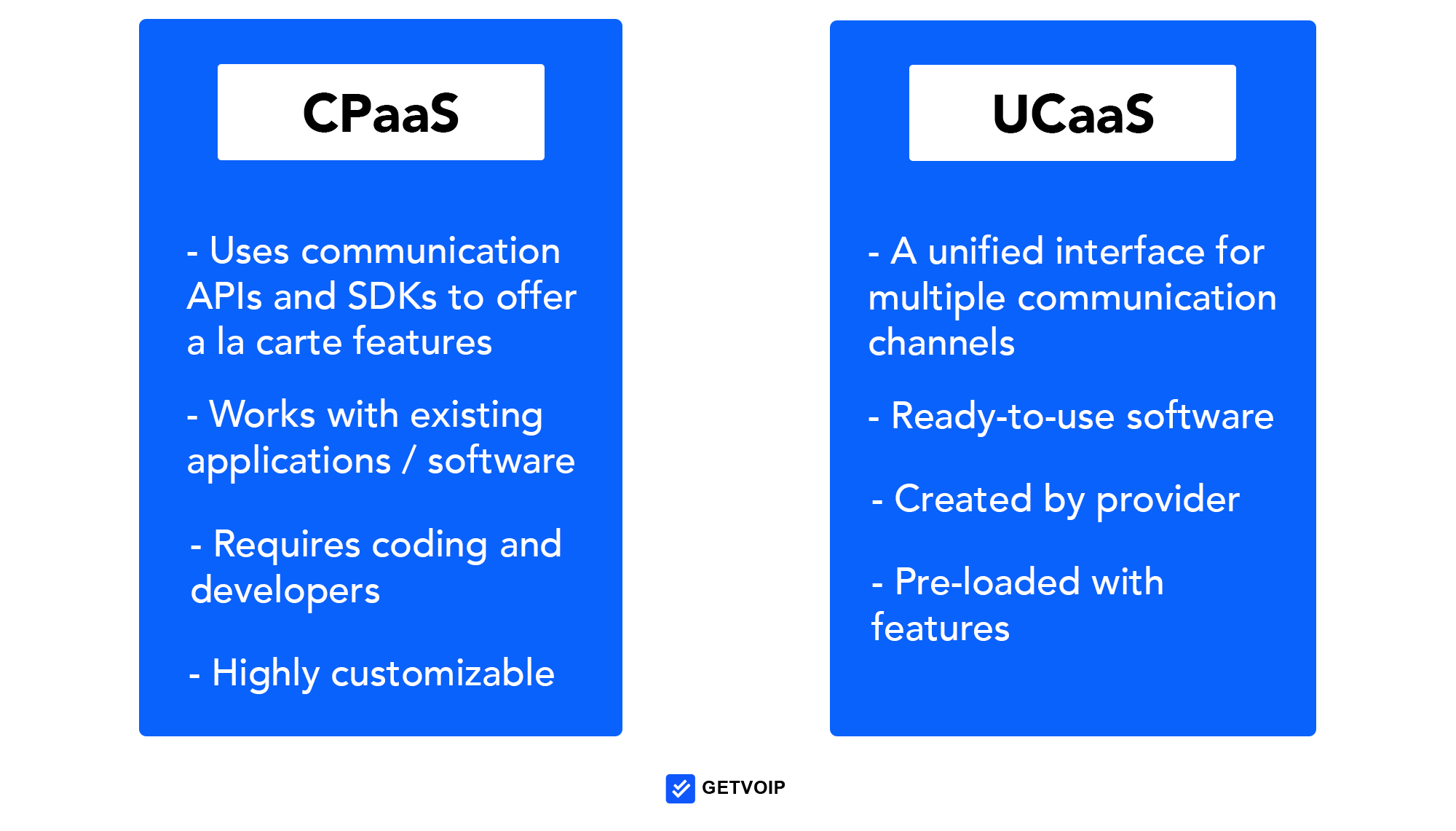 To better understand CPaaS and how it differs from UCaaS, imagine you're responsible for bringing a birthday cake to a party.
You've finished baking the cake, but realized you've forgotten to buy icing, sprinkles, candles, and other cake decorations.
You have two solutions.
First, you could toss out the cake you made and buy a fully decorated, pre-made cake from the grocery store.
It's the most convenient option, but it would mean you wouldn't be able to decide on things like flavor, shape, writing, decorations, and color. The bakery would decide all of that for you. The only real "decision" you'd make would be which cake to buy.
Besides, you've already spent money and time making the first cake, and you don't want to have to spend even more money on an expensive store-bought cake. Plus, the cake you made definitely tastes way better than anything you could buy from the grocery store.
The other option is to keep the cake you made, and instead head to the grocery store and choose the ingredients you need for decorating the cake yourself.
This means you'll have complete control over the icing color and flavor, the brand of sprinkles, and what you'll write on the cake. Sure, it's a little more work. But, you won't have lost any time or money on the cake you made, and you'll be able to give your friend a more personalized cake.
In this scenario, UCaaS is the store-bought birthday cake and CPaaS is the one you made yourself. Both options provide you with something, but CPaaS offers not only a solid foundation but also a higher level of customization.
Our article on UCaaS vs CPaaS gives an even more detailed explanation of the differences between the two.
Common CPaaS Use Cases by Industry
CPaaS is the ideal solution for companies that need to improve internal and external communication, but don't want to have to entirely redesign their current applications and software to make it happen.
It's especially popular among cloud service providers, small business phone services, app developers, and c-suite executives that want to offer better communication features to customers.
However, numerous industries and companies of all sizes can also greatly benefit from CPaaS offerings, as shown in the following use cases.
Healthcare and Telemedicine Appointments
CPaaS simplifies telemedicine by allowing users to book appointments and fill out paperwork in a provider's healthcare app.
Users can create a profile and verify their identity via an SMS passcode, then call the provider directly within the app. They describe their symptoms to a voice bot (or chatbot if they wish to communicate via text) and are promoted by the app to make an appointment with the appropriate doctor.
Then, they'll fill out their medical and insurance forms, which are sent to their provider to review before the appointment.
The patient receives reminder notifications and attends their video appointment. The doctor can then write prescriptions, send them to pharmacies, and follow-up with the patient.
Note that providers must ensure that any software they use is HIPAA and HITECH compliant.
Finance Companies and Loan Applications
CPaaS can be used in online banking and loan provider apps to guide applicants through the process of opening an account or applying for a loan.
For example, instead of applying for a loan in person, a user can apply directly through the company's app.
They enter their contact and financial information, receive an SMS message containing a link for suitable loan options, and then schedule a video call with a live agent to discuss loan conditions.
Through CPaaS, the user can complete and submit the entire loan application in the company app, receive real-time notifications about the loan progress, and get approval.
Delivery Updates From Online Retailers
Online retailers can use CPaaS to provide real-time in-app order delivery updates to customers.
Users can opt-in to delivery updates via SMS or email at the time of their order, and be notified from when the order's shipping label has been created to the time it arrives at their doorstep.
These platforms can be used to view a package's current location, who signed for it, estimated delivery time, and final mile information. Users can also view a map of their order's location and see the name of the delivery driver.
Retailers can receive notifications when the order has been successfully delivered.
Customer Management and Customer Service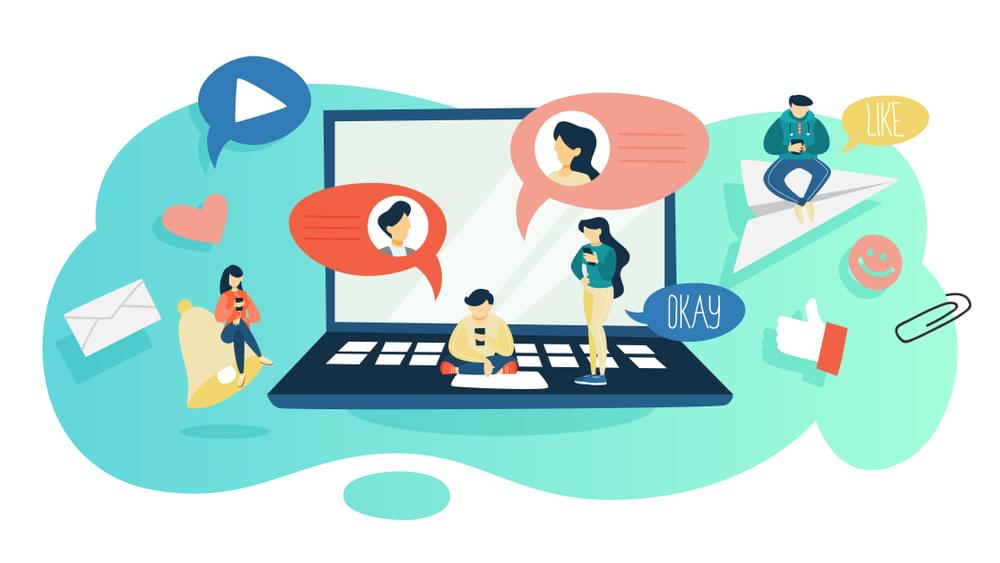 In addition to the above use cases, CPaaS also streamlines management and customer service communications.
In addition to providing self-service options, these platforms can store call histories, video call transcripts and recordings, and customer order history. The software makes it easy for agents to review past support ticket actions, gather customer contact information, and get necessary contextual information.
CPaaS can tell agents exactly which page of the website a customer is currently visiting, their location, the items currently in their shopping carts, and more.
From a management perspective, CPaaS allows managers to review both live and recorded conversations and customer interactions. Employee analytics can help managers better understand productivity levels, as well.
Additionally, CPaaS provides singular storage space for payroll information, performance review documents, personnel files, HR information, and more.
The Pros and Cons of CPaaS
Being able to embed communication APIs into your own CPaaS isn't the right solution for everyone.
Below, we've developed a list of pros and cons based on user feedback and reviews of popular providers like Twilio, Plivo, Avaya CCaaS, and Vonage for Business.
Pros
Saves money on hardware and software
Fully customizable
More personalized level of customer communication
Omnichannel communication
Shortens customer wait times
Speeds up the resolution process
Compatible with coding languages like Python, Java, etc.
Allows for expanding your business to national/global levels
Cons
Potential security risks
API service outages
Requires basic development knowledge
Too many APIs can impact application speed
Requires pre-built application
Can have a steep learning curve
Which Communication APIs Do You Need?
If you decide to opt for CPaaS over UCaaS, you need to evaluate which communication features are the most important for your company.
You don't want to end up with features you don't need, but you also want to be sure your applications can seamlessly connect with one another and with clients across multiple communication channels.
Our list of the top CPaaS providers will help you learn more about some of the popular products and services offered.
If you find you primarily rely on one standardized method of communication, you may want to consider a plug-and-play business phone service.