With such a massive selection of smartphones and tablets on the market, it can be very difficult to decide which platform is best for your needs. iPhones are loved by many, and always fly off the shelves when new models are released. The familiarity and consistency is what keeps users coming back after every new iteration. However, any Android fan will tell you that Apple's locked down, closed ecosystem limits functionality and customization.
When it comes to your personal device, emotion will drive the decision at the end of the day. But when you are shopping for a work device — what can function as a mobile office? Well, the case stands strong for both iOS and Android devices when it comes to enterprise use — and each pulls ahead in their own unique ways.
We wanted to take a look at what both platforms have to offer, and round up the necessary information to decide which platform works best for your office.
An Open vs Closed Platform
While the list of differences between iOS and Android can be lengthy, one simple way to contrast the two is within the major platform difference: open versus closed source. Apple has total control over iOS, while Android is spread thin across multiple hardware manufacturers.
A restricted platform can lead to stronger stability and security, but an open source platform can lead to far more functionality and customization. Understanding the difference will help you understand which OS will work best for you.
Apple's Approach: A Closed, Controlled Platform
Since Apple has total control over the OS and platform, they have the final say of what apps and functions can be expanded or built. This leads to less customization, and less options for users, but a safer and more consistent playing field. I personally am not Apple's biggest fan, and am quick to point out their poor decisions. (Killing the headphone jack, really?) However, even I will admit that Apple's biggest strength is their focus on user experience. This is partly due to the total control of their platform — Apple can apply this experience and usability across all their devices.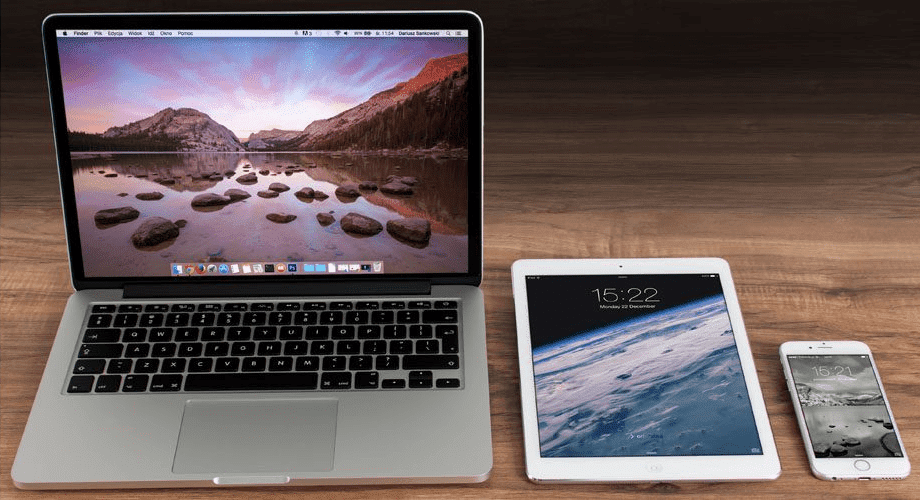 One of the biggest draws to iOS is the simplicity and familiarity the platform provides. Apple's iOS is generally considered to be easier to use than Android counterparts, and this mostly comes down to the lack of intense customization. Now, it's worth mentioning that a closed ecosystem can lead to compatibility issues. This was one of Apple's known weak spots for even their personal computers.
But with Apple leading such a strong push for Enterprise use, the issue isn't as major as it once was. We've already seen Apple partner with Cisco specifically to integrate into the iPhone's native dial pad, as well as compatibility for the new Spark Board. A closed ecosystem also allows Apple to keep a close eye on the security of their devices, and push out any necessary updates as fast as possible.
With total control over the hardware, software, firmware, and user experience, Apple can provide a consistent and simple platform with continued support for old devices as well as super quick updates.
The Android Way: Open For All
Meanwhile, Android includes a large list of manufacturers producing hardware, with each phone shipping with its own unique version of the Android operating system. This can also lead to security issues, and a lack of major updates on some devices. Sure, the big flagship models like Samsung's Galaxy's will be the first to receive major updates, but it can take time for updates to make their way to all models. Even worse, if a bug exists, support and a fix may be months out in the future.
Since updates have to make their way across a massive range of hardware, it's much easier for a gap in security to slip through. This interesting looking design isn't a fancy piece of artwork, but a visual representation of the massive brand fragmentation surrounding Android devices back in 2015.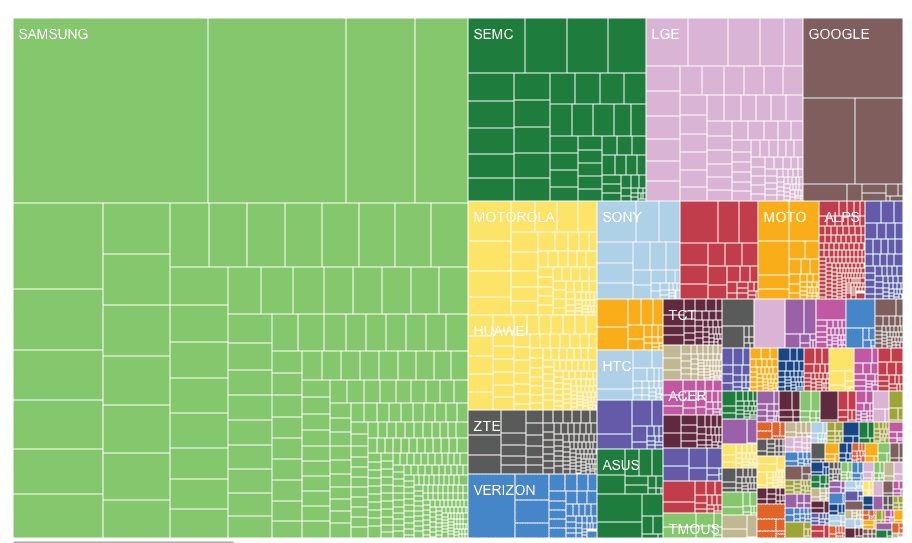 One the other hand, due to its open source nature, Android has far more freedom to play and customize the operating system. This in essence means the Android community can discover and patch their own fixes for bugs or gaps in security. Further, users can take full advantage of the OS, apps can communicate with each other through API powered integrations, and functionality can be expanded by users developing their own apps and features. An android phone is really like a computer in your pocket, and its functionality isn't  limited to communications and media.
But, this can prove to be a big drawback for the less-than hardcore users. If all you need to do is check your emails, or respond to Slack messages, then a super computer in your pocket is a bit overkill. Just like under customization, over customization can sap productivity, and lead to a very confusing user experience. This isn't to say that Android is a complicated mess of an OS. In fact, it's far from it. But just look at how Apple has iMessage — a standard for all their devices that allow users to communicate in some powerful ways. Meanwhile, Android users had to pick up WhatsApp or Facebook Messenger to fill in the gap. This is why setting a standard like Google's proposed RCS is so important, yet so difficult.
At the end of the day, it comes down to user preference, and an open platform can be seen as a major benefit for whoever wants the absolute most out of their device. For others, the open platform might be a huge productivity killer.
Security should be a major focus for any sized business. It doesn't matter if you're a one man show or a massive Enterprise with 50,000 seats worldwide — security is a massive issue — and the WannaCry Ransomware attack shows just how massive of a problem it is. Even if you do not have some crucial business secrets to keep safe, any business can be taken hostage and held for ransom until you're forced to either pay a huge sum or kiss all your work goodbye. Security isn't just limited to your computer — mobile devices are susceptible to attack as well. In their 2016 Mobile Threat Report, McAfee highlighted the extension of ransomware into mobile and connected devices.
"A recent example of ransomware targeting mobile devices was 'Charger' that was found in January 2017 and bundled with EnergyRescue. The malicious snooping app was briefly available on Google Play and targeted Android devices before being pulled. 'Charger' demanded 0.2 Bitcoins and threatened to sell the victim's personal information on the black market if the ransom was not paid."
Again, years ago this would have easily been taken by Apple. The closed approach that Apple applies allows for very tight control over the software and firmware. This means that Apple can keep a close eye on any security bugs or gaps, and push out an update to every device as soon as possible. Apple even patches their older phones for those who aren't so quick to upgrade.
This comes down not only to how secure the platform is, but also how much malicious software exists — and it's far less for iOS than it is for the Android OS. In 2015, Pulse Secure released a Mobile Threat Report that said 97% of malware was developed for Android. With so many different devices running so many different versions of the OS, it's difficult to make sure everything is up to date, and therefore difficult to eliminate all threats.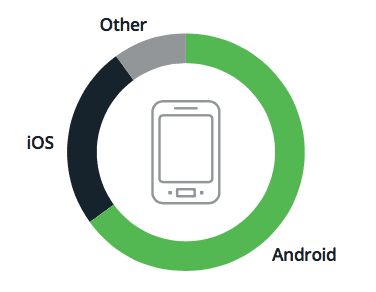 Google has gone to great lengths recently to improve the security of Android devices. These include forcing apps to ask for permission to access different functions such as pictures, your camera, or microphone. Now, Android is updated frequently, and the open source nature allows for community fixes to come out as well. This isn't to say Android is the Wild West of constant malware and threats — just that Apple's iOS is generally a much more secure platform.
App Selection and Availability
If this was few years ago, Apple would blow Android out of the water without any questions asked. Apple's iOS was known for having the largest selection of apps and a thriving ecosystem. However, Google Play, the main market place for Android Apps, has recently expanded to the point where they almost match iOS. Now, you'll notice that Apple receives both new apps and updates for their existing apps a bit quicker than the Android equivalents. If you use tablets, you'll notice iOS devices provide a more consistent experience across all screen sizes as well as a benefit of iOS capabilities. iOS 11 specifically will also include some powerful UC features natively. However, it's often argued that Google Play offers a better experience and focus for developers.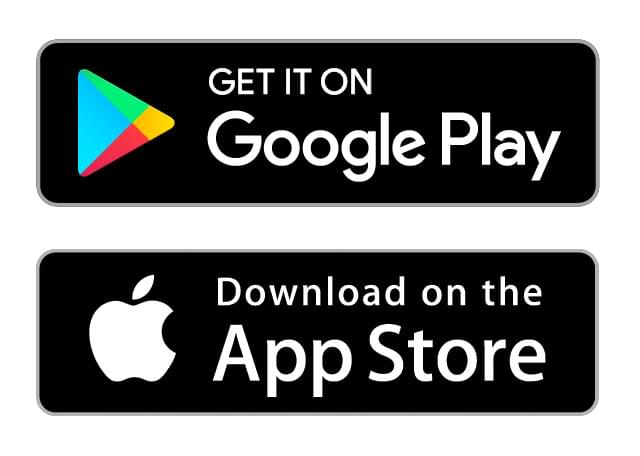 Some may argue that apps are far more optimized for iOS than Android. In reality, though, it boils down to each individual app and what the user expects. It would be really difficult to declare a clear winner in the app selection. Microsoft has even given equal attention to both iOS and Android in their "Microsoft Everywhere" strategy. This means that the most popular business and productivity-focused apps like Microsoft's Office Suite are available on both devices.
Furthermore, OneNote, Evernote, and team collaboration apps like Trello, Slack or Cisco Spark can be had on both iOS and Android. One thing that I will point out is Apple's focus on Enterprise use with new features on iOS 11, as well as their partnership with Cisco. At the same time, Google is also known for a strong work focus. But, to give Apple even more points, they have also partnered with IBM back in 2014 — and more recently with SAP in 2016 — to "transform enterprise mobility."
Hardware and Optimization
We could easily spend hours dissecting the hardware of every iPhone and Android device available, but that wouldn't serve as much more than a phone buying guide. Instead, we want to highlight the differences between the hardware that is available and the optimization of that hardware, because this is what directly impacts the performance of each device.
When comparing iPhone and Android device technical specs, at first glance it can look like the Android device simply dominates the iPhone. But simple tech specs don't tell the full story. Take a brief look at this comparison to an iPhone 7 and a Samsung Galaxy S7:
iPhone 7
Galaxy S7
Processor
A10 Fusion with 64-bit architecture, M10 motion coprocessor

Quad-core, 2x Hurricane 2.34 GHZ + 2x Zephyr

Qualcomm Snapdragon 820

Quad-core, 2x Kyro 2.4 GHz + 2x Kryo 2.0 GHzx

Size
5.44 x 2.64 x 0.28 in
5.61 x 2.74 x 0.31 in
Screen
4.7-inch Retina display
5.1-inch Quad HD Super AMOLED
Resolution
1,334 x 750p (326 ppi)
2560 x 1440p (577 ppi)
Storage
32, 128 or 256 GB
32 or 64 GB
MicroSD Card Slot
No
Yes
NFC support
Yes
Yes
RAM
2GB
4GB
At a quick glance, it would be easy to declare the S7 a faster phone than the iPhone 7: it has a higher CPU clock speed and even more RAM. Any bit of missing storage space is easily made up for by the fact that the S7 allows for expandable storage with Micro SD cards, but we'll touch on that later. First, I want to highlight the key difference in the hardware: processor performance. Here, we can see a comparison done by Android Authority between the Snapdragon 821 in a Google Pixel, and the A10 fusion in the iPhone 7. Note, bigger numbers equals better performance. We can clearly see the Apple A10 Fusion coming out on top.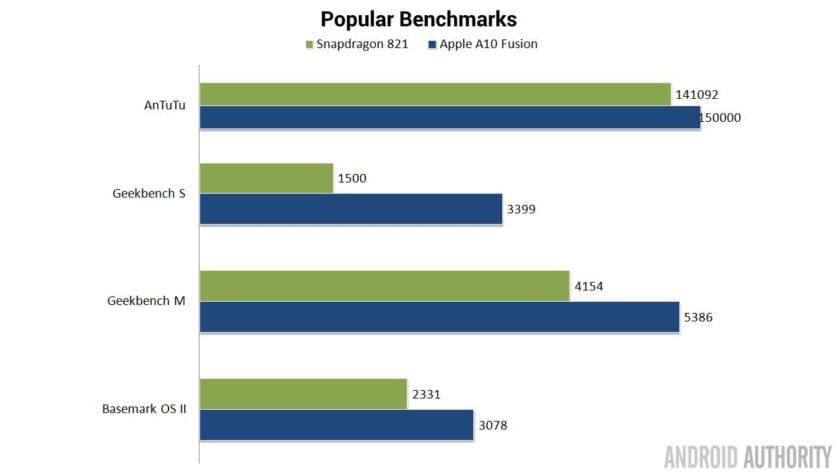 This is of course determined by the speed of the processor, the core count, and the available threads; however, that doesn't determine just the speed of the device. OS architecture plays a huge role, as well. Android devices are built on Linux while iOS is built on Unix. That's jargon to the uninformed, but what's important to note is that Android devices have to use Java because they are based on Linux. This ultimately slows the phone down even during normal usage.
Now, as I mentioned above, Android provides a huge selection of hardware. Its entirely possible that a different phone, a better optimized flavor of Android, might be capable of beating out Apple's A10 fusion's speeds. But that's a pretty big maybe.
I do want to touch on expandable storage again, as this is a huge focus point for Android devices — the Samsung Galaxy phones specifically. While Apple forces users to live with the storage they buy, Samsung has included storage expansion and brought it back on the S7. Beyond just expanding storage, users can even utilize a specific Micro SD card for all their work related files and documents, keeping it separate from the phone's internal storage.
At the end of the day, your choice of phone will come down to a variety of factors. Ultimately, the overall user experience and compatibility will help drive the decision. But, all factors together — security, available apps and hardware performance — should be considered equally. When it comes to a business-focused device, it might be worth sacrificing the customization of Android for the security of an iPhone. On the other hand, an iPhone might not play well with existing systems in your office, or it might lack the freedom your field or industry might require. Overall, both Android and iOS can offer a strong argument for their use in the enterprise.
We recommend iOS devices in the office if:
Security and stability are your major concerns in a mobile platform.
Customization isn't necessary, and the options are just distracting. If all you need is to check emails, then a flashy super computer in your pocket isn't for you.
If you are already invested in the Apple ecosystem with other devices.
We recommend Android devices in the office if:
You are in the unique position that requires, or can benefit from, the intense customization and open source platform Android provides. IT managers might prefer the flexibility of Android to interact with multiple systems and solutions.
Other systems, like a VPN or hardware firewall, are in place to lock down security, and you always keep your device up-to-date with the latest updates and fixes.
If your office is not invested in the Apple ecosystem, Android's freedom could be preferred to users.