When searching for a business VoIP solution, Nextiva and RingCentral are two of the first names that come to mind – or at least they should be. Both renowned for their leading customer service, as well as their robust yet simple solutions. However, RingCentral and Nextiva while leaders, are still a different approach to the same problem. Depending on your office's specific needs, or how and even where your business operates is more than enough to sway a buy from one provider to the next.
So, when it comes to two providers such as these, that feel like they both do it all and incredibly well, it can be very difficult to walk through a buying process and compare apples to apples. So that's exactly what we wanted to do, offer a thorough breakdown of both Business VoIP providers Nextiva and RingCentral in a head to head, to offer a simple apples to apples comparisons. Of course, solutions and products might not line up exactly the same, but we wanted to do our best to give you the most objective view as possible.
Right off the bat, both Nextiva and RingCentral are cloud-hosted PBX providers. Both providers are meant to replace old, complicated, expensive and confusing legacy phone systems, and introduce the simplest solution possible. The best part of it all really is that with a hosted provider, all the heavy lifting is taken care of for you, and on your end all your business receives is a service that just works, and works well.
An online user dashboard helps manage the system, softphone apps for your mobile phones and desktop computers allow you to always have access to your system, collaboration apps and features help teams to get stuff done faster, and the entire setup will grow and scale with your business. Let's not forget the calling service, with all its features as well.
Sometimes when diving into this market, providers can make it complicated to find the exact details you need to make a decision. Sales calls are informative and can be helpful, but not everyone has all the time in the world to sit through endless pitches. Thankfully, both Nextiva and RingCentral do a great job offering the information you need about where your money is going all right upfront.
So, to help you really compare exactly what both providers offer when it comes to their Unified Communications platforms,  we went ahead and pooled together the most relevant information for each provider.
Nextiva
RingCentral
Hosted VoIP
Office Pro

Office Pro Plus

Enterprise

Standard

Premium

Enterprise

On-Premise VoIP
No
No
Contact Center
Yes
Yes
Team Messaging
Yes
Yes
SIP Trunking
Yes
No
Paperless Faxing
Yes
Yes
Business Intelligence
Yes
No
Call Analytics 
Yes
No
To get things started, here's the most basic breakdown of what you can expect from these providers. We're really focused on their VoIP and Hosted PBX solutions. Nextiva offers some really innovate solutions, like their NextOS platform and even Nextiva Analytics, but we're gonna leave those for another day.
Business Phone Solutions
When comparing available plans and solutions, both providers offer three different options. We'll take it one by one and offer a brief description of the plan, what business size it might be best suited for, and exactly just what kind of features you do, or don't, get included with each plan. We'll also take a look at comparable Contact Center and Collaboration offerings.
Nextiva
Nextiva's Office Pro and Office Pro Plus platforms begin with collaboration at the center – beyond just a business phone system, Nextiva is providing you an entire UC solution all in one. The hosted nature means features are plenty, setup and installation are free and easy to help avoid any common hosted PBX implementation challenges, and the entire thing is flexible and scalable. Their cloud PBX system does the heavy lifting to deliver you the features every business needs, like unlimited calling, auto-attendants, and IVR.
Office Pro Plus expands on the system with conference calling and even more mobility capabilities. Enterprise, all the way at the top, adds in the real big guns like call recording and a receptionist dashboard to monitor who is doing what, and when.
Office Pro – $19.95/month/user
Starting at $19.95 a month with no setup fees, Office Pro gives your office access to the Cloud PBX and a basic phone system that will fulfill the needs of any business, small to large. However, better suited for the smaller business that doesn't need bells and whistles, you do get everything expected with Business VoIP. That includes:
Cloud PBX
Free Number Porting
Advanced Call Management
Unlimited Calling
Free Local Number
Free Toll-Free Number
Voicemail to Email
Unlimited Virtual Faxing with Nextiva fax
Shared Call Appearance
HD Music on Hold
Voicemail to Text for $2.95 per line
Barge In
Office Pro Plus – $22.95/month/user
One step above the entry Office Pro is the Pro Plus plan, adding in just a few more powerful features like built-in team collaboration. Office Pro Plus adds in the Nextiva Mobile app most notably, which allows for a team to team messaging and even presence. For what you get, the extra cost is worth it for any size business, even smaller teams that would otherwise split their cost through different solutions. The Office Pro Plan includes:
Everything from the Office Pro plan
One Professionally Recorded Greeting
Call Me Now
Conference Bridge
Nextiva Mobile App
Team Presence
Enterprise – $29.95/month/user
And of course, as the name would suggest, if you are a larger Enterprise and are looking for a completely hosted solution, Nextiva has you covered there as well for sure. Focused on the really powerful features a large business would need. Nextiva Enterprise empowers a business to provide a truly professional appearance and interaction for callers. The Enterprise plan includes:
All Office Pro Plus Features and:
Professionally Recorded Greeting (3)
Call Recording
Nextiva Anywhere to connect your system to mobile or even home phones
RingCentral
RingCentral also offers three levels of plans and pricing with all the great features you would come to expect from a business VoIP provider, and even a bit more. Again the power of the cloud PBX helps keep everything simple right at the core of the system and offers a flexible scalable solution that will grow with your company. RingCentral uniquely also offers the Glip app for their collaboration and UC elements, which does pair nicely with the entire RingCentral Cloud PBX solution.
Standard – $24.99/month/user
For the entry-level, small to mid-size business offering, RingCentral's standard plan leaves you well equipped, although slightly more expensive than Nextiva. One of the major benefits of RingCentral is the addition of a mobile app for free even with the Standard plan, whereas Nextiva doesn't include this until its Office Pro Plus plan. RingCentral also throws in Glip, their Slack alternative, for all so even their entry plan gains the collaboration and messaging elements. The Standard plan includes:
Call management and phone system administration
Mobile apps
Unlimited calling
1000 Toll-free minutes
Unlimited conference calling, fax and business SMS
Video Conferencing: 4 users
Glip subscription for free
US-based support
US-based implementation
99.9999% SLA
Integrations with Microsoft, Google, Box, and Dropbox
Phone rental OPTION
Call log reports
Premium – $34.99/month/user
One step up for the mid-size and slightly larger business, or the fast-paced small business that needs just a bit more, is RingCentral's Premium plan. More toll-free minutes are thrown in, as well as a bigger jump in video conferencing to 25 participants up from 4, and even automatic call recording; normally reserved for the Enterprise plans with other providers. The Premium plan includes:
All standard features plus:
2,500 toll-free minutes
Video conferencing: 25 users
Inbound caller ID name
HD Voice
Automatic call recording
Multi-level auto attendant
Integration with Salesforce, Zendesk, and Desk.com
Single sign-on
Enterprise – $44.99/month/user
And of course, all the way at the top is also RingCentral's Enterprise plan. Again like Nextiva's Enterprise offering, RingCentral reserves the best of the best for the biggest companies, with even more toll-free minutes, and a  massive 50 user video conferencing capability. The Enterprise plan includes:
All Premium features, plus:
10,000 toll-free minutes
Video conferencing: 50 users
Voicemail-to-text
Verdict: Nextiva – So the beauty of Nextiva is not only the fact that their plans start at a lower price point, with all their tiers remaining lower than RingCentral, they offer the more crucial features your business would need right off the bat. Now that's not denying that RingCentral stuffs their plans full of features, but you do have to pay a bit more and you don't necessarily gain those high priority functions. If price is your main concern, Nextiva has you paying less for their reliable, feature-packed service.
Also, don't forget that RingCentral does limit your toll-free minutes, video conferencing users, and even holds out on HD voice until their second tier. Its a bit of a toss-up and depends on your budgeting concerns – from our personal experience in the office, we have tried both services and highly preferred the HD voice quality and reliability of Nextiva, in our office experience. But take that with a grain of salt, and your mileage may vary.
Contact Center Software

Nextiva
While Nextiva plans and pricing only offer two different options for their contact center software, unlike RingCentral with three tiers of pricing, they still manage to deliver an entire package at an affordable cost. In fact, Nextiva's Contact Center introduction starts at half that of RingCentral's, but you are limited to inbound calling functions.
However, you can expand your solution with varying upgrades for a little more power. But, the real limiting factor here is that Nextiva is only offering Call Center software, not Contact Center software capable of delivering multi-channel capabilities. To learn more about the differences between a call and contact center check out my older post.
Call Center Pro –$50/month/user
If inbound call center functions are all you need, then Nextiva really manages to deliver an affordable and robust solution with everything your center, and agents will need. Call queue visibility, enhanced greetings and announcements for callers waiting in queue, CRM integration, intelligent ACD, even skills-based routing are all included. The Call Center Pro inbound call center includes:
Conditional call routing
Call queue visibility
IVR and Intelligent ACD
Enhanced greetings and queue announcements
CRM Integration
Skills-based Routing
Voicemail to email
Call recording
Call Center Enterprise – $100/month/user
While Nextiva does not deliver an omnichannel solution, its Call Center Enterprise plan does deliver a very powerful solution for businesses that are looking to focus solely on delivering the best call support, and outbound campaigns, that they can. Even more robust features like queued call management and silent monitoring for managers will help any call center optimize efficiency, and effectively their bottom line. The Call Center Enterprise solution includes:
All Call Center Pro features, plus
Forced delivery of calls
Night & Holiday service functions
Whisper messages
Flexible disposition and unavailable codes
Queued call management
Silent monitoring and call barge in
Outgoing call control
Priority queue routing
RingCentral
Pair your RingCentral office suite with their Contact Center solution and you have the perfect recipe for a really powerful omnichannel platform, like one with AI. Integrated directly with your hosted phone system, agents receive the data and features they need to help deliver the best service they can. With three different plans available, RingCentral offers the right contact center solution for any size business, so even the smallest operation can achieve professional results.
RingCentral is even able to deliver high-end outbound features like different, powerful automatic dialers including predictive, progressive and preview dialers with campaign management.
Basic – $99.99 per user/mo
If all you need are inbound and outbound call center capabilities, even RingCentral's will equip your business with everything it needs to operate the best call center possible. Important to note the difference, as a contact center solution is what will truly help deliver an omnichannel experience to users and clients.
Inbound & Outbound
1.9 cents per minute
1 Port/agent
Voice capabilities
Standard IVR and ACD
Skills-based routing
Advanced – $119.99 per user/mo
If providing an omnichannel experience is what your business is looking, and let's be honest in 2017 it really should be, then stretching your budget just a little bit further gains you entire multi-channel support.
All basic features, plus
1.7 cents per minute
Multi-channel capabilities

Chat
SMS
Email
Social Media
Ultimate – $179.99 per user/mo
For the true top of the line experience, most comparable to Nextiva's Call Center Enterprise solution would be RingCentral's Ultimate plan. With an advanced IVR, skills-based routing, and powerful outbound dialers with campaign management this plan makes for a powerful center that can handle both inbound and outbound interactions.
All basic and advanced features, plus
1.6 cents per minute
3 Ports/agents
Advanced IVR
Outbound features:

Preview Dialer
Progressive Dialer
Predictive dialer
Campaign management
Verdict: RingCentral – Now RingCentral is just the short answer, the long answer is that we were focusing, just as we have done in the past like with Mitel and ShoreTel, on Contact Center solutions specifically. Unfortunately, Nextiva focuses on a Call Center solution – and while they do a fine job of it, we're looking at the multi-channel experience that RingCentral provides. After all, is a big difference between a call center and a contact center.
For what it's worth, Nextiva blows RingCentral out of the water for an affordable plan starting at $50, compared to $99, but its credit where it's due to RingCentral as well, including both outbound and inbound functions even in their basic tier. So this one does go to RingCentral because they deliver the true multi-channel contact center approach, but this one isn't completely fair to Nextiva so that should be clear.
Team Messaging

Nextiva
While RingCentral is able to offer its team collaboration solution, Glip, with all of its service plans, Nextiva doesn't exactly have a comparable standalone solution. However, what they do have are team collaboration features built directly into their softphone, and mobile, apps. With applicable plans, users receive the Nextiva app for instant messaging and presence functions from the same interface that you would use to manage all of your calls and contacts.
Integrations are still available, and if you need file storage on top of it well Nextiva has you covered there as well with the Nextiva Drive. Just a note, however, this means you need to almost build a UC solution from Nextiva, choosing a plan that supports the mobile app and adding on Nextiva Drive for a possible additional cost. Meanwhile, RingCentral just hands out Glip.
RingCentral
One of the really truly unique aspects of RingCentral is the inclusion of a free subscription to Glip, RingCentral's team collaboration app. I took a hands-on look at Glip compared to Slack a little while ago and came away enjoying Glip just a little bit more. It's a really powerful collaboration app and a great ad-don for teams that kind of want to bundle their solutions together, replacing Slack and other popular task management solutions like Basecamp. Glip includes a great set of features:
Unlimited co-workers and guest users
Unlimited teams and projects
Free mobile, web and desktop apps
Team calendars that sync to Outlook, iCal and Google Calendar
Access to notes, lightweight collaborative editing documents
Email into Glip for any team or project
Email attachments to Glip
Link extraction, sharing and archiving
24/7 Bank-level security
Real-time task management
Unlimited posts
Unlimited Storage
Video conferencing capabilities
Unlimited integrations
Unlimited guest users
Verdict: RingCentral – So this one is another interesting choice, and Nextiva isn't far off. However, Glip is a really, really solid team collaboration solution and even works as a stand-alone solution with some really unique functions. It is unique that Nextiva includes what are essentially collaboration functions in their standard app and softphone, with messaging and presence.
Even Nextiva Drive, the provider's cloud storage solution, can help pick up slack if you want just one provider for all your solutions, but it's not Glip. And they also hold off on their mobile app for the second tier. With RingCentral, all plans and tiers receive a free Glip subscription which just pulls them ahead slightly.
When it comes to features, both providers have you very well covered. One of the major benefits of a Hosted PBX or Business VoIP solution is the ability to deliver a massive number of really powerful features, for no cost or very little add-on. So when comparing providers it makes sense that feature lists will look very similar – but it's still worth highlighting some major features and key differences.
We've noticed that Nextiva might charge for add-ons and certain features, but none of these are business essential and can easily be left out, or possibly worked into your pricing.
| | | |
| --- | --- | --- |
| Features | Nextiva | RingCentral |
| BYOD Phone Support | Yes | Yes |
| Call forwarding | Yes | Yes |
| Call reject | Yes | Yes |
| Auto-attendant | Yes | Yes |
| Call Queue | For $14.95 mo/user | Yes |
| Call Recording | $5.95/mo/user | Yes |
| Conference Call | $19.95 mo/user | Yes |
| DND | Yes | Yes |
| E911 | Yes | Yes |
| Find Me/Follow Me | Yes | Yes |
| Group Paging | Yes | Yes |
| IVR | Yes | Yes |
| Faxing | $4.95 mo/500 pages | $7.99 mo/500 pages |
| Simultaneous ring | Yes | Yes |
| Live Receptionist Switchboard | Yes | Yes |
| Three-way-calling | Yes | Yes |
| Unlimited Extensions | Yes | No |
| Video Conferencing | No | Yes |
| Virtual Extensions | $4.95 mo/ext | Yes |
| Voicemail Transcription | Yes | Yes |
For a more in-depth look at how Nextiva and RingCentral compare, along with other providers, head over to our Business VoIP page. You'll generally notice that the majority of providers include roughly the same features, so the real comparison lies in the above section of different calling plans – depending on your price point, and what your office needs, it would make sense to focus more on just what features you are getting for whatever it is your business is paying monthly.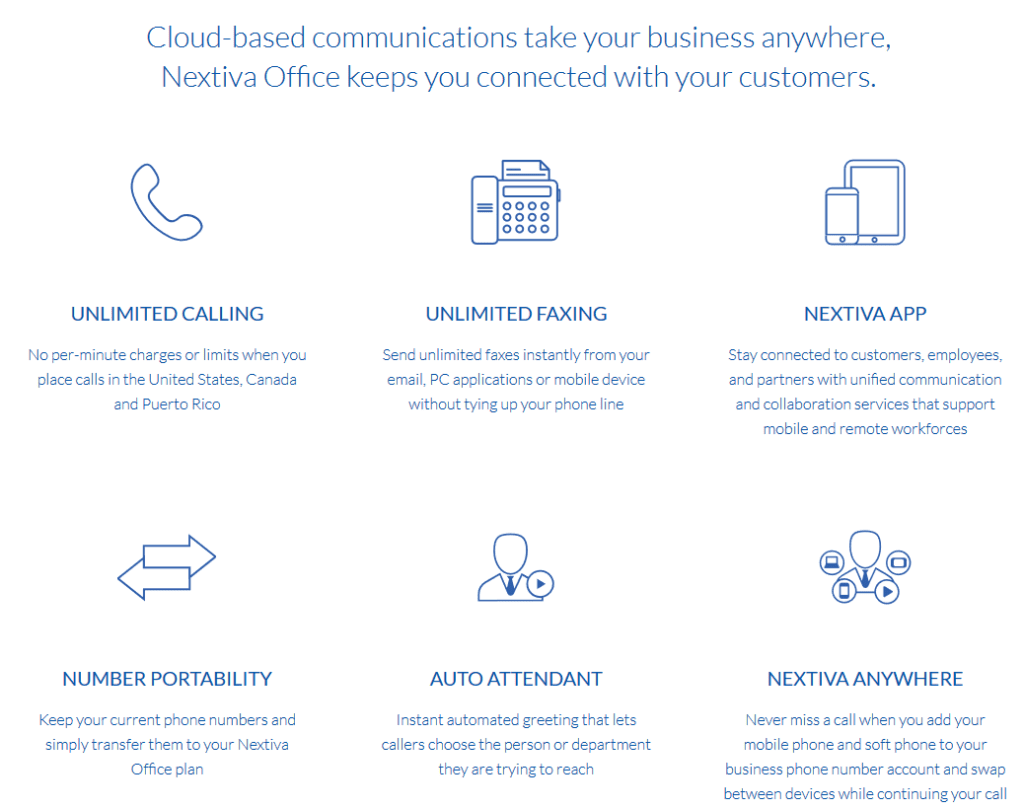 While Nextiva does charge extra for some features, many of these are simply included in their higher-tiered plans to offer customers a stronger incentive to upgrade. However, Nextiva will always include unlimited calling minutes, meanwhile, RingCentral includes far more features in their more basic plans yet leaves a hard cap on their calling minutes, at least for toll-free calls.
For example, in our chart, we explain that Nextiva starts at $4.95/mo for 500 pages a month of online faxing, yet this is a feature included in Nextiva's basic calling plan – the beauty of these services is the ability to fix and match features, or subscribe to only what you need. So users could subscribe for a Nextiva Drive account, and addon faxing for a small fee.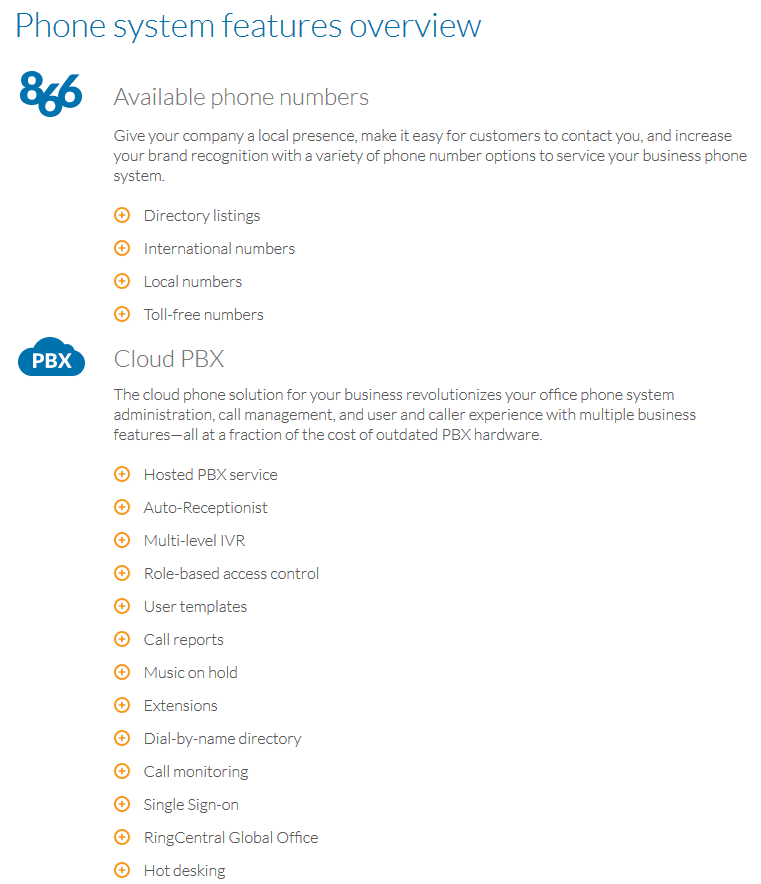 Again depending on what your business needs, and how your team prioritizes different features over others will ultimately decide what features are necessary for your operations. RingCentral, on the other hand, includes the most that they flat out can with everything – even their most basic tiered plan receives a free Glip subscription. Overall, RingCentral feels more feature-packed.
Verdict: Nextiva – It's a hard call to make in this one as well, since these providers are very well matched up, and both offer so much right off the bat. However, like I touched on with the Business Phone Solutions, Nextiva delivers the more important functions and features right off the bat in their first tier. RingCentral even holds off on HD voice for their second tier.
Although there are a few important differences that do exist in their offerings, like how Nextiva provides what is essentially unlimited minutes (3,000 per month per line is roughly where they might start to question things), and when you look at what features are included where Nextiva at the cheaper price point can stand as a better buy.
Any business is correct in hoping they will never have to rely on support for their UC or VoIP service. Yet we don't live in a perfect world, and even the most reliable network can experience hiccups or full out downtime. Emergencies occur, phone systems go down, and emails fail to send – so when the worst-case scenario unfolds, any business would also be correct in hoping they have the proper support from their provider to fix the issue as soon as possible.
If solid, quick, effective, and helpful support is what you are after when searching for a Business VoIP provider, then both Nextiva and RingCentral are excellent choices. In fact, Nextiva is pretty well renowned for its U.S. based service, while RingCentral is not far behind.
Both providers offer full week support, with email, instant chat, and of course phone options – oh and even self-help options. Here's a closer look at how the two compare when it comes to support and help:
| | | |
| --- | --- | --- |
| Hours | Mon-Fri: 5am-6pm (MT)Sat: 9am-1pm (MT) | 24/7 |
| Email | Yes | Yes |
| Instant Chat | Yes | Yes |
| FAQs Section | Yes | Yes |
| Video Tutorials | Yes | Yes |
| E-Guides | Yes | Yes |
| Online Ticket Submissions | No | Yes |
| Average Wait Time | 9 Seconds | 1 Minute 21 Seconds |
| In-House Support | Yes | No |
Nextiva
Probably what Nextiva is most known before, right behind their innovation, is their award-winning support– just take a look at these Nextiva reviews.  Nextiva boasts on its own webpage that it answers 95% of both sales and support calls by the second ring, with little or no hold time. Nextiva also promotes they will offer completely customized solutions to help any business. But the real focus is their support, of course with the traditional options and newer self-service offerings.
While many of us hope we'll never have to even pick up the phone to dial into support, it's always good to know that your provider strives to offer the best service ad support they possibly can.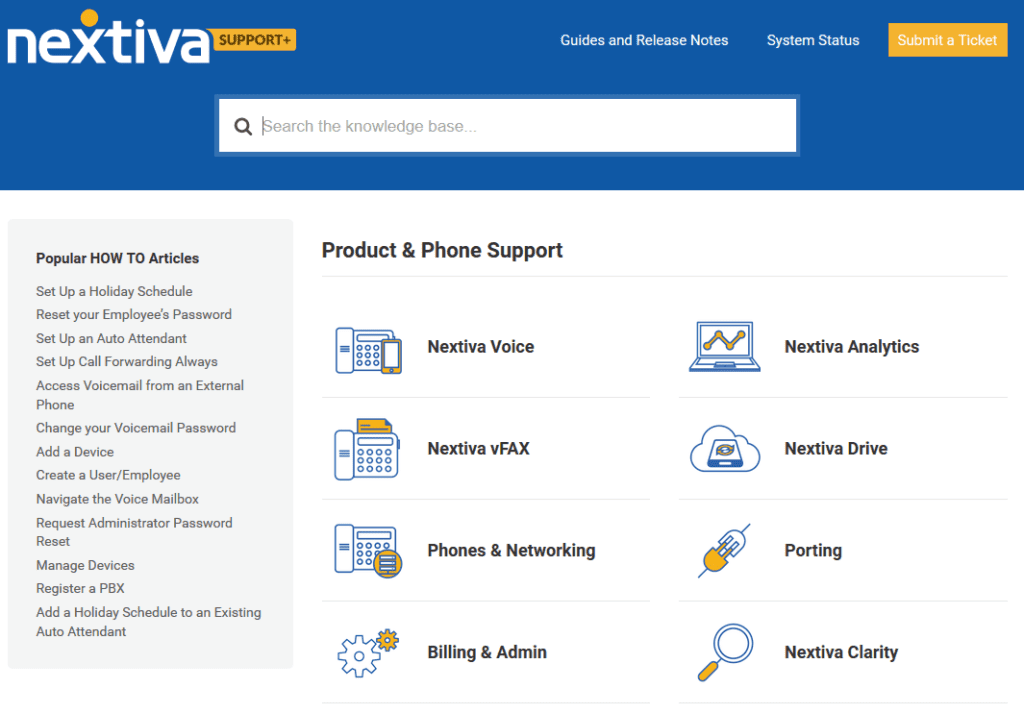 Of course, Nextiva also has a whole selection of video tutorials, a massive FAQ section, online e-guides, and an entire Support Help Center for any product to find the exact solution you need. When it comes to tiers or levels of support, Nextiva doesn't sell packages or plans but provides the same level of support to all users.
RingCentral
Thankfully RingCentral also strives to offer the best support possible for all of its users, just like Nextiva, with its massive Customer Care Center. Contact support through online chat, of course calling or emailing support, or even asking the community on the RingCentral community forums. One level of service that RingCentral ultimately does provide over Nextiva is the ability to open a case online.
Just like Nextiva, RingCentral's Customer Care Center is equipped with the tools that empower users to find the solution themselves. The previously mentioned RingCentral community is a great resource for those really obscure issues or creative insight.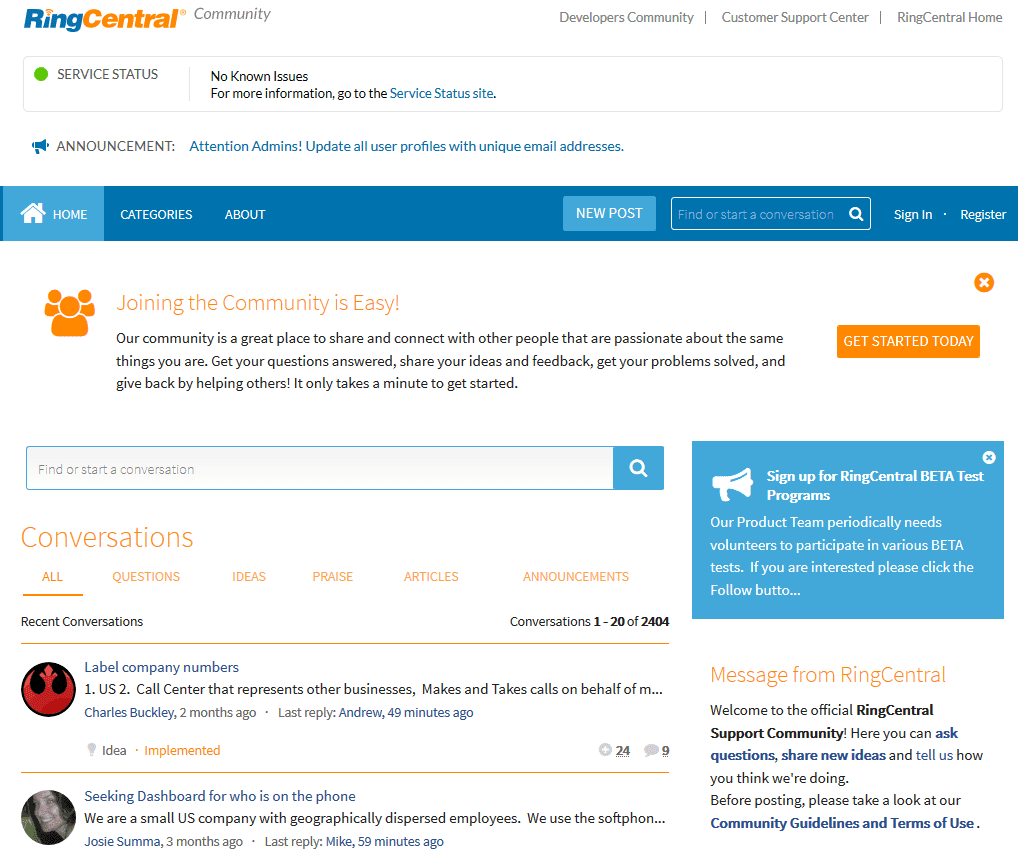 But RingCentral themselves also offer an entire medley of resources with video tutorials, a helpful FAQ, tutorial list, product documentation archive, and even professional training courses.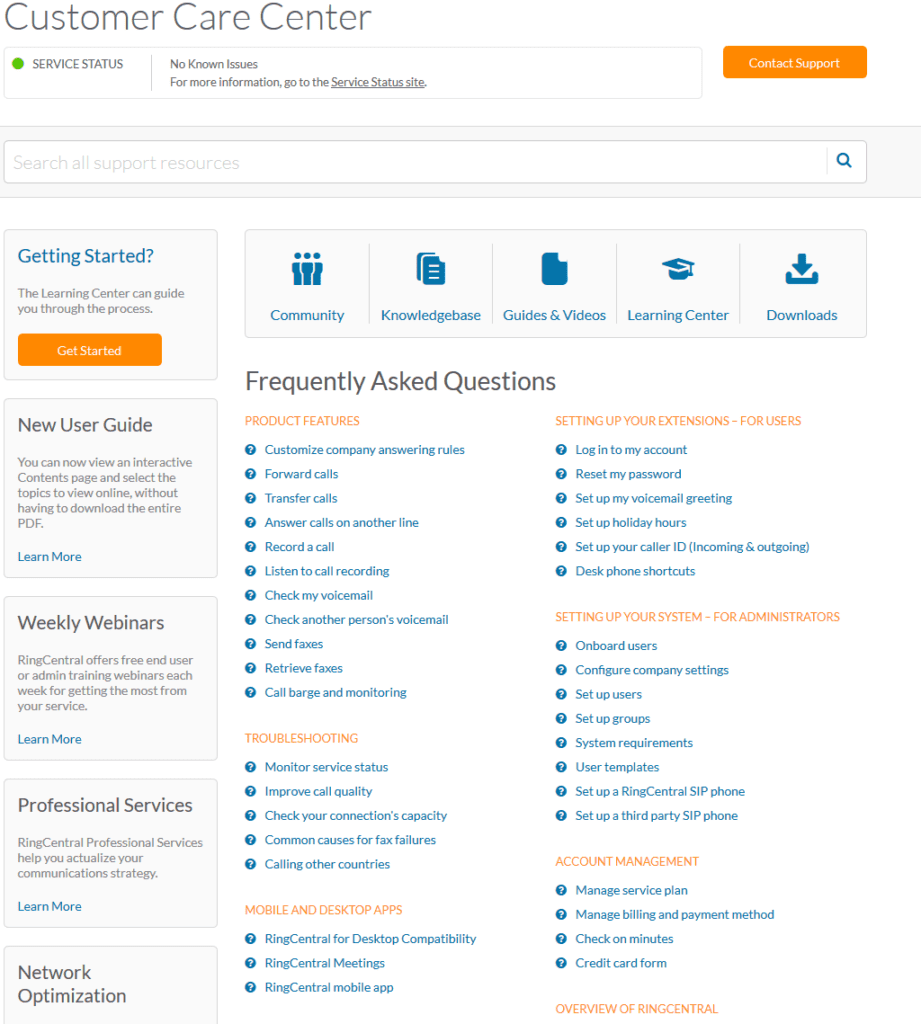 Verdict: Nextiva – While both are very comparable when it comes to resources, and RingCentral does go the extra mile with their Customer Care Center and the idea of opening up support to the community with an official forum is a great idea. However, Nextiva is very, very well known for its award-winning customer service, and that does count for something.  At the end of the day, what really matters with support and service is the ability to actually solve the issue, and have a customer turn away happy.
Little things from wait times, to the attitude of an agent, can go a really long way in turning users away from your platform – especially when the service is for something as absolutely crucial as a business' entire communications system. So for that reason, we almost have measurable evidence that Nextiva can provide superior service to a large number of players in this industry, and like I said before, credit where its due.
Probably one of the most recent categories and trends to develop, especially for UC in 2017, integrations allow us to seamlessly connect the tools we already use. I don't mean taping a hammer to your screwdriver, but connecting CRM and your softphone app to allow agents to quickly and easily transfer information and receive all the necessary call controls and caller details to best serve that query. Nextiva seems a little shy on the interrogations, but their own unique more than makes up for what they are missing and the really powerful ones that matter most are included.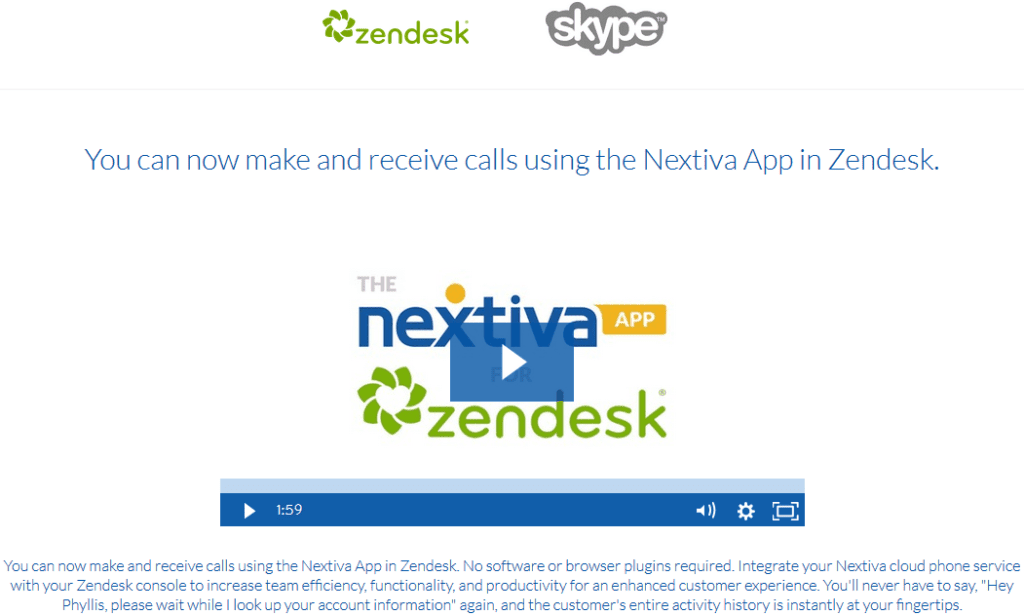 Each integration helps us save valuable time and empowers agents to provide better results for more effective support. Both providers have you covered with integrations, and the true beauty is the ability to create your own integrations if you are so capable, or have an in-house developer on the team.
| | | |
| --- | --- | --- |
| Integration | Nextiva | RingCentral |
| Box | No (Nextiva Drive) | Yes |
| Dropbox | No (Nextiva Drive) | Yes |
| Google apps | No (Nextiva Drive) | Yes |
| Netsuite | No | No |
| Office 365 | Yes | Yes |
| Oracle | Yes | Yes |
| Outlook | Yes | Yes |
| Salesforce | Yes | Yes |
| SugarCRM | Yes | No |
| Zendesk | Yes | Yes |
| OneDrive | Yes | Yes |
However, there are a solid number of incredibly integrations that one should expect a provider to ship their solution with. So we decided to take a look at what each provider has to offer out of the box for those that aren't as crafty. Note, since RingCentral does offer Glip, which once was, and in fact can still operate as, stand-alone app, they do offer slightly more integration options for at least that unique platform.
RingCentral makes a point to flat out show of a higher number of Integrations, but Nextiva has them where they really count in the end, and offers their own strong solutions – many might say these don't count for integrations, but the fact of matter is when you have one platform that already does what you need, seamlessly in just that one platform, there is no need for integrations. Something Nextiva has done a good job with.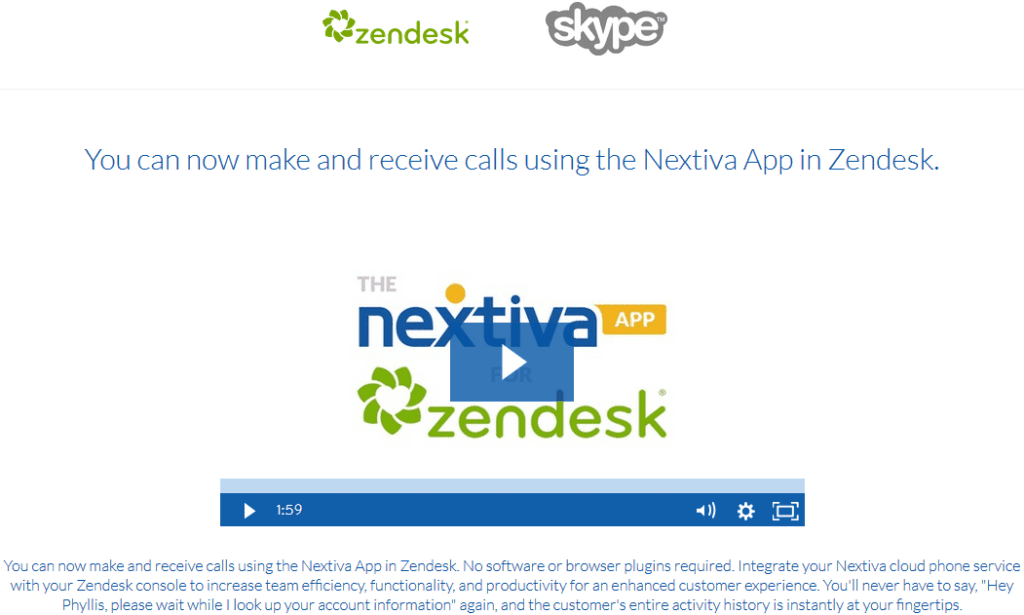 Verdict: Nextiva – Ignoring the storage integrations, which can be flat out negated with Nextiva Drive, Nextiva moves for a bit of an edge. I will admit, this isn't a completely fair comparison for either, seeing as how integrations are flexible and can always be made, or even exist through other platforms like Zapier. However, in our list of what we consider common and important integrations, Nextiva pulls ahead with the inclusion of the popular SugarCRM.
Both RingCentral and Nextiva systems are capable of receiving and dialing international calls, all around the globe. And since all of your phone calls are going through the internet, you could technically just ship some IP phones to office and Europe, hook them up to your Nextiva or RingCentral account and make or receive calls.
However, what really differs here is the availability of numbers around the globe. Take a look at the list below to see for yourself.
| | | |
| --- | --- | --- |
| | RingCentral | Nextiva |
| North America | United States, Canada | United States, Canada |
| Latin America | Mexico | NA |
| Europe | United Kingdom, Belgium, Czech Republic, Denmark, Finland, France, Germany, Ireland, Italy, Luxembourg, Netherlands, Norway, Poland, Portugal, Romania, Slovakia, Span, Sweden, Switzerland, | NA |
| Middle East | Israel | NA |
| Asia and Pacific | Australia, Hong Kong, New Zealand, Singapore, India, Malaysia, Philippines, Taiwan | NA |
One of the major differences we noted is that RingCentral lists availability for their Office platform in multiple countries around the world. But on the flip side, Nextiva will only list their service as available in the United States, but also includes unlimited calling to Canada.
As I explained, if your office or business is located in the United States, you could simply sign up for a Nextiva account with your US address, receive a US number, and utilize that oversees (toll-free would be best). However, it seems as if RingCentral is capable of providing more direct service in a larger number of countries.
Verdict: RingCentral – In reality, Nextiva does still allow users to place and receive calls overseas, and it would be completely possible to establish an office with phone lines directly included on your U.S. based Nextiva account. However, customers and prospects will have to dial into a U.S. based toll-free number, and service won't be independent from your U.S. office if necessary.
Meanwhile, RingCentral does promote service availability in a large number of countries outside of the U.S. and Canada, spreading into Europe, the Middle East, Asia and reaching all the way to Australia and New Zealand out in the Pacific. So if you have offices all around the globe, or need a more global presence, RingCentral would be your go-to in this case.
Network Structure and Quality Guarantees
While so many different factors come into play when considering a provider that will handle something as crucial as your company's communications, the true backbone of any provider, and the core behind the functionality of your entire phone system is the network. While customer support and affordable plans go a long way to resolve any issues if they do happen to pop up, but if your provider's network cannot keep up overall and is plagued with constant outages, the overall experience will be miserable, for both your team and your callers.
If there's one specific factor that can make or break a provider, far more than the features and products they offer, it can come down to the stability of the network and Quality of Service the provider delivers. Even the best, feature-packed platform can be rendered unusable with a poor network backbone.
| | | |
| --- | --- | --- |
| Network | Nextiva | RingCentral |
| Number of Server Locations | 8 | NA |
| Fully Redundant Network | Yes | Yes |
| Service Level Agreement | Yes | Yes |
| Real-time System Status Monitoring | Yes | Yes |
| Uptime Guarantee | Varies | Yes |
Thankfully, both Nextiva and RingCentral are clear leaders in the industry and have done their homework to employ some of the strongest networks. To keep your peace of mind, both providers offer Service Level Agreements, an uptime Guarantee, and rely on fully redundant networks. Oh and just in case anything ever does go down, both providers offer real-time system status monitoring to take help to identify what, if any, problems are occurring. However, there are a few differences worth noting.
Nextiva
One of the keys to a stable, reliable and robust network is the redundancy, and locations, of a provider's servers or data centers relative to their service availability. For Nextiva, that means they employ 8 different server locations throughout the United States, and since their network is fully redundant you could probably split that figure right down the middle. As I mentioned above, Nextiva also provides users with a network status page to see just what service is up, what is having issues, or any known issues in the past.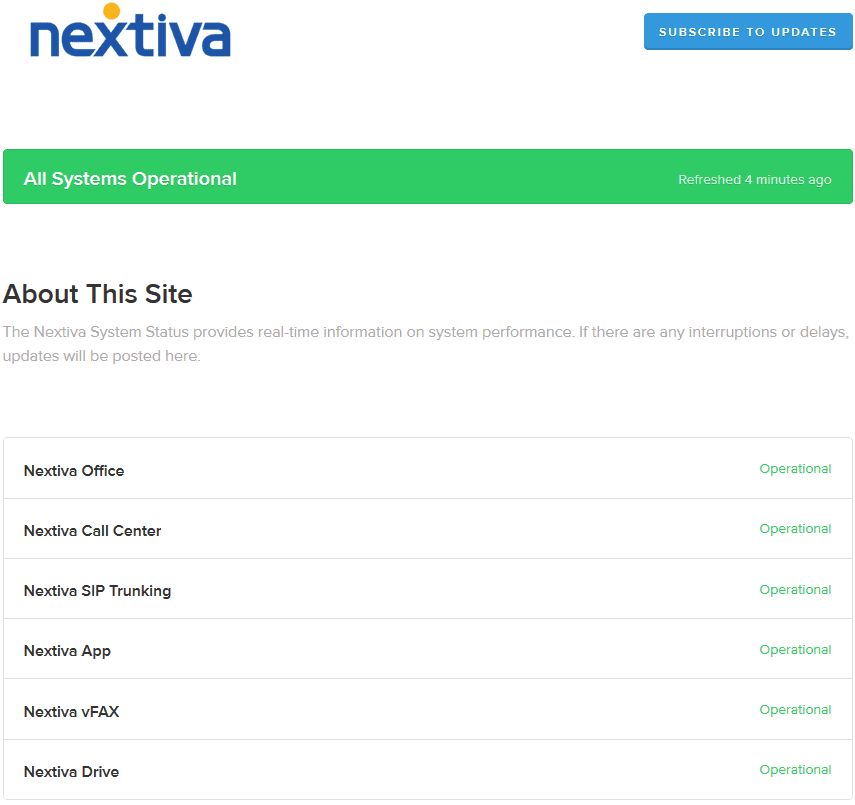 So not only does Nextiva have the hardware, and make that clear to all, they are so sure of their service that Nextiva claims a 99.999% service uptime – and those 8 server locations? Turns out, Nextiva has built its own carrier-grade platform, comparable to the big Tier 1 telecom names. However, where things start to get a little shaky is Nextiva's SLA. While Nextiva will engage each customer in a unique agreement and will guarantee their service up to that 99.999% figure, they do not necessarily always engage in a direct service level agreement.
But with such a robust network, strong redundancy, and the guarantee they do provide you can rest assured Nextiva's network has you covered. And at least if things do go wrong, Nextiva is the best customer service you'll receive in the industry.
RingCentral
So to start on even footing, just like Nextiva, RingCentral will also boast of a 99.999% service availability and uptime. RingCentral also does supply its users with a service status website, however, this isn't as easily accessible as Nextiva's. Nextiva allows everyone, even non-users, to quickly check their network status on multiple different layers of service from their Office platform to the Call Center network, and so on.
Meanwhile, RingCentral does include an overall "System Status" indicator on their Customer Care Center we took a look at before. But, if you want a closer in-depth look at what's going on with the RingCentral network, you'll need a service account and you'll have to log in. But once you do log in, it will look something like this.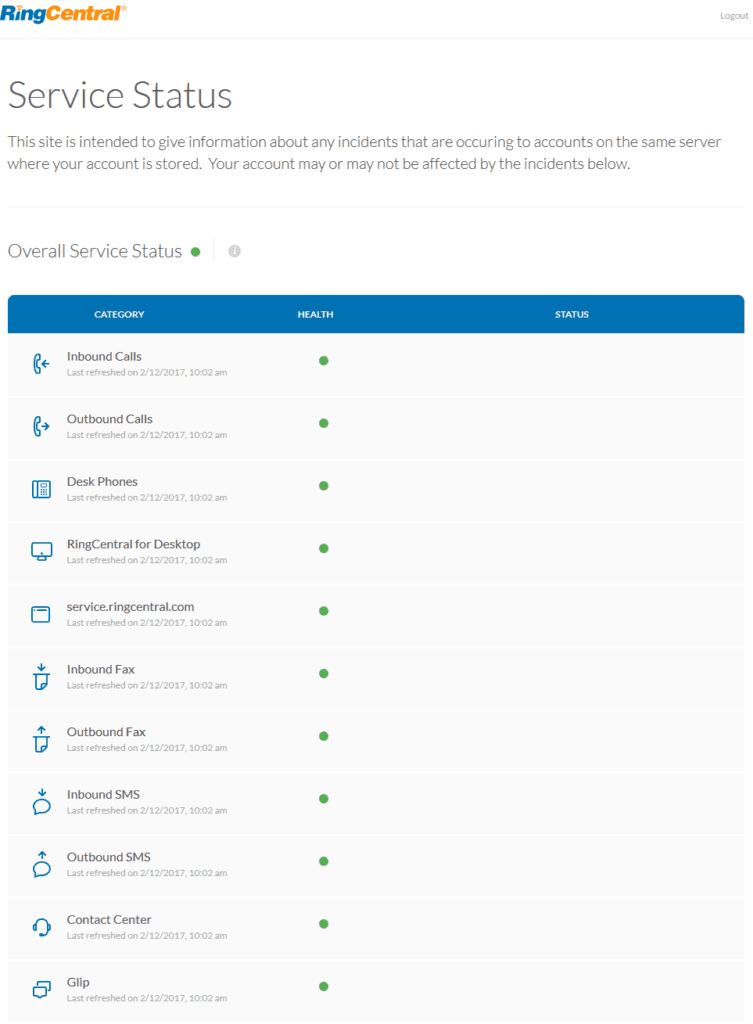 On top of that, while RingCentral does guarantee 99.999% uptime, and RingCentral, in fact, promises full redundancy in their network just like Nextiva, RingCentral, however, is not so quick to share with us the number of data centers or server locations that they do employ. So while we have their word that the network is fully redundant, and as we know RingCentral does seem to spread their presence overseas a bit.
A global presence requires more data centers around the globe, it just isn't possible for us to confirm a hard number, unfortunately. Also, unlike Nextiva, RingCentral is willing to engage all customers in an equal Service Level Agreement.
It's very, very clear that both Nextiva and RingCentral are some of, if not the, leading Hosted PBX and Business VoIP providers in the market. Both with strong robust networks, both with redundant servers,  both with comparable features and even comparable pricing plans, both with an equal footing on integrations or comparable solutions and both with way above average customer service. There are a few clear sections where a leader emerges, but in reality, these verdicts will be mostly subjective opinions and perceptions of what it is your business needs.
We try to do our best to make a surface level, apples to apples comparison, but at the end of the day deciding between one of these providers will fall back on a number of factors that your business needs to recognize, identify and prioritize. However, there absolutely are some key factors that will be universal and could lead your business in one direction as opposed to the other.
Nextiva would make sense for your business if:
Nextiva offers flat out cheaper calling plans with what are essentially unlimited minutes, along with a cheaper entry-level call center solution. If bottom-line cost savings without any concern over losing features are what you need, Nextiva wins on the cost side.
Nextiva supplies what can be considered a higher level of quality data transfer with redundant server locations and a strong focus on U.S. only, and with a carrier-grade network. If absolute call quality is a concern in the domestic market, and your business is not concerned with international communications, Nextiva should be able to provide that peace of mind for your business.
If your business is looking to stay with one closed ecosystem, as there are many benefits to such an approach, Nextiva's unique offerings like the Nextiva Drive, Nextiva Analytics and the NextOS are a great way to keep all your tools in one familiar and seamless toolbox. Do away with integrations and have everything under one roof, to begin with.
Let's be honest, customer service is important – especially when the service is for something as crucial to your business as a phone, or communications, system. If customer service is your highest priority, and no one would blame you, then Nextiva wins hands down.
RingCentral would make sense for your business if:
Your business has an international presence and would like to extend that presence with a local number, or even just independent communications service for a new location, RingCentral is the clear winner. With a higher level of service availability, this could remove the headache from the work-around approach to an international presence of using a toll-free U.S. based number.
If features are on your mind, and your business is looking for the absolute best bang for the buck, RingCentral does start a little pricier than Nextiva but manages to rope in even more features and add-ons to even their lowest tier of pricing. Between Glip, mobile apps, toll-free minutes, even call log reports right at their lowest tier, RingCentral is a clear winner. Nextiva even limits their HD voice to their second-tier plan.
Since RingCentral offers a multi-channel contact center solution, if your business is focused on delivering the most up-to-date call center experience, adapting to modern trends, then RingCentral is going to be your contact center choice hands down, no questions asks.
The inclusion of a Glip subscription, or even the ability to purchase Glip on its own, sets RingCentral a bit ahead in the UC department as well. Nextiva's mobile app is unique in that it adds the same great UC features right in, but Glip is a really powerful platform, one that I personally enjoyed more than Slack even. It's a pretty strong muscle for RingCentral to flex, and again credit where it is due.
Additional Reading