Due to a power issue in one of their datacenters, ShoreTel Sky dealt with a short outage yesterday. The issue has since been resolved, with the Business VoIP provider gracefully keeping their customers in the know throughout. The initial acknowledgement of the problem came at around 10PM EST on September 20, and full service had been restored to all customers about 3 hours later. Besides providing running updates with a projected time frame for a fix, ShoreTel Sky is still looking into what caused the issue as a preventative measure from it occurring in the future. In a blog entry from their website this morning entitled "Information About Yesterday's Service Issues", the provider stated:
"We regret any inconveniences our customers and partners may have suffered as a result of the technical difficulties we encountered yesterday. Our focus now is on understanding what happened and how it can be avoided in the future. Transparency is very important to us and we intend to share the reason(s) for the problem and provide a chance to ask questions. To that end, we have scheduled a webinar during which our head of Engineering will speak with clients and partners directly. All customers and partners will receive an email later this afternoon with webinar details and a registration link. We encourage everyone to attend and ask any questions. We look forward to addressing your concerns."
The business VoIP provider has yet to follow up with the exact reason(s) for the outage, but have already started to respond to customers individually. In addition to their top-notch transparency, ShoreTel has a site called trust.shoretelsky.com, where customers may find up to the minute updates on their service, in addition to a full history of outages. Indicated on a detailed grid, are green squares, which mark that service is working normally, blue squares, for maintenance, and orange – an issue that is being worked through and fixed. The quadrants are broken down by date and type of service, with a maintenance tab noting upcoming unavailability due to scheduled upkeep.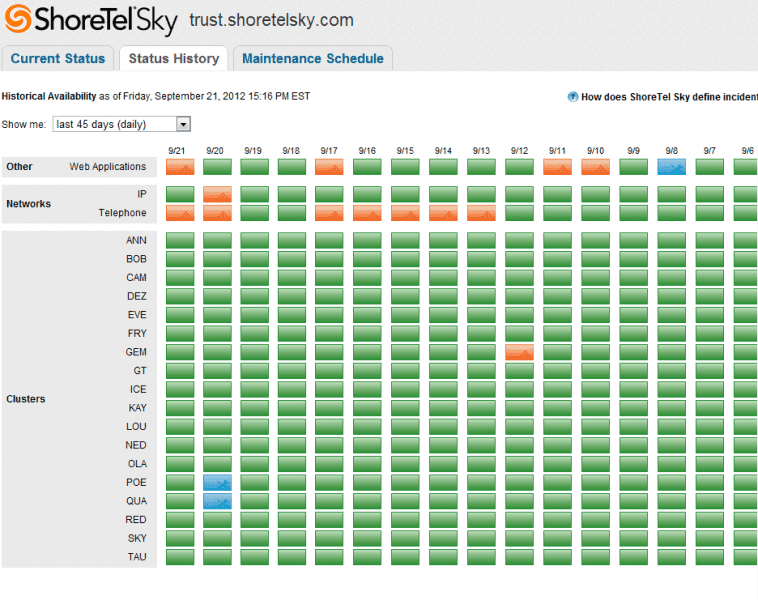 ShoreTel Sky's practice of allowing open, real-time monitoring of their service, is almost unheard of – but certainly not unwelcome. Problems with their service however, are extremely sparse, and incredibly short-lived, as their diligent technical team is clearly at the top of their game. Those looking to subscribe to a business VoIP service, will definitely find this reassuring and almost comforting, as ShoreTel  proudly stands by their product no matter what the circumstance.
Related:
– ShoreTel Sky Introduces AppFuse, New SalesForce.com Integration
– ShoreTel Announces New Solution, ShoreTel Sky
– ShoreTel Sky Reviews & Service Ratings