As you can guess from our website's name, we favor VoIP over POTS. But, we don't live in a bubble. We do understand that the PSTN/POTS has certain perceived advantages over VoIP. While virtually every other article will address some new innovation or advantage that VoIP has over legacy systems have, this article will directly address concerns you may have about changing your residential, SOHO, or SMB phone service to VoIP.
Simplicity
Quite frankly, you can't beat the simplicity of doing what you're already doing. A PSTN phone has a simple purpose: you pick it up, dial the number, and talk. You plug it in and it works.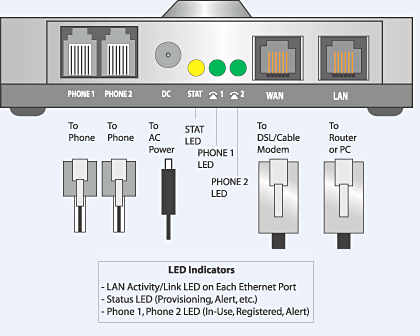 VoIP is very simple as well: you plug it in and it works. The only difference is that instead of plugging into your telephone jack, you are plugging into an Analog Telephone Adapter. The ATA goes somewhere between your modem and your computer, and has both an input and output. The best way to do this is to have your ATA go before your router, but it can go after if that's the only way it works for the size of your home or office. Let's say you have your phone right next to your computer. With everything electric unplugged (safety first!), you use the jack labeled "LAN" and connect that Ethernet cable to your computer. You use the jack labeled "WAN" and connect that to your modem or router with an Ethernet cable. You connect your phone, using your regular phone cable, to the jack labeled "phone," or "phone 1." Turn everything on and listen for the dial tone. It really is that simple. You can get an ATA for as low as $30, and many VoIP providers offer a free equipment lease.
Keeping Your Old Phone Number
The process of keeping your old phone number is called "Number Porting," also known more formally as "local number portability." When you switch any provider, you can decide whether or not to keep your number. If you want to keep your number, you need to fill out a form called a "letter of authorization." Your new VoIP provider will take care of all the details, just be sure not to cancel your service with your old provider until your port is complete. Due to recent FCC changes, the port usually takes only a few hours to one business day. In that time, you will be able to make calls normally.
Network Reliability/Uptime
We cover network outages from different VoIP service providers when they do occur. But, on average, every VoIP provider promises 99.9% uptime, the same as PSTN carriers. You're more likely to notice an outage because you don't see the reason. If a phone goes out, it's usually during a snowstorm, or some other natural disaster, and you're quick to forgive a company for going down when you can see the reason. Ironically, when the PSTN companies are at their worst, that's when VoIP is at its best. The decentralized nature of the internet makes VoIP less susceptible to local outages, even after earthquakes and storms. With VoIP, you can set your phone ahead of time to automatically forward to one or many numbers, so you can be ready even if your power goes out or your local ISP has an outage. You can also help avert problems by having an uninterruptable power supply and by setting up a Power over Ethernet system.
Can I still dial 9-1-1?
For years, VoIP service providers only offered 9-1-1 as an expensive option, as technical limitations and costs hampered development. The FCC has regulated that every VoIP service provider that also connects to the PSTN must carry some form of 911. Many VoIP providers have contracted with outside companies that specialize in emergency response, such as 911 Enable. Compared to legacy PBX systems, E-911 is much better, because emergency responders know exactly where to go, even if the hosted PBX covers several buildings. It is very important, given that information is being sent to emergency responders, that the information be accurate. As we see an increase in adoption of VoIP and mobile VoIP, there is also a push to include software that will geotag emergency VoIP calls.
Will it sound as good?
Digital audio quality is measured in bitrate, and the higher bitrate you have, the better audio quality you have. PSTN telephone have a bitrate of 8 kbit/second, which is about 32 times less than a song you download on iTunes. On average, VoIP codecs have a bitrate of 64 kbit/second, although if you don't have the bandwidth for it, your VoIP provider can adjust it so that you have a lower bitrate, usually 48 or 56 kbit/s. VoIP codecs also have echo cancellation, comfort noise, and other subtle features to make even calls to older phones sound better to you. It is true that many factors can affect your listening experience, but many of these factors can be controlled, accounted for, and dealt with accordingly. You should expect your phone to sound, at the absolute minimum, just as good as it did before you signed up for VoIP.