Popular video conferencing and workplace collaboration platform developer, Zoom, announced the arrival of its freshest offering at this year's Workplace Transformation Summit, 2022. Zoom's latest; is a conversation intelligence add-on for Zoom Meetings, one that turns customer interactions into what a spokesperson for the company called in a statement: 
"Meaningful and actionable insights set to improve seller performance and customer experiences." 
This year marks the second consecutive year for Zoom to host its Workplace Transformation Summit: a virtual event focused on ways to fundamentally reshape the way we work by offering business leaders actionable insights for navigating the new normal and the future of work.  
The unveiling of the latest innovations to the Zoom platform comes at a decisive point in time, as more companies decide to become fully remote or not.
This is precisely the decision Zoom made at last year's event: announcing it would let its employees choose how they want to work, hybrid, full-time remote, in-office full-time, or some other combination TBD by employees and management on a case-by-case basis. 
As more U.S.-based companies opt for a four-day workweek, the stakes for productivity, efficiency, agility, etc., have never been higher – expressly as companies hope not to sacrifice things like customer experience (CX) merely because employees can work from anywhere.
Contact Center Ambotins Start to Materialize 
Zoom IQ for Sales expects to offer a consistent customer experience for those working remotely via intelligence during the sales process – a functionality set to compliment Zoom's recently-launched and homegrown CCaaS solution. 
The tool essentially turns customer interactions into actionable insights, helping unify efforts across marketing, sales, and business development with the desired result of improving critical customer interactions. 
Zoom IQ will also aim to enhance salesperson productivity; with the help of automation of tasks like next steps, risk assessment tools, and the add-on extends a new quick search functionality. Furthermore, it is closely integrated with Salesforce, leading calendars, and Zoom Meetings. 
According to Zoom, the add-on: consolidates workstreams and provides an aggregated view of conversations and opportunities.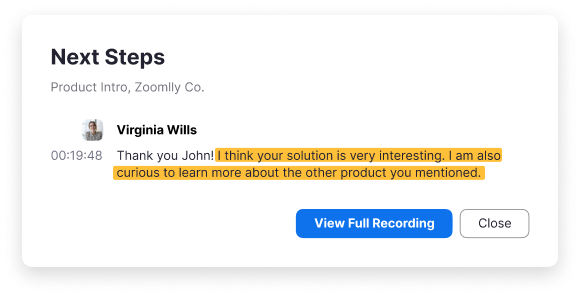 With the relative ease of use front of mind during the development process: Zoom's intuitive web interface makes it simple for workplace administration to onboard new users and even manage integrations. Users can view insights and recordings at a glance, and the offering is highly-scalable – just as most cloud-based solutions are.
Now available, Zoom IQ for Sales will soon extend support for Zoom Meetings. Oded Gal, Chief Product Officer at Zoom, said the whole thing is about lending world-class customer service in what he calls a 'video-first world.'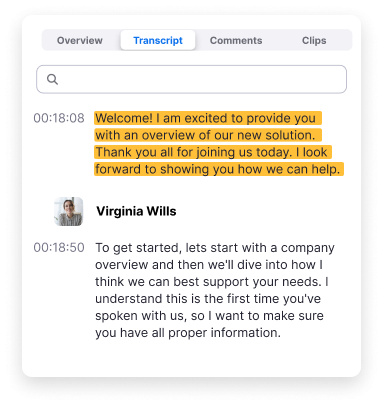 Gal went on to say:
"Whether it is a call with a customer service agent, a video meeting with the sales team, or a hybrid event with customers and prospects, world-class customer engagement is where competitive differentiation happens." 
Zoom Enhances Zoom Events, Webinar
These enhancements also aim to improve the presenter experience during virtual events hosted on the Zoom platform. During the Coronavirus Pandemic – we witnessed a rise in virtual and hybrid events, which Zoom calls a crucial part of all marketing strategies. 
"It allows them to connect with customers and prospects on their terms." The company said in a statement, by far, one of the most requested features for Zoom Events, a single platform that lets companies create virtual and hybrid event experiences: is a gathering space for speakers to meet before, during, and after a session.  
"To meet this need, we launched 'backstage,' a new feature that allows panelists, speakers, and production crews to stay behind the scenes while viewing the live webinar feed, chatting with each other, answering event-goer queries, and fine-tuning their presentations."
Zoom also announced the arrival of two more Zoom Webinar features. According to Zoom, the features; were designed for those who wish to present information to large online audiences. 
It does not matter where in the world these folks attend the event from: or the device they use to access that event. The firm introduced webinar reactions, a feature set to let attendees leverage reactions that eventually get displaced in the bottom right-hand corner of the offering's main webinar window.
Reactions are visible to event/webinar hosts, panelists, and attendees alike. Lastly, Zoom announced 'Webinar session branding,' which lets hosts customize the appearance of the in-webinar experience.
"Hosts can do so by adding wallpaper behind the video tiles, setting a common virtual background for all panelists, and providing name tags for each panelist."
Webinar reactions and session branding are available now, and later this month, Zoom said it plans to make 'Events backstage' generally available. Zoom Events session, as an experience, will also be available for Zoom Rooms in late April. 
The move will allow hosts and attendees to join events from any Zoom Rooms appliance. Dave Michels is the Founder and Principal Analyst at TalkingPointz, a UCC industry blog: and he recently noted that Zoom's latest innovations are another example of the company's ability to breathe life into new solutions – quickly and seamlessly based on what customers want. 
"With the introduction of Zoom Events, Zoom Contact Center, and now Zoom IQ for Sales, the Zoom platform will likely impact how we reimagine the customer experience."
He contends that Zoom could do so by expanding its technology to facilitate the entire customer journey from marketing to sales and ongoing support – leading to what experts call: 'a total customer experience.'
Upcoming Zoom Interview
I recently sat down with Heidi Elmore, Zoom's Head of Product Marketing, for an interview about some of Zoom's recent innovations, including its move to launch new features like avatars in one of its latest releases. Stay tuned later this week for that interview with Elmore.
I learned a 'metric ton' about some of the company's innovations in an ever-changing space, and I hope to share those with you later this week. Zoom appears at the top of its game – so anything it does at this point is likely not arbitrary.
It is, seemingly, a calculated move, as the firm becomes increasingly synonymous with video conferencing/workplace collaboration. Stay tuned for the latest UCC industry news and headlines on GetVoIP News.