Today Zoom announced it would join a handful of other companies to let employees choose how they work. The announcement – made at Zoom's first-ever "Work Transformation Summit. 
Cisco, Slack, Apple, Amazon, Meta (formerly Facebook), Dropbox, Google, Hubspot, Indeed, Microsoft, Salesforce, and Verizon; all let their employees work from home permanently if they wish to. Zoom, however, introduced "workstyles," the video conferencing giant's unique approach to what it calls the next phase of work that:  
"Empowers employees with the flexibility, choice, and trust to decide where and how they work best," according to a blog post announcing the new workplace policy.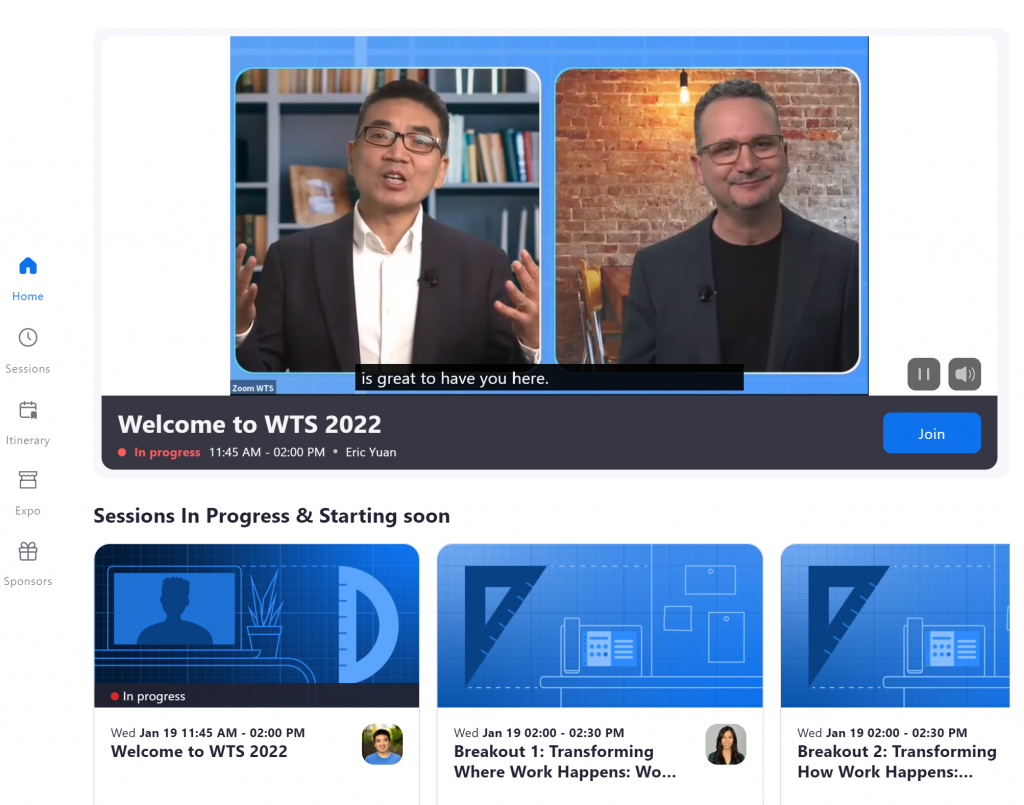 As enterprise leadership struggles to keep up with what is safest for employees, they also experience dreaming up viable policies that positively impact their bottom line. This remains a difficult balance to maintain, which Zoom's Workplace Transformation event attempts to uncover by answering questions like: 
Do we return to the office; or implement hybrid or remote models? 

What is best for our employees, customers, and company? 

What model is most productive, employee-friendly, and suitable for our unique company culture and how we work? 

Whatever we choose, how can we make it successful? 

What will this choice mean for our tech stack, policies, hiring, real estate, and more?
While there are a lot of possible answers to these queries, the most obvious, at least for Zoom and countless other firms that have given employees the power to choose how they work – is flexibility. 
A Changing Worker Demographic
Zoom's worker demographic has ripened since the outset of the Coronavirus Pandemic. Today, 98% of Zoom employees operate remotely. According to Kelly Steckelberg, Zoom's Chief Financial Officer:
"The remaining two percent of workers consists of employees whose roles primarily consist of on-site work like managing office spaces and supporting physical equipment." 
Zoom's workforce grew from 2,400 to 6,100 employees from February 2020 to December 2021, and these employees, according to Zoom, are more geographically dispersed than ever. The video conferencing firm; today has employees in 35 countries with more than ten offices globally.  
When it is Safe to Reopen, What Should We Do? 
While this seems to be a million-dollar question, there is no; one cohesive response to it. Each company has a different response, comfort level, and policy regarding a mass return to the office. In an internal survey of Zoom employees last summer, it became clear to Zoom leadership that workers had the final say – and they did not want to return to the office full-time. 
Data collected from that survey reveal that a mere one percent of Zoom employees said they wanted to work full time from the office. Over half of Zoom employees indicated – they preferred flexible and hybrid-work styles. 
"Essentially. When it is safe to reopen, and employees are comfortable, Zoom's "workstyles" will offer options for in-person, remote, or hybrid work arrangements," Zoom CEO Eric Yuan said. 
The concept of asking employees what they want to do is not novel and speaks to the heart of Zoom's mission of delivering happiness to employees and customers. 
Zoom's New Work Policy is Ultra Flexible 
It has something to offer every employee, and Zoom employees will even self-report according to the company. Employees at Zoom can now choose which work style is best for them. 
Another way Zoom is flexing its future of work might; is by noting: all new work styles and arrangments are independent of prior work arrangements. It holds plenty of implications for employees, too. If an employee moved away from the office during the pandemic – they do not move back.
For employees who reside near the office, they can also choose to work remotely, as Zoom does not factor in how close an employee lives when considering who is required to work in-office. Yuan did state that remote team members could meet in person periodically at the office.
Zoom's Australian Beta Roll Out
While Zoom has not rolled out the new policy company-wide, it has done so in Sydney, Australia, at its offices there. As such, the pilot, they say, serves as a proof of concept for reopening other Zoom locations and engaging in 'workstyles.' 
Yuan said that for Zoom's Sydney employees — and all other "Zoomies around the globe" — the Zoom video conferencing platform is fundamental in enabling effective communication and collaboration across workstyles.
Zoom's Greater Purpose is to Enable WFH, Forever
During Zoom's Workplace Transformation Summit, 2022, Yuan let attendees in on a 'secret.' He all but said Zoom wanted to fuel the future of work for millions who will likely work from home almost indefinitely. 
Yuan outlined all the video conferencing giant has done since the Pandemic started, too. With countless updates to offerings like Zoom Phone and Zoom Rooms, which offer a compelling case to power the future of work, each update – mostly about enabling greater flexibility and productivity, a prevalent theme for Zoom. 
Zoomtopia 2021, yet another time Zoom took to shine and release another batch of innovative features and even entered the augmented/virtual reality space. It teamed up with Mio to bolster its interoperability efforts, introduced Events Conference, the Zoom Video Engagement Center, futuristic hot desking features, etc.
Yuan further noted during today's event that the future of work is now, and we have entered it. Zoom plans to make work something we do – not a physical place. And Zoom is demonstrating that very notion internally, with its technology powering the majority of its workplace experiences, a whopping 98 percent, according to the video conferencing firm.
As we gear up for another year of flexible working and new Centers for Disease Control and Prevention (CDC) guidelines, we will undoubtedly place a heavier reliance on video conferencing and team collaboration tools like Zoom. Already, Gartner found that 86% of organizations conduct virtual interviews to hire candidates during Coronavirus Pandemic.