Vyopta is a player in the collaboration and experience management business that experienced a ton of growth and forward-momentum with customers last year. In a blog post, the collaboration firm opened up regarding the number of Collaboration Performance Management (CPM) user licenses purchased, which it says – nearly doubled during 2021. 
Vyopta, today, touts having 40 million collaborators, leveraging its suite of collaboration performance management and workspace insights applications to perform a range of tasks like the hundreds of organizations worldwide that span 20+ industries that use Vyopta to monitor six million endpoints. 
The firm also said it handles over 20 billion meeting minutes a year, likely breaking some records during 2021. In a statement, the company addressed the growth, noting: 
"CPM video-endpoints grew 15% in the second half of the year as organizations began to accelerate their hybrid work and return to office plans. By improving collaboration user experiences for life-saving telehealth services and critical team collaboration and customer engagement, organizations can continually get the full potential from their teams." 
Growth did not, however, come out of thin air. It has been in the works for some time, contributing to the record-breaking year that included everything from strategic partnerships to enhancements to its product roadmap to align with the unpredictable nature of the Covid-19 Pandemic. 
A Shift Toward Superb Customer Service 
It has never been acceptable to offer up (sub-par) customer experiences. Nevertheless, countless companies did so before receiving a reality check from the Pandemic. Today, more organizations concentrate on enhancing digital experiences for all parties involved – customers and employees. 
According to the collaboration firm, that got reflected in the kinds of licenses folks signed up to use. By and large, organizations accelerated the adoption of UCaaS user licenses across Microsoft Teams, Zoom, Webex, and Google Meet, according to Vyopta. That also translated to an increase in demand for services like voice monitoring and analytics capabilities, or, as Vyopta put it:  
"As many organizations have also been evaluating and, or investing in new voice technologies that better support remote and hybrid work." 
Developing and Revamping Products During a Pandemic
It turns out – if you listen to customers, they tell you what they want, in which case – your team of developers can make it happen. Vyopta said over the past year it did just that – advancing its core capabilities on several fronts. 
It hopes this will translate into higher returns on the investment thanks to sounder user experiences and improved technical performance. During this period, the collaboration firm released several updates and integrations, including: 
Real-time monitoring for UCaaS Webex with support for RingCentral.

It designed a new advanced intelligent monitoring engine. 

Saved search and search history, which lets IT and MSP teams (more quickly) resolve issues and standardize remediation practices across digital work teams.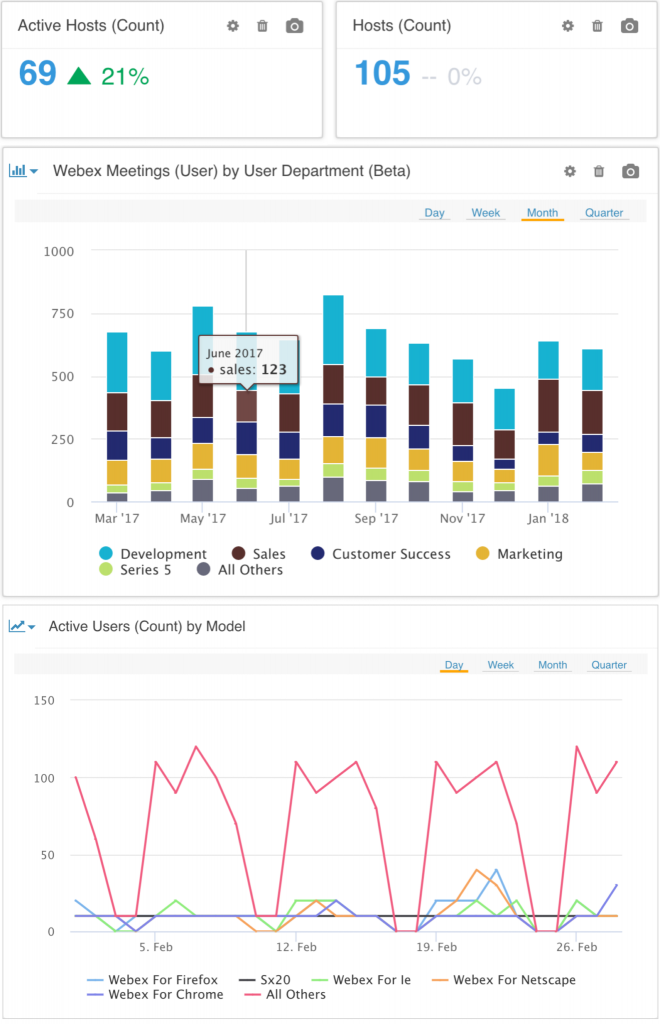 One more element that helped to push the collaboration firm along is when Vyopta became the first digital employee experience management solution to attain the Authority to Operate (ATO) from the U.S. Federal Risk and Authorization Management Program (FedRAMP). 
"This means federal agencies can now take advantage of the data insights that Vyopta provides, helping government entities improve the cloud-based communication and collaboration experience for their workers and operate as efficiently as possible."
Such a move did help to catapult its customer service capabilities into another league as it now meant that governments would soon be able to enhance previously inefficient processes and collaborate securely. 
Bring on the Accolades 
Frost & Sullivan also named Vyopta the 2021 recipient of the Global Customer Value Leadership Award – noting that the firm continually optimized its technology for better workplace collaboration – most of which gets done via a single pane of glass. 
"This gives customers insights to help them fully leverage their UC and collaboration technology investments, optimize the use of virtual meetings and meeting rooms, and improve employee productivity," Vyopta wrote in a statement. 
Also, on the accolades front, Inc. magazine named Vyopta number 131 on its Inc. 5,000 Regionals: Texas list, a list of some of the "most prestigious" and fastest-growing private companies based in the State of Texas.
Vyopta on Crunchbase
Founded in 2007, the private firm has three known investors and has raised a total of $25 million buckaroos, according to Crunchbase. Raising those funds over a series of six funding rounds, its most recent; raised on Mar 16, 2021, led by Vistara Capital Partners in an unknown funding round, according to Crunchbase.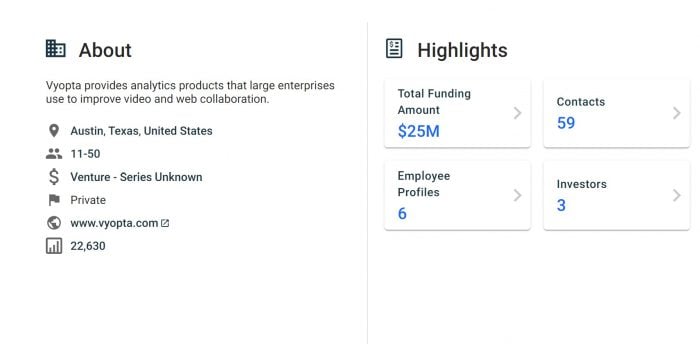 In terms of what the company is worth, Vyopta is valued anywhere between $10 million and $50 million, according to PrivCo. 
Collaboration Upticks Across the Board
Most collaboration platforms have experienced some form of a rise in usage. That is thanks, mostly to the Pandemic and most folks shifting (suddenly) to remote work.
Millions of new users flocked to platforms that helped them perform a number of tasks from redundant task automation to finding the most optimal time to meet with a group of thirty people – all with varying schedules, leveraging tools like AI to pull off such a feat.
There are plenty of reasons one might want to leverage collaboration technology – as today's iterations of the technology are drastically different than they were during the beginning of the Pandemic. Many modern offerings have withstood the test of the Pandemic and gotten a green light of sorts – signifying as long as companies continue to innovate growth is inevitable.
Vyopta's success over the past year also highlights one more thing – that a unique offering should get you far in a world where most seem to copy/paste features one after the other. In this instance, truly innovating in the space seems to be more of a rare occurrence. There are still, of course, still a proud few that manage to keep users on their toes as to "what's next?"
As for Vyopta – it seems that more success is on the way, and perhaps, down the line an acquisition or two. As a fairly established player in the industry, it would be nice to what kind of dough the company's taking in as well, which is likely as handsome as its newfound influx of licensing agreements.
Find out more about the state of team collaboration.