Unified communications solutions, more commonly known as UCaaS amongst those in the industry, have seen their fair share of growth throughout the pandemic. Providers in the space are innovative, too, notably the ones mentioned in this report.
Gartner notes: 
"They develop and operate cloud UC services offerings, superior collaboration, faster deployment, and often lower cost when you compare them to other premises-based solutions." 
In Gartner's 2021 UCaaS Magic Quadrant, which is fresh off the press, Gartner noted; by the year 2023, the number of remote workers will have doubled. They believe this will cause a shift in buyer requirements leading to a higher demand for work from anywhere capabilities.
And by the year 2024, 75% of enterprise users will not use a desk phone, a figure up 30% from 2020, forecasters at Gartner predict. Gartner further noted that: by the year 2022, 15% of organizations will rely only on cloud office suites, those like Microsoft Office 365 and Google Workspace, to fuel their business comms, including telephony. 
This all spells out a clear and present need for those in the enterprise world to get on board with cloud migration. These individuals will undoubtedly need to leverage these services if they wish to compete in the business market at large and extend superior customer service (CX) experiences. There is also a little component called keeping employees happy with the prospect of remote work. 
That is to say – at least for those seeking flexibility and continuity along with the potential of employee retention. Countless recent studies, including one by a Slack-backed research firm, suggest that workers are willing to leave their current job if they do not have flexible work options. 
So, what kinds of innovations are UCaaS providers cooking up at their respective HQs? I will explore that and much more in my deep dive into Gartner's 2021 UCaaS Magic Quadrant Report. 
How Does Gartner Define UCaaS?
Forecasters at Gartner define unified communications as a service (UCaaS) as a: "cloud-delivered service that provides many of the same functions as premises-based unified communications (UC) solutions." 
They note that UCaaS has matured, meaning that UCaaS is notably more superior; than most premises-based UC, collaboration, and mobility services.
"Unified Communications to Cloud-Based UCaaS. The procurement, operational, and delivery models for UCaaS typically require less time and effort compared to premises-based UC."
Simply put, there are a ton of benefits to implementing UCaaS into your stack. Gartner notes that there are several core capabilities required to be a UCaaS vendor, those include: telephony features, and often include emergency calling services with notifications/PSTN access.
"Providers that do not provide PSTN access services offer a "bring your (own) PSTN provider" strategy," Gartner wrote.
Gartner notes that telephony integration into the world of Microsoft Office 365 and its popular Microsoft Teams, CRM, and team collaboration app is more commonplace and something buyers require today. Meetings are another vital piece of the pie, and Gartner said that vendors must include multi-party audio/video conferencing capabilities with content sharing functionalities.
Firms that want to contend in the UCaaS space should include midsize screen and application sharing, and in-meeting messaging/file-sharing capabilities. Such services, according to Gartner, should be accessible via desktop app, mobile app, web app, and room systems.
I should also note; that Gartner's definition of meetings for UCaaS; does limit the capabilities to internal collaboration and external, what it calls "informal" meeting use cases. 
"There are other specialized use cases such as webinars; support, distance learning, etc."
Messaging is yet another principal component of UCaaS and arguably one of its most critical. Messaging enables users to exchange text messages and other information in real-time. But what we knew as messaging has evolved. 
It now includes two main modes: personal messaging for one-on-one communication and team messaging for groups or teams who leverage conversational user experiences. Messaging often means SMS integrations, which enable end-users to exchange SMS messages with external users leveraging UCaaS desktop clients, web, or mobile applications.
"Messaging presence and status capabilities allow users to view the status of other users and resources." 
Software apps (formerly software clients); enable a large part of the UCaaS experience, and UCaaS providers often extend desktop, web, and mobile apps for smartphones and tablets. They even frequently extend the use of software extensions/plug-ins that integrate with business applications, i.e., calendars, email, and CRM solutions.
A viable UCaaS solution must include communication APIs and SDKs, which allow the creation of programmable interfaces for seamless integration of various UC capabilities like contact centers. Marketplaces, collaboration applications, workstream collaboration, and plug-in or extension integrations for cloud business applications play a role, too. 
Communications platform as a service (CPaaS) for digital business application integrations, and integration with business analytics and conversational artificial intelligence (AI) capabilities are core capabilities – on the table as well and could be a part of a UCaaS solution.
How to Make the Gartner MQ Final Cut? 
It takes a lot to be included in Gartner's UCaaS MQ, which I will touch on a bit later in this section. Now, I want to talk about those we lost this year, those who were included in previous iterations of the report. Not this one, however. It does not mean these vendors are not still legit contenders for UCaaS glory; they merely did not meet the criteria this year and could reflect a shift in market trends.
Alcatel-Lucent Enterprise got dropped from this Magic Quadrant as Gartner notes it did not meet its criteria for inclusion. Wildix was added to this Magic Quadrant report. And in the previous version of Gartner's Magic Quadrant, Sangoma appeared as Star2Star; a name change that comes as a result of the acquisition of Star2Star by Sangoma in January 2021.
Ok, do you remember when I said it took a lot to make the final cut?
Well, here it is – the criteria to be included in the Gartner UCaaS MQ Report. There can be no more than 20 vendors per each report – a self-imposed rule put in place to help Gartner focus on the most relevant providers in a market. It does exceed this limit from time to time.  
It is paramount that the offerings have many advanced components, including self-developed capabilities, multitenant UCaaS core software, and a provider-operated core. They even have to have a user base of at least 300,000 users with calling capabilities.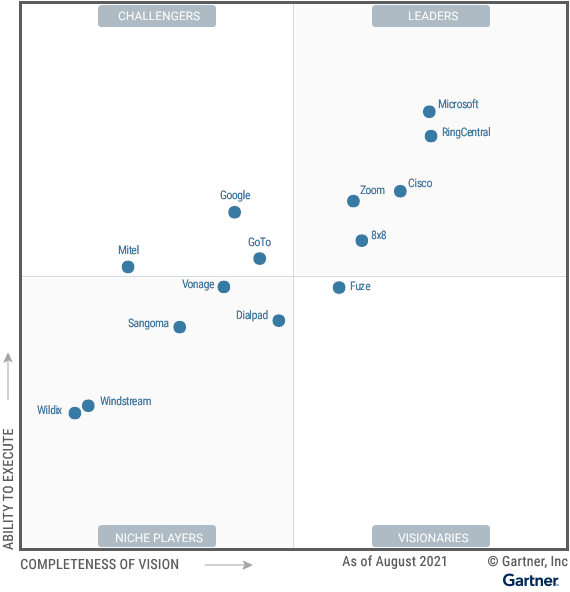 Gartner notes that UCaaS providers should have (at least) 10 customers and must have over 2,000 users entitled to calling/telephony services. These UCaaS providers must support (at least) two of the three geographic regions below:
Region 1: North America — the U.S. and Canada
Region 2: Europe — the U.K. and Western continental Europe
Region 3: Asia/Pacific — must include at least one of the following: Australia, New Zealand, India, Hong Kong, Singapore, Japan, or China
UCaaS providers must have 25,000 or more of their user base entitled to calling/telephony in two or more of the above regions. Along with this, UCaaS providers need to have more than 100 sales and support staff located in (at least) two of the regions mentioned above. 
UCaaS providers are evaluated for MQ inclusion by their ability to execute the company's vision, product or service, OEM agreements, support, performance, consistency, and partnerships. And Gartner does dive deep, looking at the UCaaS provider's overall viability, sales execution, pricing, market responsiveness/track record, as well as marketing execution. 
The customer experience (CX) and how one operates a business, are equally vital in Gartner's evaluation process, as is the completeness of vision, market understanding, marketing/sales strategy, business model, vertical/industry plan of attack, and level of overall innovation. 
A Close Look at the Leaders
Zoom
Zoom's UC offerings include telephony, meetings, and messaging and it has global operations that reach nearly every region. Well-positioned to handle customers of all sizes, Zoom made a lot of tweaks to its technology during the pandemic. 
It introduced Zoom Power Pack, a desktop experience for reception console users, an enhanced dashboard for real-time and historic call queue analytics; and a hardware-as-a-service option for IP phones in 18 countries. There is also Zoom United, a bundled phone, meeting, and chat solution. 
It also launched Zoom Phone Appliance, which creates a seamless Zoom app experience for desk phones; and it extends premium support tiers, offering up specialized care for larger organizations. Even though Zoom experienced the failed acquisition of contact-center-as-a-service provider Five9, the vendor still had a lot of growth within its Zoom Phone user base over the past year. 
"Other than Microsoft, no other provider has increased its base as quickly as Zoom. In the one-year study period of this research, Zoom added over 1 million Zoom Phone users." 
Zoom added 189 fresh telephony features in the last year, including nomadic E911, integrations with Singlewire InformaCast, cloud peering with BT/Lumen/OBS, Citrix VDI media offload, and fax support. It reported adding 400 support agents and 12 engineers to its 24/7 network operations center and that it now offers support services in seven languages with administrator portals in 10 languages. The list goes on. 
Approximately 80% of its Zoom Phone revenue comes from direct field sales, however. Pair this with a high growth rate, and Gartner says that some smaller Gartner clients have reported delays in implementation and account management.
Microsoft
Microsoft is on the list thanks to its Microsoft Teams service, which offers telephony, messaging, and meeting capabilities globally. Microsoft expanded the availability of its Calling Plans from 11 to 28 countries. 
And it launched the Microsoft Operator Connect program along with a Microsoft Teams Connected contact center certification program and multiwindow ('pop out') calling. Microsoft further released the voice-enabled channels function, what Gartner calls a lightweight call-center-like capability.
The collaboration giant does not have contact center capabilities, which could force Microsoft's hand at doing just that; as Gartner said, the UCaaS market has witnessed an increased demand for bundled contact centers.
Cisco
Cisco's Webex extends deep telephony, messaging, collaboration, and meetings – relying on the same base of global channel partners, including telecom operators, to sell the offering. It expanded its telephony feature set for large organizations and expanded into new geographic territories – taking its telephony into 85 countries and in 21 languages.
It also launched an e-commerce site for web-based purchasing. 
"Other changes include advanced AI-based noise removal for an improved hybrid work experience and a new self-developed Webex Contact Center. Gartner believes that Webex UCaaS is well-suited to organizations of any size."
Gartner notes that many Cisco channel partners have developed formative partnerships with much of Cisco's direct competition, the most notable being Microsoft, RingCentral, and Zoom.
8×8
8×8's X Series includes 8×8 Work, 8×8 Contact Center, 8×8 Meet, 8×8 Team Messaging, and CPaaS (communications platform as a solution). And 8×8's operations are 'geographically diverse,' as it has a presence in 46 countries with customers across all segments.
Having experienced plenty of changes over the past 12 months, 8×8 introduced meeting support for 500 users and new meeting analytics tools. It even introduced 8×8 for Microsoft Teams, which offers coverage in 46 countries in addition to 8×8 Contact Center Certified for Microsoft Teams. 
"8×8's growing connection to the Microsoft base could be threatened if Microsoft increasingly extends telephony/voice as part of its Microsoft 365 service suite."
The company's spending its tenth consecutive year; featured in the report. 
RingCentral
RingCentral (made the cut) thanks to its UCaaS platform – RingCentral MVP, which extends telephony, messaging, meetings, fax, and an add-on contact center.
"RingCentral is well-suited for customers of all sizes, including enterprises. Most customers are in North America and Europe, but the vendor also serves part of Asia and Latin America."
Over the past year, the company has been busy, too, with new strategic partnerships with Verizon and Vodafone. It also made e-commerce investments for direct sales and made a massive investment in RingCentral Video meetings.
To that solution – RingCentral added virtual backgrounds and closed captioning; it redesigned the mobile and desktop clients, making numerous user experience revamps that rival (top) competitors, and expanded developer support via RingCentral Engage APIs."
RingCentral continues to increase its revenue above 30%, even though it faces tough competition from Microsoft and Zoom – Gartner cites its superb marketing, strategic partnerships, and e-commerce sales for the growth.
"Some customers cite that the vendor's sales reps lack in-depth knowledge of RingCentral MVP and its future roadmap. We attribute this to the breadth and expansion of channel partners, with some better than others."
UCaaS Niche Players, Visionaries, & Challengers
8×8, Cisco, Microsoft, Zoom, RingCentral, got named leaders in the report, while others like Dialpad; got called niche players in this year's report. There are plenty of reasons why one might be considered a niche player. "For some, it may be because of limited brand-name recognition or because they lack a robust marketing ability to sell beyond their home region," Gartner wrote.  
Gartner notes that for others, it could be because their solution is new to the market, their customers use a limited amount of UC functionality, and their feature set may be lackluster in certain areas with inconsistent customer service experiences (CX). 
Dialpad 
Following a fresh partnership with T-Mobile, the telecom giant became not only a Dialpad channel partner and a customer but a sizable investor. And with the acquisition of Highfive; it is clear how Dialpad earned the title this year. 
Along with various updates to its offerings, including "Voice Intelligence" capabilities for Dialpad Talk, Contact Center, and Sell, including automatic call summaries and personally identifiable information detection – Dialpad further demonstrates it is ready to take on the wider market. Gartner does caution: 
"Dialpad customers have indicated, through Gartner's Peer Insights reviews, that the vendor's reporting and analytics can sometimes be inaccurate, and its customer support can be slow to respond." 
This is likely why the provider has yet to reach 'leader' status. 
Sangoma
Sangoma is another niche player named in this year's Magic Quadrant. After Sangoma acquired Star2Star in early 2021, the company gained a lot of new functionalities. Today, the combined company supports telephony, meetings, contact center, SD-WAN, DaaS, trunking, messaging, access control, and CPaaS capabilities.
"More than 90% of its users reside in North America. Given that Sangoma has a considerable share of its business in premises-based UC outside the U.S., there is potential for expanded international growth."
In 2021 the firm experienced considerable change and expanded the base of its channel partner program along with lending them access to new customers; new API-enabled communications modules for business processes; Microsoft Teams voice integration; and new bundles for a growing number of those working remotely.
Gartner recognizes that Sangoma and Star2Star have some brand recognition issues. This, in turn, could make focusing on innovations more challenging, it noted in the report. 
Vonage
The solution, Vonage Business Communications (VBC) earned Vonage the distinction this year, as it supports telephony, messaging, and meetings. But that's not all: 
"VBC integrates with Vonage's CPaaS and CCaaS. VBCs customer base is North America-SMB-centric but can support enterprises. Recent service expansion extends service to Europe and the Asia/Pacific region."
In 2021, Vonage Meetings made several enhancements to the offering's scalability, mobility, host controls, recording, and security functionalities. Vonage also expanded its full PSTN replacement availability to 40 countries; with a Microsoft Teams integration that enables calling and SMS. 
The UC provider added the capability of single-sign-on, presence, a shared directory, messaging/video capabilities and improved its multisite administrator support.
Gartner wrote: although Vonage Meetings might not meet advanced use case requirements for meetings it does currently support up to 100 participants (25 videos). It does not natively support transcription, large events, whiteboarding, or meeting room integrations.
Wildix
Wildix is a sales-focused UC platform that supports telephony, meetings, and conferencing, taking a web-based approach. The UC player's meeting solutions include Wizyconf (audio, video/meetings, Wizyconf Huddle-Room and Conference Room; WebRTC KITE, which enables external customers to communicate through chat, audio, and video.
It too has made a lot of enhancements to its portfolio over the past year, like those made to its webinar capabilities and expanded support for up to 5,000 users. Wildix made text-to-speech improvements and upped its language support to 32. The UC firm added an all-too-important integration with Microsoft Teams calling, and with Gong.io, and Facebook Messenger, too. 
"Wildix's branding and messaging (including Wildix platform, WebRTC KITE, x-bees, Wizyconf, and Wizywebinar) lack cohesiveness for the typical UCaaS buyer, making the positioning of capabilities unnecessarily complicated."
Windstream
Windstream OfficeSuite UC service delivers telephony, messaging, and mobility features, with a predominant amount of its business occurring in the U.S. 
Over 90% of its customers are SMBs. Having made a ton of updates to its technology over the past year, it released the OfficeSuite UC Insight Engine, an offering that provides end-user reminders. It also enables administrators to set thresholds and alerts based on parameters like call volumes, uptime/downtime statistics, etc.
Most notably, it added support for Microsoft Office 365 integration and single sign-on for mobile users. Gartner noted that Windstream is not a well-known provider in the UCaaS market and that: "Among Gartner clients, there is limited interest in Windstream's UCaaS offering."
UCaaS Visionaries
Visionaries, according to Gartner, have an ambitious vision of the future – they are the kinds of companies that make significant investments to develop unique technologies. Gartner goes on to say that visionary services are still emerging, and they have many capabilities in development that are not yet generally available. 
"Although visionaries may have many customers, they might not yet serve a broad range of use cases well. "
Those who Gartner qualifies as 'visionaries' are close to, or are already, extending differentiated UC functionalities/services. They simply have yet established themselves in the enterprise market. 
"This may be due to an inability to support multiple large customers, a lack of proven ability to support pan-regional UCaaS deployments." Gartner also points out that it could be due to limited brand-name recognition, noting that some providers may be visionaries because of one or two deficiencies.
Fuze
Next up is Fuze, which got named a visionary in this year's UCaaS Magic Quadrant. With a focus on calling, messaging, meeting, and contact center services – the firm's operations are geographically diverse as Gartner put it.
"Customers tend to be organizations with 500 to 10,000 users, headquartered in North America, the U.K., and Europe."
Fuze has seen a lot of change over the past year, including investments in and the expansion of the 'Fuze Contact Center' offering. It has two new Fuze for Microsoft Teams solutions — Click to Connect and Direct Routing; and it has expanded its developer ecosystem of APIs and out-of-the-box integrations for apps like Zapier, Slack, and Gmail.
Gartner usually has a few words of caution, and it felt important to point out: 
"Fuze is not aligned to organizations with fewer than 500 users; those organizations should seek a different UCaaS provider. And Although Fuze has rapidly improved its self-developed Fuze Contact Center offering, it's a voice-only solution and lacks digital channels (e.g., SMS, email, web-chat, video, social), which are increasingly required by larger organizations."
UCaaS Challengers
Challengers are the kinds of vendors who can deliver UCaaS to large organizations – yet they fail to reach leader status because their UCaaS solutions may lack some components. Regarding the customer support efforts of challengers, Gartner says they are still evolving and that challengers do not extend differentiated services. 
"Or most of their users deploy only certain aspects of UC."
Google
Google has a UCaaS solution which consists of Google Meet, Google Chat, and Google Voice.
"Customers in this market tend to be midsize organizations, technology companies, and academic institutions."
In 2021, Google rebranded its G Suite to Google Workspace and made a lot of user experience improvements to Google Voice, Meet, and Chat, and improved integration with Gmail along with adding the breakout rooms to Google Meet while expanding Google Voice to Germany, Italy, and Belgium. 
It now supports 14 countries in total and updated its artificial intelligence (AI) capabilities/made data loss prevention and security enhancements. Google does not, however, have a contact center solution even though it has powerful adjacent tools like Google Contact Center AI. The solution is used to provide AI, natural language processing (NLP) for CC offerings.
It also has bots for third-party contact center services, although none of the services are integrated with Google Workspace.
Mitel
Mitel's MiCloud Connect is the reason for Mitel gracing Gartner's 2021 UCaaS MQ. It provides telephony and messaging, and can be purchased together with MiTeam Meetings – all powered by Amazon Chime technology. Mitel's UCaaS operations are primarily in North America, the U.K., and Australia with it tackling the SMB market – representing 90% of MiCloud Connect's customer base.
MiCloud Connect migrated to the Google Cloud Platform, and MiTeam Meetings added meeting recording capabilities along with mobile apps for iOS/Android, and a Microsoft Teams direct routing integration. It further launched a partner-managed program. 
Of course, Gartner points out the elephant in the room, as Mitel continues to support a broad range of legacy UC solutions in its global portfolio. As such: 
"The vendor's R&D, go-to-market, training, and sales and support resources must be shared across many offers, as opposed to more narrowly directed toward the strategic MiCloud Connect UCaaS solution."
The State of UCaaS
Gartner wrote that provider investment in UCaaS proceeds to increase considerably with UCaaS functionality now exceeding premises-based UC functionality in a few areas: team messaging and SMS, meetings, APIs, CPaaS, app marketplaces, and reporting/analytics dashboards.
And UCaaS shares similar characteristics as other cloud services, including shared infrastructure like data centers, shared tools like provisioning, performance, network management tools, and a per-user-per-month pricing structure/scalability. 
Today's UCaaS providers depend on multi-tenant architecture to host their UCaaS applications, those like Amazon Web Services, Microsoft Azure, Google Cloud Platform, and Oracle Cloud – or data centers operated by the UCaaS provider themselves.
Throughout the pandemic, Gartner said that hybrid and remote work has resulted in a direct increase in demand for UCaaS. "Premises-based solutions also offer remote-worker capabilities, but often they require additional licenses, and in some cases hardware upgrades to SBCs at the edge of enterprise networks." 
This makes cloud-based comms all the more attractive to businesses of the SMB variety. Gartner also wrote that: 
"There has been a demand for new features that meet requirements for increased meeting safety and security; background concealment; suppression of specific sounds (beyond noise suppression); display of more people simultaneously in gallery views; and enhancements to the quality of experience over unmanaged networks."
Although the purpose of this report was not to shine a light on CCaaS (contact center solutions as a service) Gartner made strong links between UCaaS and CCaaS. "Organizations," it wrote, "often purchase both together." While some UCaaS providers develop and operate call center systems, others depend on CCaaS partnerships that enable contact center technology with their UCaaS offerings.