With the launch of 'Agent Assist 2.0,' cloud contact center provider Five9 looks to unlock what it calls: "next-level agent productivity." Powered by OpenAI, the same generative artificial intelligence technology behind ChatGPT. Five9's 2.0 version of its agent assist offering extends AI summary, which can restate a customer call transcript in mere seconds. 
Such an offering can undoubtedly save agents the time and effort it takes to do so; manually. Other benefits might also include helping reduce various barriers to entry that exist in the contact center sphere. For one, there is the fact that the experience is not only geared toward 'voice' and digital virtual agents; but it also works for AI applications that leverage natural language. 
Think self-service, call routing, automated call scoring (QM), next-best actions, etc. And Five9 notes that there is a principal difference between this version and the previous renditions of its offering, adding in a statement: 
"The key difference between this and prior versions is the removal of model training and manual categorization, which is possible because LLM technology can be fed a call transcript and a request to summarize it."
This, according to Five9, produces what it deems "high-quality results" over a large set of conversations without the need to train what the chat is about.
Available as a desktop application, it can be used by agents during a call or chat with a customer. "The result is a win-win for everyone – consumers can get their issues resolved faster, and agents can handle more calls in a day, helping companies save money," Five9 wrote in a release. 
Reducing Average Call Handle Time
According to Zendesk, 66% of customers prefer to call to resolve issues via telephone, making average handle time: a critical performance indicator to keep track of. Sarika Prasad, Senior Product Marketing Manager, Five9, said this is all part of the appeal of 2.0., writing in a blog post: 
"The holy grail for Agent Assist has been to attack one of the biggest sources of cost for call handling – summarizing the call."
She continued, stating after a call gets completed, many agents take a few minutes to write a summary of what transpired: and these summaries are essential for providing context so that the next agent handling a call can understand a customer's interaction journey. 
With that (now) done in seconds, average call handle times can be drastically reduced. Calculating call handle times is simple and consists of talk time + hold time + follow-up time/calls = AHT. This is calculated in minutes or seconds. 
To push the point home, 150 calls that average out to 3,000 minutes, plus the total hold time of 700 minutes, plus a follow-up time of 500 minutes, divided by the number of calls, amounts to 28 minutes of average handle time. 
This is significantly higher than the industry standard, Five9 notes. According to them: the industry-standard AHT (average handle time) is six minutes and ten seconds.
No More Taking Notes, A Lot More Focus
A good contact center agent takes notes during a call, as almost anything could happen. Calls drop, and sometimes it is hard to hear folks on the other end. Sometimes customer issues are merely convoluted and need to be tracked with care. 
All this makes agent jobs, i.e., listening to customers, taking notes, and solving their queries, more than complex.  
These notes are then used for summaries, which prove consequential for the next agent, so they know what happened in previous conversations. It is more than well-known that customers do not like repeating themselves. There is also the issue of compliance to worry about, and proper record-keeping can be a lifesaver in many instances if something is called into question. 
Prasad further noted in that blog post; that while call summaries are not a new concept, they have always required what she calls: "significant configuration and tuning." Continuing, she added: 
Agents have only been able to handle conversations when they followed a (fairly regimented) structure: limitations that kept any real and significant cost saving – out of reach. Five9's out-of-the-box feature looks to change that, and users can turn the feature on and off with a simple toggle. 
"If necessary, agents can add additional notes to supplement the AI-generated summary, drastically helping to reduce the time agents spend on post-call activities," Prasad added. Across-the-board; Agent Assist 2.0. amounts to automating repetitive tasks to improve and enhance contact center agent productivity.
Better Training and Agent Improvement
Regarding other benefits of such an offering: there appears to be no shortage, with quality monitoring and training being two of the top advantages.
Contact center supervisors can leverage these automatically generated call summaries to monitor the quality of agent interactions with customers. Taking things a step further, they can use them to extend feedback for agent improvement – another way to enhance agent metrics. 
Contact center supervisors can also leverage the summaries to identify where agents might benefit from additional training or coaching, analyzing said call summaries – leading to a likely boost in customer satisfaction. 
CCaaS Developers Continue to Cling to AI
With no shortage of AI in the contact center, it is clear that we can expect to see even more offerings with ChatGPT and other kinds of AI functionality inserted into CCaaS offerings. Developers of said software continue the push to insert AI into every conceivable part of their offerings, looking to enhance formerly manual processes via automation.
It appears that; for the time being, there will be no slowing down in doing so. Companies like Five9 and Dialpad continue to lead the way in innovation when it comes to doing just that, and Five9's latest release demonstrates that: to say the least.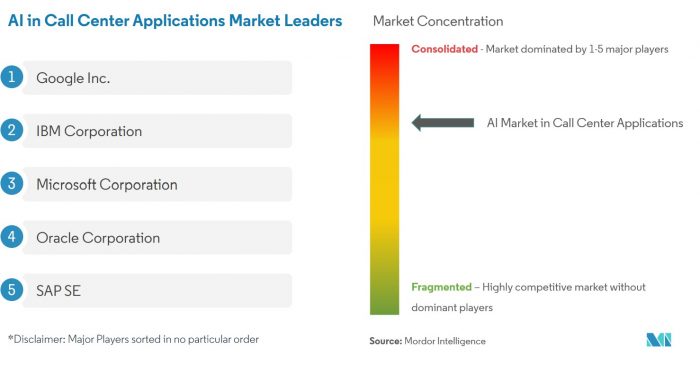 That market – is only slated for further growth: with Microsoft, IBM, Oracle, and Google being among the major players. According to Mordor Intelligence, its CAGR (compound annual growth rate) is almost 26 percent. And research from Oracle found that more than 80 percent of organizations already leverage chatbots to enhance customer self-service.
One solution created by Humana and IBM's Data and AI Expert Labs assisted the firm in routing over 60% of its over one million monthly calls to AI, drastically reducing agent workloads and enhancing customer satisfaction via self-service.