In January 2022, Tidio, developer of live chat and chatbot technology, surveyed 1,500 people using Amazon's Mechanical Turk, Reddit, and a survey that examines customer attitudes toward companies that use chatbots that appeared on the company's website. 
The survey of 774 online business owners and 767 customers further gave insight into how they currently use and interact with chatbots daily. This could be at work, while online shopping, or when attempting to reach a customer service agent to resolve an issue. 
Respondents, mostly hailing from the United States, were nearly evenly split among lines of sex: 50.3% male and 49.6% female. The Tidio study all but confirms that roughly 88% of customers had at least one conversation with a chatbot over the past year, with researchers there noting that chatbots will almost certainly become more ubiquitous over the coming year.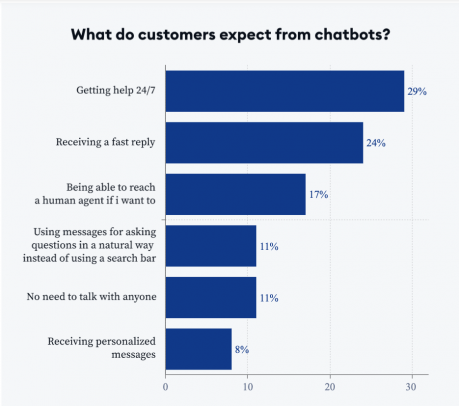 How will chatbots get used, though? According to Tidio: 
"In saddition to customer service and data collection, chatbots will get used in other areas such as marketing, human resources, and operations. Their ability to handle a wide range of tasks makes them an attractive option for e-commerce stores, b2b companies, real estate, or even healthcare."
There remains to (be discovered) countless other use cases and applicable industries to best leverage the technology. One popular way to implement chatbots; is in a contact center environment to reduce wait times, call volumes, etc. Roughly 53% of Tidio's survey respondents said they did not like waiting too long for replies, calling it the most frustrating part of interacting with a business.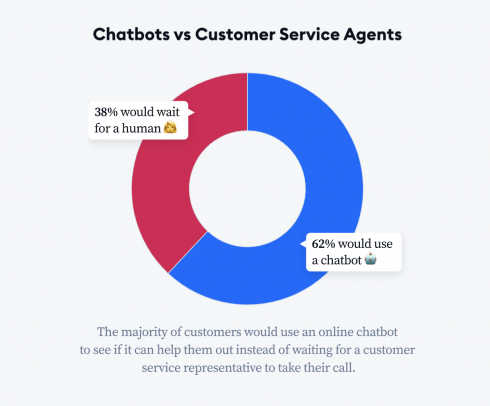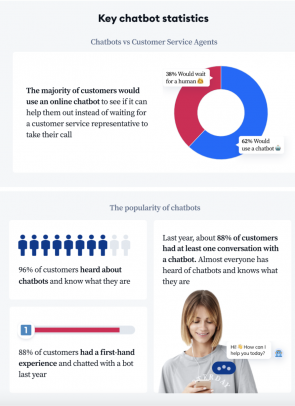 There is also an element that seems less common yet does exist – rude agents and those individuals having to describe the problem multiple times. Respondents said they loathed asking for assistance repeatedly. When it comes to CX (customer experience), Tidio said: 
"This does not make for a great customer experience. But there is something that annoys consumers even more." That is, being put on hold or waiting for a reply – both seen as 'extremely frustrating by 53% of respondents.
Even more revealing – growing customer frustrations toward longer wait times. Respondents said if the alternative means waiting 15 minutes for an answer – 62% of consumers stated they would rather talk to a chatbot than a human agent, in this instance. Further, Tidio noted that while chatbots are useful – there will always be customers who prefer human interaction, so lending that option is warranted given the current business climate.   
Chatbots Hold Much of Promise for Business
As it stands, nearly 90% of customer queries are resolved in 10 messages or fewer, as most chatbot conversations are short and to the point, according to Tidio. Describing this interaction, Tidio wrote: "Almost all cases and scenarios are resolved within a few messages. This allows chatbot designers to control the user experience, conversation flow, and response rates for different message choices."
Seven-out-of-10 of the identified 88 percent of web users who said they have interacted with a chatbot over the past year said the experience was a positive one. The majority of those who responded also said they believe that more companies should take advantage of chatbots.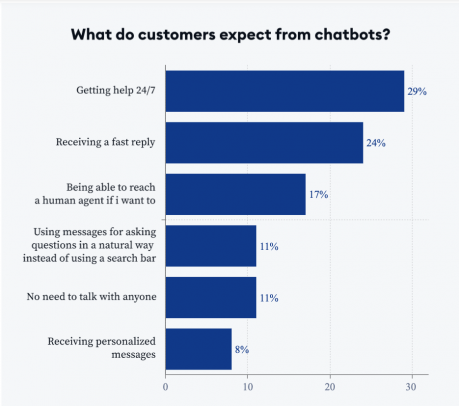 This is because they deliver 24/7 support and swift replies to things like frequently asked questions. "Businesses fell in love with chatbots precisely because they are incredibly efficient and can handle a large number of requests simultaneously," Tidio added. 
The firm noted that its study reveals business attitudes toward chatbots, stating that they are: 'very satisfied with how chatbots have improved their customer service and marketing efforts.
"Interestingly, there is a clear correlation between satisfaction levels and the use of pre-made templates or drag-n-drop editors. Business owners, especially with micro and small businesses, perceived chatbots as more effective if they took part in designing them or choosing the right chatbot templates," Tidio wrote.
Overwhelmingly respondents said that 'response time' is the 'most important issue for them. 
Chatbots Present Both Opportunity & Challenge
Extending a plethora of business benefits, chatbots; can do everything from increasing customer engagement and loyalty to assisting in driving sales and improving critical metrics like operational efficiency. 
"Chatbots can provide businesses with valuable data insights that can help improve marketing efforts and product development. On the other hand, chatbots are still a relatively new technology. There are some inherent pitfalls to them," Tidio wrote in the report. 
When it comes to challenges, things like matching the nuance of human speech thanks to the dynamic nature of context in a conversation render technologies like contextual communications all the more relevant. As chatbot technology continues to evolve, so do its capabilities, though the technology remains somewhat lackluster; as Tidio pointed out:
"The most important thing for any customer service environment is to have accurate recognition of problems." Chatbots still struggle with this concept.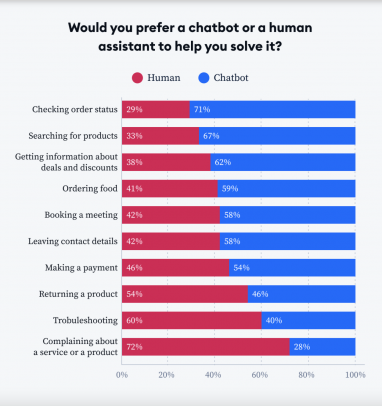 As technologies that allow for swift chatbot deployment exist, implementing chatbot technologies is a much simpler process. Via avenues like low-and-no-code development, companies of any size can effectively turn dreams of chatbots into a reality, although bots still have some limitations.
In the end, it is, so it seems, always best to have a few folks on staff to help build some of the more robust chatbots to do the heavy lifting. When that is not an option, i.e., funds do not allow, low and no-code chatbots present an attractive solution to problems like high call volumes and even customers who want to change flight times without waiting for or speaking to a person. 
Are Chatbots Causing Customer Complications? 
While there is no doubt that chatbots are beneficial to companies and improve CX (customer experience), companies may not have become fully privy to that notion. According to Tidio, a mere 17 percent of respondents said they feel companies 'overuse' chatbot technology to the point of making it difficult to reach a human agent when needed. 
The majority of survey respondents did note; however: they found chatting with bots to be a positive experience that is 'convenient and efficient." If you want to view the full report, you can do so here.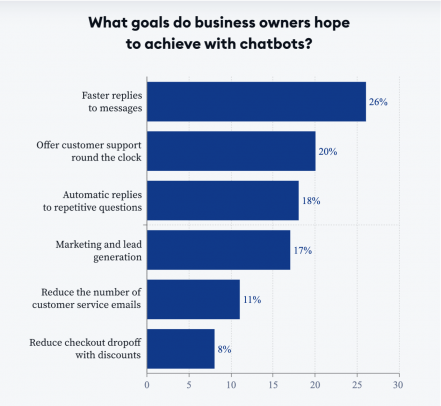 Stay tuned for the latest UCaaS, CCaaS, CPaaS, and UCC happenings on GetVoIP News where we bring you the latest industry headlines and analyses.