The importance of establishing customer engagement strategies is non-negotiable for businesses with a big appetite. These strategies allow you to gain the customers' attention and ensure an outstanding experience when they interact with your brand. Around 65% of consumers say they would be long-term customers of a brand that provides a positive CX. 
Having a well-planned customer engagement strategy is necessary for all businesses to have a stable footing in their respective industries. Companies that successfully engage their customers can enjoy 63% lower customer attrition, a 55% higher share of wallet, and a 50% higher productivity.
Let's discuss 16 top-level customer engagement strategies to keep your customers swooning over your brand.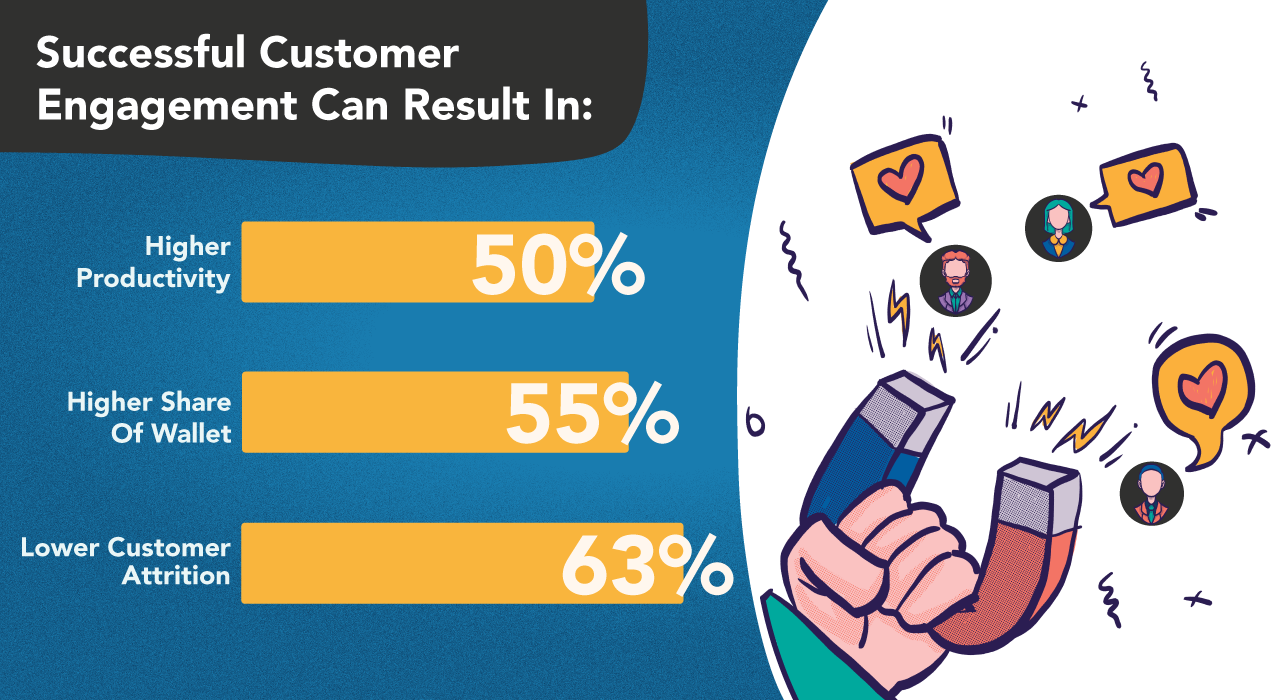 Contents

1. Use Live Chat To Engage With Customers In Real-Time
Allows agents to build rapport with customers

Makes customer service easily accessible 

Makes customers feel like a priority
Live chat is one of the best ways to interact with your customers. Not only can you address and resolve their queries in real time, but you can also leverage those moments to truly connect, understand, and build relationships with them. It's an excellent way to create the customer experience you want them to have by showing empathy and patience.

In the current landscape, customers want to have access to support 24/7. Around 66% of customers expect companies to understand their unique needs and expectations, and live chat is an excellent way to do just that.
Retailer Modcloth's 24/7 live chat serves customers around the clock and ensures that they're 100% satisfied with the answers to their questions.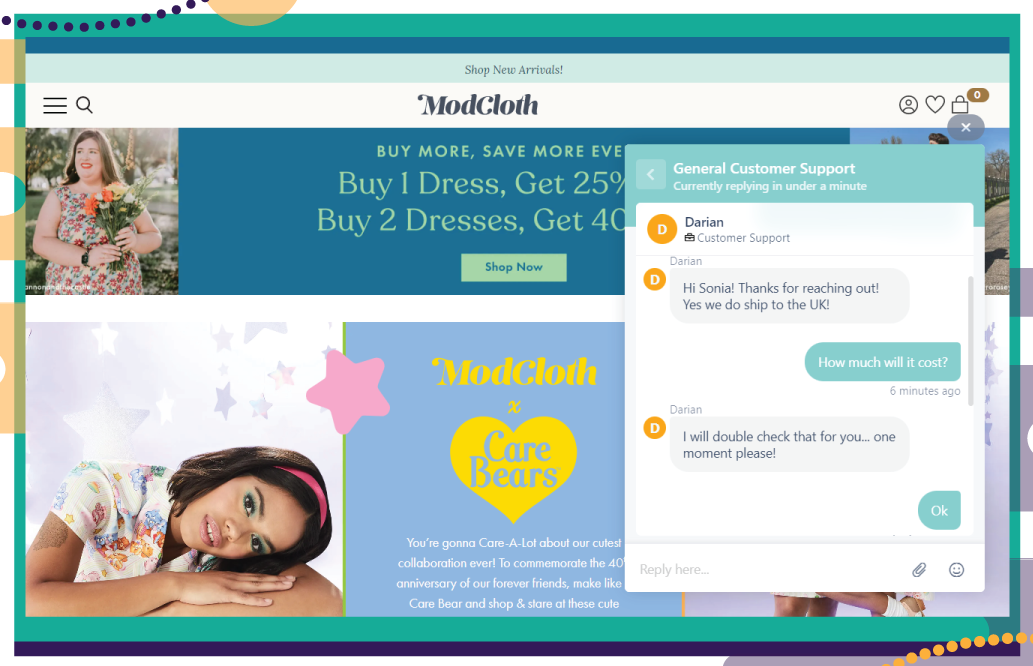 2. Create Useful Content
Increases brand reputation by building trust

Improves SEO

Drives conversions
Consider this: Your customers aren't actually buying your product or service but buying a solution to their problem. With this mind shift, you can engage them by creating helpful and authentic resources to answer their questions and solve their problems. 
Make your content available in various formats, such as videos, ebooks, webinars, blogs, FAQs, etc. Ensure that you provide tips and techniques that are well organized, easy to read, and truly useful, and you will find more people interacting with your brand.
Mattress company Casper is an excellent example of content marketing at its finest. Although it's only been around for a few years, the company generated 400 million dollars in revenue in 2018. Casper has an insightful blog with authentic information and easy-to-follow tips for people shopping for mattresses, whereas its Youtube channel is no less entertaining and informative.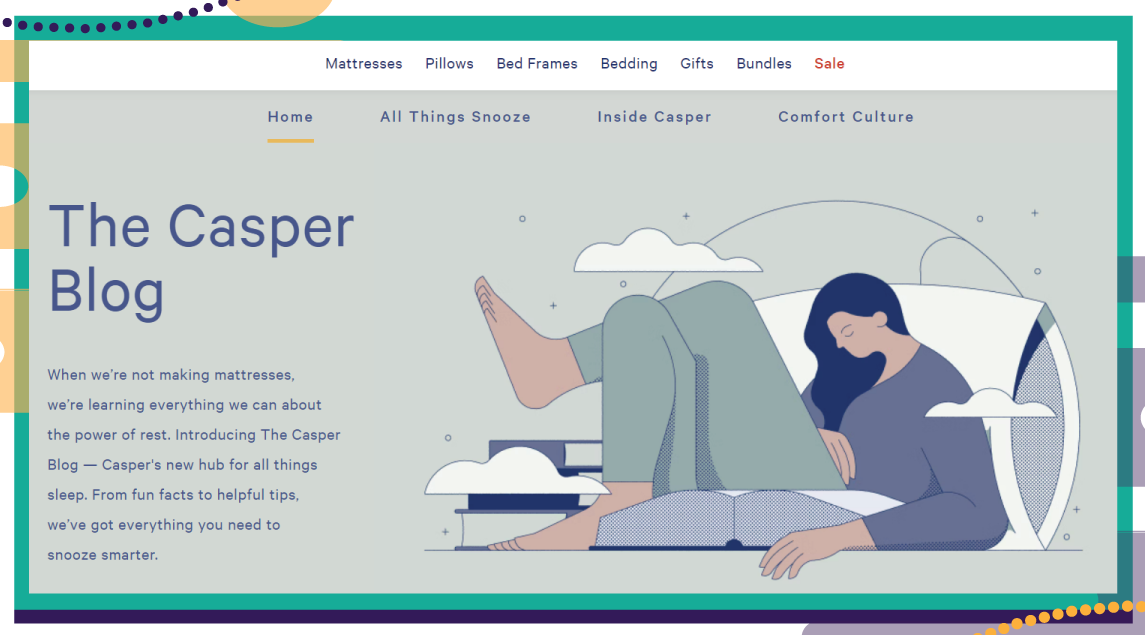 3. Communicate Continuously With Customers
Helps showcase authority on the subject matter

Can help generate leads

Provides value to customers

Makes the brand dependable in the customers' eyes
​​Staying connected with your customers is essential to building an engaged group of buyers and followers. The best way to do this is to communicate with them regularly and proactively. This goes for prospects, current customers, and customers who have churned. There are many ways to communicate with your customers. You can send newsletters, reach out for feedback, and organize workshops, among other actions. 
A great example is Please Advise, curated by the people at the software company Top Hat. It's full of helpful information and recommendations for marketers. Please Advise is a marketing newsletter sent out daily and broken into three simple sections: Look, Do, and Try.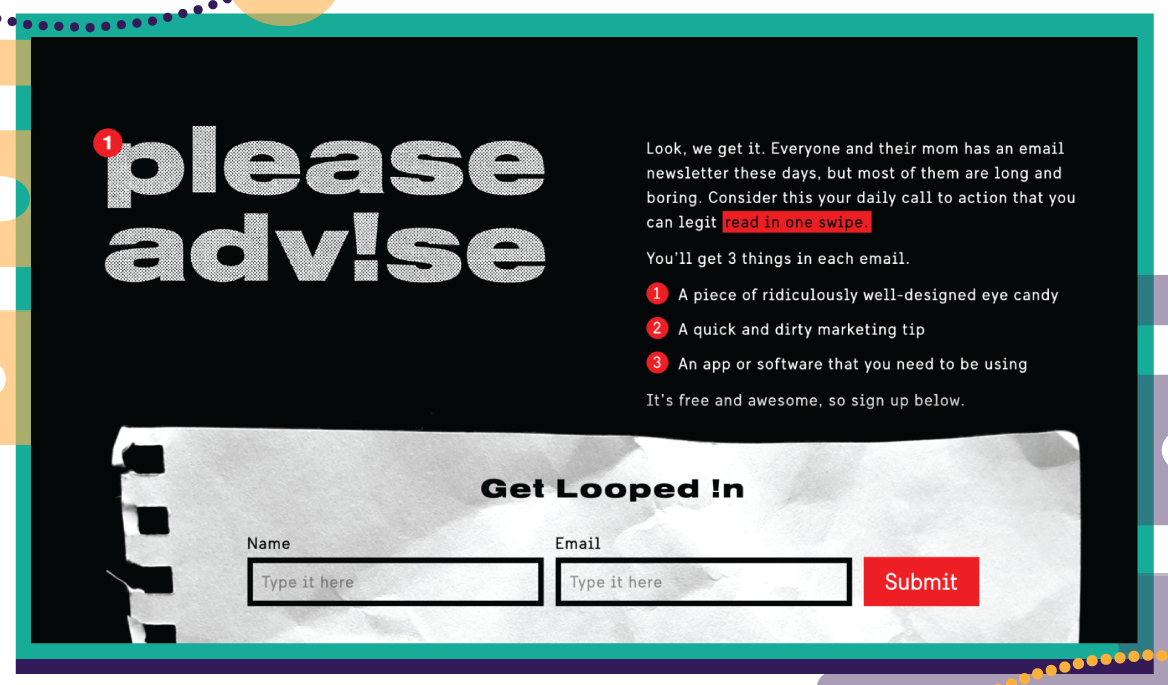 4. Support Your Customer Service Team
Increases creativity and productivity

Motivates employees to provide superior customer service

Improves job satisfaction
The first step in making the customers happy is to ensure that your employees are happy. Customer-facing staff can play a crucial role in engaging customers. Therefore, it merits taking good care of your team. Give them the technology and the training they need to succeed at their job. Motivate them and reward their hard work. When they're satisfied and engaged, so too are your customers.
National tech company Nvidia is considered one of the best places to work. It provides its team support, training, and benefits like mental health support, 22 weeks of parental leave, personal leaves of absence, an Employee Stock Purchase Plan, and access to medical care and advice from professionals through the Stanford Health Navigator Program.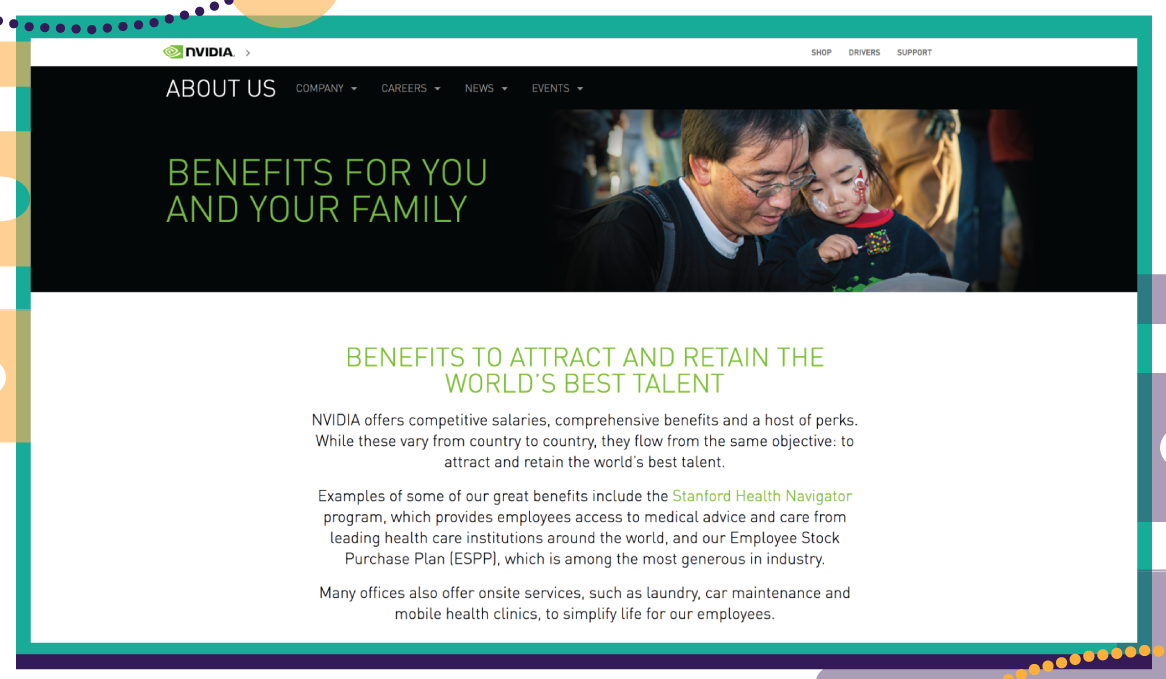 5. Surprise Customers 
Convey your values to your customers in a unique way

Stay in customers' minds by appearing in unexpected places
Your customers know they'll get special offers and discounts around significant events, but why not increase engagement by surprising them every once in a while to keep them intrigued. It doesn't have to be something grand. It could be as small as sending special holiday cards to favor nostalgia and make your customers feel special at the same time. 
How about making it easy for them to find you by creating QR codes and distributing them through public transportation in the areas where you operate. Another great way used by the leading online shoe retailer, Zappos, was to paint street murals to draw its customers' attention.
They didn't use them for advertising but strictly for brand building and showing customers what they stand for. They turned their ten core values into murals and had them painted in different US cities, such as Boston, Chicago, and San Diego. The murals included messages like "Be humble" and "Build a positive team and family spirit."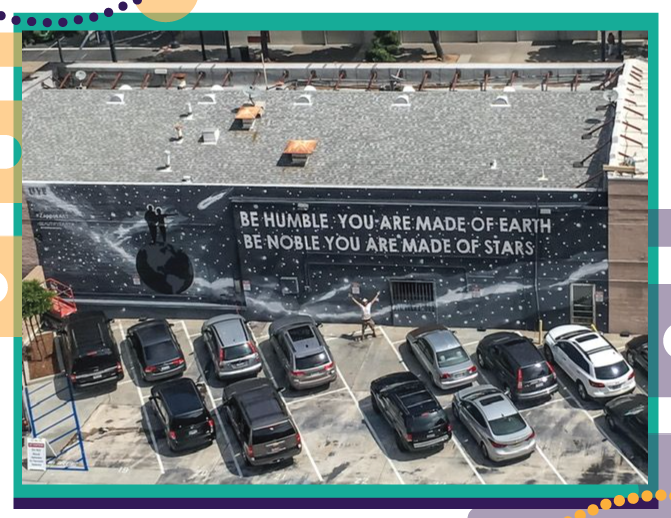 Source: Beautify
6. Give Back To Good Causes
Improves people's perception of your brand

Builds emotional connection with the customers

Word-of-marketing by participating customers
People are more socially aware now than ever before. They want to buy from socially responsible companies and do good in the world. Therefore, companies that support social causes can leverage them to earn goodwill from their supporters.  
Whether that means working to reduce your carbon footprint, improving labor policies, or promoting diversity and inclusion, the more you involve your customers in your corporate social responsibility (CSR) initiatives, the better for everyone. In fact, 86% of consumers expect brands to take social action beyond their products and business.
Famous footwear line TOMS is a shining example of CSR in action. It donates a pair of shoes to a child in need for every pair sold. The One For One program was launched in 2006 and made the company a pioneer in charitable commerce. 
Although the program recently ended, TOMS donated 100 million pairs of shoes throughout its course. The company has committed to donating 1/3 of its net profits to its charitable fund in the future.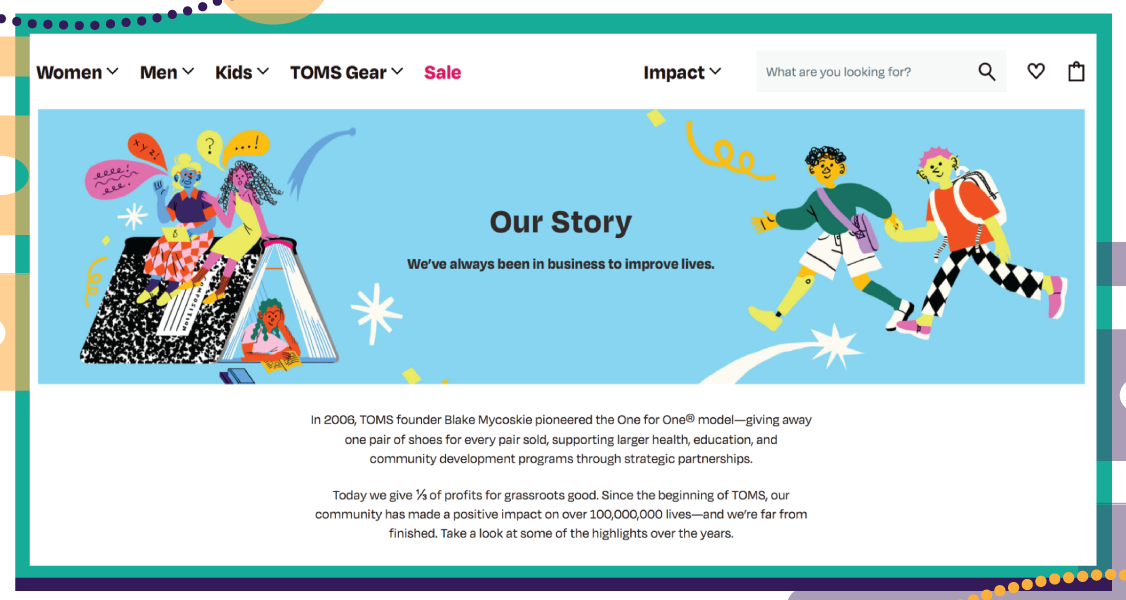 7. Use Co-Browsing To Improve CX
Allows for real-time problem solving

Saves customer support time

Minimizes friction for customers
Co-browsing technology lets customer support agents navigate and interact with a customer's web browser in real-time. If someone is having trouble purchasing a product or filling out a form, agents can jointly navigate the customer's screen and help them complete the task. This reduces customer support costs and increases satisfaction by reducing customer effort.
Companies that use co-browsing software include Applied Data Finance, Sungage Financial, The Modern Firm, and Drivecentric. Upscope is a co-browsing software company, and you can see its tool in action in the video below.
8. Organize Contests On Social Media
Increases subscribers and followers

Incentivizes people to follow your brand

Builds community and awareness
Organize friendly competitions with social media contests and offer giveaways. It's important to organize these strategically, or the engagement will be short-lived. Make sure you have a plan in place to ensure that participating customers will stick with you for the long haul and attract even more people to your brand.
Footwear retailer DSW launched a very successful social media contest where participants had to post a video dancing to the song Footloose with the hashtag #DSWCutLoose. They chose ten winners, each of whom received a $200 gift card to the store. The contest cost the company just $2,000 in prizes, but it received more than 8 billion views on TikTok.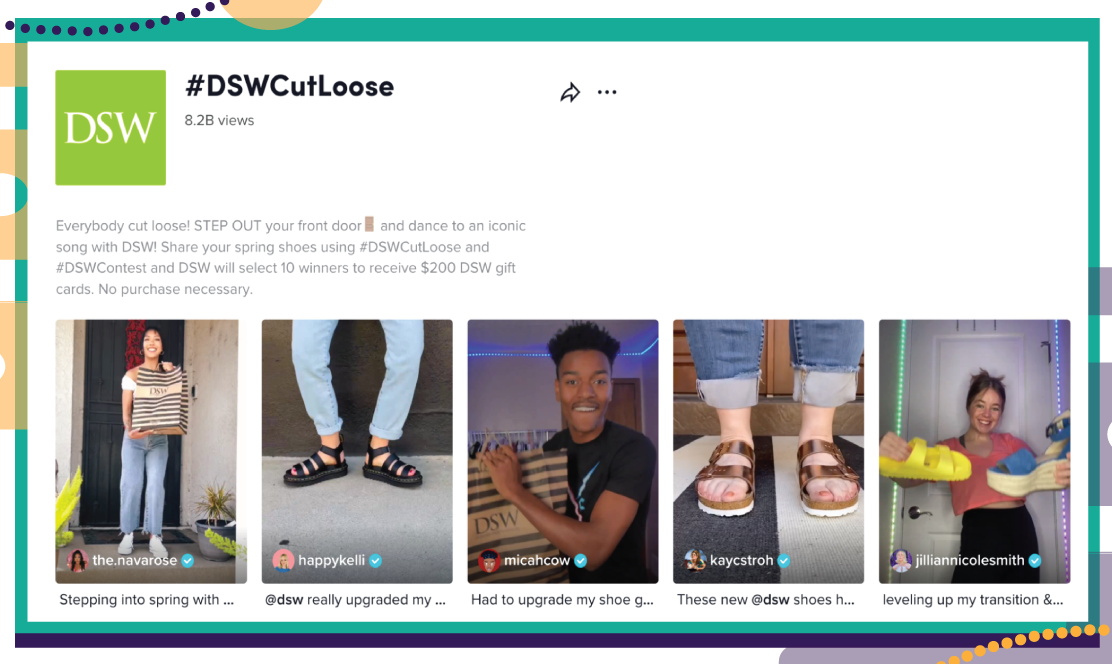 9. Offer A Seamless Digital Experience
Helps companies collect data

Provides customers more opportunities to interact with the brand

Elevates the overall customer experience
Your customers will likely want to use your services and products through various channels. This includes apps, your website, SMS, and email, among other possibilities. You will want to create an experience as seamless as possible, where it's effortless for your customers to engage with your brand regardless of the channel.

One of the companies that are excelling in this area is Chipotle. To improve CX, the company launched an intuitive mobile app and redesigned its website. Additionally, its on-the-go ordering feature lets customers place an order before getting to the restaurant. The app reminds them of their favorite dishes and the last location they placed an order. This digital transformation has helped the company boost revenue by over 200%.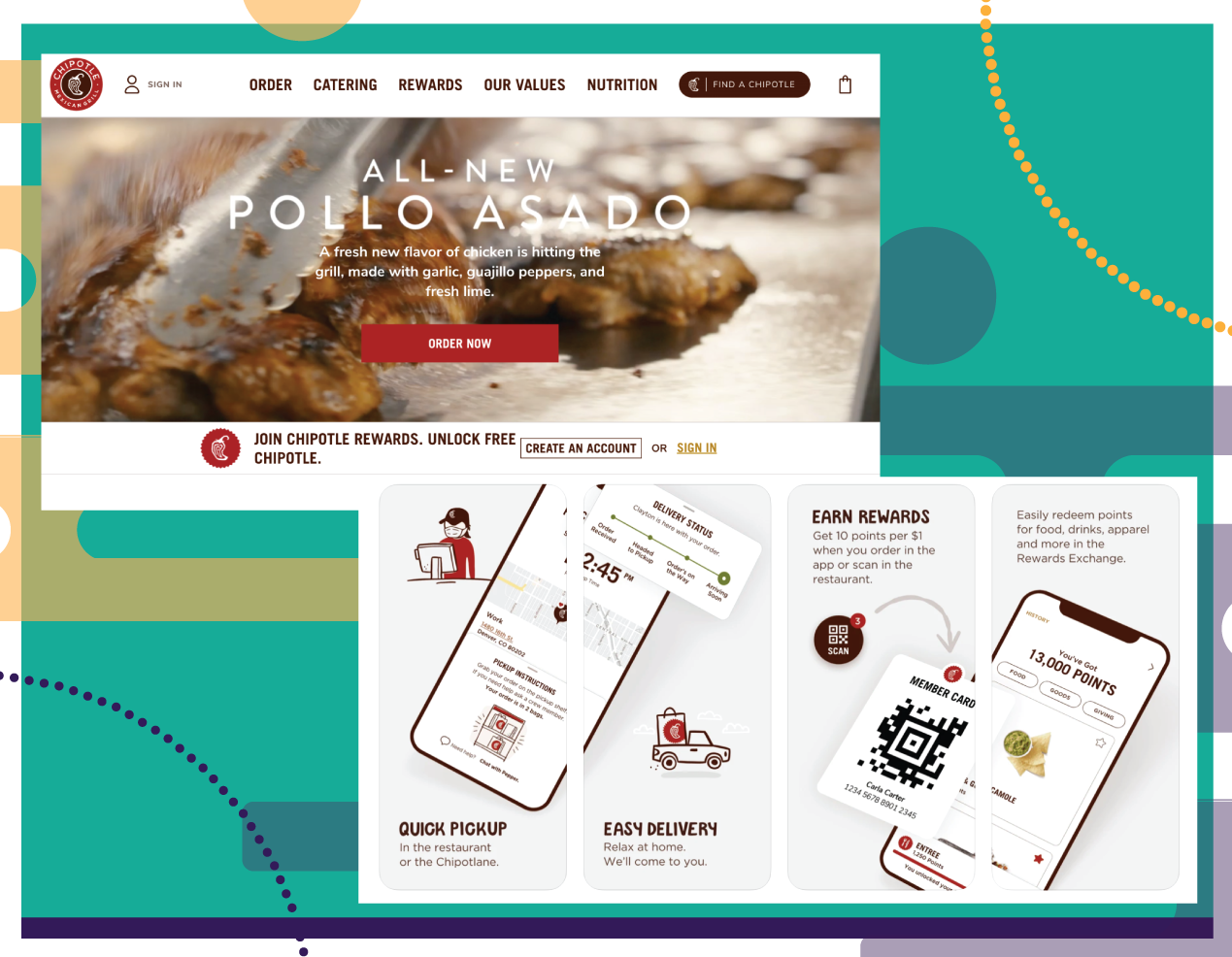 10. Humanize Your Company's Story
Creates a deeper bond with the audience

Helps you reach the right people

Generates UGC, which can be used for marketing

Boosts word-of-mouth marketing

Helps you stand out from the competition
Connecting with your customer is the key to engagement. When you share information about your company in a memorable and relatable way, you humanize your brand and help people believe in your mission. Help buyers understand your why, and if it resonates with them, they may very well join you in the journey.
The company, Burt's Bees, excels at using storytelling to make people believe its philosophy. The brand specializes in natural body care products and has an elaborative About page that explains its purpose, story, values, and standards. 
Burt's Bees seeks to connect with its customers by committing to the greater good. The brand also involves customers in its activism, launching its Bring Back The Bees campaign in 2016 to raise awareness about the decline in bee populations. For every selfie posted with the hashtag #SelflessSelfie, the company planted 5,000 wildflowers to feed the bees.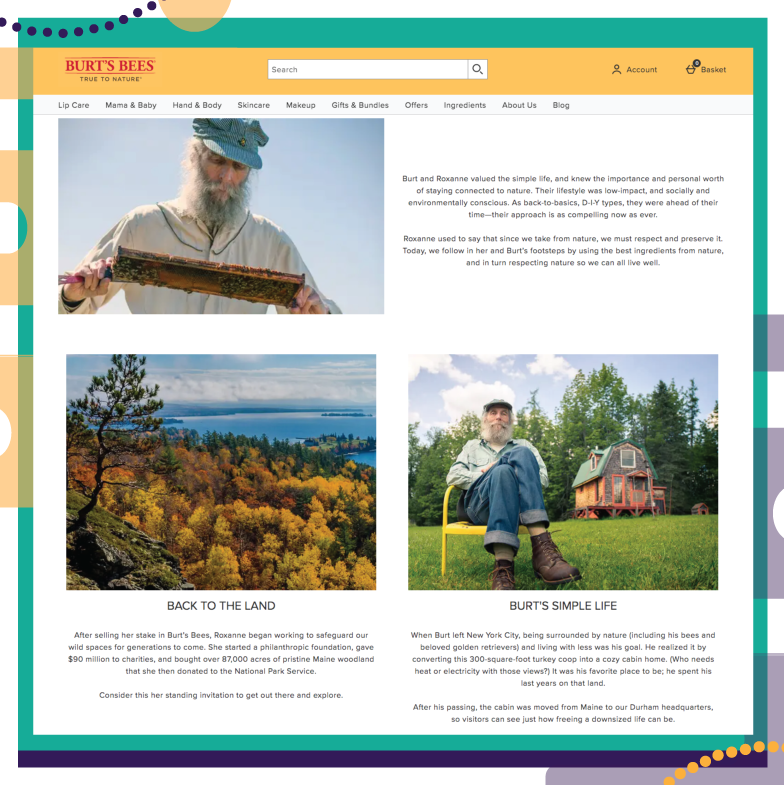 11. Connect With Customers On Social Media
Lets you interact with your target community at large

Enhances brand awareness

Creates word of mouth effect
You can use social media to differentiate your business from the competition and increase customer loyalty. Social media can engage your followers as well as potential customers. It's a great platform to let them know about new products, sales, and other benefits.
Whether you use Twitter, Facebook, Instagram, or a different platform, these channels offer the perfect opportunity to strengthen your relationship and get to know each other better.
Nike is indubitably a standout in using this strategy. The company offers 24/7 support on its Twitter account and responds individually to queries from customers.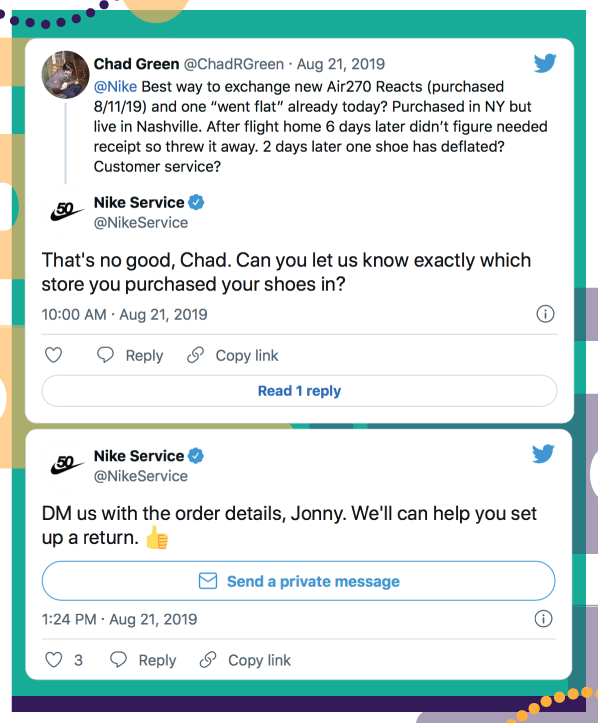 12. Personalize The Customer Experience
Customers receive faster and more convenient service

Allows you to deliver tailored messages and offers

Buyers feel more connected to your company

Increases customer satisfaction
Customers like to feel special, so companies should endeavor to personalize different aspects of the customer journey. For example, you can use software to offer buyers recommendations based on their previous purchases or search history. 
Alternatively, you can ask customers to fill out a profile or answer questions where they choose their preferences and let you know more about what they like and dislike. Then you can use this information to personalize the CX.
Members of Amazon Prime who shop at Whole Foods on their website can enjoy an incredibly personalized experience. The items they purchase are recorded and organized so that buyers can search for them and order them again. The website also uses search history to send recommendations for recipes and new products. When customers are at or near a Whole Foods store, they receive targeted notifications and special offers.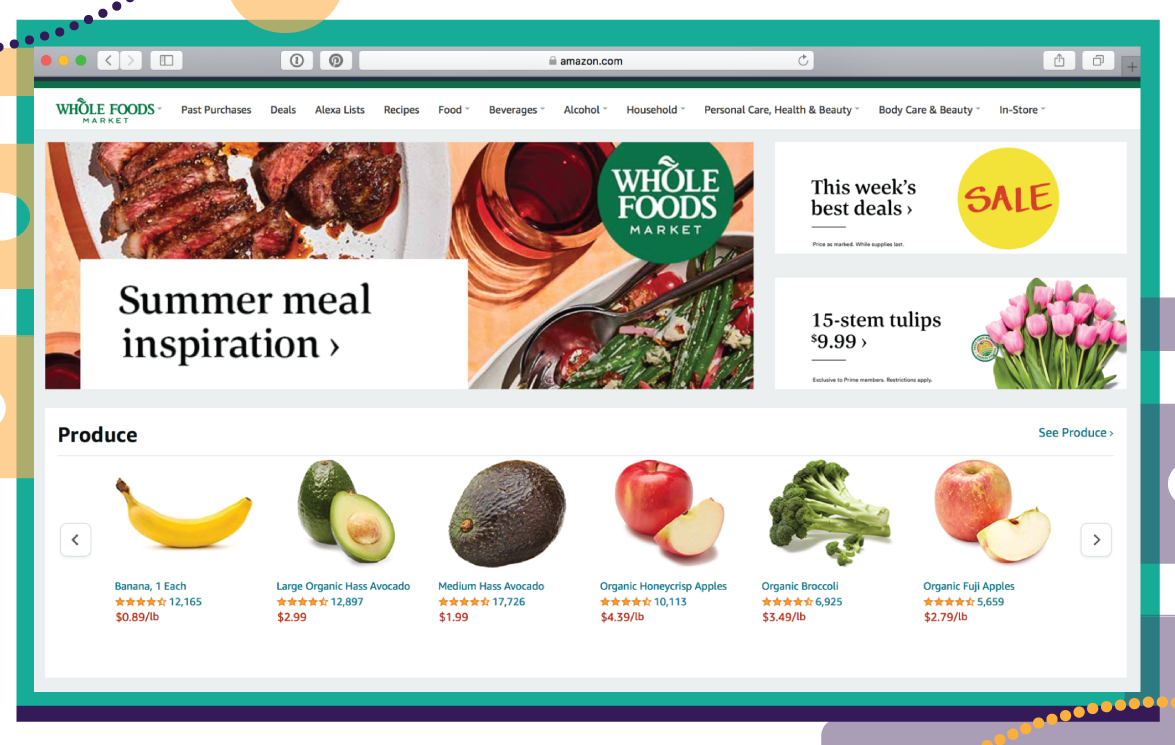 13. Create A Customer Loyalty Program
Increases customer retention

Increases customer referrals

Boosts brand loyalty
A customer loyalty program is a surefire way to boost engagement. The goal is to reward loyal customers with discounts, redeemable points, or unique gifts to thank them for engaging with your brand.
There are 3.3 billion loyalty memberships in the US, and 90% of companies have some sort of loyalty program. These programs keep customers happy as they look forward to buying from you to earn rewards. Moreover, 76% of customers say that loyalty programs are excellent for strengthening their relationships with brands.
Starbucks is an excellent example of a company with a stellar reward system. It was one of the first companies to create a loyalty program available through its mobile app. Coffee lovers can use the program, Starbucks Rewards, to earn stars which can be redeemed for free coffee, food deals, and express order and pick up, among other treats. 
There are currently over 24 million active members, representing 51% of spend in the company's US stores, representing an eight percentage points increase over pre-Covid levels.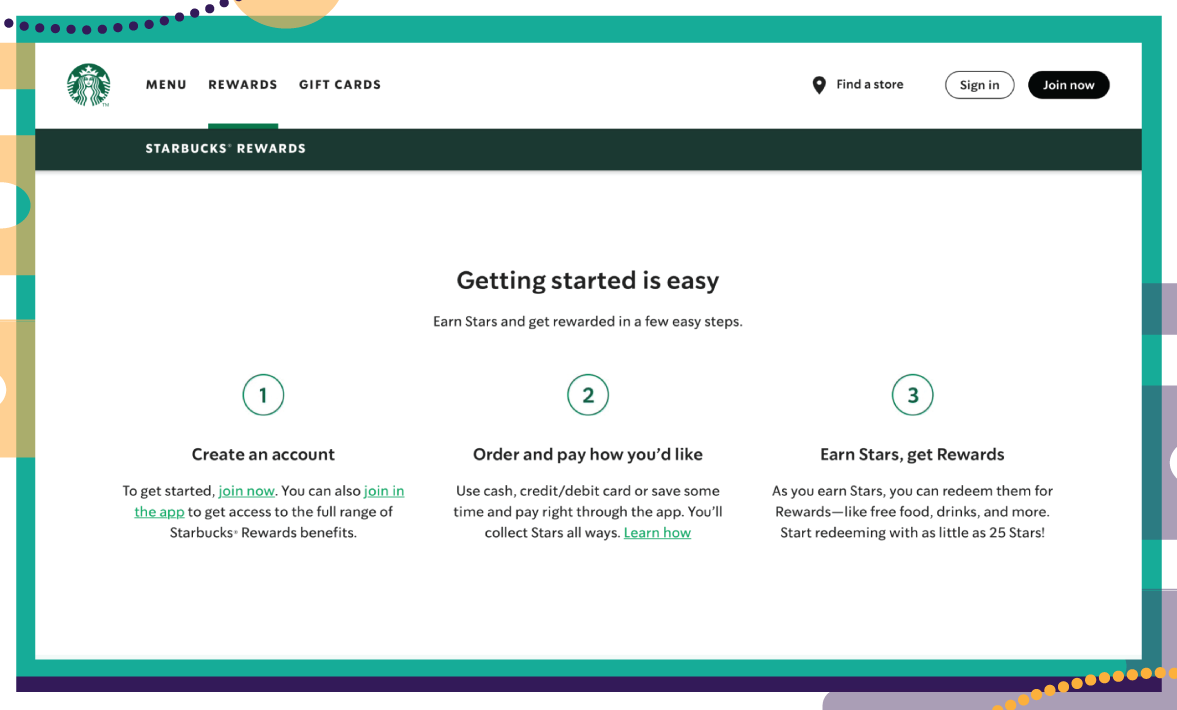 14. Listen To Feedback And Act On It
Allows companies to make informed business decisions

Makes customers feel heard

Helps companies better understand their customers

Allows brands to improve their products and services
Customer feedback is an excellent way to know whether or not customers are satisfied and allows you to understand their experience with your brand better. Whether positive or negative, asking your customers for feedback helps you learn more about customer expectations, your strong and weak points, and the adjustments necessary for your continued success.
Almost every business sends some kind of feedback request after each interaction. Most look like this: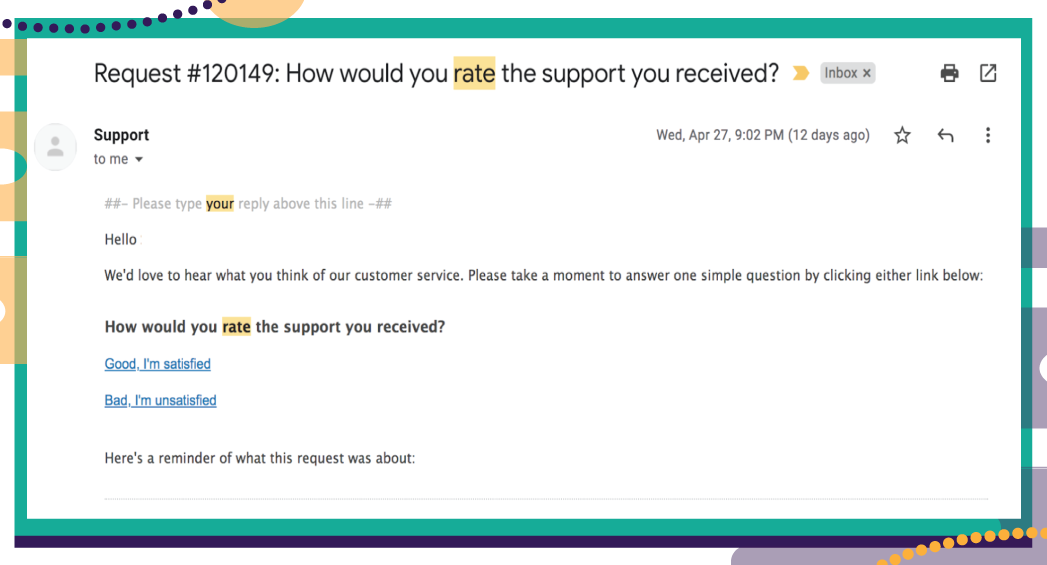 The music streaming site Deezer excels in accepting feedback. Initially launched in 2007, it has around 16 million active listeners. On its community page, users can request features they'd like to see and start discussions about what they like and dislike about the company. The conversations are moderated and answered by Deezer employees.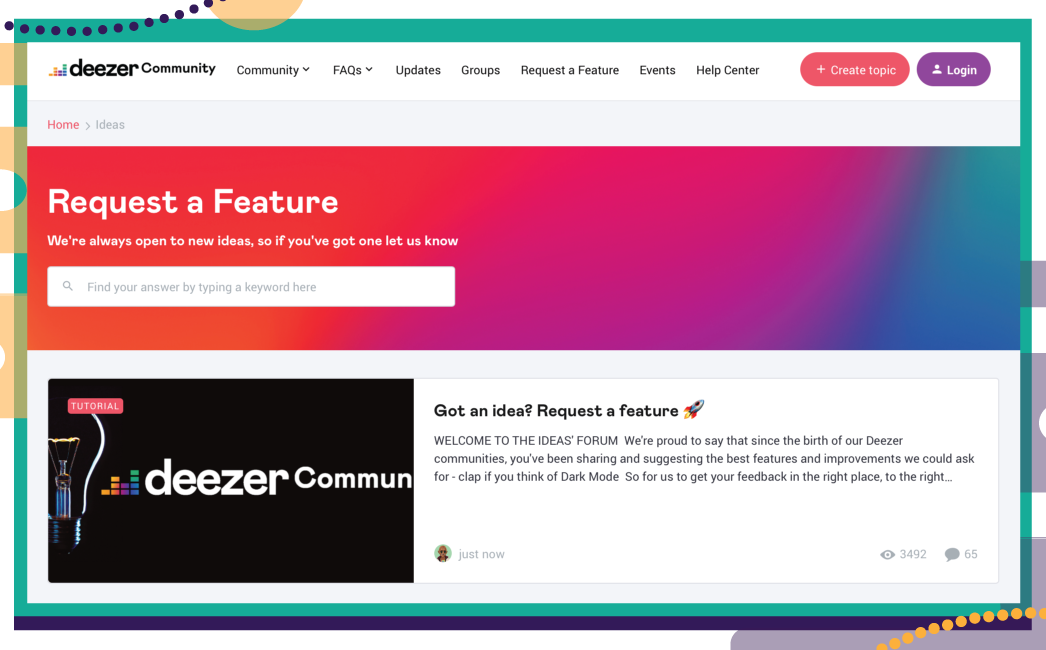 15. Respond To And Highlight Positive Reviews
Provides social proof and boosts credibility

User-generated-content (UGC) spreads word-of-mouth

Allow consumers to do your marketing for you

Helps understand your customers and improve

customer service
Data shows that 49% of consumers trust online reviews as much as personal recommendations. So, it's okay to toot your own horn once in a while. Make the most of the UGC content by sharing positive Google or Yelp reviews on your social platforms to let everyone know about the kind words of your customers. 
Moreover, if someone takes the time to tell you how fantastic your business is, you should take the time to respond and thank them.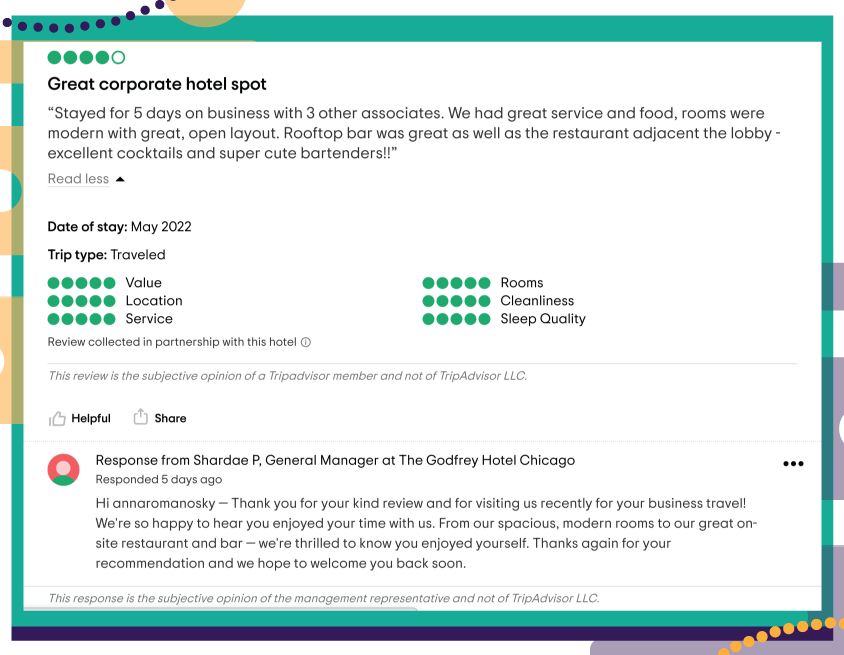 Source: TripAdvisor
16. Create A Fan Club
Allows companies to work directly with consumers

Lets them drive awareness organically

Allows you to build an authentic community to promote your brand
It's essential to keep tabs on your biggest fans. A great way to boost engagement is to create a fan club or an ambassador program. Here you can connect with your biggest supporters and turn their enthusiasm for your brand into a marketing tool for your business.
One way to do this is to create a club for VIP customers to show your gratitude for all of their support. Members of the club get early access to discounts, sales, products, and services, and in turn, you can publish their feedback as social proof. After all, 92% of people say they trust recommendations from family and friends over advertising.

Another strategy is to hire your biggest fans and offer them perks while actively promoting your business. This is what Red Bull does with its Student Marketeer program. The company currently has 4,000 students worldwide working for them to generate awareness and excitement around the brand.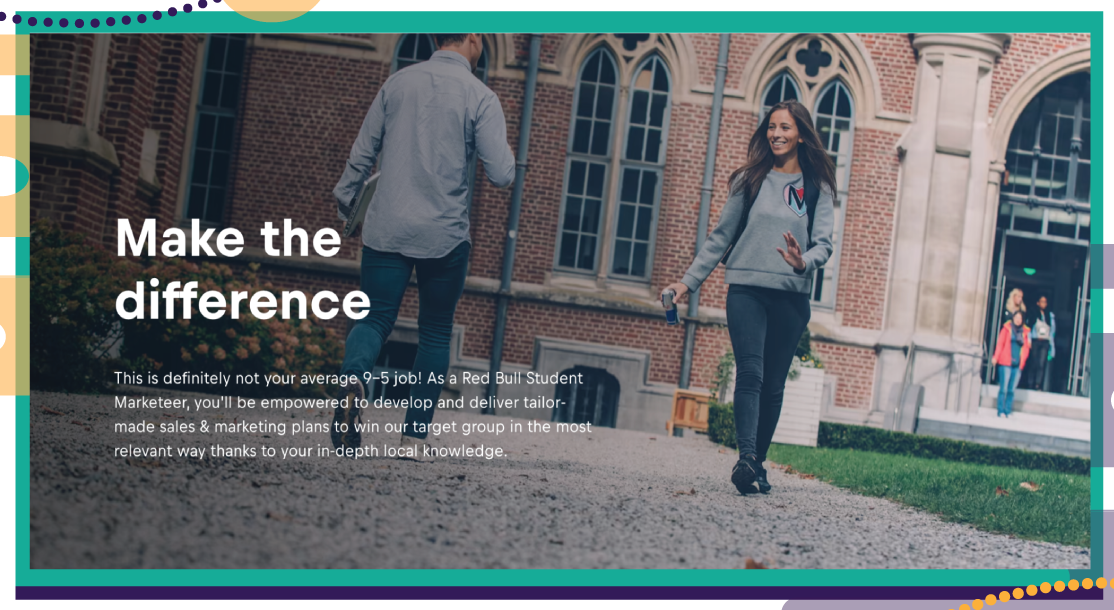 How To Track Customer Engagement
After defining your goals and implementing your customer engagement strategies, it's essential to track the results. This includes reporting on KPIs and analyzing feedback from customers. Metrics you should follow could be the Net Promoter Score, Customer Acquisition Costs, the Customer Effort Score, customer churn, and your Customer Satisfaction Score.
Other ways to measure engagement include tracking reviews and comments, both positive and negative. These comments offer enormous insight and let you know what you're doing well and where you can improve. You can use specific tools, like Brandwatch and Critical Mention,  to track comments and monitor sentiment.
You can monitor engagement using the platforms' dashboards or analysis tools. You can also analyze social media likes, shares, and comments. Overall engagement can also be measured by looking at how customers engage with blogs, how many podcast downloads you have, and the number of views of your videos.
Track website engagement by taking a close look at the bounce rate, repeat visitors, subscriptions, and time on site. You can track customer use of your apps and devices as well.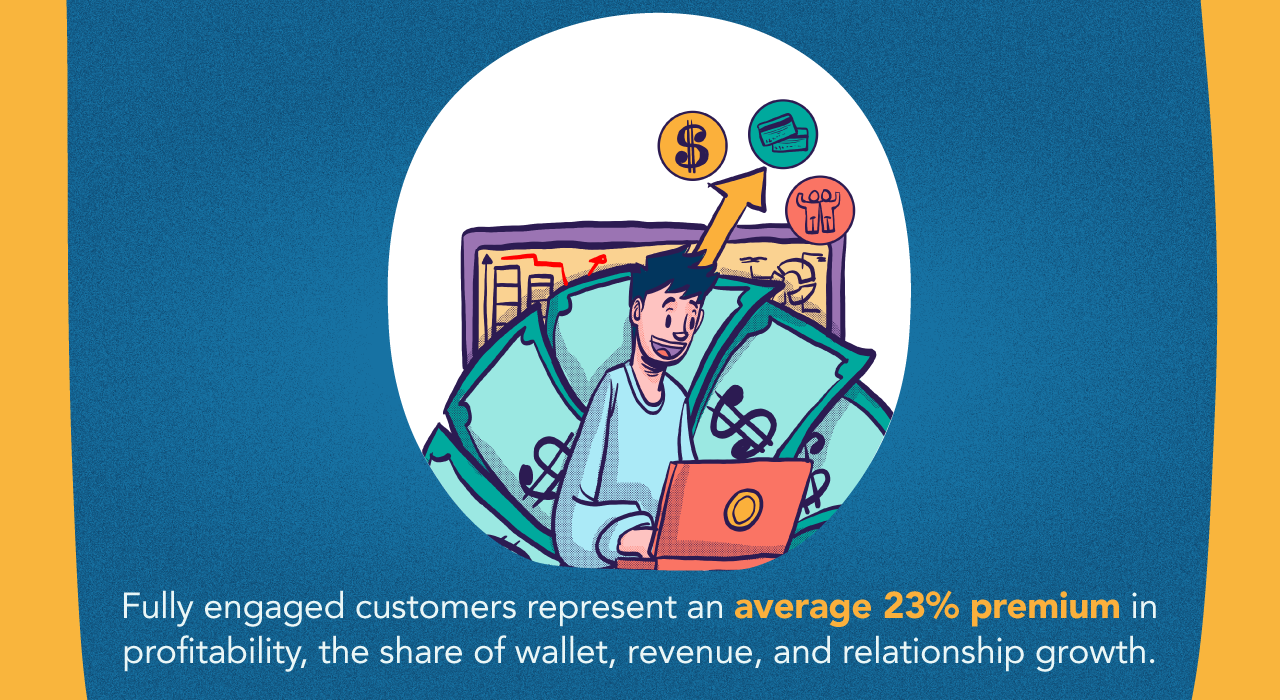 Implement Your Customer Engagement Strategy Today
Companies need to take advantage of every opportunity to make a great impression on their customers. Adding value to their experience will ensure that they keep your brand front of mind. And the more engaged your customer base is, the more loyal they are. This can help you reduce churn, boost customer satisfaction, retain customers, enhance brand identity, and ultimately improve your bottom line.
It's never too late to prepare and implement your customer engagement strategy. Fully engaged customers represent an average 23% premium in share of wealth, profitability, revenue, and relationship growth.

Start engaging buyers today and reap the rewards down the line. The ideas above can be adapted to your specific market and inspire you to develop your own innovative ideas for your business. Remember, for your strategy to be successful, it must be measurable and allow you to collect feedback and data to shift, tweak, and pivot where needed.

Organic engagement may grow when you're genuinely a customer-centric company, endeavoring to provide a stellar customer experience and superior customer service. But it's always a good idea to work proactively to engage your customers. 
Infographic