I should note that the event kicked off yesterday. That is, virtually and in person, although AWS re:Invent 2022 ends Friday, December 2, 2022. Nonetheless, you can still tune in to catch its latest announcements through the end of the week. 
At this year's event, AWS announced several fresh updates to its Amazon Connect contact center platform, geared toward empowering agents to forecast, planning for higher/lowering capacity, and even pulling off the seemingly impossible – scheduling. 
First announced at Enterprise Connect 2022, Amazon Connect's forecasting, capacity planning, and scheduling capabilities are now generally available. AWS further updated its contact center intelligence platform – Contact Lens, for Amazon Connect.
The platform enables conversational analytics for customer chats with agents. And AWS says; it introduced 'Amazon Connect agent workspace' in preview – a fresh step-by-step experience approach to customer experience (CX). The platform directs contact center agents in resolving customer queries.
Tackling: Forecasting, Capacity Planning, Scheduling
Taking this on in the contact center sphere is no small feat, and AWS is betting on its technology to help predict demand, aiming for high accuracy. 
And all this is important, as determining ideal staffing levels and agent even optimization depends on having reliable data. According to AWS, firms like Litigation Practice Group, already leverage the technology to forecast customer demand in its legacy contact center. 
Forecasting in the platform is thanks to historical data, which helps AWS machine learning technology, ultimately predicting things like inbound, transfer, and callback contacts in both voice and chat channels. Capacity Planning within the platform lets users predict how many agents they (will likely) need to meet service level targets for pre-determined periods.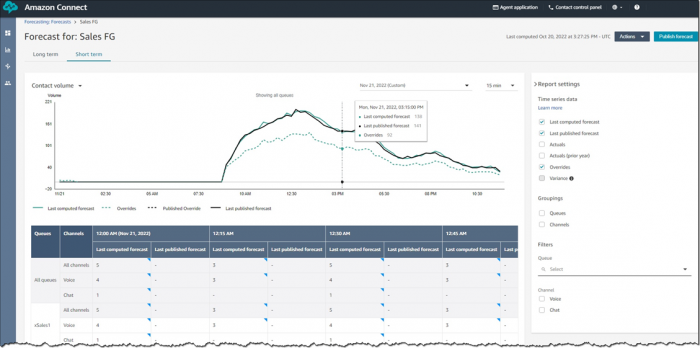 AWS also made updates to its scheduling functionality. In a statement, AWS wrote: "Using short-term published forecasts together with shift profiles, staffing groups, human resources, and business rules: the new scheduling feature creates efficient schedules optimized for a service level or an average speed of answer target." 
Accordingly, schedulers can then review and edit if needed. Once a schedule is published, Amazon Connect notifies supervisors and agents in the relevant staffing groups – of its availability.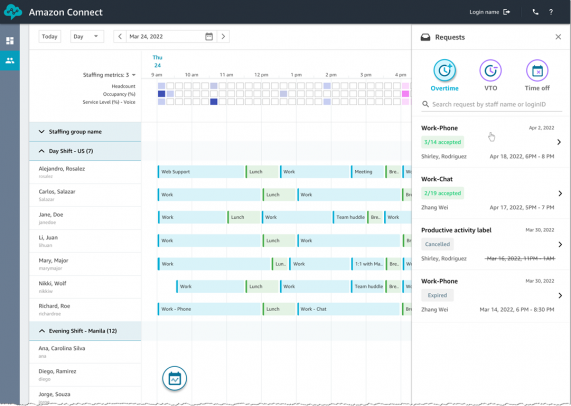 "As of AWS re:Invent 2022, scheduling now supports intraday agent request management, offering agents overtime or voluntary time off," AWS added. 
Forecasting, capacity planning, and scheduling are available today in Virginia, Oregon, Asia Pacific (Sydney), and Europe (London). 
Contact Lens to Support Conversational Chat Analytics, etc. 
The AWS-powered contact center intelligence platform has added to its conversational analytics capabilities for Amazon Connect Chat. The updates, AWS contends, extend (machine learning) ML-powered analytics so managers can better assess chats with agents and the Amazon Lex bot.
That lends enterprises insight into some high-value areas, such as customer sentiment. It can also redact sensitive customer information and monitor agent compliance with company guidelines – to enhance agent performance and customer experience. 
Now users can leverage the contact search feature to (quickly) identify conversations when customers experience complexities – based on keywords, customer sentiment scores, contact categories, and even agent response time.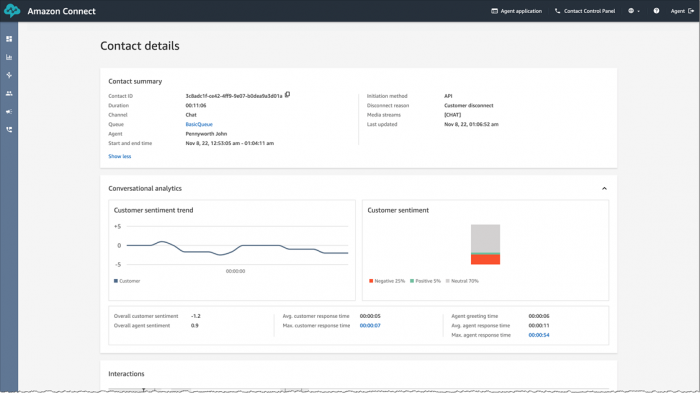 Contact Lens also now extends a chat summary. The feature, according to AWS, uses ML to classify and highlight what it calls 'key' parts of the customer's conversation. This could be the issue, outcome, or even an action item stemming from customer interactions. 
"You can also use the new analytics capabilities to automatically detect and redact sensitive customer information, such as name, credit card details, and Social Security number, from chat transcripts," AWS wrote in a statement. 
Contact Lens's conversational analytics for chats; is available in (Oregon), (N. Virginia), Canada (Central), Europe (London), Europe (Frankfurt), Asia Pacific (Singapore), Asia Pacific (Seoul), Asia Pacific (Tokyo), and Asia Pacific (Sydney) regions.
AWS Looks to Stegenthen Agent Performance
Furthermore, looking to strengthen agent performance, contact center managers can now create agent evaluation forms within Contact Lens.
 "They can add relevant evaluation criteria, such as the agents' adherence to required scripts or compliance with sensitive data collection practices. You can also enable scoring that uses the ML-powered Contact Lens for Amazon Connect conversational analytics capabilities," AWS wrote.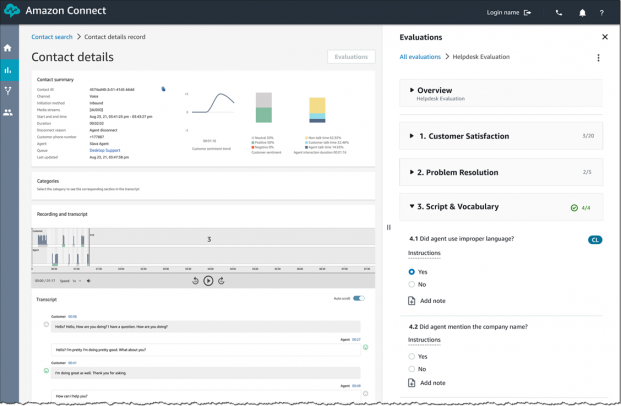 AWS says that customers like Frontdoor have leveraged the tool to reduce the number of evaluation forms needed by 200%. It further notes that it completed the build-out in a fraction of the time previously predicted. 
The solution is available in the US West (Oregon), US East (N. Virginia), Canada (Central), Europe (London), Europe (Frankfurt), Asia Pacific (Singapore), Asia Pacific (Seoul), Asia Pacific (Tokyo), and Asia Pacific (Sydney) regions. 
Agent Workspace Adds Step-by-step Guidance
Now available in preview, Amazon Connect agent workspace is a unified platform application that helps agents resolve customer issues. "When accepting calls, chats, or tasks, your agents can view updated customer information, search for knowledge articles, and get real-time recommendations," AWS wrote. 
Now AWS has added a no-code, drag-and-drop interface to create custom workflows and step-by-step guides for contact center agents. The platform comes with simple logistical tools that help build contact center flows that are shown to agents depending on pre-determined conditions.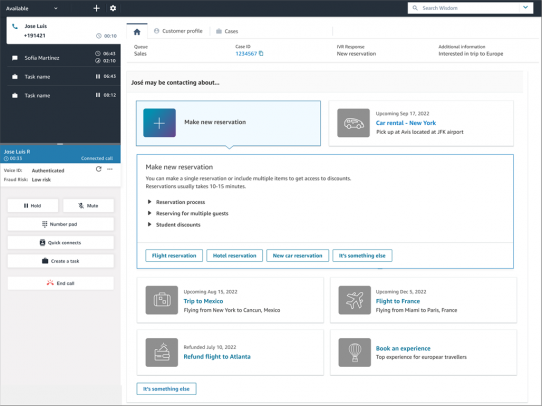 "Once the agent selects the guide, the Amazon Connect agent workspace provides the information and one-click actions across both Amazon Connect and third-party applications that agents can use to resolve the customer issue."
Amazon Connect's step-by-step guides are available in Virginia, Oregon, Asia Pacific (Sydney), and Europe (London) regions.   
All about AI/ML 
With a laser focus on artificial intelligence and machine learning enhancing agent performance and customer experience, AWS is not the only one placing bets on artificial intelligence in the contact center – being a prominent trend in 2023. 
In a recent AWS report, the company found that self-service is more crucial in 2022 than in 2021, with 71 percent of customers reporting they leverage self-service tools to answer questions or handle issues before contacting a live customer service agent. This alone works to demonstrate the might of AI/ML in a customer environment. 
As we near the year's end, more companies release AI-heavy features, like Vonage, which launched its AI Studio offering, and Slack, which introduced a plethora of new automation tools for developers – at Dreamforce 2022. 
Something tells me this is just the beginning of what can and cannot be automated – all in hopes of fostering better customer and user experiences.