Cloud communication provider Vonage is well-known for enabling advanced video, voice, chat, messaging, AI, and verification into existing products, workflows, and systems. Now, the New Jersey-based vendor is giving users of the platform more options for adding AI to their various stacks to boost customer engagement and enable anyone, no matter their coding skill level – to do so.  
Today, the firm launched Vonage AI Studio, a low code/no code tool built to enable anyone to design, create and deploy customer engagement solutions for experiences powered by conversational AI, which according to a statement by the firm, hopes to be: 
"The AI conversational building blocks to help businesses speed up design and elevate customer engagement across omnichannel communications." 
And the major attraction to the offering: is the fact that anyone can design said experiences. Vonage is a part of a long list of vendors adding to their low/no-code experience-building capabilities, with the likes of BlueJeans by Verizon and 8×8 having done so as of late. 
Vonage AI Studio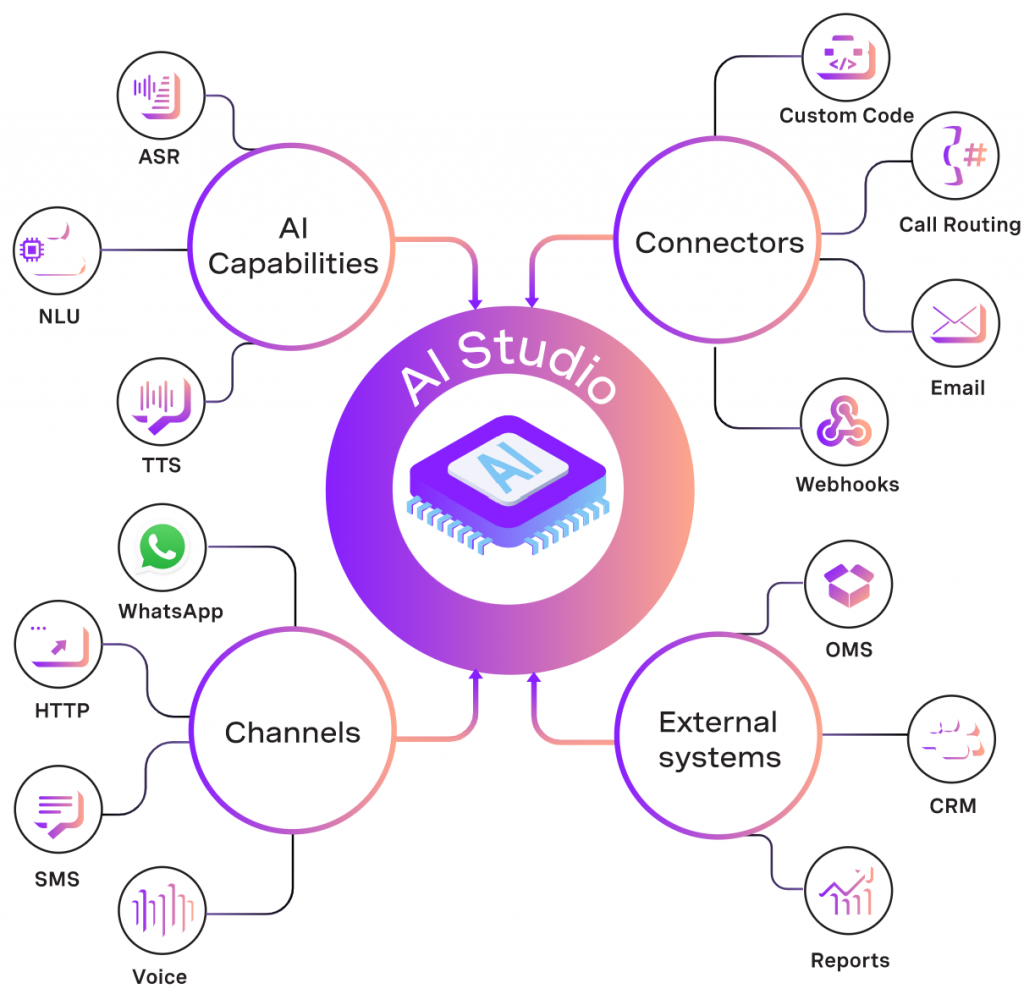 The new experience builder for intelligent conversations deemed Vonage AI Studio: is poised to help users advance how customers interact with firms; via automated interactions across all channels, including voice, SMS, and messaging apps like WhatsApp – the company notes in a statement. 
Founder, and CEO of Aragon Research, Jim Lundy, emphasized the significance of such capabilities, noting that modern customers have much higher expectations than past customers. He says they want to communicate with businesses easily and seamlessly across apps without feeling friction. He continued, stating: 
"Similarly, businesses need the tools that enable them to easily create these meaningful connections, augmented by AI capabilities to add efficiencies to workflows; and using natural language that does not take away from the customer experience."
He believes that such capabilities will only make companies more resilient and able to better understand customer needs – on top of making apps more intelligent and intuitive. 
Advanced Conversational CX, Nix the Code
Vonage users can now build and deploy everything from virtual assistants for self-service support to billing updates, and appointment scheduling, FAQs, etc., via the new standalone platform. They can embed those experiences into any application, and the offering further relies on machine-learning models that adapt.
"For example, during high call volumes, for even greater efficiency, these AI conversational capabilities enhance interactions by enabling frictionless customer engagement wherever customers are," Vonage wrote in a statement. 
It can do all this without losing context, furthermore; driving a personalized customer journey across voice and messaging channels in real-time. And one Vonage customer is already testing out the technology. 
Ronlight is the sole distributor of Garmin products in Israel, and the firm leveraged AI Studio to build a virtual assistant named Ron – for its contact center. Ron's goal – is to assist the firm in automating and scaling, looking to improve things like efficiency, cost savings, and how customers engage with the brand. 
According to Avishay Pariz, CEO, of Ronlight, the firm realized some fairly impressive results after deployment, noting that:
"With Ron, our call center is now a 24/7 operation, successfully responding to more than 70% of our frequently asked customer calls without (any) human intervention." 
He points out that the experience: "drastically reduced" call resolution times and empowered the contact center's live agents time to deal with pressing matters. Vonage, looking for ways to differentiate its offering from others on the market – offers a la carte service. 
It also offers; what it calls a complete virtual assistant package, which provides a turnkey, customized solution and user experience from setup to monitoring and even billing across multiple vendors.
An Opportunity for Vonage Partners 
Vonage API partners hoping for extra revenue streams from that ecosystem are in luck – that is according to the firm. It highlights the fact that independent Software Vendors (ISVs) can accelerate their development cycles to build competitive enterprise-grade virtual agents on any channel.
And Systems Integrators (SIs) can offer differentiated service packages to organizations. The new platform, AI Studio, lets users expand existing platforms and offerings. and they can use the tool to expand customers' custom integrations with CRMs, contact center solutions, analytics, etc.
Looking at Vonage in Q2
During Q2, Frost and Sullivan named Vonage a CCaaS leader in its Innovation and Growth index. 
The firm ranks vendors based on independent research of elements of a business like product portfolio, vision/strategy, research and development, growth perspective, and a vendor's ability to align with its most valuable public – customers. 
In a statement on its website, Vonage, now owned by Ericsson, following the July 2022 completion of an acquisition, wrote:
"We received credit for investing heavily in innovation to deliver new contact center applications for reporting, analytics, visual engagement, and AI-based functionalities, its deep integrations with Salesforce, ServiceNow, and Microsoft Teams, and for offering one of the most comprehensive and flexible cloud communications platforms in the market."
Vonage also joined the AWS Independent Vendor ISV Accelerate program for AWS partners who take advantage of AWS technology. There is also plenty of room for co-selling and money to be made for partners. 

Finally, in Q2, Vonage attained AWS Machine Learning Competency for applied artificial intelligence (AI). That is – (mostly) due to its contact center intelligence capabilities that employ machine learning via the Vonage API Platform.
Customers, in Store for Better Experiences
As UCC firms continue to transform the way companies do business, vendors keep on adding advanced capabilities to make hybrid work and enterprises run more efficiently. I am convinced; that this is why low/no-code development tools continue to saturate the market in such great numbers. 
There is no shortage of tools designed for this purpose, and it seems; that nearly every vendor has some offering that takes the concept of low/no-code and extends it to customers. 
Vonage is the latest to do so, but it surely won't be the last as there is no deficiency in the kinds of experiences one might build when they have the ease of (drag-and-drop): on their side. And customers might be in store for better experiences as a result. At least, it seems. 
As always – stay tuned for the latest UCC news, insights, and trends here on GetVoIP News.