The transition to remote and hybrid working environments has changed the way we view employee and customer experiences. With the COVID-19 pandemic impacting the way we do most things – UCC providers have made a swift and timely push for companies to adopt a new kind of experience to keep up with the needs of remote workers.
This one, nevertheless, blurs the lines between two popular SaaS delivery models. Experience Communications as a Service or (XCaaS) is a cloud communications deployment model that, according to 8×8; a leader in the space:
"Erases the boundary between Unified Communications as a Service (UCaaS) and Contact Center as a Service (CCaaS)."
The integrated cloud communications platform provider recently announced the launch of 8×8 Frontdesk, an XCaaS (eXperience Communications as a Service) platform, which is now generally available. There are plenty of benefits of a single-provider solution like the kind 8×8 develop and this could be why 8×8 has seen so much success in recent months.
A recent study by Metrigy on customer engagement transformation in 2020 and 2021 found that:
This is, of course, great news for the likes of 8×8 UCaaS which takes the approach to the next level. I will dive into how they do that a bit later in the piece. But for now – I want to focus on its most recent innovations in the unified communications space.
8×8's Frontdesk user interface is built for receptionists and front desk staff who today deal with higher than usual call volumes. All this, with the added complexity of working remotely. Now, according to 8×8:
"They can answer calls efficiently regardless of location or device, access a custom view of expert resources to consult, and connect calls using single-click interactions."
Equipped with call queuing and handling features that actively work to enhance productivity – 8×8 Frontdesk is unlike other traditional operator console or switchboard solutions. So-called 'traditional' systems typically require add-ons or separate applications to harness the technology's fullest potential.
Breaking Down 8×8 Frontdesk
Moreover, 8×8 Frontdesk offers an incredible amount of visibility into workforce status and availability. Companies that implement this technology for receptionists are – well, set to gain several advanced functionalities, including:
"The ability to filter users by site, spanning standard 8×8 extensions and Microsoft Teams users," 8×8 wrote in a statement.
Diving deeper into the 8×8 XCaaS experience, there are several benefits of deploying such a system. For starters, you have a single app that applies to most scenarios. Users can access all this natively through 8×8 Work, an offering that includes access to advanced voice, video meetings, team chat, and more under the umbrella of a single, integrated desktop application.
In terms of pricing, 8×8 is fairly competitive, too, just take a look for yourself: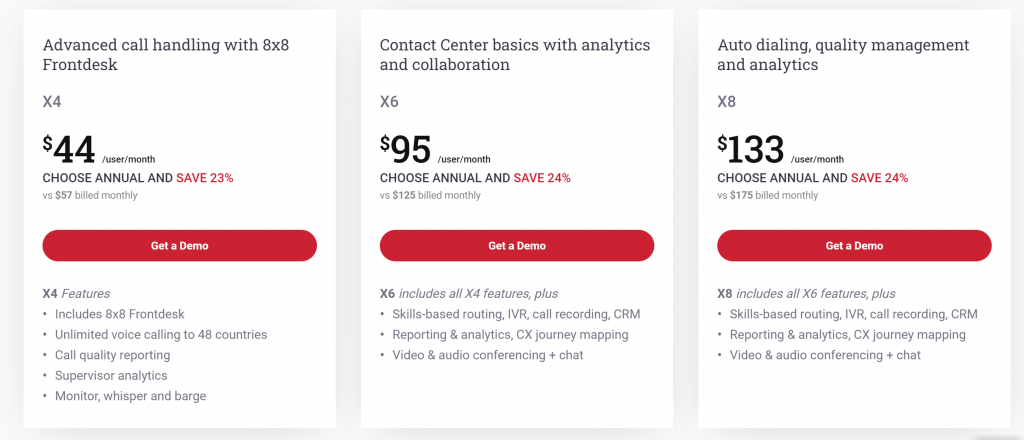 Advanced Call Handling Features
8×8's new XCaaS solution places substantial importance on creating a personalized encounter. So much so, it extends the use of custom filters to tailor targeted contact lists, annotate each contact, etc. There is also centralized answering for employee and contact center user groups.
Considering the platform's user interface, it is intuitive. It allows receptionists and front office staff to stack, prioritize, and even manage multiple concurrent calls from the 8×8 Work desktop app.
The same report from Metrigy on customer engagement transformation in 2020 and 2021 found that companies utilize UCC technologies in a number of ways. They obviously need to connect with customers, but there is the element of closing sales during a pandemic and doing it virtually. There is also the ability to use said technologies for the purpose of customer engagement.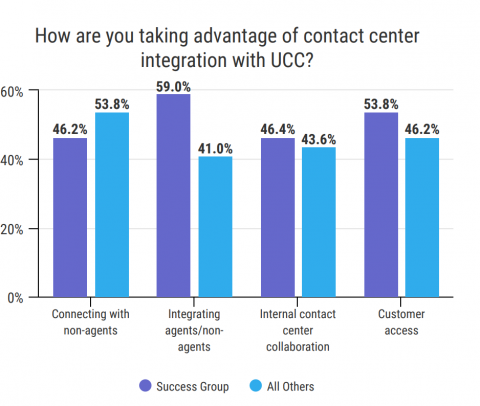 "Automatic contact-filtering of the enterprise directory, based on the site location dialed, enables fast pick-and-click transfers to a localized user list," 8×8 noted in a statement. In terms of other robust queue management features, the platform unifies the view agents see (of multiple call queues)."
With robust queue management functions, the view of multiple call queues becomes unified – presenting agents with general inquires, service-specific queries, etc. The system's click-to-call and chat functionalities are also high-level and deliver robust call queueing – advanced organization-wide transfers, and messaging capabilities with a single click in the VoIP software.
Finally, agents gain a holistic view of all extensions, other agents, and call queues. They even gain insight into user statuses across the entire organization. This includes presence sync with Microsoft Teams leveraging 8×8's Voice for Microsoft Teams direct routing solution.
Continued Innovation Throughout the Pandemic
8×8 has been on a spree to release a ton of features during the pandemic, ones that have almost certainly helped a ton of customers succeed in delighting customers and employees across the globe. Just last month the company announced a series of updates to its XCaaS platform – ones set to help foster a smoother transition to the new normal of remote and hybrid work which appear to be indefinite.
As of last month, 8×8 XCaaS users gained access to several new and innovative features, including enhancements to its video solution that can now handle up to 500-active desktop users in a single meeting. With it, users can collaborate and share screens, audio, and video.
The company also announced support for more endpoints and meeting attendees can utilize legacy SIP devices to pull off many of these advanced functionalities.
The company also announced that it would further its reach into the Microsoft Teams platform. It announced a series of features set to deliver better visibility across the organization via its presence sync feature.
According to 8×8, its Voice for Microsoft Teams direct routing offering will soon support employees who want to send and receive SMS, MMS, and fax messages. Here's the kicker – it can be done from any Teams-native interface, a functionality sure to be a game-changer for organizations that rely on Microsoft Teams to power a growing working digital workforce.
Speaking of which, 8×8 even made a few enhancements to its workforce mobility offering, having introduced a new feature that lets users share content from mobile devices when they use the 8×8 Work app.