Microsoft Teams and Cisco Webex Teams are two of the top internal team collaboration and web conferencing solutions, both uniting video meetings, chat messaging, and VoIP calling into one intuitive interface.
Each cloud-based provider offers desktop and iOS/Android mobile apps that organize unified communication channels into customizable dashboards, with other tools like AI support, analytics and reports, workflow and task management apps, and engagement features.
But how do these solutions stack up against each other?
This article compares Microsoft Teams vs Webex Teams, outlining each product's features, pricing, user experience, pros, and cons.
Jump to↓
Webex vs Microsoft Teams: Overview
Cisco Webex
Microsoft Teams
Pricing
3 plans ranging from free to $25 monthly per user
4 plans ranging from free to $12.50 monthly per user
Key Features

Video meetings
Team chat
Voice calling
High-tech meetings audio

Video meetings
Team Chat
Document Collaboration
Hundreds of built-in apps

Integrations
Microsoft Teams, ServiceNow, Salesforce, Slack, Hubspot, Meta, and hundreds more
Salesforce, RingCentral, Cisco Webex, Zoom, Freshdesk, SurveyMonkey, and hundreds more
Meeting Basics
Up to 1000 participants and 24 hours
Up to 300 participants and 30 hours
Best For
A balanced collaboration platform with all primary channels and strong video features
A low-priced platform geared toward document editing and task management, without voice calling
Webex vs Microsoft Teams: Feature Comparison
Here, we've compared key features between Webex vs Microsoft Teams:
Webex Video Meetings
Webex Video meetings make it easy to organize video conferences to host up to 1000 participants for 24 hours at a time.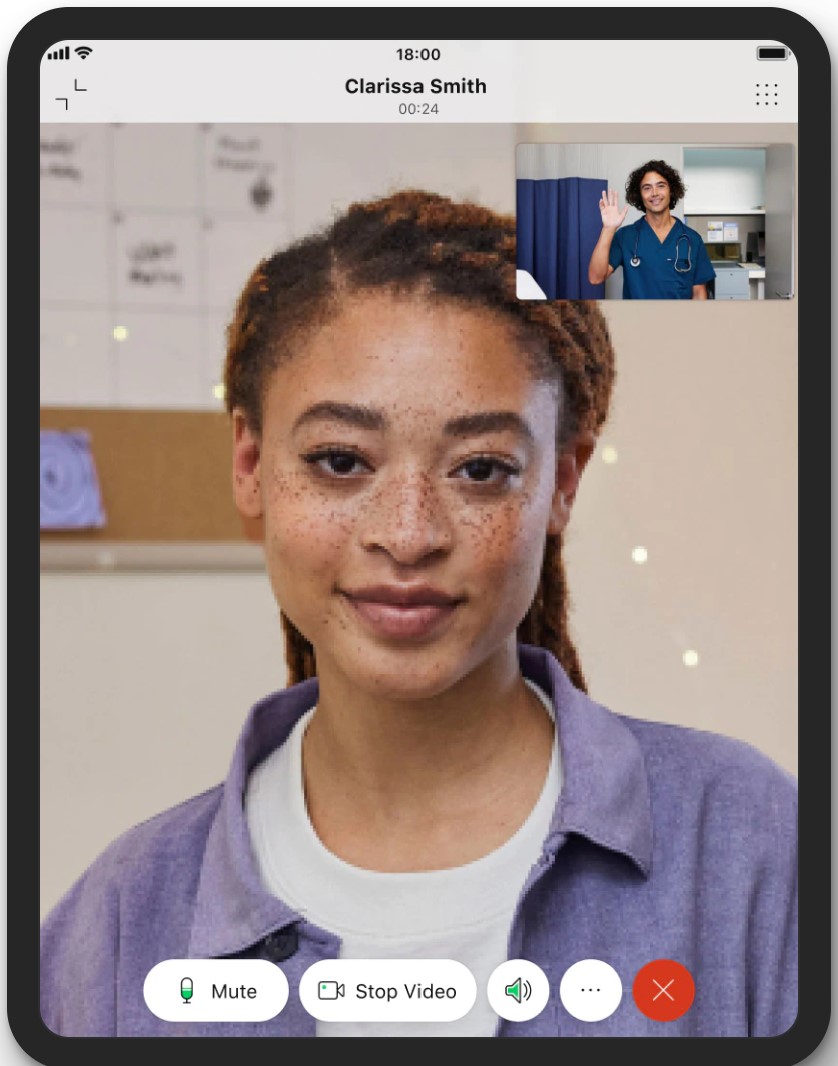 In the Schedule a Meeting tab, users can schedule recurring or one-time meetings and invite attendees via the creation menu or by sharing a link and meeting number. Every account has a unique personal meeting room with a link and button for impromptu, on-demand meetings.
Meetings combine the following AI-powered, interactive features:
Engagement features: Polls, digital infinite-canvas whiteboards with drawing and ideation tools, screen sharing, polling, Q&A, picture-in-picture, virtual backgrounds
Calendar integrations: Scheduled meetings integrate within the Webex calendar, plus Google Calendars and Microsoft 365
Immersive share: Overlay the presenter's image atop a custom background (slide deck, image, etc.)
Meeting recording, transcripts, and highlights: Speech recognition software transcribes meetings live and stores them in the cloud, using keywords to generate meeting highlights that recap the meeting in just a few minutes
Noise removal: Eliminates background noise, clarifies the speaker's voice, and equalizes each participant's speech volume for clarity even with simultaneous speakers
Gesture recognition: AI recognizes hand gestures like a thumbs up or hand raise, translating them into emoji responses
Microsoft Teams Video Meetings
Microsoft Teams video meetings, easy to organize in the Calendars tab, feature meeting recording, noise suppression, live transcription in six languages, and a robust collaboration workspace. The tool became a popular Zoom alternative during the 2020 COVID-19 pandemic.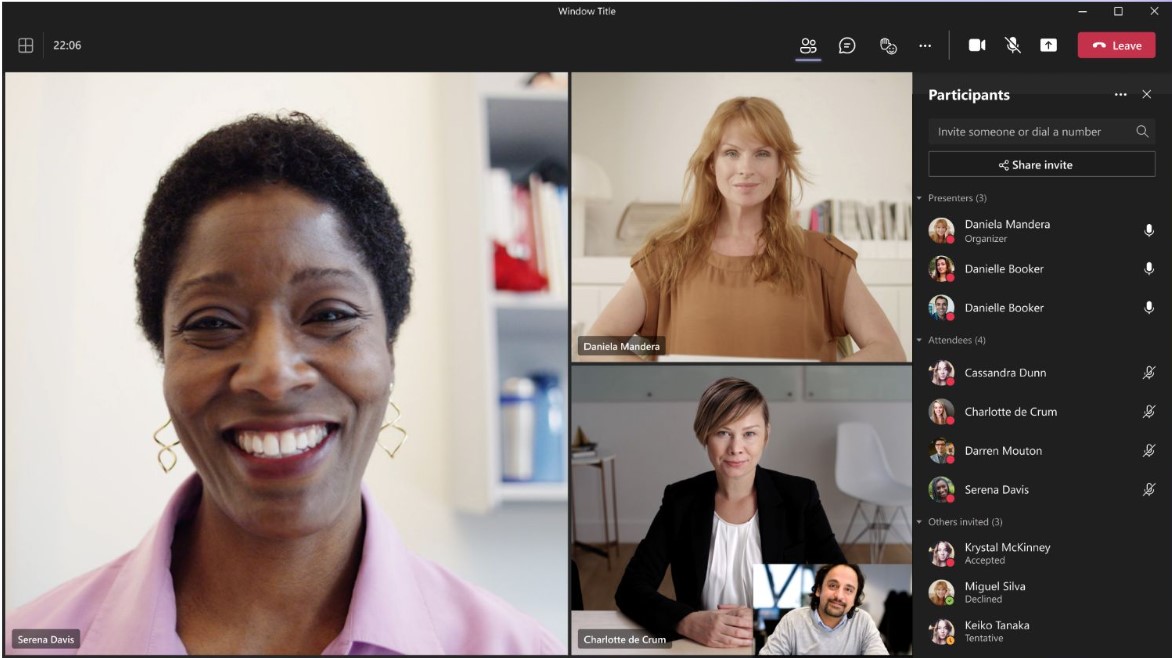 Schedule one-time or recurring meetings, invite participants, grant dial-in access, set a location, attach files, assign the meeting to chat channels, and create an event description. Each meeting has its own tab, where users can chat, collaborate on meeting-specific whiteboards, share and co-edit relevant files like spreadsheets and slide decks, create an agenda, print the participant list, assign tasks, and take in-meeting notes.
Meetings include the following features:
Engagement tools: Virtual backgrounds, screen sharing, notetaking, chat, hand raising, whiteboards
Together mode: Arrange participant streams into an on-screen "scene", like a coffee shop or classroom to resemble an in-person meeting
Speaker coach: A private virtual "coach", available to all meeting participants, that uses AI to offer feedback about body language, pacing, pronunciation, repetition, interruptions, and more
Webex Calling Features
The Webex VoIP business phone system, allows end users to make business-number calls from any device, supports HD-voice with background noise removal.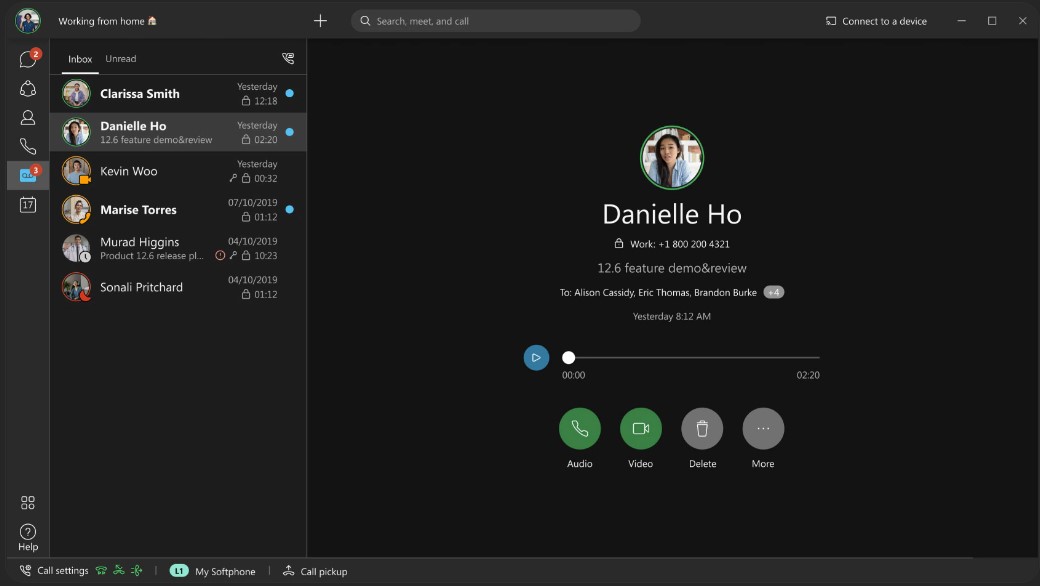 Because calls are made over the Internet and not with the PSTN, Webex users can make unlimited local and domestic long-distance calls. International long-distance calls are billed by the minute. Webex's free Basic plan gives unlimited calling to anyone with a Webex account.
On a call, use one click to merge calls, initiate an audio conferencing call, place on hold, transfer, forward, or set Do Not Disturb mode.
Webex includes basic call management, voicemail, and routing features:
Voicemail with transcription: Set up a business voicemail, create a custom message, and access virtual voicemail logs with transcriptions and one-click callback
Call queues: assign queues, extensions, or agent/ring groups to direct incoming calls
Auto attendants/IVR: Create a self-service IVR menu to route incoming callers to the right destination via DTMF. Using text-to-voice or a recorded message, give customers up to 9 routing options.
Channel and device flip: Switch calls seamlessly between desktop/mobile devices and channels like video, VoIP telephony, and chat
Integrated address book: Share a company-wide address book
Call barge: Admins can listen in on active calls, join them with call barge/call takeover, or coach the agent without the customer hearing via call whisper
Call management features: Merging, call waiting, holding, transfer, forwarding, do not disturb, visual voicemail, and more
Microsoft Teams Calling Features
Microsoft Teams plans only support calling other Teams users. In order to call regular numbers with a full cloud phone system, Teams users must purchase a separate Teams Calling Plan. Luckily, all plans come at a lower cost than popular Microsoft Teams alternatives like Google Meet or Nextiva.
Once enabled and supported, Microsoft Teams calling provides intuitive call management and routing tools.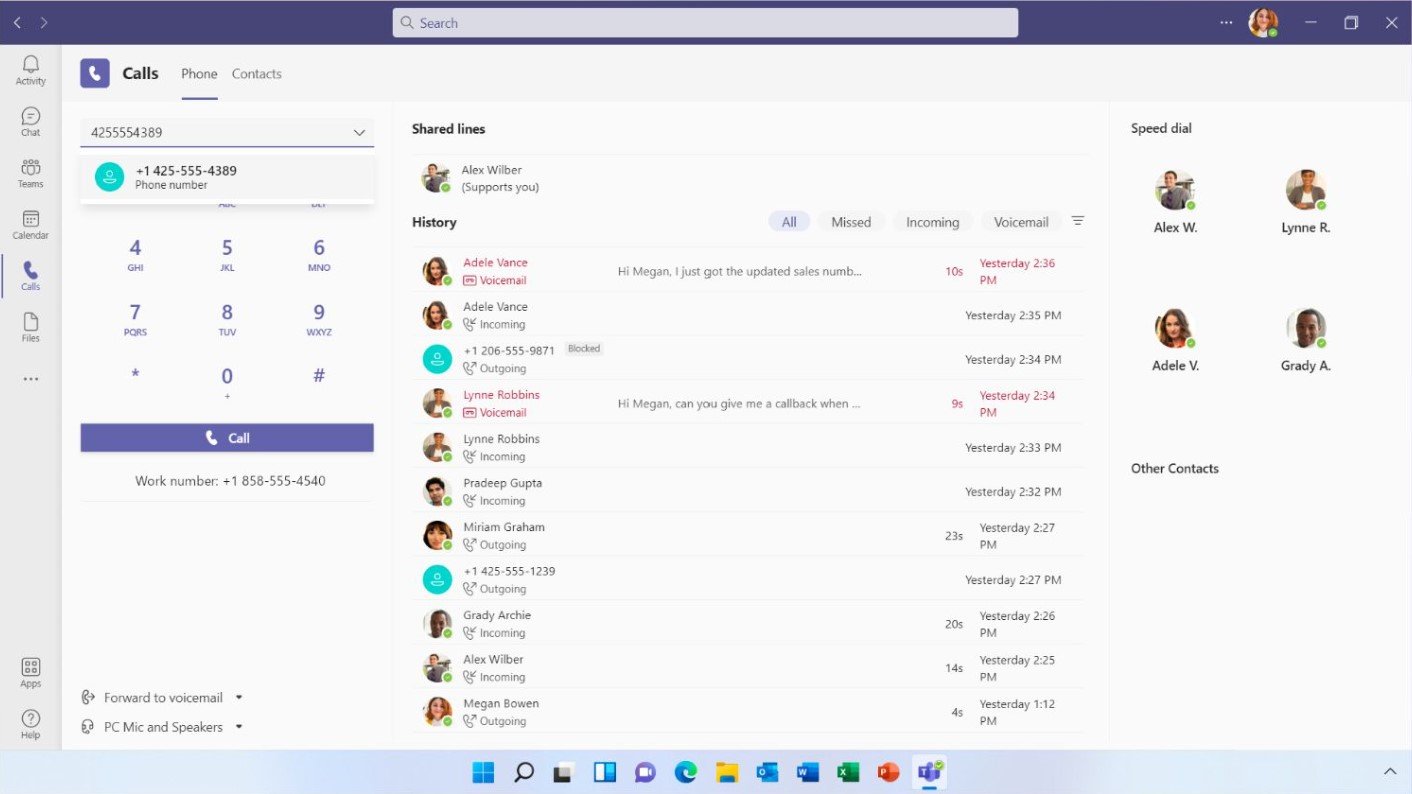 In the Calls tab, make 1:1 or group calls directly from a chat or channel, search contacts, search call history, and access the dial pad. Virtual voicemail logs include one-click callback, recordings, and voicemail transcription.
Call routing, management, and voicemail features:
Ring groups: Custom agent groups that simultaneously receive an inbound call with round-robin, one-at-a-time, or longest-idle call routing strategies
Call parking: Places a call on hold and generates a retrieval code that a new agent uses to take over the call
Call queuing: Create a call queue for customers to wait for an available agent
Call management features: Call transfer, forward, hold, do not disturb
Multi-level auto attendants
Connect your company's contact center to Microsoft Teams to integrate Teams Calling with your other contact center features.
Webex Messaging and Collaboration Features
Webex Chat enables teams to initiate 1:1 and group message threads with internal and external users, share files, react with emojis, share GIFs and media, grant guest access, and send voice messages.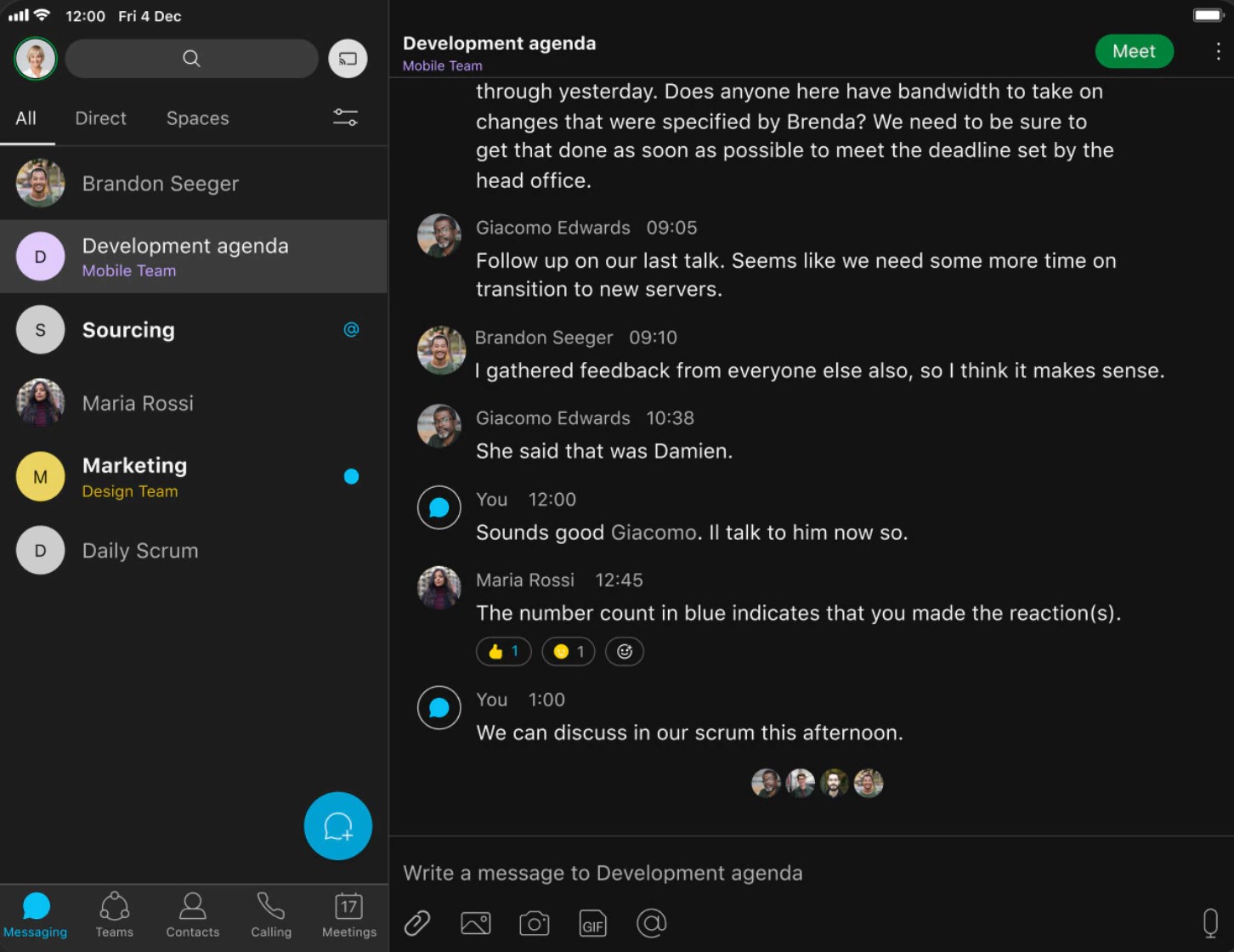 The Messaging tab organizes messages into three categories. 
All organizes an agent's 1:1 and group chats. Direct organizes an agent's 1:1 conversations. Spaces are ongoing conversation threads centered around a specific product, task, or meeting.
In Spaces, users can share online meeting agendas, prepare presentation documents, or organize an into-through-beyond hub for a major event. Schedule impromptu meetings from a calendar within Spaces, where meeting transcripts, notes, and recordings are compiled afterward.
Use the following features across conversations:
Co-editing: Dozens of team members can share and simultaneously co-edit Microsoft OneDrive and SharePoint online files–within apps like PowerPoint, Excel, and Word–right within a space or conversation
Advanced search: Sort through all conversations, looking for a particular keyword or user. Pin important documents and messages to the top of conversations.
Whiteboarding: Share and edit whiteboards in chat or video meetings
Microsoft Teams Messaging and Collaboration Features
Chat, send 1:1 messages, and organize your network into teams based on location or department. Within each team, create unlimited channels–ongoing conversations where groups can discuss projects or meetings, and share files.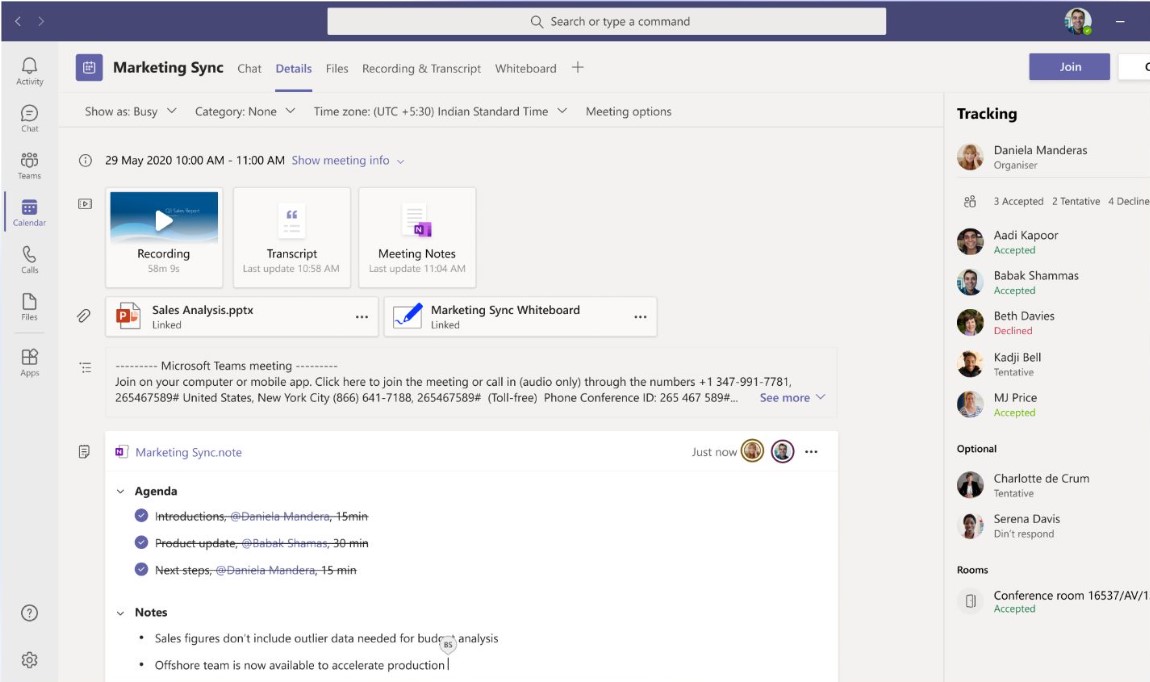 The Activity tab notifies users about new activity across channels–conversation replies and mentions, reactions, missed calls, and voicemails.
Jump from chat to video call or voice call with one click, or pop out the conversation to overlay it on other tabs.
Chat features:
Threads: Create focused, organzied conversation threads, even within larger chat groups
Custom notifications: Customize when, how, and where you receive chat notifications
Post variety: Use different post formats for conversations, announcements, or agenda items
Formatting options: Titles, tables, task lists, bullet points, links, quotes, highlights, italics, and more
Translation: Inline chat translations into 35 languages
Priority notifications: Mark messages as important to get your team's attention
Video-clip sharing
GIFs and stickers
Self-chat
With Microsoft SharePoint and OneDrive embedded into Teams, use Teams chat to share and simultaneously collaborate on documents within Microsoft apps like Word, Excel, and PowerPoint.
Collaboration and file-sharing features:
Access control: Manage which users can view and edit your documents, protect file access and version control with advanced security features like user authentication and Single Sign-On (SSO)
Multiple ways to share files: Share documents and files in chat or meetings via a link or direct file upload
Real-time coauthoring: Dozens of teammates can edit the same file simultaneously with automatic sync and autosave
Meeting scheduling: Schedule a meeting directly from the group chat
Whiteboarding
Select from hundreds of built-in apps to add chat features, like:
Polling
Task creation and assignment
Microsoft Forms and surveys
Praise, and more
Webex Analytics and Administrative Tools
Access historical and real-time KPIs, reports, and interactive data visualizations about engagement, participants, and performance quality.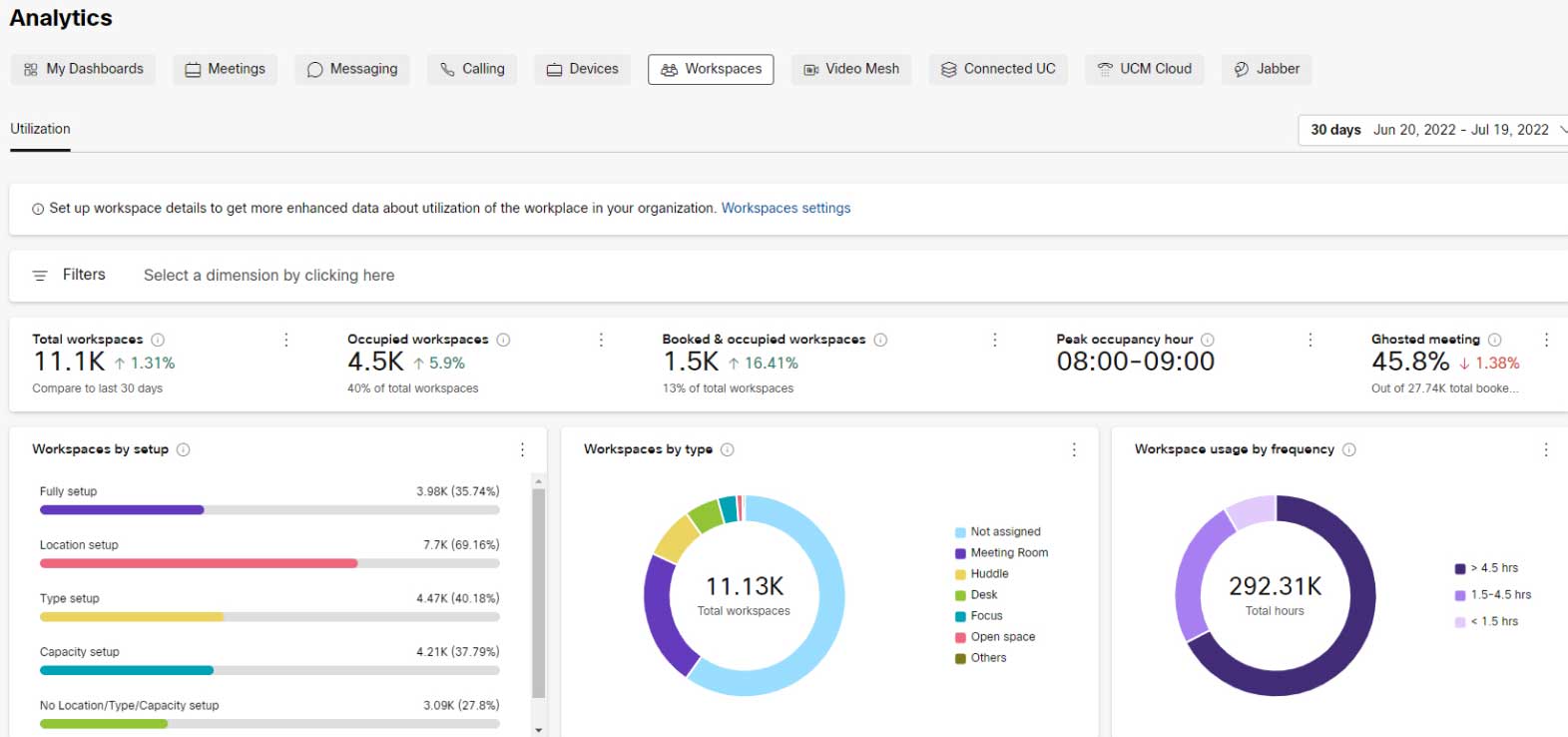 The Engagement tab displays graphs of each channel's usage over time, comparisons of channel usage rates, and total numbers and minutes of all meeting types.
The Participants tab shows the number of participants in each meeting, meeting lengths, each participant's role, apps used, and more.
Microsoft Teams Analytics and Administrative Tools
In addition to managing channel and participant settings, access the following real-time and historical reports, dashboards and analytics:
Usage reports: Active users, active channels, messages sent
User activity reports: Each user's messages, number of meetings, calls participated, and last activity date
Call quality dashboards: Organization-wide call and meeting quality, with reliability reports and user survey ratings, charted over time in graphs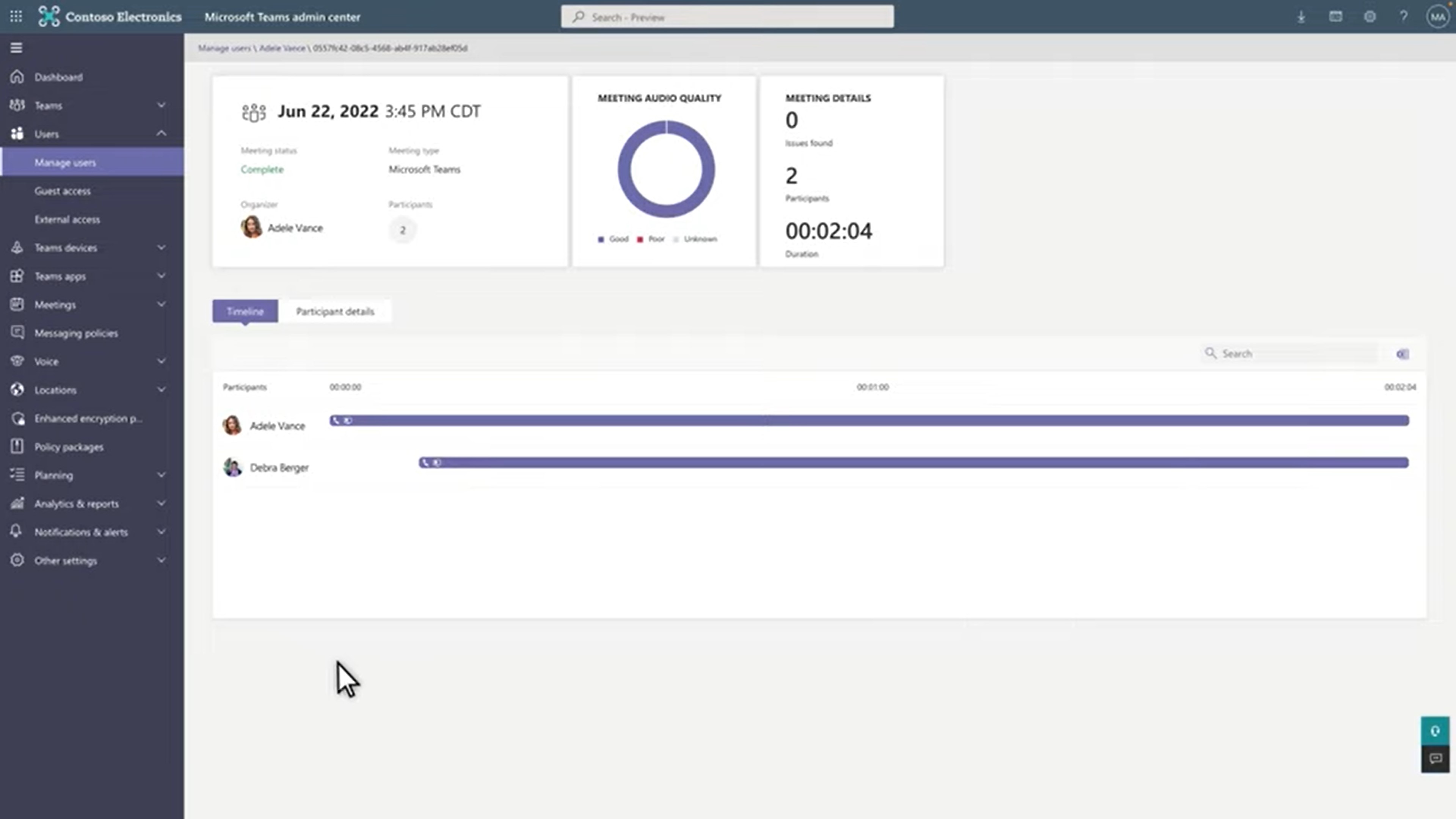 Webex Pricing
Webex's free Basic plan includes chat and video messaging, with most video features. The Business plan expands the meeting time limit and participant capacity, with added video features and full calling capabilities. The Enterprise plan adds advanced calling features and a 1000-participant meeting capacity.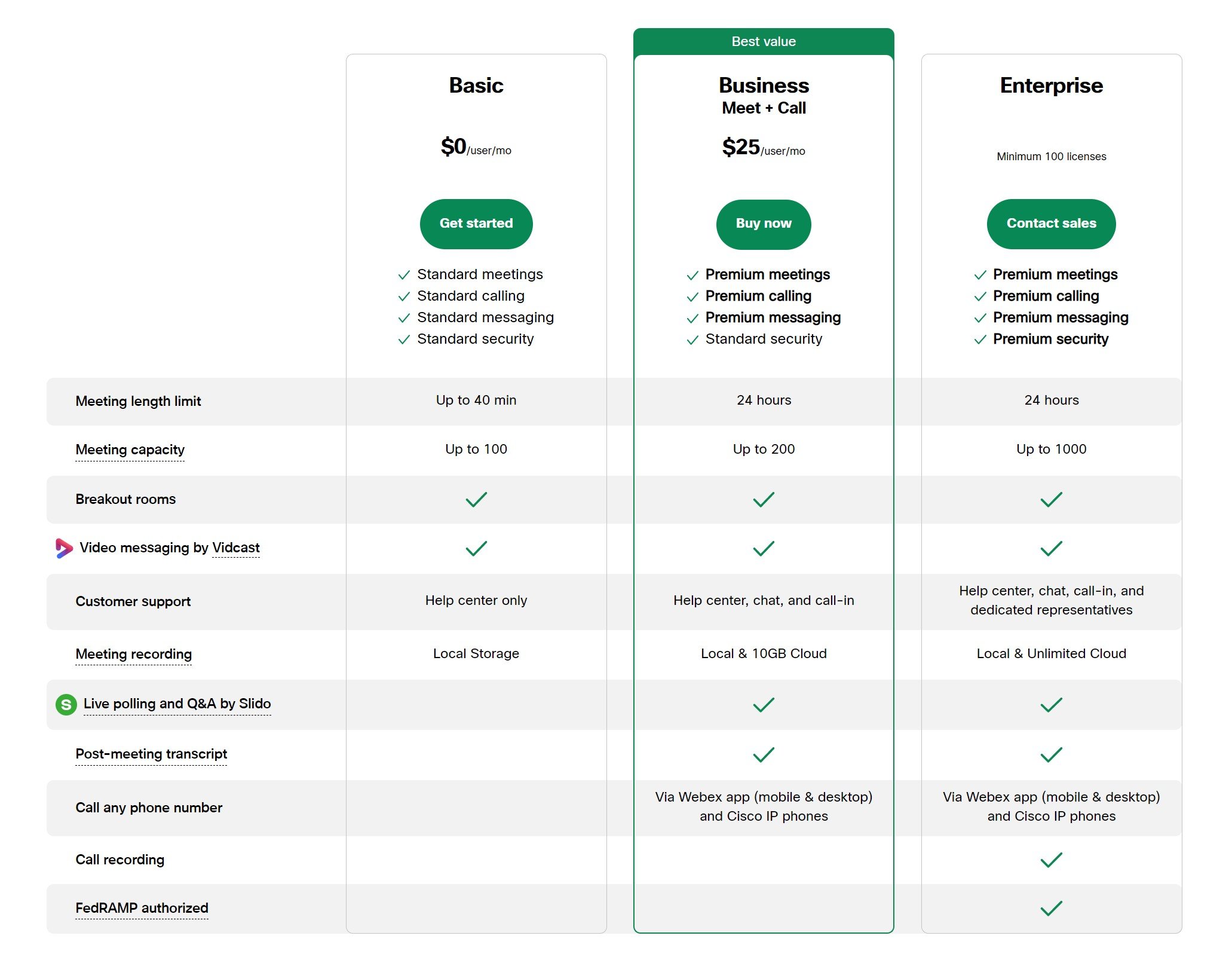 Microsoft Teams Pricing
Microsoft Teams' free version includes chat, internal calling, and 60-minute meetings with 100-participant capacity. The Essentials plan broadens meeting time and capacity. A 365 Business Basic plan adds whiteboards, meeting transcription, hundreds of built-in apps, and online collaboration in Microsoft Office apps. The Business Standard plan includes webinar hosting.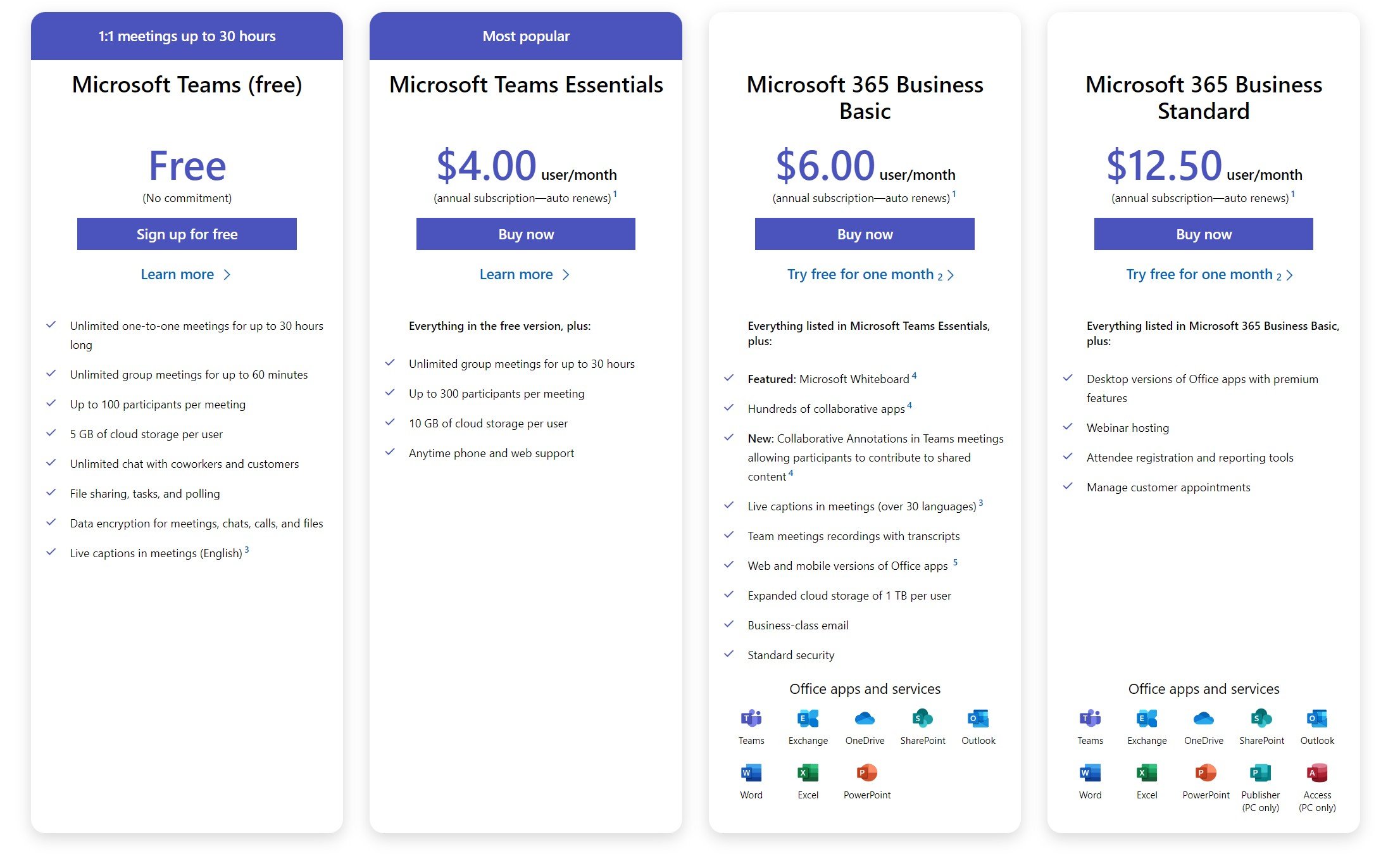 Calling non-Teams phone numbers requires a separate Teams Phone Calling Plan, which offers a one-month free trial.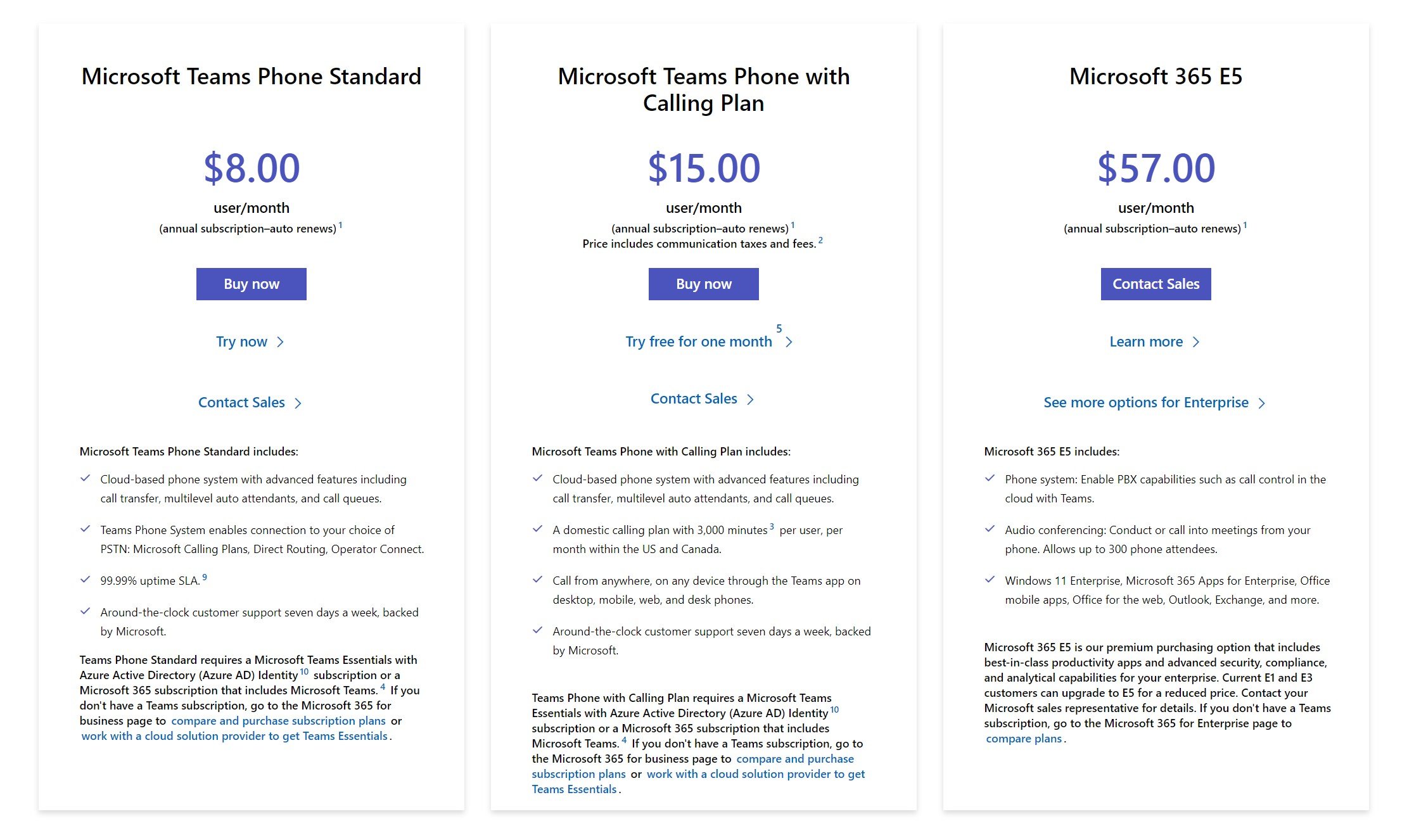 Webex User Experience
The Webex desktop app is easy to use.
A lefthand menu displays tabs organized by basic function:
Chat
Teams
Contacts
Calling
Calendar
Integrate third-party apps in moments, or use the + icon for one-click action: send a message, create a space, make a call, add a contact, or schedule a meeting.
Microsoft Teams User Experience
Microsoft Teams' user experience is especially smooth in video conferencing. Since each Teams video meeting gets its own tab, conversations and files stay organized. With message formatting tools, users can customize message styles for easy readability, and shared Microsoft Office documents or polls embed inline.
Webex vs Microsoft Teams: Pros & Cons
Webex users appreciate the audio functionality in the platform's meetings but wish it offered more calling features in the standard plans.
Webex Pros
Clear voice sounds in meetings
Easy to invite users to meetings
Live streaming on third-party social media apps
Webex Cons
Critical features (call queues, call recording with cloud storage, voicemail-to-email) only offered in Enterprise plan
Storing meetings requires a lot of memory space
More expensive than some competitors
Microsoft Teams users love the Microsoft Office collaboration, but don't like having to purchase a separate calling plan.
Microsoft Teams Pros
Can collaborate on Microsoft Office documents
Diverse chat formatting options
Very affordable video and chat plans
Microsoft Teams Cons
Must purchase a phone plan separately
Without a strong internet connection, the app lags
Many of the built-in apps are confusingly similar
FAQs