Video conferencing has become an essential part of a business communication system. Many of today's VoIP providers and UCaaS platforms offer built-in video conferencing. Often, these video meetings rely on SIP technology to connect participants.
This article will cover SIP video conferencing in-depth, including how it works, the difference between SIP and VoIP, benefits, and top providers.
What is SIP for Video Conferencing?
SIP for video conferencing is when an application or website uses Session Initiation Protocol (SIP) to facilitate real-time video conferencing between two or more participants. SIP is an application layer protocol that initiates, sets up, and terminates live data transfer between endpoints–devices, computers, applications, or local networks. Video conferencing requires the real-time transfer of audio and video data, and SIP is one of several protocols and technologies that work together to enable this.
Video conferencing over the Internet relies on live back-and-forth data transmission between all users involved. Since each participant uses a distinct device, browser, and local network, application-layer protocols like SIP help software applications reach an agreement about what type of data the participants will send, the servers that will receive the data, and how quickly they'll send the data.
Many video apps, like Microsoft Teams, utilize proprietary APIs that provide the same functionality as SIP. Still, many video-conferencing products, phone systems, and unified communications solutions use SIP–like Vonage, Twilio, and Zoom.
How Does SIP Video Conferencing Work?
SIP video conferencing establishes a connection between multiple endpoints–devices, users, or applications–so they can send video and audio data in real-time.
Here's an in-depth breakdown of how SIP supports video conferencing:
Caller initiates video conference: When a user initiates a video conference by clicking a "Start Now" button, their device communicates with their local router network to send an invite to other participants who can join the meeting. Many software applications use a proprietary protocol or API based on HTTPS, but many also use SIP to send the invite request.
Recipients receive and accept invites: SIP sends the request through the caller's server, to the recipient's server, who then forwards it to the recipient. Once the recipient also attempts to join the meeting by clicking a button or Join link, SIP sends this message back through both users' servers to the caller. If multiple participants want to join, the servers and routers repeat the process to invite each of them and notify the initial caller.
SIP determines meeting parameters: Once the video call and participants are established, SIP negotiates critical information about call details. SIP determines which codecs, media formats, and media communication protocols the call will use. Generally, SIP calls use the best-quality codec that users share. SIP also favors real-time transport protocol (RTP) for video streaming, alongside user-datagram protocol (UDP). These transport protocols support fast bidirectional data transfer, enabling users to experience real-time video conferencing with minimal jitter and latency.
Media session occurs: Once SIP establishes the video connection, another protocol and API takes over to actively transfer the data during the session. With SIP video, this usually means RTP facilitates the active media session for the entirety of its duration.
SIP terminates the session: When one user terminates or ends the session, their device sends a SIP request to the caller and any other participants involved. Once other endpoints or devices receive this request, the call ends.
What is the Difference Between SIP vs VoIP?
SIP is a network protocol that establishes and terminates real-time data transmission between devices and applications, while VoIP is the technology of making voice calls over the Internet. Put simply, VoIP uses SIP to establish a call. The SIP protocol and VoIP telephony work together, with SIP enabling VoIP.
VoIP (Voice over Internet Protocol) is a type of telephony that relies on real-time data transmission over the Internet. In a VoIP call, one endpoint–such as a device or web application–transmits audio data packets from their network through a VoIP server, to another endpoint. Video conferencing is similar, relying on both audio and video data transmission.
Before each VoIP or video session can occur, the endpoints and users involved need to agree on how the data will be sent. This includes agreed-upon codecs, transfer protocols, and communication protocols for the session. SIP establishes this communication, allowing the VoIP or video media session to begin.
Benefits of SIP for Video Conferencing
Compared to alternatives like traditional PSTN, H.323, and ISDN, SIP offers the following video conferencing benefits:
Fast: SIP utilizes user datagram protocol (UDP) as a data transport layer, enabling video conferencing with minimal latency or lag
Secure: SIP creates a secure connection between involved participants, encrypting all data that travels between them. Therefore, SIP video conferences are relatively secure.
Supports many users: SIP video conferences can support 1:1 video meetings, or up to thousands of video participants on a video call. RTP and multicast can utilize different methods to transport video and audio data between hundreds of participants, with very little delay.
Scalable: Not only does SIP support many users, but SIP-based video conferencing platforms typically make it easy to add and remove users, no matter where they're located. Therefore, SIP conferencing supports scalability and flexible, remote teams.
Cloud-hosted: While some phone systems and UCaaS platforms host their SIP solutions onsite, SIP applications are typically hosted remotely by your provider. This saves the costs associated with equipment upkeep and potentially allows your team to reduce IT staffing needs.
Accessible from multiple devices: SIP video conferencing is supported across internet-connection devices: desktops, web browsers, tablets, and mobile apps. Participants can use any of these devices to connect to the Internet.
Disadvantages of SIP for Video Conferencing
Despite its strong points, SIP video conferencing has a few drawbacks:
Inconsistent connection quality: Compared to other video conferencing technology, like WebSockets, SIP doesn't rely on just one type of codec or data-transfer protocol. This means that each SIP video meeting may have slightly different audio and video quality, depending on the users involved.
Requires Internet: SIP requires an Internet connection for video conferencing. This means that each user's ISP provider, router, and bandwidth will affect the quality of their video call.
Security: While SIP video conferences are secure, some other applications' proprietary solutions can use consistent connection parameters–codecs, data types, and data transfer protocols. This means these other video conferencing solutions can embed more elaborate security processes, providing slightly more secure data transmission than SIP-based conferencing.
Top SIP Providers for Video Conferencing
Here are our top picks for the best providers out there using SIP to power their UCaaS and video-conferencing software:
Zoom One
Zoom One is a video conferencing solution and UCaaS platform with VoIP calling, SMS, internal team chat, and video conferencing. The app itself has an intuitive and cohesive interface, making it easy for users to access phone features and jump into video meetings. Zoom's well-known video conferencing tool fits right into the UCaaS app, accessible on desktop, browser, or mobile.
Pricing: Zoom One offers 5 UCaaS plans, ranging from free to over $25 monthly per user.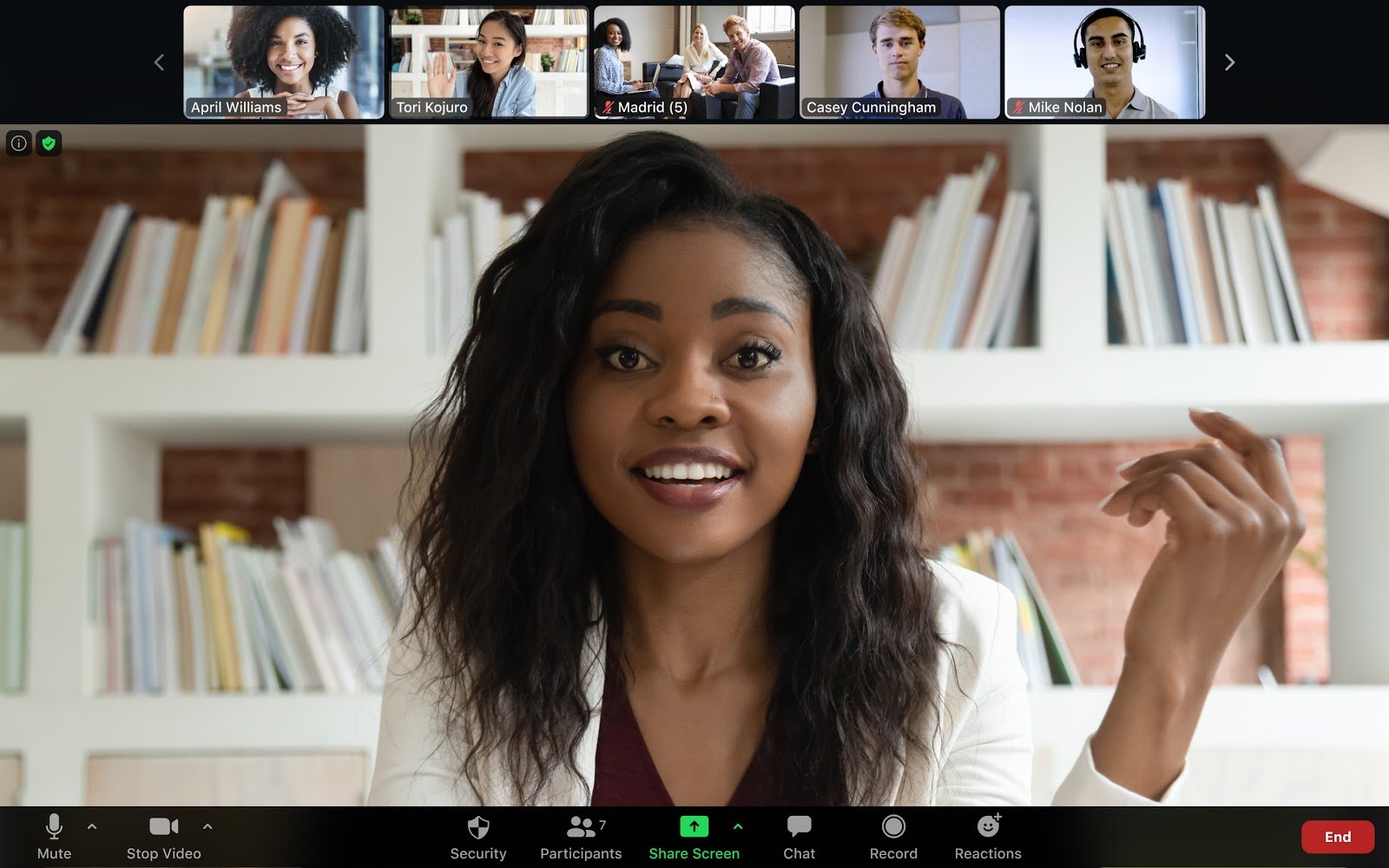 Key Features
Notes: Users can take live, collaborative notes before, during, and after Zoom meetings. During meetings, multiple users can write notes simultaneously. The notepad includes a ton of formatting features like text color, font and font size, bolding, highlights, numbered and bulleted lists, and more.
AI Companion: Zoom's AI assistant tool handles repetitive or basic tasks across meetings, chat, and VoIP calls. AI transcribes and monitors meetings to provide summaries, inform latecomers, and extract action items. It summarizes chat messages and suggests chat responses.
In-meeting collaboration tools: Zoom Meetings support from 100 to 500 attendees, depending on your plan. Meetings last 30 hours and include screen sharing, breakout rooms, waiting rooms, virtual backgrounds, polling, filters, and more.
Team chat: Create 1:1 or group chat channels, which record chat history and enable users to find people and messages through search. Share files and images in chat.
GoTo Connect
GoTo Connect is a unified communications platform that combines voice calling, SMS, team chat, and video conferencing that utilizes SIP. The phone system supports unlimited calling to over 50 countries on the Advanced plan, with unlimited access to important phone features: automated self-service IVR menus, ring groups, and call queues. Video meetings support up to 250 participants with no time limit.
Pricing: GoTo Connect offers 2 UCaaS plans with custom pricing.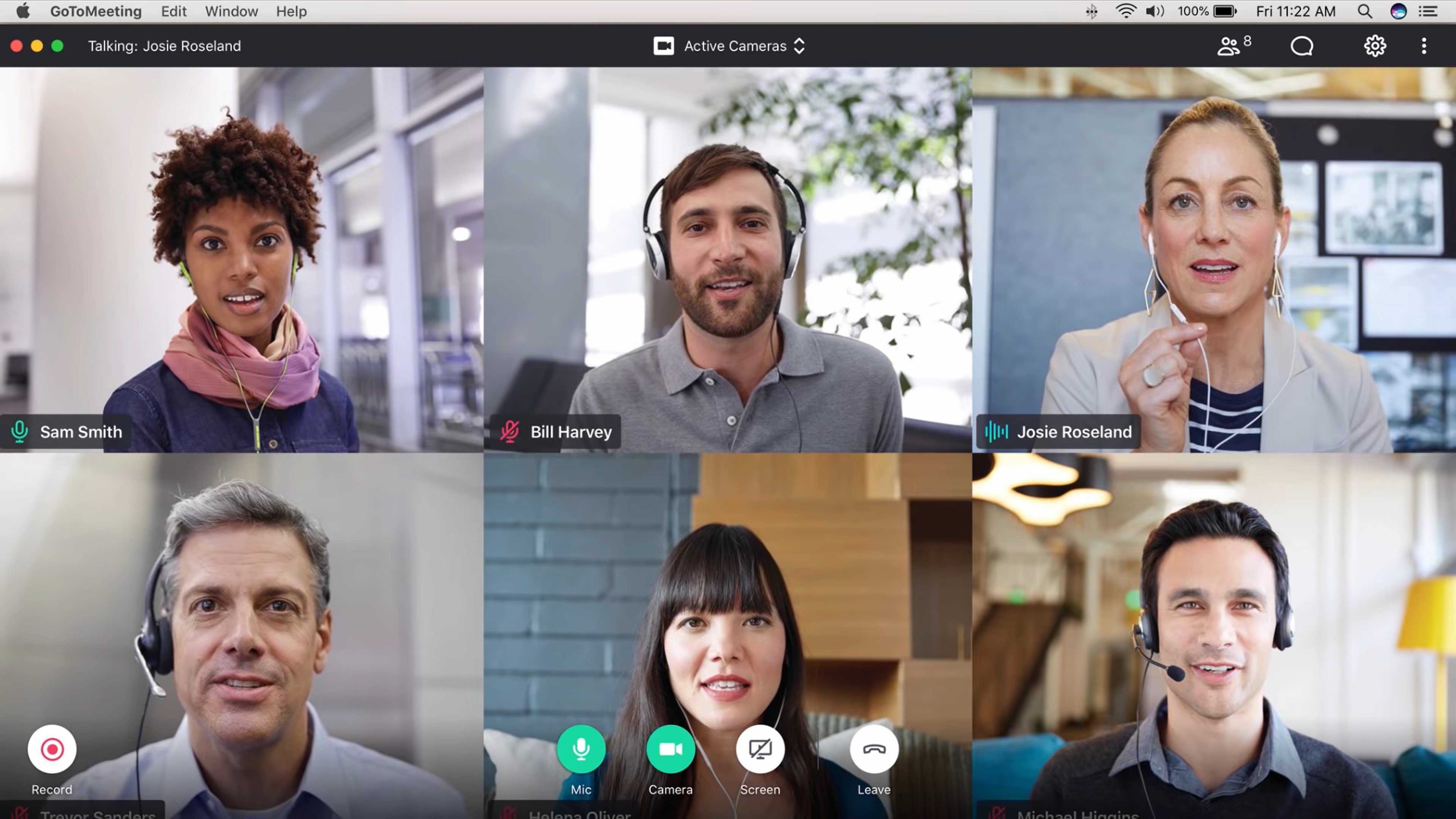 Key Features
Collaboration tools: During meetings, access engaging features like screen sharing, real-time drawing and presentations, custom backgrounds, and meeting transcriptions
Multichannel analytics: GoTo Connect analytics provide metrics and KPIs for video meetings, voice call, and team chat. These reports cover individual performance, connection quality, and usage. Access statistics for individual users, customizable over historical time frames.
Security features: GoTo secures each meeting with several tools. Each piece of data is encrypted, including the audio and video. The host can lock meetings, protect them with a passcode and unique join link, and approve meeting attendees.
Telephony features: GoTo Connect includes a well-rounded balance of call routing features. Auto attendants and IVR menus provide self-service tools for your customers to reach the users they want. Ring groups bundle agents together for shared call responsibility. Call queues organize inbound calls in a line, so agents don't have to rush to answer each call.
Dialpad
Dialpad offers a unified communications platform–with voice, video, SMS, and team chat–as well as a separate video conferencing software called Dialpad AI Meetings. The UCaaS platform includes a rich set of phone system and collaboration features like call queues, live AI call transcription, and real-time analytics on all plans. AI Meetings include advanced features like post-meeting summaries, live transcriptions, and action items.
Pricing: Dialpad offers 3 UCaaS plans ranging from $15 to over $25 monthly per user. The provider offers 2 SIP-based AI Meetings plans–a free version and a $15 monthly version.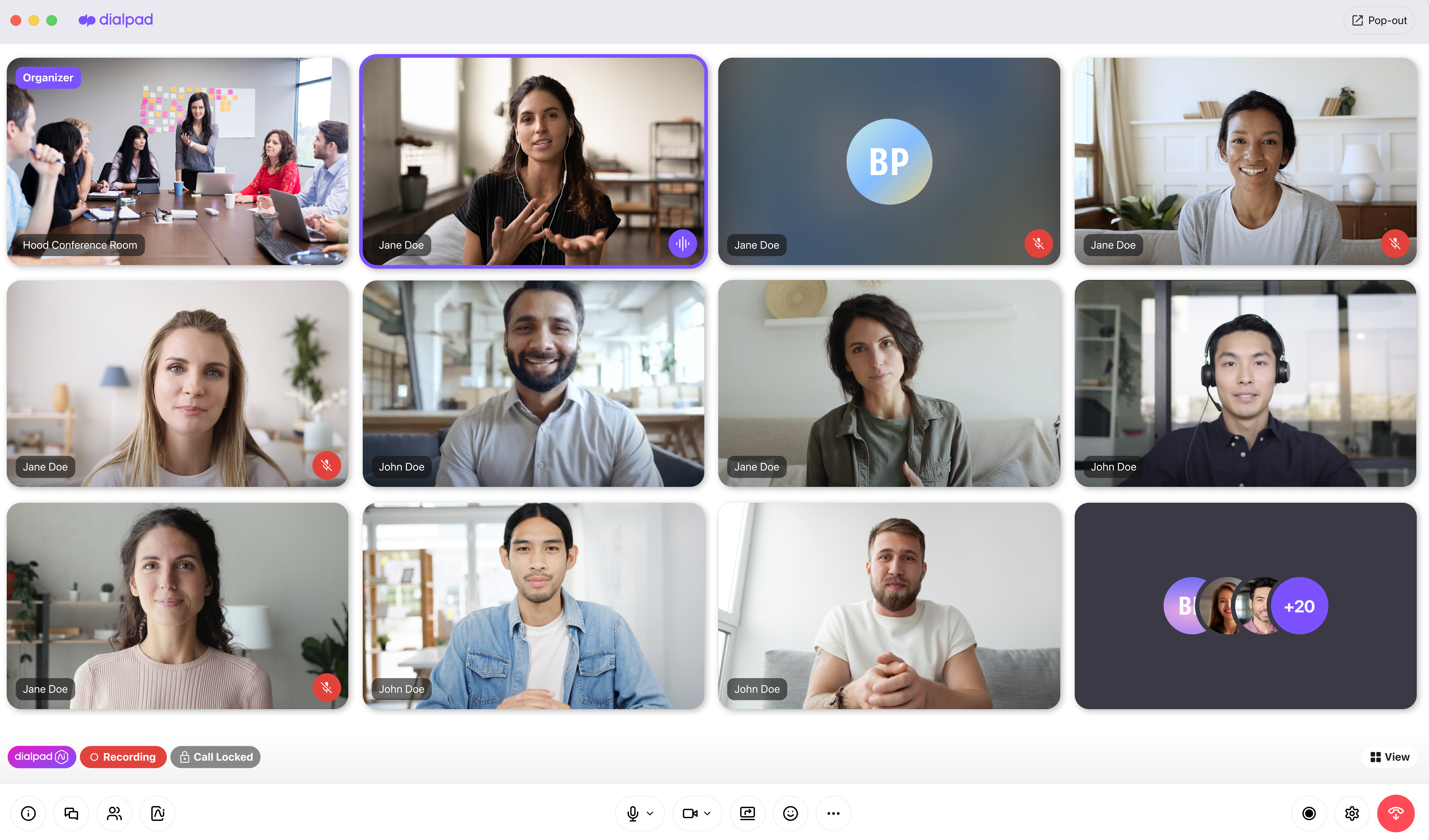 Key Features
Live meeting AI support: AI Meetings plans include advanced AI-based features. Artificial intelligence provides automated live captions and post-call transcriptions. After the meeting, AI provides auto-generated summaries and action items. These features are not included in Business Communication UCaaS plans.
Engagement features: Both the UCaaS and AI Meetings platforms feature a variety of engaging meeting tools. These include desktop and mobile access, waiting rooms, screen sharing, chat, and virtual backgrounds.
Real-time analytics: All Dialpad plans include real-time analytics. These dashboards display up-to-date statistics and visuals for call center performance, usage, and call volume.
International phone numbers: Dialpad includes a strong phone system, with call routing and queuing to customize your inbound system. Dialpad also offers toll-free and virtual phone numbers from over 70 countries around the globe.
RingCentral
Like Dialpad, RingCentral offers unified communications plans with multiple channels, or plans with just AI meetings. RingCentral's UCaaS software, Intelligent Phone Solutions, combines VoIP, team chat, SMS, and SIP-based video. The solution boasts a strong phone system, with a multi-level IVR, call queueing, and call monitoring for supervisors to keep an eye on agents. RingCentral is also known for its team collaboration tools, such as file-sharing and project management built into chat.
Pricing: RingCentral offers 3 unified communication plans that range from $20 to $35 monthly per user. Their 3 Intelligent Meetings plans range from free to $39 monthly per user.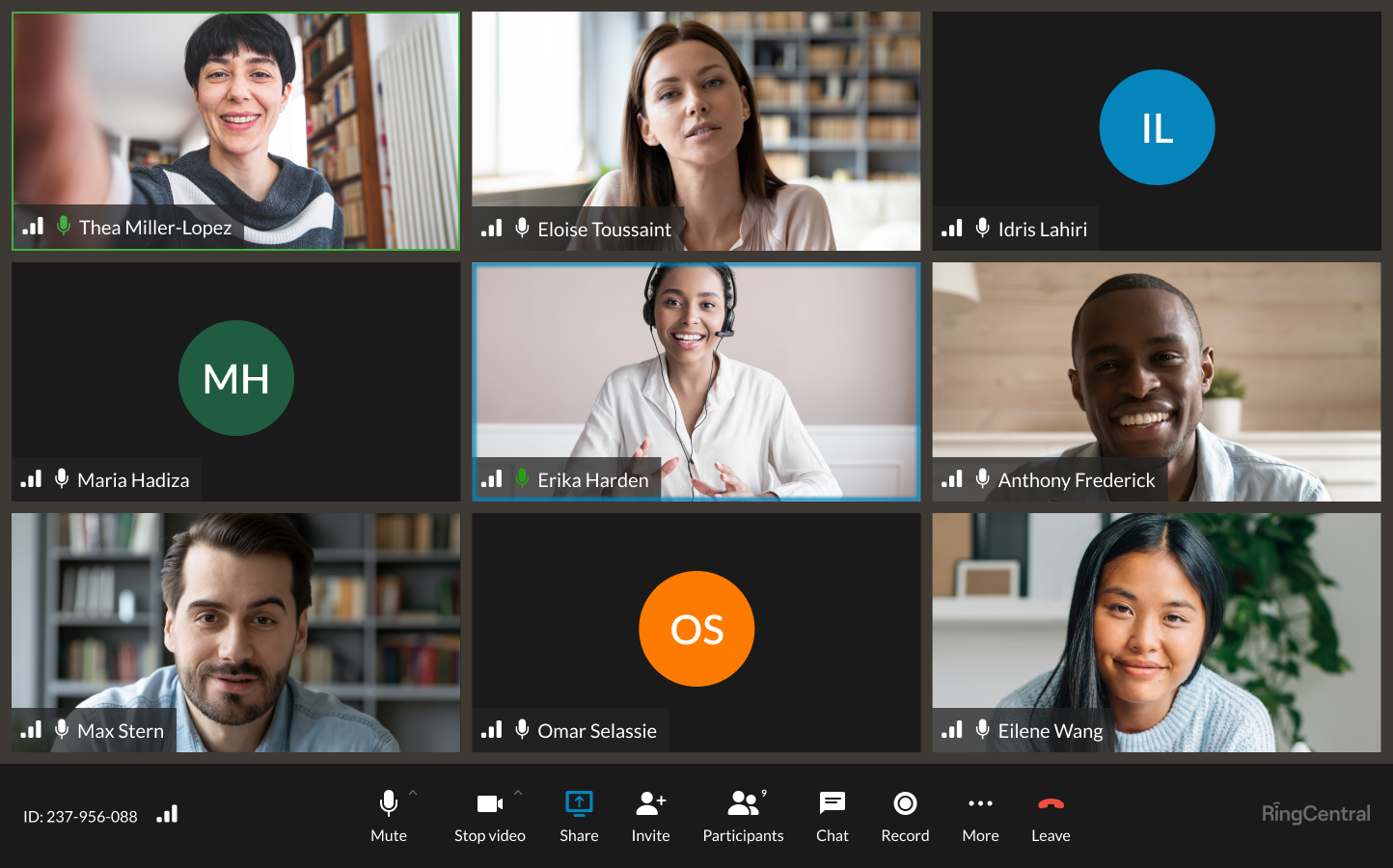 Key Features
Phone system: RingCentral has an advanced cloud-based phone system. Organize inbound calls into queues, with advanced distribution rules and an IVR menu for customers to reach the right destination when they call you. Call monitoring lets supervisors listen in or join agent calls.
Collaboration tools: Create unlimited team chat rooms with a variety of features to foster collaboration. Share files and organize them into files. Jump into meetings and conference calls with one click. Assign tasks to other users, with deadlines, color-coding, and threads for each activity.
AI meetings: RingCentral meetings last up to 24 hours and support 200 participants. Conferences feature AI noise cancellation, AI live transcription, and post-call summaries with highlights and action items. All meetings include breakout rooms, collaborative notes, and built-in whiteboards.
App dashboard: RingCentral's app is intuitive and user-friendly. Available on desktop and mobile, the app includes built-in scheduling and easy access to all tools. Even those new to UCaaS will find RingCentral's interface manageable.
Nextiva
Nextiva is a unified communications platform known for its strong VoIP system. Available on desktop and mobile, the solution also includes SMS, team chat, and SIP video meetings. Make unlimited calls in the US and Canada, with helpful routing features like auto attendants, ring groups, and voicemail transcription. Users should note that Nextiva's lowest-tier plan supports 1:1 video meetings, the middle-tier plan supports 40 participants, and the Enterprise plan supports unlimited.
Pricing: Nextiva offers 3 UCaaS plans that range from $18.95 to $32.95 monthly per user.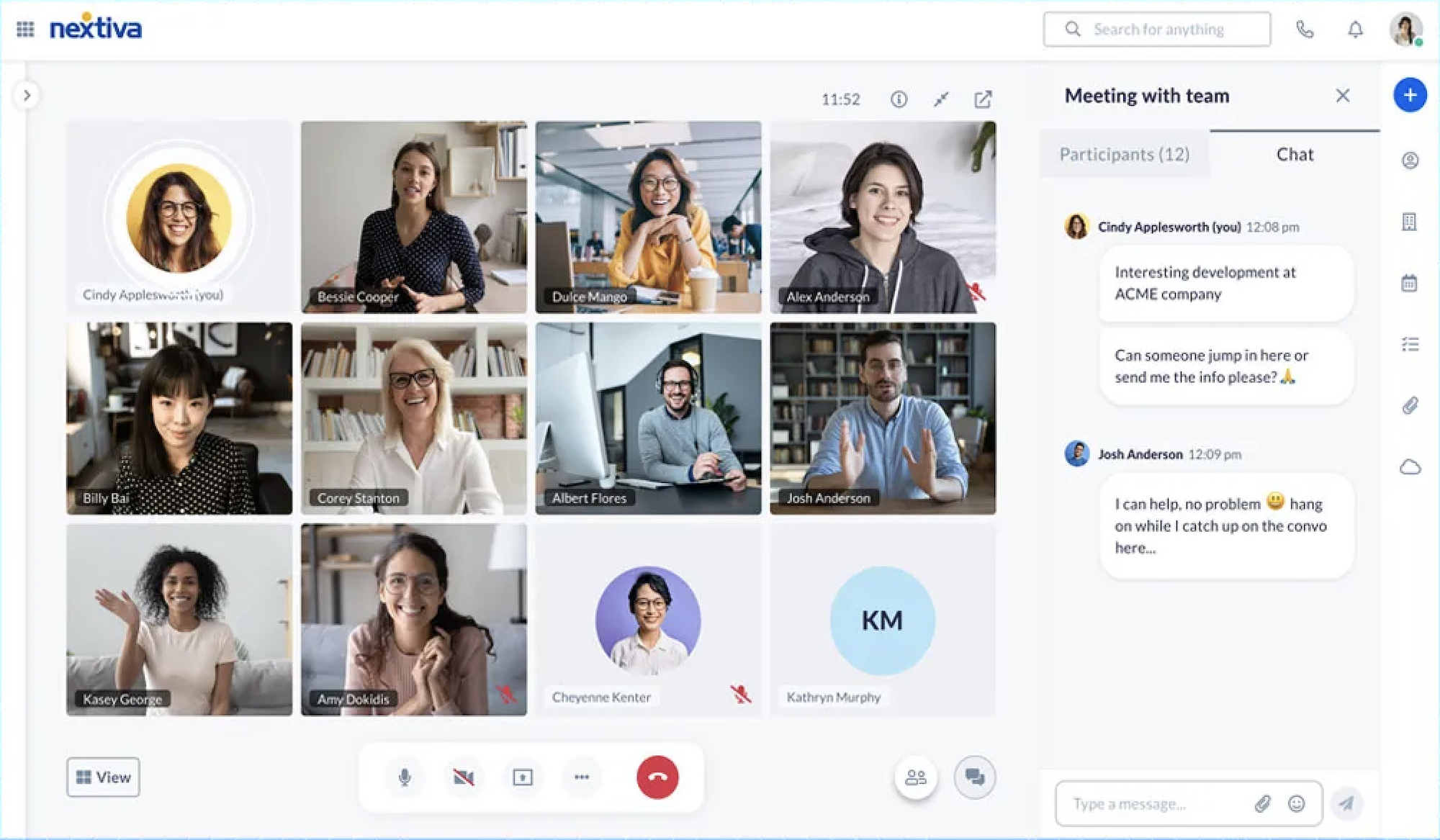 Key Features
Built-in video conference scheduling: Nextiva's video conferencing is built into the UCaaS platform, supporting 1:1 meetings, 40 participants, and unlimited participants on the three respective plans. Schedule meetings and invite participants directly within the Nextiva interface, generating personal invite links and customizing meeting details.
In-meeting features: NextivaONE meetings support chat, screen sharing, file sharing, and live streaming.
Toll-free calling: Each Nextiva UCaaS plan includes a toll-free and local number, and Nextiva also offers a la carte toll-free numbers from across the US. Each plan includes from 1,500 to 12,500 toll-free minutes.
Collaboration tools: NextivaONE enables teams to send unlimited 1:1 and small group chat messages, plus 3 concurrent team rooms with one-click video conferencing and file sharing. Team members can create shared notes on contact profiles and calls.
Optimizing Video Conferencing with SIP
While SIP isn't the only protocol that supports video conferencing, it is one of the best. SIP enables fast, secure video meetings between hundreds of participants over the Internet. Many hosted VoIP and UCaaS providers using SIP bolster their video meetings with engaging collaboration features, like whiteboards and polls. When building an app or choosing a video conference provider, it's a safe bet to select one that utilizes SIP.