Fixed VoIP phone numbers are associated with an account holder's physical address, while non-fixed VoIP numbers aren't attached to any specific address.
Beyond this, fixed VoIP and non-fixed VoIP phone numbers have some distinct pros and cons. For example, fixed VoIP numbers often provide stronger business reputability, while non-fixed numbers unify a remote workforce and enable your company to have a global business presence.
This article will dive into non-fixed VoIP, including what it is, pros and cons, best practices, and how to get a non-fixed VoIP number.
Get VoIP phone numbers from
top providers
What is a Fixed VoIP Number?
A fixed VoIP number is a phone number that makes calls using voice over IP but is attached to a physical street address. Typically assigned by your VoIP service provider, fixed VoIP numbers use the Internet to make calls to any number–mobile, landline, or other VoIP numbers.
Along with being linked to a physical location, fixed numbers typically use a SIP trunk to connect to the VoIP service provider, enabling calls via PSTN landline or Internet-based VoIP.
Similar to traditional landline business phone systems, fixed VoIP numbers require a particular address, which is usually a home or company office. Accounts must provide this address before receiving a fixed VoIP number from the service provider.
Because they're linked to the street address of an account owner, fixed VoIP numbers are viewed with authenticity and reputability. In turn, VoIP providers are more likely to support 911 calls and emergency services on fixed VoIP lines versus non-fixed, which have no address on file to direct first responders.
What is a Non-Fixed VoIP Number?
A non-fixed number is a VoIP phone number that doesn't connect to a physical address but rather to an account, user, or device. VoIP accounts with non-fixed numbers can make VoIP calls remotely from any Internet-connected device–computer, mobile, or tablet.
Also known as "virtual phone numbers," non-fixed numbers are commonly issued by free services such as Skype and Google Voice, as well as UCaaS providers and business VoIP systems like Dialpad and RingCentral.
Because they don't require an address, non-fixed VoIP numbers make a great fit for remote teams. Companies can purchase non-fixed virtual numbers and assign them to users based anywhere.
Non-fixed DID numbers also work well for teams that plan to scale beyond their physical address, or those seeking to establish a global presence. Many VoIP providers offer non-fixed numbers from area codes around the country and globe. When you call a customer from a virtual phone number, the Caller ID registers as a local number from your chosen area code–regardless of where you are physically located.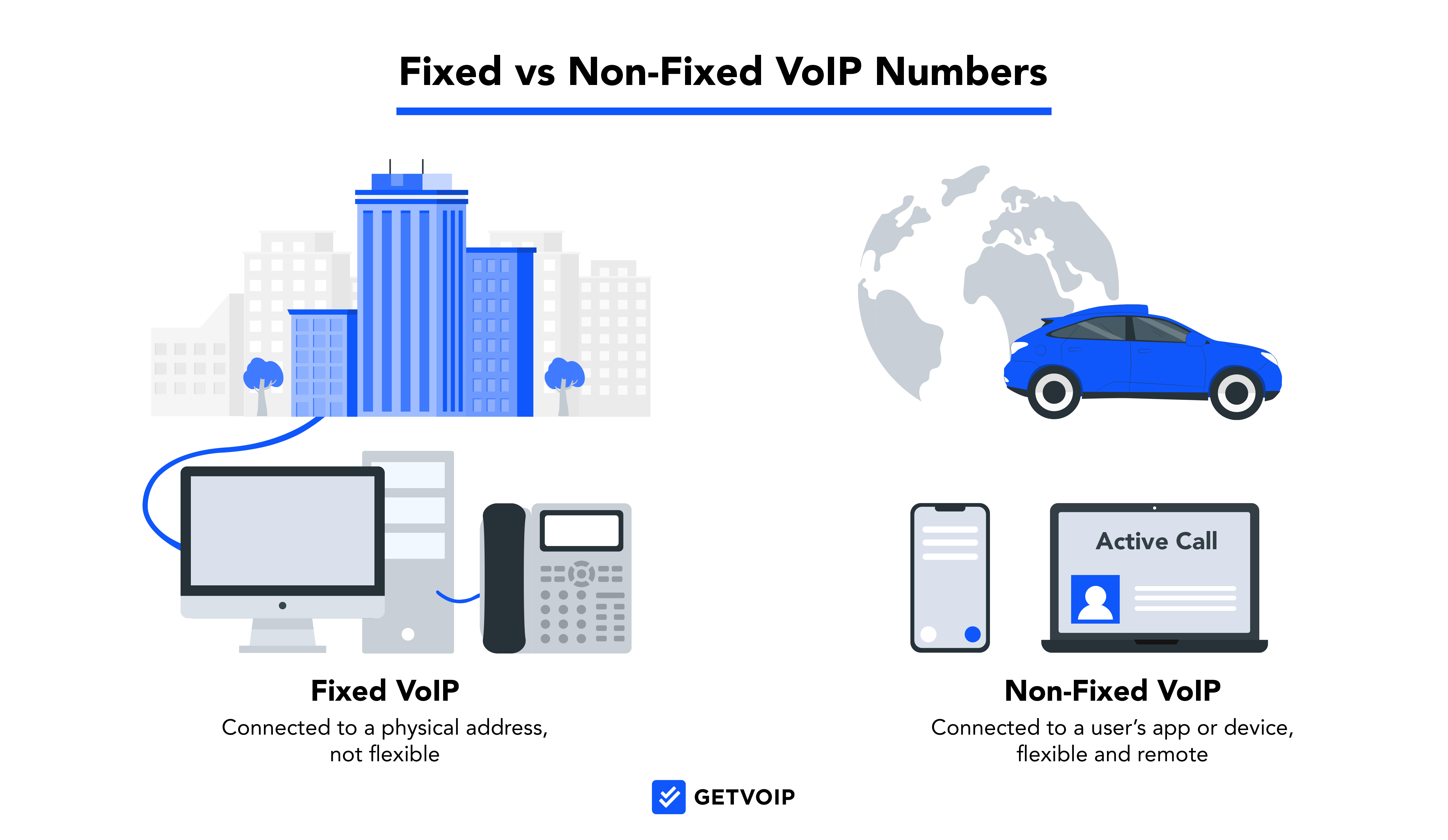 Fixed VoIP Pros and Cons
Fixed VoIP Pros
Reputation: Fixed VoIP numbers are rarely used for crime and fraudulent calling. Therefore, when a company uses a fixed VoIP number, customers, clients, and call recipients typically view the company and number as more authentic and reliable.
Consistent: A unified fixed VoIP means that all of a company's or user's calls will come from the same caller ID. This helps customers build a familiar rapport and identify a company by its phone number.
Dependable 911 calling: Since fixed numbers register with a specific business address, phone services have a much easier time tracking a user's location on emergency calls and dispatching in response to 911 calls.
Fixed VoIP Cons
Complicated setup: Whereas users can easily sign up, receive, and register non-fixed VoIP numbers through the VoIP app, fixed numbers usually require a more advanced setup. Fixed VoIP typically connects to your landline system via SIP trunk, which requires your IT team to facilitate the connection.
Limited business presence: Fixed VoIP restricts your company's caller ID to your physical address. This means that when you call customers who are out of the area or overseas, your caller ID still registers as the local number tied to your address.
More expensive: Fixed VoIP lines are typically more expensive because they're more complicated for your provider to set up. International calls also tend to cost more per minute from fixed VoIP numbers.
Non-Fixed VoIP Pros and Cons
Non-Fixed VoIP Pros
Unifies remote teams: Non-fixed VoIP numbers don't require a central office, and administrators can assign them to users anywhere in the world. This means call center agents can work from home, from a coffee shop, on vacation, or in the car–all while using a consistent company number.
Easy to attain: Accounts can add virtual phone numbers in minutes via their VoIP app. Right when a user begins paying the monthly subscription, teams can assign the number to start making and receiving calls.
Flexibility and scalability: Purchase multiple types of remote numbers–including toll-free, vanity, and local numbers–around the globe. Companies can establish a local presence wherever they want, regardless of where agents are located.
Non-Fixed VoIP Cons
Risk of inconsistency: Using non-fixed VoIP numbers risks connecting with your customers through different or varying phone numbers, if a user switches numbers or another user makes the call. This inconsistency can damage your company's professionalism in your customer's eyes.
Problems with 911 calls: As mentioned above, non-fixed VoIP phone numbers make it harder for emergency services like 911 to identify the caller's address. In a dire situation, this could be problematic.
Poor tracking: If administrators want to keep tabs on where their team members handle business and make calls, a non-fixed VoIP number will make this tracking more difficult. However, the VoIP phone system will still track each number's call record.
How to Get a Non-Fixed VoIP Number
Most of today's VoIP service providers, UCaaS platforms, and call center software providers offer non-fixed VoIP numbers. These providers nearly always offer numbers throughout the US and Canada, and many provide international business numbers across the globe.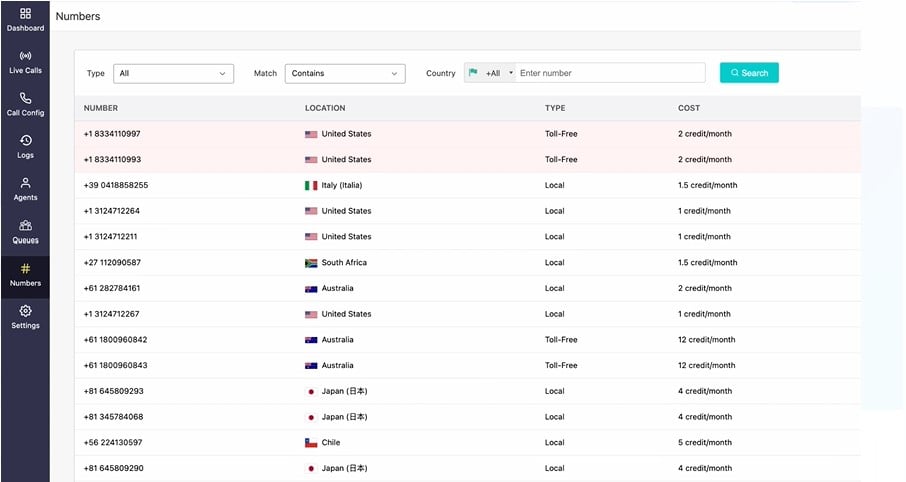 Use the following process to attain and set up a VoIP number:
Sign up for a VoIP phone system: Choose a VoIP provider, unified communications platform, or contact center. Nearly all of these service providers offer advanced VoIP phone systems with virtual phone numbers.
Choose a subscription: Once you select a provider, choose a subscription for the users on your account. With VoIP, you typically pay one monthly subscription that bundles cloud phone service, other communication channels like SMS and video conferencing, and other phone-system features like IVR and call queues.
Select your virtual numbers: After signing up and registering users, choose the virtual phone numbers you want to use for your account. Most providers a toll-free or local number with each account sign-up, allowing you to pick from a pool of available numbers in your chosen area code. You can also purchase additional numbers as add-ons.
Assign numbers to users: Once you've purchased non-fixed VoIP numbers, assign them to users. In some advanced phone systems multiple users can share phone numbers or jump between them, also features like voicemail and messaging capabilities.
Set up voicemail and routing: With phone numbers assigned and ready to use, customize each phone number's greetings and voicemail settings. Improve customer service and organize inbound calls by setting up an IVR call flow and auto attendant, linking phone numbers with ring groups, or creating call queues for when agents are busy.
Who Uses Non-Fixed VoIP Numbers?
The following types of companies and phone systems commonly utilize non-fixed VoIP numbers.
Call centers: Call centers frequently utilize non-fixed numbers so they can call customers from local numbers to establish familiarity. Call centers are often remote and frequently adding or removing users, and the flexibility of non-fixed VoIP numbers promotes this.
Remote teams: Work-from-home or remote teams benefit greatly from non-fixed VoIP numbers, because these numbers allow employees to work remotely no matter where they're located.
Scaling teams: Since non-fixed VoIP numbers are easy to add and can cover the country and globe, they support unlimited scalability. It's easy for companies to purchase and assign new non-fixed numbers in minutes, so teams seeking to scale save a major hassle by using non-fixed VoIP numbers.
Small businesses: Non-fixed VoIP numbers provide freedom and flexibility as small businesses deal with change and fluctuation in location, size, and audience.
Best Practices for Non-Fixed VoIP Numbers
When setting up a non-fixed VoIP system, consider the following best practices:
FAQs
Below, we've answered some frequently asked questions about non-fixed VoIP numbers.