Both RingCentral and Mitel have been around for more than two decades, with each one being a popular choice amongst VoIP consumers. That being said, it can be tricky to determine which platform is right for your business.
Today, we're going to delve deeper into the pricing, features, and call quality of each provider so you can make an informed buying decision.
Jump to ↓
Mitel vs RingCentral: Overview
| | | |
| --- | --- | --- |
| | Mitel » | RingCentral » |
| Communication Channels | Voice calling, video conferencing, business SMS, and instant messaging | Voice calling, video conferencing, business SMS, instant messaging, social media, live chat, and email. |
| Top Features | Built-in project management capabilities and detailed real-time analytics | Mitel Teamwork, handset-to-mobile call switching, and always-on call recording |
| Integrations | G Suite, Salesforce, Microsoft Teams, Microsoft Outlook, and NetSuite | Microsoft 365, Google Workspace, Slack, Salesforce, Zendesk, Canvas, Smarsh, and more |
| Compatible Desk Phones | First-party Mitel phones and Cisco 7900-series phones | Poly, Cisco, Unify, and Yealink phones |
| Customer Support | 24/7 phone support, live chat, and an online knowledge base | 24/7 phone support*, live chat, community support, online knowledge base, and RingCentral University |
| Best For | Freelancers, small teams, and SMBs that need cross-platform functionality at an affordable price | Businesses who are willing to pay extra for native features, a large integration gallery, and industry-leading conferencing |
How We Compared Mitel vs RingCentral
Calling Features: we looked at the call management features on each platform to see which option offered a better user experience.
Auto-Attendant: we compared the auto attendants from both providers to determine which virtual assistant was most valuable for companies.
Integrations: we checked the integration gallery on each platform to see who supported the most popular/useful tools.
Scalability: we analyzed the pricing model and plans for both providers to see which option made it easier for customers to scale up.
Call Quality: we looked at the uptime, audio clarity, and connection reliability on both platforms to find the best calling experience.
Security: we compared the security features for the two solutions to see which one does a better job at protecting your data.
Hardware: we researched the hardware compatibility of each provider to see which desk phones could be used with their service.
Cross-Platform Compatibility: we tested out both mobile apps to see which provider offers the better cross-platform experience.
Ease of Use: we installed both solutions to see which one was easier to set up and get familiar with.
Customer Support: we reached out to the respective customer support team of each provider to see who could offer the fastest resolution times.
Pricing: we broke down every plan from both providers to see which pricing model gets you the most bang for your buck.
Mitel vs RingCentral: Direct Comparison
Let's take a closer look at the points from the section above and see how both providers compare to each other.
Calling features
Mitel has most of the usual call management features that you'd expect. It also has keyword spotting which can help you identify trends in both live calls and audio recordings. Finally, its scheduled callbacks can help you cope with high-volume periods.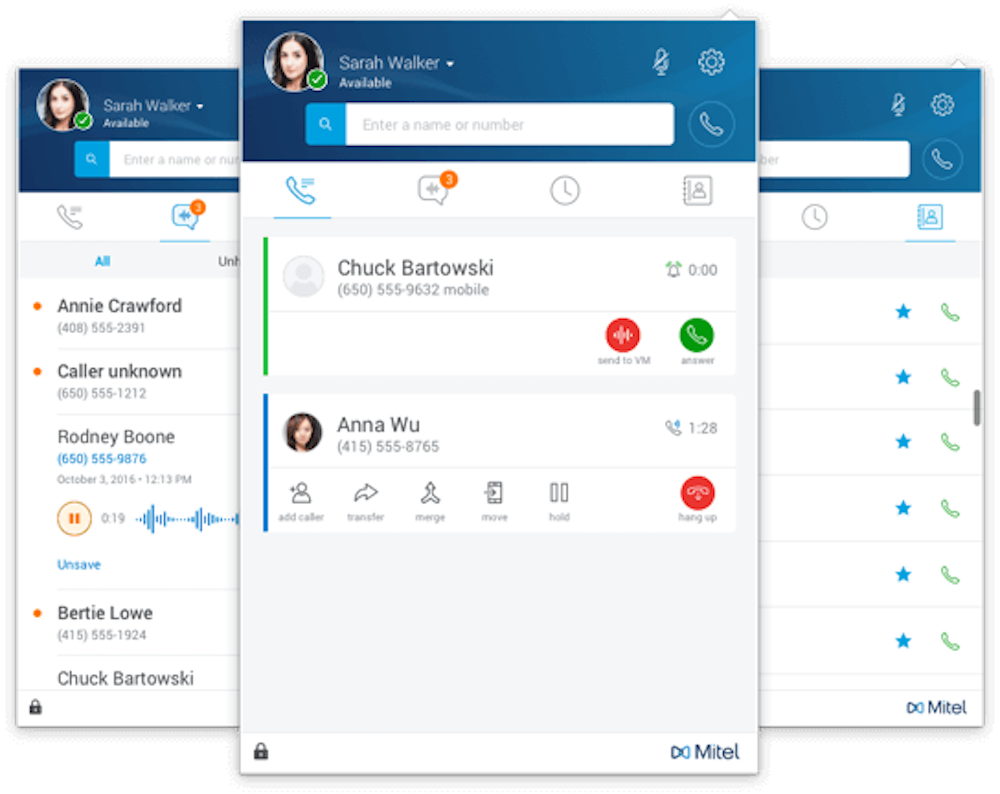 RingCentral has all the essential features like call screening, recording, and forwarding. Beyond that, it also lets you use unlimited cloud storage if you're on the Ultimate plan which is extremely helpful for those who want to build up a large recording archive.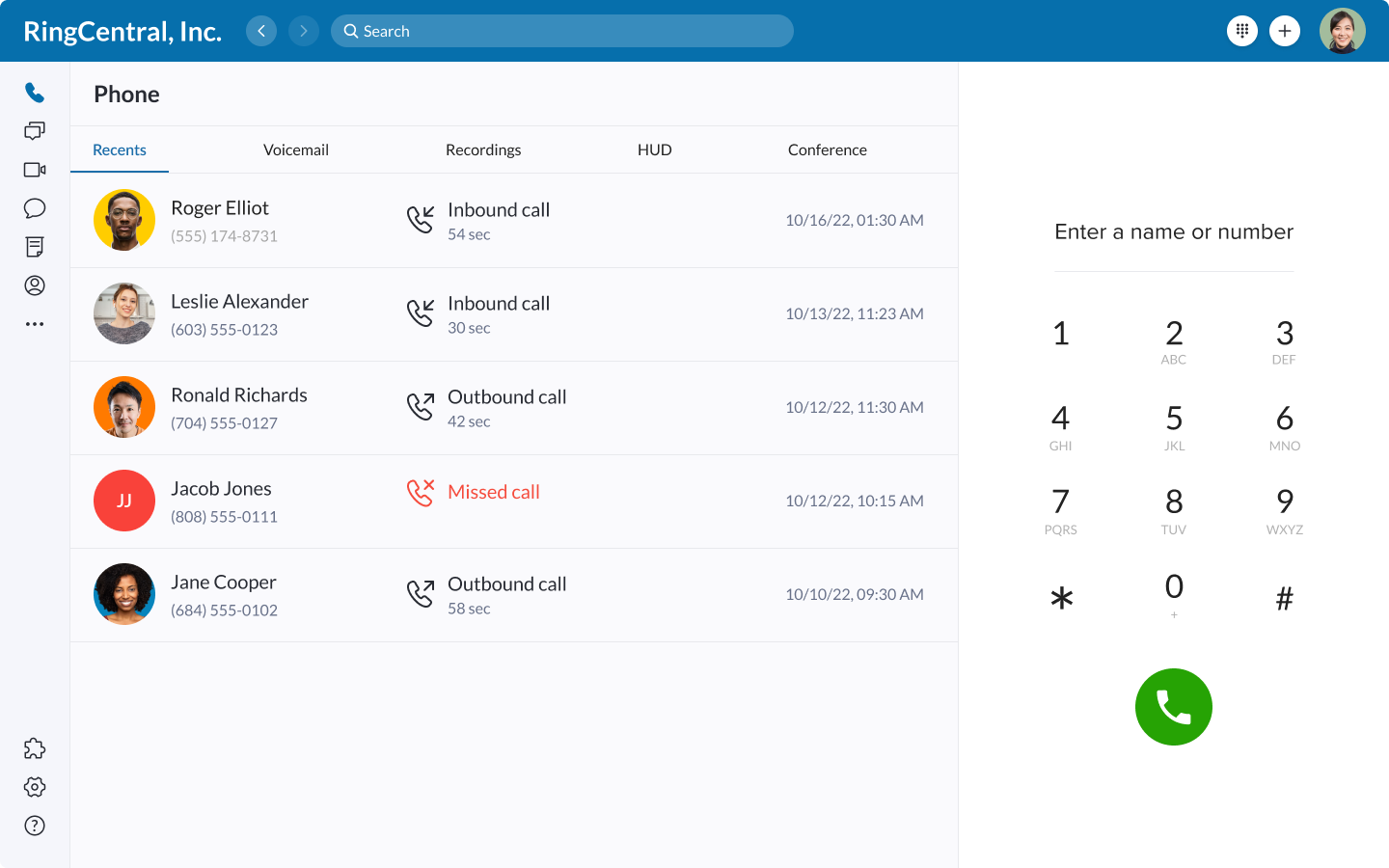 Winner: it's a tie since both platforms have the essential features, it comes down to which extras will benefit your business the most.
Auto-attendant
Mitel uses its Call Flow Editor to let administrations control the auto-attendant and how it routes incoming calls. While the interface can a bit text-heavy, the visual section of the editor makes tweaking the settings more manageable.
RingCentral's virtual assistant can route calls to any device, department, extension, or inbox across the globe. Whenever a call comes in for an employee who has "do not disturb" enabled on their device it will be automatically rerouted.
Those calling can also easily reach specific employees using the dial-by-name directory function of RingCentral's auto-attendant. You can also choose from multiple languages in your IVR menu which makes it ideal for serving a global audience.
Winner: this section is a tie because both platforms have a capable auto-attendant.
Integrations
One of the main things that makes RingCentral so versatile is its expansive app gallery. You can use collaboration integrations like Microsoft Teams, Slack, Asana, Monday, Trello, and many more in addition to the native project management functionality that the platform has.
You can also use various storage integrations such as Google Drive, Dropbox, OneDrive, Storage MAX, and more to increase your capacity without having to pay extra for third-party cloud solutions.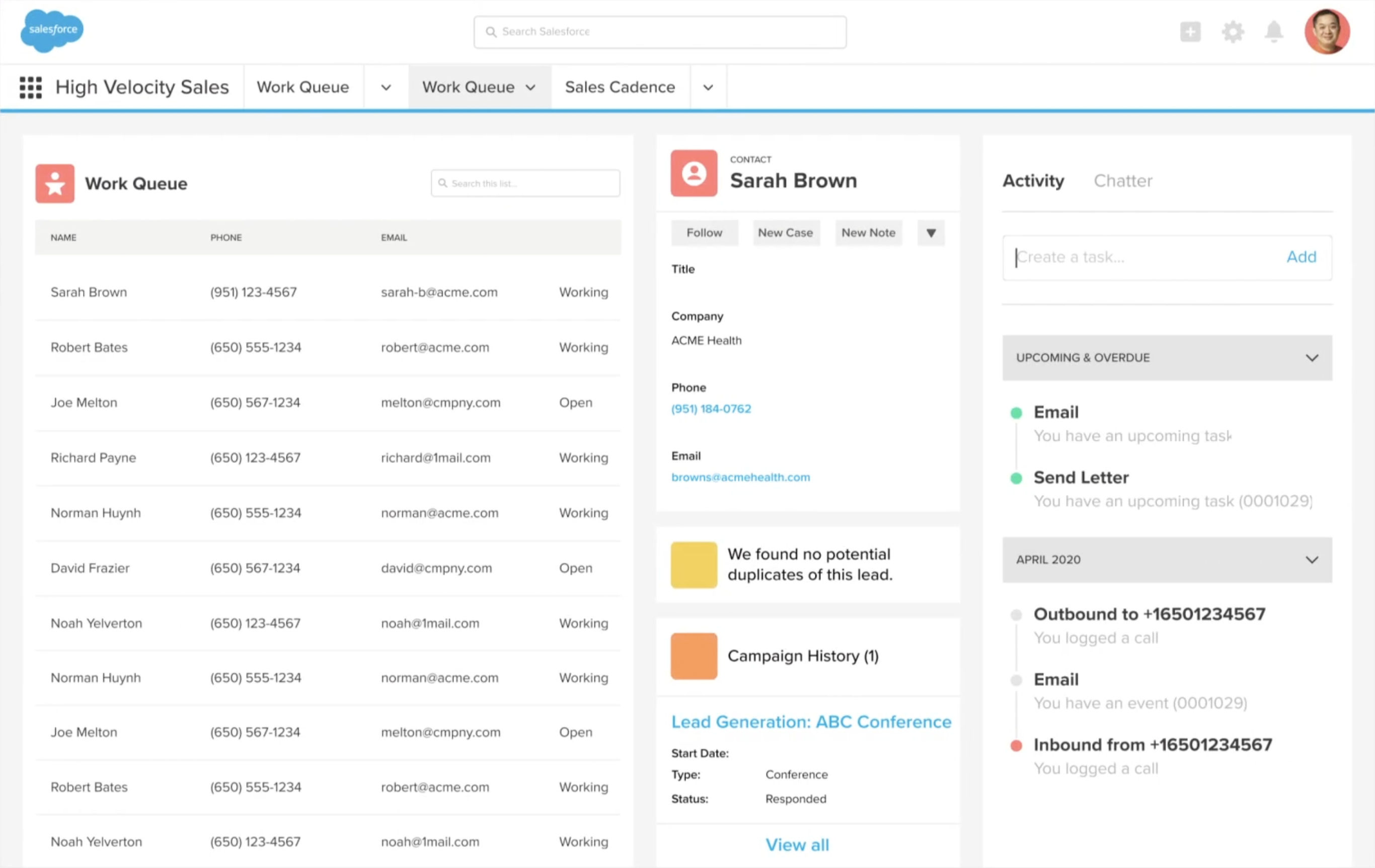 Mitel doesn't have as many integrations and you'll only be able to use Salesforce if you're on the Premier plan. Upgrading to the Elite tier will unlock other integrations like Microsoft Teams, Microsoft Outlook, and NetSuite.
Winner: RingCentral gets the win for having dozens of integrations spanning project management, CRM, and cloud storage.
Scalability
At first glance, it may seem like Mitel is the better option when it comes to scaling up since its plan is cheaper than that of RingCentral and other competitors. However, this isn't really accurate due to the differences in pricing models between the two providers.
RingCentral may start out with higher prices but its Essentials plan drops from $40 to $30 if you have more than one user on the platform — then to $20 if you decide to bill annually. These bulk discounts and annual billing incentives help reduce the per-user cost of large teams.
Furthermore, RingCentral also has the ability to handle larger meetings. You can have video conferences with up to 200 participants on the Premium and Ultimate plan or increase that further to 500 participants with the Large Meeting add-on.
Winner: RingCentral is more scalable than Mitel due to its bulk pricing discounts and higher participant capacity.
Call quality
While the Mitel calling experience is decent, the initial setup process can be rather arduous. This is especially true for SIP registration which is usually a straightforward or done-for-you step with other providers.
RingCentral is also known for call quality considering it uses the OPUS Interactive codec for high-fidelity audio and video. It also has a 99.999% uptime SLA which makes it one of the most reliable providers out there.
Winner: RingCentral gets the win for its stellar call quality and reliability guarantee.
Security
Mitel's VoIP services are secure and adhere to industry standards. The company offers features such as encryption, role-based access controls, and secure conferencing.
RingCentral has become one of the most trusted VoIP providers over the past two decades. It has SOC 2+ report, SOC 3 report, C5 attestation, and is HITRUST-certified meaning that third-party auditors around the world are confident in the platform's security protocols.
Winner: RingCentral wins for having world-class security and not taking 1-2 years to patch critical exploits.
Hardware
Mitel's catalog on their website consists solely of their own models. While it's always nice to see first-party hardware being offered, the lack of choice is evident when shopping around on their website.
RingCentral's offerings consist of models from Poly, Cisco, Unify, and Yealink giving you a broad array of brands to choose from. Prices range from $90 to $580 offering options at every price range alongside rental options.
Winner: RingCentral takes the cake for its more diverse catalog and rental options.
Cross-Platform Compatibility
Mitel has apps for both iOS and Android devices but the user experience is considerably worse for the latter. It has an impressive 4.5-star rating from Apple users but can't even hit three stars on the Google Play Store since it's outright unusable for certain customers.
RingCentral scores 4.7 stars on the App Store and Google Play Store with almost 30,000 reviews from happy customers. The Chrome extension, however, is buggy to use so you'd be better off using a different provider if you're looking for a VoIP extension on Chrome.
Winner: RingCentral is the clear winner due to the universal approval of its mobile apps — just steer clear of the Chrome extension.
Ease of Use
Mitel isn't particularly hard to use but it loses a few points due to the tricky setup process. Other detractors would be its mobile UI, certain areas of the web interface that feel dated, and difficulty when reviewing call recordings.
RingCentral has an all-around easy-to-use UI that users unanimously praise. Whether you're navigating through its features or trying to add someone to a call, it only takes a few clicks on clearly-labeled buttons to complete a specific action.
Winner: RingCentral is known for its intuitive interface so it should be no surprise that it wins in this category.
Customer Support
Mitel mostly relies on its authorized partners to handle support tickets. This means that their quality of support can vary wildly. By not using an in-house team to address customer concerns, the platform is inherently destined for slower resolution times.
RingCentral, on the other hand, has a world-class customer support team that assists customers directly to help resolve issues as quickly as possible. All users on the Standard plan or higher will have access to RingCentral support agents 24/7.
Winner: RingCentral agents are knowledgeable, helpful, and easy to reach so they get the win in the final category of our direct comparison.
Mitel vs RingCentral: Pricing
Mitel Pricing
Mitel offers three bundled pricing plans, outlined below:
Essentials Plan ($25 per user/mo.): Includes video conferencing with up to 100 participants, call routing and auto attendant.
Premier Plan ($32 per user/mo.): Adds on a Salesforce integration.
Elite Plan ($47 per user/mo.): Adds on integrations with Microsoft Teams, Outlook, and NetSuite.
RingCentral Pricing
RingCentral offers three pricing plans for its business communications solution:
Core Plan ($20 per month/user, paid annually):

Includes unlimited domestic calling, texting, team messaging and video conferencing (for up to 100 participants), along with 100 toll-free minutes. Features include IVR, call logs, real-time QoS reports, and on-demand call recording.

Advanced Plan ($25 per month/user, paid annually):

Includes 1,000 toll free minutes and unlimited internet fax. Additional features include automatic call recording, 8 digit extensions, call whisper/barge, and essential business analytics.

Ultra Plan ($35 per month/user, paid annually):

Includes 10,000 toll free minutes and up to 200 video participants. Additional features include unlimited storage, device analytics and alerts, and business analytics (pro version)
Mitel Pros and Cons
Pros
Team Collaboration: Mitel Teamwork has all the basic features you'd need to collaborate online such as progress tracking, task assignment, and unified communications. Not having to switch between tabs all day makes your team more productive and helps you finish projects much faster. Project data is also synced across all devices associated with your Mitel account which makes it easy for employees to switch to mobile and continue collaborating even when they're not in the office.
Quick Navigation: Mitel may not have the most stylish interface but its minimalist design makes it very easy for users to access all of the platform's key features. Right after installing the desktop client, you'll be able to get access to your contacts, voicemails, events, and recent calls. You can also access Mitel Teamwork through the same dashboard. Transferring a call from your desktop to a mobile device can also be done in just a few seconds through the keypad on your handset or smartphone.
More Affordable: Mitel's Essentials plan has a starting price of $25/month for each user which makes it an affordable entry-level option for SMBs. Even its top-tier Elite plan only costs $47/month for each user despite coming with perks like always-on call recording and archiving. The Essentials plan includes key features like instant messaging, mobile apps, softphones, PBX, 100-participant video conferencing, project management, and the Google Workspace integration so you can use your existing tool stack.
Cons
Poor Support: While Mitel promises 24/7 global technical support to all customers, it can be quite difficult to get in touch with their team in practice. Their phone lines can be congested leading to long wait times and certain customers have reported that their live chat is ridden with connection issues. It's worth noting that many support calls are processed by Mitel's authorized partners rather than their in-house team so your mileage may vary depending on where you're located.
App Issues: The app can feel rather glitchy and bloated at times. For instance, it may be running fine on a desktop computer only to start running into issues once the workflow is transferred over to a laptop, so there's definitely room for improvement in terms of optimizing its performance. Its menu system on the iOS app is also unintuitive and may make it harder for employees to use Mitel while on the go. Finally, the interface just feels outdated and could probably use a revamp before we'd consider it on equal footing with RingCentral or other competitors.
RingCentral Pros and Cons
Pros
Team Collaboration: RingCentral's native project management capabilities boost productivity by combining tasks, communications, and overall collaboration into a single platform. This makes it possible to reach your team through calls, DMs, and conferences without logging onto third-party platforms. Furthermore, its integrations with popular tools like Asana or Monday make it possible to integrate your existing workflow into RingCentral which makes for a more seamless user experience.
Integration Support: Speaking of integrations, RingCentral has a top-notch gallery filled with popular tools that complement its existing functionality. There are quite a few use cases that are particularly helpful like being able to create a webphone for your HubSpot account. You could also implement RingCentral's communication infrastructure into your Salesforce account to streamline daily activities. Alternatively, you could try integrating RingCentral with your calendars on Microsoft Outlook or Google Workspace to help with scheduling conferences.
Detailed Analytics: The RingCentral Analytics Portal is the most efficient way to get a real-time overview of your business and generate customer supports with pre-made templates. You'll be able to look at data for every department, client, and agent which makes it easier to track trends. There are quite a few report topics for you to choose from including: first call resolution, average call duration, percentage of calls answered vs. sent to voicemail, user escalation, and others
Cons
More Expensive: If you bill monthly and only purchase one license, then even the entry-level Essentials plan will cost $40/month for each user. This can make the platform too expensive for freelancers or SMBs who need an affordable UCaaS solution. That being said, the price drops to $30/month for each user if you have two or more people on your team, and billing annually can also save you as much as 33%. In essence, RingCentral is more cost-effective at larger scales than for small teams who can't afford to pay a year upfront.
Faxing Issues: RingCentral's platform has known to be rather buggy when it comes to faxing. There are instances of faxes showing up in the call log instead of messages, being unreadable, outright disappearing, etc. If you receive partial faxes then you can try a few things. First of all, see if lowering the baud rate to 9600 resolves the issue. If not, you might want to try disabling the error correction mode on the machine that sent the fax.
Which Provider is Right for Your Business?
RingCentral is Best for:
Large teams who'll get bulk pricing discounts
Those who prefer annual billing
Businesses that need a diverse feature set
Teams looking for integrations and a good UI
RingCentral is Not Right for:
Teams who can't afford to bill annually
Businesses looking for a calling-only solution
Companies who want first-party hardware
Mitel is Best for:
SMBs looking for a cheap solo plan
Teams looking for a cheap auto-attendant
Businesses who want first-party hardware
Companies who primarily use phones/PCs
Mitel is Not Right for:
Large teams who want to scale up
Companies that value quick setup times
People who want to use third-party phones
Those looking for a good mobile experience
As you can see, both providers have their own merits when it comes to providing a unified communications experience to customers. At the end of the day, it comes down to considering the features and pricing of each platform to determine which option best suits your needs.
Smaller teams who want a lower entry price and 100-participant video conferencing across all plans would be best served by Mitel. Conversely, RingCentral is a top pick for larger teams that value native versatility, extensive integration support, and a well-rounded UCaaS experience.