IVR (Interactive Voice Response) is a VoIP phone system feature using call menu prompts, predetermined call flow paths, speech recognition, and Natural Language Processing to let customers direct their own calls or solve support issues without a live agent.
IVR systems are especially valuable for small businesses, as they keep communication costs down, automate routine business processes, and optimize smaller staff.
Basic IVR features for small businesses include virtual receptionists, automatic call distribution (ACD), call routing, custom greetings and text-to-speech menu prompts, hold music, and call scripts.
This guide to the best affordable IVR systems for small businesses will take your team to the next level–and boost customer satisfaction in the process.
Compare small business IVR systems
from top providers
Best IVR Systems for Small Business
Below, we've outlined the best cloud IVR systems for small businesses:
Provider
Pricing
Standout Features
Best For
8×8 XCaaS
5 quote-based plans
IIVR and Post-Call Surveys
Startups with a plan to evolve to an omnichannel contact center that uses IVR to entirely automate customer service interactions
Nextiva
3 Business Communication plans from $18.95-$32.95/user/month

4 quote-based Contact Center plans

Proactive Notifications and Call Flow Design Tool
New businesses relying on automation to optimize a smaller number of agents than can effectively manager current call volumes
Dialpad
3 Business Communications plans from $15-$25+/user/month

2 quote-based Contact Center plans

Live call transcription and real-time IVR analytics, IVR Workflow
Small businesses that want an AI-optimized platform with automated reporting, agent coaching, and seamless call flow design
RingCentral MVP
3 MVP plans from $20-$35/user/month

4 quote-based Contact Center plans

Visual IVR Editor, Auto-Attendant with Custom Answer Rules
Small teams needing a basic and affordable IVR solution offering sub-menus, call queueing, and UCaaS tools
Now, let's take a closer look at the top IVR platforms for small businesses:
8×8
8×8 is a cloud business communications and contact center solution with multi-level auto attendant and IVR capabilities included in all plans.
The 8×8 UCaaS platform, Business Communications, offers voice, video, and team chat messaging with basic call handling features and standard IVR.
8×8 XCaaS Contact Center adds omnichannel routing (voice, chat messaging, email, social media, SMS) and provides Intelligent IVR, automated post-call surveys, and high-level speech analytics to meet advanced business needs.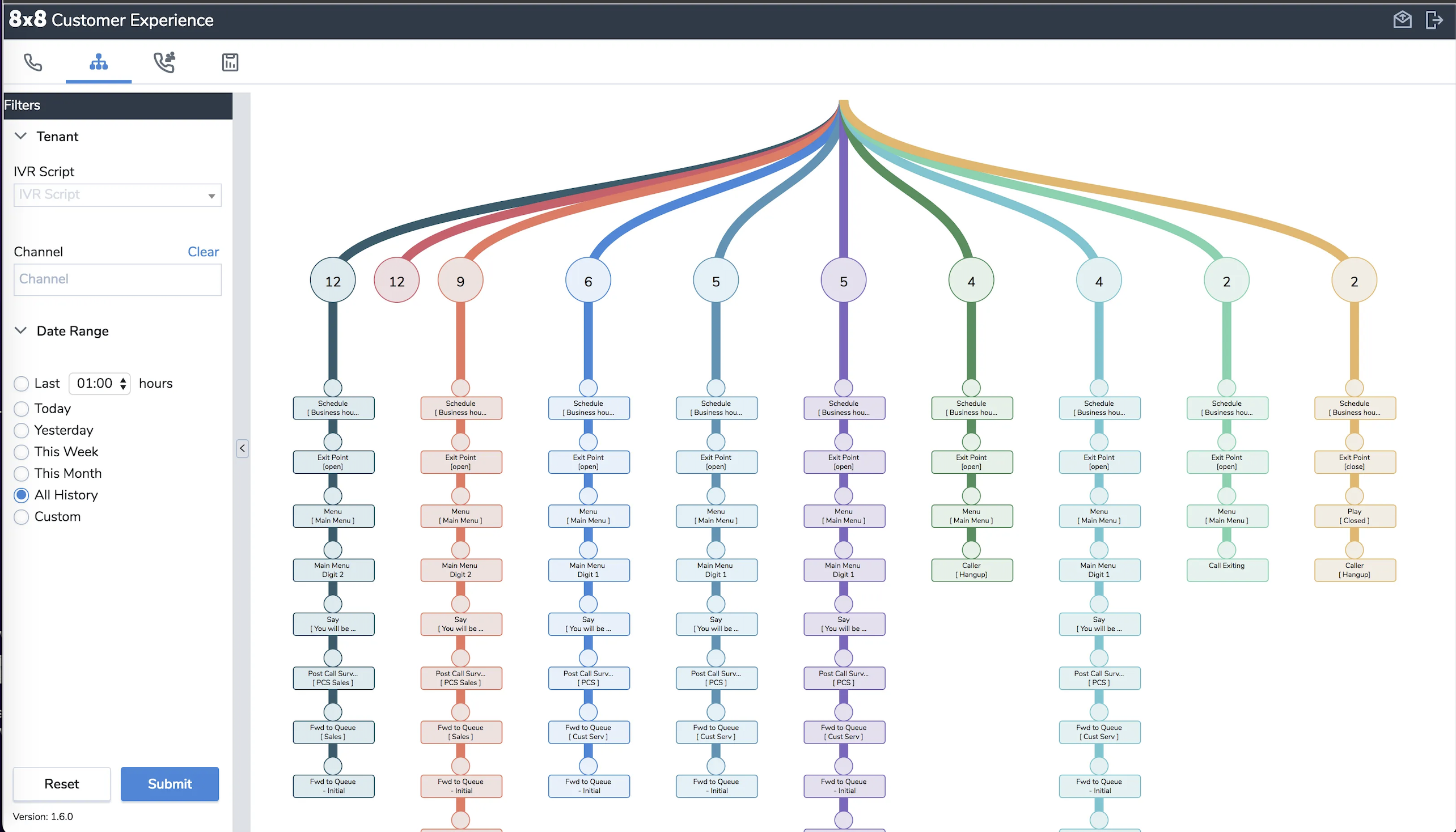 8×8 offers mix-and-match pricing to help small businesses keep costs down. This allows admins to choose which specific users need access to more expensive advanced IVR tools, and which users need only more affordable, basic auto-attendant capabilities.
Pricing
8×8 XCaaS offers 5 quote-based plans: The X2 and X4 plans for its UCaaS tool, and the X6, X7, and X8 plans for its CCaaS solution.
X2 Plan: Includes unlimited users with unlimited voice calling to 14 countries, multi-level auto attendant, hunt groups, ring groups, call forwarding, call transfer, call queues, basic call activity analytics, voicemail transcription, Conversation IQ with speech analytics available as an add-on
X4 Plan: Includes 8×8 Frontdesk for receptionist-managed call handling, supervisor analytics, call barge/monitor/whisper
X6 Plan Voice Contact Center: Includes IVR-powered post-call surveys,  skills-based routing, 8×8 Agent Workspace, queued and web callback, advanced reporting, advanced CRM integrations, Intelligent IVR (IIVR) available as an add-on, 8×8 Secure Pay add-on, Speech Analytics add-on, outbound Auto-Dialer add-on
X7 Voice and Digital Contact Center: Includes omnichannel routing, chat, email, SMS, and social media communication channels, agent/customer co-browsing, IIVR add-on, Secure Pay add-on, Speech Analytics add-on, Auto Dialer add-on
X8 Advanced Contact Center (Quality Management and Interaction Analytics): Includes Auto-Dialer (Preview, Progressive, Predictive), includes Quality Management and Speech Analytics, IIVR, 8×8 Secure Pay available as add-ons
Key 8×8 IVR Features
Standard 8×8 IVR and auto attendant tools allow admins to add/edit welcome messages and agent scripts, customize call queue and ring group rules, and edit call flows in real time via a drag-and-drop interface.
Top 8×8 Interactive Voice Response System features include:
Intelligent IVR (IIVR): Paid add-on only, Conversational AI Intelligent Customer Assistant routes interactions using speech recognition and NLU, connects with 50+ third-party integrations for a personalized experience, includes IVR templates, allows for outbound IVR
Post-Call Survey: Custom scripting, allows customers to take survey immediately post-call or to receive a call to take it in the future, muti-lingual options, text-to-speech, choose preferred automated voice, add timeouts, add answer ratings/ranges (1-9) or specify yes/no answers only, enable automatic prompt so customers can leave a voice comment as a response
Quality Management and Speech Analytics: Pre-built and custom IVR metrics displayed as interactive graphics like word clouds, sentiment analysis, search by keyword/agent/interaction type, customer journey visualization tool,
Call Routing: Time-Based/Schedule-Based/Agent Status-Based/Direct Agent/Skills-Based/Caller ID-Based/Round Robin virtual telephony routing strategies available (plus omnichannel routing)
What We Like
Highlights of using 8×8 as a small business IVR system include:
PCI-compliant 8×8 Secure Pay add-on automatically processes payments via phone using DTMF/keypad touch tones
Highly scalable solution with mix-and-match allows small businesses to evolve cost-effectively and at their own pace
High-level integrations and APIs available on all plans, plus an active developer community
What Needs Improvement 
Potential downsides of using 8×8 as a small business IVR system include:
Lack of transparent pricing, especially as 8×8 previously made all pricing public
Intelligent IVR (IIVR) and 8×8 Secure Pay only available as paid add-ons–even on the most expensive plan
Extensive learning curve and a more complicated interface than most small business employees are used to
Best For
8×8 is best for teams needing advanced conversational IVR with speech analytics, machine learning, and NLU features that can automate the entire customer support process–not just direct callers to the correct live agent. Ideal for ecommerce, tech support, etc.
Nextiva
Nextiva is a Business Communications, Call Center, and Contact Center platform with highly scalable IVR and auto attendant features. It's known for advanced Customer Relationship Management (CRM) integrations, 24/7 support across all plans, and its uncluttered, easy-to-use call flow design tool.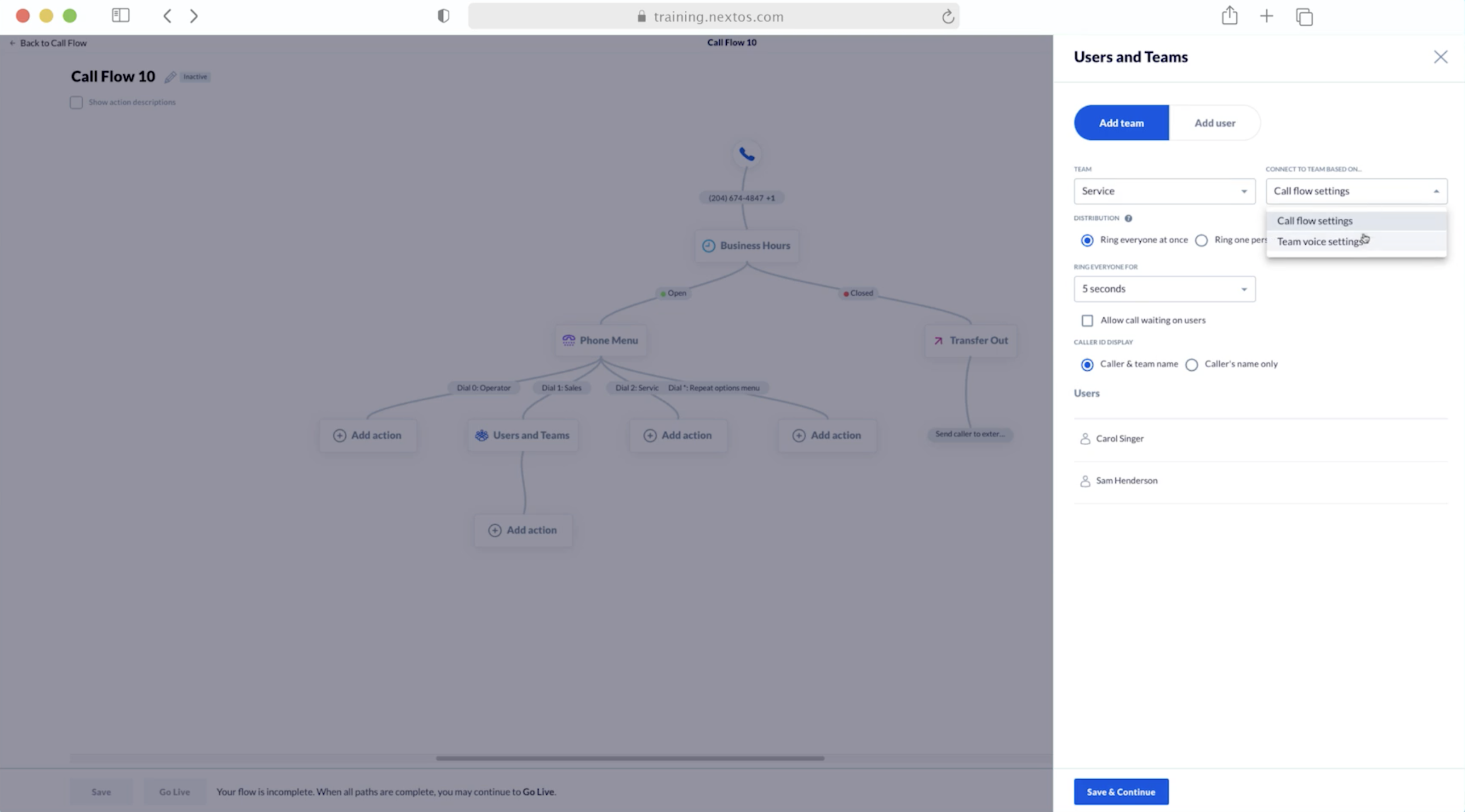 Nextiva Business Communications is the ideal software for most small businesses, offering UCaaS collaboration tools, VoIP voice calling, video conferencing, and SMS/MMS texting.
Nextiva Contact Center is an intelligent omnichannel platform with voice and digital engagement, high-level workflow automation, and workforce optimization.
Pricing
Nextiva Business Communication offers three paid plans from $18/95-$32.95/user/month, while Nexiva Contact Center offers four quote-based plans.
Business Communication Essential Plan ($18.95/user/month): Includes unlimited US/Canada Calling, auto attendant with hold music, call history/log reports, call notes, 500 shared contacts, shared line appearance, call group, voicemail to email, team presence, 1 included toll-free number with 1500 minutes/month, 45 minute video calls with video call recording, team chat messaging, 24/7 support, MS Outlook and Google Contact integrations, mobile app
Business Communication Professional Plan ($22.95/user/month): Includes multi-level auto attendants, SMS/MMS (1,000 messages/user/month), 3,000 toll-free minutes/month, conference calling for 40 participants, Salesforce and advanced CRM/helpdesk integrations, Voicemail to SMS
Business Communication Enterprise Plan ($32.955/user/month): Includes call recording, voicemail transcription, unlimited conference calls, 12500 toll-free minutes/month, 2,000 SMS/MMS/user/month, Enterprise-level integrations including Microsoft Teams, SSO
Core Contact Center Plan (Quote-based): Voice-only contact center Includes call recording with IVR input, blended inbound calls and outbound calls, IVA add-on, CRM connector add-on, performance dashboard add-on
Premium Contact Center Plan (Quote-based): Digital+Voice contact center including omnichannel communication via SMS, voice, email, and intelligent chat routing, Essentials Quality Management
Optimum Contact Center Plan (Quote-based): Includes proactive notifications, Enterprise QM, Enterprise WFM,
Ultimate Contact Center Plan (Quote-based): Includes no-code workflows, Interaction Analytics, Workflow Automation Suite
Key Nextiva IVR Features
Nextiva IVR service offers multi-level auto attendants, voice recognition and Natural Language Processing, automated customer callbacks, and intelligent call distribution.
Admins can choose from round robin, skills-based, list-based, business hour, most idle, and time-based routing, among others.
More advanced 8×8 IVR features include:
Call Flow Design: Build call flows from scratch, access saved flows, upload/record call announcements and greetings, add direct-to-agent routing, add dial-by-extension or dial-by-name routing, transfer customer calls to another call flow, sequential/simultaneous ringing, add overflow routing and call forwarding for incoming calls
Advanced IVR with Conversational AI: 24/7 customer self-service with multilingual intelligent virtual agents, voice biometrics, Google Cloud and IBM Watson-powered NLU, text-to-speech, open-ended prompts  no-code call flow design, pre-built call flow and routing templates, CRM integrations, PCI compliance
Proactive Notifications: Proactive outbound interactions and notifications  across voice and digital channels, ideal for appointment reminders/confirmations, welcome messaging, marketing, renewal/payment reminders, broadcast emergency alerts with text-to-speech/audio files, collect customer surveys/feedback
What We Like
Highlights of using Nextiva as a small business IVR system include:
IVR call menu greeting repository lets agents and admins instantly switch welcome messages and other IVR voice prompts in real-time without deactivating their phone system or turning off automated attendants (Ideal for schedule changes, business updates and alerts, etc.)
Offers internal call flows/call routing via extension-to-extension calling
Call flow design tool automatically reviews call path drafts and alerts admins to potential issues before an auto attendant/IVR call menu goes live
CRM call pop features uses CTI screen pops to give agents in-call client data like past survey responses, account value, Customer Experience Score, and information about the last interaction
What Needs Improvement 
Potential downsides of using Nextiva as a small business IVR system include:
Proactive outbound notifications are available only with the Optimum and Ultimate Nextiva Contact Center plans–and the lack of pricing transparency makes estimating value difficult
High-powered CRM integrations are only available for Enterprise users–the most expensive Nextiva Business Communications plan
The knowledge base is outdated, difficult to navigate, and contains instructions for multiple product versions—challenging to small businesses and startups that can't afford an in-house IT team
Best For
Nextiva is best for SMBs wanting to offer customers proactive outbound IVR to automate appointment scheduling/reminders, subscription reminders, bill payment and account balances, real-time delivery/flight updates, and secure interactions requiring a PIN. It's also ideal for small businesses looking to optimize a lower number of agents via intelligent routing and automation.
Dialpad
Dialpad is a call center software and contact center platform that leverages AI and advanced automation to optimize agent productivity and the IVR customer support process.
It offers multi-level auto attendants, AI-powered in-call agent coaching, post-call summaries, and custom call routing options on all plans.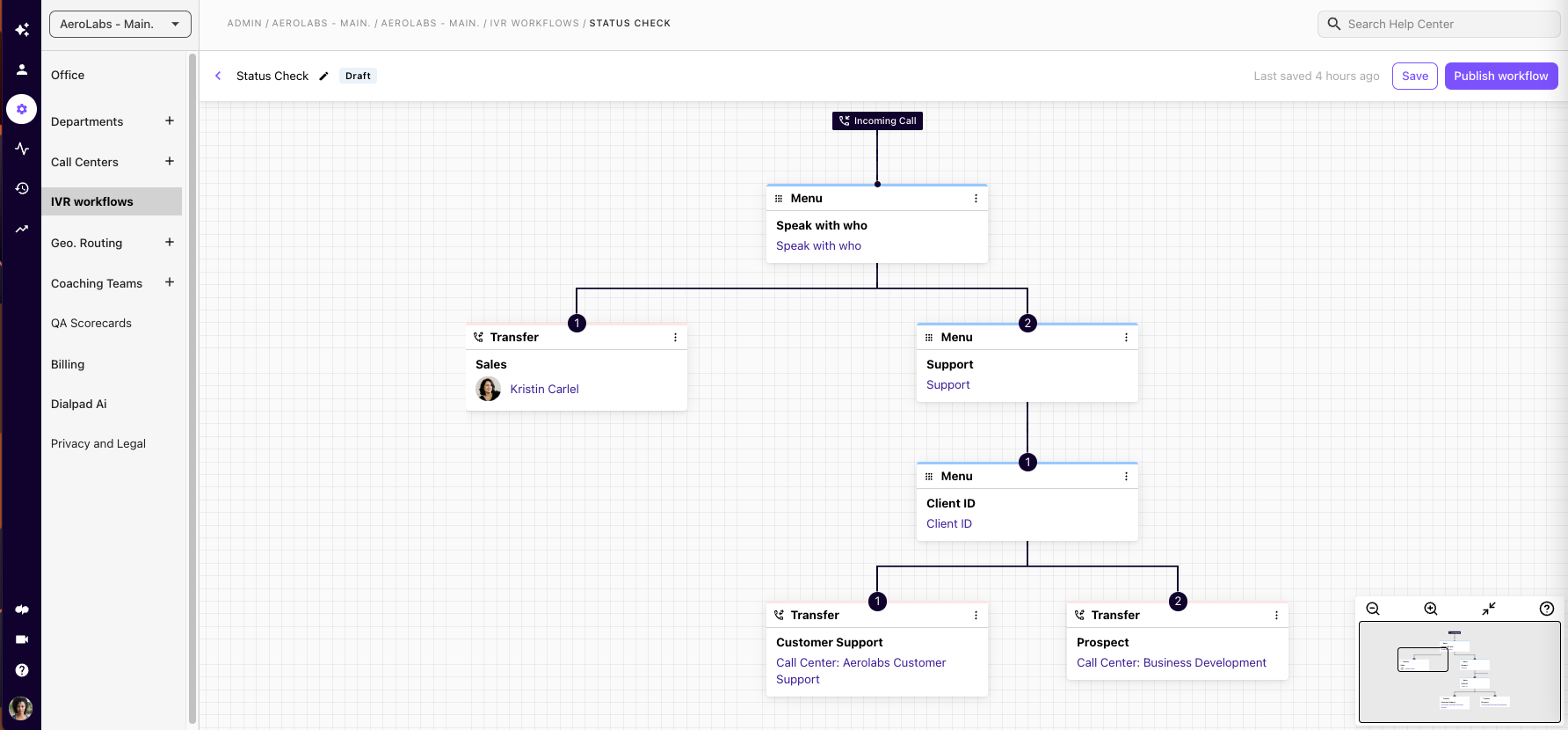 Its Business Communication UCaaS tool is an excellent opportunity for small, new businesses to reap the benefits of AI for the first time, while its advanced omnichannel Contact Center leverages machine learning, real-time analytics, and Conversational AI-powered chatbots.
All users can access a variety of call routing strategies, including Fixed Order, Longest Idle, Skills-based, random, and Round Robin routing–all with remote call forwarding to external devices.
Pricing
Dialpad Business Communications offers three paid plans from $15-$25/user/month and up. Dialpad AI Contact Center offers two quote-based plans.
Dialpad Business Communications Standard Plan ($15/user/month): Includes multi-level auto attendant, custom call routing, call forwarding, call recording, Exec-assistant pairing, call flip, set personal working hours, visual voicemail, 1 local number/user, 3 max. ring groups, SMS/MMS/group messaging, team messaging with file sharing, video meetings for 10 participants, real-time tall transcript, live speech coaching, HIPAA compliance, 24/5 customer support
Dialpad Business Communications Standard Plan ($25/user/month): Includes 25 max. ring groups, hold queues, CRM integrations, 24/7 customer support
Dialpad Business Communications Standard Plan (Quote-based): Unlimited ring groups, SLA
Dialpad Ai Contact Center Pro Plan (Quote-based): Includes omnichannel voice and digital engagement, self-service virtual agent, multi-level auto attendant with custom hold music, 25 max. hold queues with automatic call queueing, in-queue callback, manager SLA alerts, sentiment tracking, call monitoring/barge/whisper, call transcriptions, live agent recommendations, speech coaching, agent screen capture, advanced analytics, call transcriptions, automated post call notes, video meetings, autoreach campaign management dialer, custom business rules,
Dialpad Ai Contact Center Enterprise Plan (Quote-based): Includes unlimited hold queues with custom queuing
Key Dialpad IVR Features 
Dialpad offers one of the most diverse IVR and automation feature sets of the providers here. These include basics like custom ring durations and automated fallback call flow options, as well as more advanced functionalities like Conversational AI-powered virtual agents and ACD.
Standout Dialpad IVR features include:
IVR Analytics: Tracks most frequently-used IVR menu options,  live customer sentiment analysis, call dispositions, missed call ratio, topic tracking, call summary
IVR Workflows: New call flow design tool with multi-lingual IVR call menu and voicemail options, set custom routing rules by department and business hours, record custom greetings, advanced call hold and call transfer settings, call timeout values and retry counts, branching for IVR sub-menus
Ai Assistant: Real-time agent assist based on keyword recognition, live call transcription, and machine learning, connects to CRM tools and help desks to give agents instant customer support scripts during an active call
Virtual Agents: Intelligent call routing with machine learning and conversational AI, digital deflection to keep more agents free
What We Like 
Highlights of using Dialpad as a small business IVR system include:
Superior AI features like live speech coaching, Agent Assist, real-time call transcriptions, voicemail transcription, and post-call notes cut down own After-Call Work, increase FCR rates, and automate the employee training process
Ai measures 100% of customer interactions across channels, providing the most accurate CSAT, NPS, and customer experience scores
Offers 100% uptime with an SLA guarantee, providing the highest reliability of any provider on this list
What Needs Improvement 
Potential downsides of using Dialpad as a small business IVR system include:
Doesn't offer the same level of scalability compared to other providers on this list, challenging for small businesses with a tight budget
Business Communication Standard Plan (the most affordable option) severely limits IVR and auto attendant-related features by not including hold queues, limiting admins to 3 ring groups, and lacking CRM integration
High-level AI features may be too overwhelming for small businesses who likely won't have the necessary time to undergo user training, the feature setup process, and review detailed daily analytics and performance reports
Best For
Dialpad is best for new small businesses looking for an AI-powered IVR and Virtual Assistant platform that automates the agent coaching process, provides custom and department-specific routing instructions, and assists in the lead generation and management process.
RingCentral MVP
RingCentral MVP is a Unified Communications platform offering a business phone system, video calling, and team chat messaging within an easy-to-use interface. MVP also includes basic voice IVR and ACD capabilities, CRM integrations for in-call pop-ups, and standard voice analytics.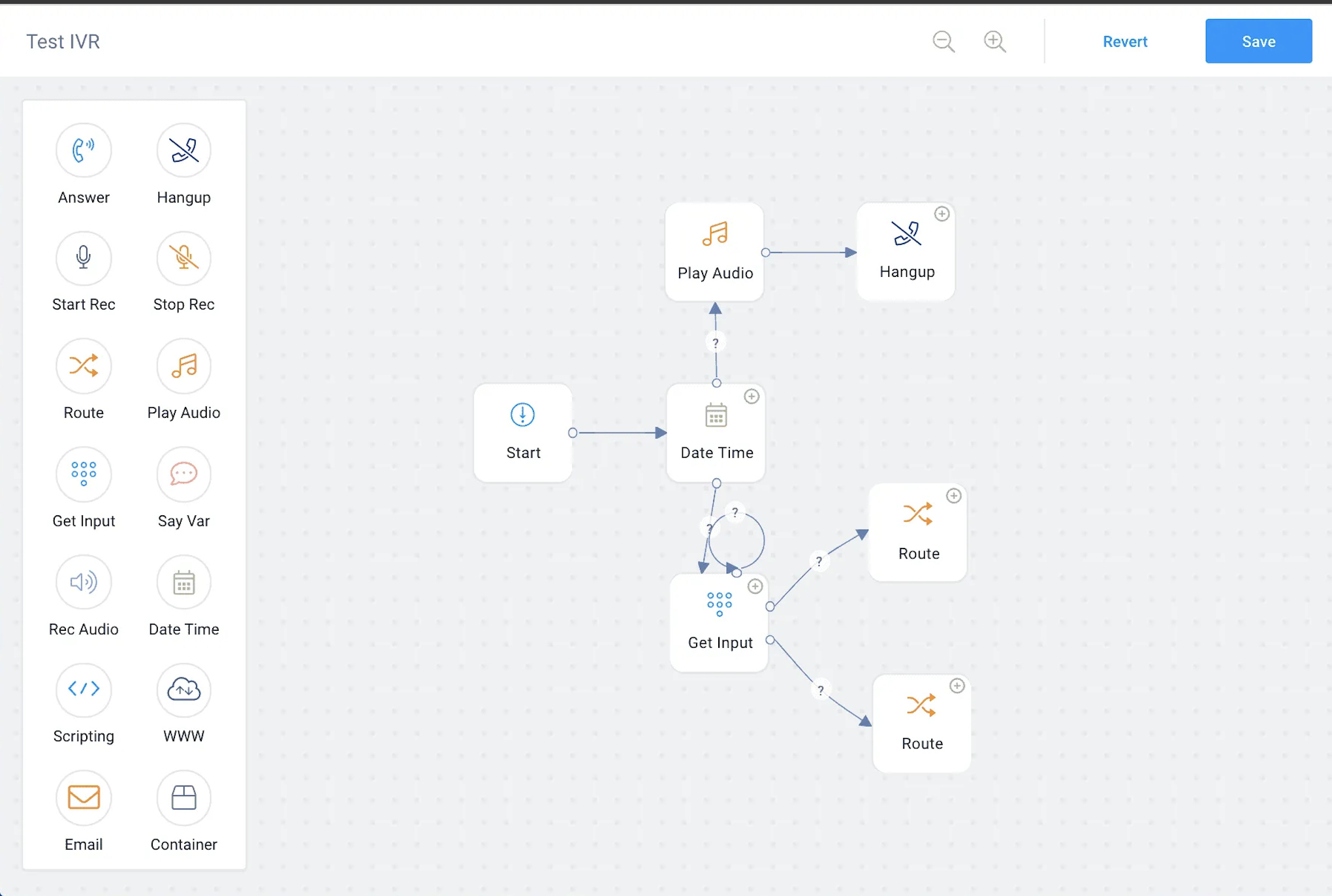 Its Contact Center plan adds on voice and digital channels, WFM and performance management, and most importantly, omnichannel Conversational AI and interaction analytics.
Pricing
RingCentral MVP offers three paid plans from $20-$35/user/month. A 14-day free trial is available. RingCentral Contact Center offers 4 quote-based plans.
MVP Core Plan ($20/user/month): Includes multi-level auto attendant and IVR, 8-digit extensions with site codes, Unlimited US/Canada calling, 100 toll-free minutes, shared lines, on-demand call recording,  end-to-end encryption, basic call queueing, visual voicemail, Enhanced Business SMS (25/user/month), team chat, unlimited audio conferencing, up to 100 video meeting participants with AI Live transcriptions and AI Meeting Insights, breakout rooms, screen sharing and whiteboarding, 24/7 support, call log reports and QoS monitoring, live reporting add-on, RingSense Conversation Intelligence for Sales add-on
MVP Advanced Plan ($25/user/month): Includes advanced call routing and rules, automatic and on-demand call recording, hot desking, 1000 toll-free minutes/month, 100/user/month Enhanced SMS, CRM integrations
MVP Ultra Plan ($35/user/month): Includes Enhanced Business Analytics Suite, unlimited file sharing, custom business insights, 10000 toll-free minutes/month, unlimited storage for files/recordings/messaging
Contact Center Essentials Plan (Quote-based): Includes voice-only CCaaS, IVR, ACD with skills-based routing, visual interaction designer, call recording, UCaaS, Outbound calling and WEM add-ons, Conversational AI add-ons, CRM integration add-on, feedback management add-on, chatbot add-on, AI Coaching add-on
Contact Center Standard Plan (Quote-based): Includes digital and Voice CCaaS, omnichannel analytics, advanced call recording
Contact Center Premium Plan (Quote-based): Includes quality management and screen recording
Contact Center Ultimate Plan (Quote-based): Includes WFM and performance management tools
Key RingCentral IVR Features 
RingCentral offers all the standard IVR and auto-attendant features, with advanced customization and multi-level IVR features for teams with more complex slow design needs.
Top RingCentral IVR features include:
Visual IVR Editor: Graphical interface with drag-and-drop call flow design, automatic verification and error alerts, edit/duplicate/delete IVR menus, customize extensions and IVR sub-menu items, color-code IVR, add external transfers, add Dial-by-Name Directory to IVR menu, set generic key presses, customize language
Auto-Receptionist Custom Answering Rules: Conditional answering rules based on inbound/outbound Caller ID, date/time including specific date range, area code-based rules, etc. Can automate specific announcements, IVR menu, greeting, call forwarding path, call transfer, call queue, ring group, voicemail, shared line, etc.
Advanced Call Routing: Direct Inward Dialing (DID,) Business Hour routing, Caller ID routing, priority routing, skills-based routing, language-based routing, etc.
Outbound CX For Engage Voice: Outbound auto dialers with voicemail drop, IVR, agent scripting, list management, agent note sharing and CRM integration (Zendesk, Salesforce, etc.), call disposition, in-call coaching, etc.
What We Like 
Highlights of using RingCentral as a small business IVR system include:
All RingCentral plans include up to 250 IVR menus and submenus per account, ideal for businesses with teams or offices in multiple locations
All RingCentral users have access to some of the best UCaaS and collaboration tools in the SaaS space, including team chat and file sharing, video calling with breakout rooms, screen sharing with remote control, and AI meeting insights
24/7 multi-channel customer support, a highly detailed online knowledge base with numerous video tutorials and on-demand webinar, and an active community forum make MVP ideal for new businesses or SMBs using cloud-based software for the first time
What Needs Improvement 
Potential downsides of using RingCentral as a small business IVR system include:
MVP has limited analytics compared to other providers on this list, especially regarding IVR interactions
Access to CRM auto-syncing, interaction notes and summaries, topic and keyword search, and advanced call scoring requires the paid Conversation Intelligence add-on, which will be too expensive for many small businesses/startups
Feature-rich platform may mean a higher learning curve for some teams
Best For
RingCentral is best for remote/blended SMBs looking for basic IVR capabilities at an affordable price as opposed to high-level, AI-enhanced automation. These teams may not have an especially high daily call volume, but they do have more complex business processes that require numerous IVR sub-menus, ring groups, and call routing strategies.
Why Small Businesses Should Use IVR Software 
The benefits of using an IVR system for your small business include:
Optimizes a Small Staff
Using automation to manage routine but time-consuming business processes like bill payments, account updates, and basic customer support issues keeps agents free to make outbound sales calls, attend business meetings, and assist high-value customers.
IVR tools increase call center productivity levels and first call resolution rates thanks to automated data entry, outbound voicemail drops, a variety of routing strategies, and third-party integrations.
IVR platforms can even instantly display relevant internal knowledge base data to agents using machine learning and natural language processing. No more switching between apps, transferring phone calls, or keeping customers on long holds while agents search for the right information.
Helps Small Businesses Appear More Established 
As a startup or small business, it can be challenging to gain consumer trust with only a few customer reviews and testimonials.
Having an IVR system helps your business appear established, organized, trustworthy, and–most importantly of all–busy.
You'll also gain access to other VoIP features that boost your business reputation and productivity, including a local business phone number, call forwarding and call transfer, visual voicemail, and automated push notifications.
Keeps Operating Costs Low
IVR helps keep operations costs low by eliminating the need to hire additional agents to respond to an increase in customer service calls.
Plus, since IVR is a VoIP feature, businesses will also avoid the high costs of phone system hardware and equipment.
Because IVR automates frustrating business processes, small businesses should also expect decreased agent turnover rates. Given the high costs of the hiring process and employee training, this is an incredibly valuable asset.
Maintaining a high IVR containment rate means additional cost-savings, so your small business can invest in more important software, optimize support teams, and lower wait times.
Improves Customer Satisfaction
Offering 24/7/365 self-service options via IVR technology is one of the most effective ways to improve the overall customer experience.
With IVR, customers can reach out on their own schedules, avoid long hold times, and connect with the best available agent–not just the first available agent. This means more personalized service, better-prepared agents, and stronger customer relationships that lead to referrals and high retention rates.
Optimize IVR call flows and keep prompts brief, always allowing customers to connect to a live agent when necessary, offering automated callbacks, and routinely editing call paths based on analytics and customer feedback.
How To Choose An IVR System For Small Business
Consider the below factors to ensure you choose the best IVR system for your small business:
Scalability: Tier-based pricing with add-ons and upgrades–including additional business software like CCaaS, UCaaS, web conferencing, etc.–prevent SMBs from paying for tools they don't need or re-learning different SaaS interfaces
Mobility: Apple iOS and Android mobile apps with on-the-go call flow editing, call transfer, team collaboration tools, and customer data
Available Integrations: Streamline third-party business communication and collaboration applications into a single interface for instant access to call pops, customer data, and more
Advanced IVR Capabilities: Intelligent IVR, IVR payments, Visual IVR, machine learning, speech recognition, outbound IVR, etc.
Security and Customer Support: SLA guaranteed uptime of 99.9% minimum, review data retention policies, look for HIPAA, PCI, GDPR, SOC 2 Type 2 compliance, end-to-end encryption, multi-channel customer support with Priority Support add-ons, user training, setup/installation assistance
User Reviews and Free Trials: Have team members test IVR software before committing to a platform,  and read user reviews to uncover common customer pain points or reliability issues
Small Business IVR FAQs
Below, we've answered the top small business IVR FAQs.
IVR is a good option for small businesses and startups because it maximizes a small staff by automating the majority of the customer support process, provides 24/7/365 self-service, and increases first-call resolution rates by ensuring callers are connected to the best-trained, first-available agent.
IVR software costs vary by provider, features, and specific plan, but generally range from $15-$35/user/month and up.
The potential downside of IVR is that some customers find pre-recorded IVR prompts impersonal and frustrating, preferring to speak to a live agent instead. To avoid this, keep IVR menus short and to the point, frequently review IVR metrics to identify common misunderstandings, and always provide the option to connect to a live agent in call menu recordings.