Each customer support and sales software offers unique features and services like communication channels, collaboration tools, reports and analytics, automation and chatbots, and CRM systems.
With so many solutions to choose from, finding the right option for your business can feel like an uphill battle.
Intercom and Zendesk are two of the most popular customer service platforms, each with its own set of distinct advantages and drawbacks.
This article will compare Intercom vs Zendesk, outlining each tool's features, ease-of-use, pricing and plans, pros and cons, and user-support options.
Intercom vs Zendesk: Overview
Intercom
Zendesk
Available Communication Channels

SMS texting
Live chat
Chatbots
Social media messaging
Email

-Voice

-SMS texting

-Live chat

-Chatbots

-Social media messaging

-Email

Top AI-Powered Features

Chatbots
Targeted messaging campaigns and series

-Chatbots

-Automated routing

Customer Self-Service Features

Product tours
Mobile carousels
Chatbots
Help center

Chatbots
Help center
Community forum

Key Integrations
Aircall, Jira, Stripe, GitHub, Salesforce, Statuspage, Amplitude, Marketo, and more
Jira, Zoom, Slack, Shopify, SurveyMonkey,  Salesforce, MaestroQA, and more
Free Trial
No–Intercom offers free demos
30 days
Pricing
4 plans starting at $74 monthly per user
3 customer service plans from $49 to $99 monthly per user

3 sales plans $19 to $99 monthly per user

Best For
Companies that already have a VoIP provider and want to create sales pipeline campaigns
Companies looking for a complete omnichannel contact center and CRM
What is Intercom? 
Intercom is a customer-communications software platform that unites all aspects of the customer service journey–customer acquisition, campaigns to drive customer action, and customer support options like live messaging and self-service chatbots.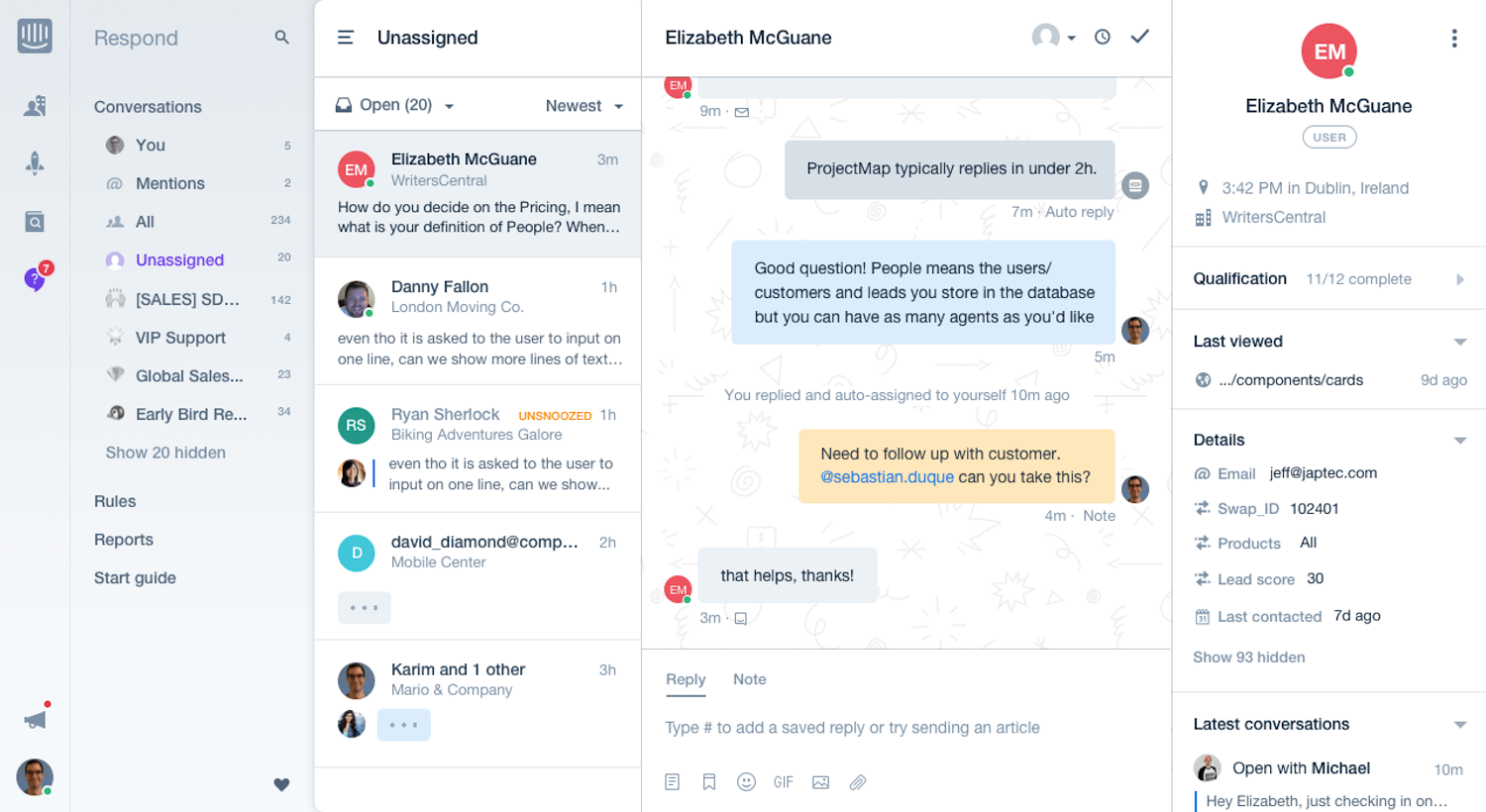 Intercom is unique in that it doesn't provide voice calling or video channels.
What it does offer is a messenger platform, multichannel inbox, and a set of dynamic mobile tools that transform your call center, website, and mobile app into a lead nurturing sales pipeline or customer support powerhouse.
The core of Intercom's customer service and sales solution centers upon five components:
Conversation Inbox: An agent or team inbox that aggregates conversations and tickets from each inbound channel, fostering instant responses
Intercom Messenger: An embedded website/Apple iOS mobile app chat widget that supports chatbots, live agent chat, help center articles, and intelligent routing
Dynamic Mobile and Web Tools: Push notifications, mobile carousels, product tours, and customer surveys
Analytics: Reports and statistics about each service's customer engagement and success, including A/B testing
Integrations: Seamless integration with third-party apps for a variety of agent capabilities
What is Zendesk?
Zendesk is a communication platform provider with two separately-sold, complementary solutions: Zendesk for Service and Zendesk for Sales.
Zendesk for Service, a customer service solution, provides unified customer-facing communication channels, self-service, collaboration, customer routing, and analytics–all organized in one dashboard.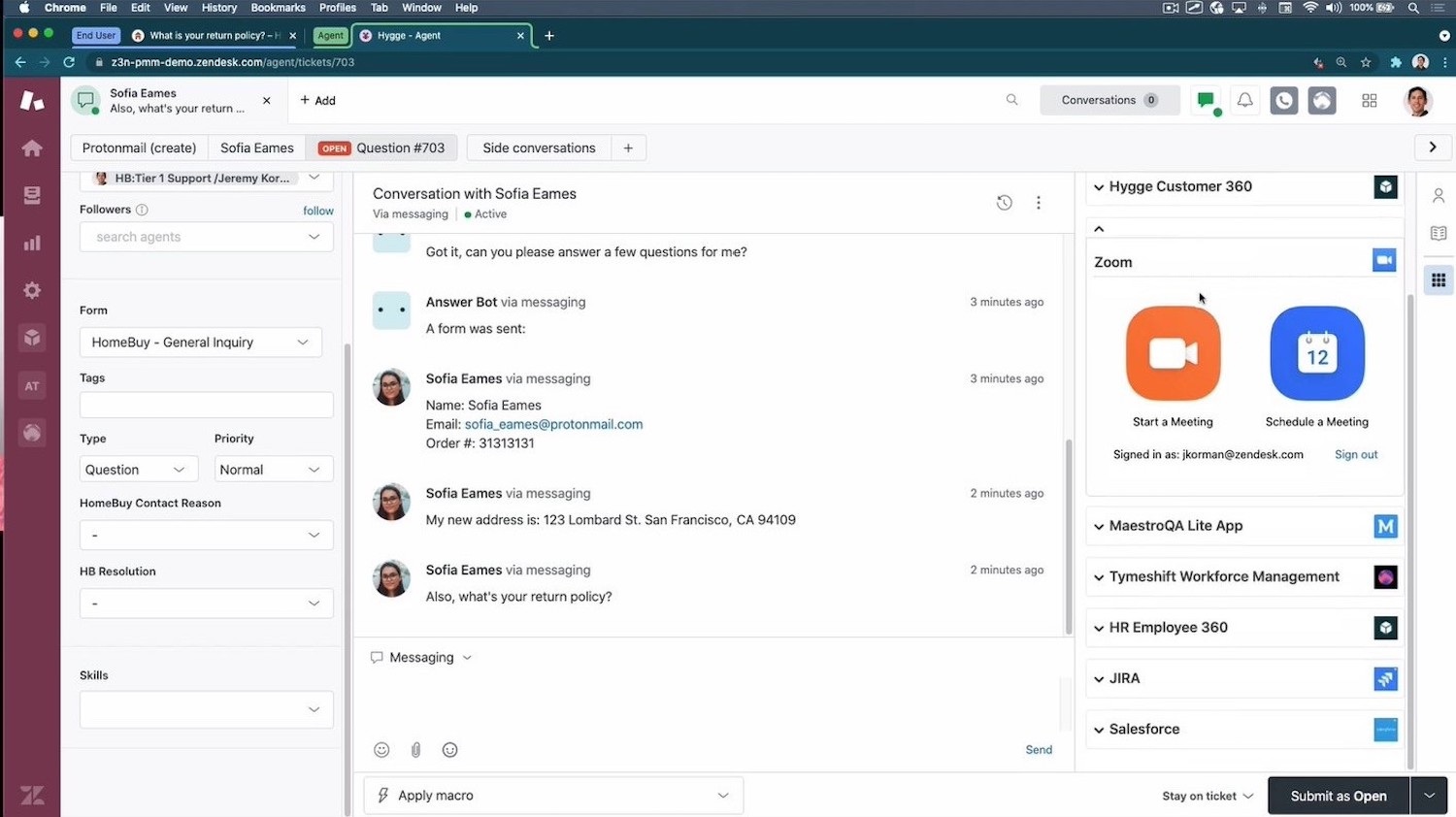 Zendesk for Service offers four core components:
Omnichannel Contact Center: Voice, SMS, chatbots, and live chat tool all unified in one dashboard
Ticketing System and Inbox: a ticketing system with intelligent routing and ticket organization inside an inbox
Collaboration Tools: native messaging platform and third-party integrations to facilitate agent discussion within customer tickets
Help Center and Knowledge Base: a customer self-service system with articles and a community forum
Zendesk for Sales, or Zendesk Sell, is Zendesk's sales pipeline and CRM tool with its own dashboard for lead generation and conversion.
Zendesk for Sales' key components include:
Agent Task Management: A dashboard interface for the sales pipeline, guiding agents through each step of the lead conversion and nurturing process.
Email Sequences: Automated email sequences and templates for lead nurturing
Sales Engagement Tools (Reach): Credits that leverage Zendesk searches to identify and learn more about leads
Intercom vs Zendesk: Feature Comparison
Below, we've compared Intercom and Zendesk's key features.
Intercom vs. Zendesk: Ticketing System
A contact center ticketing system takes all incoming customer service and sales queries and organizes them into tickets for agent management and response.
Intercom Ticketing System
Intercom's Inbox aggregates all conversations, or tickets, from all supported communication channels: email, live chat on web or mobile, chatbot, text messaging, and social media.
Pre-selected assignment rules customize each ticket's destination, assigning routing paths to agents or departments based on customer priority status, query type, or issue details.
Agents can use the desktop chatbox to respond to customers in any outbound channel.
Ticket-resolution features in the Intercom Inbox:
Ticket Details: status and priority level
Conversation Details:  ID number, order number, issue, product area, and urgency
Customer Data: name, company, user type, location, email, and phone
User Notes: any notes entered by other team members
Data From External Apps: data provided by third-party integrated apps, such as Salesforce, that could be useful to the agent
Zendesk Support Ticketing System
Zendesk for Service transforms customer queries and conversations from all channels–call, web chat, tweet, text, or email–into tickets in the Agent Workspace.
The Agent Workspace highlights tickets based on the issue and urgency, assigning each one a priority–agents can also tag tickets based on recency, hold-vs-open status, and urgency.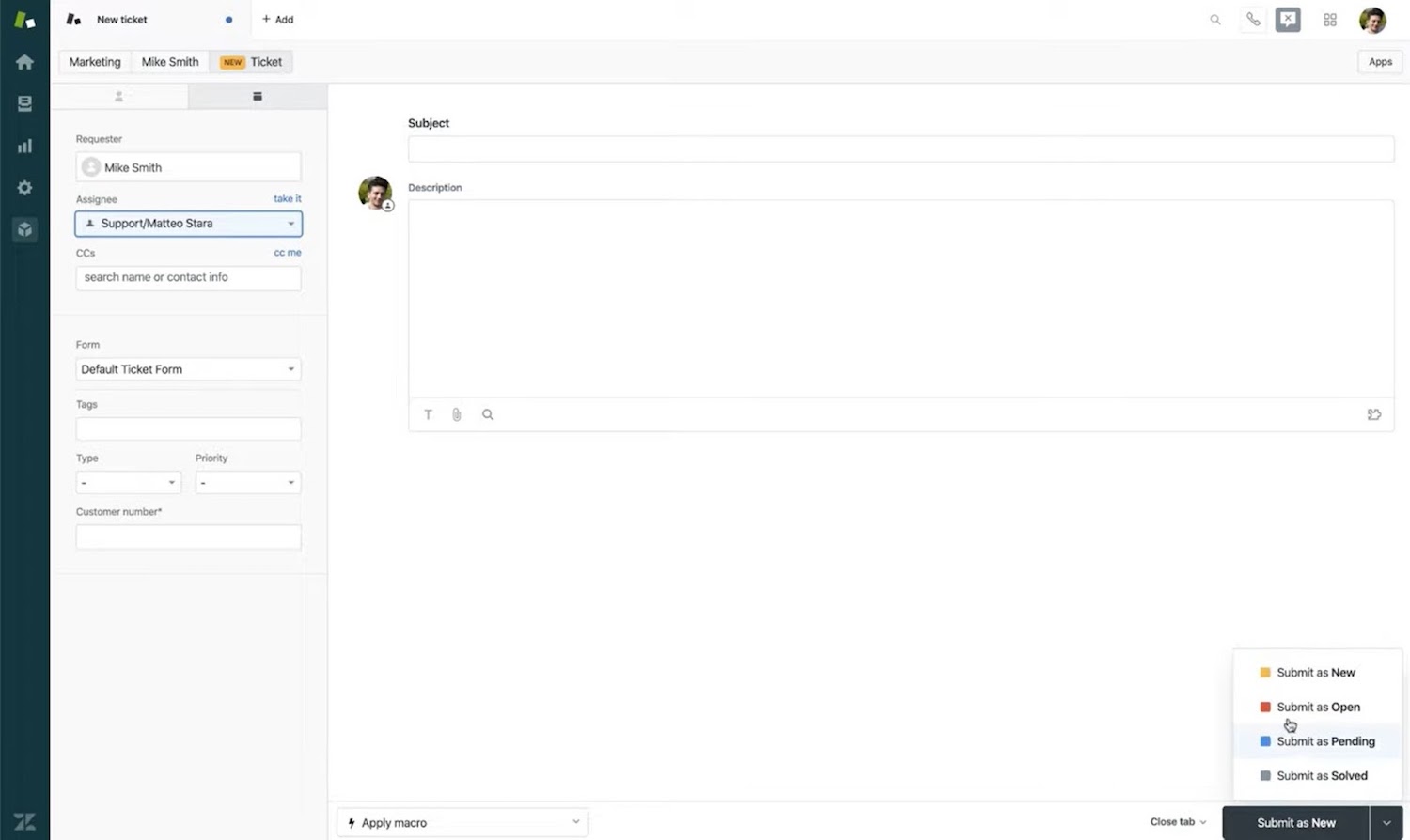 Agents can manage multiple tickets simultaneously with a ton of useful tools at their disposal: 
Customer Information: contact info, details, and internal notes
Customer Context: all previous interactions with the company
Contact Channels: one-click access to calling, email, texting, and messaging apps
Knowledge Base: article suggestions
Third-Party App Integrations: information from relevant apps like Jira or Shopify
Ticket Sharing: a drop-down menu to share tickets with other teammates and departments
Tagging Options: sort tickets as questions, complaints, requests, etc
Color-Coded Workflows: designate a ticket's progress and urgency until it's marked Solved
Side Conversations: initiate side conversations with team members or large groups, without ever leaving the ticket.
Winner: Zendesk
Zendesk wins the ticketing system category due to its easy-to-use interface and side conversations tool.
Intercom vs. Zendesk: Omnichannel Capabilities
In an omnichannel contact center, agents can manage customer interactions across channels, no matter which channel a customer uses to contact the company.
Intercom Omnichannel Capabilities
Intercom offers the following customer-facing channels:
SMS Texting: Within the desktop inbox, agents can send two-way SMS texts and access dynamic actions like sending promotions, facilitating payments, and booking meetings. During phone calls, agents can generate and text web chat links to customers, flipping from voice to web chat.
Email: Agents can send personalized and targeted emails individually or as part of an automated campaign. Email templates retain a personal touch by populating each email with the customer's name, company, and industry.
Live Web Chat: Embed the Messenger widget into your mobile app and website, where customers can connect with live agents. Agents can utilize webchat for all the same dynamic services as through SMS.
Chatbots: Within the embedded Messenger, 24/7 self-service chatbots initiate conversations with customers, resolve basic issues, answer questions, and even book appointments. More on chatbots in the "Self-Service Tools" section.
Mobile App Capabilities: Intercom provides unique mobile-only modes of customer outreach, including push notifications and mobile carousels
While Intercom lacks some common customer-service channels like voice calling and video conferencing, it supports other unique features that transfer across channels.
Cross-Channel Features include:
Customer surveys
Mobile carousels
Push messages and notifications
Automated sequences, series, and campaigns
Third-party app actions like calendar booking and payment processing
Intercom Email Features
Agents can email individuals or automate mass group emails to groups based on triggers or preset schedules.
Intercom provides lists of content and style templates for emails. When sent en masse, these templates automatically populate with customer name, address, and company.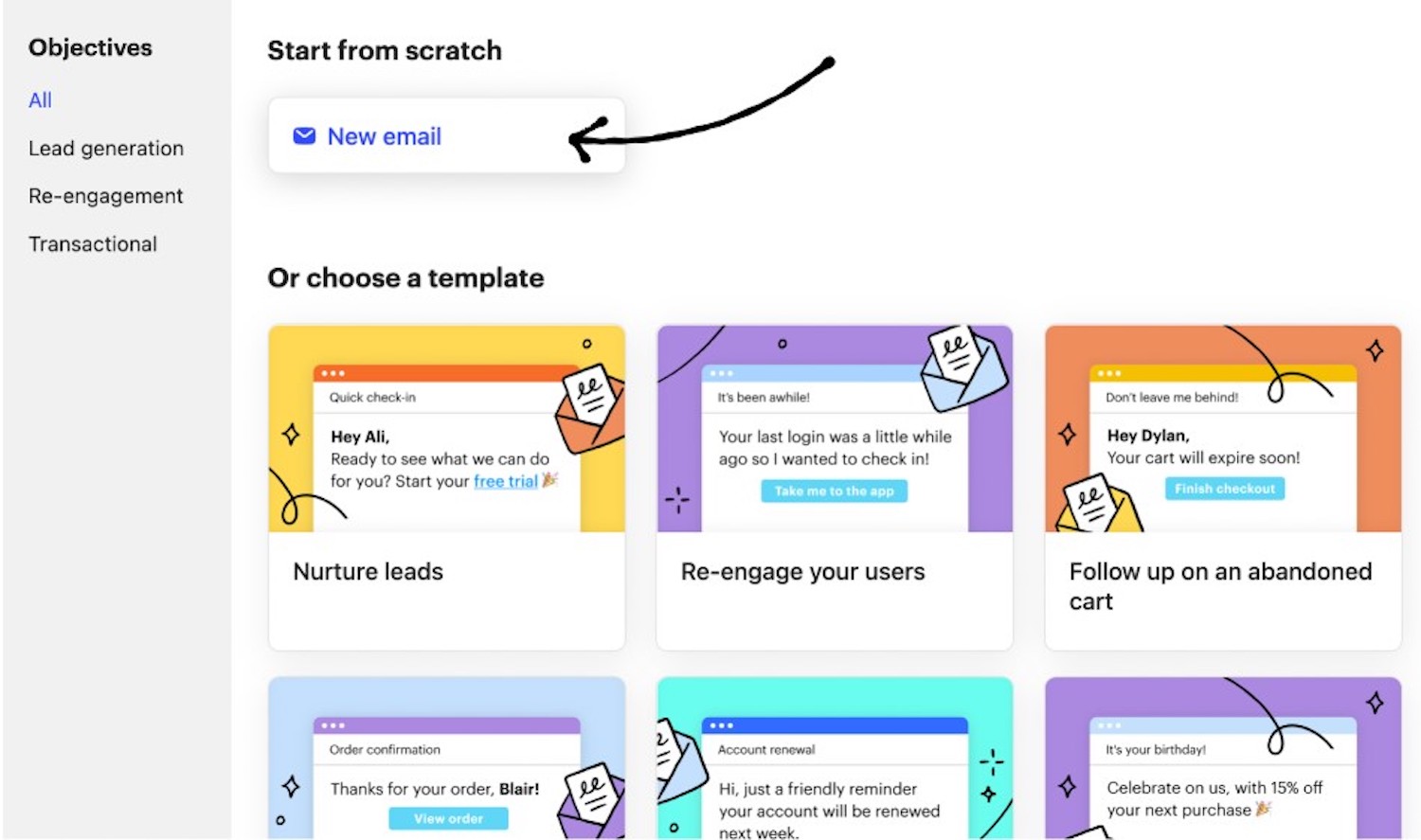 Users can customize the following Intercom email features:
Text Alignment and Style: Text body, headers, and page alignment
Color: Text color
Dynamic Content: Emojis, buttons, files, and various list types
Body Background: Body background color and design for the email body and border
Content Background: Background color behind the email content
Links: Color and font of any links included in your emails
Logo: Insert your company logo into outgoing emails
Address and Social Media Icons: Company address and social media icons, underneath each email
Intercom Mobile App Features
Intercom strengthens pre-existing mobile apps with new communication capabilities:
Push Notifications
Design and send out mobile push messages–phone pop-ups containing text and images that prompt customers to take action and redirect to a specific app page when clicked.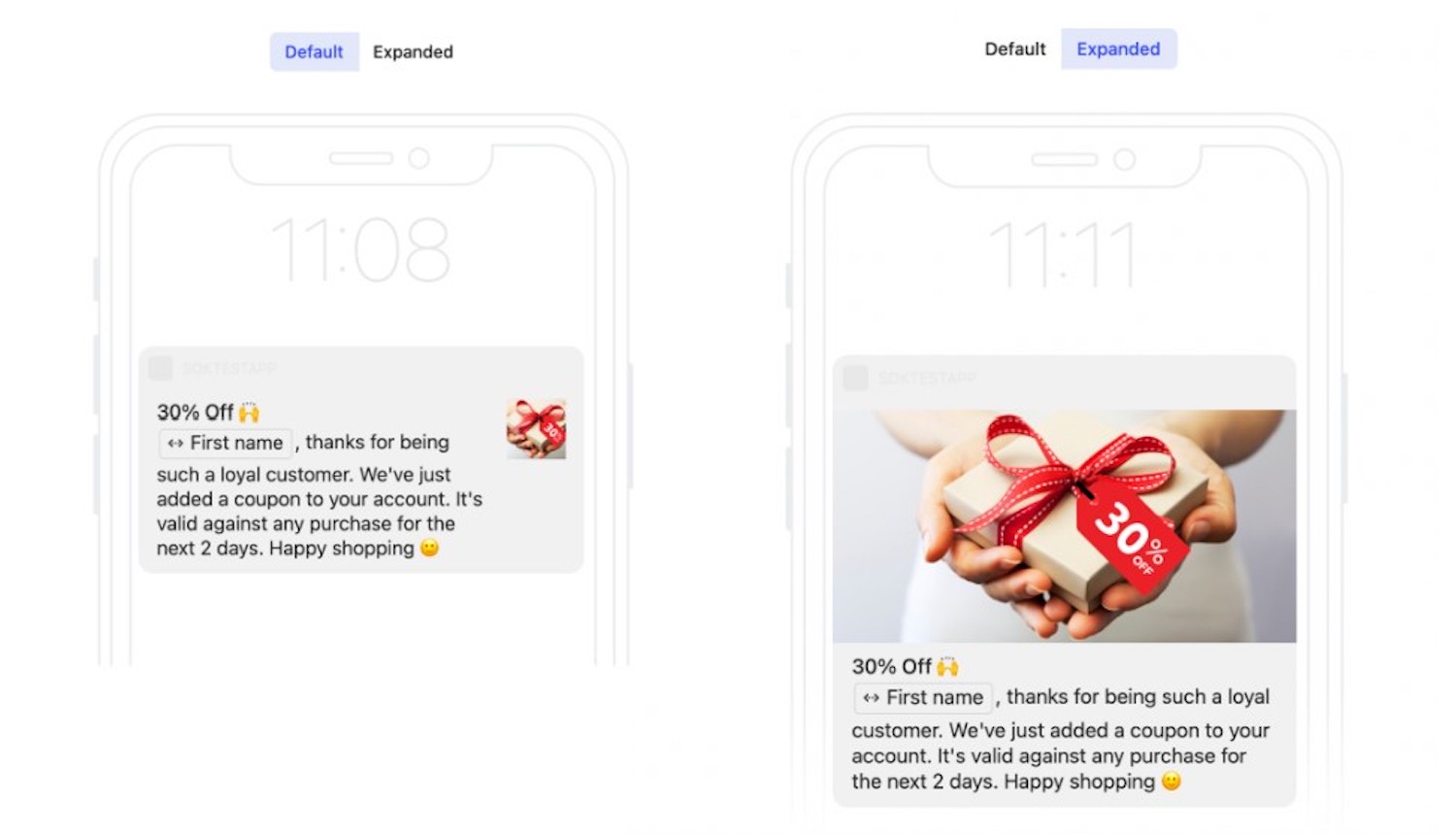 Push notification use cases include:
Announcing Sales: directing customers to the on-sale items
Incomplete Cart Reminders: routing customers back to their cart
Gifting Coupons: sending customers to applicable items
Set automatic triggers so that certain events send push notifications to targeted customers, or use them as part of communication campaigns and series, and run A/B testing to compare two notifications.
Mobile Carousels
Mobile carousels create interactive and engaging slides, embedded into your mobile app, with customized whole-screen graphics, words, color schemes, and buttons that guide your customers through multi-step processes.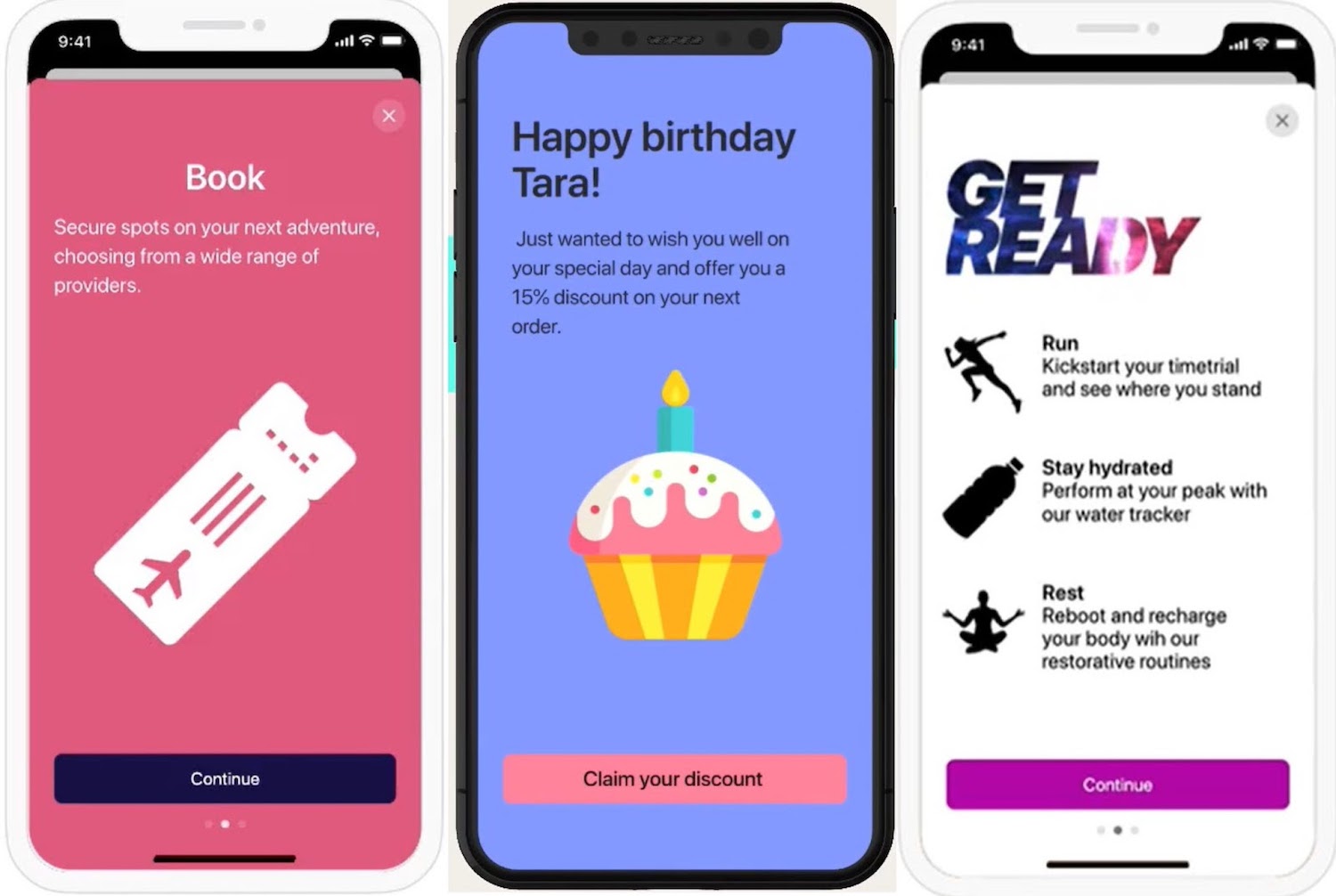 Use cases for mobile carousels include:
Onboard new sign-ups
Request permissions (such as enabling push notifications)
Announce and showcase new features
Notify customers about upcoming events
Share promotions
Intercom provides 7 carousel templates, creating visually appealing, codeless, personalized sequences.
Set triggers to target particular audiences at the right time, utilize carousels as part of a communication campaign, and compare carousels with A/B testing.
Zendesk Omnichannel Capabilities
The Zendesk for Service Agent Workspace dashboard unifies the following features for easy agent access:
Email: Send and receive customer emails
Help Center: A self-service support hub containing knowledge base articles, a community forum, and a support contact form
Chatbots: Automated chatbots provide customer self-service across devices, including website, mobile, and social media
Social Messaging: Social media app messaging through WhatsApp, Facebook/Facebook Messenger, Twitter/Twitter DM, and more
Voice: VoIP voice calls with customers
SMS Text: Inbound SMS text messages and automated, proactive mass texts
Live Chat: Live agent chat available on website or mobile
Widget: An icon, embedded into your website or mobile app, providing one-click access to a chatbot or live agent
An inbound customer message through any of these channels becomes a ticket for your support agents, whose reply reaches the customer through the same channel they originally used.
Winner: Zendesk
Zendesk wins the omnichannel capabilities category because it offers voice as a service, which we think is absolutely critical.
Zendesk vs. Intercom: Automation and AI
Automation and AI save resources and time–every automated workflow and routing decision frees an agent to work on more complex issues.
Intercom Automation and AI
Intercom offers two key automation features:
Chatbot lead qualifying and smart routing
Administrator workload management
Intercom Chatbot Lead Qualifying and Smart Routing
Operator, Intercom's automation engine, empowers Intercom chatbots to gather key information from each website visitor to qualify leads and route customers to the right destination.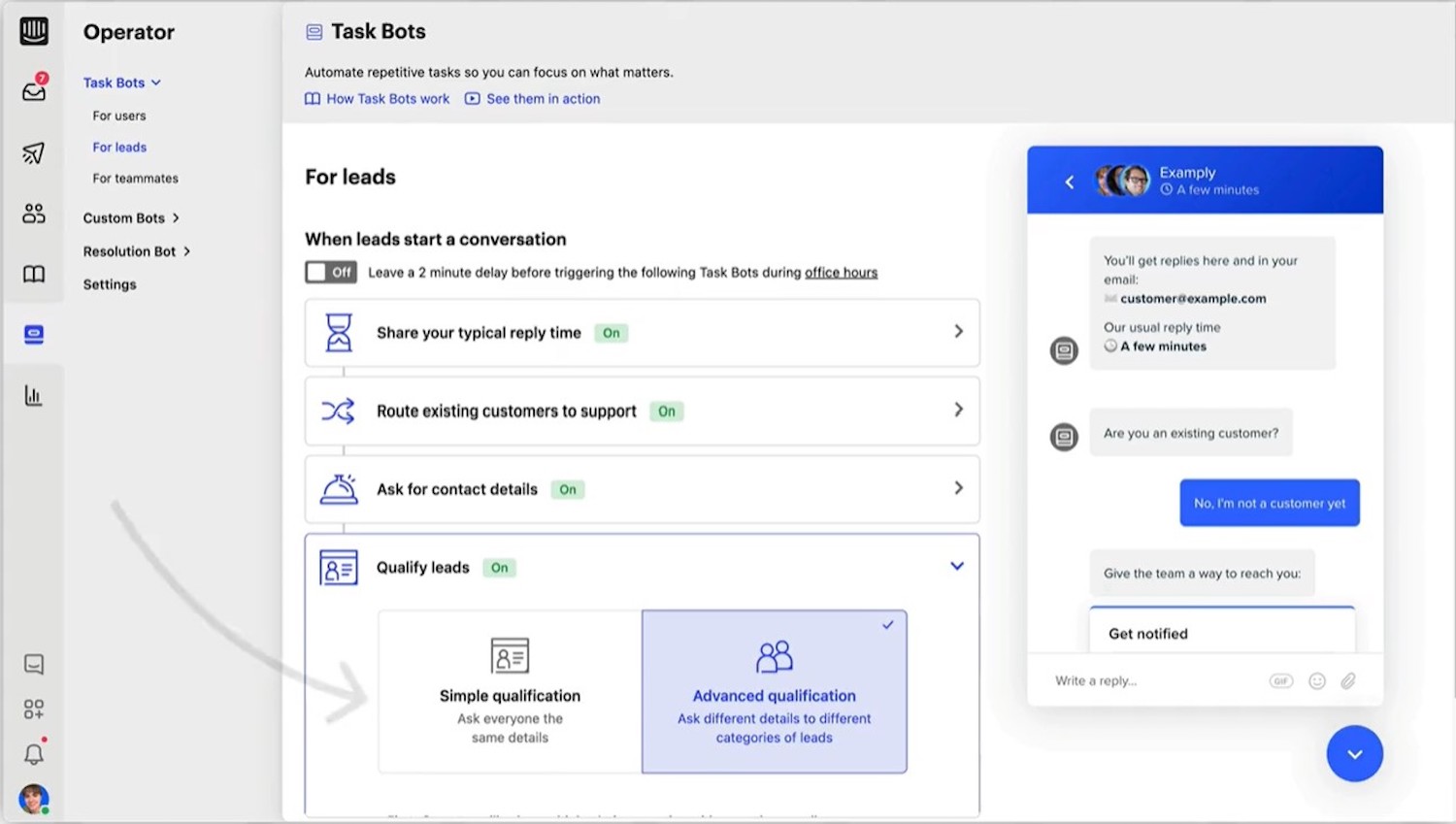 Chatbots can discern the following:
Name
Company
Number of agents or seats within the company
Issue or need
Product or plan interested in
Intercom's code-free chatbot builder enables users to set up not only bot menus and conversation flows, but assignment rules for smart routing.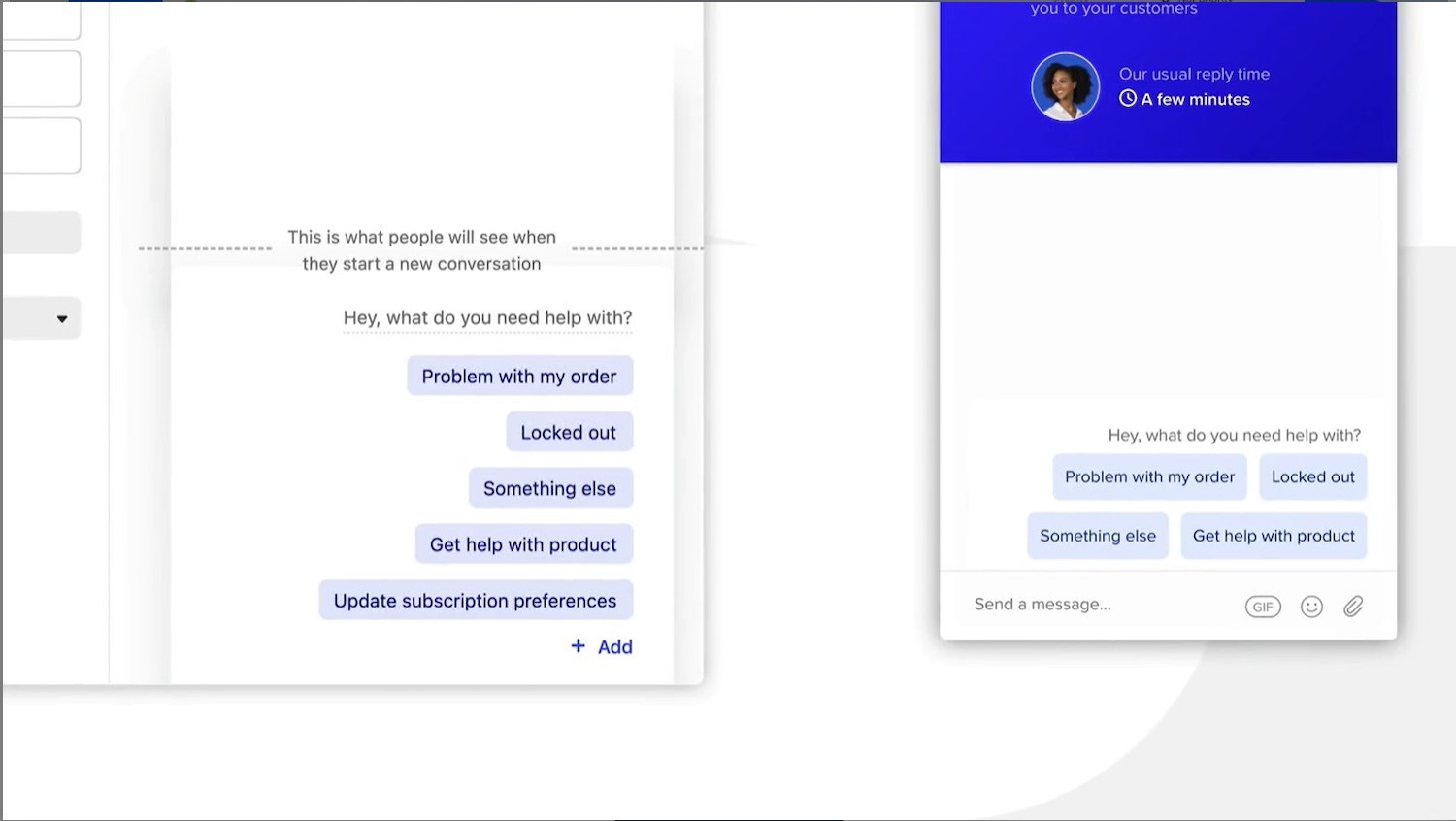 Use IF-THEN sequences to trigger workflows and route customers based on the following:
Web or mobile page accessed from
Customer type, priority level, and history
Information collected
Administrators can trigger chatbots to do things like:
Route VIPs, or all conversations with assigned order numbers, to customer support
Route leads to sales
Identify and close spam chats immediately
Mark canceling customers as high priority
Intercom Assignment Rules
Automatic assignment rules establish criteria that automatically route tickets to the right agent or team, based on message or user data.

For example, you can assign all inbound technical queries to an engineer; or, assign all pricing queries to the sales team.
Intercom Administrator Workload Management
With Intercom workload management tools, administrators can ensure that incoming conversations, traffic, and workload are evenly distributed among team members.
Workload Management options include:
Set the order in which teams get notified about incoming routed tickets
Set volume limits for teams and individuals, so that overflow tickets get redirected
View and manage inboxes approaching their assignment limits
Zendesk Automation and AI
Zendesk offers three major automation and AI tools:
Administrator automation
Chatbot flow builder
Workflow management
The administrator dashboard Automations section includes the following tabs:
Business Rules: Settings for routing, creating queues, ring groups, and keywords and rules that send customers to specified teams or agents
Triggers: Automates responses and actions like automated messages, depending on customer triggers like chatbot buttons selected and query types
Automations: Offers IF-THEN statements automating certain processes, responses, and flows based on customer actions and details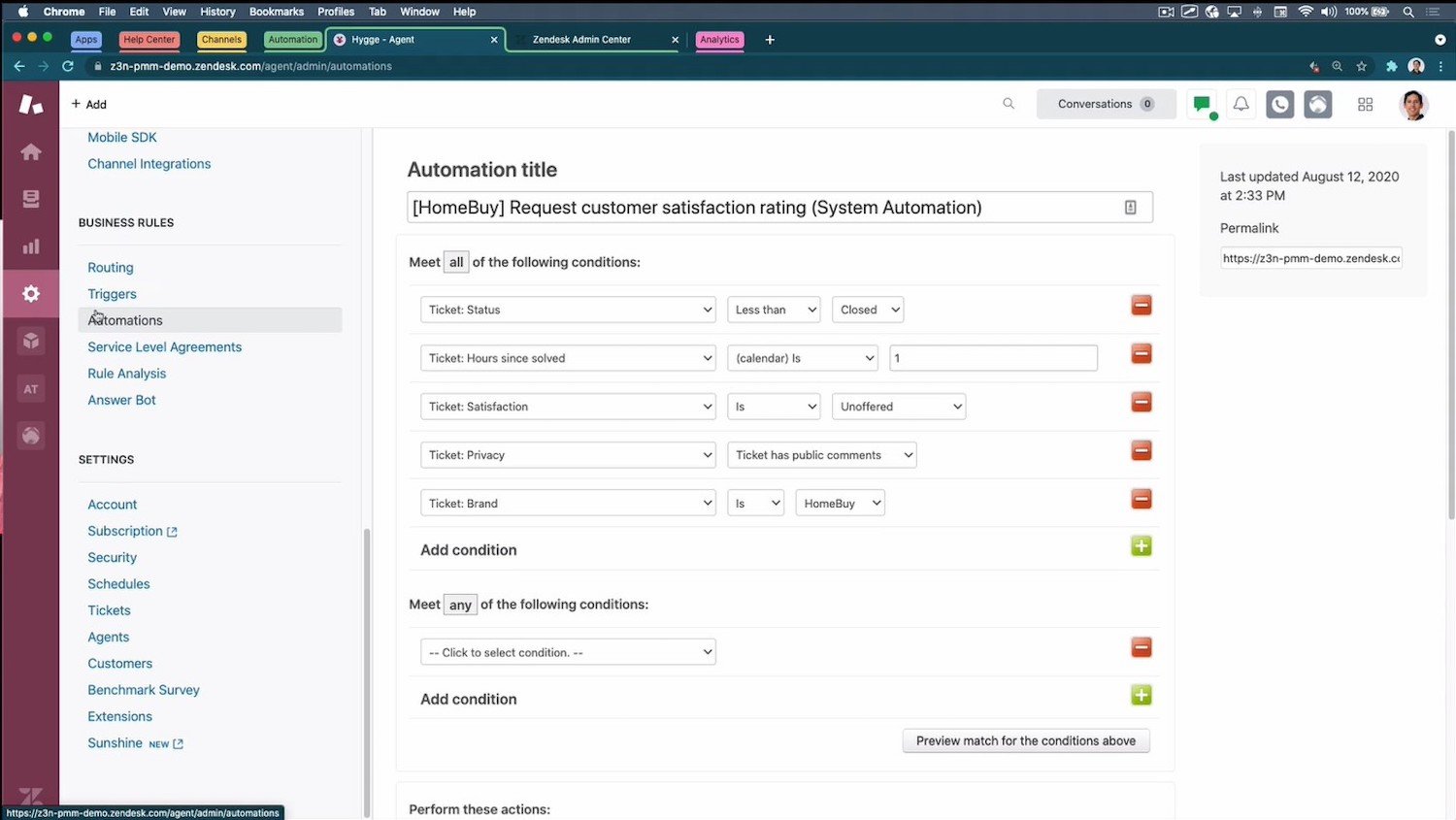 Chatbot Flow Builder
Administrators can use the chatbot flow builder to control which options chatbots provide to customers, and how the chatbot responds to each selection:
"Transfer" steps that transfer the customer to a live agent
"Articles" steps that quote and link an article
"Options" steps that present more submenu options
"Message" steps that just send a message
Zendesk Workflow Management 
Zendesk's Admin Center provides tools that automate agent ticket workflows.
Admin can customize the following for each ticket:
Custom ticket fields gather ticket information and follow with a basic process like routing the ticket to an agent or relevant resource
Service Level Agreements (SLAs) set time limits for query responses, determining ticket priority
Ticket tags assign ticket context for easier routing and processing. Tags can be manually set or triggered by customer keywords.
Triggers are event-based rules that can fire every time a ticket is created or updated. For example, if a customer ticket involves certain keywords, you can set a trigger that automatically routes that customer to a particular agent.
Automations are time-based rules that run at regular intervals throughout the day. If a ticket isn't answered in a timely manner, a pre-set automation can escalate it to high-priority status.
Views organize tickets based on criteria
Macros are predefined sets of actions that agents can use to respond to a ticket in a single click. For example, an agent can use a macro to send a pre-written template in response to a customer email.
Winner: Intercom
Intercom wins the automation and AI category because its chatbots have some impressive capabilities, like lead qualification and advanced routing.
Zendesk vs. Intercom: Collaboration Tools
Collaboration tools enable agents to work together in resolving customer tickets and making sales.
Intercom Collaboration Tools
Intercom provides two primary collaboration tools:
Team inbox
Internal notes
Intercom Team Inbox
Intercom's team inbox allows your sales and customer service teams to collaborate,  manage, and respond to queries and leads at scale.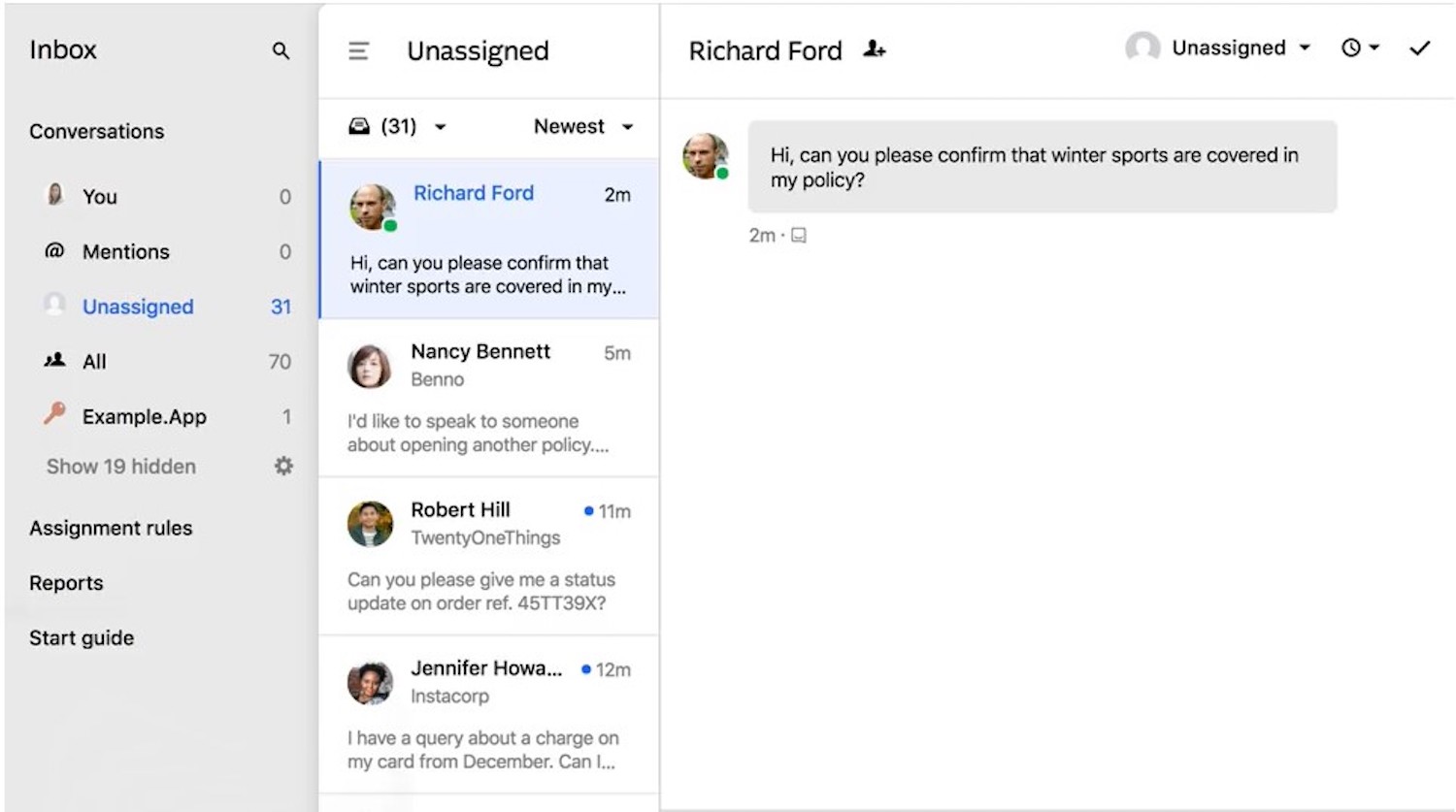 While administrators can automatically assign tickets to certain agents or teams, they can also manually assign tickets to members of sales or customer service teams. Team inboxes aggregate tickets applicable to the whole team–or a specific department–that any agent can address.
Intercom Internal Notes
Agents can add each other to internal notes within a ticket, looping in team members to collaborate when necessary.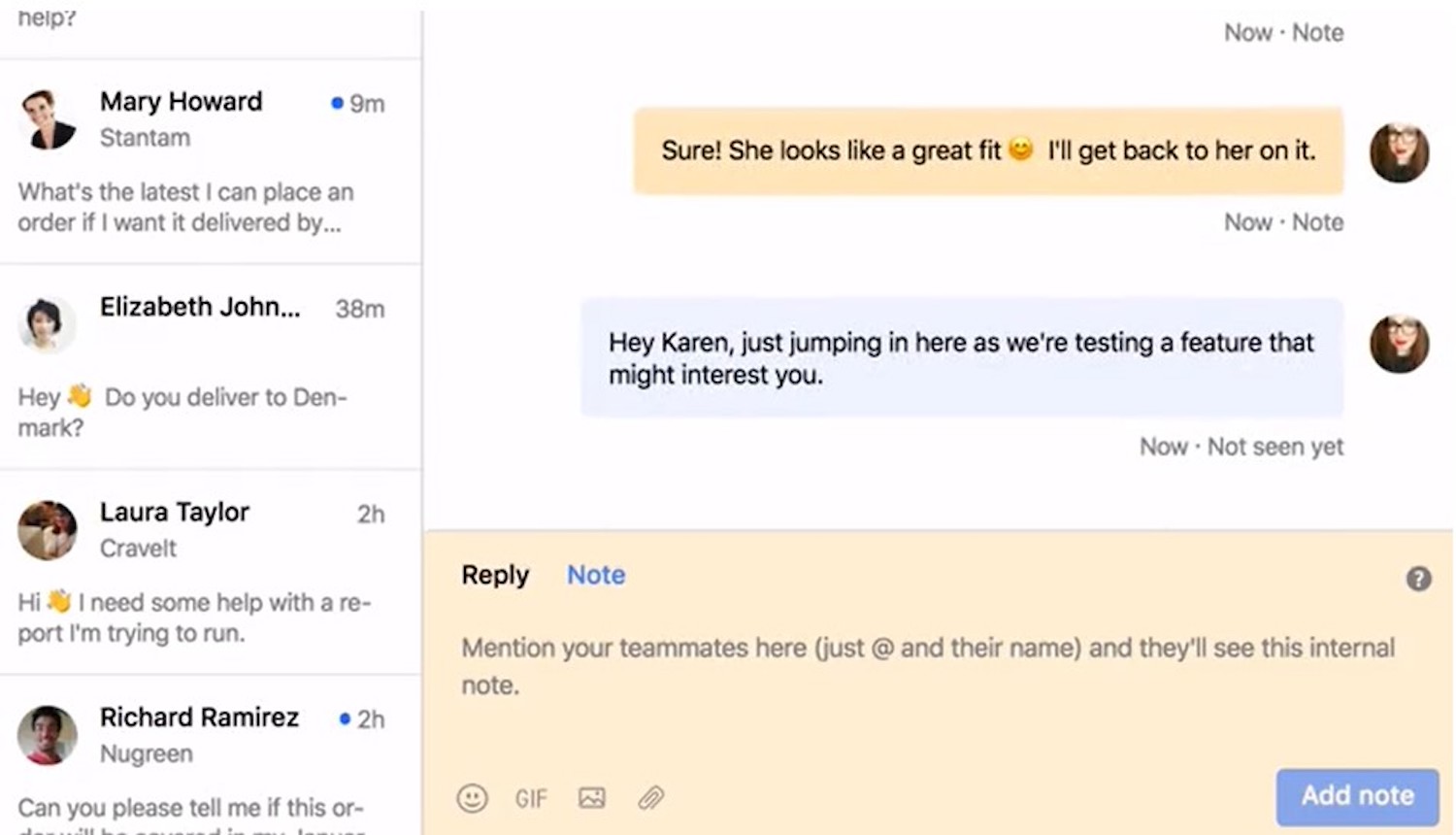 In fact, agents can even add customers to private messaging chats when necessary, and the customer will receive the whole conversation history by email to ensure they're up to date.
Zendesk Collaboration Tools
Zendesk provides two primary collaboration tools:
Side conversations
Light agents
Zendesk Side Conversations 
The ticket display's Side Conversations tab allows agents to initiate internal conversations via email, Slack, or ticketing system notes–without leaving the ticket. Agents can choose if the message is private or public, upon which a group thread is initiated in the ticket's sidebar, where participants can chat and add files.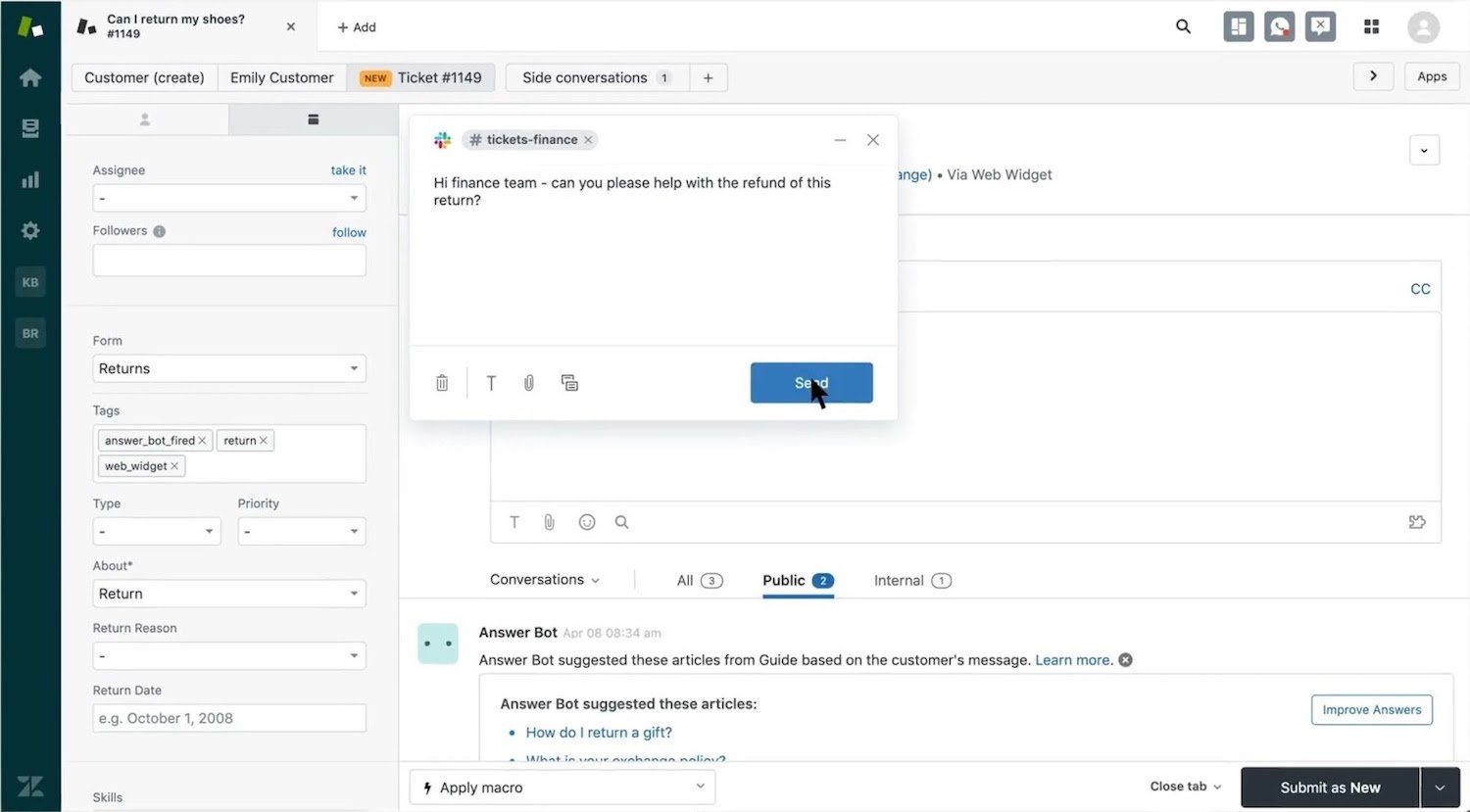 The entire thread is saved within the ticket for future agents to reference.
Zendesk Light Agents 
Users with light access–such as knowledgeable agents and supervisors–can be added to tickets for browsing and feedback. While light agents cannot interact with the customer on the ticket, they can make notes and interact privately with other team members and agents involved with the ticket.
Winner: Zendesk
Zendesk wins the collaboration tools category because of its easy-to-use side conversations feature.
Intercom vs. Zendesk: Self-Service Tools
Self-service tools let customers resolve their own issues quickly and 24/7, improving satisfaction and reducing excessive agent workload.
Intercom Self-Service Tools
Intercom provides three standout self-service tools:
Product tours
Chatbots
Help center and articles
Intercom Product Tours
Create code-free screencast tours of products, websites, webpages, and applications within your website.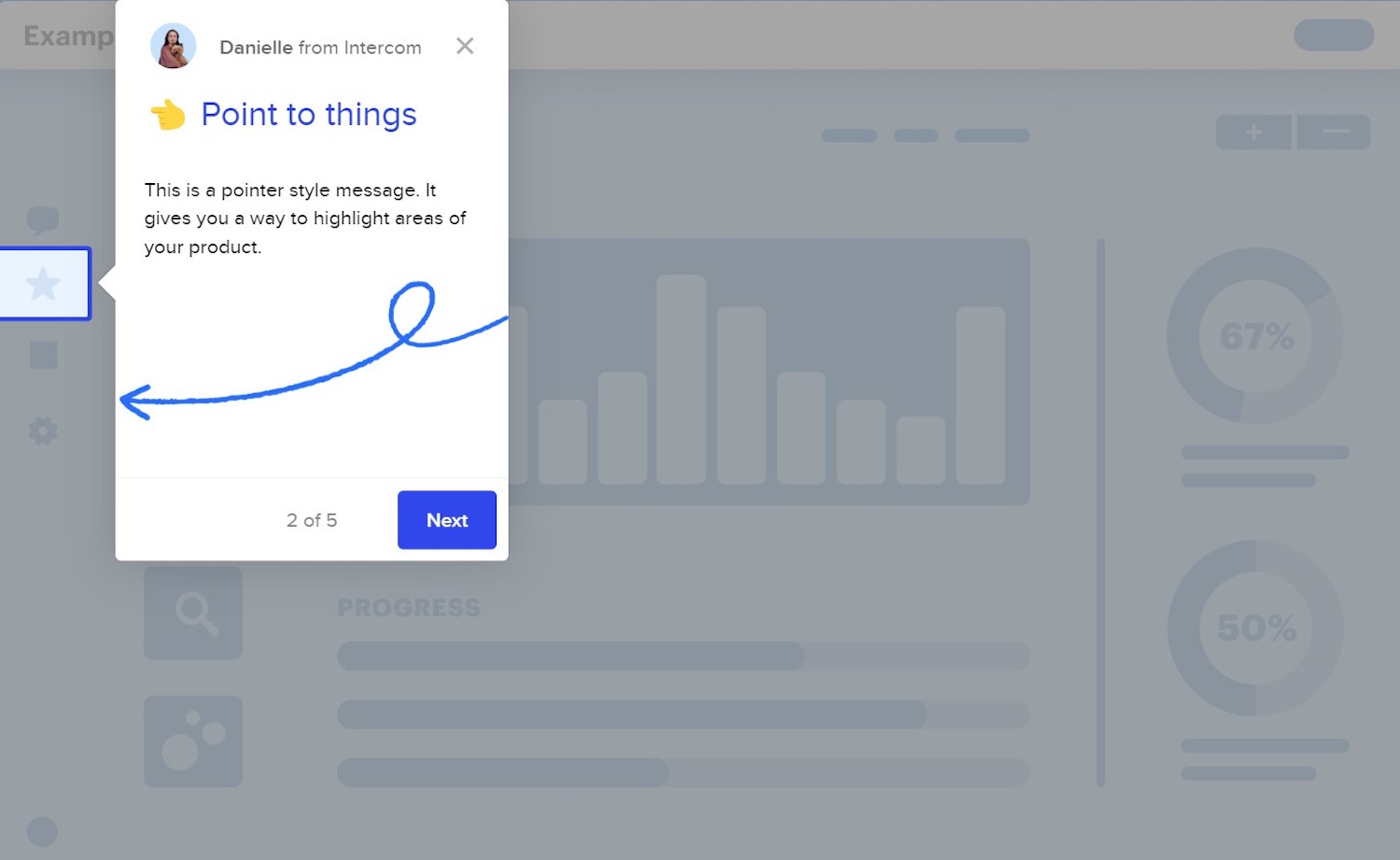 When creating a product tour, utilize the following features:
Post-style messages that kick off the tour
Pointing to things to highlight areas of your product
Video tours and messages embedded within the product tour
Prompting customer interaction with the product during the tour
Trigger tours for targeted audiences on certain occasions, use tour templates, view reports about the effectiveness and interactivity of tours, and utilize A/B testing for tours.
Tours integrate with:
Chatbots: gather customer intent and route them to a tour, or answer FAQs with a relevant tour
Messenger and Inbox: Send tour links inside support conversations on all outbound messaging channels
Intercom Chatbots
Intercom self-service chatbot widgets, highly customizable and capable of conversing in 32 different languages, embed into your website or application.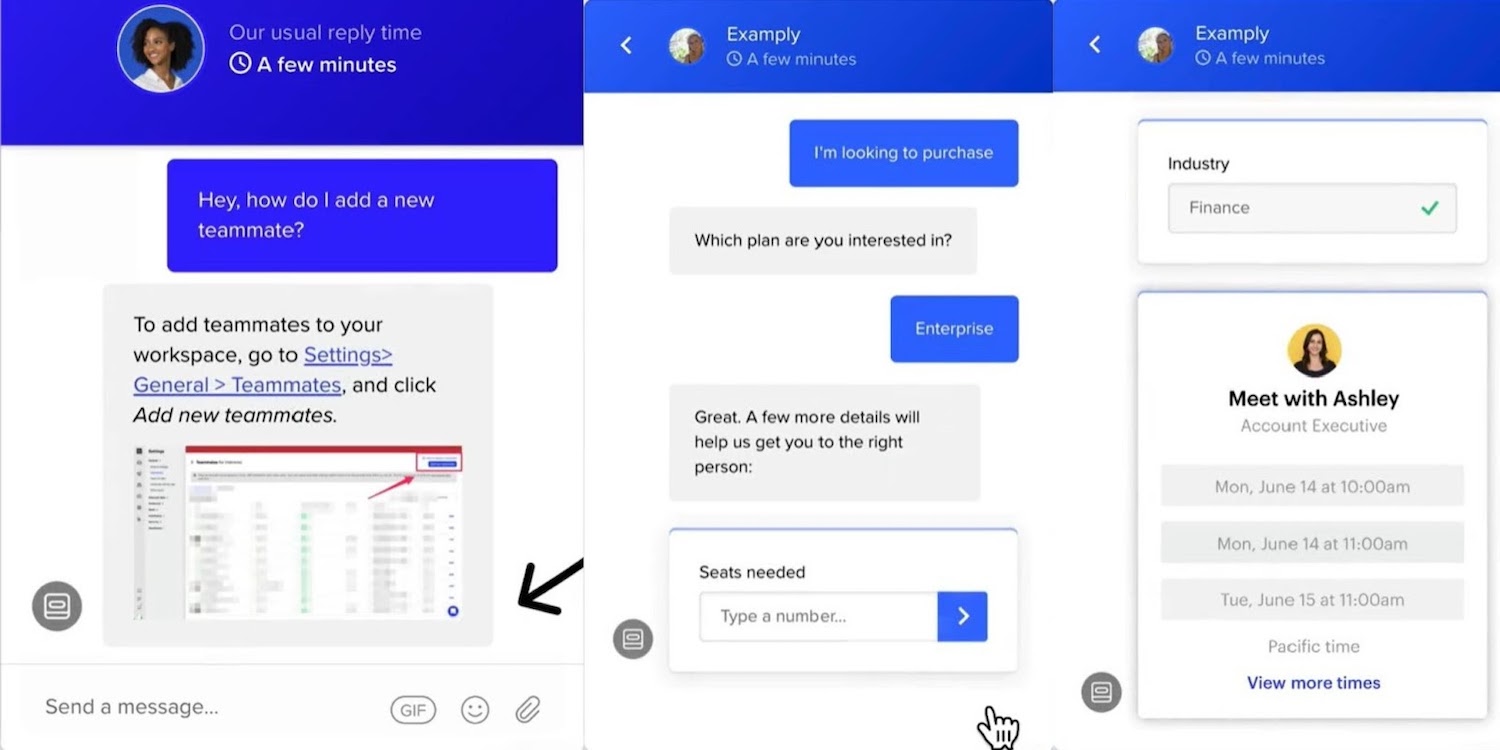 Chatbots can:
Qualify leads, including high-quality leads that need immediate attention
Ask follow-up questions
Discern which plan or product a customer plans to order
Book appointments and sales meetings
Redirect customers to agents, web pages, demos, and more

Recommend help center articles or forum threads
Transcribe conversations into your CRM system
Answer simple questions
Intercom Help Center and Articles
Intercom's help center allows you to draft and organize collections of articles, accessible to customers via a search bar in the Messenger widget.
Import pre-written articles or write your own on any topic that would help your customers.
Possible article topics include:
How-to Guides: How to make an order, cancel a purchase, use a product
Best Practices: For using the product, managing clients, designing something
FAQs: How do I get started? What if my product doesn't arrive? What is the product warranty?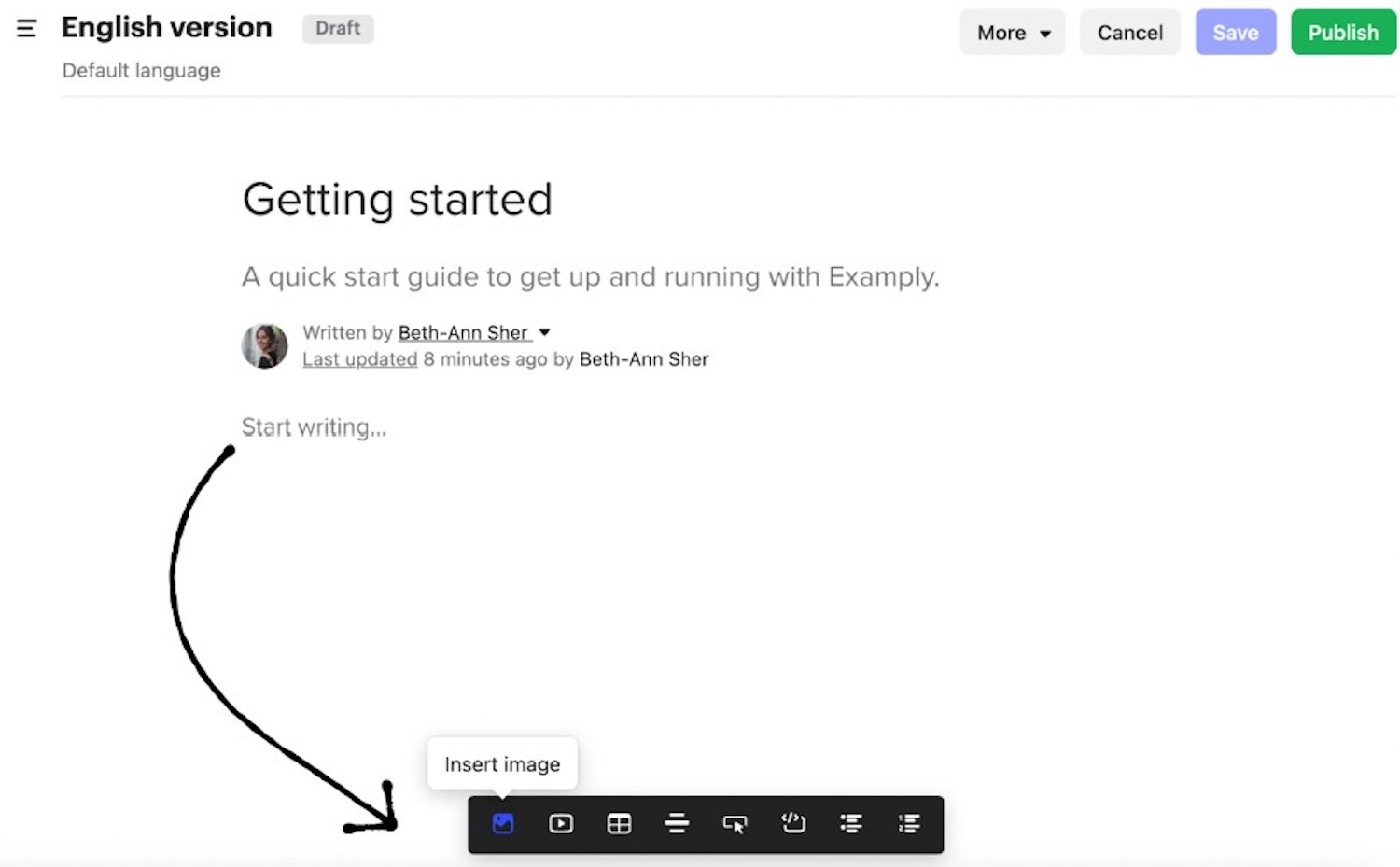 Customize the following aspects of your articles:
Headers
Images
Videos
Tables
Dividers
Buttons
Code
Bulleted or numbered lists
Intercom Smart Suggestions
When a customer asks a question in the Messenger widget, the Operator automatically suggests a handful of relevant articles based on keywords to help customers resolve their own issues.
Zendesk Customer Self-Service
Zendesk offers three primary self-service tools:
Help Center
Chatbots
Community Forums
Zendesk Help Center
Create a help center combining knowledge base articles and a customer contact request form, embeddable into any webpage or mobile app. Customers can search the help center by query keywords and sort through articles in 40 languages.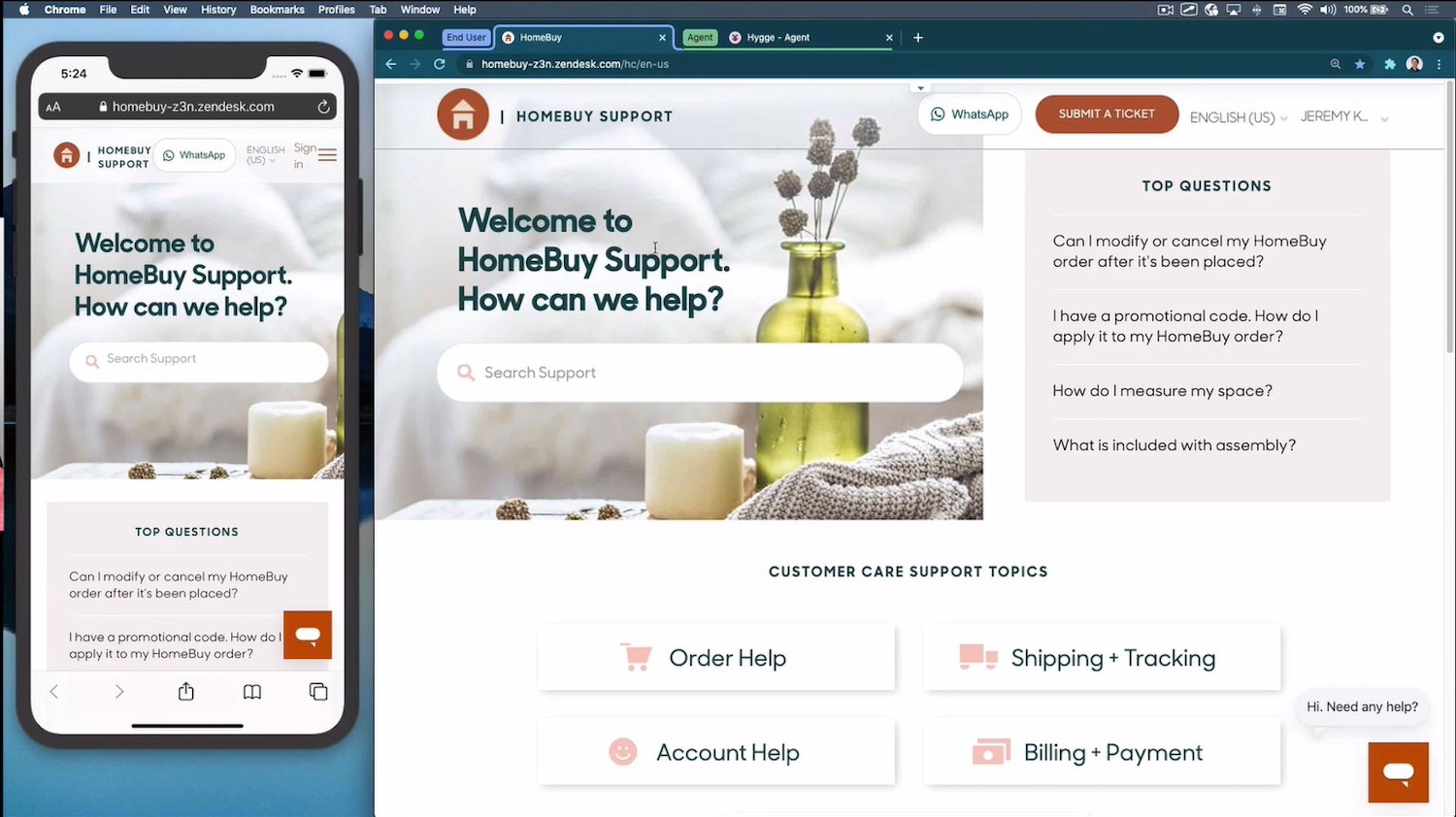 Zendesk also makes it easy to customize your help center, with out-of-the-box tools to design color, theme, and layout–both on mobile and desktop.
From the inbox, live agents and chatbots can refer to and link knowledge base articles, to elaborate on replies and help customers locate answers.
Zendesk Chatbots
Zendesk's chatbot, Answer Bot, automatically answers customer questions asynchronously in up to 40 languages–via any text-based channel.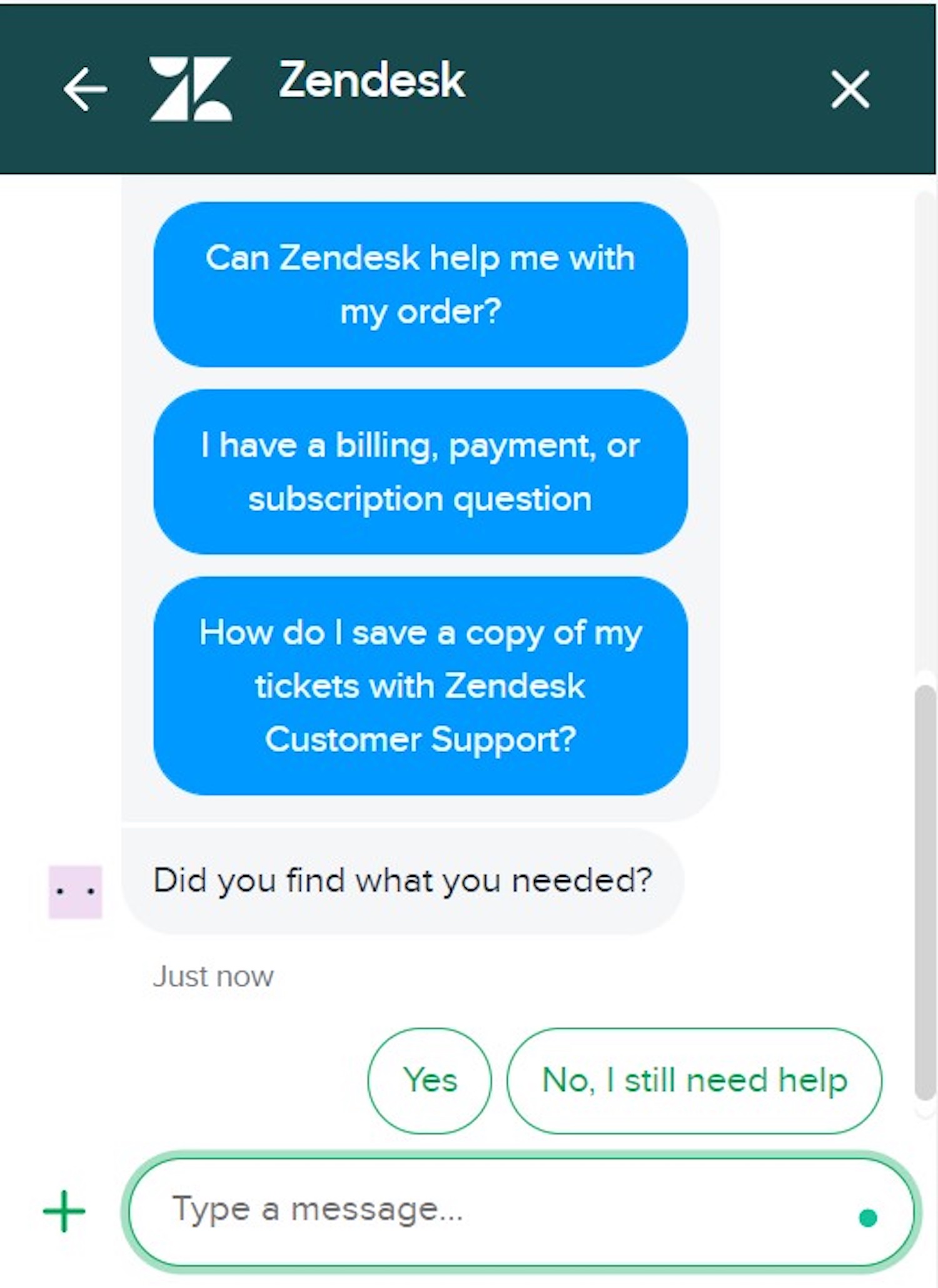 Answer Bot provides buttons linking to:
A submenu with new options
An agent or team
A help center article
A response with information or a question
If a customer isn't satisfied with Answer Bot's response, Answer Bot quickly routes them to an agent best suited to help.
Answer Bot can collect and log customer information:
Name
Email
Company
Query
Order number
Zendesk Community Forums
Community forums enable customers to assist each other by asking questions and sharing tips, experiences, and best practices–creating a unique, user-based, searchable information hub.
Agents can participate in forums and turn forum posts into tickets; they also can turn community-post replies into articles for future customers.
Winner: Zendesk
Zendesk wins the self-service tools category because it provides extensive help center customization options.
Zendesk vs. Intercom: Sales Pipeline and Lead Nurturing Tools
Sales pipeline and lead-nurturing tools facilitate and track the movement of leads through the sales pipeline, structuring and prompting agent outreach and logging information in a systematic way that facilitates lead conversion.
Intercom Sales Pipeline and Lead Nurturing Tools
Intercom provides two primary lead-nurturing tools:
Automated outbound messaging
Visual campaign builder
Intercom Automated Outbound Messaging
Intercom's Messenger lets users schedule timely, targeted, and personal messages sent based on triggers and customer actions, and is automatically translatable into over 30 languages.
Users can set automated messages for the following purposes:
Account confirmation or welcome emails when customers sign up
In-app messages to engage customers and schedule meetings and demos
Website and in-app banners that alert and announce things like upgrades, maintenance issues, and service interruptions
Automated demo booking
Intercom Visual Campaign Builder
Intercom's Visual Campaign Builder lets you combine each channel and function mentioned above–everything from Messenger, to email, to product tours, to mobile carousels–into a multichannel messaging campaign that can serve any purpose you want: onboarding, lead nurturing, customer support, or re-engaging customer who may have become detached.
Create entry rules that trigger when the messaging campaign begins, choosing the target audiences and when follow-up messages generate.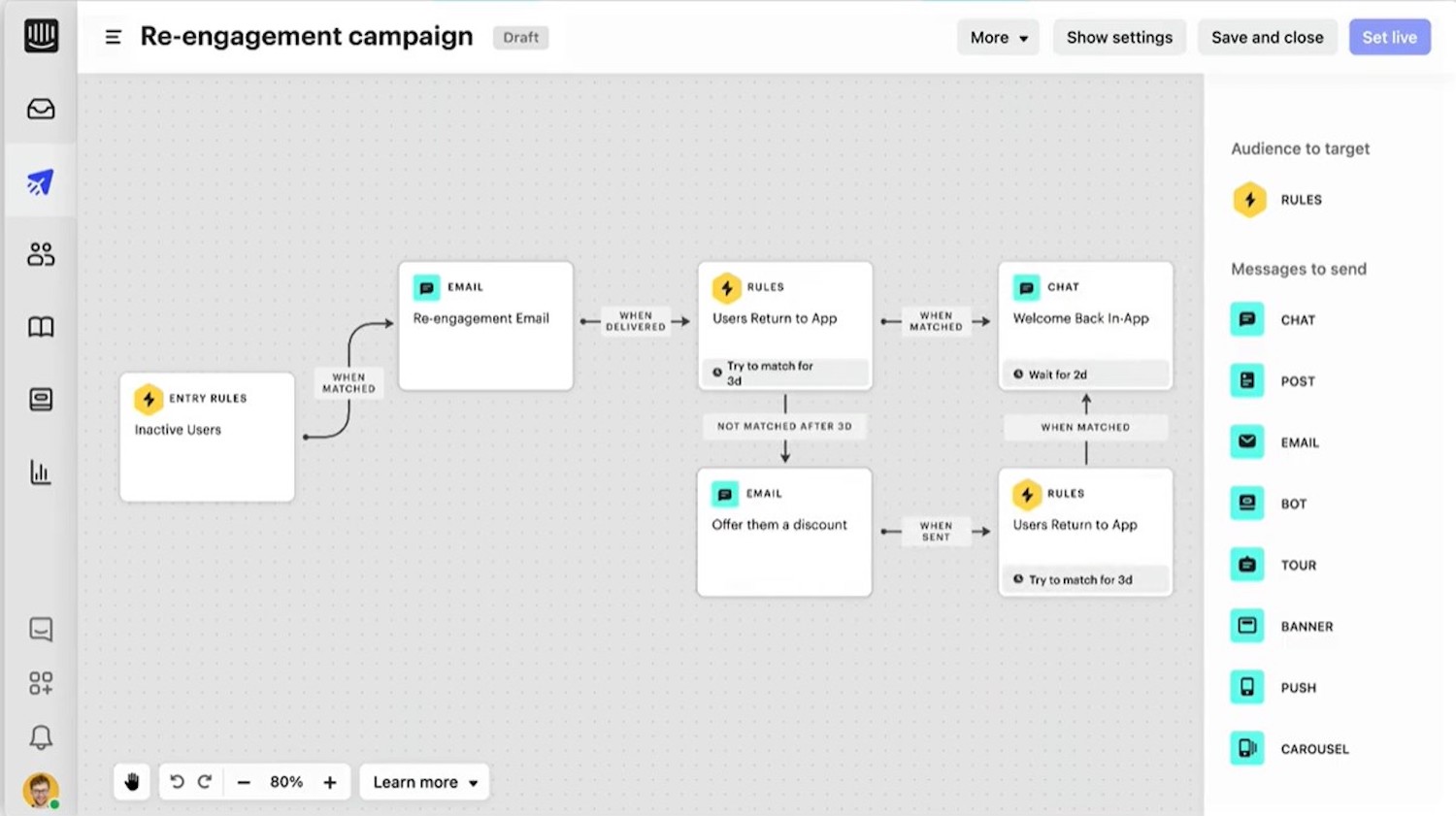 You can even use third-party integrations as action triggers–for example, send a message or post a banner when a customer makes a payment on Stripe, has an account update on Salesforce, or when new customer-tracking information is added on Marketo.
Sequence all channels–chat, web post, email, chatbot outreach, tour message, banner, push notification, or carousel–mixing and matching modes of outreach to fit campaign goals.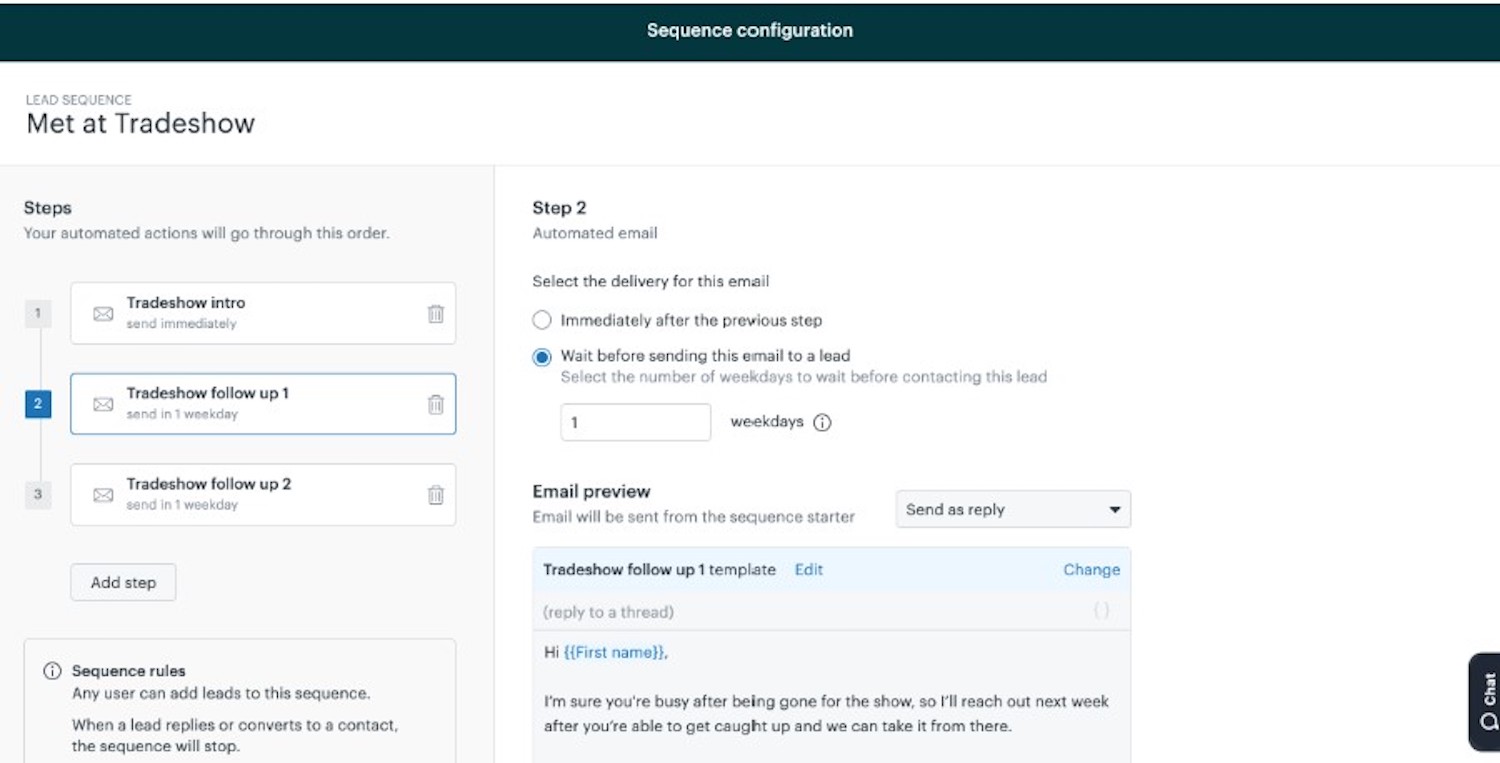 Behavior-based messaging allows you to customize every last detail of triggers and rules including–which channel sends the message, when it sends, where it sends, and who gets targeted.
Zendesk Sales Pipeline and Lead Nurturing Tools
Zendesk for Sales offers three primary sales pipeline tools:
Zendesk Sell dashboard with task player
Email sequences
Sales engagement tools (Reach)
Zendesk Sell Dashboard
The Sell dashboard, different from the Service dashboard, features pre-built widgets that agents can organize however they want, to view the metrics they care most about.
Zendesk Sell dashboard widgets include:
Tasks: Tasks due and customer involved
Revenue Goal Attainment: Individual or whole-team progress toward monthly revenue goals
New Deals: All new deals made monthly over the past year
Active Deals: Number of deals currently active
The Sell dashboard's Tasks page sorts all of an agent's tasks by due date. Agents can prioritize overdue tasks, today's tasks, or future tasks. Agents can act, reschedule, or skip tasks.
Some examples of tasks include:
Intro calls, emails, and texts
Follow-up calls, emails, and texts
Zendesk Task Player
Clicking Play for a task pulls up the lead's or contact's deal card, containing useful information about the contact: notes, contact information, location, contact history–each contact option enables one-click agent responses for easy outreach.
When an agent clicks Email from the contact card, Zendesk Sell's email composer automatically pops up on the screen and fills in the recipient with the lead's name. Reps can compose a new email from scratch or use a template
When finished, agents mark tasks as complete.
Zendesk Email Sequences
Set up email sequences to engage leads and contacts with automated emails in preset intervals.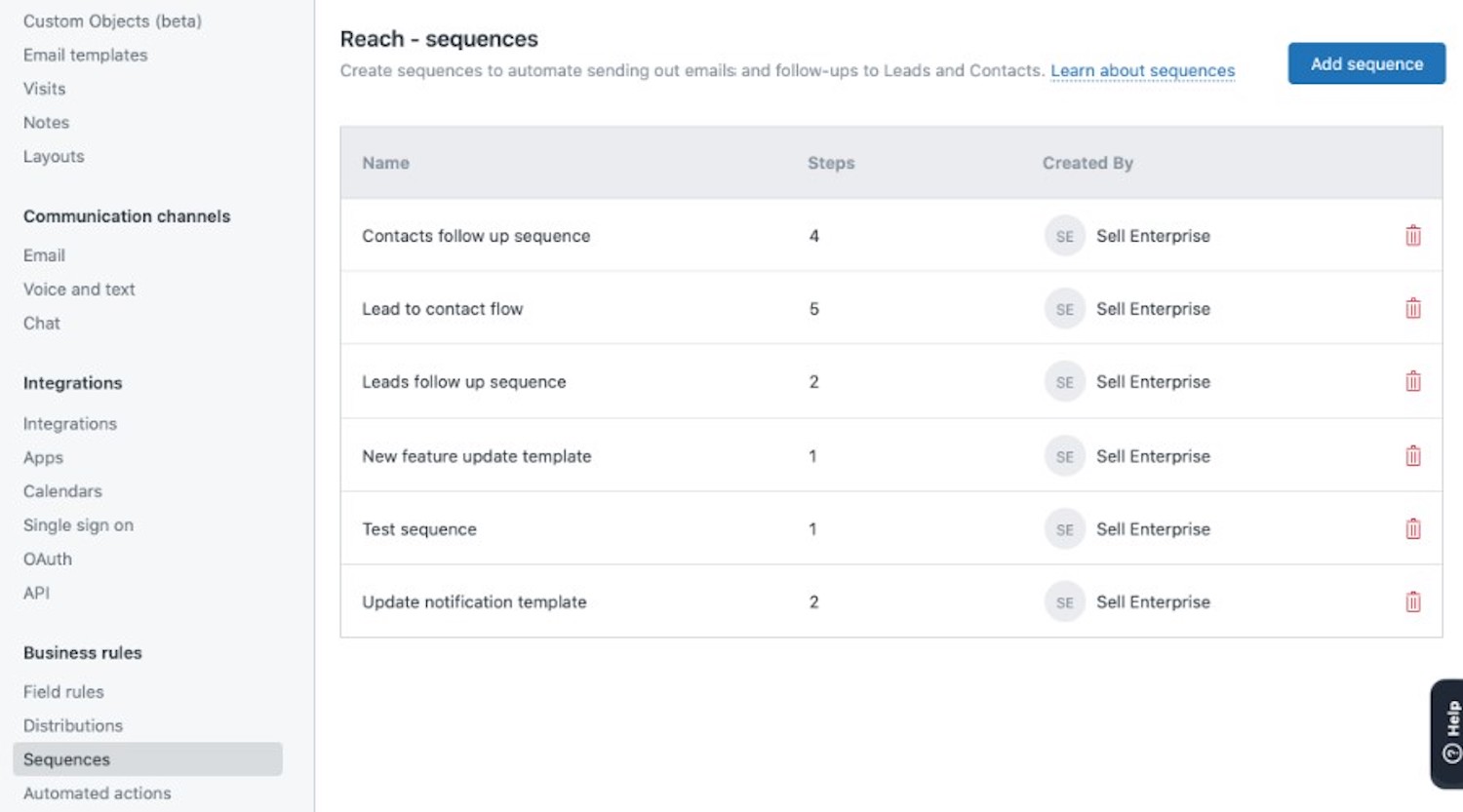 Sequences utilize email templates alongside various customization options, sent on a customized schedule.
Zendesk Sales Engagement Tools (Reach)
Zendesk Sales Engagement Tools (Reach) uses a credit system to help you find new leads or add information to existing leads.
Reach offers two types of credits, which users purchase along with a monthly subscription plan:
Prospecting Credits: Use these if you don't have any information about a lead or contact. With these credits, Reach generates brand new prospects or adds to existing contact data.
Enrichment Credits: When you already have some information about a contact or lead, use enrichment credits to build a fuller profile for the contact.
To use an enrichment credit for a company, you must know the company name and website
To use enrichment credits for an individual, you must know their email address
Winner: Intercom
Intercom wins the sales pipeline tools category because its campaigning and sequencing tools integrate all channels and unique services, like carousels and product tours.
Zendesk vs Intercom: Reporting and Analytics
Reporting and analytics provide metrics, trends, and key performance indicators (KPIs) that offer insights to agents and administrators.
Intercom Reporting and Analytics
Intercom offers three primary reporting and analytics tools:
Inbox manager reporting
Surveys
Article responses and reports
Inbox Manager Reporting: The inbox manager reporting dashboard provides a zoomed-out manager view with real-time insights into teams and agents, presented in various chart types and sortable over different timelines.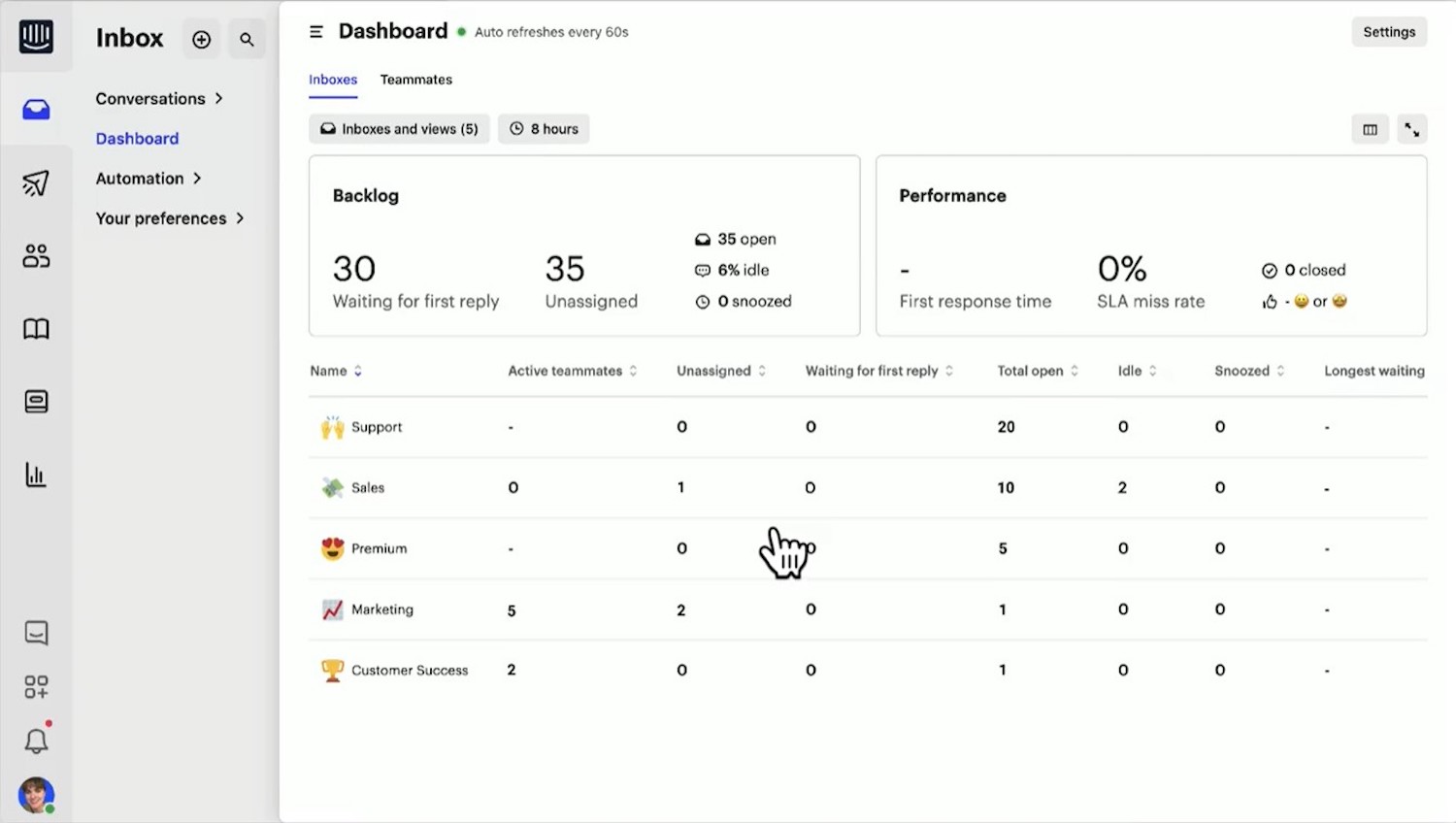 Metrics include:
Real-Time Ticketing Statistics: Waiting for reply, unassigned, number open, % of idle chats, snoozed chats,
Agent Performance: Average first response time, SLA miss rate, and customer rating.
Team Usage Metrics: Active, away, idle status
Individual Agent Statistics: Activity status, time active, last seen, and current open tickets
Article Conversation Trends: Conversation trends are illustrated in bubbles with size and color indicating frequency and customer/agent mention
Customer Satisfaction Scores (CSATs)
Calendar-Related Functions: busiest periods for new conversations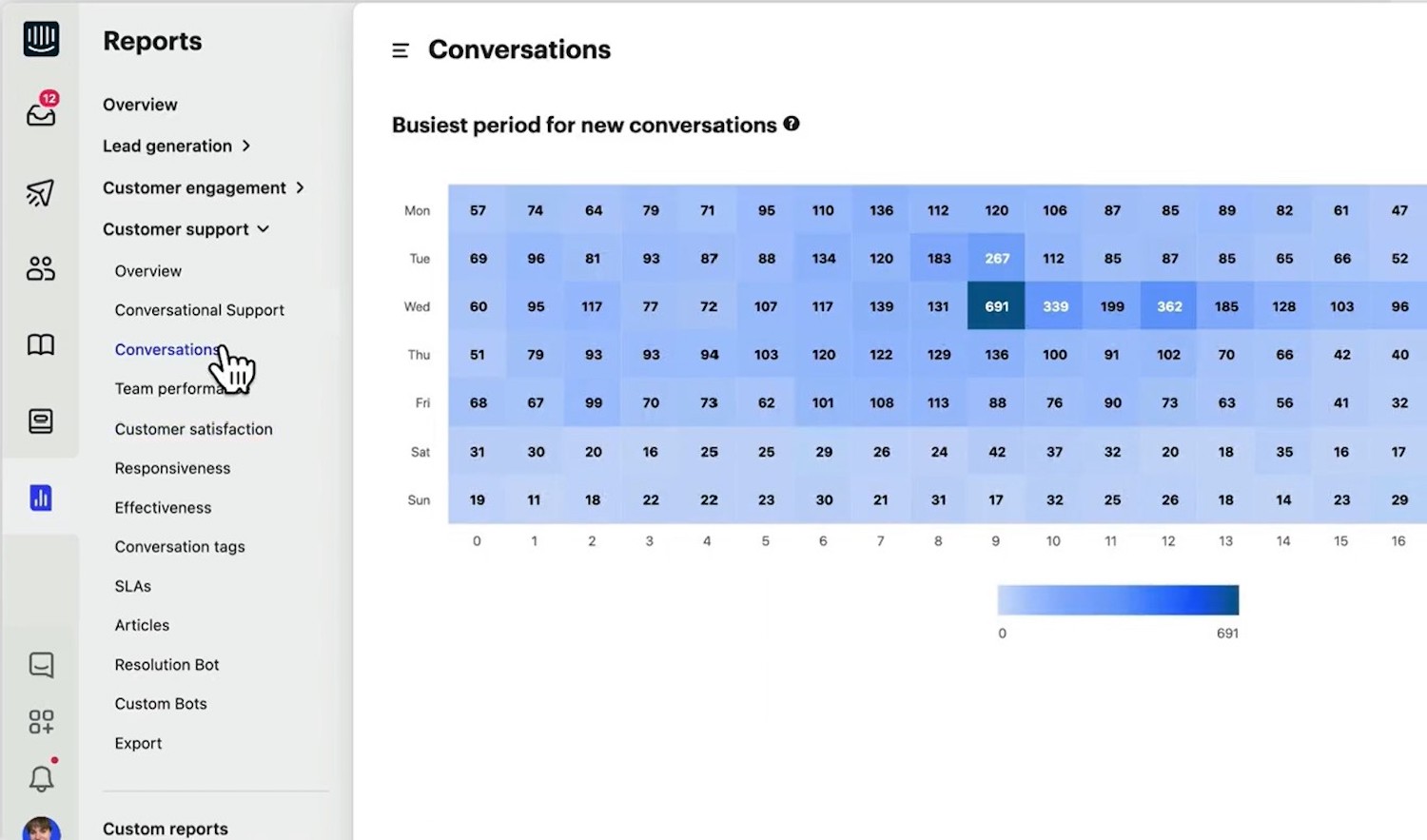 Intercom Surveys
Send surveys at key points throughout the customer buying cycle, utilizing multiple types of question formats. Surveys turn customer insights into action, with triggers and campaign response adjustments depending on customer responses.
Use surveys for:
Product feedback
Onboarding
NPS (net promoter score) surveys
Lead Generation
Survey composer allows you to create the question and answer format, also customizing color, rating scales, and greetings.
Survey responses automatically save as data in users' profiles, and Intercom provides survey data in analytics and reporting.
Intercom Article Responses and Reports
At the end of each article, customers provide feedback by reacting with one of three options: a sad face, neutral face, or happy face.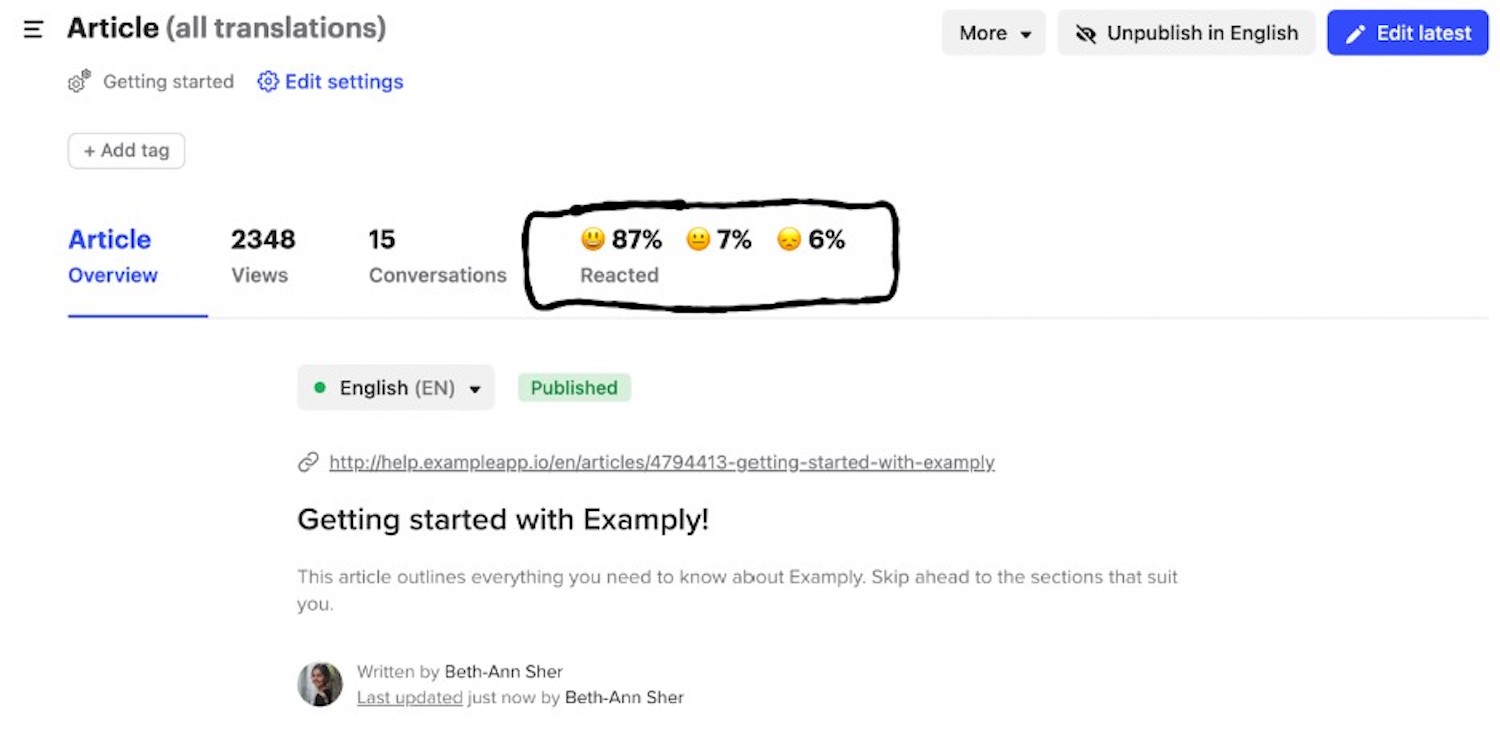 Users can sort and view article success rate using the following metrics:
Percentage of happy or sad responses
Number of views
Update recency
Number of customer conversations initiated under the article
Zendesk Reporting and Analytics
Zendesk provides the following reporting dashboards:
Tickets: shows the total number of tickets over a time period, the busiest weekday and time of day, and the most popular channels
Knowledge Base: shows how many views your help center has received, who has viewed it, and the most popular articles ranked by votes and comments
Analytics: lets you schedule routine emails with reports updating you on selected metrics
Live Data: dashboard displays real-time contact center data: agents online, number of customers waiting in queue, satisfaction score, solved and on-hold tickets, and recent ticket volume fluctuations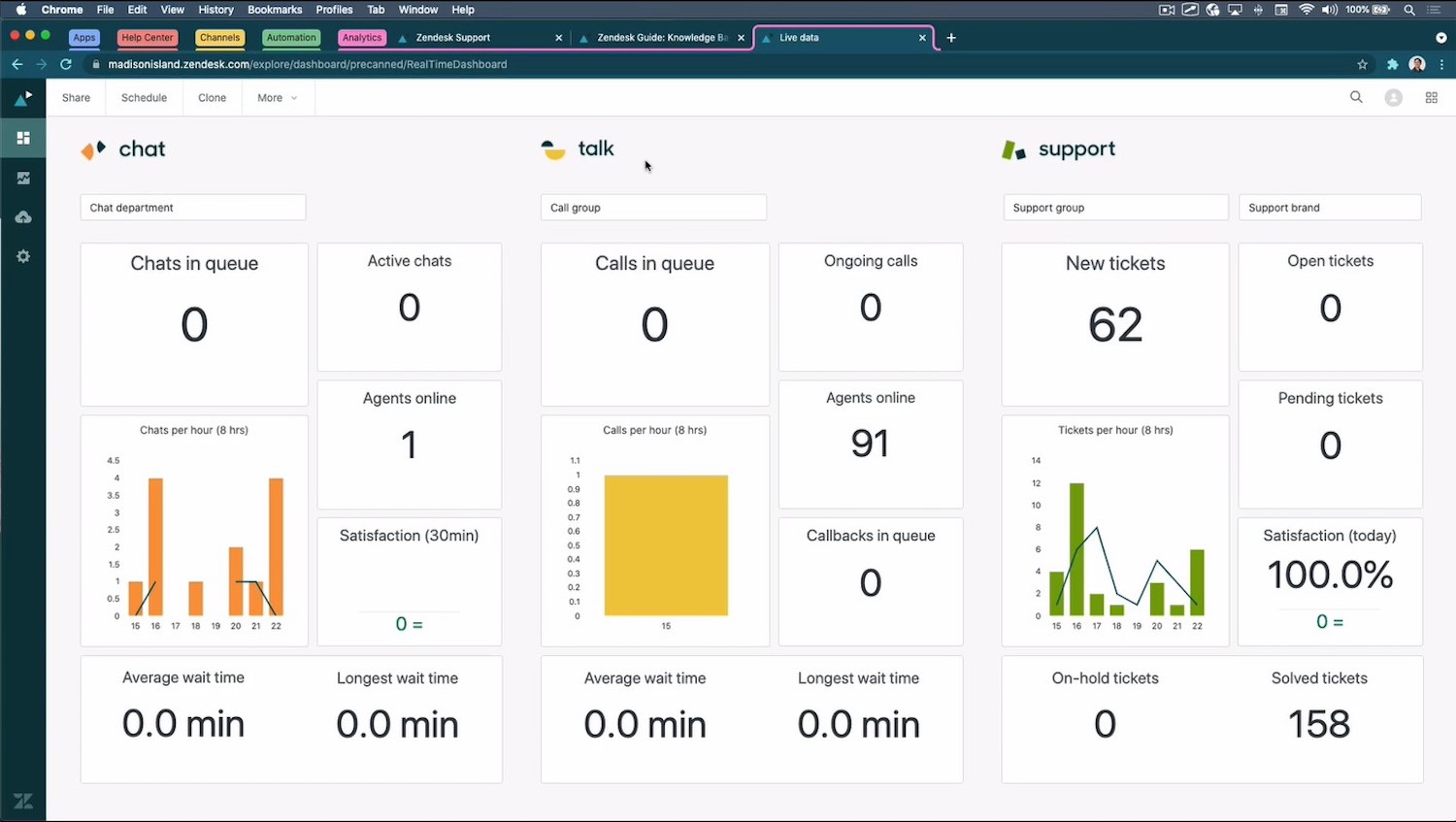 Winner: Intercom
Intercom wins the reporting and analytics category due to its unique visualization and display formats for contact center and article data.
Intercom vs Zendesk: Ease of Use
Below, we've compared the usability of Zendesk's and Intercom's agent dashboards and administrator controls.
Intercom Agent Dashboard
Intercom's Inbox organizes all of an agent's core functions into one interface.
The dashboard's left-hand column organizes and sorts all tickets by urgency. When an agent clicks on a conversation, the full conversation history populates the middle screen.
Agents can respond in any channel by typing in the text box and have access to deep customer experience history and background in the right-hand column.
Intercom Admin Controls
Intercom offers admin full visibility and control over all company inboxes, as well as agent access controls and role management.
Inbox Monitoring
The admin and manager dashboard provides a zoomed-out view of all activity taking place in each inbox, for whole departments and individual agents.
Administrator reports allow managers to observe real-time CSAT scores, conversation volume, first response time, and time to close.
Role-Based Permissions
Intercom's role-based permissions allow administrators full control over each department's and agent's capabilities, and access to channels and information.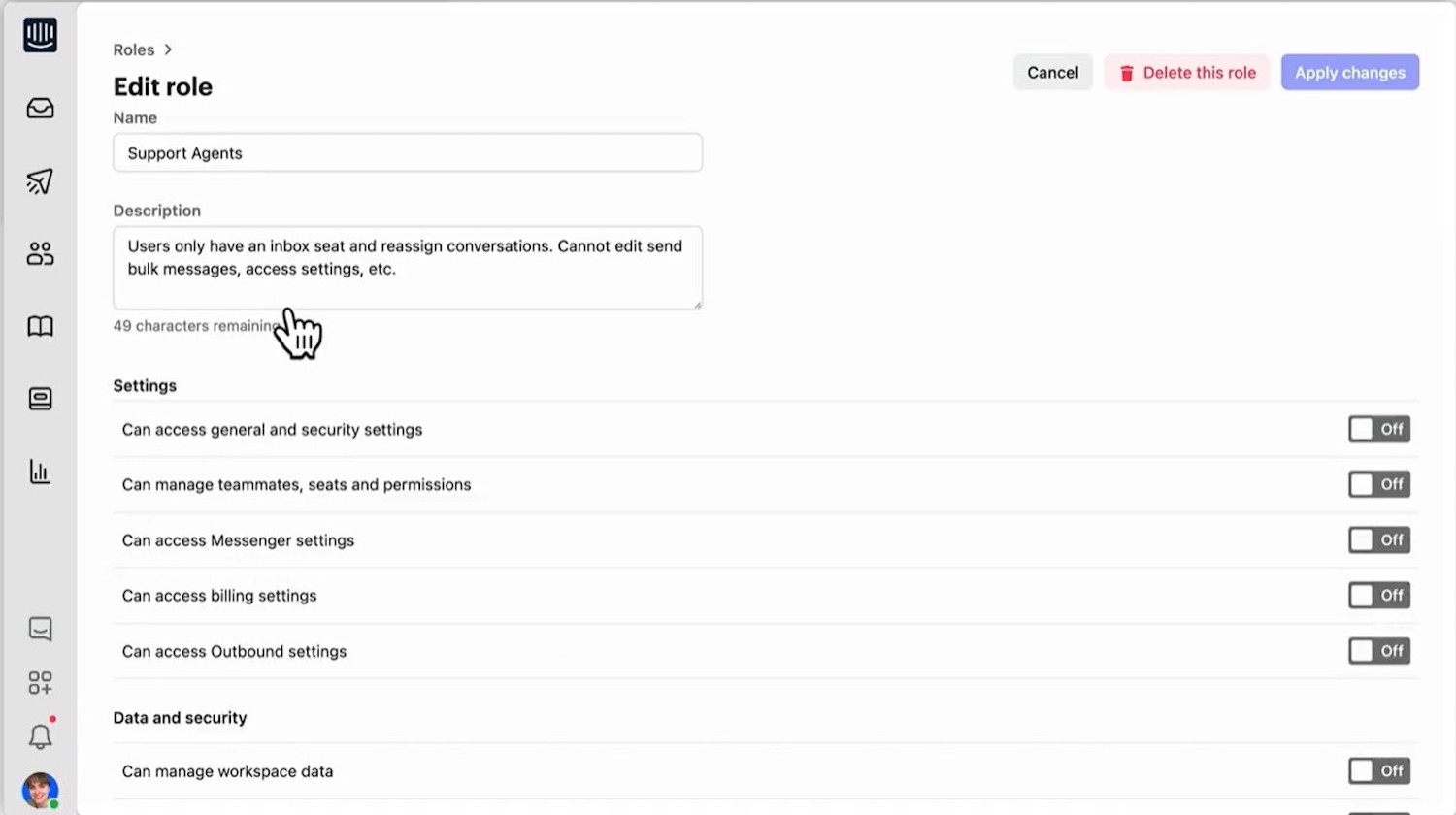 Administrators can adjust the following for each agent or department:
Access to general and security settings
Teammate and seat management
Messenger settings
Billing settings
Outbound settings
Data management
Zendesk Agent Dashboard
The Zendesk Workspace provides agents a single workspace with access to all team collaboration and customer communication channels so that an agent can manage all conversations without switching interfaces.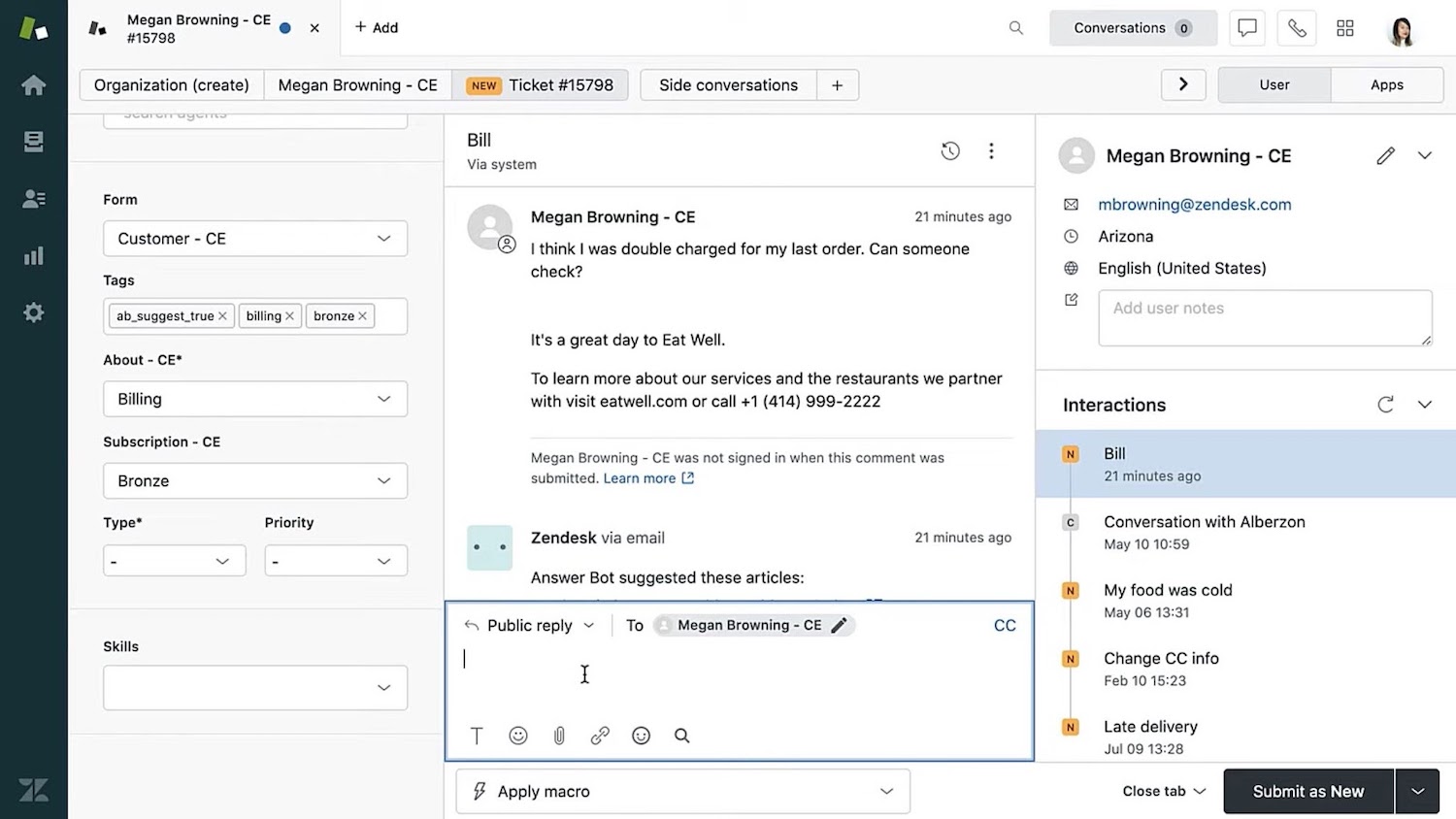 The workspace left-hand column notifies agents of all ticket updates. The top of the agent workspace shows an agent's open tickets, ticket statistics, and satisfaction statistics, as well as tabs depicting all current tickets.
Inside a ticket, the workspace center console displays the ticket's conversation. The right side of the screen displays all customer contact information and company interaction history, and the agent can contact the customer via any channel with just a few clicks.
Zendesk Admin Controls
The Zendesk Admin Center panels allow administrators to control settings, accessibility, automations, and workflows for everything from chatbots to integrations and custom APIs.
Tasks and Changes in the Zendesk Admin Center:
Brand management
Appearance
Forms
Team management
Messaging setup
Bots and automation
Business rules
Integrations, and more
Intercom vs Zendesk: Pricing and Plans
Below, we've outlined the pricing and plan options for Intercom vs Zendesk.
Intercom Pricing and Plans
Intercom has a unique pricing structure, offering three separate solutions, each intended for a distinct use case. We wish some of their great features were offered in multiple plans, but none features overlap among plans.
Intercom plan prices are determined based on your specific business needs, so interested users must contact them for specific price details.
For very small companies and startups, Intercom also offers a Starter plan–with a balanced suite of features from each of the above solutions–at $74 monthly per user.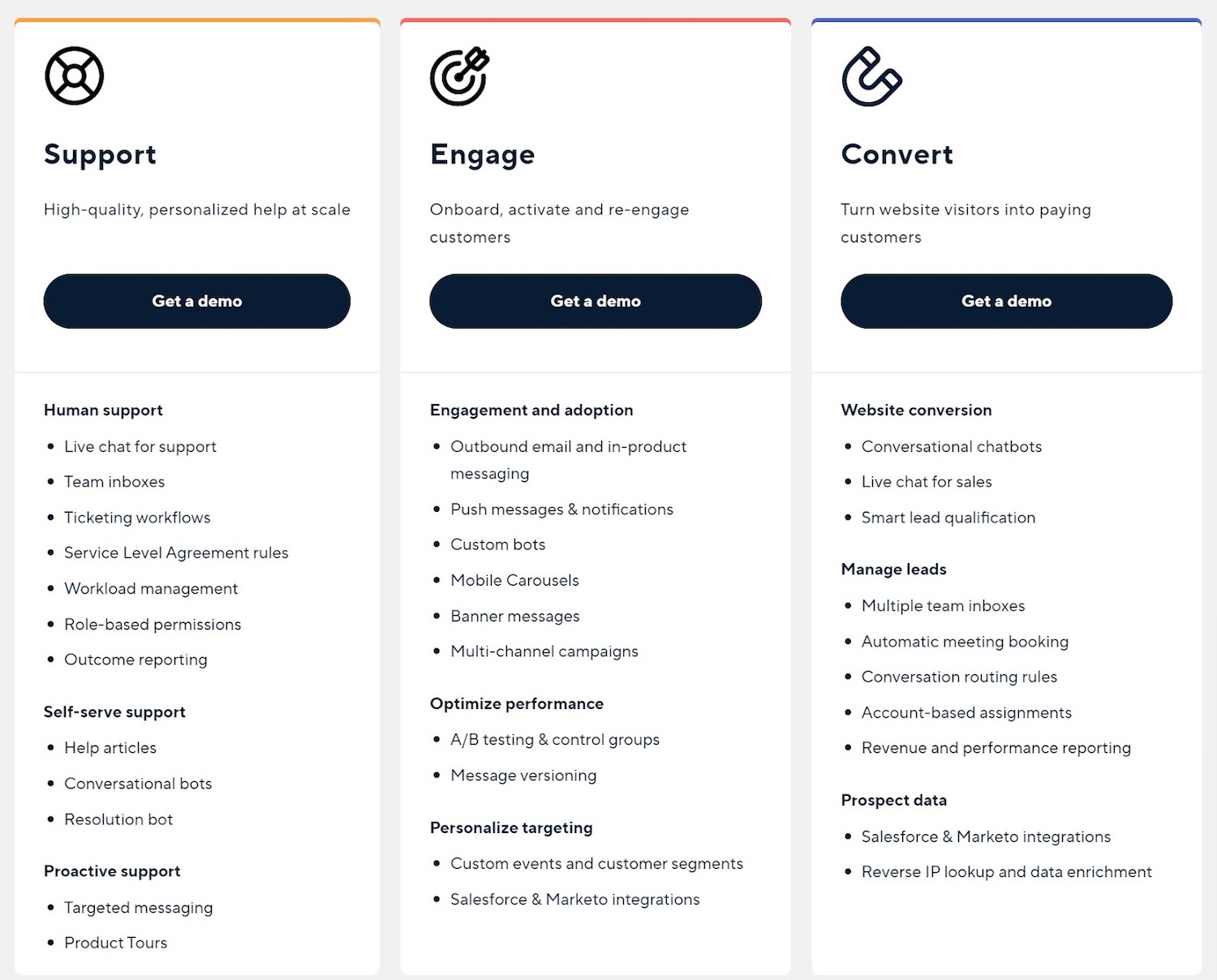 No single Intercom plan supports all Intercom features. However, customers can purchase multiple Intercom plans to use together, or purchase add-ons to select just the features they want.
While Intercom does not offer free trials, they do offer demo versions of each plan.
Zendesk Pricing and Plans
Zendesk for Service and Zendesk for Sales are sold as two separate solutions, each with three pricing plans, or tiers.
Zendesk for Service
Zendesk for Service sells three plans, ranging from $49 to $99 monthly per user, with a 30-day free trial available for each plan.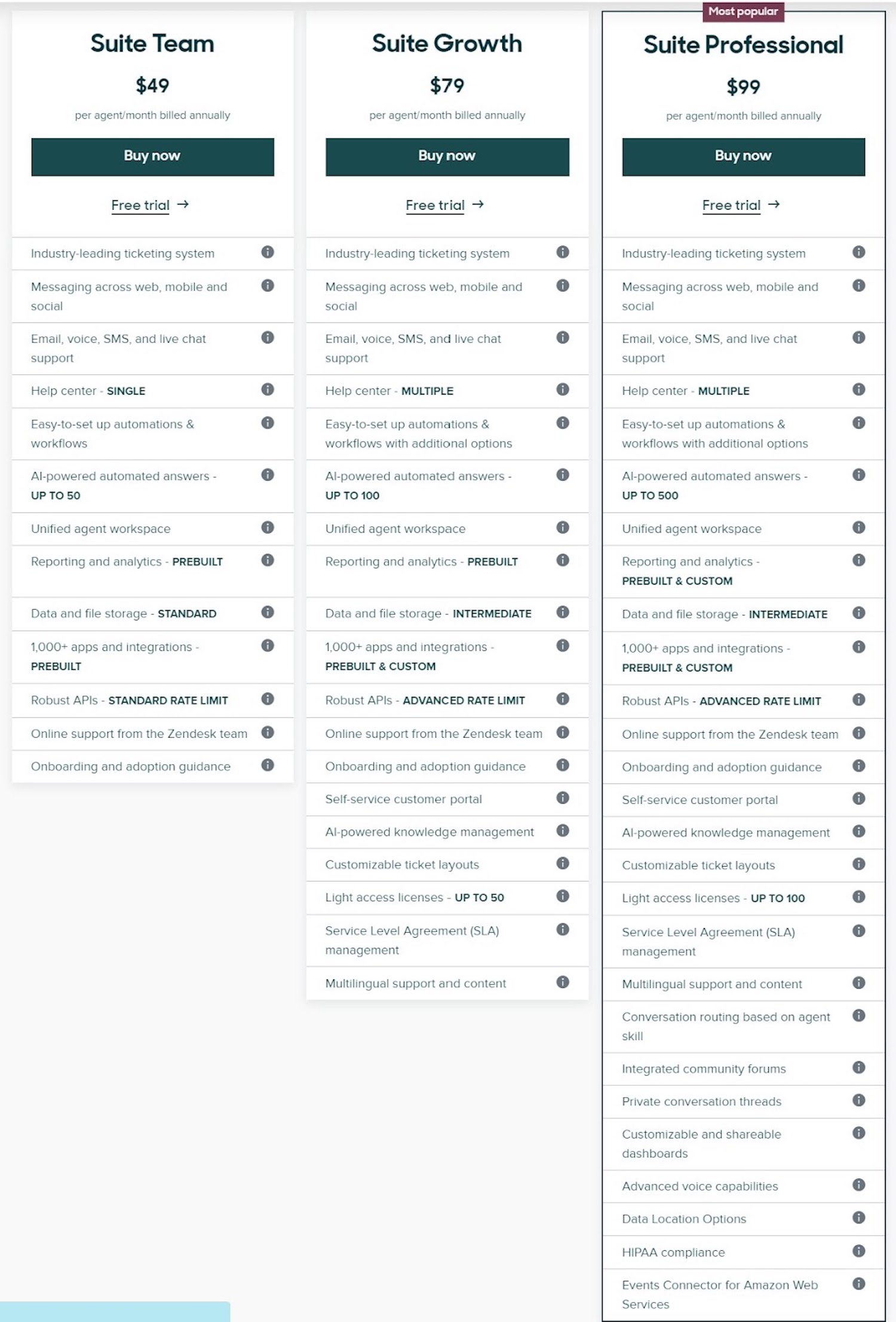 Zendesk for Sales
Zendesk for Sales offers three plans, ranging from $19 to $99 monthly per user, with free trials available for each plan.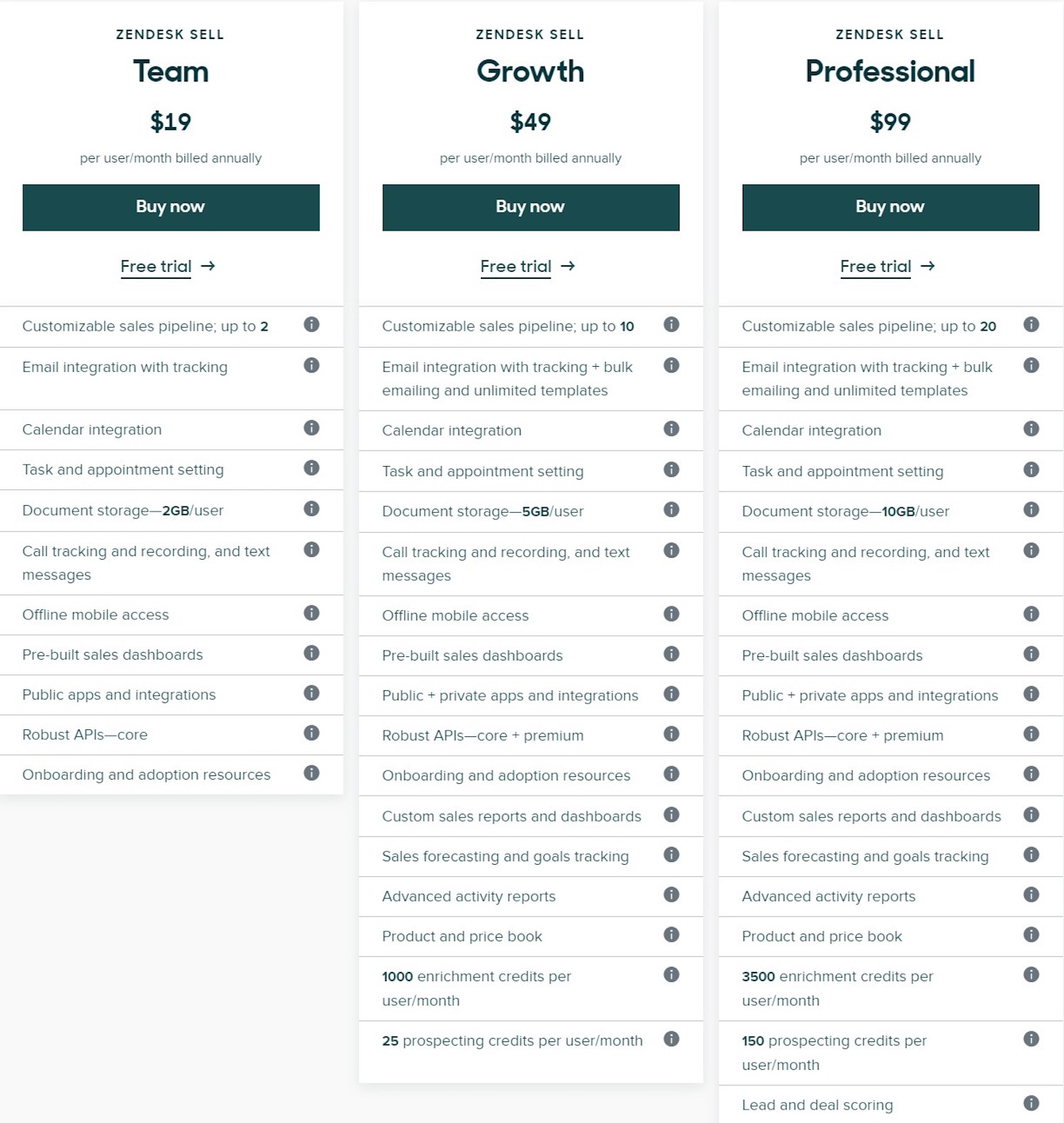 Intercom vs Zendesk: User Assistance and Support
Here, we've outlined the support options that Intercom and Zendesk provide to companies using their platforms.
Zendesk User Assistance and Support
Zendesk offers its users two support options:
Zendesk Help: Zendesk Help is Zendesk's support knowledge base, containing articles covering all their solutions. Users can search and post in community forums to seek consultation from other experienced Zendesk users, and can browse commonly asked questions.
Zendesk Chat and Calling: The Zendesk chatbot, on the Zendesk website, provides customer support by suggesting articles relevant to keywords you type. If these articles don't resolve your issue, the chatbot will direct you to the customer support help desk. You can also contact customer support teams via voice.
Intercom User Assistance and Support
Intercom provides two user-support options:
Community Forum: The Intercom community forum allows users to post questions, answer other users' questions, and browse threads on any topics related to Intercom. A voting system emphasizes high-quality responses.
Contact Us Chatbot: Intercom provides a Contact Us chatbot, where users can reach out with questions or issues. Unresolved queries are put in touch with Intercom support via phone.
Intercom vs Zendesk: Pros & Cons
Below, we've compared the pros and cons for Intercom vs Zendesk.
Intercom Pros and Cons
While Intercom offers unique feature options that weave together well into campaigns and series, it lacks voice calling–a critical feature–and spreads its more advanced features out too much among plans.
| | |
| --- | --- |
| Intercom Pros | Intercom Cons |
| Unique mobile features like carousels and product tours | Features spread out among plans |
| Shared inboxes | Plans are pricey |
| Targeting and personalized templates for campaigns and series | No voice channel offered |
Zendesk Pros and Cons
We're big fans of Zendesk's dashboard with built-in collaboration tools, but we wish the Agent Workspace came with the Team or Growth plans–not just Professional.
| | |
| --- | --- |
| Zendesk Pros | Zendesk Cons |
| Intuitive dashboard interface | Only offers series and campaign options for email |
| Easy collaboration | Lacks video conferencing |
| Highly customizable workflows | Agent workspace only comes with the Professional plan |
Which Solution is Right for your Company?
Between Zendesk and Intercom, the better fit for your company depends on your customer-service and sales goals, and the technology stacks you already use.
Since Intercom strengthens mobile applications and integrates third-party apps seamlessly, companies that already have a mobile app and other tools–like Marketo, Stripe, or Calendly–should consider it a strong option. Further, if companies plan to create multi-channel campaigns, Intercom makes a great fit. However, customers should keep in mind that Intercom does not offer voice.
Companies looking for a more complete customer service product–without niche bells and whistles, but with all the basic channels you want–should look to Zendesk. Small businesses who prioritize collaboration will also enjoy Zendesk for Service.
For companies focusing on Sales, Zendesk for Sales makes a decent option, but it lacks some sales campaigning features that Intercom has–we prefer Intercom for sales pipeline tools.
Still on the fence about customer service and sales SaaS solutions? Check out our list of unified communications providers for more information.
Zendesk vs Intercom: FAQs
Below, we've answered the top Zendesk vs Intercom questions.
Yes. While not as robust as full-scale CRM tools like Salesforce, Intercom offers tools to qualify leads, gather customer information, and guide leads through the sales pipeline.
Yes. Zendesk's chatbot, Answer Bot, provides customer self-service.
Zendesk is different from Intercom because it offers voice calling, side conversations, unique reports and analytics, extensive workflow options, and other unique features.