If you run a small business or a newer company, chances are that in the past, you mainly relied on your personal telephone number for business communications. Alternatively, you may have had a singular office number that clients could call.
Now, you need more of a robust business phone system, and you want to be able to make and receive calls over the Internet.
Having a virtual company telephone number doesn't just make your businesses look more established. It also offers greater flexibility for employees and clients. Still, you're not quite ready for an advanced — and expensive — enterprise VoIP platform.
Grasshopper and Google Voice are your top two options. Use this head-to-head comparison to help you make the best choice for your business needs.
Quick links:
What is Grasshopper?
Grasshopper is a virtual phone system specifically designed for small businesses and solopreneurs. Their platform provides unlimited PBX virtual calling within the US and Canada via their intuitive softphone. You can even transfer your current business number to Grasshopper via number porting.
It helps users differentiate between personal and business calls on the same device, whether you're using a tablet, smartphone, or desktop computer.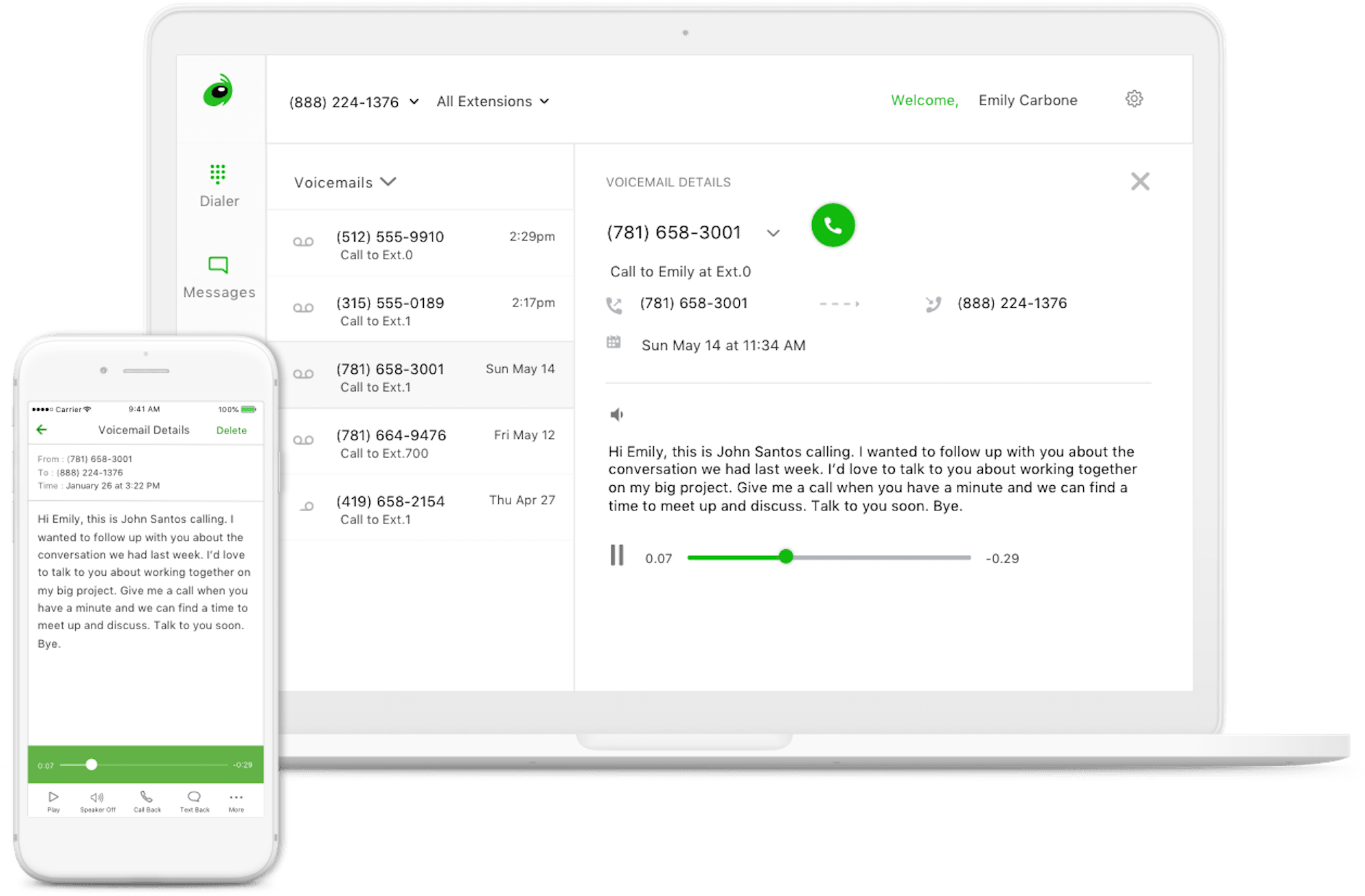 In addition to offering a variety of virtual telephone numbers, Grasshopper's VoIP calling solution has numerous standard and add-on features.
These include:
Incoming call control (forwarding, call transfer, etc.)
Telephone number extensions
SMS business messaging
Automated attendant and Ruby virtual receptionist
Custom greetings
Virtual fax
Voice message transcription
Call reports and analytics
What is Google Voice?
Google Voice is a cloud-based personal and business calling app that provides unlimited US smart voice calling on desktop and mobile devices.
Though it is scalable and therefore ideal for companies of any size, its somewhat limited features mean it's best suited for very small businesses. It's also ideal for companies that heavily rely on other G Suite apps like Gmail, Google Calendar, Google Docs, and Google Meet.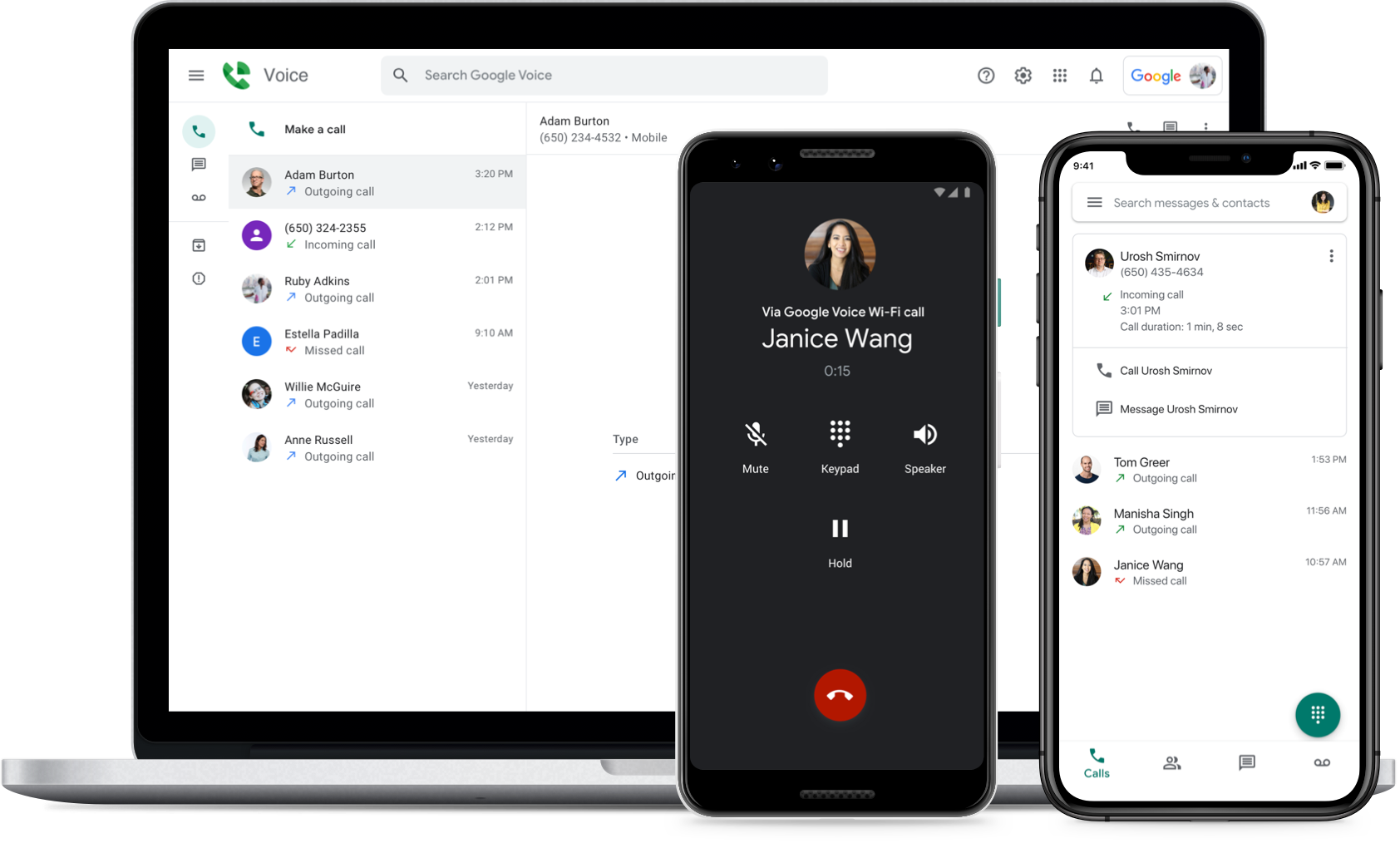 Though these Google app integrations offer a familiar interface and additional features like email and video calling, it can also be a challenge for companies that don't rely on G Suite.
It's top features include:
Business telephone numbers
SMS messaging
Voice message transcription
Personalized voicemail greetings
Incoming call control
Spam filter
Multi-level auto attendant
Voice audit log
Grasshopper vs Google Voice: Feature Comparison
Below we'll compare top features of Grasshopper and Google Voice
Phone Numbers and Extensions
Google Voice allows only one telephone number per user, meaning that it's ideal for smaller offices.
Though each user can have their own extension, individual users cannot have more than one extension. In order to connect with a specific extension, callers are required to listen to the menu options — they cannot place a direct call to an extension.
As of this writing, Google Voice does not offer any toll-free or vanity telephone number options, only local phone numbers.
By contrast, Grasshopper includes vanity and toll-free numbers in addition to local numbers. Users can have up to 5 numbers and unlimited extensions.
Vanity numbers can be local or toll-free and can include up to seven numbers or letters (example: 1-800-WINE-NOW.) Toll-free numbers are 800 numbers that don't charge the caller anything for dialing and provide companies with more of a national presence.
Note that both options allow users to port their current numbers.
Winner: Grasshopper, since it allows for several telephone numbers and includes toll-free and vanity options.
Call Control
Grasshopper offers several call management features, including forwarding, caller ID, simultaneous calling to prevent customers from getting a busy signal, and call screening.
Users can place clients on hold and transfer them to another employee in one of two ways.
Blind transferring is an automatic call transfer. Supervised transfers allow the call recipient to speak with the person who will next receive the call, better preparing them to assist the customer. Admins can select from several pre-made hold music options or upload their own custom recordings.
It also automatically routes the wrong number calls to the right extension so customers don't have to call back. Each user can also configure their own schedules and block unwanted callers.
Google Voice, like Grasshopper, includes call blasting and call forwarding to multiple personal telephone. Google Voice also filters out likely spam calls and offers caller ID.
A multi-level auto attendant is included in Google Voice Standard and Premier pricing plans. The auto attendant enables users to create an IVR menu, select call handling options such as "repeat the menu", "disconnect" and "transfer". Users can upload their own greeting or use text-to-speech for personal greetings.
Note that, while Grasshopper does offer international calling, they are charged on a per-minute basis.
International calling with Google Voice is available only on its most expensive plan. However, it offers free incoming calls to the United States from anywhere. Like Grasshopper, Google Voice charges on a per-minute basis for outbound international calls.
Winner: Grasshopper has more robust call control features like supervised transfers.
SMS Texting
Google Voice offers unlimited SMS messaging within the United States over desktop and mobile devices via the Apple or Android mobile app. Texts can be sent or received over Wi-Fi and cell phone data. Texts from unfamiliar or suspicious numbers are filtered out into spam folders — so be sure to check yours often to avoid missing important messages.
Voice's SMS messaging does not allow short code messaging, and limits group text messages to 8 participants. Additionally, if the text exceeds 160 characters, it will be sent as multiple messages.
Google does explicitly state that its SMS messaging feature is intended primarily for 1:1 messages. In some cases, ported numbers can take up to five business days to completely transfer, meaning you'll need to wait to text some numbers.
Users can attach photos, but can't attach video files — only video links can be sent.
Grasshopper's SMS messaging can be accessed via desktop or mobile phones and tablets. Users can easily type in longer messages on their computers.
Unlike Google's platform, it allows users to send and receive unlimited text, photo, and video SMS messages. Live push notifications can be turned on/off, or texts can be accessed in the business messaging tab of the app. Group texting is also possible.
Its best messaging feature is by far the "Instant Response."
When a new client calls a business phone number and doesn't receive a response, Grasshopper automatically sends them a customized message letting them know that the call was received. Users can include a link to allow customers to select their own callback time within the business text, or send any other business information of their choosing.
Note that, as of this writing, business SMS messaging is available only in the United States and Canada.
Winner: Grasshopper is the clear winner here, thanks to its ability to send MMS messages and Instant Response feature.
Auto Attendant and Virtual Receptionist
Grasshopper has both automated attendant and live virtual receptionist services.
The auto attendant feature automatically answers inbound calls, provides callers with menu options that allow them to reach the right department or employee, and then automatically forwards those calls to the correct party.
Account admins can record custom greetings and set call answering and forwarding rules, such as forwarding the call to voicemail or the next available agent after a certain number of rings.
Most importantly, the automatic attendant always forwards calls to business telephone numbers to representative's cell phones, allowing for greater employee flexibility and better customer service.
It has also partnered with Ruby to offer live virtual receptionist services — meaning that callers can speak with a "real person" when they dial your number. This makes a quick job of things like scheduling appointments, getting answers to common basic questions, and checking order statuses. It also gives smaller companies a more professional and established look — without the big price tag.
If you don't want to record your custom greeting yourself, use the Professional Voice Studio to have an expert record the perfect menu options.
Google Voice also has an automated attendant feature that allows users to set up a menu and select the preferred employee or department by pressing telephone keys.
Users can then create a custom greeting by typing it into the interface, or by recording their own.
The biggest benefits here are that Voice allows users to select messages in multiple languages, and gives callers the option to skip the greeting if needed. Voice also includes a "Special Announcement" feature that callers can't skip over, which is essential when longer hold times or other issues impacting customer service arise.
Admins can also select from several different voice tones/accents, and select the speed at which the call menu options are read aloud.
As with Grasshopper, Voice admins have control over calling rules and can decide whom the call is transferred to, forward the call to the voice message inbox, disconnect the call, or forward the call to the user's other telephone numbers.
Google's automated attendant options also let users customize their working hours, meaning clients will hear different out-of-the-office greetings depending on the time of their call.
Winner: Google Voice's automated attendant may not have virtual live receptionist capabilities or let users choose a professional to record a unique voice recording, but the reality is that most smaller businesses won't need those features and don't want to pay more for them. Voice also offers the added convenience of letting users type in their custom greetings, and makes switching to an out-of-the-office message simple and intuitive.
Voicemail
Google's voicemail lets callers record messages that are up to 3 minutes long, and the number of messages is unlimited. The inbox can be activated after a certain number of rings or automatically after office hours or when users turn on the Do Not Disturb feature. With the Google Calendar integration, Voice will automatically redirect calls to the voice message inbox when a meeting or other event is on the calendar.
Voice offers automatic voice message transcription for all calls, including spam and unknown numbers.  These transcriptions are available on both mobile and desktop devices, and can also be forwarded to your email.
As with the call menu, users can record up to ten voice messaging greetings. If needed, it's possible to simply call your  Google Voice number to check messages. It's also easy to direct personal smartphone voice messages to Google Voice.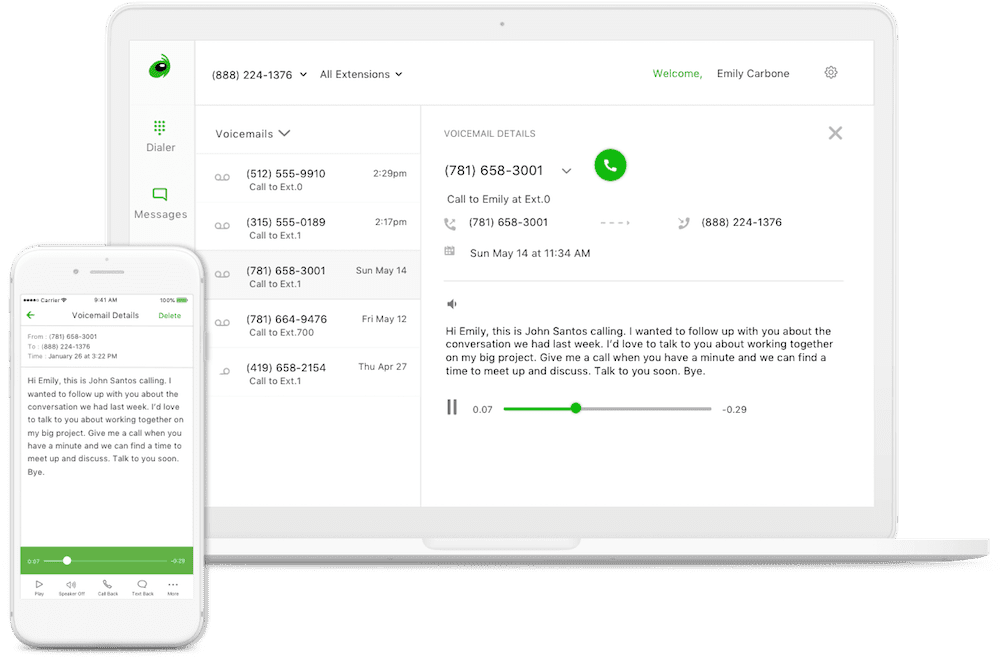 Grasshopper's virtual voice message system provides a separate voice mailbox per extension, allowing for a higher level of customization than Voice. Messages are stored for 30 days, and there is no limit to the number of voice messages that can be left.
It also sends users real-time desktop and mobile push notifications when a new voice message has been left.
Grasshopper offers voice message transcription and MP3 messages that are automatically forwarded to up to 15 email addresses or read in-app. Users can also record their own voice message greetings.
Winner: Google Voice takes the lead here, as it allows users to store multiple voice message greetings and integrates seamlessly with work calendars to automatically forward calls directly to the voice message inbox.
Virtual Faxing
Grasshopper allows users to receive virtual faxes, but not to send them out as of this writing.
Its cloud-based virtual fax service means it operates without a fax machine, instead of receiving faxes over a Grasshopper business number. Users can view faxes online in the portal or as email attachments.
Though not ideal for companies with a high volume of faxes, Grasshopper's faxing service will work well for businesses that only receive occasional faxes and have no need to buy a fax machine.
Though there are several third-party integrations that claim to be able to allow you to send/receive faxes over your Google Voice account, faxing is not a native feature on any Voice plan.
If you need faxing capabilities, your best bet is to go with another provider.
Winner: By default, Grasshopper.
Call Reporting and Analytics
Grasshopper's call tracking analytics generate three kinds of reports: Usage Reports, Detail Reports, and Activity Reports.
All reports can be sorted by date, extension, and telephone number.
Usage Reports show you metrics such as average call length and the number of inbound and outbound call minutes.  Detail Reports show which calls were connected, went to voice message, placed on hold, and which ones were routed to another number. They also show how long it took for a call to be successfully transferred. Activity Reports provide information on caller hangups, fax successes/failures, accepted call blasts, and rejected/fail call blasts.
Note that reports that are over 90 days old are automatically deleted.
The majority of Google Voice's audit log features require users to have a G Suite Enterprise account, though some basic reporting metrics are still available to G Suite Essentials users.
Essentials users can see information like the length of the call, the time/date on which it was made/received, and a basic ingoing/outgoing call log per user or telephone number. Enterprise users can access automated attendant and SMS data in addition to more detailed security log information.
The one main advantage that Voice has over Grasshopper is that, though it's analytics features themselves are limited, the search bar makes finding specific information easier.
Voice audit logs are available for six months.
Winner: Grasshopper offers a higher level of call data and reporting across all of its plans than Google Voice.
Pricing and Plans Comparison
The below tables break down the pricing and available plans for both providers.
Grasshopper Pricing and Plans
Grasshopper has three paid plans that can be billed annually or monthly, with annual billing offering a 10% savings. Note that any additional phone lines can be purchased for an additional $10/month per line.
| | | | |
| --- | --- | --- | --- |
| Features | Solo Plan | Partner Plan | Small Business Plan |
| Price | $28.00/month | $46.00/month | $80.00/month |
| Phone Numbers | 1 Phone Number | 3 Phone Numbers | 5 Phone Numbers |
| Number of Extensions | 3 Extensions | 6 Extensions | Unlimited Extensions |
| Vanity, Local, Toll-Free Number Types | ✓ | ✓ | ✓ |
| Business SMS Texting | ✓ | ✓ | ✓ |
| Virtual Fax | ✓ | ✓ | ✓ |
| Call Forwarding, Transfers, Simultaneous Call Handling  | ✓ | ✓ | ✓ |
| Voicemail Transcription | ✓ | ✓ | ✓ |
| Custom Greetings | ✓ | ✓ | ✓ |
| Call Analytics | ✓ | ✓ | ✓ |
| Screen/Block Callers | ✓ | ✓ | ✓ |
| Instant Call Response  | ✓ | ✓ | ✓ |
| Call Blasting | Add-on only, $10/month | Add-on only, $10/month | Add-on only, $10/month |
| Voice Studio | Add-on only, $75/order | Add-on only, $75/order | Add-on only, $75/order |
| Ruby Receptionist  | Add-on only, from $199/month | Add-on only, from $199/month | Add-on only, from $199/month |
Google Voice Pricing and Plans
Voice offers three business plans, billed on a monthly basis, and provides a Service Level Agreement to users.
The table below outlines available plans.
| | | | |
| --- | --- | --- | --- |
| Features | Starter Plan | Standard Plan | Premier Plan |
| Pricing | $10.00/user per month | $20.00/user per month | $30.00/user per month |
| Maximum Number of Users | 10 | Unlimited | Unlimited |
| Maximum Number of Domestic Locations | 10 | Unlimited | Unlimited |
| International Locations | X | X | Unlimited |
| Unlimited Calling to the US From Any Country | ✓ | ✓ | ✓ |
| Unlimited US SMS | ✓ | ✓ | ✓ |
| Voicemail Transcription | ✓ | ✓ | ✓ |
| Call Forwarding | ✓ | ✓ | ✓ |
| Multi-Level Auto Attendant | X | ✓ | ✓ |
| Ring Groups | X | ✓ | ✓ |
| Ad-hoc call recording | X | ✓ |  Automatic |
Grasshopper vs Google Voice: Customer Experience
The below pros and cons lists represent the average user experience of Grasshopper and Google Voice.
Grasshopper User Reviews
Users agree that the best thing about Grasshopper is its clean interface and overall ease of use. Features are so intuitive that even those who aren't especially tech-savvy have little trouble using it.
The biggest drawback of using Grasshopper is its lack of standard features for the price point. While it might look cheaper than other virtual calling providers, its bare-bones standard features mean customers often end up paying more for add-ons than they would have if they'd gone with a more feature-rich carrier's standard plan.
The below table outlines the provider's top pros and cons.
| | |
| --- | --- |
| Grasshopper Pros | Grasshopper Cons |
| Simple and fast setup process | Lack of standard features |
| Much more user-friendly than most virtual phone systems | $25 activation fee |
| Can switch between cell network and Wi-Fi calling | Auto-attendant greeting $75 add-on fee |
| Lots of phone number and extension options | Call recording unavailable |
| No per-user cost | Inconsistent voicemail and missed call alerts |
Google Voice User Reviews
Voice offers an excellent basic to virtual calling features at a reasonable price point.
The fact that it integrates easily with G Suite and existing Google accounts makes unified communications a bit smoother and gives customers several options with how they'd like to reach team members. However, many wonder how much longer it will be before Voice is completely absorbed into Google Hangouts.
Additionally, even though Voice adversities itself as a "free" service, that isn't really the case.
Though personal Google telephone numbers are free, you'll need to upgrade to a paid business account to get the features mentioned in this article.
The table below outlines the top pros and cons gathered from user reviews.
| | |
| --- | --- |
| Google Voice Pros | Google Voice Cons |
| Beginner-friendly | Lack of toll-free numbers |
| Integration with G Suite | Only one number per Google Voice account |
| Excellent price point | Lack of customer support |
| HD audio sound quality | No faxing feature, limited analytics |
| Search bar functionality for texts and voicemail transcripts | Limited incoming call management features |
Grasshopper vs Google Voice Common Use Cases
While both phone systems are ideal for small businesses, the below use cases show which industries commonly choose one over the other.
Grasshopper Use Cases
Grasshopper is especially popular among healthcare providers, real estate agents, and consulting professionals.
Healthcare professionals use its automated greeting feature to connect patients with the right department or doctor. Doctors who are on call use its incoming call management tools to prioritize calls from patients and other healthcare professionals as opposed to personal calls. The call forwarding features ensure that, in the event of an emergency, a live representative is always available.
Real estate agents take advantage of local area codes to show clients they're familiar with the area. Many agents have multiple local area code telephone numbers, allowing them to expand their market.
Consulting professionals rely on the customizable instant response feature to immediately connect with potential leads even when they're on another call. Virtual phone extensions ensure that clients can reach the right employee or department on any device.
Google Voice Use Cases
Google Voice is best suited for solopreneurs who want to protect the privacy of their personal telephone number and give a more professional appearance.
It is not ideal for companies with more than 5-10 employees that need multiple extensions and telephone numbers.
Instead, it's a good platform for things like a dog walking business, crafting side hustle, or a startup that needs a basic phone system. It's also a good choice for professionals who get a high number of spam calls on their personal numbers, causing them to miss out on important client phone calls.
Voice is less suited for specific industries than Grasshopper — instead, it's a good fit within almost any retail industry that is primarily run by 1-3 people.
Grasshopper and Google Voice Alternatives
While Grasshopper and Google Voice are ideal for small to midsize business owners without a need for complicated features and analytics, there are numerous alternatives for those looking for VoIP phone calling capabilities for companies of any size.
The below alternatives also offer, in most cases, more cost savings options than either business phone service, as they have more standard features, such as video conferencing, included in the base price.
| | | | | | |
| --- | --- | --- | --- | --- | --- |
| Features | Nextiva | Dialpad | 8×8 | Ooma Office | RingCentral |
| Pricing | From $18.95/user per month | From $15.00/user per month | From $24.00/user per month | From $19.95/user per month | From $20/user per month |
| SMS Texting | ✓ | ✓ | ✓ | ✓ | ✓ |
| Unlimited U.S. Calling | ✓ | ✓ | ✓ | ✓ | ✓ |
| Toll-Free/Vanity Numbers | ✓ | ✓ | ✓ | ✓ | ✓ |
| Incoming Call Controls | ✓ | ✓ | ✓ | ✓ | ✓ |
| Auto-Attendant | ✓ | ✓ | ✓ | ✓ | ✓ |
| Voicemail Transcription | ✓ | ✓ | ✓ | ✓ | ✓ |
| Virtual Fax | ✓ | ✓ | ✓ | ✓ | ✓ |
| Customized Greetings | ✓ | ✓ | ✓ | ✓ | ✓ |
| Call Analytics | ✓ | ✓ | ✓ | ✓ | ✓ |
Here's a complete breakdown of Grasshopper and Google Voice alternatives.
Grasshopper vs. Google Voice: Is There a Clear Winner?
Our research shows that Google Voice is the best option for solopreneurs who primarily need an alternative to their personal telephone numbers, but don't need a high level of virtual calling capabilities.
Grasshopper is the better fit for small businesses that aren't quite ready — and may never need — to transition to a complete virtual phone system, but that need more robust calling and text messaging features.
To learn more about other business VoIP providers and alternatives to landline desk phones, check out our interactive comparison table.