Top contact center providers Genesys and Avaya both provide blended, omnichannel solutions that harness the power of AI, automation, and workforce management to streamline business processes and optimize the customer experience.
This comparison of Avaya vs Genesys outlines each platform's pricing, user experience, and top features, simplifying the decision-making process for your team.
Compare contact center software from
top providers
Avaya vs Genesys: Overview
| | | |
| --- | --- | --- |
| | Avaya | Genesys |
| Pricing | – 3 paid plans from $48-$125+/user/month, custom plans available | – Five bundled plans from $75-$155/user/month, custom plans available |
| Available Communication Channels | Inbound/Outbound voice, email, chat messaging, social media messaging | Inbound/Outbound voice, email, chat messaging, social media messaging |
| Top AI Feature |  Intelligent Routing | Voicebot and Chatbot IVAs |
| Top Collaboration Feature | Avaya Spaces | Agent Workspace |
| Best For | Digital-first contact centers prioritizing outbound interactions over inbound ones, especially revenue-generating channels like website chat messaging and social media | High-volume, omnichannel inbound/outbound contact centers that need advanced AI-powered automation and analytics to shorten customer service resolution times and keep operating costs low |
What is Avaya?
Avaya is an omnichannel cloud contact center best known for its OneCloud Experience Platform, designed to optimize both the employee and customer experience across multiple touchpoints.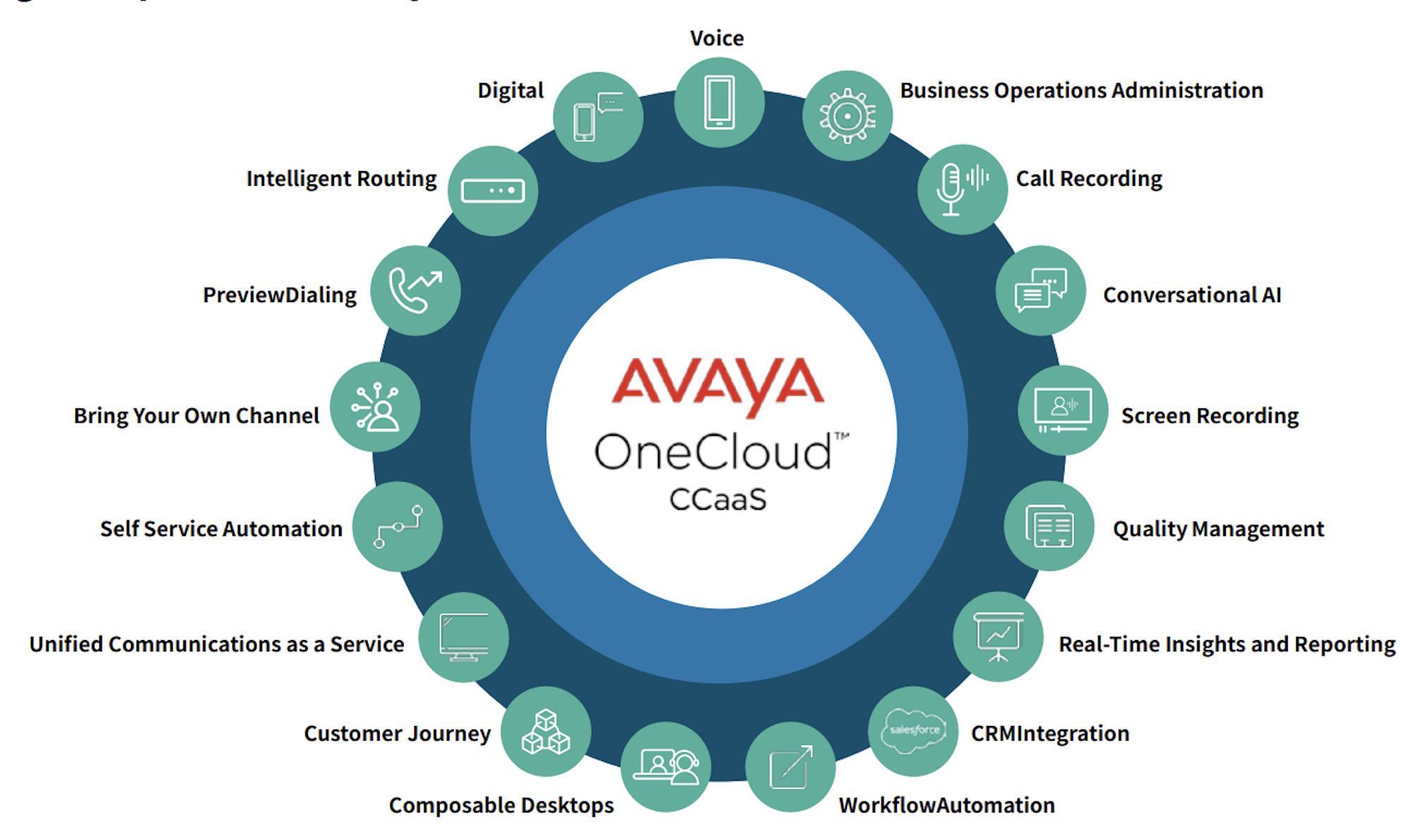 Avaya OneCloud combines UCaaS and CCaaS capabilities into a single composable platform to cut down on information silos.
OneCloud unites voice, video, email, SMS, website chat, and social media messaging via the Avaya Social Media Hub within a single interface. It also offers extensive AI capabilities like predictive modeling, conversational self-service, and sentiment analysis.
Collaboration and workforce engagement features keep teams on the same page, simplify performance monitoring and scheduling, and improve productivity.
With over 160 third-party integrations, Avaya lets teams continue to use familiar CRM platforms, messaging tools, collaboration apps, and more.
What is Genesys?
Genesys is a CCaaS provider best known for its all-in-one cloud contact center solution, Genesys Cloud CX.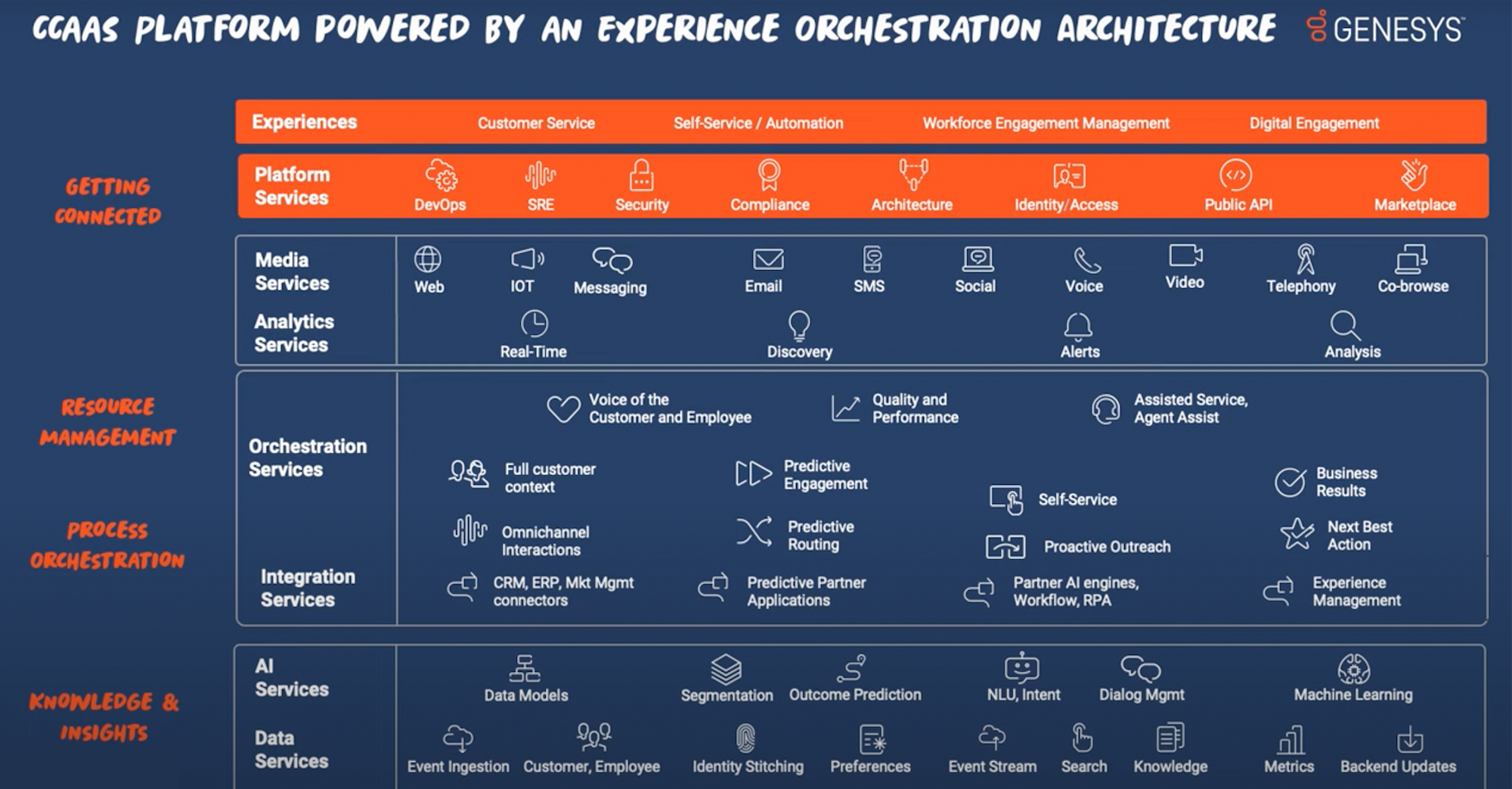 Designed to streamline communications between customers and agents across phone, email, live web chat, SMS, and social media, the Cloud CX platform also includes powerful workforce engagement tools, outbound campaign management, AI-powered customer self-service, and advanced reporting capabilities.
With over 350 third-party integrations and an open API platform, Genesys makes high-level customization just as attainable as its bundled plans.
The Cloud CX platform is built to optimize what Genesys defines as the four core CCaaS capabilities:
Channel-agnostic customer journeys
Personalized customer experience
Employee Experience Management
Knowledge and Insight
Genesys vs Avaya Feature Comparison
Genesys Voice Calling
Genesys offers BYOC and its native Genesys Cloud Voice VoIP service to enable voice calling via local, international, or toll-free business phone numbers (via number porting or number purchasing from Genesys.)
Individual and shared voicemail inboxes unite call recordings, voicemail messages, call quality evaluations, and even virtual fax messages in one place. Users can choose from several pre-recorded voicemail greetings or record their own, and receive real-time email notifications for new voicemail messages.
Speech-enabled Interactive Voice Response (IVR) provides automated customer self-service by using pre-recorded menu prompts and ACD to instantly direct calls to the appropriate agent or department. Customers can also use IVR to complete basic business processes, such as online bill payment, order tracking, and appointment confirmations.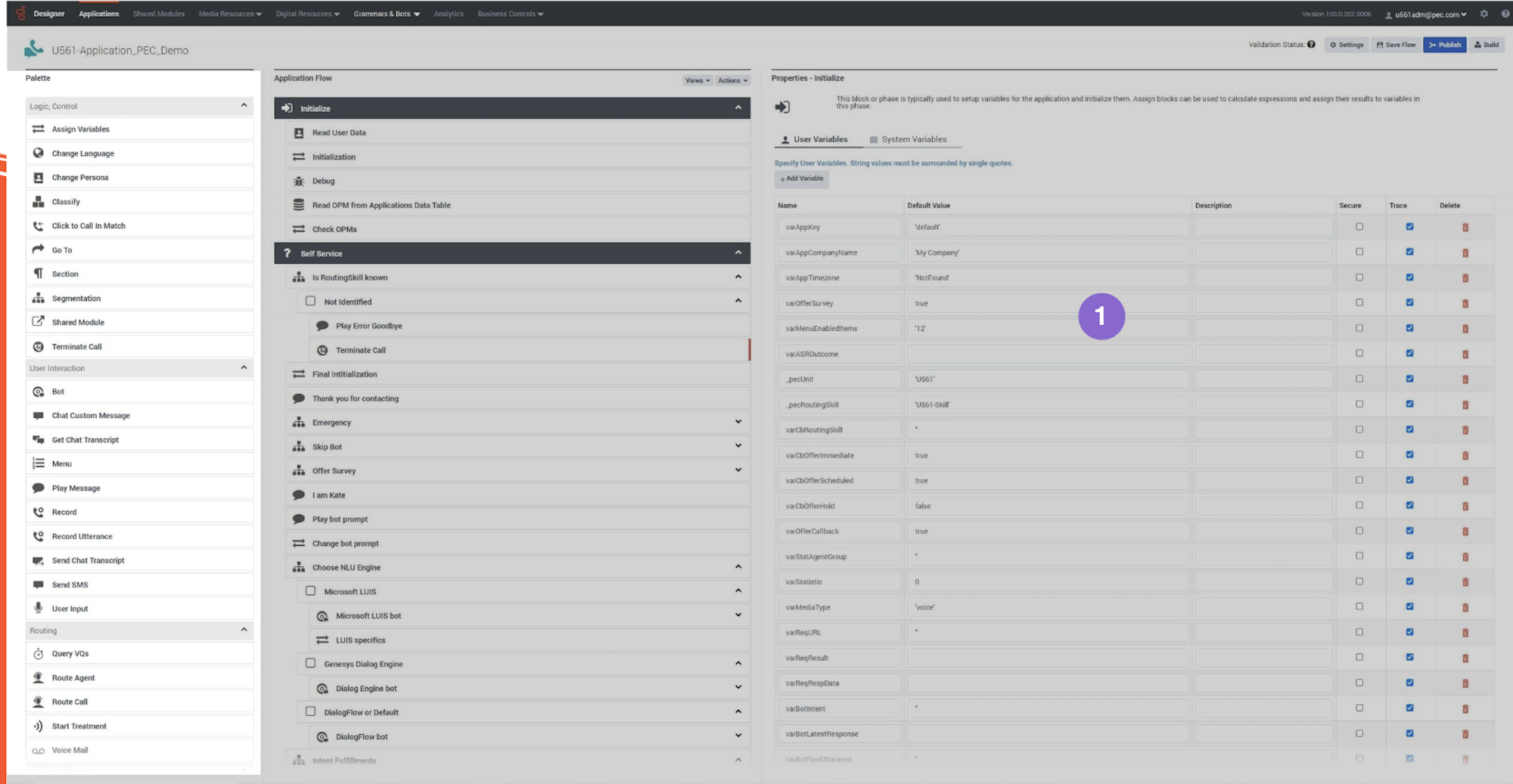 Admins can create IVR call flows in the drag-and-drop interface, and apply the same forwarding and routing strategies across channels.
Analytics provide insight into the effectiveness of current IVR strategies. It's easy for admins to customize business hours, adjust call paths in real-time, and adapt to user variables.
The Genesys Outbound Dialer uses Preview, Predictive, Progressive, Power, and even automated, IVR-powered  Agentess dialing modes to improve lead list penetration. CTI screen pops with CRM integration, answering machine/busy signal filtering, call scripts, and a centralized Do Not Call list simplify compliance and increase talk time by eliminating the manual work of cold calling.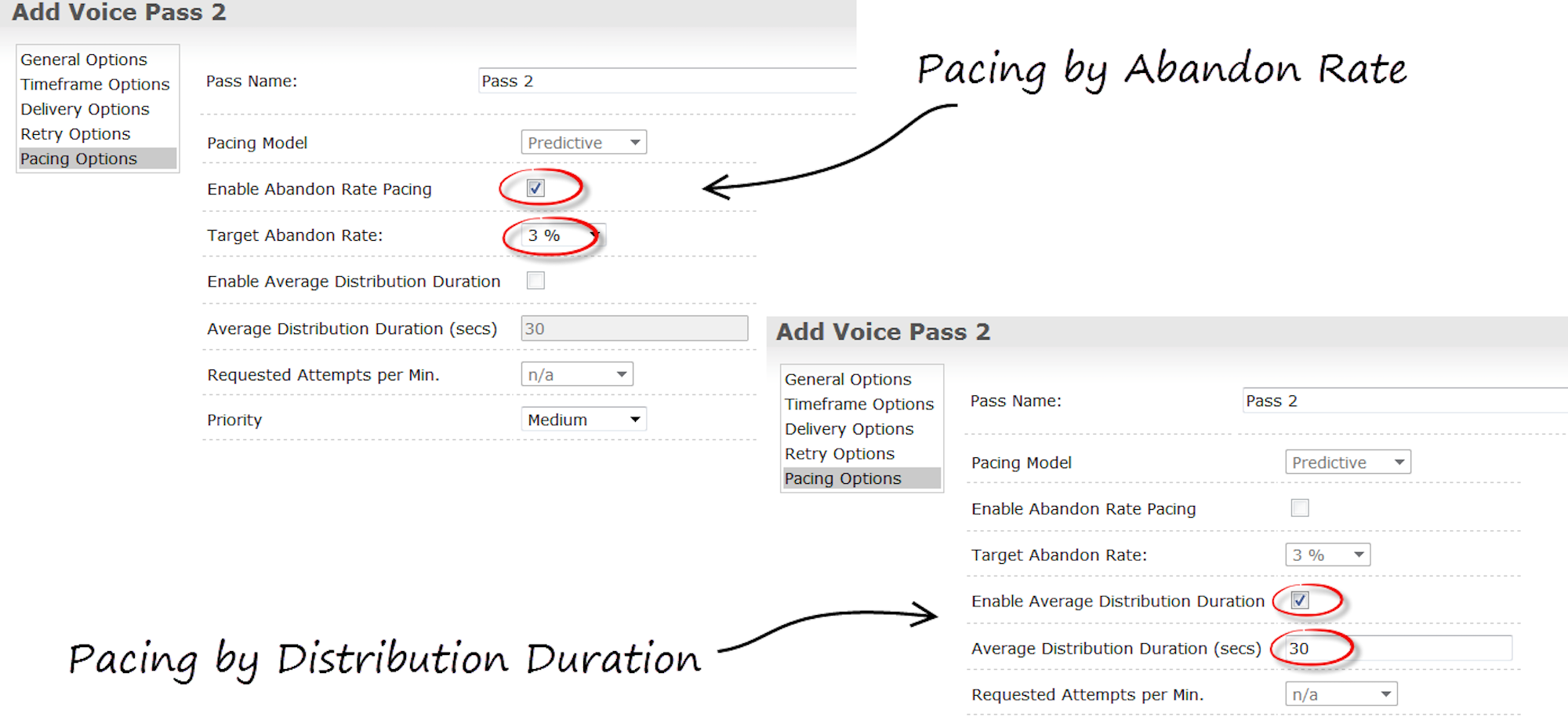 Admins can customize outbound campaigns by uploading and organizing call lists with filters, schedules, the maximum number of allowed attempts, pacing, priority, time zone mapping, and more. Admins can also mandate and edit after-call work and wrap-up rules.
Additional voice calling features include:
Call queues (Up to 5,000 total queues, 5,000 members per queue)
Call forwarding
Call groups (general or custom groups)
Call transfer (blind or consult/warm transfer)
Call recording/pause recording
Call history/call log
Call hold
Call scripts and canned responses
Caller ID
Call blocking
Conference calling (up to 20 participants)
Avaya Voice Calling
Avaya OneCloud offers inbound and outbound HD voice calling via local, vanity, toll-free, and international numbers on desktop and mobile devices. Calling within the US and Canada is unlimited, and toll-free minutes are available in blocks from 100-10,000 minutes per month.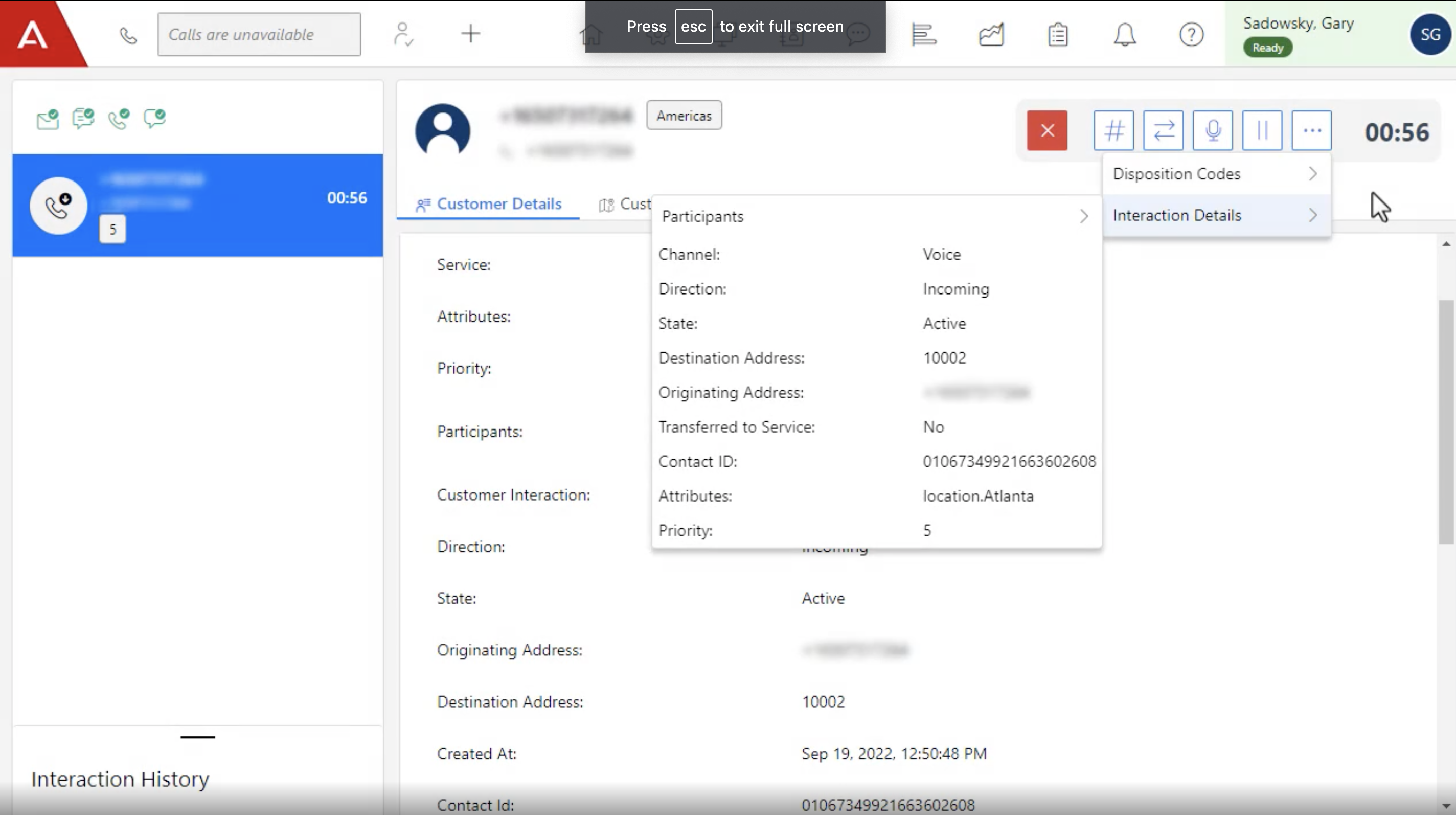 Avaya offers detailed CRM features that show agents a variety of essential in-call information, like Customer Details, screen pops with native and integrated interaction data, customer journey information, and space for after-call work. Agents will also be able to access information customers have provided to IVR/voicebots.
Another one of Avaya's top voice features is its outbound Proactive Contact tool, a Preview/Predictive outbound dialer that includes patented dialing algorithms, intelligent call blending, and multi-dialer management capabilities. Call detection powered by Enhanced Call Progress Analysis differentiates between live voices, smartphones, voicemail messages, and busy signals with over 98% accuracy.
A series of pre-built telephony APIs let users access third-party outbound and campaign management tools within the Proactive Contact interface. In addition to accessing agent notes, contact information, and interaction history, agents can check if a contact is already stored in the DNC database or add them after a call. Cruise Control call pacing also ensures outbound calls are in line with TCPA compliance.
Supervisors can monitor outbound call activity, make real-time adjustments, and provide roles-based access to agents within the Proactive Contact interface.
Avaya SMS provides unlimited unbound/outbound texting to any number or contact, with up to 1,000 characters per message. International SMS, MMS messaging, cross-device message syncing, and number/URL detection are also included in all plans.
Additional Avaya voice calling features include:
Call flip, call  forwarding, call transfer, call park, call screening, call blocking
Real-time voice-to-text transcriptions
Dial-by-name directory
Hold music and messages
HUD
Extensions
Customer callbacks
Voicemail-to-text, voicemail-to-email, visual voicemail
Hot desking
Automatic and on-demand call recording
Shared line appearance
Call queuing
Custom caller ID name/number
Missed call notifications
Audio conferencing with local dial-in access in 55+countries
Genesys Digital Channels
Genesys offers numerous digital channels in addition to voice calling, including:
Social Media Messaging
Email
Web chat uses automated, live, and a mix of both types of chat messaging to engage with site visitors in real-time, making 24/7/365 customer support and service possible. Within the chatbox, agents can share images, links, files, and more. Canned responses and automated customer screen pops make it easy for agents to handle multiple web conversations simultaneously. If the customer has interacted with your web chat feature in the past, conversation history with timestamps is also displayed.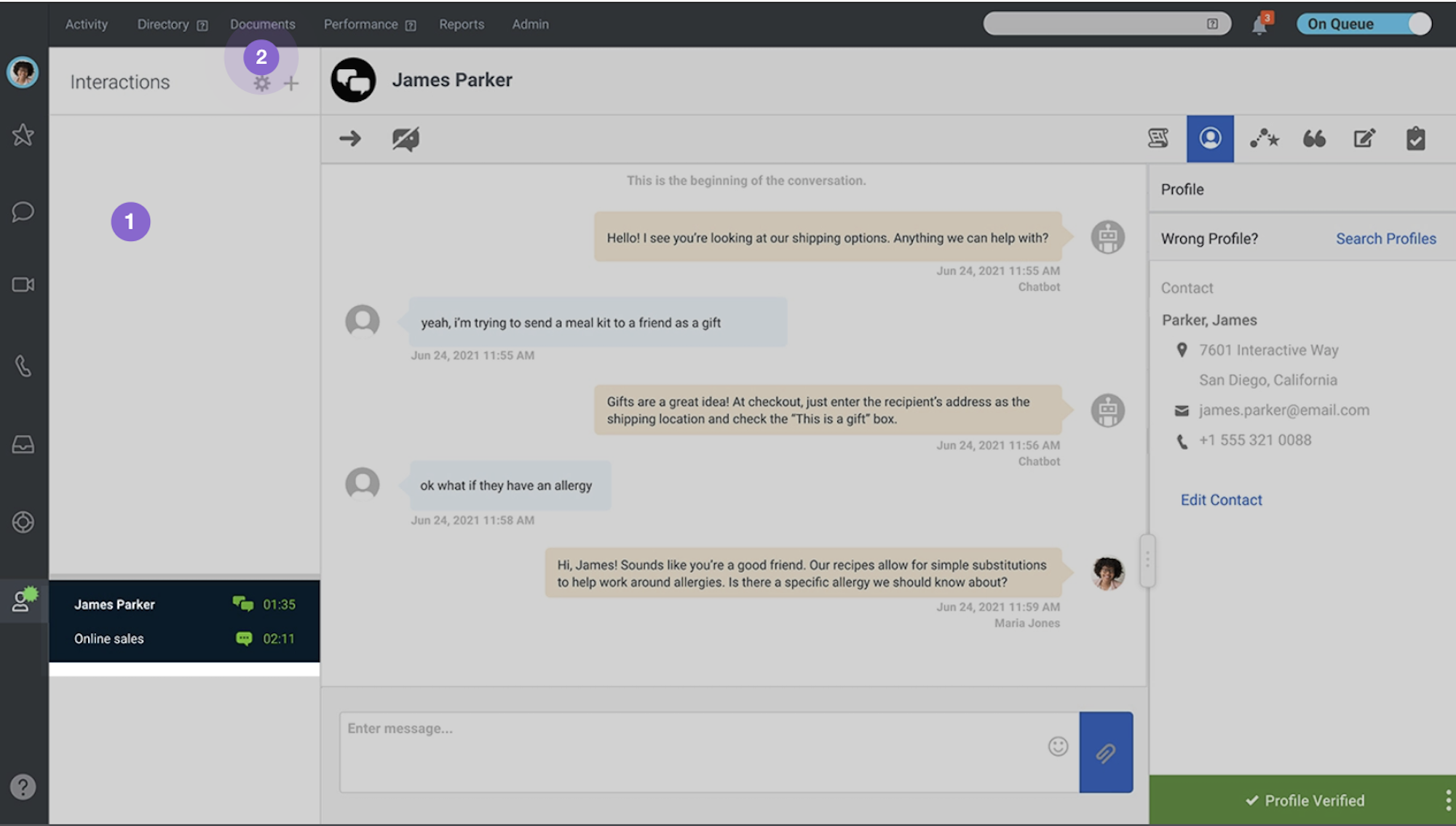 Agents can enable collaborative co-browsing and screen sharing with customers across voice and messaging apps, making it easy for agents to guide customers through support resolution processes or better see the issue at hand. If needed, remote screen control, screen highlighting, on-screen annotation, and pointing cursors are also available. Configurable masking makes it easy for customers to hide sensitive data from agents, and agents can initiate a screen sharing/co-browse session at any time.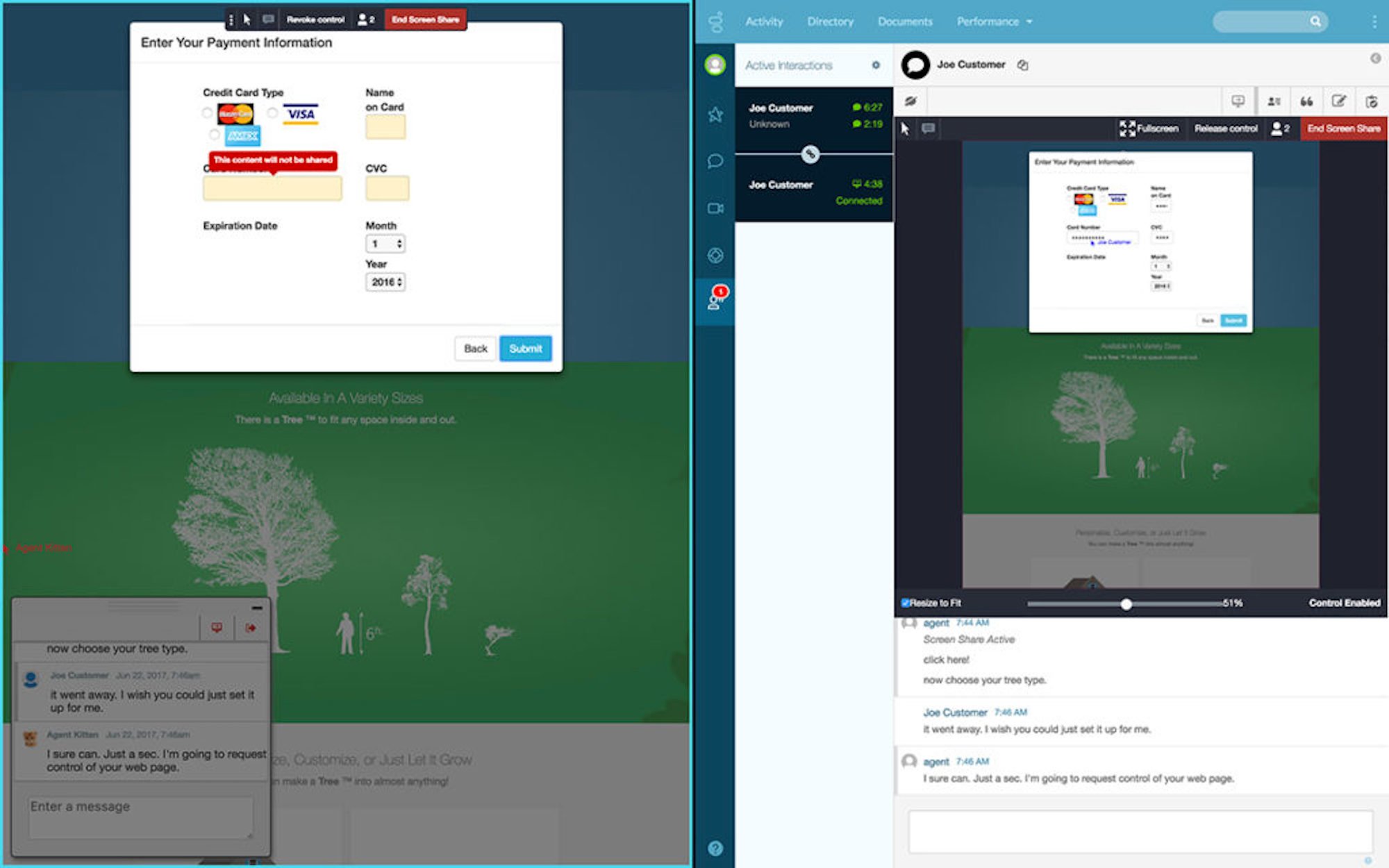 Social media messaging streamlines the resolution process while also increasing conversion rates, meeting customers instantly on the same platform where they've discovered your company. Automated social listening keeps your business up-to-date on conversations customers are having about your company on Facebook and Twitter. Sentiment analysis instantly prioritizes social media support and message requests across platforms, while skills-based routing connects customers with the right agent no matter which platform they use.
The Genesys unified email inbox lets agents search and respond to customer queries manually or via an automated email management system.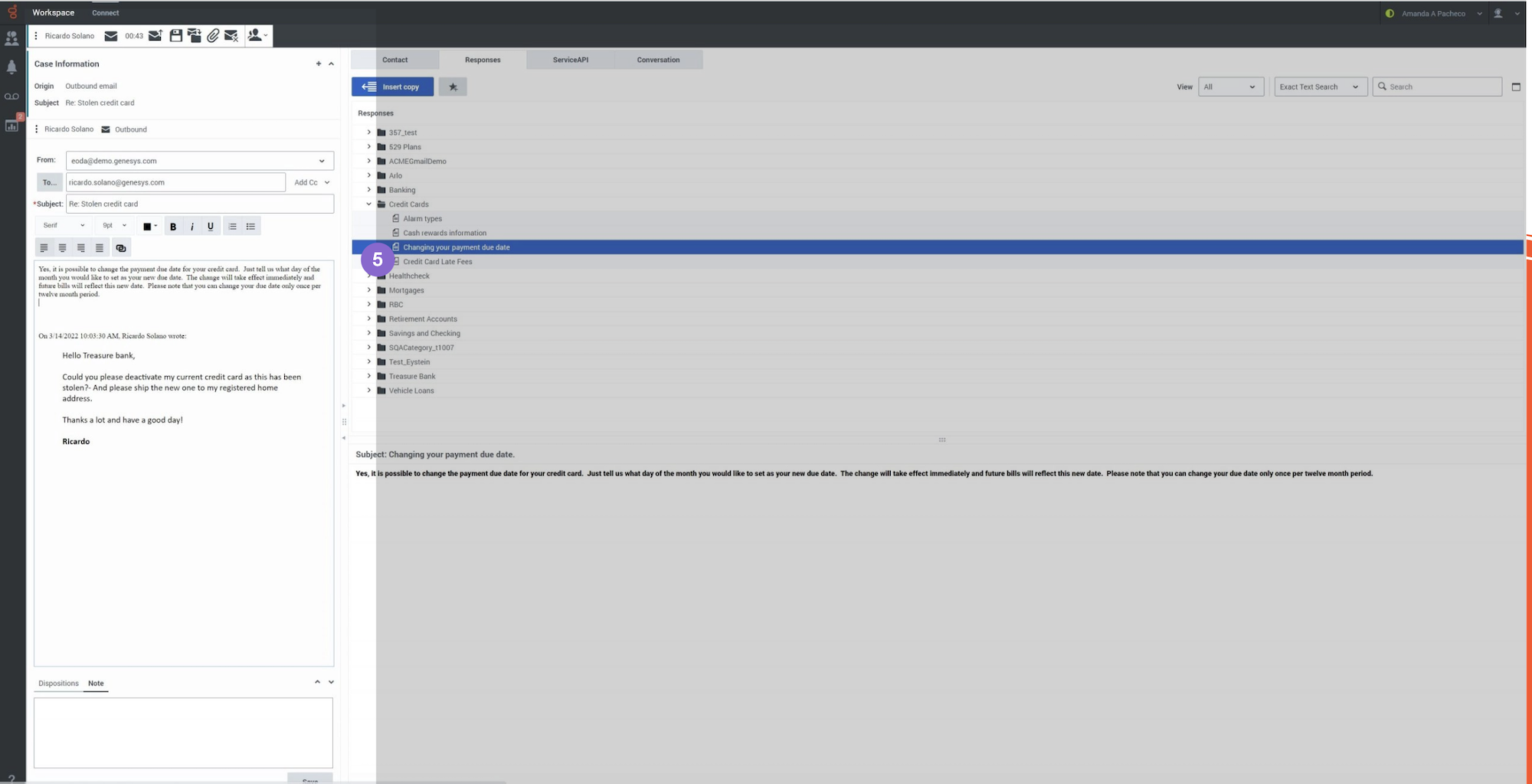 Within the inbox, agents can prioritize email messages, set and edit business rules, route emails to agents, and categorize/filter emails. Genesys also offers inline images, attachments, and rich text options like bullets, colors, fonts, highlights, and numbers to bring emails to life. Canned responses, smart routing, custom "mail from addresses," and email address/spam blocking further streamline the process.
Avaya Digital Channels
Avaya digital channels include:
Email
Website chat messaging
Social media messaging
Avaya email lets users receive emails from their preferred inbox within the Workspace interface. When an email is received, agents can accept/reject it, forward/transfer it to another agent or department, reply individually to the email, or reply all.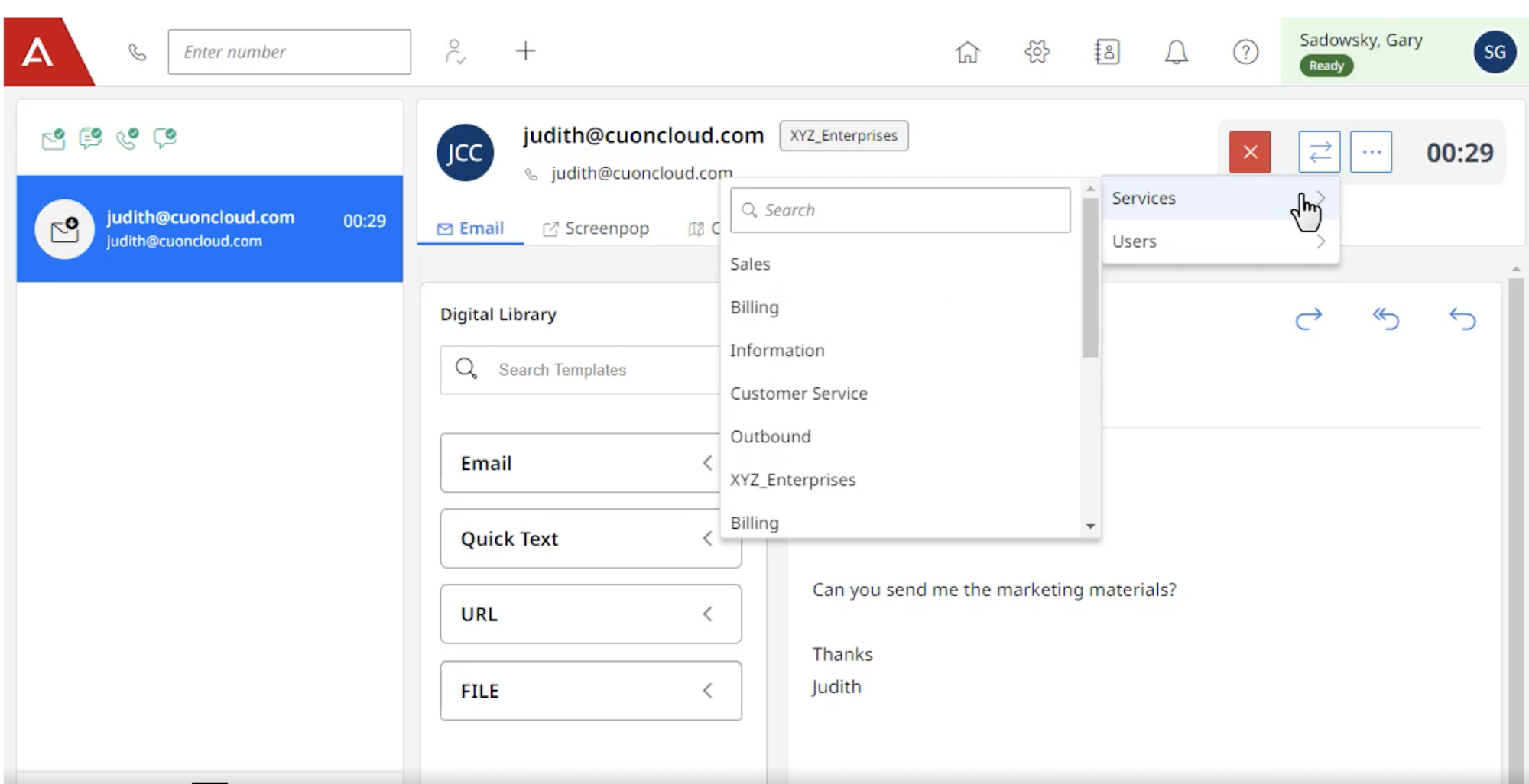 Agents can choose from pre-made or editable "quick text" email response templates, custom auto-responses, or add email signatures, file attachments, URLs, and disclaimers. Agents can also access customer journey history directly within the email interface and complete after-contact work like disposition coding or transcript review.
Avaya website chat offers agent-to-customer and chatbot-to-customer real-time communication. Agents can reply individually, use canned responses and emojis, share URLs, transfer chats, and review the response template library within the chat interface. Asynchronous Messaging from Avaya provides a complete chat history, so customers avoid repeating themselves even when communicating with multiple agents.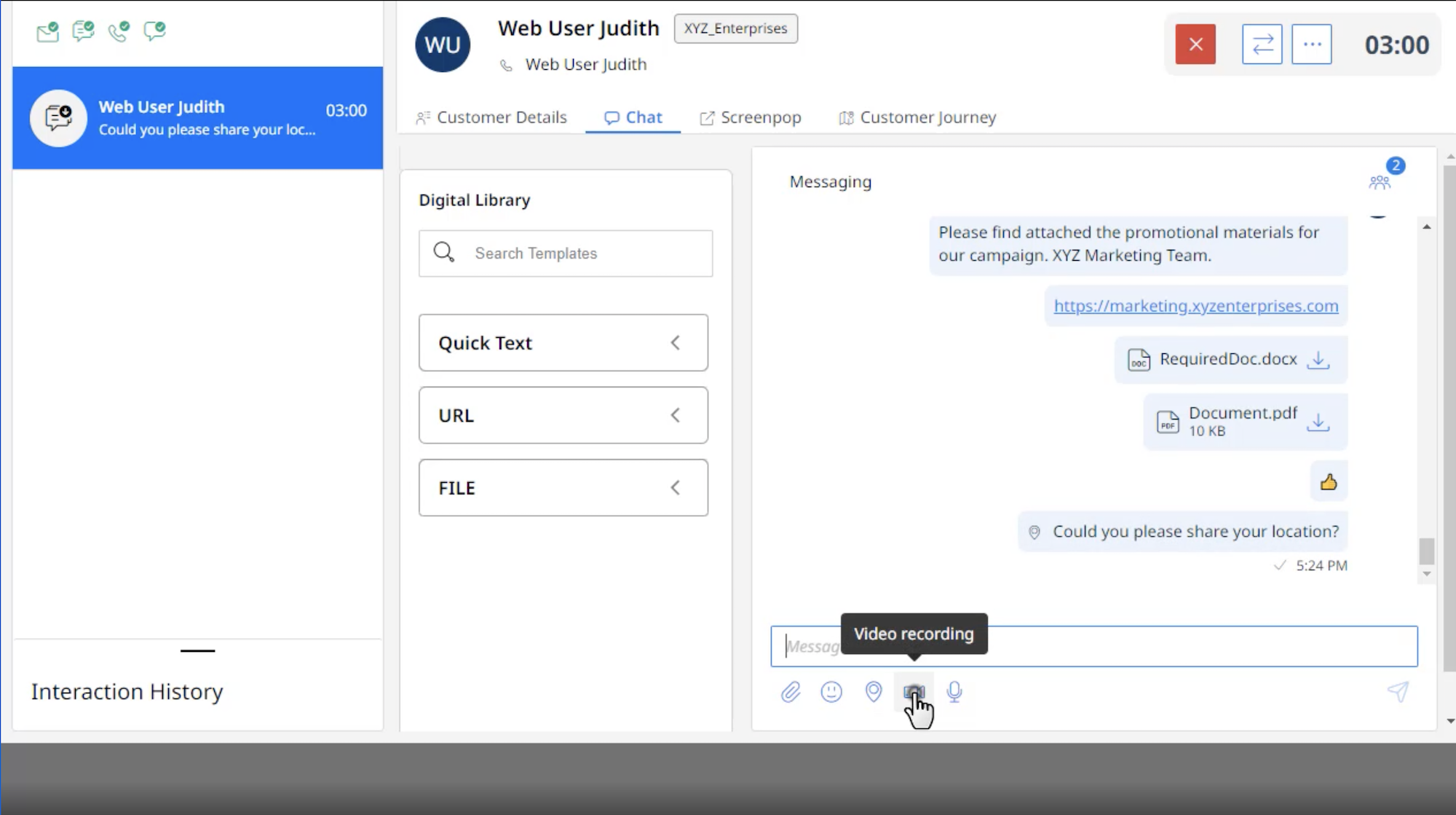 Within the chat interface, agents can also request a customer's location information, record and share audio for more detailed support instructions, and even record and share videos for the most complex interactions. Agents receive notifications when a customer closes their chat window and can mark each chat interaction as completed in their after-contact work window.
The Avaya Social Media Hub, which users must configure, is a single interface that connects Avaya with key social media platforms like Facebook, Instagram, LinkedIn, Twitter, WhatsApp, and more. Users can track conversations across platforms, route messages to other agents, and create/monitor outbound social media campaigns.
Avaya lets admins collect social media statistics and add them to the overall Analytics portal, and generates sentiment analysis across platform posts, comments, and conversations.
Genesys Workforce Management
Genesys Workforce Engagement Management (WEM) is a suite of tools designed to streamline and optimize the scheduling, forecasting, quality management, and employee training processes.
Instead of focusing on increased productivity alone, Genesys WEM aims to create an optimal daily workflow informed by AI, customer feedback, speech+text analytics, and employee recognition. By making the employee experience just as personalized as the customer experience, Genesys WEM increases employee retention and engagement rates, encourages collaboration, and balances workloads even during peak times.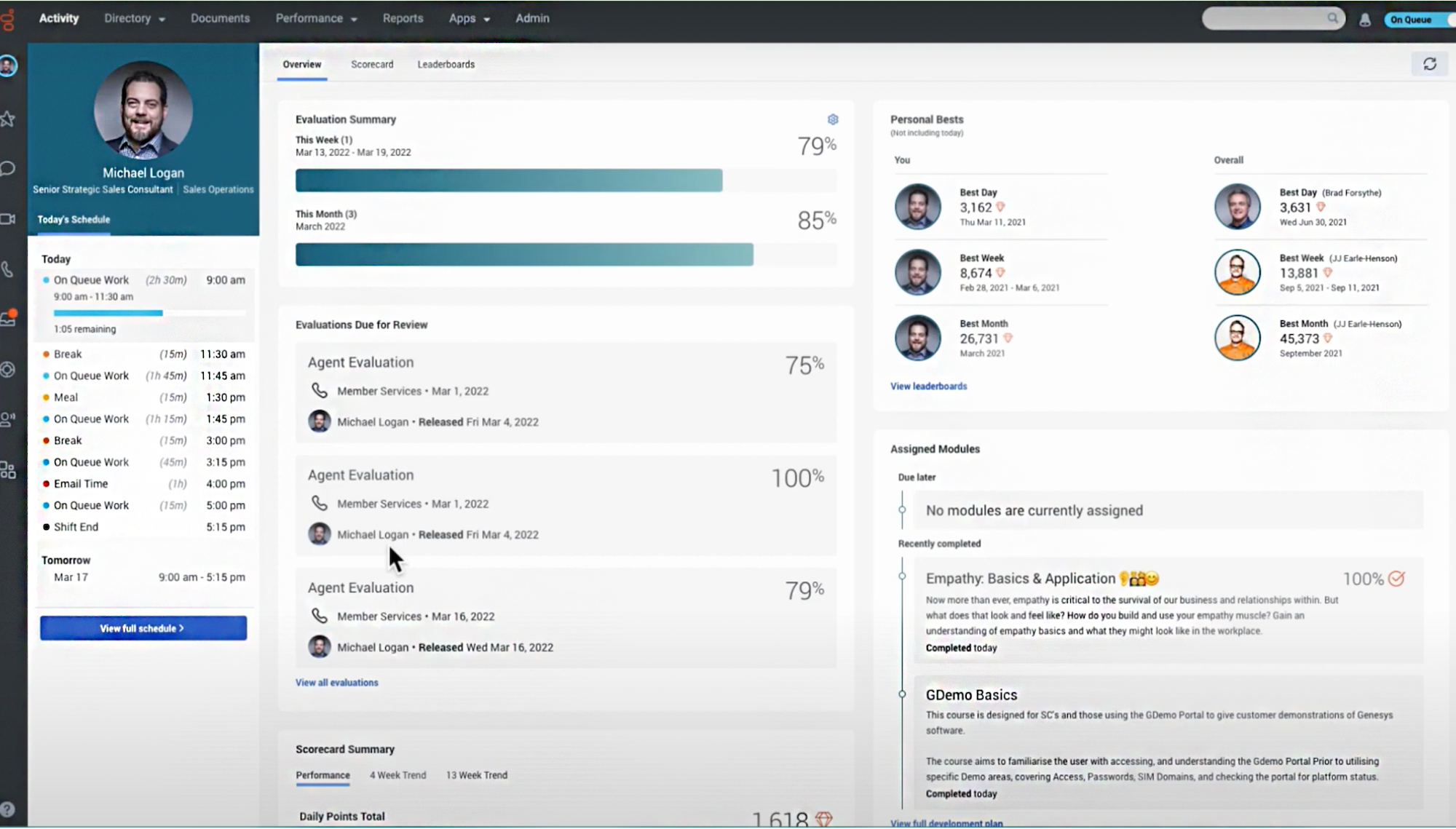 Genesys Gamification displays employee KPIs on company-wide leaderboards, on teamwide or individual performance scorecards, or even within a personalized employee development hub. These development hubs contain individual feedback and assigned embedded training modules within one interface, making it easy for agents to improve their performance and pinpoint their strengths and weaknesses.
AI-powered manager dashboards automatically aggregate key performance data into an interactive interface, making it much easier to spot trends, identify gaps in training, and recognize top performers.
Genesys includes 25+ machine learning-enhanced automated workflow and forecasting models with a 97% accuracy rating. What-if calculations, load-based scheduling, auto-approval, shift bidding, real-time shift adjustment, and omnichannel shift change notifications automate previously tedious business processes for supervisors and employees.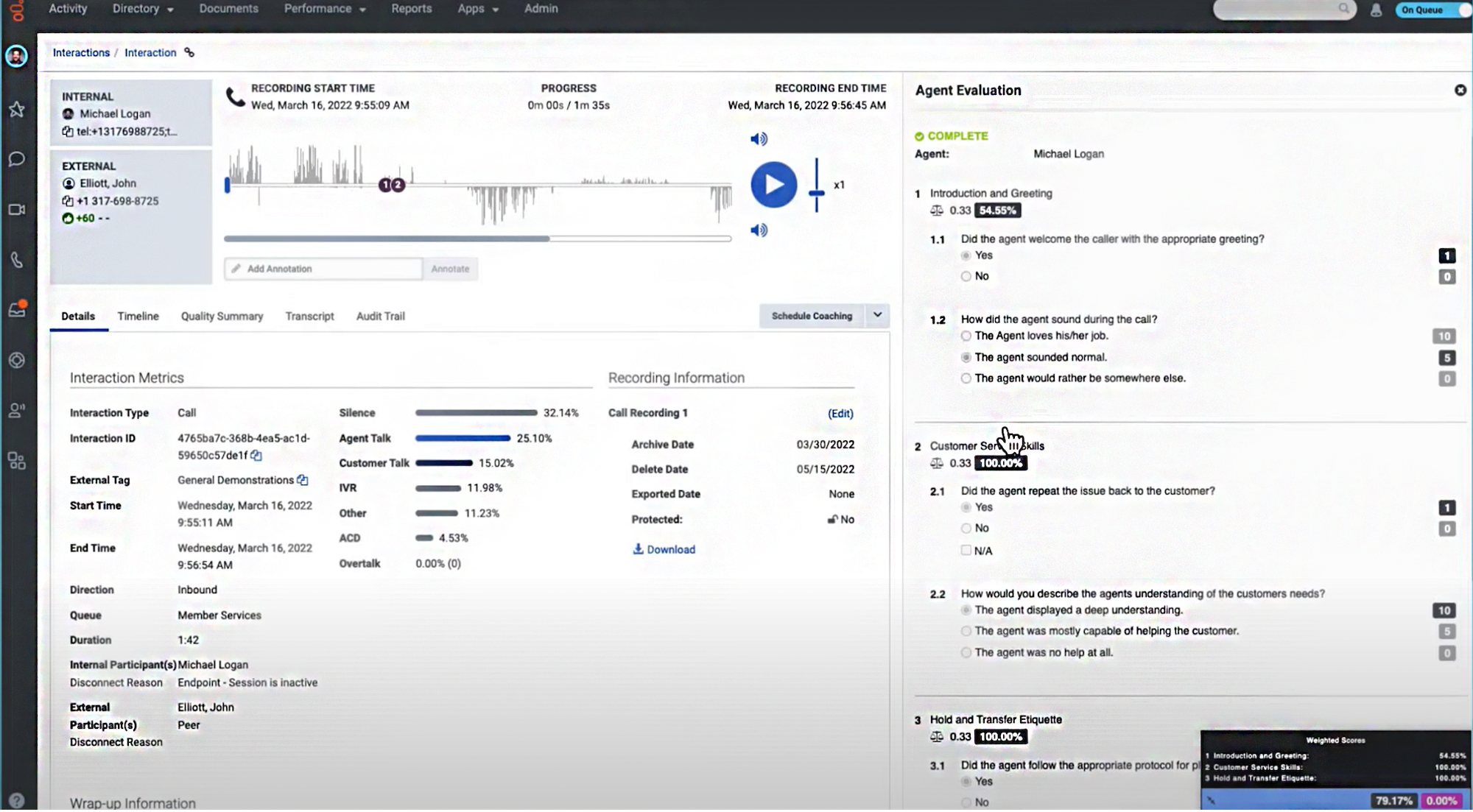 Additional Genesys WEM features include:
Voice of the Customer (VoC) customer web-based surveys for quality management
Genesys Tempo employee self-service mobile app for scheduling, PTO/schedule change requests, performance metrics, updating and reviewing agent status, training module/feedback access, etc.
Speech and text analytics with sentiment analysis, topic spotting, and transcription
Non-peak hour agent reviews and training
Automated shift allocation
Real-time adherence monitoring, service level monitoring, occupancy monitoring
Voice, digital, and employee screen interaction recording and analytics
Avaya Workforce Management
Avaya Workforce Optimization provides a central interface for contract recording, coaching and eLearning modules, voice and text analytics, agent scorecards/performance metrics, and customer feedback.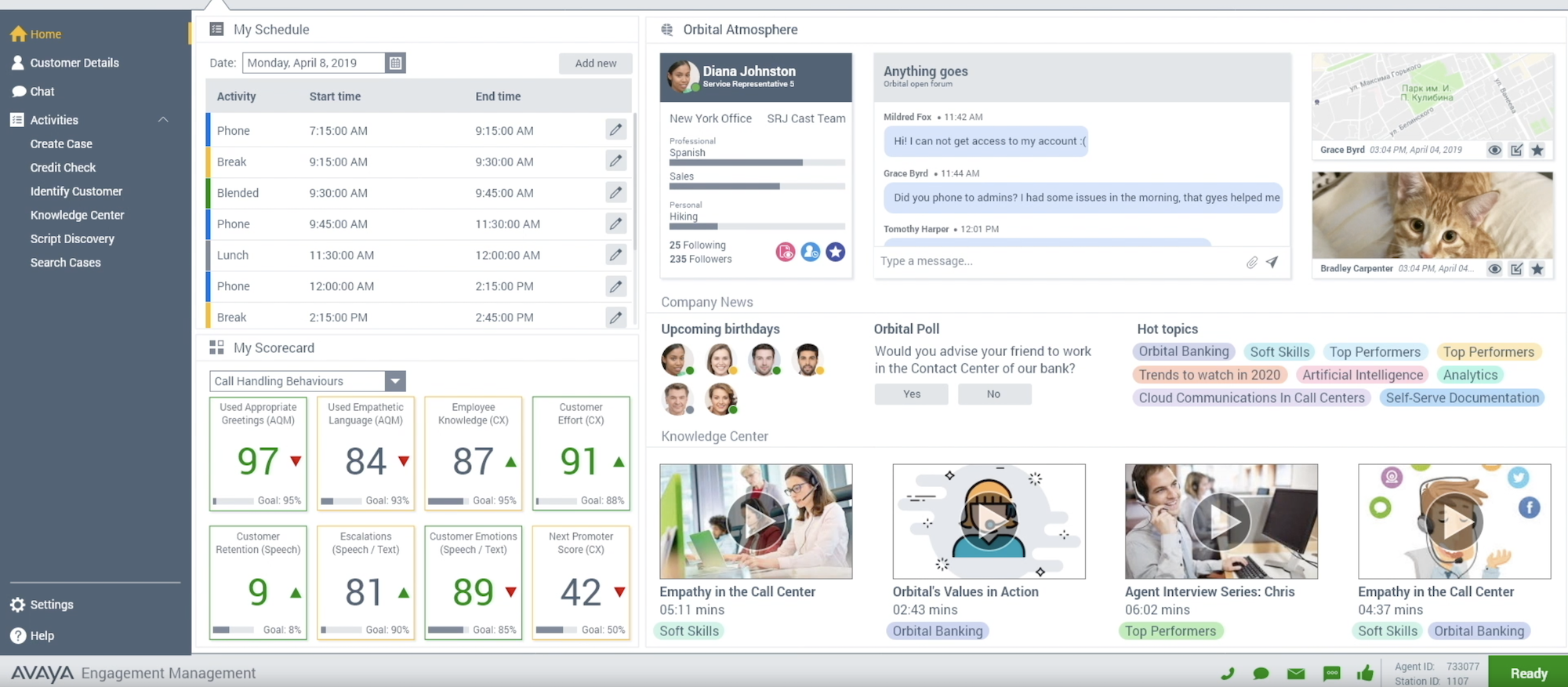 Avaya WFO uses trend analysis and predictive analytics, "What If" scenarios, and forecasting to make it much easier to prepare for high-volume contact periods in the workplace. Based on these outcomes, Avaya automates scheduling to prevent understaffing and ensure customer satisfaction levels remain high.
We've outlined the key Avaya Workforce Optimization, Workforce Engagement, and Workforce Management features below:
Contact Recording: Omnichannel manual and on-demand interaction recording (voice and data)
Quality Monitoring: Supervisors can monitor agent-customer communications and on-screen agent activity (data entry, retrieval, screen activity, etc) in real-time across channels, then score agent performance accordingly. Agent activity can also be recorded for later and more in-depth review and eLearning, and scorecards can be compared against those of other agents/industry standards/custom benchmarks. Supervisors can offer real-time coaching via call whisper or voice-to-text transcription
Speech and Text Analytics: Templated and custom KPI analysis pulled from messaging and voice channels, sorted into Trends (major changes in interactions or process management) and Themes (similar groups of data discovered within omnichannel interactions.) Supervisors can search for/filter specific interactions and view relevant Suggestions to see similar data points.
eLearning/Coaching: Real-time and post-interaction supervisor coaching, including best practices created from previous agent interactions, automatic and manual training session assignment, training completion reports, interaction flagging, interaction notes from supervisors
Scheduling: Time off management/requests, advanced real-time adherence monitoring, automated forecast-based/skills-based/preference-based/location-based automated scheduling
Automation + AI Comparison
Genesys
Omnichannel Routing
Genesys omnichannel routing lets admins create automated inbound call and messaging flows/paths based on preconfigured routing rules. These omnichannel routing strategies can be applied to interactions with live agents and fully automated interactions powered with IVAs, IVRs, and chatbots.
Genesys Predictive Routing is an AI-powered call routing strategy that analyzes past agent and customer interactions to predict which available agent is best prepared to handle an inbound call or message. The customer is automatically routed accordingly. Machine learning and predictive vs actual outcome analysis consistently improves predictive routing strategies over time. Admins can study comparison tests to understand how predictive routing strategies have optimized KPIs like Average Handle Time (AHT).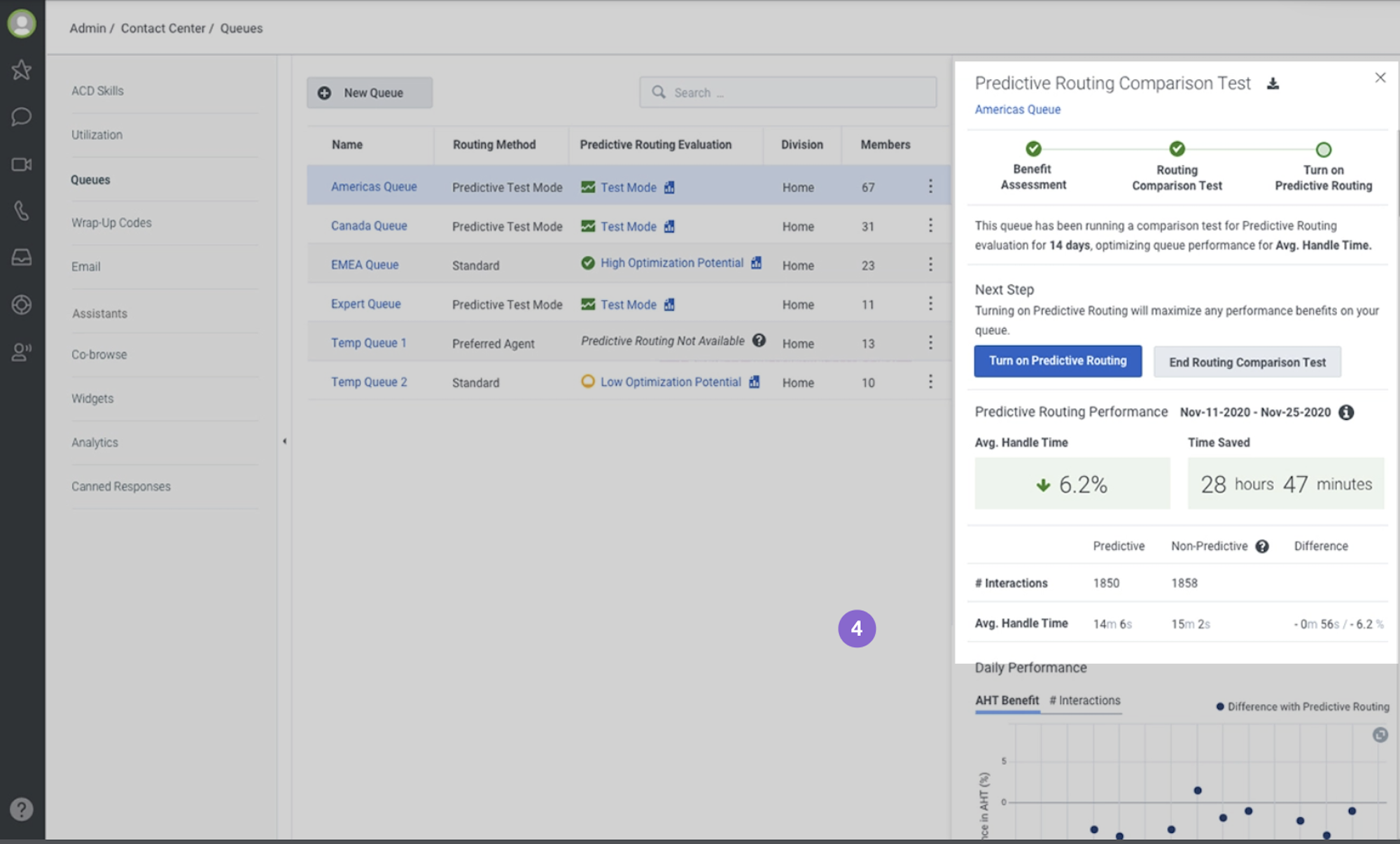 Additional Genesys omnichannel routing strategies include:
Skills-Based Routing: Calls are sent to the first available agent with the skillset needed to best assist the customer (skillset need determined by IVR/other customer input)
Preferred Agent Routing: Routes customers to the best available agent/agent group according to characteristics chosen by admins/supervisors, such as skillset, product knowledge, highest sales closing rate, relationship to client, highest customer satisfaction score, etc. Each agent in a preferred agent group is assigned a score from 0-100, and calls are routed in scoring order from high to low.
Bullseye Routing: If preferred agents aren't available to manage the interaction, bullseye routing lets admins set a series of concentric "fallback rings" made up of agents who could take the call if needed
Conditional Group Routing: Calls/messages routed to agent groups that are automatically assigned to queues only when specific conditions are met (high inbound call volume, low agent availability, high estimated wait time, etc.) Admins can divert agents from one queue to another to meet sudden, but temporary, contact center needs. Agents are automatically sent back to their original queues when conditions have returned to normal, or if original queue performance falls below minimum standards
Priority Routing: Puts VIP callers at the top of the queue
Omnichannel routing also means that interactions are synced in real-time, across channels, allowing agents to pick up conversations right where they left off. Additional agent enhancement tools, like CRM-powered screen pops, provide omnichannel interaction history, agent notes, customer data, and upselling opportunities.
Agent Assist
Genesys Agent Assist provides real-time automatic assistance to agents during conversations with customers, eliminating the need for agents to manually search internal knowledge bases, transfer callers to other agents, or place customers on hold.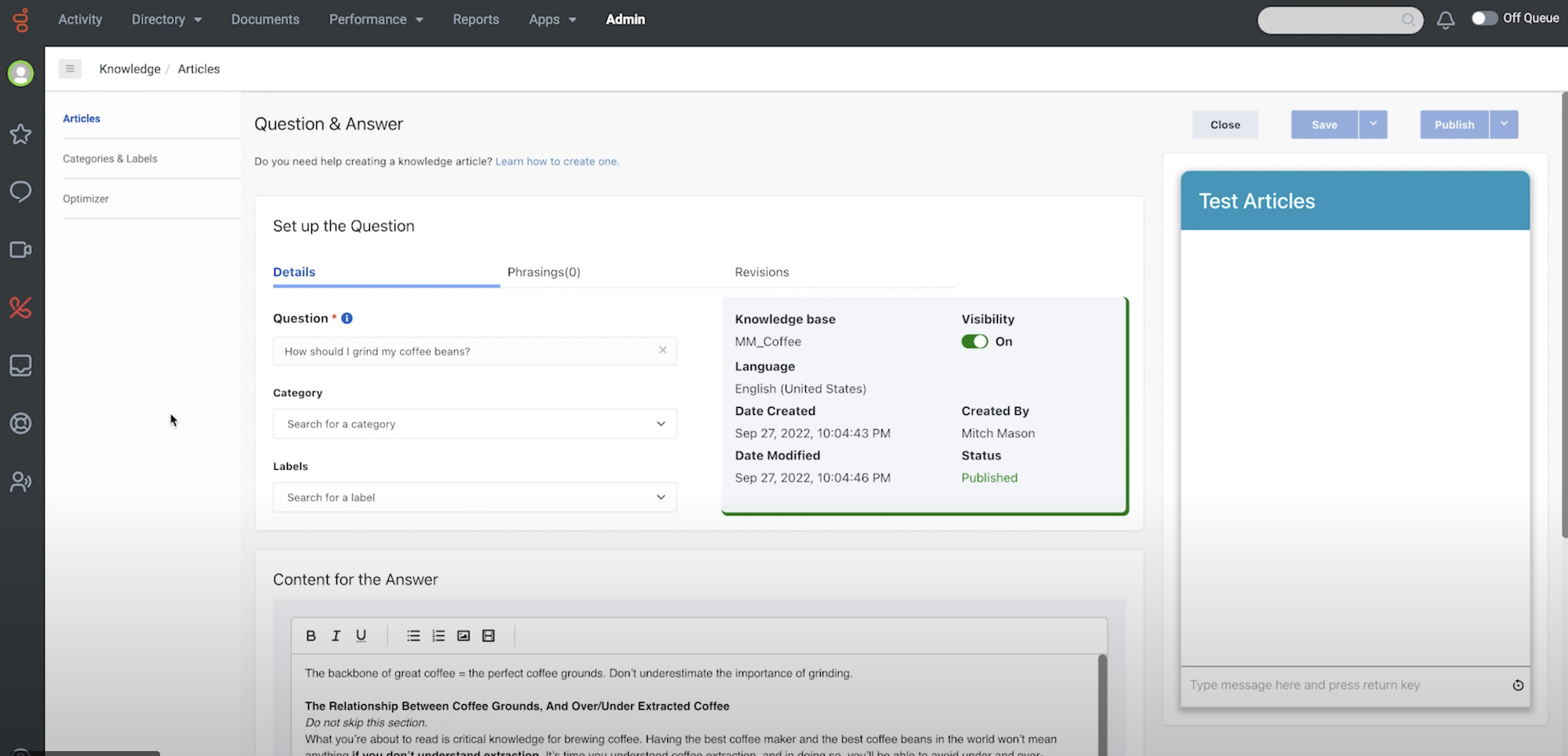 The Agent Assist tool evaluates customer intent and recognizes keywords and phrases using live transcription, Natural Language Understanding (NLU) and machine learning. Based on the context of the conversation, Agent Assist then automatically pulls relevant information from sources like internal knowledge base articles, agent scripts, pre-configured FAQs, and canned responses.
This information is shown on the agent's screen and can be edited and shared, or copy-pasted directly within the conversation. Multi-lingual support is available, and agents can manually search with Agent Assist at any time without leaving the conversation.
Chatbot and Voicebot IVAs
Genesys Voicebots and Chatbots are Intelligent Virtual Assistants (IVAs) powered by AI speech analytics that recognizes customer intent, evaluate conversational context, and provide real-time sales and service solutions–all without a live agent.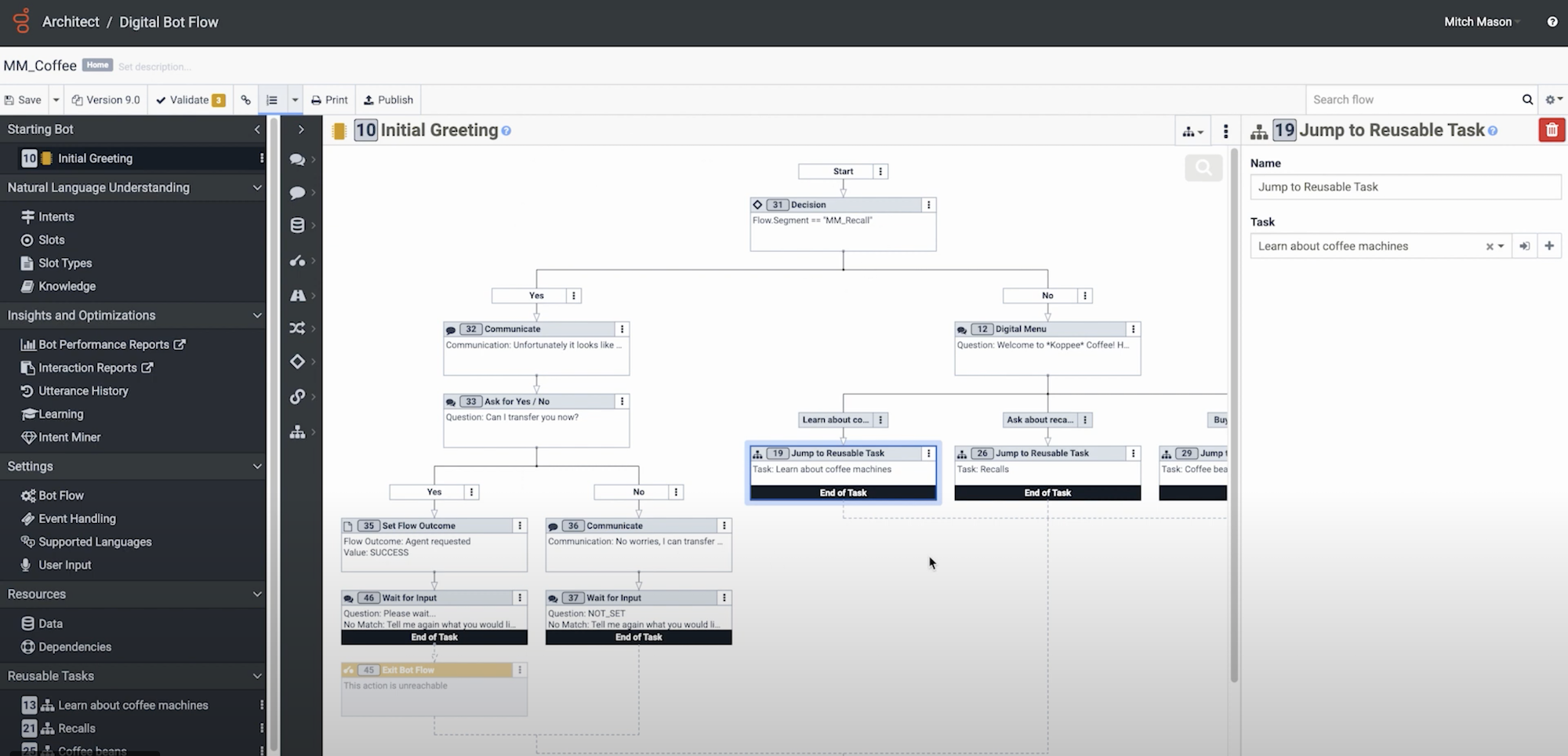 Unlike IVR, which primarily serves to route customers to the appropriate agent or provides only basic customer self-service, IVAs can manage advanced customer requests and interactions from start to finish. Genesys Voicebots and Chatbots can also pull data from third-party integrations to further personalize interactions across voice and digital channels.
Voicebots and Chatbots also have a much higher level of Natural Language Understanding, not just Natural Language Processing, than traditional IVRs. This allows IVAs to communicate with customers in a much more natural way than standard automated responses–so much so that it's often difficult for customers to know if they're interacting with a live agent or a bot.
The IVA Intent Miner takes the guesswork out of AI, instead studying past conversations and interactions to build a complete and much more accurate set of conversational AI analytics.
Admins can create and edit IVA call and messaging flows via the drag-and-drop Architect interface with built-in dialog management. They can also add rich media capabilities to bot-based and live agent conversations, making it easy to send videos, images, and emojis.
Predictive Engagement
Genesys Predictive Engagement analyzes website visitor behavior and the overall customer journey to proactively engage with visitors at the ideal moment.
Predictive engagement cuts down on calls to your contact center, boosts customer satisfaction, and increases conversions. Using AI-powered analytics, predictive engagement segments customers based on the specific actions they take on your website, uses stored data to personalize automated interactions, then provides all this collected data to a live agent (if needed.)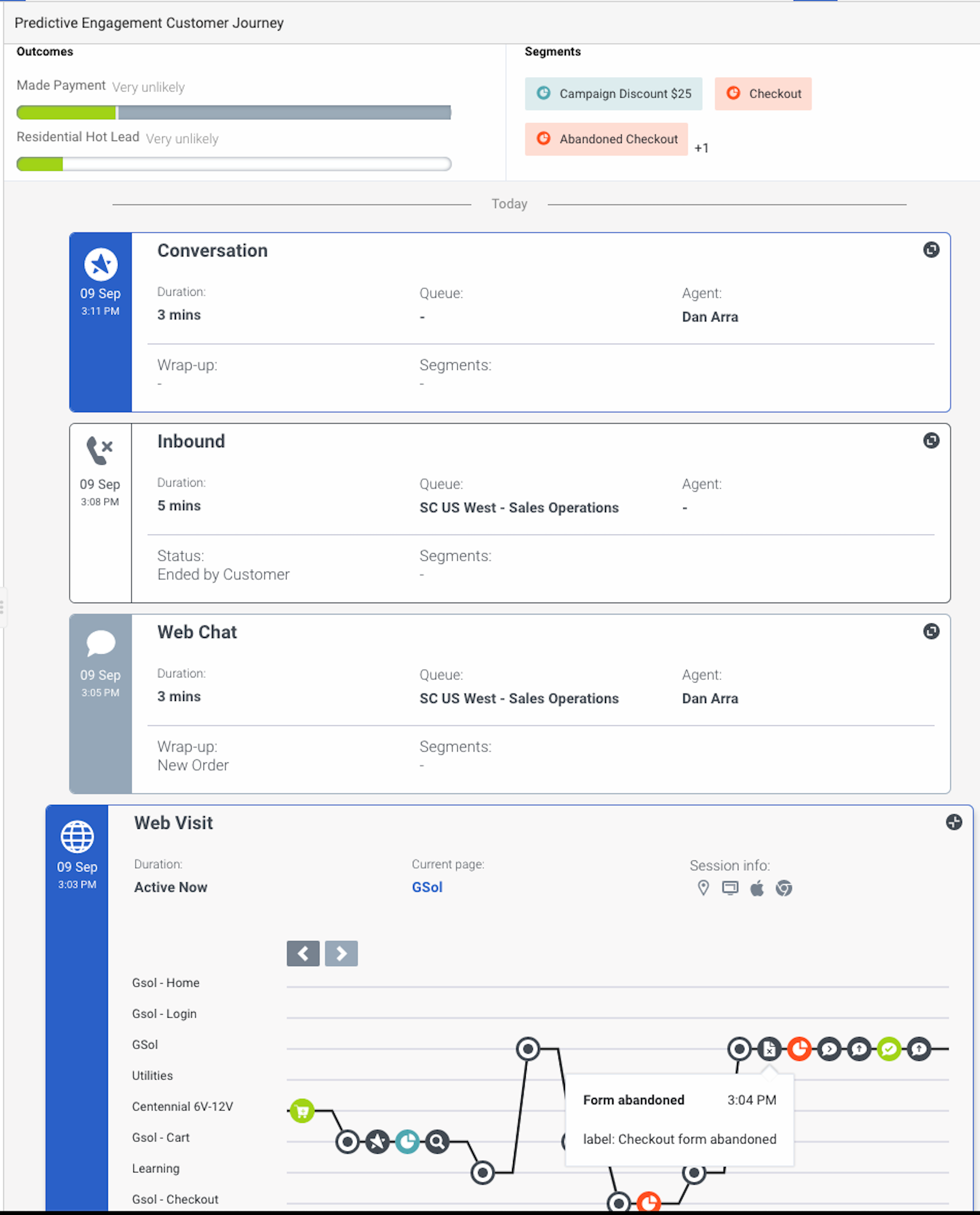 Predictive engagement is especially effective at capturing customers that have abandoned their shopping carts, that need assistance finding the right product/service, and even gathering valuable customer contact information. As with all Genesys AI features, predictive engagement uses machine learning to improve with every interaction.
Avaya
The Avaya Workspace lets agents manage simultaneous interactions across multiple channels, providing the same basic interface regardless of where customers and agents connect.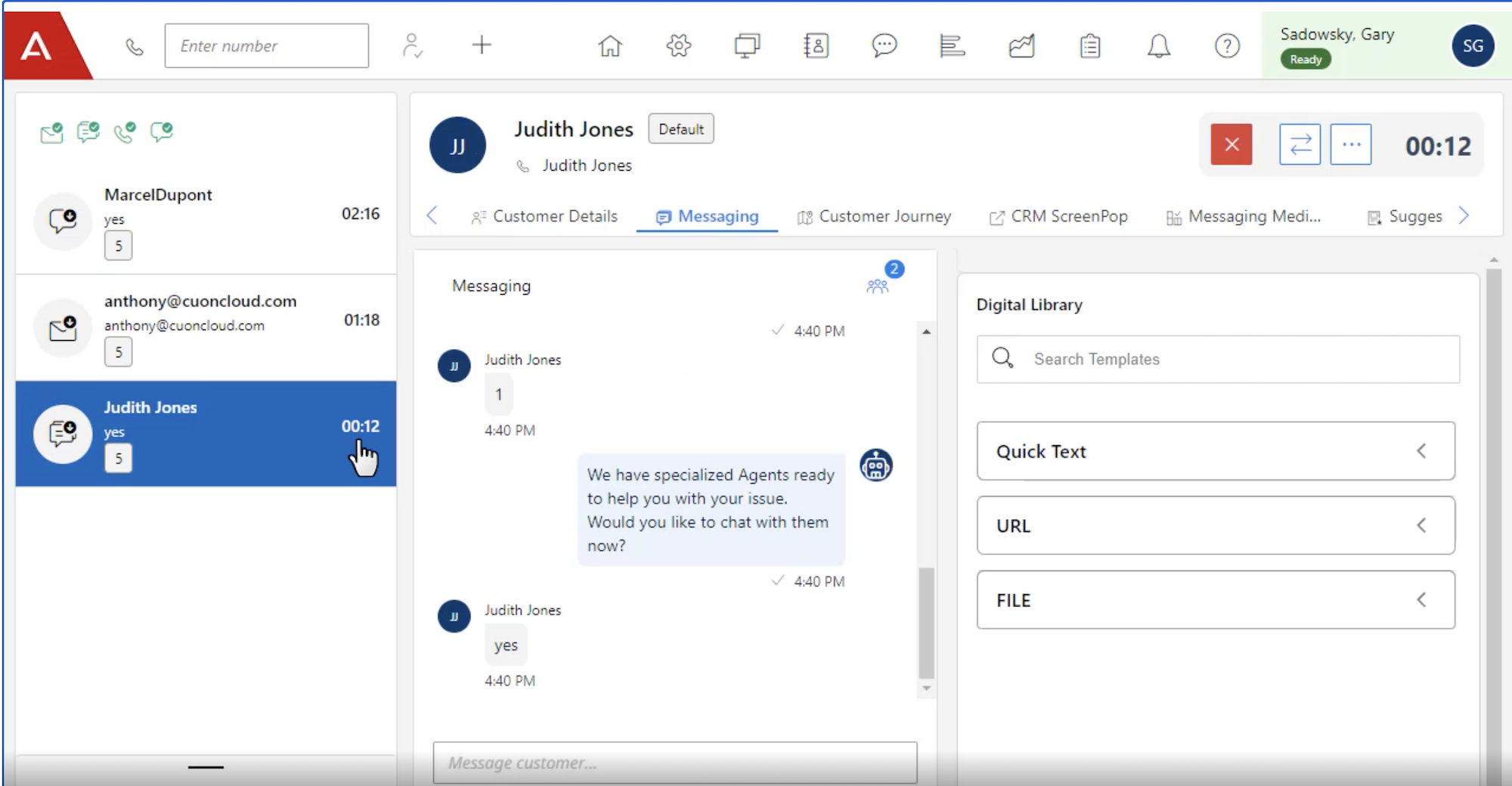 For all interactions across all channels, agents can view and edit AI-powered data like:
Customer Journey Information: A snapshot of customer activity across channels, prior interaction dates/times, customer journey map, and interaction transcripts/histories. Agents can customize timelines and view simultaneous timelines
Contact Details: Agents can see and edit/link "Customer Identifiers" like name, email and physical addresses, phone numbers, account IDs, etc. AI-powered automation automatically reviews Customer Identifier interaction history and instantly links the most recent interactions to the contact page
CRM Screenpop: Open external website pages without leaving the Avaya Workspace app, and review native or integrated third-party CRM information.
After Contact Work: Agents can schedule customer callbacks, review transcripts, enter disposition codes, review automated interaction status
Avaya automatically prioritizes the top three current interactions at the top of the agent screen, even if those interactions are all happening on different channels. To ensure agents don't get overwhelmed, admins can limit the number of simultaneous multi-channel interactions agents can manage.
Avaya offers AI-empowered virtual agents for customer self-service and configurable automation to improve omnichannel routing. Admins can configure and edit call/message flow paths in the Orchestration Designer interface.
Bots powered by Google DialogFlow can collect customer information, conduct sentiment analysis, suggest actions, and guide customers through multi-level IVR menus.
Avaya Omnichannel Routing
Avaya offers pre-configured and customized routing strategies for all channels, but is best known for its skills-based routing tools. Admins can set a primary and backup skills-based agent group for each set of conditions and workflow triggers to improve call flow path. Priority-based, time-based, and idle time routing strategies are also available.
Even though Avaya doesn't offer IVAs as advanced as Genesys does, it includes an Intelligent Routing feature that mines each interaction for:
Customer intent and sentiment
Customer segment
Available agents with corresponding skill sets
Available channels
Real-time queue and wait time updates
While customers wait in the queue to connect to a live agent, Avaya's While You Are Waiting support tool instructs customers about the information they need to gather, collects relevant details, informs customers about special offers, and more.
Once an interaction has been completed, Avaya AI automatically creates a post-contact summary, making it easier to identify contact trends, pain points, and more.
Note that Avaya has recently deployed its more advanced AI cloud-based virtual agent thanks to its partnership with Google Dialog Flow, meaning improved features are on the horizon.
AI Agent Assist and Virtual Agents
Like Genesys, Avaya provides real-time, in-conversation agent assistance using AI-powered conversation analytics to assess customer sentiment and intent.
Avaya's Virtual Agent is powered by Google and aims to replace traditional IVR interactions with omnichannel IVAs. These virtual agents help customers avoid interacting with lengthy IVR call menus that only offer limited options. Instead, it uses Natural Language Understanding to create a two-way conversation with customers.
Though designed to cut down on the number of conversations between live agents and customers, AI Agent Assist pulls data from customer interactions, CRM systems, online knowledge bases, and machine-learning algorithms to give agents the information they need to best assist customers.
Unified Communications & Team Collaboration
Genesys UC
Genesys offers numerous unified communications and team collaboration tools to streamline internal business processes, including video calling, instant chat messaging, and presence updates.
All internal communication and collaboration tools are available within the Agent Workspace.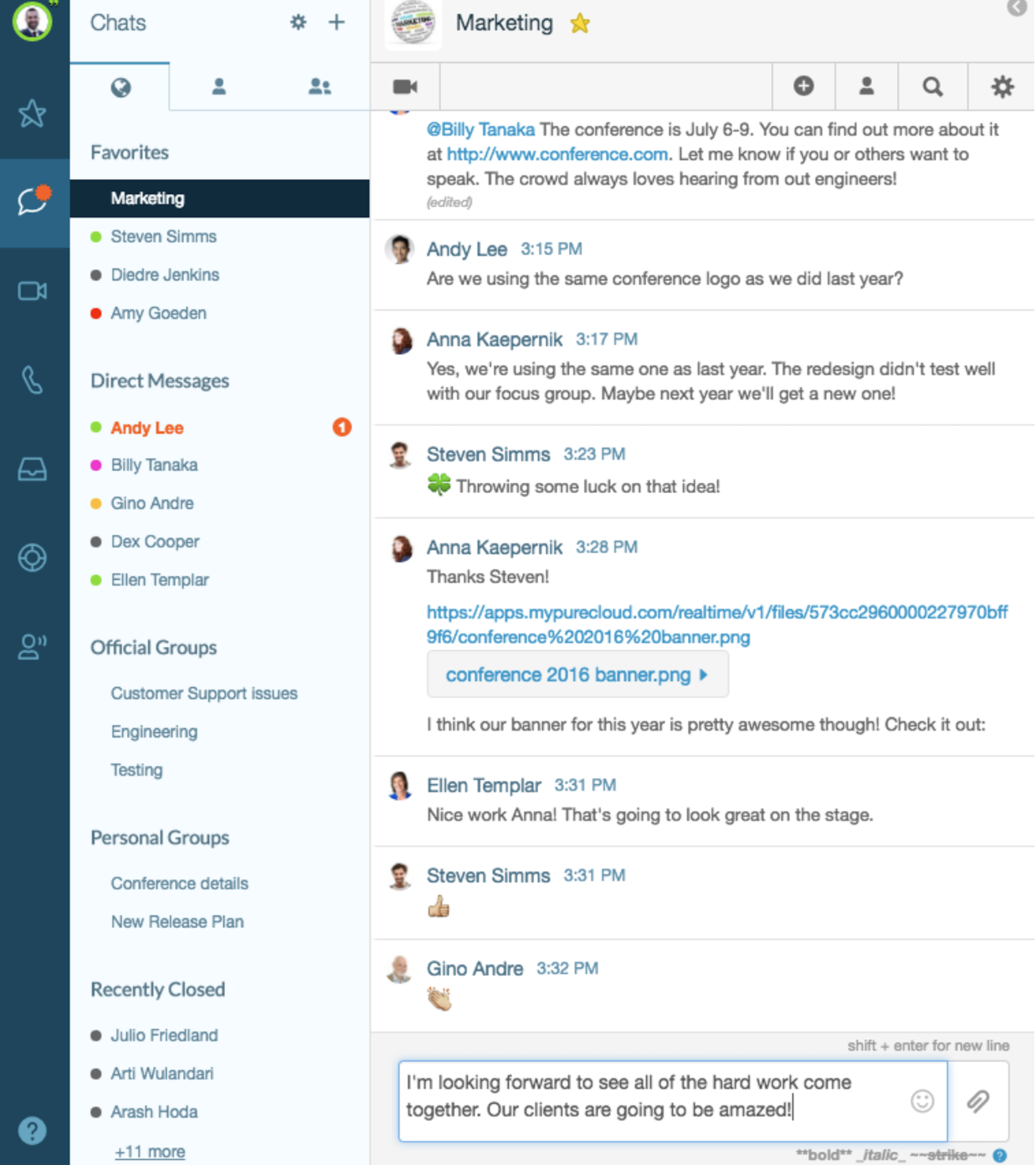 Public and private team chat messaging and in-video collaboration functionalities include:
File and link sharing
Screen sharing
User tagging
Favorite contacts and channels
Direct messaging
Emoji reactions
Message editing
Chat search bar
Chanel participant list
Unified company directory
One-click video calling or voice calling
Pre-built adapters with Teams, Zoom, etc.
User Presence gives team members an update about each other's availability, alongside a customizable status update. Statues are color-coded, shown alongside each user's profile picture, and automatically sync with current activity in addition to allowing manual updates. Statuses include available, busy, away, on a break, at a meal, in a meeting, in training, out of the office, and offline. Users can even specify their location and secondary status.
Additional collaboration features include:
Consultation: Lets agents privately consult other agents during a live interaction
Team Communicator: Search company directory for internal or external point of contact
Interaction Transfer: Omnichannel call/message transfer between agents
Agent Groups: Groups of agents linked by special skills, language, time zone, etc., can be contacted individually or en masse to quickly crowdsource information
Avaya
Avaya UCaaS is powered by Avaya Spaces, an all-in-one team communication and collaboration application offering internal video and voice calling, chat messaging, file sharing, and more.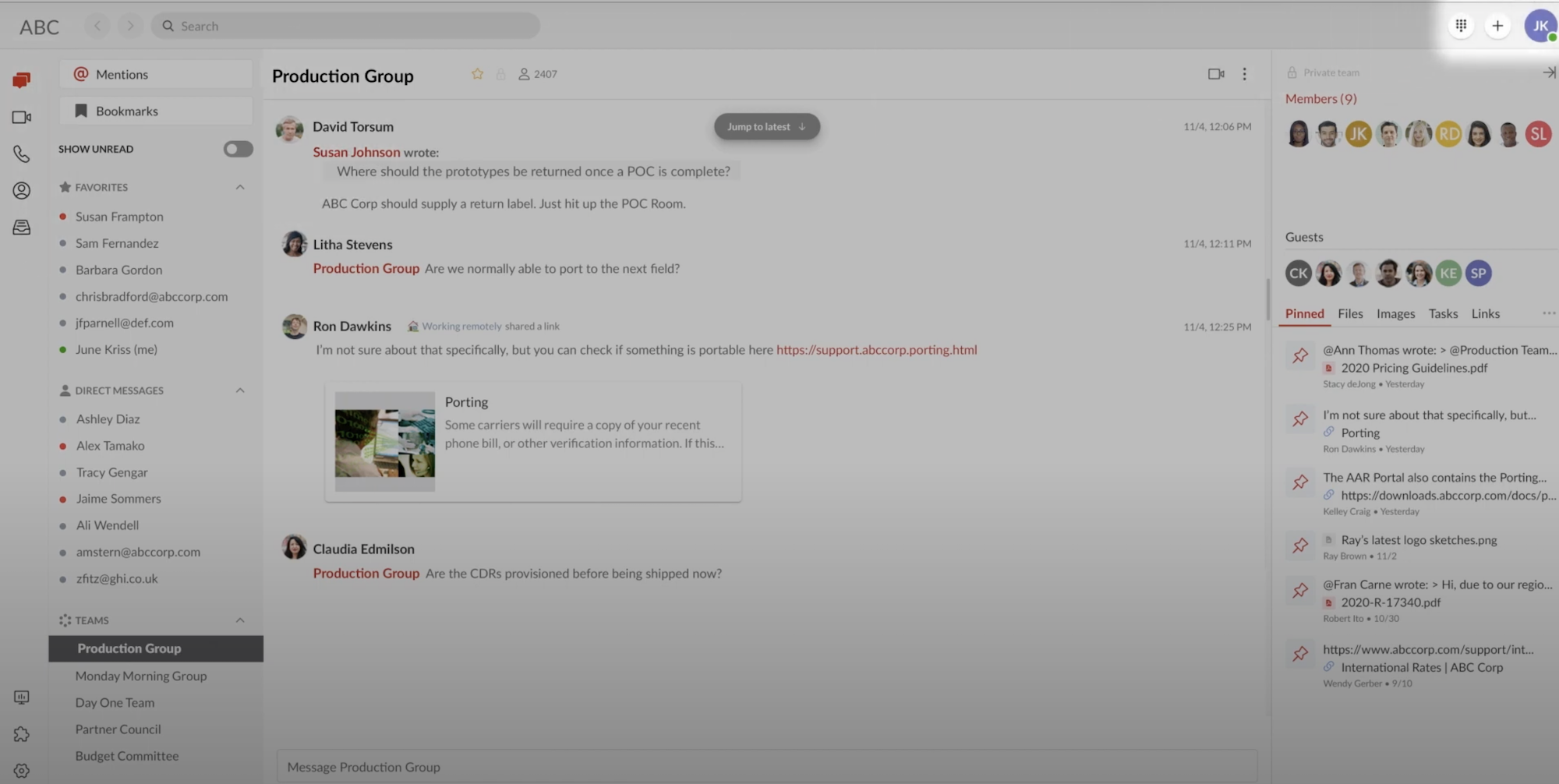 Admins can create company-wide persistent Spaces (chat channels) as well as separate Spaces for teams, roles, projects, or any other custom group. According to user permissions, Space members can schedule and attend video meetings, accept/reject voice calls, make posts, assign tasks, add guests, and edit/delete Spaces. To speed up Space creation, admins can upload CSV files with up to 100 email addresses that will receive invitations. Group direct messaging for up to 10 users, as well as private one-on-one messaging, is available within Spaces.
Avaya Spaces includes native task management capabilities like:
Task creation, description, assignment, commenting, and editing
Task deadlines and task status updates
Task notifications and user tagging
Unlimited Video Conferencing with in-meeting chat is available for up to 1,000 participants and 61 simultaneous screen streams. Multiple meeting views, including gallery, lecture, and panel, are available. Users can create new meeting links or use their personal meeting room links, share their entire screens or specific applications, and magnify shared content up to 200%.
Additional video features include smart muting/unmuting, virtual hand raising, on-demand or automatic recording with meeting duration, start time, and attendee tracking, and a two-year recording retention period.
Like Genesys, Avaya also offers User Presence updates within the persistent chat interface.
Integrations Comparison
Genesys
Genesys often refers to its Cloud CX system as an API-first platform, meaning both IT developers and everyday users can take advantage of its open architecture and low-code, plus-and-play integrations.
The most important integrations are available in the AppFoundry Marketplace, which contains over 350 pre-built integrations and can be searched by application name or category. The AppFoundry Marketplace includes partner apps, apps developed by Genesys, and curated apps developed by other members of the Genesys community.
Popular third-party Genesys integrations include:
Salesforce
Adobe
Zendesk
Freshworks
Microsoft Dynamics 365
Google Workspace
SugarCRM
ServiceNow
8×8
Amazon Polly
Jira
GitHub
Microsoft Teams
Zoom
Zoho CRM
Oracle Engagement Cloud and Service Cloud
Genesys also offers professional services to assist with multi-vendor integration and deployment, or to create custom integrations for existing or third-party applications.
Avaya
Because Avaya partners with RingCentral to power its cloud phone systems, it's able to offer an extensive set of over 160 pre-built third-party integrations.
Top Avaya integrations include:
Salesforce
HubSpot
Microsoft 365
Google Workspace
Microsoft Teams
Zapier
Zendesk
Bitrix24
Gong
Zoho CRM
Sugar CRM
Avaya DevConnect technology partners provide professional API development and deployment services to assist businesses with more complex and custom integration needs.
Reporting and Analytics
Avaya
Avaya provides real-time and historical analytics across voice and digital channels via pre-built and modifiable interactive reporting templates.
Users can customize up to 6 public and 6 private analytics dashboards for more digestible data, choosing between bar graphs, pie charts, columns, tables, and billboard displays.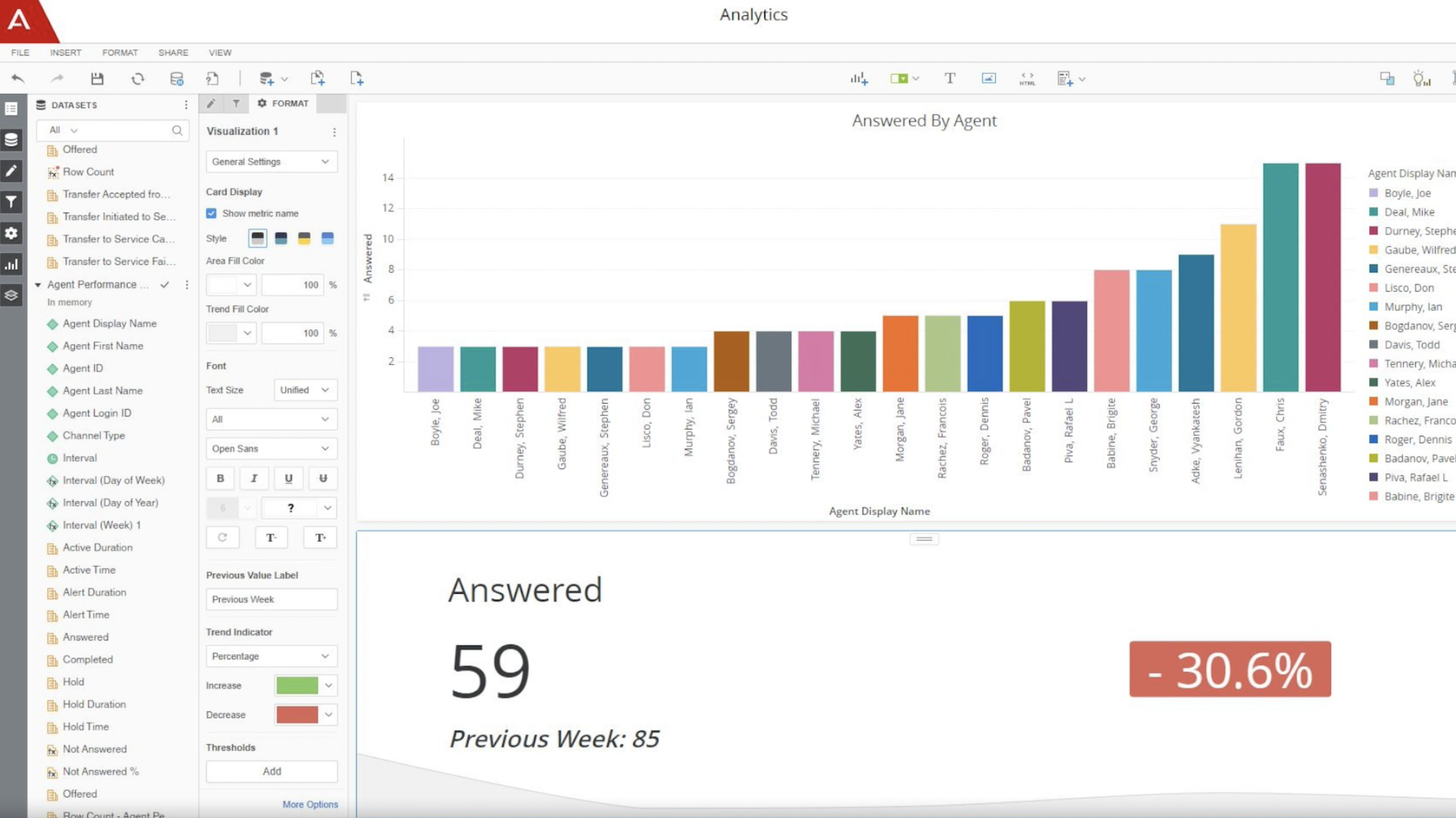 Reports can be customized by agent, communication channel, date range, department, routing service, agent group, specific KPI, and more. Data retention policies can be customized from 12-999 months to ensure businesses make decisions off the most accurate results.
Real-time reports are accessible within the Supervisor dashboard, and aren't available to agents. Daily and monthly "roll-up" reports are also available to track current progress.
Essential Avaya Analytics KPIs include:
Number of answered:unanswered calls/messages
Number of calls/messages transferred, abandoned, completed, placed on hold
Average interaction duration, average talk time, average customer wait time
The average amount of time agents spend in a specific work state/work code
Customer segment
Engagement reports
Roles-based permissions and read-only access make sharing reports via PDF, Excel, and HTML easy.
Genesys
Genesys provides three main types of analytics: interaction analytics, customer experience analytics, and call center software reporting.
Call center reporting is a birds-eye view of real-time and historical data, drilled down into digestible, customized dashboards to enable quick decision-making. Users can filter by agent, interaction, customer, or custom categories, and can even review data from third-party integrated platforms. Real-time notifications alert agents and admins to low performance thresholds, help to optimize queue assignment, and provide insight into channel-specific activity.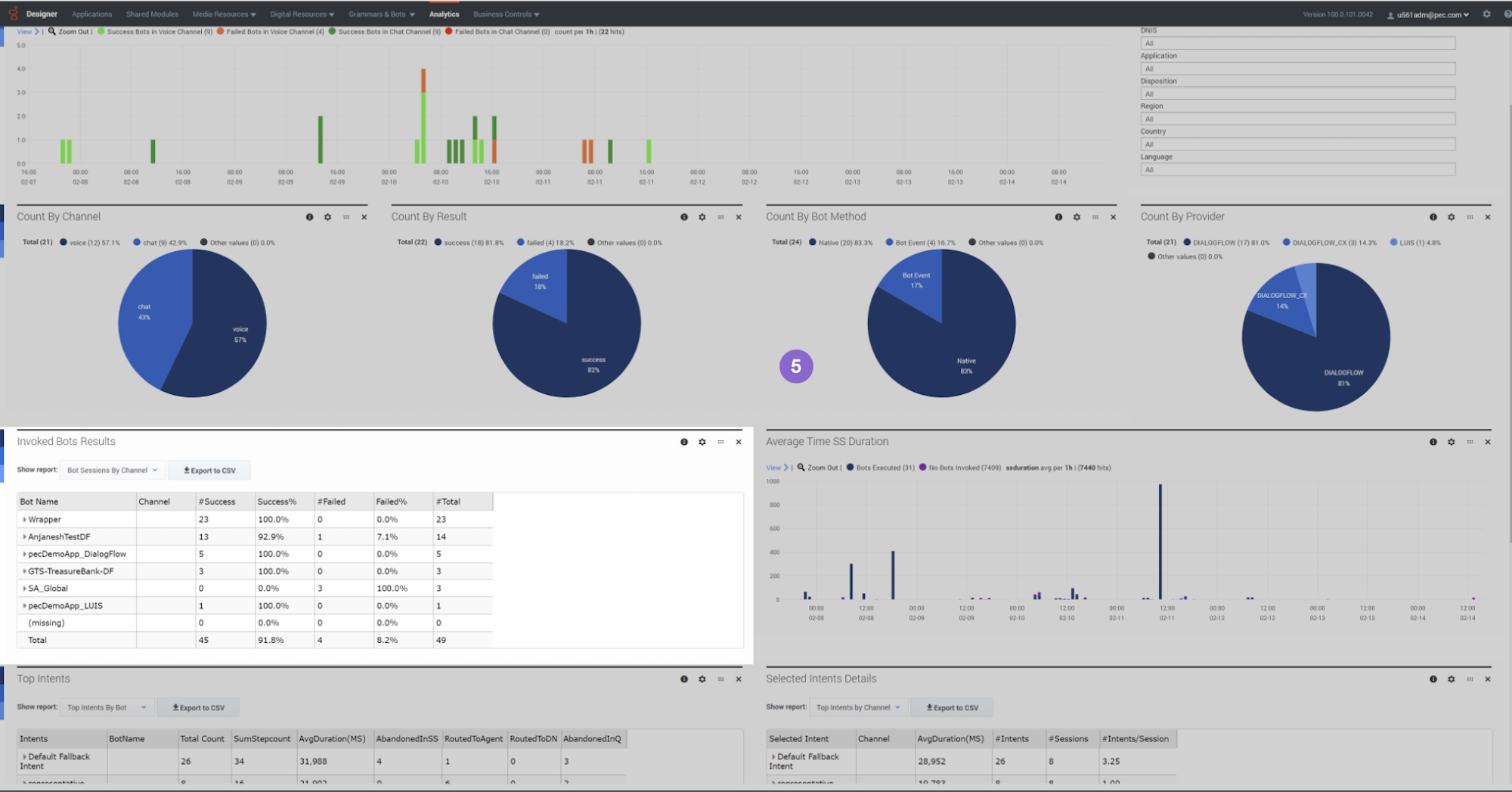 Interaction analytics provide detailed insight into conversations and interactions with your customers–whether with an agent or an IVR/VIA system. Interaction analytics pull data from several sources, including conversation transcripts, customer surveys, conversion rates, trend analysis, and more. Users can categorize and search conversations across channels, enable Speech-to-Phrase and Speech-to-Text Recognition, and analyze Quality Management reports.
Customer experience analytics offer real-time and historical insight into customer satisfaction levels, the most common reasons why customers contact your business, and how effective customers find your business processes. Their goal is to give you a general and drilled-down view of SLA, agent, and application performance so you can make data-driven decisions to optimize CX.
Custom views, funnel analytics, and report exporting/sharing are available for common KPIs like:
Agent talk time, AHT, hold time, consult time, etc.
Missed calls
Multichannel queues
Average time on page
Transfer rates
IVR and routing paths
Pricing and Plans
Below is the overview of pricing and plans of Avaya and Genesys.
Avaya Pricing
The Avaya OneCloud Experience Platform offers three bundled plans from $48-$125+/user/month.
Digital Plan ($48/user/month): Digital-only contact center (email, web chat, text messaging)
Voice Plan ($83/user/month): Voice-only contact center (no digital channels included), includes inbound/outbound calling and preview dialing
All Media Plan ($125/user/month): Includes all digital and voice capabilities along with workforce engagement
Genesys Pricing
Genesys offers five paid plans payable by concurrent user, by the hour, or named user options:
Cloud CX1 ($75/month): Inbound/outbound voice-only contact center
Cloud CX2 Digital ($90/month): Digital-only contact center (social media messaging, email, web chat, SMS, etc.)
Cloud CX2 Digital+Voice ($110/month): Digital and voice omnichannel contact center
Cloud CX3 Digital+WFM ($130/month): Digital contact center+Workforce Management (UCaaS, Basic QM, Speech and text analytics)
Cloud CX3 Digital+Voice+WFM ($150/month): Digital+Voice contact Center+Workforce Management, leaderboards and gamification, forecasting, sentiment analysis
User Experience
Genesys Pros and Cons
| | |
| --- | --- |
| Genesys Pros | Genesys Cons |
| Flexible pricing options available, and all bundled plans include key integrations and APIs, Unified Communications, blending calling, and real-time/historical analytics | Recent launch of Genesys Cloud CX (formerly Genesys PureCloud) makes it difficult to know which features are still in beta, determine feature timelines, and determine whether support documents are still relevant |
| 24/7/365 phone support for all Genesys Cloud CX customers, 24/7/365 online support portal for all customers with | Disorganized and unintuitive online knowledge base (Resource Center) makes self-service frustrating or impossible |
| AI-powered features like predictive routing/engagement, Agent Assist, IVAs, and more have helped some Genesys customers increase productivity levels by 25% and boost digital sales by 400% | Platform is not as user-friendly as competitors, meaning a higher learning curve–especially call flow designer and bot builder |
Avaya Pros and Cons
| | |
| --- | --- |
| Avaya Pros | Avaya Cons |
| Advanced live agent-to-customer chat messaging capabilities that beat out the competition, such as in-chat audio and video recordings, file sharing, canned "quick responses" and longer response templates, in-chat AI-powered agent assistance, and more | Lacks the flexible pricing models of most competitors (bundled or custom plans only, no pay-as-you-go pricing) and requires lengthy contracts |
| Much more modern and intuitive interface than competitors means Avaya has a greater ease of use than other CCaaS p[latforms, especially as it combines familiar tools like Avaya Spaces, UCaaS, and Cloud Office | Frequently-reported uncertain future for Avaya within the CCaaS space may mean sudden changes to your Avaya Contact Center software/interface/available features, etc. |
| Omnichannel native and integrated CRM capabilities provide conversation histories, customer data, customer journey insights, agent notes, and admin-selected details on a single pane of glass that can be accessed manually or via automated screen pop | Social media messaging capabilities require users to configure the Avaya Social Media Hub, and user reviews say not all major social media platforms may be available to all users |
Who Should Use Genesys?
Genesys is best for omnichannel contact centers that need to improve both CSAT and conversion rates, but want to rely on automation and AI to optimize productivity instead of hiring new agents.
Genesys is also a good fit for:
Call centers that want to increase outbound sales calls using auto dialers, but without compromising compliance standards
Large-scale enterprises that need to offer more advanced customer self-service options without sacrificing personalization
Business owners that want to increase employee engagement and decrease turnover rates within their fully on-premise, remote, or blended teams
Businesses that need to customize much of their contact center solution, or teams that need extensive–but low-code–third-party integrations
Businesses of any size that need scalability, flexible pricing CCaaS solutions
Who Should Use Avaya?
Avaya is best for contact centers needing a more streamlined and user-friendly CCaaS solution, with more of a focus on optimizing and automating omnichannel outbound communications than inbound customer service interactions.
While Avaya has strong inbound contact center features, they are more basic than those of competitors–making it a wise choice for medium-sized businesses needing a scalable platform that prioritizes increased sales.
Avaya is also a good fit for:
Businesses that communicate with customers primarily via digital channels (especially website chat) instead of voice calling
Business owners that don't want to overwhelm agents with a complicated and intimidating contact center software
eCommerce stores that need to be able to track and analyze social media interactions and engagement within their contact center platform
Businesses of any size that want to automate as much as their customer service as possible via omnichannel customer self-service IVAs/IVR/chatbots